Alastair Wood
(This event was the road race which finished on the track of the long-established Forres Highland Games, in North-East Scotland. It was controversial because Alastair Wood set a GBR and European record in 1966 and statisticians in England doubted the length of the course. Alastair Wood was fourth in the 1962 European Marathon Championship and twice second in the AAA Marathon. He had a distinguished track career, running for GB at 3 miles, 6 miles and steeplechase, as well as the marathon. He had been 7th in the International CC and went on to be world record holder for 40 miles track and to break the record for the London to Brighton road race. There is no reason to doubt his ability to run such a time, on an occasion when he was in top form, on a one-directional course with a following wind. The 1970 Forres Marathon course was definitely short but this is no reason to doubt the distance of earlier Forres courses, since the start place in Inverness varied considerably. Anyway, this was 1966. Was course measurement always accurate back then? Tell me of a runner whose PB was not on a 'fast' course e.g. Boston, Glasgow and London!)
9 RUNNINGS
10/7/65 ALASTAIR WOOD (SCO) 2.29.54
9/7/66 ALASTAIR WOOD (2) 2.13.45
8/7/67 ALASTAIR WOOD (3) 2.16.16
6/7/68 JOSEPH CLARE (ENG) 2.18.43
12/7/69 ALASTAIR WOOD (4) 2.27.44
4/7/70 ALASTAIR WOOD (5) 2.13.44 (three-quarters of a mile short)
71 No Race
8/7/72 DONALD RITCHIE (SCO) 2.33.00
7/7/73 ALASTAIR WOOD (6) 2.22.29
6/7/74 ALEXANDER KEITH (SCO) 2.26.28
On Saturday 12th July 1969, I took part in my very first marathon, having reached the 'legal' entry age of 21. The event was the Inverness to Forres Marathon part of the well-organised Forres Highland Games, which continues to flourish today. I have to laugh at my training schedule: the university track season, endless repetition sessions, a 3.58.2 paarlauf mile, PBs for one mile, three miles and 5000 metres, plus a few longer hungover yet hard Sunday runs from Woodie's house (usually failing to hang on to the great man) and a couple of ten mile races. The final regime was an exhausting eight days totalling 100 miles in seven runs (to prove I could handle the distance!), a 6 mile grass track race the following Monday, a six mile jog on Wednesday, an inexplicable short rep session on Friday and off to the marathon on Saturday.
The start was on top of a short but steep hill on the edge of Inverness, followed by the long straight fairly flat main road to Forres, running on the right hand side of the road. The only advice was that, when you passed under the railway bridge at Nairn, there were ten miles to go to the finish in the Games arena in Grant Park, Forres. A newspaper clipping shows Ally Wood striding off rapidly, followed only by Don Ritchie. Since it was a hot day, they were both sporting jaunty knotted white hankies, scout neckerchief fashion. There were only 14 intrepid starters. My diary notes: "Lots of food and drink before. Watched Wood shoot off while I ran steadily with the second pack. After 10 miles, I broke away. Passed several, feeling good, then worse. However saw the foolhardy DR 'dying' ahead, so passed him at 18 (he dropped out at 23 – mind you, he had won the 17 miles Mamore Hill Race from Kinlochleven a week earlier). Did the rest on my own – hard but not competitive. Sponges at every stop and two small drinks of water. Okay state, considering, at the end. Sore thighs and feet but no blisters. Might have caught Hughie Mitchell if I had pushed it." 1st AJW (2.27.44), 2nd Hugh Mitchell (Shettleston) 2.38, 3rd Colin Youngson 2.41.13. Third prize was a pedestal ashtray – just what an improving young runner might have desired, not. After a holiday, the next race I contested was another 'you have to be 21 at least' event – the gruelling Ben Nevis race – in those days, we used to run everything!
Donald Ritchie reckons that "the 1969 course had been changed to compensate for a reduction in length caused by road realignment and I suspect that it is now over-length, because with a following wind I went through five miles in 28.47 and ten miles in 57.40, which did not match my effort."
Alastair Wood had made major headlines on 9th July 1966 when he ran a fantastic British and European Record marathon (2.13.45) in this event. (This time is now fully accepted by the Scottish Association of Track Statisticians.) He had peaked brilliantly by the unusual method of running as many as 60 x 220 yard strides! On the 9th of July he "was full of energy, his knees coming up of their own accord!" There was a following breeze, but there is no doubt that he was capable of such a time, which was later ratified. (Certainly, after Ron Hill broke the European Record at the 1970 Edinburgh Commonwealth Games, 'Athletics Weekly' listed Alastair's Forres time as being as down to 5th on the British All-Time list. – Ron Hill 1970 2.09.28, Bill Adcocks 1968 2.10.48, Jim Alder 1970 2.12.04, Don Faircloth 1970 2.12.19, and Alastair Wood 1966 2.13.45.) It was a day on which Alastair felt he could "run forever" and local rumour has it that he claimed to be "the fastest white man in the world" [behind an African( Abebe Bikila) and a Japanese (Morio Shigematsu)]!
Donald Ritchie ran the Inverness to Forres in 1966, 1967, 1969, 1972 and 1973. He remembers that the 1966 course started where the industrial estate is now, with about a mile to run before going under the railway and joining the A96 south bound. His training diary entry follows. "I travelled to Inverness with Alastair for the Inverness to Forres marathon, which is part of the Forres Highland Games. Weather conditions were ideal: a cloudy day with a following wind. Alastair led, followed by Ron Coleman, Peter Duffy, myself and Hugh Mitchell. By ten miles Alastair was well away and Coleman had got away from Mitchell, who in turn had pulled away from me and I had a gap on Peter. My time at ten miles was given as 50.05, which is suspicious. We had a refreshing shower of rain, which lasted for about 30 minutes, between ten and twenty miles. My time at 20 miles was given as 1.53.30 and from there I could see Hugh pass Ron. About three-quarters of a mile later he stopped for a drink and then started jogging. I passed him soon after this and the sun broke through, making the temperature rise considerably, so that it became very hot. We left the A96 at Brodie, crossed the railway line and followed a minor road, before re-crossing the railway to rejoin the A96. By this point I was really feeling grim and felt like I needed to stop for a serious call of nature. I managed to keep going and the feeling passed. I was some two miles from Forres and gradually it got closer. There are two nasty little hills as you enter Forres, which I felt hard. I was very glad to see the sports field in Grant Park and I was soon on my last lap. Alastair's time was a great 2.13.45, the fastest in the world this year. Hugh Mitchell ran 2.25.16 and I achieved 2.29.08, with Brian Goodman 4th in 2.38.21 and Peter Duffy finished fifth of the eleven starters. I had two blisters on my right foot." It seems likely that the course measurement may have been done in a car; and therefore the ten mile point seems a little early but the twenty mile point seems right enough. Add a following wind and AJW's great form and the fantastic finishing time is explained. In a 'Scotland's Runner' interview by Mel Edwards in 1986, Alastair himself claimed that the course had been measured by surveyors and the North of Scotland AAA.
Before that marvellous run in 1966, Alastair had won the 10th July 1965 inaugural (?) event in 2.29.54, with Duncan Davidson of Forres Harriers third in 2.47.06.
Then on the 8th of July 1967 Alastair Wood (2.16.16) won the Inverness to Forres Marathon again. Don Ritchie hung on during the first five miles but slowed down drastically during the last ten to finish second in 2.35.22. (Please note that on 26th August 1967, Alastair was a close second (2.16.21) to Jim Alder in the AAA Marathon, so there is no reason to suspect the length of the Forres course that year.) Don Ritchie's diary is as follows. "I drove to Inverness with Peter Duffy for the marathon. Alastair won it in 2.16 with me a very poor and tired second in 2.35. Peter dropped out at 13 miles because of a blister, which allowed a Shettleston runner to take third place. I have never felt so bad in a marathon before. I went with Alastair for about five miles, but found it very hard and had to let him go. After 13 miles I began to experience restricted breathing and very painful legs. I felt that I was crawling round the track lap at the finish."
On the 6th of July 1968, Joe Clare (AAAC), a very strong runner (but certainly not as good as AJW) won in 2.18.43 (and his time IS accepted by the International Association of Road Running Statisticians, so why not Alastair's runs in 1966 and 1967? Sounds like victimisation.) Therefore 1969 was Alastair's fourth victory.
On the 4th of July 1970, Alastair won for the fifth time, apparently breaking his own course record by recording 2.13.44, no less than 22 minutes in front of the second-placed Duncan Davidson. However this time the distance was found to be three-quarters of a mile short, at least partly due to a change of start place. Yet this is no reason to doubt the 1966 European record or indeed the other fast times in 1967 and (apart from the shorter distance) 1970. My belief is that these good times may be explained by changes to the start place, a following wind, and cool conditions, plus a variation in Alastair Wood's fitness. The slow times in 1965 and 1969 were on hot days without a tailwind. Nowadays, runners exult in fast times at the London Marathon, with its long downhill start and frequent tailwind! No one complains about those factors and the rapid times……
There is no record of a marathon being held in 1971 but on 8th July 1972 Don Ritchie finally won the event in 2.33.00, with Duncan Davidson second in 2.54.35, Mike Scott third in 3.01 and Charlie Greenlees fourth in front of Ron Pickard. Donald's diary noted: "The weather was warm and I assumed the lead after about a mile and thought that I was running well, but the five mile time of 28 minutes was disappointing. Ten miles was passed in 56.15 and I was surviving the heat quite well but the road surface was very hot and my feet suffered very badly, especially on the newly-surfaced sections of road with stone chips. I slowed over the last two miles and my feet were extremely painful, so I was pleased to reach the Games field at Grant Park and the finish and very pleased to win. At night I suffered from sunburn on my back and shoulders and my feet were blistered, with raw skin on my big toe and a burst blister on the sole of my foot. I hope that they will not become infected, despite my cleaning and disinfecting efforts."
Then on 7th July 1973, the amazing Alastair Wood won for the sixth and last time in 2.22.29 with Don Ritchie second in 2.27.10, Colin Jackson third in 2.29.12 and Duncan Davidson fourth in 2.49.12. Donald wrote: "I had mis-judged the time to drive from Aberdeen to Inverness so had to drive like a madman to get to the start at 30 seconds after 1 p.m. The race was due to start at 1 p.m. but luckily the runners were only lining up as my Birchfield Harriers team-mate Colin Jackson and I arrived. They agreed to delay the start for us. I was completely drained of nervous energy by then. The start was quite brisk, and I went with Alastair despite feeling dozy, but after about three miles I let Alastair go. I passed five miles in 27.00 and began to feel better and held the gap to Alastair constant for a while. I reached ten miles in 54.25, fifteen miles in 1.22.52 and no time was given for 20 miles. I was quite pleased with how I felt during the race. Colin was delighted with his race and breaking 2.30. (Alastair is positive that the course is now too long and he estimates it is 27 miles 680 yards.)"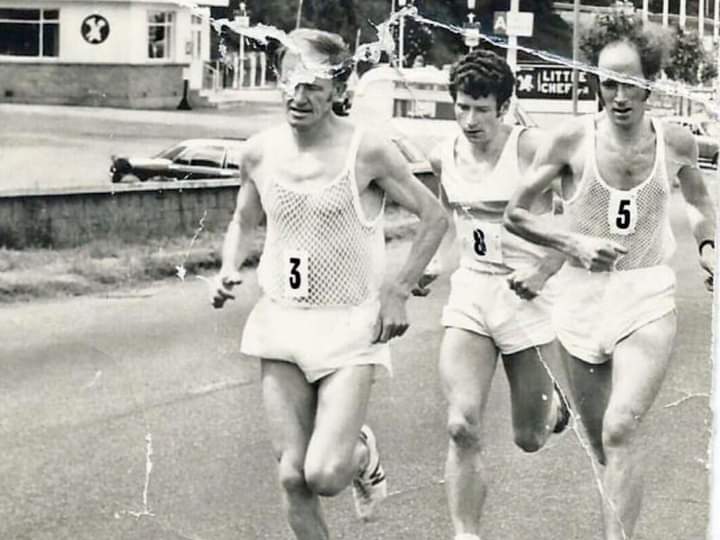 Not long after the 1973 start, left to right: Alastair Wood, Colin Jackson, Donald Ritchie
On Saturday 6th July 1974, just two weeks after finishing third in the Scottish marathon championship, representing ESH, I turned up for what turned out to be the final Inverness to Forres. I have a copy of the race instructions as well as the precise locations of the 'refreshment stalls'. The race started now "on Longman Road at 1 p.m. sharp, directly opposite Lamp Standard on left of entrance to Brown Wooden Building, midway between Auto Sales and Ferries Garage. Runners must keep on the left side of roadway." One official was instructed to "run and open the Canvas Gate near to the Cricket Pavilion so that runners are not hindered in getting into the Park". However my pot-hunting attempt was doomed. At the start I met the redoubtable Sandy Keith, a training partner and major rival from Edinburgh AC. At the Scottish marathon, he had led for some time then 'blown up' a little to finish fourth, four minutes behind me. However his powers of recovery were far greater. I threw in several fartlek bursts during the first ten miles of the Forres race, failed to shake Sandy, and then 'gave up' and watched him stride away out of sight. He won in 2.26.28, whereas I plodded in second in 2.33.44. I have the finisher's certificate, signed by Forres Harriers official Sandy Brander, who did a lot for North Athletics, along with Tom Mackenzie, a cheerful, charismatic Inverness stalwart.
A year later, I finally obtained a coveted 'North of Scotland Milk Marketing Board' plaque, for winning the Forres Highland Games Road Race, but the distance had been reduced to a hilly ten miles. In 1983 I won the event again, over a similar course measuring 11 miles plus.