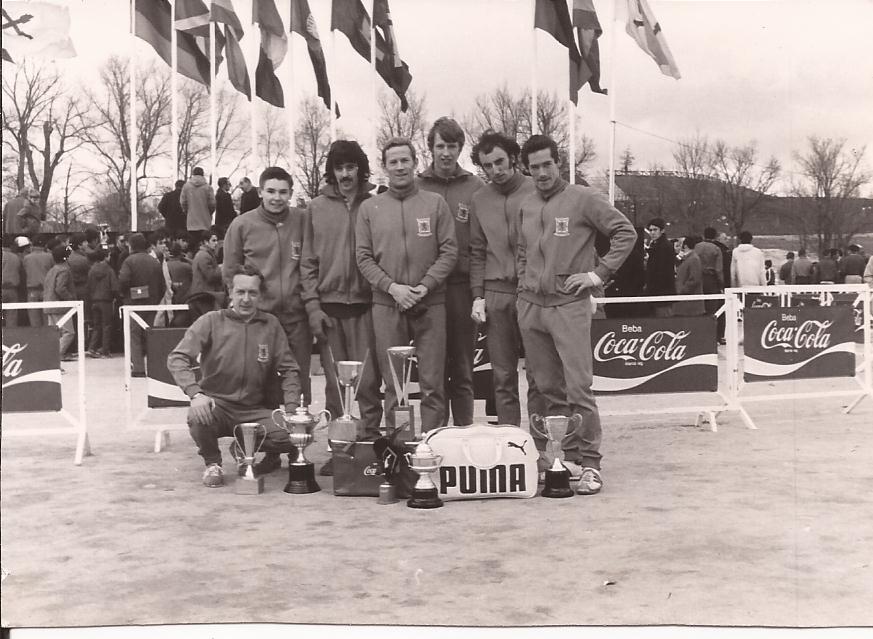 Several of the most popular athletes are here with Eddie Knox and Lachie Stewart on the extreme right.
The website has been running for several years now and the number of visits has increased year on year. A kind of Oscars for the site – the DotScot Awards. The biggest number of hits on a single day was over 700 but this year the highest number was almost exactly 600. There have been 98,471 page views over the last 12 months, the highest monthly total was 5,549 in April 2019 and the top 10 categories were as follows:
These are the categories but we can look at them more closely. Bear in mind however that the pages with most links on them will, or should have, most views. eg Elite Endurance has many more names on the page than The Milers and that would probably cover the difference of less than 400. Bearing that in mind, the relatively high position of The Chasers is perhaps a bit surprising. Who's Who is comparatively recent in appearance so it's dominant position says something about what the readers want to see. The most popular individual page for the Who's Who was the letter C with 542 visits, followed by B (486), Mc Alinden to McParland (429) , VWY (390) and S (389). The most popular Marathon Star was Leslie Watson with over 1,000 views with Donald Macgregor 400 behind (640) , Donald Ritchie (559) and Jim Dingwall on 557. On the Elite Endurance page, it was Eddie Knox top on 684, followed by Lachie Stewart at 664 and Liz McColgan on 356. Most popular miler in the overall rankings was 800m runner (?) Tom McKean with 735 views. Carol Sharp and Graham Williamson were second and third most popular over the year.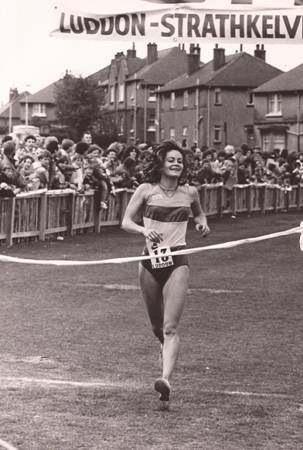 Lesley Watson wins the Luddon Strathkelvin Half Marathon.
Individuals:
Leslie Watson is by far the most visited of the individual profiles, almost 300 more views than John Freebairn and Tom McKean. A good athlete as a teenager with SWAAA titles and international vests, she came into her own when the marathon boom started and she became probably the most prolific of the top class runners produced by Scotland at that time. Like all the others, just click on her name above to go to the page and see just how good she actually was.
Number two among the individuals is an interesting. John Freebairn was a very good athlete indeed as a youth but he was blacked as an amateur when he chose to play professional football because as a student he really needed the money. After several years as a pro athlete he was re-instated as an amateur and became an international coach and veteran athlete. A really outstanding athlete he would probably have competed for GB had it not been for the rupture between Pro and Amateur athletics. His pages were all well visited with his next most popular page being John Freebairn – In the Beginning which had 485 visits. There were three other pages – As a Professional (107), As a Veteran (125) and As Others See him (201).
Stuart Hogg in seventh place was another who wanted as a boy to run in the Olympics but had to race as a pro because he lived in an area known as a hotbed of professional athletics and because he lived three bus journeys away from the nearest club. It is kind of strange that three of the professional athletes that we profiled – and the three which were most viewed – had not wanted to be professional in the first place. Be that as it may, Stuart's other pages were visited as follows : As A Coach (243), Career Achievements (127), Athletes (159), Talking About Stuart (71) and To the Top (56),
Tom McKean topping the Milers was a bit of a surprise, I think, because he was an 800 runner. However wherever he was placed he was the subject of a lot of interest as a runner – and as a runner he was much better and more successful than many suspected. Six of the top ten are no longer with us, having died in the past year Eddie Knox, Donald Macgregor, Don Ritchie, Jim Dingwall and Mel Edwards as well as John Freebairn. All top class athletes, all highly respected and all really missed from the scene. Lachie of course, El Lachie to our Spanish friends, is one of the most respected athletes of all time and we were all saddened to hear of his recent amputation of part of his left leg. The good news is that he is progressing well and his recent video on BBC testified to that.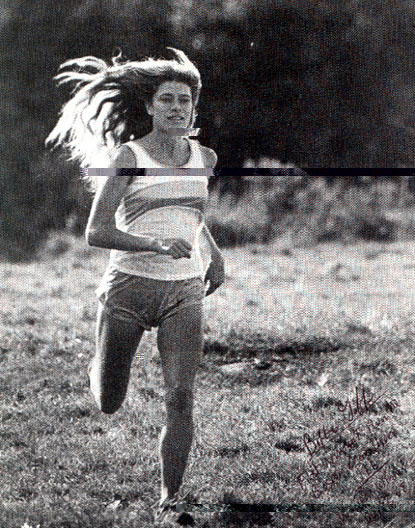 A non-Scot of interest is Bobbi Gibb, the first woman to run in the Boston Marathon. When they were writing up Kathy Switzer as the first woman to run in the event, and the Press was almost vilifying Scot Jock Semple, it seemed about right to point out that it was Gibb not Switzer who was first – and was congratulated by Jock afterwards. That particular post has been read hundreds of times and continues to be read several times each month.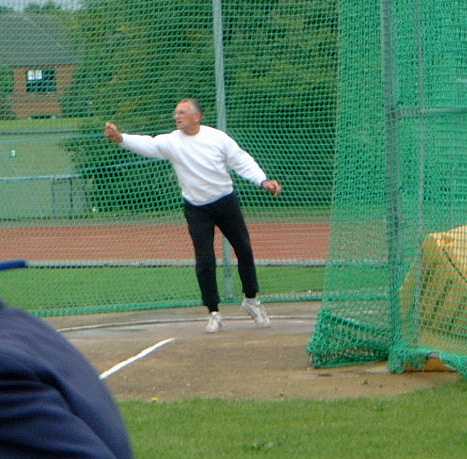 John Freebairn
Having had a look at the various categories there was a vast range of events in which the athletes competed = road, country, track, hills, etc and the preferences seemed to go with what might be expected with three long distance road races in the top four.
Events:
Glasgow Marathon – 1,283
Two Bridges – 815
The Rangers Sports – 552
Aberdeen Marathon – 393
Dundee Marathon – 453
Edinburgh to Glasgow – 417
Just click on the link – the name of the event you want to see – above for the story of each event. It is probably true to say, though, that the one which produces most correspondence is the Two Bridges Race although it is a close run thing with the Rangers Sports.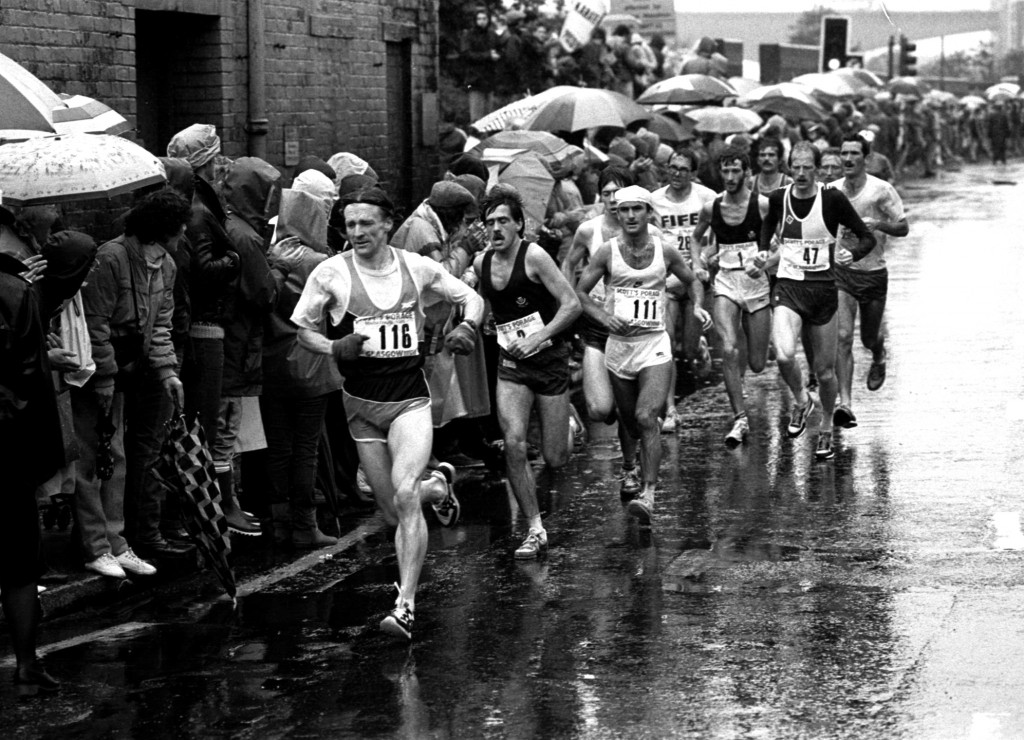 Glasgow Marathon 1985
The next page to go up will be the top three in each category – the top three Milers (men and women separately), the top three Steeplechasers (men only – the website deals with the period 1945 to 1990 and there was no women's steeplechase at that time), the top three marathon runners (men) and top three marathon runners (women).