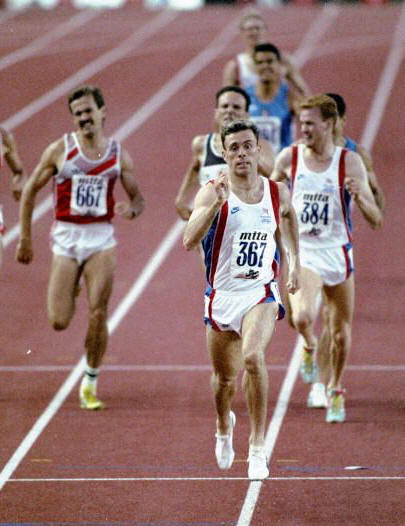 One World Cup Gold. Two European Titles in 1990 – 800m indoor and outdoor. World Indoor Gold. Two Commonwealth Silvers.
Won four consecutive Europa Cup Final 800m – 1985, 1987, 1989, 1991
Despite the above catalogue of success at international level, Tom McKean is almost unknown to the present generation of young runners, which I find quite amazing. Tom was possibly the best endurance runner Scotland – by far the best 800m/1500m athlete of either sex – has produced. Even if we only look at the number of times he has headed the Scottish Senior rankings we see that he has that honour no fewer than eleven times. One of these time was under 1:44, five were under 1:45 and two were under 1:46 while only five other Scots ever have been under 1:46 and none under 1:45. In the British all-time rankings he is number five with his best time of 1:43.88 and there are six more of his times listed there. In the British Championships, he won in 1991, was second to a Kenyan in 1990 and also second in 1988 and third in 1992 and 1993. Indoors he won the AAA's 800m in 1990, 1993 and 1994 and back at home he won the SAAA 800m in 1984, 1985, 1987, 1988, 1989 and 1994. It's an absolutely fabulous record. Fortunately his career and the life of the "Scotland's Runner" magazine were almost exactly contemporaneous so we have very good detailed accounts of his races (mainly from the excellent Doug Gillon) and some frst class pictures.
I first saw Tom in action at Coatbridge in the early 1980's. I had a squad of 5000m/10000m runners and Tommy Boyle had a group of runners from Bellshill at the track at the same time. One evening he asked me to come and 'Look at this.' He pointed out one of his young runners at the start of a rep and the young man sped through the group although he had started well behind them. It was of course Tom McKean and Tommy's line was, "When you get something different, you know it!" He was right of course and we know now how good Tom was. (By the way, for the purposes of this profile, I'll use Tom to refer to the runner, and Tommy to refer to the coach.) I was Scottish BMC Secretary at the time and organised seminars once a year at Huntershill in Springburn. The first year, the theme was Strength for Middle Distance Running, the second year Speed for Middle Distance Running and the third year (1985) I invited Tommy to come and talk on 'Putting it together'. He did it clearly and at the end of the day in an 'any questions' format with Frank Horwill and other speakers he was asked to predict how Tom would do the following year in the Commonwealth Games. He said that there would be a medal and afterwards I commented that he was either very wise, very brave or very foolish. Well, we saw in 1985 and 1986 which of the three was the most accurate and who knew Tom best. That's important because I have never known so much 'second-guessing' of a coach and athlete programme as Tom and Tommy were subjected to. There is always someone who knew best but I think that everybody thought they knew best about Tom's progress. At a BMC Two-Day AGM and Conference at Jordanhill in Glasgow when Tom was running superbly well, Tommy was asked in a very aggressive fashion whether Tom would not have been better with more races; when Tommy turned the question round and asked the chap how often he thought Tom had raced, the estimate was only about 50% out. The numbers who said that Tom should do more long runs were also high. The truth was that Tommy played his cards very close to his chest at all times and never really published all the details of training. The gap in knowledge brought forth all sorts of criticisms and observations, many of which contradicted each other. Because Tom's athletics career was as good as it was, I intend writing about a separate bit for as many weeks as it takes: the high spots will all be here but will not all go up at the same time. I would also add, that his career had so much in it that I won't deal with every Grand Prix, every Heat that he raced in. While not impossible for some it would be for me and would simply be a huge (and I mean HUGE) catalogue of results and there is more to any athlete than the figures of his career.
I'll begin with an extract from an article by Doug Gillon in the first ever issue of 'Scotland's Runner' in July 1986. Tom had won the Europa Cup 800m in 1985, much to everyone's surprise in 1:49.11 in a very rough race with elbows and fists flying. Tommy was a bit concerned at this very early success, feeling that the Championships in 1986 would have produced even better results had Tom been less well known than he now was. At the time of the article Tom was number eleven in the Commonwealth over his 800m distance …..
"Five of the eleven are Kenyans however. In total only six or seven are likely to be on the start line in Edinburgh. And not one of them is capable of finishing as fast as McKean …. provided the race is run to suit him. The credit for that goes to Boyle, the fruit of 12 years hard work in which a very special relationship has been established. How special can be gauged from Boyle's reaction as McKean's participation has hung in the balance in recent weeks because of a stomach problem. "There is more to life than athletics," says Boyle with unfamiliar heresy from a coach. "I'd pull Tommy out of the Games without a second thought." But in the face of the inquisitor, Boyle refuses to recant. "I am thinking about Tom McKean's future as a human being not as an athlete,! he insists.
If McKean has much to gain from athletics success, he also has much to lose from failure, as Boyle well knows. It was he who negotiated a complex job and sponsorship package with the Glen Henderson motor group, and two deals with his own employers, Honeywell. And there is more in the pipeline. Boyle certainly works at his role. He fields phone calls to shield McKean, checks on the credentials of medical advice on offer from Finland to Clelland, studies the qualifying times, round by round at major championships, probes every source for the slightest sliver of information about potential rivals. Then there are the training schedules, weighed up and fine tuned daily. Today's neglected muscle twinge is tomorrow's traumatic breakdown. All that while holding down a demanding job in quality control with the Lanarkshire electronics firm.
It is a world Boyle can never have dreamed about when Tom McKean first showed up at Bellshill YMCA on a winter's day in 1974. "He was one of about half a dozen very talented kids who joined that year," recalls Boyle. "But he was by no means the most talented. Each of them subsequently became district or national medallists in middle distance or sprints." Nor was success immediate. "Tom was a late developer, showed very little before he was 15 or 16," he adds. "There are two ways one can train children – work them very hard, especially at middle distance, and you get immediate results. But whatever way you do it, there's a big drop-out – about 90%. The other approach – mine – is to take time, try to develop the youngster totally as an athlete and a person. It takes a hell of a lot of patience, years of work. And another 9 out of 10 will vanish before you see the fruits. …. The first time" I can really recall Tommy showing signs of promise was the national cross-country championships in the snow at Glenrothes. He was sixtieth with half a mile to go … and finished third. And we had done no specific endurance training."
But it was not all medals and glory. At 15 Tommy ran in his first Scottish Schools 1500m final – and finished second last. "I took a lot of criticism then," says Boyle. "He was a tall, gangly, raw laddie and other middle distance coaches at the club reckoned that he should be doing longer work, preparing for a cross-country career in the club's general tradition. But I had already spotted that he was bouncy …. that sprinting type of bounce, not just a flat footed runner." By now he was 16. Training was stepped up from two weekly sessions to four with a race at weekends.
At 17 McKean was second in the UK schools 800m, competed for Scotland in the Bell's Junior International and won the Lanarkshire 1500m. That year he earned his first Senior Scottish vest. "I can remember it well," admits McKean, "It was against England, Hungary and Poland – and Steve Ovett elbowed me in the gut in the back straight and I went from second to last." But such early lessons were quickly learned, and he did the 400m/800m double (49.47/1:56.2) at the Scottish Indoor Championship. The following year, 1982, he retained the junior 800 metres title (1:55.33). but surrendered the one lap crown to Mark McMahon. "But my 800m time for the year (1:49.1) made me the second fastest Scottish junior ever for the distance," says Tom. And in his training Diary he wrote "Sixth fastest UK. Fifteenth in Europe." His horizons were widening.
But 1983 was a disaster. "it almost put me out of athletics," confessed McKean. He suffered shin splints and under pressure, physiotherapist Tom Craig allowed him one race, the national championship, in which he finished second behind Paul Forbes in 1:49.18. "If it hadn't been for that race, giving him a bit of encouragement it would have been all over, " says Boyle. Even after that, during the winter, the pair had problems. "It was one of our toughest spells, just the typical teenager thing … Tommy had a girlfriend, thought he could spend a lot of time with her and still go out and win. But he soon discovered that he couldn't and things got back to normal."
Those surprised by McKean's exploits last year must have had their eyes closed the year before. In 1984 he was unbeaten as he lowered his personal best for 800m to 1:48.4. These successes included: Scottish 800m title, Scottish YMCA 400m title, West District 800m, Inverness Highland Games 800m, Edinburgh International Games 1000m B race, Dundee 800m, Scotland International v Ireland 800m (his first televised run) and another international win over two laps against England and Holland. Last summer's victories – over Steve Cram on the Grand Prix circuit, and when called in as a late replacement for world record-holder Seb Coe at the Europa Cup final in Moscow, are public history. But the real secret behind McKean is the manufactured sprinting ability that makes him such a devastating finisher. Other Scots have run faster but none with the finishing burst of this consistent winner. ….
"All Tommy's training is at high-speed endurance. Hence the high injury risk," explains Boyle. "Tommy couldn't handle the type of sessions like 6 x 600m with short recoveries that Coe and Cram do. He's not that kind of runner."
But he could provide a big embarrassment to both at the Games, especially if the Kenyans in particular, fail to push the early pace. "
That's the bulk of Doug's article and neatly encapsulates Tom's history up to that point. It only remains to reproduce the table that accompanied the article.
| | | | |
| --- | --- | --- | --- |
| Year | 200m | 400m | 800m |
| 1978 | | | 2:08.00 |
| 1979 | | | 1:59.7 |
| 1980 | 23.5 | | 1:54.1 |
| 1981 | 22.9 | 48.7 | 1:52.6 |
| 1982 | 22.8 | 47.9 | 1:49.01 |
| 1983 | 22.4 | | 1:49.18 |
| 1984 | 22.38 | | 1:48.4 |
| 1985 | 21.6 | | 1:46.05 |
Tom finishing second behind Steve Cram in Edinburgh, 1986
In the Games two months later, Tom really set the heather alight when he took second in the 800m final behind Steve Cram. Domestically his feat was marginally overshadowed by Liz Lynch's gold in the 10000m, but in the hot-house of British middle distance running, Coe, Cram, Ovett and Elliott all marked their cards that they had maybe more competition than they had realised.
| | | | |
| --- | --- | --- | --- |
| Place | Name | Country | Time |
| 1 | S Cram | England | 1:43.22 |
| 2 | T McKean | Scotland | 1:44.80 |
| 3 | P Elliott | England | 1:45.42 |
| 4 | P Scammell | Australia | 1:45.86 |
| 5 | M Edwards | Wales | 1:47.27 |
| 6 | S Hoogewerf | Canada | 1:49.04 |
| 7 | P Forbes | Scotland | 1:51.29 |
Doug reported on the Games as follows: " … a member of Bellshill YMCA since shortly after his eleventh birthday and nursed delicately by coach Tommy Boyle. His silver medal behind Steve Cram was a national record and bettered a native one that had stood to Mike McLean, chairman of the selection committee for the Games, since 1970."
Video of the race http://www.youtube.com/watch?v=cceACL2S0UA&feature=related
Later in the year Tom ran in the British vest at the European Games where his team mates in the 800m were Seb Coe and Steve Cram. In what was a first class race he came so close to winning that the athletics cognoscenti (and even the not-quite cognoscenti!) really sat up and took notice. We return to Doug Gillon in 'Scotland's Runner' for the race description. "… Hours earlier the vine terraces which provided the backdrop to Stuttgart's Neckarstadium had rung to frenzied cheers as McKean lit the fuse for the most explosive moment of the championships. The script that had the race as a scene to be played out exclusively between Sebastian Coe and Steve Cram was spiked when McKean struck for home into the final bend. McKean, the catalyst for that amazing run, came within an ace of an upset as spectacular as the one four years ago when Coe, suffering from a liver ailment, had to settle for silver in Athens.
Sitting just behind the leader, Poland's Ryszard Ostrowski who reached the bell in 51.98 seconds, McKean felt sure he could win. "I'm just not … fast enough," he gasped, seconds after crossing the line, and then, sucking up lungfuls of the chill night air, he exploded ominously "yet." His time of 1:44.61 was his third Scottish record of the year and was just eleven hundredths behind Coe. Cram clocked 1:44.88. Coach Tommy Boyle, the man who made it all possible, nursing McKean to three lucrative sponsorship contracts and through three injury crises this year, was delighted. He spent a sleepless night after the final, mapping the future of his protégé before flying back to Scotland in the dawn hours. Then he was off once again with McKean to the Sports Fair in Munich, and to plot the last act of McKean's season, a run over 800m in the Van Damme Memorial Meeting in Brussels.
McKean's performance now guarantees absolution from the penance which most of his fellow countrymen pay for being Scots. He can now walk into any race he wants, whereas most are at the mercy of international promoters who can fly in English athletes more cheaply."
| | | | |
| --- | --- | --- | --- |
| Place | Name | Country | Time |
| 1. | Sebastian Coe | GBR | 1:44.50 |
| 2. | Tom McKean | GBR | 1:44.61 |
| 3. | Steve Cram | GBR | 1:44.88 |
| 4. | Rob Druppers | HOL | 1:45.53 |
| 5. | Ryszard Ostrowski | POL | 1:45.54 |
| 6. | Peter Braun | FRG | 1:45.53 |
It was the race that Tom thought was his best and Doug Gillon has a very good article about it on the Scotstats website – read it at www.scotstats.com/sats/uploads/Tom%20McKean.pdf It has lots of detail and a degree of insight that I couldn't find in any other report. A sidelight on the race: Tom's first big race, the Europa Cup of 1985, was a very rough affair with a lot of barging going on. At the BMC AGM and Training Weekend in Liverpool that year, Peter Coe took Frank Horwill and Tommy Boyle to see a video that the BBC had put together for him taken from different angles from that actually broadcast. It was on the outside of the track in the middle of the back straight in the second lap and Peter asked why Cram had given 'your man' such a buffet at that point. And as we watched in fairly close up, the runners were running along with Tom a couple steps ahead of Steve when at about 250 to go, Steve seemed to stretch out slightly and wallop Tom in the small of the back with the flat of his hand. His route wasn't blocked and it wasn't a punch – just enough to put most men off their stride, coming as it did without any warning. Peter then remarked that Tom had done very well to take it without even faltering. This all happened at 1:44 pace. International 800m running seems to be even more violent than Highland Games handicap 800's on slippy grass and without lanes..
He won the 1987 SAAA 800m at Meadowbank in June after a heat, a semi-final and the final. Three rounds – either a good sign of strength in depth of Scottish 800m running or madness to ask runners to do three quality 800's in two days! However, the report in "Scotland's Runner" read as follows. All eyes were on Tom McKean in his first outing of the season, but there was no call for him to turn up the super-charger. Successive times of 1:50.81 and 1:50.82, put him into the Final and when he reached 600m in80 seconds, (400 in 53.42), the pursuit was already adrift. But Tom Ritchie hung on well to dip under 1:50 for the first time, and 18 year old David Strang, Glasgow-born, South African junior champion (1:48.8)was good value for his third place. It was a measure of what is expected of McKean these days that his breaking of Dieter Fromm's 13-tear-old championship best excited little comment except a ticking off from his coach for not having run faster. 1. T McKean 1:48.17; 2. T Ritchie (PAAC) 1:49.62; 3. D Strang (Haringey) 1:50.24; 4. J Rigg (Warr) 1:51.13; 5. D Gray (Ayr) 1:51.76; 6. D Black (Liverpool) 1:51.90; 7. P Tweedie (Anna Striders) 1:52.42; 8. B Murray (ESH) 1:53.42.
The Wikipedia entry for Tom says that "McKean was one of the favourites for the 1987 World Championships in the 800m. However he caught the foot of another athlete in the final and suffered an injury which resulted in him finishing last." The actual result of that final was 1. Billy Konchella (Kenya) 1:43.06; 2. Peter Elliott (GBR) 1:43.41; 3. Jose Luiz Barboza (Brazil) 1:43.76; 4. Ryszard Ostrowski (Poland) 1:44.59; 5. Faouzi Lahbi (Morocco) 1:44.83; 6. Stephen Ole Marai (Kenya) 1:44.84; 7. Slobodan Popovic (Yugoslavia) 1:45.07; 8. Tom McKean (GBR) 1:49.21.. Doug Gillon in "Scotland's Runner" did not give a detailed account of the race but reported: "Inescapably there were moments of bitter disaster and nothing did more to fan the flames of bitter disappointment than the eclipse of Tom McKean in the 800m final. McKean learned a difficult tactical lesson and admits that he made mistakes. But Seb Coe widely regarded as the greatest 800m runner in history, had a string of disasters at this distance before finally winning a two-lap title in Stuttgart after nearly ten years in senior international athletics. And three subsequent victories over the world champion Billy Konchella have firmly regained the psychological edge for the Lanarkshire man. …. Conspicuously, the English tabloids who had been so quick to write 'quitter' or 'McKean bottles it', were subsequently more restrained when Steve Cram also finished eighth, in what was an even more spectacular fall from Olympus."
He had been looking good in the Heats, Quarter Finals and Semi-Finals (that's right – FOUR rounds in total!). In the fourth of eight heats, he was third behind Phillipe Collard (France) and Stanley Redwine (USA) in 1:47.71, then third in the fourth quarter final behind Billy Konchella (Kenya) and Phillipe Collard in 1:46.11 and then won his semi-final in 1:44.86 ahead of Jose-Luiz Barbosa and Stephen Ole Marai (Kenya) while Conchella won the other semi in 1:46.11. It looked good for the final. Alan Campbell said in "Scotland's Runner": "One by one the top-billed gladiators entered the arena, and one by one they stumbled and fell, in some cases literally as well as metaphorically, ….. From a Scottish perspective the let down came from Tom McKean and Liz Lynch. Tom had asserted himself in the semi-final, and really the gold medal lay between himself and Billy Conchella (the final only confirmed that view despite the unhappy outcome). I watched the final in the company of people with no real interest in athletics, but who were drawn to the box by the prospect of a Scot winning a rare gold medal. Not knowing much about the sport, they were suspicious about the hype surrounding the 'Glasgow street-fighter' (sic) in the Fleet Street Press, and I'm afraid Tom's nightmare only confirmed their prejudices. It's absurd to put such a weight on one young man's large shoulders but Scottish athletics lost a lot of potential recruits that night."
If you want to judge for yourself, there is kind of blurred video here http://www.youtube.com/watch?v=-P8kUMlBM08&feature=related Thanks to Joe Small for that.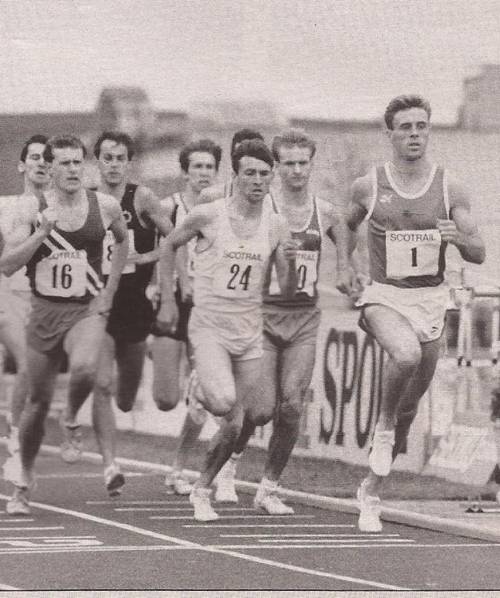 SAAA Final, 1988.
1988 was of course Olympic year but the first championship that Tom had was the SAAA event at Crownpoint in Glasgow where he was defending his title. Again there were three rounds and Doug Gillon had this to say, "This was little more than a training exercise for Tom McKean but it achieved his desire to get in three races within 24 hours. In the real race, for second place, Nick Smith of Shaftesbury, edged out John Rigg and Tom Ritchie. Result: 1. T McKean (Bellshill) 1:47.09; 2. N Smith (Shaftesbury) 1:49.63; 3. J Rigg (Warr) 1:49.83; 4. T Ritchie (PAAC) 1:49.95; 5. A Murray (Kilmarnock) 1:50.60; 6. A Linford (Blach Heath) 1:50.88; 7. G Gibson (Kilbarchan) 1:51.95; 8. G Stewart (Clydebank) 1:52.29)" Quite straightforward then and minds were focused even more intently on the Olympics.
Tommy Boyle spoke in the "Scotland's Runner" of October 1988 about Tom's chances in the Games. Doug again:
"You get the impression that the experience of Rome last year not only left a mark on Tom McKean, but on Tommy Boyle as well. McKean went into that race as favourite, according to the British Press, and you sense from Boyle's defensiveness that he is terrified one of his athletes is going to enter the paddock in Seoul as a favourite. "People get built up and then get knocked down," he says bitterly. No way is McKean going to be a favourite in Seoul, and despite the disappointment that he hasn't recorded a faster time going into the Olympics, Boyle is probably relieved about that. "Physically Tom is as well prepared now as he was for Rome, given that he had an Achilles injury for six weeks," Boyle reports. "Tom has always done well in the major competitions with the one exception in Rome. We'll start to see the lie of the land in the 800m in the semi-finals. You never know what will happen because Johnny Gray got knocked out in the second round last time holding the fastest time in the world. But the people who get the best times and qualify for the final are the favourites." Although Boyle insists that times are not important at the Olympics, it will be a surprise if McKean is not forced at some stage to run inside 1:44.45, the Scottish record he set at Lausanne in September last year. The speed endurance training he has undergone since the AAA trials in Birmingham, when he was nearly caught by Steve Heard in the final straight makes Boyle confident that his man will be capable of sprinting off a fast pace, such as the one he encountered at Birmingham and which so nearly caught him out in the last 100m" (In the AAA's championships that year Steve Cram had won in 1:44.16, with Tom second in 1:45.10 and Steve Heard third in 1:45.32.)
Tom's best race in the pre-Olympic period was in Berlin against Seb Coe – much to the astonishment of David Coleman, and almost everybody else, Tom won. Coe can't say he wasn't fit or anything like that, he was beaten by a better man on the night. Tom ran a superb race, never in trouble and always with a clear line all the way through the race. See it here http://www.youtube.com/watch?v=viVhFMUcGbU I give you fair warning that although the video is good and clear, the commentary is dire – so biased towards Coe that it is almost hard to take. The write up before the race, the …. Well see for yourself!
In Heat Nine of Round One, Tom was second in 1:47.24, then in the second round (quarter finals) he ran 1:46.04 but was unfortunately disqualified for too much physical contact. Coming after the difficulties in Rome it was hard to take. Doug commented on it in "Scotland's Runner". "Tom Boyle adopted a similar policy with McKean (refusing to let him run in the Grand prix circuit in the months leading up to the Games) and I am convinced that it would have paid off for McKean had he not had a brainstorm in the second round of the 800m. Whether he can cure himself of his disturbing habit of throwing the instruction manual onto the infield at major championships remains to be seen, be he remains potentially the greatest two-lap talent in the world. He will have only himself to blame if it remains unfulfilled."
So there you have it. The British Press build Tom up and generally add pressure but Doug only says that 'he remains potentially the greatest two-lap talent in the world' after a poor run – isn't that also pressure? The comment made by Jim Ryun to the reporter who told him what he should have done on the track in Mexico City to beat Keino is maybe appropriate. He said "I know, but I was down on the track and you were up here." I do not believe that anyone who has not run in a major Games, where every opponent is a potential victor and things happen at great speed, can know or even imagine what it is like. Back in June 1989 after Tom won the SAAA championship, Doug wrote an article containing the following: "McKean's track career has been a Jekyll and Hyde affair, as he is the first to acknowledge. Tom Boyle, his long-suffering coach, marks McKean's card before every race. When he follows these instructions, he is devastating but when they are ignored, McKean plunges his supporters to the depths of despair, as witness his World and Olympic Championships and the contrast of his last two races." This was not the only time in the course of Tom's career, far from it, that he has been referred to as though he were Tommy's creature, as though racing at the top level was like Subbuteo but with runners instead of football players. Repeated as often as it was, it must have begun to grate on Tom's nerves just a bit. There is the story of the coach at Liverpool FC using a blackboard to discuss tactics before the match when Bill Shankly walked in and kicked the legs from the easel. "That's the other team coming on to the pitch." Every one of the eight runners in an 800 metres has his own race plan, at least one, and they have to be dealt with by the man in the thick of it. It was a kind of leitmotif of Tom's period at the top – journalists saying or implying that his virtues were all Tommy Boyle's but his vices were entirely his own. I may return to this theme at the end of the profile.
Before looking at Tom's racing in detail for 1989, it might be appropriate to have a wee word about his racing frequency. It was a common remark in Scotland that he did not race enough. If we take his top races as listed in Power of 10 and compare them with Coe and Cram for the same period we get Tom 11 races, Coe 11 races and Cram 9. If we go a year further on we get Tom with 19, Coe with 4 and Cram with 9. They all had injuries to contend with and there were other reasons to miss some events but the figures as they do seem to indicate that he did not race any less frequently than his rivals. For the record his races in 1989 are in the table below.
| | | | | |
| --- | --- | --- | --- | --- |
| Time | Position | Venue | Meeting | Date |
| 1:43.88 | 1 | Crystal Palace | v Kenya | 28 July |
| 1:44.20 | 5 | Zurich | Welt Klasse | 16 August |
| 1:44.59 | 2 | Stockholm | – | 3 July |
| 1:44.79 | 1 | Glasgow | – | 22 July |
| 1:44.84 | 3 | Brussels | – | 25 August |
| 1:44.89 | 3 | Cologne | – | 20 August |
| 1:44.95 | 1 | Barcelona | – | 8 September |
| 1:45.17 | 4 | Helsinki | – | 29 June |
| 1:45.41 | 1 | Edinburgh | – | 7 July |
| 1:45.89 | 2 | Crystal Palace | – | 14 July |
| 1:45.94 | 1 | Gateshead | – | 6 August |
Eleven races, one below 1:44, another six under 1:45 and between 28th July and 8th September there were 6 races starting with the 1:43! As David Coleman might have said, "Quite remarkable, really!"
Alan Campbell saw Tom win at Meadowbank in the Miller Lite IAC Meeting and commented in "Scotland's Runner". After eulogising Jayne Barnetson's performance in the high jump …"If only Tom McKean was so easy to predict. I have always found Tom to be exceptionally pleasant and unassuming, but there are clearly unresolved questions about his temperament on big occasions According to those who know him better than I do, McKean was on the brink of quitting athletics after his desperate performance in Seoul – only the (severely tested) faith of Boyle and the athlete's backers kept him in the sport. The Miller Lite Meeting last year was another of McKean's failures, when he was pitted against Said Aouita in the 1000m but simply failed to compete against the Moroccan. Against this background then, McKean might well have "frozen" at Meadowbank faced with a home crowd expecting and willing him to win, and a top class field including Johnny Gray, Jose Luis Barbosa and Robert Kibet. Nor could his nerves have been helped by a 20 minute delay at the start of the race caused by television scheduling. But our man, confirming earlier positive performances, defied his critics to win convincingly. Nobody is going to pretend that McKean has the raw talent of Paul Ereng, but at least he has the guts to put the traumas of Rome and Seoul behind him. No amount of Grand Prix victories will erase these memories but as 1990 and the Commonwealth Games and the European Championships approach, Mckean is at least enjoying a better rehabilitation than some might have dared hope. So, well done again Tom." Maybe it's just me but ………… The red tops calling him Tom McFlop and sundry other derogatory names was bad enough, no one ever re-built confidence after these sort of things written by football journalists but this particular article in an athletics magazine in which the writer twice mentions Seoul, once mentions Rome, throws in a side swipe on the Miller Lite 1000m and using less than supportive language in places does the man no favours as far as confidence building is concerned. Talk about rubbing it in! Later in the same issue there is a report on the meeting from which I quote: "The sum which had taken a shine to Edinburgh for the earlier part of the week, chose Friday July 7th to accede to more traditional capital weather. But even if the sprinters didn't get the warmth or the wind they would have liked, there was nothing remotely overcast or chilling about the standard of performances at the IAC Miller Lite meeting at Meadowbank that evening. Quite the reverse. No fewer than 13 Scottish all-comers records fell to the top quality international field assembled by David Bedford and even the non-arrival of the world's hottest middle distance property, Paul Ereng, went uncommented as the crowd rose to Tom McKean's 800m victory (1:45.41) over Johnny Gray and Robert Kibet, the two fastest men over the distance this year at the time of writing …. McKean's win, after the previous year when he appeared to give up on pursuing Aouita in the 1000m, confirmed a trend which has seen the Bellshill man show much more nuance and determination in recent outings. A win in front of his own home crowd will presumably have accelerated his rehabilitation." Again there is the referral back to the Miller Lite and the use of the word rehabilitation twice in the same magazine makes him sound like an alcoholic rather than what he was – a superb athlete who at times made mistakes in a high-speed, physical contact sport.
Earlier in the year, Tom of course won the SAAA title again prompting this unrestrained outburst from Doug Gillon: "Never mind his European and Commonwealth medals. This was the greatest race of Tom McKean's career – a solo run with 200m splits of 24.78, 49.91 and 76.22 represented a pace inside world record schedule. Kilmarnock's Alan Murray knocked lumps off his personal best, but McKean was a class apart with a native record which was one hundredth of a second faster than his Commonwealth silver medal. More important, it demonstrated that he can run world-class times off a fast pace, building the confidence for an even more famous win over Olympic champion Paul Ereng a week later. result: 1. T McKean (Bellshill) 1:44.79; 2. A Murray (Kilmarnock) 1:48.83; 3. T Baltos (Knau) 1:49.62; 4. D Strang (Haringey) 1:49.68; 5. J Ostengard (Denmark) 1:51.18; 6. J Schweer (W Germany) 1:51.88; 7. S Murray (Kilmarnock) 1:53.17; 8. G Brown (SUAC) 1:54.93."
If the 1989 races were really remarkable, then have a look at his schedule for 1990 where he had 19 races listed against 4 for Coe and 9 for Cram.
| | | | | |
| --- | --- | --- | --- | --- |
| Time | Position | Venue | Event | Date |
| 1:44.44 | 2 | Birmingham | AAA | 4 August |
| 1:44.76 | 1 | Split, Yugoslavia | – | 29 August |
| 1:44.96 | 1 | Edinburgh | – | 6 July |
| 1:45.15 | 4 | Crystal | Parcelforce | 20 July |
| 1:45.36 | 1 | Malmo | – | 7 August |
| 1:45.53 | 1 | Gateshead | Pearl Assurance | 17 August |
| 1:45.67 | 1 | Lausanne | – | 12 July |
| 1:45.68 | 2 | Reiti | – | 9 September |
| 1:45.75 | 2 | Stockholm | – | 2 July |
| 1:46.22i | 1 | Glasgow | – | 4 March |
| 1:46.49i | 1 | Cosford | AAA | 10 March |
| 1:46.54 | 1 | Sheffield | McVitie | 16 September |
| 1:46.83 | 1 (sf) | Auckland | – | 29 January |
| 1:46.83i | 1 | Glasgow | v GDR | 23 February |
| 1:46.98 | 1 | Gateshead | Dairy Crest | 29 June |
| 1:47.27 | 7 | Auckland | – | 1 February |
| 1:47.49 | 2 | Split | – | 28 August |
| 1:47.87 | 1 (r2) | Auckland | – | 20 January |
| 3:47.95 | 1 | Ayr | – | 26 May |
1990 was of course Commonwealth Games year again and after his silver back in 1986, even better was expected of Tom. He had won the European Indoor Championship in March 1990 in 1:46.22 – a memorable feat in itself but it was kind of lost in the build up to later in the season. Writing in "Scotland's Runner" in February 1990, Doug Gillon reckoned that McKean now had the maturity to thwart the inevitable Kenyan team tactics and put Sebastian Coe's swansong out of tune. Brian Whittle was also running the 800m and Doug warned not to rule him out of the final shake-down. The final result tells its own tale.
| | | | |
| --- | --- | --- | --- |
| Position | Name | Country | Time |
| 1 | S Tirop | Kenya | 1:45.98 |
| 2 | N Kiprotich | Kenya | 1:46.0 |
| 3 | M Yates | England | 1:46.62 |
| 4 | B Whittle | Scotland | 1:46.85 |
| 5 | I Billy | England | 1:47.16 |
| 6 | S Coe | England | 1:47.24 |
| 7 | T McKean | Scotland | 1:47.27 |
| 8 | SP Doyle | Australie | 1:48.06 |
| 9 | R Kibet | Kenya | 1:48.57 |
What was the story this time? http://www.youtube.com/watch?v=Kpgpgni3JQ8 will give you a very clear video of the entire race. Coe and McKean in the first four, beautifully placed each with a clear run just didn't do it and slipped back down the field. A much more interesting run to watch was Brian Whittle's. There had been talk before the race of Tom and Brian working together on a plan to defeat the Kenyans but both parties denied it. Brian took off like gang-busters for the first 200m and at that point slowed down and started looking back: there are different ways of looking back – looking back to check that all is in order and with a degree of confidence, or there is looking back in a panic with fear of being caught obvious to all but Brian seemed to be looking for something …. Maybe he was just puzzled that in a field of that quality he was anywhere near the front. Whatever the reason, he was in a position to come through on the inside as they entered the straight and was only beaten for third by 13 hundredths. Alan Campbell wrote "I'm not going to dwell on the torment of Tom McKean, and having publicly backed him in the past, don't intend to abandon him now. He ran yet again like a donkey when most was expected of him, but one day he will triumph. He's too fine an athlete not to."
Alan's last comment proved to have some substance when it came to the European Championships in Split. Having been second at the last Europeans in 1986, he could reasonably have been expected to be a contender again. However recent experiences led people to take a dimmer view of his chances this time. But he came good with a gold medal from a major championships. His team mates this time were not Coe and Cram but David Sharpe (Cram's training partner at Jarrow) and the erratic Matt Yates. The story in figures:
Round One, Heat one of three: 1. Sudnik 1:49.71; 2. McKean 1:49.87; 3. D'Urso 1:49.81; 4. Selle 1:49.94 (Sharpe was second in Heat Two in 1:48.30)
Semi-Final: Second of Two: 1. Piekarski 1:47.45; 2. McKean 1:47.49; 3. D'Urso 1:47.77; 4. Miolovic 1:447.94. (Sharpe was third in the first semi-final in 1:45.82)
Final (Result): 1. T McKean (GBR) 1:44.76; 2. D Sharpe 1:45.59; 3. P Piekarski (Pol) 1:1:45.76; 4. A Sudnik (URS) 1:45.81; 5. S Popovic (URS) 1:45.90; 6. T Viali (Italy) 1:46.04; 7. G D'Urso (Italy) 1:47.29; 8. M Yates (GBR) 1:48.42.
Alan Campbell wrote in the September "Scotland's Runner" "Tom McKean may be to the English language what I am to 800m running, but his succinct two-liner after Yvonne Murray had won the 3000m in Split was an appropriate summarisation of a golden night. "We did the biz," said an ecstatic Tom, "That's sweet!" Perhaps only Tom McKean and Tommy Boyle will ever know just how sweet. But for the rest of us, sharing their joy from afar, it was a night to savour alongside the greatest-ever Scottish sporting triumphs. I will leave it to Doug Gillon to report first-hand in the next issue on the celebration in Yugoslavia, but on a personal note my thanks to all the British athletes in Split, their coaches and their back-up supports for giving us something to really celebrate." I have read and re-read the November issue of the magazine, and the December one but could find no report from Doug. The finish is pictured at the head of the profile.
Tommy Boyle has been praised profusely and correctly for his ability to get sponsorship for his athletes but detail is often missing. In 1991 there was one article in "Scotland's Runner" of the job that had been found for Yvonne to provide her with an income, a routine and a career after athletics and there was one in the April issue detailing the sponsorship received by Tom from Giltron Office Equipment. "Tom McKean has won new backing worth £50,000 over the next two years. The support comes from Giltron Office Equipment and provides McKean with the same level of backing as his previous sponsorship arrangement with Glen Henderson. McKean, who is now employed by Giltron, works for 12 hours a week, allowing him the flexibility he needs as he prepares for next year's World Championships in Tokyo and next year's Barcelona Olympics. Under the deal, the Paisley-based company also picks up all bills for physiotherapy, physiological testing and necessary travel." It is an interesting article and gives more detail and it can be read at Ron Morrison's website www.salroadrunningandcrosscountrymedalists.co.uk where all magazines are available in the Archive.
Tom's 1991 campaigns began comparatively late and his first race was reported in "Scotland's Runner" as follows. "Tom McKean, the European 800m champion was stunned in his first race at the distance this year, when he was outsprinted by fellow Scot Brian Whittle in the Dairy Crest Great Britain v Germany match at Crystal Palace – a match in which Ayr Seaforth's Whittle was not even deemed worthy of a place. Whittle's win was against all the odds, though no surprise for the under-rated Ayrshire runner. The British 800m team placings had gone to McKean, European silver medallist David Sharpe, and Steve Heard. But it was Whittle who came off the final bend as the only challenger to McKean, running him down some 25 metres from the line to win in 1:46.58 to the Bellshill man's 1:46.81. McKean was not particularly perturbed and certainly he did nothing tactically wrong. "Joachim Dehmel went from 300m out, and I had to go with him," said McKean. "it was a long sprint for my first race, particularly without having done any speed work. I dare not start too early, or I would be over the top before the races that matter – the AAA championships which are the world trials and the worlds themselves." It was a gutsy run by Whittle who had the benefit of a European Cuo 4 x 400m relay leg to sharpen him up. Ironically the Dairy Crest win earned him nothing, since he had requested the race, and when it came to a rematch with Heard two days later, Whittle was out-dipped on the line losing by one-hundredth of a second in 1:46.77."
He then went on to win the Panasonic AAA's Championships and Trials – his first AAA's title. He won well in 1:45.67 from Steve Heard (1:46.53) and Brian Whittle (1:46.63) and secured his place in the GB team for the World Championships to be held in Tokyo from August 24th. Once there, Tom shot himself in the foot. It was entirely his own fault. I quote, "Tom's departure from the qualifying round of the 800m could not be blamed on anything but his own carelessness. Running a perfect race for about 798m but slowing up at the line, he let in America's Mark Everett and fast finishing Kenyan Billy Konchellah. After a slow race, third was not enough to put him through to the final as a fastest loser. The Scot summed up what everyone else was thinking when he admitted that he had messed it up. He felt that he had run exactly to plan until the very last stride but was not making any excuses." Doug had told it exactly: it was a great race to watch with Tom running a beautifully judged race and then, when he knew he had qualified, eased up. Unfortunately neither Konchella nor Everett knew that Tom had qualified and sped past him literally two metres from the line (the grid helps you judge at times like that!). I couldn't find a video link for the race – it would be a wonderful teaching tool for any coach of young athletes. "A micro-second of lapsed concentration", said Doug. How close was it? Well the official IAAF archive give the first three times of the first three athletes in the first heat of the first round as – Konchellah – 1:47.35, Everett – 1:47.37, McKean 1:47.38. Three one-hundredths separating first from third.
1992 was another Olympic year and you had to go through "Scotland's Runner" until June before you found serious mention of Tom, and according to Power of 10 his first race was in June. The article. by Doug Gillon, read, European 800m champion Mckean expected to become a father as we were going to press. Perhaps it is as well that he has signed a new shoe contract and believes he is running faster than ever. Having returned from training at 7200 feet in Colorado, under the eye of Commonwealth discus gold medallist Meg Ritchie in Arizona, he said, 'We are looking forward to our first child and the responsibility will, I'm sure, help make me more committed. In Tucson (3000 feet), over 600 metres, I was running two seconds faster than I would normally be running a month from now." Footwear company New Balance have signed up McKean and although they do not normally make sprint shoes – which is what McKean normally races in – they have launched a new range in his name, the TM800. McKean, and the shoes, will have their inaugural race during the first week in June, "We're looking at meetings in Italy, France and Spain," he said. McKean will run in a 4 x 800m relay at Sheffield on June 5th, he joins Peter Elliott and Kevin MacKay in a team which may be completed by Ayr Seaforth's Brian Whittle."
His season is summarised in the following table:
| | | | | | |
| --- | --- | --- | --- | --- | --- |
| Date | Distance | Time | Position | Venue | Meeting |
| 19 June | 800m | 1:47.93 | 4th | Edinburgh | |
| 27 June | 800m | 1:46.06 | 1st H1 | Birmingham | AAA's |
| 28 June | 800m | 1:45.29 | 3rd | " | " |
| 2 July | 800m | 1:46.76 | 2nd | Stockholm | |
| 4 July | 600m | 1:15.7 | | Oslo | Bislett 800m |
| 4 July | 800m | 1:44.75 | 4th | Oslo | Bislett |
| 10 July | 800m | 1:45.24 | 2nd | Crystal Palace | TSB |
| 17 July | 800m | 1:45.33 | 3rd | Gateshead | Vauxhall |
| 1 August | 800m | 1:47.85 | 1st Ht2 | Barcelona | Olympic Games |
| 14 August | 800m | 1:47.53 | 4th | Sheffield | Lucozade |
| 16 August | 800m | 1:44.39 | 3rd | Cologne | ASV/GP |
| 21 August | 800m | 1:45.69 | 4th | Berlin | – |
| 28 August | 800m | 1:46.57 | 6th | Brussels | – |
| 31 August | 800m | 1:46.79 | 1st | Belfast | – |
| 4 September | 800m | 1:46.06 | 3rd | Turin | |
| 6 September | 800m | 1:45.69 | 6th | Rieti, Italy | |
What are we to make of that? Barcelona was at the start of August. Tom had seven good races, only once out of the top three and that was fourth. Going into the Games he was quited as saying, "I am running faster than I have ever done before at a major championship. I am right on course and have only the fine tuning to do." And then one round in the Barcelona first round which he won. So what happened in the Olympic Stadium? The first round was fine but Doug as usual has the word for us: "Once again McKean found the Kenyans too hot to handle. finishing third behind Kiprotich and Tanui in 1:44.39. Kiprotich won in 1:43.55 with Tanui second in 1:44.12" (Herald, 17 August 1992.)
In an article in the Herald on 15th August 1992, Doug Gillon wrote as follows (neither Yvonne nor Tom ran as well as hoped in the Olympics and the article deals with them both: I am only quoting the bits about tom but the full article, entitled "Boyle must bring out drawing board again" can be seen online.) "Going back to the club environment, more than anything else, brings the exaggerated consequences of Olympic failure into perspective. It is nevertheless a reality which Boyle finds hard to confront. He has been forced to go back to the drawing board before, more than once in McKean's case, but this time he does so in the knowledge that nothing will ever be quite the same for Scotland's two European champions who fell so short of expectation. "With McKean the only self-doubt is whether I could have done more," says Boyle, "We have tried the psychological approach, but there aren't too many people around who are skilled in that area. Now we are going to have to examine that aspect even more deeply for both of them. Tom would have run 1:42 (his Scottish record is 1:43.88) by now if we had been able to resolve his problem at the highest level – namely the inability to overcome fear of failure." You can see the telltale signs on the start line. Instead of staring straight ahead, all externals blotted out, he fidgets, fiddles with the chain around his neck, and looks about. "But if Tom has the courage to continue, then the least we can do is explore ways of overcoming this. We have not spoken about the race itself because it would serve no useful purpose. Nobody knows better than Tom what went wrong."
McKean said, "God knows I so much wanted to run well in Barcelona, but if it is possible, failing to make the final has made me even hungrier. A lot of people have sacrificed a great deal for me. I just have to pack my suitcase and get on to the circuit, run it out of my system. In four years I will be 32, the same age as Johnny Gray who won the Olympic bronze, so an Olympic medal is not necessarily gone for ever. I will need to reassess my goals. I may miss the World Championships next year, perhaps do an indoor season, and think about the Europeans in two years time. They come just before the Commonwealth Games and that may be a problem. I have been in shape to run a personal best for the past three years and haven't had that little bit of luck, or the right race at the right time to do it. Hopefully, that might come before the end of this season."
The table above shows that as Tom said, he got back on the circuit with races at Sheffield, Cologne, Berlin, Brussels, Belfast, Turin and Rieti. The right race for his personal best did not materialise. He also, as he suggested fitted in a decent indoor season in 1993. 1991 was significant for another reason – Tom and Tommy split after a long association as coach and athlete. For that reason in particular, although the season was remarkable in other ways, this year will be looked at in more detail than any so far. Indoor season first.
On 23rd January in the Kelvin Hall, Tom started his campaign with a win in the West District 800m in 1:49.01 and was quoted as saying: "When I was out in Cyprus (warm weather training) I put on an extra five pounds in weight due to the amount of liquids I had to drink," he explained. "But obviously I'm highly delighted with the run. I felt I timed it just right, I'm getting fitter and feel I'm right on target for next weekend (the Pearl Assurance international)." even days later in the Kelvin Hall in the international against Northern Ireland and Russia he won the 800m in 1:46.86 ahead of David Sharpe (1:46.92). There was another international indoors, the match against Northern Ireland and the USA at Birmingham on 13th February where he finished second to David Sharpe ((1:47.76) in 1:47.78 with Martin Steele third in 1:47.85. In the AAA's Indoor 800m championships on 27th February, he won in 1:47.27 from Alex Rosen (1:51.28) and assured himself a place in the team for the World Indoor Championships in Toronto in March. The story there was that he he won his Heat and then won the Final. If you don't mind a slightly blurred video or a German commentary, you can see it here http://www.youtube.com/watch?v=WfoaiuDhNqU . It was a good race to watch if you were a Scot: Tom went to the front early. took it at his own pace and won looking comfortable. It brings to mind the words of Dunky Wright's old marathon adviser who told him to get to the front, don't let anybody past and he'd win. "McKean adopted the tactics that brought him his European 800 metres titles indoor and out – running from the front – and was never headed in his three races. …. His critics will decry an apparently slow winning time. But McKean had led through 400 in 51.89, constantly increasing the tempo as challengers came alongside, then easing back when the the threat was repulsed – uneconomic and fiercely taxing. And the world's fastestr man of the indoor season – Giuseppe D'Urso of Italy, failed even to make the final. "My gold means a lot to me" said McKean, "But I am delighted for so many people, especially Tommy Boyle after all he has had to put up with from me over the years. And I hope it goes some way to re-paying the people of Scotland after having let them down." With simple grace, in an emotion-charged aside, he added: "I dedicate a piece of this medal to Derek McLean the son of my former sponsor who died of cancer. Hopefully it is also an omen. I won the European indoor title in 1990, then claimed the outdoor in the summer. Now I want to repeat the pattern with the world gold in Stuttgart this summer."
Tom McKean winning in Toronto, 1993
His next race was not until June 19th in Belfast where he was fourth in 1:46.17 and the next article I can find by Doug is from the 'Herald' of 25th June which is headed "Europa Cup 800 metres may be a race too soon for McKean" and goes on to say, "Tom McKean arrived here last night chasing the immortality which a fifth successive European Cup victory would bring, and intent on laying a ghost which will haunt the forthcoming two-day athletics feast. The Lucozade Motherwell man is already the only male athlete to have taken more than three titles in the same event, the quality ofwhich achievement is endorsed by the fact that the combined might of two Olympic champions, Seb Coe and Steve Ovett, could amass only three Europa wins over two laps. But Tom Boyle, coach to the world indoors 800m champion, warns that expectation of a further success from McKean on Sunday evening may be too high. "Tom is possibly not even fifth fastest in the field on current form, and it really is asking a lot of him to deliver in only his second race of the season," insisted Boyle, attempting to put the race into perspective as McKean flew out. "The Byelorussion and Russian relay teams at Portsmouth earlier this month beat Britain and fielded men faster than Britain's Olympic finalist, Curtis Robb. That shows they are right on form. The Spaniard Gonzales beat Tom in Belfast on Sunday, and the Pole Piekarski, who finished behind Tom, was playing games and giving nothing away. Add to that the likelihood of the Germans fielding the European 1500m champion Jens-Peter Herold and Italy lining up Andrea Benvenuti whose best time of 1:43.92 last year was faster than the Scot's, and you have probably the best quality field of the meeting. "Yes," agreed Boyle, it will be very hard and if Tom wins it will be a great slice of history. But frankly, it does not matter. Indeed Boyle confirmed that Britain's needs in this contest of one-per-event were almost rejected. "For Tom the only event that matters this summer in the World Championships in Stuttgart." Following the disaster of his last outing in Stuttgart, it was doubly important to Tom to run well there. Tom ran in the Europa Cup and was generally felt to have had a good tactical run but nevertheless finished third and so ended his perfect run in the event. His time was 1:47.32 but he was outkicked in what Doug called 'ominous fashion' by Andrei Bulkowski. .
The Edinburgh Trades Week is in the first two weeks in July and on 2nd July, at the GB v USA v Northern Ireland match held in conjunction with the holiday, Tom ran in and won the 800m from a top class field including Martin Steele, David Sharpe and Matt Yates in 1:48.19. In the AAA's on 16th/17th July, Tom was third behind Martin Steele, whose athletic star burned brightly for a brief spell in the early 90's, who ran 1:47.83 to beat Hezekiel Sepeng of South Africa (1:47.84) and Tom's time was 1:48.05: his third third in the AAA's in two years. He was accordingly chosen for the World Championships in Stuttgart, having achieved the qualifying time prior to the third place.
The shock to the Scottish system came in Doug Gillon's article in the 'Herald' of 4th August, 1993. Under the heading of "Parting of the ways for McKean, Boyle" the article read,
"Tom McKean made a double confession last night. He has ended his 19 year old relationship with coach Tom Boyle, and faces a race against a virus to be fit for the World Championships which begin at Stuttgart a week on Friday. The parting between the world indoor 800m champion and the man who has steered him to Commonwealth and European medals, and four Europa Cup victories, is "completely amicable", insisted 29 year old McKean. "I do not plan any other coach," he said, "I simply felt it was time to move on. We had some minor differences of opinion over training details, but really with perhaps only anther three or four years left in the sport, I feel I want to try out a few ideas of my own. If they do not work, I have nobody but myself to blame. Over the past few years, Tommy has been encouraging me to think more for myself. I have nothing but respect for him, gratitude for what he has done for me. It has not been an easy decision after all these years."
The coach, who steered McKean and his stablemate, Yvonne Murray, to unique world indoor and outdoor title doubles, put together the most scientifically based training programme for McKean, and arranged some of the most beneficial sponsorship packages in Britain for his protégé. But last night he was clearly surprised only by the timing of McKean's announcement. "Tom should be preparing for the world championships and to running for Great Britain, and should not have got involved in this just now," he said." It was clear from this and other articles that Doug felt Tom had made a mistake in parting from Tommy.
Came the championships with three rounds – heat, semi-final and final. Doug Gillon in the 'Herald' of 14th August, the day of the first heat, reported that McKean was happy to take on the world. "The last time Tom McKean was in Stuttgart he was cosseted by some of the most scientific preparations British sport had seen. His sponsor was a dealer in German cars, and the Motherwell man was chauffeured in limo luxury. That help preceded the most memorable sight in British athletics history – Seb Coe, McKean and Steve Cram sweeping up the straight claiming the three 800m medals. … He is (now) a man without a sponsor and has recently split from coach Tom Boyle, ending the longest partnership in British athletics. And McKean's only chance of a car is if he wins one of the 38 Mercedes on offer to the winners. ………….. But in McKean's mind the battle must be harder than ever. If he could not do it before with all his needs pandered to, how can he win now? He stands on his own with his poorest season behind him, not having broken 1:46, ranked outside the world top 25 and only third Briton behind world number one Martin Steele and Curtis Robb? Or so the rhetoric goes. "There is no pressure on me," insists McKean. "The virus that has held me back seems to have cleared, and I am going well. I won the world indoor during the winter. I haven't gone soft or fallen apart. I have just been unlucky with illness and I am confident that I will run well." …. McKean's poor times this season have caught up with him. He is unseeded and only fourth fastest in one of the toughest first-round heats tonight: it includes American Mark Everett (1:44.43 this year), former world 1500m champion Abdi Bile, Italy's Giuseppe D'Urso and former Scottish 1500m champion, Mbangyi Thee of Botswana. If McKean survives beyond tomorrow's semi-finals, it will be a significant personal triumph."
In the first round, Tom was in Heat Five of Six where he and D'Urso finished in the same time of 1:48.79 with Mark Everett third in 1:48.89 with all three qualifying – it had been close with the fourth man (Abdi Bile) being timed at 1:48.90 The semi-final was held the following day, 15th August, and in the third of three, with two to qualify, Tom won in 1:45.64 from William Tanui (1:45.74). Among the non-qualifiers for the final were Barbosa and Johnny Gray who were last in their heats. Doug's report on the activities was in 'The Herald' of 17th August. Tom McKean, after a split with his coach, is, improbably, just one race away from tunes of glory in Stuttgart tonight and he has the chance to claim the medal he covets most at the World Championships. The Bellshill Bullet has been off target at all four outdoor global championships he has ever attended, thrice failing to reach the final and finishing last in the other. Nt a medal of any colour from two Olympics and world outdoor championships, and at 29 time is running out with recent poor form leading to claims that the bullet may be a spent force. But McKean insisted last night, " I may never have a better chance than in this final. It is wide open and my kind of race – no front runners. I have nothing to lose. People said that reaching the final would be my greatest achievement, meaning I wasn't going to reach the final at all." Tonight at 7:25 UK time, McKean and his British compatriot Curtis Robb line up against three Kenyans, Billy Konchellah, Olympic champion William Tanui, and Paul Ruto, plus Giuseppe d'Urso (Italy), Hezekiel Sepeng (South Africa) and Freddie Williams, a South African-born Canadian beaten by McKean at this year's world indoor final. The Kenyans believe they are invincible and given that they will run as a team, must have a head start. Konchella, who won the world crown in 1991 and 1987, is confident he can do so again, and dismisses all, save McKean."
Into the final and Tom was run out of it in 1:46.17. There were only 1.46 seconds between first and last – and Tom was last. How did the press see it? From 'The Herald' of 18th August, 1993:
"McKean last as Kenyan Ruto even surprises team-mates"
That the 800m winner at the World Athletics Champ behind Olympic championships last night was a Kenyan should surprise nobody. They have monopolised the last two world and Olympic titles at the distance, after all. But the identity of the winner, Paul Ruto, shocked the Kenyans. They had even left the 32 year old out of their team book of pen portraits, so little did they rate him, with both the Olympic and world champions in their team. Yet it was Ruto, who has not won a grand prix or the international circuit this year, who held off Italian Giuseppe d'Urso and the two-time previous winner, Billy Conchellah. Ruto clocked 1:44.7 with d'Urso on 1:44.86 and Konchellah three hundredths of a second behind. Perhaps it should also have come as no surprise that Scotland's Tom McKean finished last. That after al is where he finished the only other time he finished in an outdoor global final – in this event six years ago in Rome. …McKean the world indoor champion, was unlucky – barged sideways by the South African Hezekiel Sepeng 60 metres from the line, with the fast finishing Konchellah alongside him in overdrive. The Wishaw man admitted, "I would have been placed no better than fifth or sixth. But if I'd barged like that I would have been disqualified, like I was in the 1988 Olympics when I did something similar to Rob Druppers.". It was damaging but by no means a mugging although McKean, who finished just behind Olympic champion William Tanui, rounded angrily on Sepeng in the athletes tunnel…"You whacked me," he said gesturing with his fist. Then he shrugged and walked off shaking his head.
Britain's Curtis Robb took fourth in 1:45.54. "We thought we'd run as a team", said McKean, "but when Ruto went out we didn't know whether it was a Kenyan ploy, or a burn up." McKean and Robb went through the bell together, sensibly third and fourth, behind Tanui and Ruto who led in 51.22 with Konchellah last. McKean got himself slightly boxed after the leaders reached 600m in 77.92, but would have salvaged dignity had he not been impeded. "I made the final and wasn't even expected to get there." …. National Coach Frank Dick pointed out, "If that had been a European final tonight, Britain would have won silver and bronze." "I suppose so," said McKean, "and you can take it I'll be there next year, chasing European and Commonwealth titles. I am not finished."
Yvonne Murray did not do well there either and they both ran at Sheffield in the McDonald Games. Tom's race had no fewer than 13 starters and, according to the press, he was bumped at the break and never looked likely to recover. He finished ninth in 1:48.54, one place behind Curtis Robb and both complained afterwards about the size of the field. There ended Tom McKean's epic season: A World Indoor Championships gold medal at one end, and a last place in the final of the world outdoor championships bracketing a split from Tommy Boyle.
For the statisticians among us, Tom had 15 of the top 20 and was ranked second in the 400m with 48.0 in Scotland; in the UK lists he was third (behind Martin Steele (1:43.84) and Curtis Robb (1:44.92) with his season's best of 1:45.64 although he had more top times listed than either of the other two (13 McKean, 10 Steele, 7 Robb). His 400m time ranked him 45th in the UK.
The Scottish Athletics Yearbook for 1995 summarised Tom's 1994 season as follows: "Once again Tom McKean comfortably headed the Scottish rankings and failed to do himself justice on the international scene due to injuries and lost training. He failed to qualify for the European final and tailed off last in the Commonwealth final." Tom did nevertheless win the Scottish 800m title on 25th June from the very fast finisher Paul Walker (trained by John Anderson) in 1:48.69 to 1:48.85. He had 10 of the top 26 times recorded by a Scot. The British Athletics annual he was up a place to second Briton, behind Martin Steele, with his season's best of 1:46.20 an he had six times worthy of inclusion to Steele's nine and Craig Winrow's fourteen. In the NUTS merit ratings, he was third – as he had been the year before – behind young Craig Winrow and Martin Steele. Competitively at British and international level, he raced in the Indoor International against Northern Ireland and Russia in Kelvin Hall on 29th January and won in 1:47.60 from Andrei Loginov of Russia (1:47.63). Much less impressive was his run in the GB V Northern Ireland v USA in Kelvin Hall on 12th February where he was a poor sixth in 2:00.2 – the explanation however was that he was knocked off the track on the last bend and had to get back up and he gamely ran in last for the team. There was clearly a problem, either during the event or brought into the match but in the absence of other reports on it, it is impossible to say why this was. It could not, as McEnroe might have said, been serious because he won the AAA's indoors on 18th February in 1:48.46 from Martin Steele (1:48.59) and Craig Winrow (1:48.72).
He was not selected again until the middle of August when he raced in the European Championships in Helsinki where he was sixth in the third heat of the first round in 1:49.41. Doug quoted Tom in an article in 'The Herald' on 16th August. "Despite his humiliating first round exit from the European Championships, Tom McKean has decided to go to the Commonwealth Games. He will travel to Victoria tomorrow. Memories of a catalogue of premature dismissals at Olympic and world level gave serious thought to ending his season. 'It was a heck of a way to surrender my title,' he said,' but I have talked it through with my family. They have been very supportive, and feel I should go to Canada. So I have told the Scottish Federation I will. There was never any question of my retirement.' Helsinki does not hold happy memories for the Scot, at the World Games here earlier this year he finished last and then second last in his heat in these championships in 1:49.41 – six seconds outside his best, set back in 1989. Previous poor showings by the world indoor champion have been more of a shock – when his form had appeared good. But McKean had not run a single good race this year. 'I have been through this before and it does not get any easier,' said McKean, ' but there is no point in running away from it. I hope a few more days will see me much sharper. A couple of niggling injuries, calf and groin, meant I was unable to do some of the work I would have wished. I have reviewed my heat several times on video. I did nothing wrong. I just had no pace when I needed it. '" It might be of course that the Tommy Boyle back-up machine would have helped him avoid the injuries or at least provided swifter assistance at the right moment although Tom still had access to what SAF had to offer to all its elite athletes.
In the Heats in Victoria, Tom ran well, and Doug saw him as confident and workmanlike against better quality opposition that at the Europeans. The heat was won by Patrick Konchellah in 1:46.88 with Craig Winrow second (1:47.84, McKean third with Martin Steele fourth. Looked good but the race wasn't . In the final Winrow was fourth, Steele sixth and McKean seventh. Under the headline "Now McKean May Quit" on 27th August, Doug Gillon reported, "Even sharper than the razor which cut away the hopes of Tom McKean, Patrick Konchellah sprinted off the bend to victory in the 800m. The Kenyan bearing a name which creeps unbidden from the Scot's worst nightmares, emerged to haunt McKean who had concealed a foot injury for the past week and now is contemplating retirement after having finished in 1:50.6. Konchellah clocked 1:45.18 ahead of South African Hezekial Sepeng, 1:45.76, and Zimbabwean Saveen Nghidi, 1:46.6. "It was dark during the night and I stepped on a safety razor in the bathroom of our quarters," said McKean, pulling off his shoe and sock to reveal the cut. "There was a lot of blood – it was like a slaughterhouse. The wound required seven stitches. I could not run at all for two days, but I doubt if it made any difference in the end – too many injury breaks this year. My legs just didn't have it. The pace quickened, I tried to go faster but they were just going away. I have no sponsorship, and can't expect any now. I'll need to find a job and that may mean the end of my career." The winner, Konchellah, is the younger brother of twice world champion Billy, who beat McKean when the Scot placed last in the 1987 World Championships, and who won again in 1993, after having pipped McKean with a dip finish when the Scot faltered on the line."
Tom is one of the most optimistic and forward-looking runners I have come across and there was an article in 'The Herald' on 27th October 1994 which read: "Tom McKean has joined the growing band of Scottish exiles at the English club Haringey in a move which he hopes will help kick-start athletics career. If he goes over the top in training, which he believes led to his worst season in a decade. During the campaign just ended McKean surrendered the European 800m title without reaching the final, and he failed to break 1:46 for the first time since 1985. His move from Lucozade Motherwell to the London club, which also has David Strang, and Ayr Seaforth trio Brian Whittle, Gregor McMillan and Hugh Kerr on its books, completes the split with his former coach Tommy Boyle. McKean now has no sponsorship, either with Motherwell District Council which helped launch his career when he laid slabs for them on the YTS programme or with anybody else. "I intend to join another Scottish club within a few weeks – probably Lesmahagow," said McKean, "I have had a six-week break and the groin, knee and foot injuries which troubled me have cleared. I have joined Haringey because last season I could not get the right kind of races early on. This will give me what I want. I will not be changing my training methods – I am convinced last season's build-up was correct – I just did not know when to stop. I was too enthusiastic, and tried to pile one good session on top of another but Ian Callender has teamed up with my training group and he will tell me when to stop." Callender, the policeman who used to lean on the teenage McKean in track sessions to accustom him to the physical rigours of the event, is now a coach. McKean confirms that he will do an indoor season, including the West District and Scottish events, and possibly the Great Britain v France match in Kelvin Hall, "But I will not defend the world indoor crown I won in Toronto", he said."
What a year! Lots of selections, quite a few good scalps but a dismal record in major competition. His opinion about not knowing when to ease up in training and doing too much, is easily believed if you know anything about athletes. Many seem to work on the principal if one aspirin is good, then three must be better. I have runners who would slip in extra weight training sessions when they thought I didn't know about them, and the number of distance runners who think free time is wasted by not going for a run is legendary! I remember when Liz McColgan split from John Anderson, there was a similar situation reported when she was doing too much and she was quoted as saying that husband Peter kept telling her she was doing too much. A coach to whom he was responsible, or even a friend with access to his training diary could have pointed it out to him. So when Tom said that, it had the ring of truth about it. The other thing is that there have been several reports of athletes who split from Tommy having the entire package removed at one fell swoop: Tommy gave them a package that included medical back up, physiological testing, immediate Physiotherapy for injuries, sponsorship and race: the whole kit and caboodle. Give up one part of the package and you give up the entire package. That might have been very useful to Tom in 1994! Enough with the editorialising, let's get back on track and with 1995 in particular.
True to his word, Tom did join a Scottish club, and it was Lesmahagow. In 'The Herald, on 14th January, Doug's article was headed "Fit again McKean dons new colours for 800m return." and went on to read "Tom McKean returns to the job he does best when he races the 800m in the West of Scotland Indoor Championships at Glasgow's Kelvin Hall. Last autumn, following a dismal Commonwealth Games, stepping on a razor and slicing his foot the week before the Victoria final was the unkindest cut in a catalogue of minor injuries that troubled him all season. "I lost eight weeks out of 15 from May to August", said McKean yesterday. "Nothing major but they combined to ruin my season – the worst I've ever had. Yes, I did think about quitting but I took six weeks off, sorted my body out and had some great physio from the Scottish team's Joan Watt. Now I'm looking back at the best winter I have had in years. No niggles, no injuries, just consistent good training. It's been brilliant, injuries destroy your confidence and confidence is what breeds success. I'm just looking to win the District title, to blow out the cobwebs. It will be my first race since Victoria and I hope to run in some International races indoors.." McKean's plans include next weekend's Scottish Indoor Championships and the UK selectors know he wishes to run against France at the Kelvin Hall, and the USA in Birmingham. "But no matter how well I run – even if I were to break the world record – I will not do the World Indoors in Barcelona," he says. His wife Yvonne is expecting their second child in five weeks, and he adds, "Having a good outdoor season is the most important thing for me. I have no sponsorship of any kind and need a good season to land some help." Today's race, the first in the colours of Lanark and Lesmahagow, will be no walkover. It promises to be the event of the day. He faces one reigning world champion, 17 year old Boclair Academy pupil Andrew Young, who took gold at the World Schools outdoors Olympiade last year, plus the fourth and fifth ranked Scots outdoors last year, Strathclyde student Ewan Calvert and Clydesdale's Grant Graham."
He won the West District title comfortably enough though and was selected along with Craig Winrow to compete against Russia in Birmingham. The race turned into a battle but this time our hero was not involved. "With bodies skittling around in his wake, Tom McKean battled to his fifth consecutive indoor victory of the year helping Britain beat Russia in the men's international at Birmingham on Saturday. But a clash which left team-mate Craig Winrow sprawled on the infield and a Russian disqualified may lead to Guests being banned from such races in future. "I feel they should not be allowed," said Verona Elder, UK team manager at the McDonald's international. "The person in there has earned their British vest and should not have to worry about guests." McKean had dominated a modestly paced race, waiting for the challenge. But when European champion Andrey Loginov charged in pursuit in the final 70 metres, he clashed with English guest Martin Steele. Their arms windmilled, Steele barged Winrow, and the man ranked UK Number One outdoors last season crashed to the ground. Loginov got to within a foot of McKean who won in 1:50.04 then castigated both Winrow and Steele. "Craig was unfortunate but should have got up," said McKean, "I finished when I went down against the USA last year in Glasgow. We could have lost that match by one point." McKean agreed that guests are a distraction. "The priority is to win for Britain, but if challenged, even by a guest, the instinct is still to respond."
In the second indoor international that winter he won the match 800m against France and Northern Ireland in Kelvin Hall on 17th February in 1:48.72 but had not run in the AAA's championship and did not go to Barcelona for the World Indoor Championship. Having also won the Scottish indoor championship in 1:49.85 on 22nd January as well, he headed into the track season in good shape and looking like his old self, albeit that the times were a bit slower than before. But the season did not go as hoped for. Tom dropped out of the Scottish 800 metres final – he went to the front at 200m and tried to slow it down but teenager Des Roache jumped the field coming into the finishing straight for the first time and got almost ten yards on the field. The charge after him was on and the runners were almost all big men – Tony Morrell and Gary Brown being probably the biggest – and with 150 to go and Roache still leading and Tom surrounded by men all over 6′ tall, Tom had a recurrence of an old injury and stepped off the track. The race was won by Paul Walker who had switched from John Anderson to John Lees's training group came round the field in the finishing straight and took the gold. No matter, Tom was again injured and there was no championship here. Nor was he successful in the English Championships where he could do no better than seventh in 1:50.70 in a race won by Curtis Robb in 1:46.78. In the British Merit rankings, he had slipped back to fifth behind Robb, Strang, Winrow, Cadwallader and Ireland's Gary Lough. I had not been a good year for him.
The Statistical Yearbook review of 1996 read: "Tom McKean was absent from the rankings for the first time since 1981 having retired from competitive athletics, and his usual top-class runs were sadly missed.".
Tom's championship record has been covered well enough above but his times and how they rated against the best in Scotland, Britain, Europe and indeed the rest of the world had not. The following table lists his annual best time and where they were ranked n the first three.
| | | | | | | |
| --- | --- | --- | --- | --- | --- | --- |
| Year | Time | Scottish | UK Outdoor | UK Indoor | Euro Outdoor | World Indoor |
| 1984 | 1:48.40 | 1st | | | | |
| 1985 | 1:46.05 | 1st | | | | |
| 1986 | 1:44.61 | 1st | | | | |
| 1987 | 1:44.45 | 1st | 2nd | | | |
| 1988 | 1:45.05 | 1st | | | | |
| 1989 | 1:43.88 | 1st | 2nd | | 2nd | |
| 1990 | 1:44.44 | 1st | 2nd | | 2nd | 2nd |
| 1991 | 1:44.20 | 1st | 1st | | 1st | |
| 1992 | 1:44.39 | 1st | 2nd | | 3rd | |
| 1993 | 1:45.64 | 1st | 3rd | 1st | | |
| 1994 | 1:46.20 | 1st | 2nd | 1st | | |
| 1995 | 1:4 | | | 1st | | |
Tom was an outstanding talent who was well brought on by Tommy Boyle. Both benefited from the arrangement and it is pointless to try to say who gained most. It would be good for Scottish athletics were Tommy to publish either as a book or as a series of articles what he knew when he started, what he learned and what other coaches could take from it. I'm not talking about a wee sensational book about his relationship with his athletes – he is widely said to be a 'my way or the highway' kind of coach (as are many another including Jim McLatchie) – but a book on coaching theory and practice. Should Tom have split with him in 1993? I don't know anything about disagreements of previous differences of opinion – it's not my business anyway – but it would be strange if a 29 year old athlete who had travelled the globe, spoken to a myriad of athletes as well as learned from his own experiences did not want to try out his own ideas on himself before it was too late. In Tom's case the effect of having been told time and again that he was nothing without Tommy (one of the excellent Doug Gillon's sentences that grates a bit still in the one about Tommy marking his card before every race and when he follows them he is devastating and when he doesn't ….) must have had some kind of multiplier effect. He read the columns as well as the general public. Mind you, when you come to the end of the day, it's the athlete who makes the coach famous. I remember Peter Coe at Jordanhill one day saying he took on Wendy Sly (Olympic silver medallist at the time) because he wanted a challenge and a wee coach from Glasgow remarked that he had two women who couldn't break 2:15 if he really wanted a challenge! Scottish athletics was really fortunate to have had the two Toms in their corner all through the 80's and into the 90's. And I still want that book from Tommy!
Tom McKean has been inducted into the Scottish Athletics Hall of Fame.