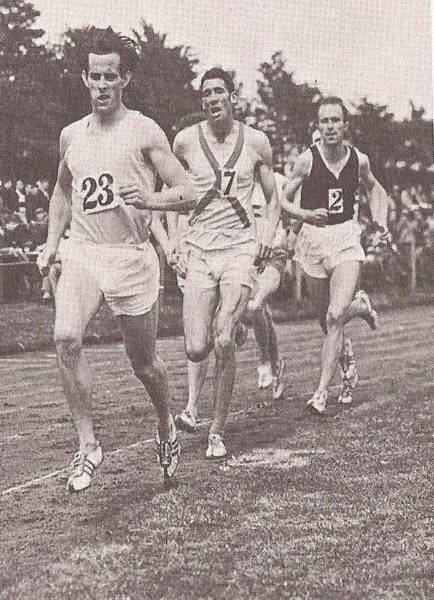 Jim Mclatchie (Number 7 in the Ayr Seaforth vest) trailing Mike Beresford with Bert McKay behind wearing number 2.
Jim McLatchie is not a name that many in Scotland in the twenty first century are familiar with and yet he has many claims to fame that are all worthy of respect: a first class track career, in the main as a miler, one of the first Scots ever to go on an athletics scholarship to the United States, and coach to a whole host of Olympic, World Championship and other athletes as well as many record breakers. Respected as a coach the world over but almost unknown in Scotland! Always 'Big Jim' because he was literally head and shoulders above anyone else on the start line, he competed in the late 50's and 60's against such as Hugh Barrow, Kenny Ballantyne, Bert McKay, Ian McCafferty. We can begin by hearing from Jim himself and looking at his answers to the questionnaire.
Name: James (Jim) McLatchie
Club: Ayr Seaforth/Luton United Harriers
Date of Birth: July 11th, 1941
Occupation: Retired – 35 years in the computer industry
Personal Bests: 800m – 1:50.2 1500m: 3:48 Mile: 4:07
How did you get involved in the sport? Played soccer in schools (International Trials). In athletics, started off in the High Jump but there were no facilities. Everywhere I went I seemed to be running. My grandparents lived three miles from my village, so I would just go off and visit. I started out racing 880y and then the Mile. I enjoyed cross-country and managed to win most of the races I ran in as a Junior including the Scottish Championships.
Has any individual or group had a marked effect on either your attitude to the sport or individual performances? Ted Hayden, University of Chicago) showed me how to be involved as a competitor, coach and Meet Director. I took these attitudes and started a club when I moved to Houston, Texas. I managed to develop several athletes who competed in the Olympics and World Championships; directed the USA Cross-Country Championships twice; women's cross-country trials and the Masters Track & Field Championships.
What exactly did you get out of the sport? The sport got me out of the coal mines – gave me an opportunity to travel and see the world.
Can you describe your general attitude to the sport? I enjoyed the old days – everyone worked for a living – squeezed their training in whenever possible – never avoided one another. Today most of the runners are more interested in what monetary rewards are available. As coach of several USA teams, a few athletes refused to represent their country because they wanted more than $10 per diem and a uniform.
What do you consider to be your best ever performance? In 1963 in Houston, Texas. I won the Mile in the "Meet of Champions" beating Jim Ryun who was getting ready to puke as we neared the finish line. Kept thinking, "Cannot have that bugger puking on me" which seemed to spur me on. The winning time was 4:07 in 90 degree Heat.
What ambitions did you have that remain unfulfilled? It's hard to believe that coming from a family of eight (5 boys, three girls) and growing up in a one room house with no electricity or running water that I managed to achieve what I did. Everyone's dream of course is the Olympics – I didn't make it, but the consolation was great. I travelled the world, met some interesting people, and an education that money can't buy.
What did you do apart from running to relax? I like to watch horse racing. I write some computer programmes to help me pick a winner – hardly ever happens as I am not in the know! I can bet on-line and watch races from all over – even Ayr.
What did running bring you that you would have wanted not to miss? All the characters that the sport produces. I officiate Track & Field meets – and have been the head judge for the shot, discus and hammer. When you are running round a track, sometimes you forget that there are other athletes competing in what might seem an alien event.
Can you give some details of your training? At present – nothing. In the old days running on grass as much as possible. Used to do a lot of my lunchtime running on Haggs Castle Golf Course in Pollokshields (I worked for the railway). I believe that when I was younger I did too much speed workouts with not enough rest between the hard sessions. Like most of that generation, training was a 'hit or miss' situation. Conditions in Scotland were rough – snow, sleet, rain and heavy winds. Texas – hot, humid and windy. Not the ideal set-ups to run fast.
Jim came from Muirkirk in Ayrshire and the obvious question is how does someone from such a remote area train to a standard where he makes the Scottish team? His own response to the question was "No track – did zig zags on the football field. Also ran quarter mile straights on the railway line. Line ran east/west and I used to run 15-20 seconds slower going west (windy as hell). Scottish National Coach back then was an Englishman. He used to write me some workouts like 10 x 440 with one minute rest. I would mail him my times and he would tell me my pace was all to hell. I told him he needed to come and see what I was training on as he didn't believe I was doing 440 along a rail line. He showed up in the village – couldn't believe what I had to work with. I did a lot of zig zag training plus runs up and down a coal bing, runs on the moors. I only ran on the roads in winter when it got too dark to run up the bings. Did a lot of weight training and circuit training." I asked if he ever went to Ayr to train at Dam Park. This got the following reply: "Never went to Dam Park to train – took forever on the bus which only ran every hour. Bus – Strathaven – Glasgow, every four hours. If I had a race in the Glasgow area, I had to make sure I didn't miss the bus. It was an all day excursion some times to get to a Meet. Training under these conditions made pace judgment obsolete – that's why in a lot of scratch races I I just ran as hard as I could from the gun. Yet I lost National Junior Mile titles (Ballantyne and Ryan) by waiting too long and trying to catch them over the last 150 – live and learn. When I moved to Milngavie and trained on a quarter mile track, then I learned a wee bit about pace judgment."
Although known mainly as a track man, he competed well on all surfaces and he said above that he enjoyed cross-country running. The best domestic results that I have are when, as an Under 20 runner in 1961 he won both the Senior and Junior titles over the heavy mud of the South Western District Cross Country Championships in the same race. The next year he won the Scottish Junior Cross Country Championships at Hamilton Race Course from Mike Ryan and Jim Alder. In the 1966 Commonwealth Games Alder would win the marathon and Ryan would be third. Ryan also finished third in the notorious Mexico City Olympics in 1968. I asked Jim why he didn't run in the International Cross Country Championship that year and he said that he was told he could not run on the senior team and he wasn't sure of a Junior team was sent. He received an invitation to run in Belgium but the SCCU would not let him go; they said he was too young. He did race in Germany but on return to Glasgow he was asked to give back the track suit with which he had been issued, failure to do so would mean that he was never picked for Scotland again. Rather Draconian but read Lynne MacDougall on the same subject!. He adds, rather unnecessarily, that the Union was awful back then. The standard of road and cross country running was high back then and Jim had lots of good races – eg in the 1963 Nigel Barge Road Race he was second behind Fergus Murray and ahead of Lachie Stewart. They say big men are not suited to road or cross country but Jim was always a respected contender having beaten all the top men, Lachie Stewart, Fergus Murray, Jim Alder and so on at one time or another. He deserved a cross-country selection for the international but it never came and his many dark blue vests were all won on the track.
He was a noted competitor on the track too, more than held his own against the top men in the country and picked up several Scottish international vests, but a Scottish title always eluded him although he had second places in behind Ken Ballantyne (1959) and Mike Ryan (in 1960) – both as a Junior – Graeme Grant and Ian McCafferty. Jim moved to stay with his aunt in Milngavie, Glasgow, 1962 and just 200 yards along the road from him lived Brian Scobie. They became good friends, training and racing together and eventually they both became top flight coaches. In the 1980's Brian had among his charges the best squad of women distance runners in Britain as well as some male international athletes of high repute. Brian says he already knew of Jim, having read about him in the newspapers. They used to train together at the Maryhill Harriers training track with coach Tom Williamson who also coached some of the country's top women runners.
Jim's best times from his first appearance in the Scottish ranking lists were as follows. The figure in brackets is the Scottish ranking for the year. In 1959 he ran for Doon and in '60 and '61 it was Muirkirk Welfare before he moved to Ayr Seaforth AAC in 1962.
| | | | | |
| --- | --- | --- | --- | --- |
| Events | 1959 | 1960 | 1961 | 1962 |
| 880y | | | | 1:54.2 (9) |
| Mile | 4:21.5 (18) | 4:23.6 (23) | 4:16 (10) | 4:08.3 (2) |
| Two Miles | 9:35.0 (14) | | | 9:17.0 (10) |
| Three Miles | | | 14:23.0 (13) | 14:30.5 (15) |
| 3000m steeplechase | | | 9:50.6 (6) | 9:21.7 (4) |
A year or so after arriving in Milngavie, Jim left to go to America on scholarship by boat. When I asked him about how the scholarship came about he said "I was recruited by a high jumper from Australia – Colin Ridgway. For me it was tough because I ended up in a place (Beaumont) where the average temperature in the spring was around 90 degrees with 100% humidity. Us 'Pale Blue Scotsmen' have a tough time in the heat. I ended up coaching myself along with all the middle-distance runners as the coach was a 'Football' coach – knew next to nothing about running. Back then it was tough to get the right information as it took for ever via the postie – no such thing as the internet – and who had a phone back in those days? It hit the fan when I announced I was heading to the States – Dunky Wright had me on TV for an interview – all of a sudden I was offered jobs to stay in Scotland. I told them it was too late as I had already purchased my ticket. Ah well, it was a great experience fighting off the mosquitoes." The main reason for going on scholarship to America was to train for the 1964 Olympics and it just did not work out for him. He says, "I was never allowed to recover. 'You're on scholarship and you need to compete.' Injury reduced me to a hobbling wreck and I packed it in in 1965 and jumped on a boat to France. I made my way to Luton where I competed for three years." I coached Tony Simmons before I returned to the States in 1968."
Jim (4) in the match v Ireland and Holland in 1962.
Nevertheless there were some excellent races and some good times posted in 1963. On 16th March he ran a 9:26.0 Two Miles race in Waco, on 8th April at Beaumont he ran 1:52.7 for the 880 yards (the top time by a home Scot was 1:52.8 by James Steel) and on the 25th May it was 4:07.8 for the Mile (only Hugh Barrow's 4:07.7 at home was faster). There is more to running than times, and it is doubtful how much can be read into times recorded in the heat and humidity that he was experiencing. There s no doubt about his competitive spirit or about some of the scalps that he lifted at this point. In December, 1963 for instance, he ran in the US Track & Field Federation Cross Country Championship against some of the very best Olympian Tom O'Hara of Loyola University. The race report was as follows
McLatchie Pushes O'Hara.
Chicago, Nov 28. The carrot-topped Irishman did it again. Making only his fourth start of the cross country season, Loyola University's Tom O'Hara kicked home to win the second annual United States Track and Field Federation's Cross Country Championship at Washington Park. Under bright skies and in moderate temperature, O'Hara clocked 30:12 .1 for 10000m on a rather slow course. Left in O'Hara's wake were the Scotsman Jim McLatchie, Polish born John Macy, Costa Rican Juan Marin and Australians Geoff Walker and Laurie Elliott. Macy was on top at three miles in 14:45 but McLatchie took the lead at four in 20:01. Jeff Fishback had moved up with the leaders in the fourth mile and six runners were within a four second spread of 20:01 – 20:05.
Macy began to fade a bit in the fifth mile as did Marin, leaving Brown, McLatchie, O'Hara and Fishback in the front-running group. Macy however wasn't finished. Reminiscent of his National AAU six mile against Pete McArdle this year in St Louis, the Houston runner moved back up to within fifteen yards of the leaders with a half mile to go. That was O'Hara's signal. He stepped on the accelerator and added another national championship to the NCAA title won in 1962.
Tom O'Hara 30:12; 2. Jim McLatchie 30:17; 3. Jeff Fishback 30:22; 4. Doug Brown 30:20; 5. John Macy 30:22; 6. Julio Marin 30:36; 7. Geoff Walker 30:57; 8. Laurie Elliott 31:04.
Jim comments on that race – O'Hara was a tough nut to crack: I was leading him with 5 yards to go in a 1500m race the following month in New rleans but he snuck by before the tape! He made the Olympic team that year and broke the World Indoor Mile. Record The photographs below are from the race.
That was the year in which Jim was injured and despite the fact being obvious he was not allowed to rest the injury because the College required him to run. He came home and ran in the SAAA 880 yards where he finished second to Graeme Grant and they were both chosen to represent Scotland in that event.
Jim's best times over the years 1963 1965 were as follows. All were recorded as 'Ayr Seaforth' or 'Lamar State' and races were run on both sides of the Atlantic.
| | | | |
| --- | --- | --- | --- |
| Event | 1963 | 1964 | 1965 |
| 880y | 1:52.7(1) | 1:53.9 (6) | 1:51.8 (2) |
| 1500m | 3:50.1 (1) | | |
| Mile | 4:07.9 (2) | 4:09.5 (4) | 4:13.5 (15) |
| Two Miles | 9:26.0 (24) | 8:59.2 (6) | |
He returned in 1965, joined Luton United Harriers and was an immediate success. He started 1966 by winning a Luton v Cambridge University race over 7.5 miles prompting the comment from the local paper – "Jim McLatchie, Luton's new runner, showed his undoubted class by smashing the course record by 30 seconds. With a time of 37:40 he was well clear of Evans of Cambridge." A week later he was fourth in the inter-area match at Keele University and then he was ninth in the North of the Thames race wearing flat shoes. In the Indoor Championship at Cosford on their eight laps to the mile track, he won the Mile in 4:15. Four weeks, four races varying between seven and a half cross country and an indoor Mile. Versatility indeed. Recorded by the statisticians as 'Anglo-Scot' that summer, he was ranked 25th in the 440 yards (51.1), 9th in the 880y with 1:53.0, 8th in the mile (4:08.7) and 14th in the Two Miles (9:05.2). The Mile time was run in a very competitive SAAA Championships where Jim was second to Ian McCafferty (4:07.5) and one place ahead of Ken Ballantyne (4:09.0) In mid-July he picked up another Scottish vest when he travelled with a small Scottish team to Reykjavik for a match against Iceland where he won the 1500m and the Steeplechase. Results for 1967 are harder to come by but the rankings indicate that he ran 4:14.1 for the Mile at Paddington in August and 8:58.0 at Welwyn in May. In 1968 his only ranked time was 1:55.0 at Welwyn in July."

1500m, Scotland v Iceland 1966.
His best times in 1966, '67 and '68 when he was running for Luton can be summarised as follows:
| | | | |
| --- | --- | --- | --- |
| Events | 1966 | 1967 | 1968 |
| 440y | 51.1 (24) | | |
| 800m | 1:52.3 | | 1:53.4 (12) |
| 880y | | | 1:55.0 (21) |
| 1500m | 3:52.6 (3) | | |
| Mile | 4:08.7 (8) | 4:14.1(22) | |
| Two Miles | 9:09.2 (14) | 8:58.0 (11) | |
| 3000m steeplechase | 9:43.4 (13) | | |
At Luton he had coached, among others, the talented Tony Simmons before returning to the States. Jim landed in Chicago where he competed for the Chicago Track Club and ran in several Distance Medley teams with Rick Wolhuter. He spent seven years in Chicago, racing on the same team as Wolhuter and travelling to meets with Brian Oldfield, a renowned shot putter. The indoor track in Chicago was a 220 yard dirt track and he ran a steeplechase indoors in 'about 9:10' – that doesn't tell all of the story however as the water-jump was into the long jump pit! He also ran a 4:10 mile on that track. He was starter in several meets and sprinter Wilma Rudolph called him Wyatt Earp – 'the fastest gun in Chicago!' He reckoned that the indoor 60 yards race took forever with the 'no false start' rule, so he he speeded it up by not holding them too long in the start position. As a competitor he won several Mile and 1500m races and also raced in some cross-country raceswhere the team finished second a few times to Florida TC (Shorter, Bacheler, Galloway etc).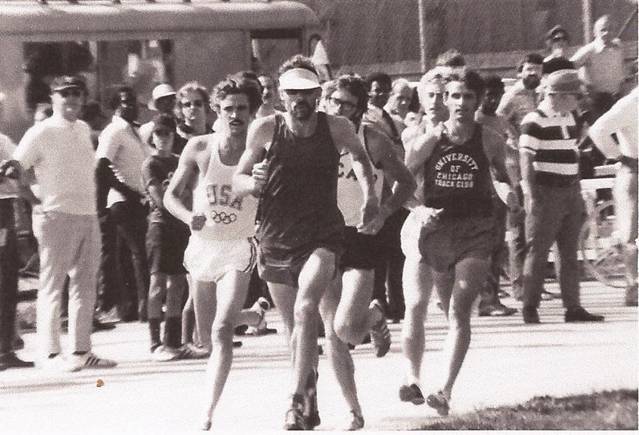 Leading Rick Wolhuter in a Mile race in 1974
He moved to Houston in 1975 and with Allan Lawrence (who had been third in the 1956 Olympic 10000m) and Len Hilton (who ran in the 5000m at the 1972 Olympics), started a running club called the Houston Harriers which was modelled on the British club system and was very successful. Outside running he had been working in the computer field. Houston was to be where Jim McLatchie's athletic career as official, administrator, organiser but mainly coach, took off in the most spectacular fashion. Any doubt about his status in the community is removed by the following report when he retired in 2002.
McLATCHIE RUNNING OFF INTO THE SUNSET
They call him tough, rough and crusty – a running coach with a philosophy of 'my way or the highway' But when Jim McLatchie shows up at the track with his famous red-covered clipboard containing the day's workout, runners know they're getting the best. Now Jim and his wife, champion runner Carol McLatchie – Houston's first couple of running – are heading into retirement and moving to Bend, in central Oregon. McLatchie will leave behind nearly 30 years of coaching success stories and the well-known club he helped to start in 1975, the Houston Harriers. He has coached some of Houston's most talented runners for years, runners who continue to dominate the winner's lists at area races, such as Sean Wade, Jon Warren, Justin Chaston, Joe Flores and Joy Smith to name just a few.
A champion runner himself, McLatchie knows what it takes to give one's best and improve on it. He never recruited runners – they came to him. And he didn't take them all. 'Don't come out if you don't mean to follow the instructions,' McLatchie said, 'There was always only one boss – me. And that's how it has to be. Someone has to take control. I always tell people to tell me what they want to accomplish. If they can't tell me that, I'm not interested. There are enough sheep in this life without me getting any more of them. If you could come to track and be disciplined in the workouts, it would help you in your life outside the track.'
His coaching offered a support system – runners helped each other reach their goals, and the workouts were not based in the star system. 'The key to success is, can you build upon each previous workout,', said McLatchie. That philosophy helped spur a host of champion runners and a series of titles through the years.
Carol McLatchie is on sabbatical from running right now, but she continues to hold titles – like the American Female Masters 30K, and was named by Runner's World as Masters Runner of the year in 1993. She is in her sixth year as Chair of the USA Track & Field Women's Long Distance Running Committee. She met Jim at a track meet and starting training with him in 1979. They have seen young runners blossom, succeed and become champion Masters. But their ranks are slow to fill. 'There's no really good young ones coming up,' says Jim McLatchie.
In March, Jim will retire from his long time job overseeing systems and programming operations in Information Systems Administration for the City of Houston, the job that paid his bills all these years but an occupation few people knew about. The coaching he did was never a money maker – it was what he gave back to the sport. From his early days in Scotland, working in the coal mines at 15, running offered him the freedom nothing else could.
'Jim's an enigma really,' said Chaston, 'the only way he viewed running was from a runner's perspective – that's what really made Jim click.' 'The best thing that ever happened – him leaving town,' joked Wade, then he stopped laughing. 'He's going to be missed, especially by the more serious runners.' Warren, now men's head track coach at Rice, said McLatchie had been the single biggest influence on his own coaching career. 'Jim's done a tremendous job with tons of people. He'll work with anybody but you have to be able to make a commitment.'
McLatchie will keep in touch with many of his runners, Email makes it easy to communicate, and 'the telephone still works,' he said.
He's 60 now and hasn't raced in five years. But he was still good enough at 50 to run a 5K in just over 17 minutes. 'I'd like to do something for myself – I'd like to do some running and get myself in shape,' he said. 'I know everything I have to do; I just need to apply it to myself.' Some have suggested that he write a book, and he's not ruling it out. But he's packing the red covered clipboard too in case it's called into service in Oregon."
What had inspired this eulogy? Quite simply he had had success on a large scale and he had a personality that they Texans took to their heart. He was by now a coach first and foremost – just look at the following tables to illustrate this. First table is the list of Olympians he has coached.
| | | | |
| --- | --- | --- | --- |
| Year | Name | Event | Country |
| 1984 | Midde Hamrin | Marathon | Sweden |
| 1996 | Justin Chaston | Steeplechase | GB |
| 1996 | Sean Wade | Marathon | NZ |
| 2000 | Justin Chaston | Steeplechase | GB |
| 2004 | Justin Chaston | Steeplechase | GB |
World Championship Competitors
| | | | |
| --- | --- | --- | --- |
| 1985 | Carol McLatchie | 15K | Gateshead |
| 1987 | Carol McLatchie | Marathon | Seoul |
| 1989 | Charlotte Thomas | Marathon | Milam |
| 1991 | Carol McLatchie | Marathon – World Cup | London |
| 1991 | Joy Smith | Marathon – World Cup | London |
| 1991 | Joy Smith | Marathon | Tokyo |
| 1991 | Joy Smith | Half Marathon | Gateshead |
| 1995 | Justin Chaston | Steeplechase | Gothenburg |
| 1997 | Patty Valadka | Marathon | Greece |
| 2003 | Sylvia Mosqueda | Marathon | Paris |
| 2006 | Max King | Cross-Country | Fukuoka |
| 2008 | Max King | Cross-Country | Edinburgh |
European Championships
| | | | |
| --- | --- | --- | --- |
| 1982 | Midde Hamrin | Marathon | Athens |
| 1994 | Justin Chaston | Steeplechase | Helsinki |
and these are only the major championships – there are even more in World Masters, PanAm Games, State Champions, etc. Little wonder that he was interviewed for the post of Scottish coach, a wonder that he was by-passed! He was a genuine hero for his coaching in Houston. He hadn't forgotten his old Scottish friends however. In the mid 80's Brian Scobie had a wonderful squad of endurance runners and he took some of them to Houston for the marathon there. Runners like Angie Hulley/Pain ran well but Veronique Marot was third in 1984 (2:31:16) and won it three times (1986 in 2:31:35, 1989 in 2:30:16 and 1991 in 2:30:55) and Brian won the Masters race in 1987 with a time of 2:30:59. Jim's own runner Martin Froelich won it in 1985 in 2:11:14. These coaching feats had to be recognised and Jim had brought himself to the forefront of USA endurance running coaches and his reward was international coaching assignments which are shown in the table below.
| | | |
| --- | --- | --- |
| Year | Assignment | Venue |
| 1986 | USA Men's IAAF World Relay Championships | Yokohama, Japan |
| 1989 | USA Women's International Road Relay Championships | Hiroshima, Japan |
| 1991 | USA Women's IAAF World Cup Marathon | London |
| 1994 | USA Women's International Road Relay | Yokohama, Japan |
| 1996 | USA Women's International Road Relay | Seoul, Korea |
| 1998 | USA Women's International Road Relay | Beijing, China |
| 2002 | USA Women's International Road Relay | Beijing, China |
| 2004 | USA Men's IAAF World Half Marathon Championships | New Delhi, India |
Having been a very good runner and then a top class coach in the States would have been enough for most – a pipe dream in fact – but Jim wasn't finished. He was also a bit of a fixture on several Coaching Committees and Action Groups. Have a look at these –
1984 – 1994: Worked with Nike as coach of regional athletes to raise them to a level where they could compete nationally. His women's team won the cross-country title in 1988. He was a member of several committees with associated coaches to develop a master plan to try to improve distance running in the USA;
1985 – 2002: Member of the Women's Long Distance Running Committee where he was one of the selectors for international competition. He also held a post lecturing and coaching marathon development at the Olympic Training Centre;
1990 – 1993: Member of the USA T&F Development Committee to develop a plan for distance running. He received an award from the USA Women's Track & Field for outstanding service to the sport;
1994 – 1999: Member of the USA Women's Cross-Country Committee to promote the development of sport for women;
1999 – Present: Member of the Great Britain elite coaching squad for the steeplechase;
2003 – 2009: Volunteer Coach at Pilot Butte Middle School;
2010 – Present: Distance Track Coach at Summit High School
The fifth of these was unexpected but he explains that he went to England two to three times a year to work with Mark Rowland and the UK steeplechasers – and remember that Justin Chaston who was being coached by Jim competed in three Olympics and one World Championships for Britain. Jim clearly had something to offer on that front. Mark is now in Eugene, Oregon where he is the coach for Oregon Track Club.
What about the club that he set up with Al Lawrence away back in 1975? Houston Harriers? Well. he was a coach at the club from 1975 until 2001. The club has approximately 100 members and the focus is on middle distance, distance and marathon running for High School, College, Open and Masters athletes. The club was/is very successful and members have won more than seventy five USA National titles in twenty five years in events on the track, on the road and over the country. Quite a record. All coaches will now be asking what he did with the runners. Information in the public prints is hard to come by but there is an interview with Donna Stevens easily available on the internet and in reply to the question 'Can you give an insight into training in Houston in the 80's?' she gave this answer. " In 1979 I started training with Jim McLatchie and the Houston Harriers. In a few years we had a group of 25 – 30 totally dedicated distance running athletes who met at Houston Baptist University on Mondays and Wednesday nights for track workouts and Saturday mornings for long runs. On the track we were separated into groups of four to five runners that could run close to the same times. Jim would have our workouts in his "black book" that he brought to the track. Lots of Mondays, we would run 6 x 1 Mile or 12 x 800 with a 200 jog between. On Wednesdays we might have a mile breakdown of Mile, 1200, 800, 400 with 400 jog between. We always ran hard on the track, holding nothing back, my heart rate was over 200 bpm. Our long runs were 18 – 30 miles. During marathon training, I did 2-a-days by running 4 miles in the morning and 6 – 12 miles during the evening (including our track days) with a 20 plus mile run on Saturdays and an 18 on Sunday. I always built up from 70 miles a week in the off season to 100 – 120 peaking before a marathon.
We had a group of 4 – 8 women that consistently trained together and pushed each other to the limit. Jim coached 8 of us to the Women's First Olympic Marathon Trials in Olympia, Washington. Many of us PRed that day and it was an awesome experience and McLatchie's training really paid off."
He is now at Bend in Oregon where he is coaching at the local high school – the Summit High School referred to above – and enjoying retirement. The boy from the coal mines in Ayrshire has come along way in every sense and it is all down to his own attitude and hard work. And to me, one of the most amazing things is that he has done it all while holding down a serious day-job. It was never paid employment.
I think though that we should end with some words from his friend, Brian Scobie:
"He certainly was an influence on me in the ways he trained and where he took his inspiration from. At the time he was staying in Milngavie, he was working for the railways on the south side of Glasgow, having escaped from Mauchline and the fate of the mines. He was already past the stages of creating a running track on disused railway track and running up pit bings in boots. But these things linked Jim to mavericks like Gordon Pirie and beyond him back to the great Emil Zatopek Pirie was maybe his way back to the great Emil Zatopek, as well as to the Cerutty group in Australia with its sand dunes. To me he stood in that lineage in terms of training attitudes and inspiration as much as in training modes.. He is a man with huge charisma. Stubborn as a mule when he thinks he's right. A great pal to have. Generous to a fault."
I had thought that I had finished the profile there but Jim had other ideas. We left him coaching at Summit High School after retirement – then in March 2012 we had an email saying that three of his girls had been 1, 2, 3 in the State Championships in the 1500m. The first time it had been done! He had coached the mother and grandfather of the girl who won. Michelle Dekkers won the NCAA Cross-Country but was originally from South Africa. She had moved up to Bend just so that her daughter Ashley could be coached by Jim. Ashley who won also won the 800m and is headed for a scholarship at University of Oregon in the autumn. The link is at http://www.runnerspace.com/eprofile.php?event_id=118&do=videos&video_id=46503 .
In May 2012, his athletes won the Men's and Women's Leagues at State Championships and there are three videos to be seen showing some triumphs:
Boys 3000m: http://www.runnerspace.com/eprofile.php?event_id=118&do=videos&video_id=68723
Boys 1500m: http://www.runnerspace.com/eprofile.php?event_id=118&do=videos&video_id=68811
Girls 1500m: http://www.runnerspace.com/eprofile.php?event_id=118&do=videos&video_id=68808
The Girls won their league of 12 teams with a total of 106 points with second placer on 74 points, and the Boys won their with 88 points ahead of the second team's 67.5; there were also 12 teams in the league. And as of August 2013, they have continued to do him proud winning State and League titles with amazing regularity.
Jim had won the Oregon State High School Coach of the Year award and it was right that he did so given the results of his young men runners. The family double was complete when wife Carol won the women's High School Coach of Year in 2015 and went forward as a nominee for the National awa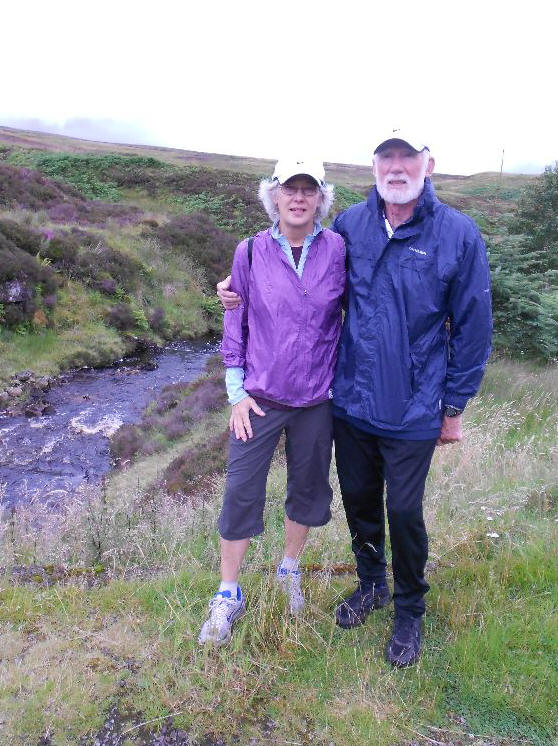 Jim and Carol