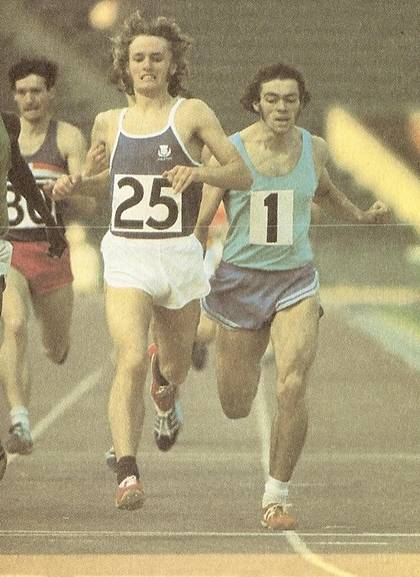 David McMeekin was one of the finest 800 metre runners I personally have ever seen. He is perhaps not as well known as he should be simply because he is of the generation immediately before the Clement/Robson/Williamson triumvirate that dominated the 1500 metres and the mile with such distinction. He was fast over the short distances, had enough pace for top class 800 metres running and strength enough for a sub-four mile and was also an outstanding cross-country runner. His ability, were it to be reproduced by any runner in the 21st century would shame many of the specialists around. Add to that a friendly. good-humoured and unassuming manner and you have a wonderful role-model for any aspiring athlete. What follows has been written by Colin Youngson who ran with Dave in Victoria Park AAC for a short time, with input from Frank Clement, one of his great rivals and friends and Alastair Johnston a Victoria Park club-mate.
"In his 1982 centenary history of the Scottish Amateur Athletic Association, John Keddie wrote the following: 'David James McMeekin (Victoria Park AAC) was born in Glasgow on 10th February, 1953. He was an excellent Junior, finishing third in the AAA's Junior 800 metres in 1971. he was to develop into a truly international class 800 metres runner. Only once SAAA title holder (in 1972 in 1:53.3), McMeekin had a splendid record in the AAA's event in which he was a finalist four times: in 1972. 1974. 1975 and 1976. His best placing was third (1:48.3) in 1976 behind two redoubtable characters (and future Olympic Gold Medallists) in Steve Ovett and John Walker (NZ). His fastest 800m was in Paris on 6th June 1974 when he recorded 1:46.8 in second place behind the great South African Danie Malan. The previous year at Leipzig on 1st July 1973 he had at last improved Jim Paterson's 1957 Scottish record with 1:47.4.'
Although that is an accurate summary of Dave's best 800m running, there is a great deal more to say about him as an athlete. For example, he was a very fast miler, as well as having a very good record in cross-country and the Edinburgh to Glasgow Relay. This profile will deal with cross-country first, then the E-G, and finally track. From his earliest days in Victoria Park AAC, right up to the present day, club-mates usually refer to him as 'Davie' , English track athletes seem to prefer 'Dave'. His family produced three talented Commonwealth Games representatives. Davie's twin sisters Christine and Evelyn (born 1st December 1956) ran very well over 800 and 1500 metres.
Davie McMeekin's first entry in the record books may well have been when he won the 1968 Scottish Schoolboys Cross Country Championship. In the 1968 National Under-15 Cross-Country Championships, however, he finished second to John McGill who was a major rival on the track as well. In 1969 Victoria Park won the team event. Davie had previously won the Midland District Youth Cross-Country. When he moved up to the Under 17 age bracket in 1970, Davie finished fifth and his team won bronze medals. In 1971 he finished seventh. In 1972 he was fourth in the Junior race behind Jim Brown, Paul Bannon and Ron McDonald.
I was a member of Victoria Park from 1971 to 1973. Winter season club runs were on Tuesday and Thursday evenings, but Davie was coached by Alex Naylor and did his training elsewhere. In the longer road events like the Allan Scally or the Glasgow University 5, I might have gained a few seconds on Davie by late 1971, but he was in a different class as a cross-country runner, especially over tricky muddy courses with fences! These included: SCCU training at Cleland Estate, Motherwell; the nightmare Dunbartonshire event; the Midland Championships; and most memorably, the VP Club Championships at Milngavie.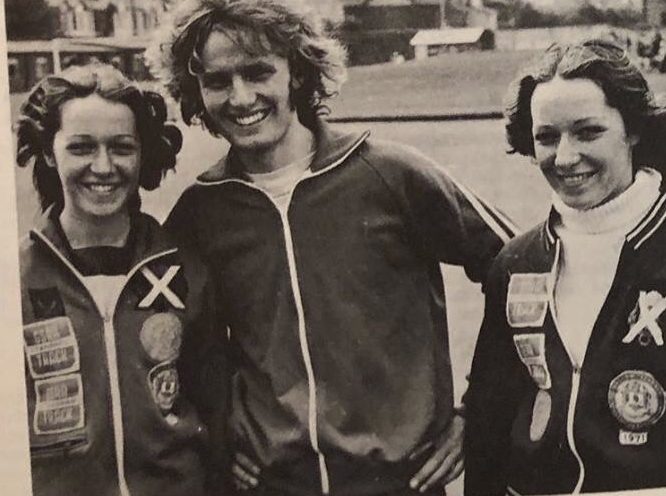 Christine, David and Evelyn
James L Logan was our skilful and enthusiastic scribe who provided welcome publicity in the 'Bearsden and Milngavie Herald' and in the VPAAC Club Magazine. In October 1971 he produced a brief history of cross-country running from Milngavie, which started with the Clydesdale Harriers in 1885. From the 1930's Victoria Park raced over similar courses. 'The present championship trail from Milngavie Community Centre begins around the spot where Clydesdale hares laid their false paper trails and follows the same route, skirting Clober Golf Course, crossing the Craigton Burn, up over Laigh Park to the heights and howes of Hilton Park and down to the Allander. Then up the lower slopes of Carbeth Hill where the trail swings round and meanders among the Hilton Parkl Hills before retracing the first two miles – a traditional cross country test, across rugged terrain, over fences gates dykes and burns, a contrast to the manicured courses encountered in many open and international events nowadays.' As a road fairy, I hated these events; but Davie was calm, gymnastic and showed impressive stamina. Pat Maclagan had been club champion for several years, but in February 1972 he only managed to beat Davie by six seconds with me third, a further 30 seconds behind. In February 1973, however, Davie strode away to an easy victory, with me a poor second and Pat fourth. Although Davie was only officially Junior champion, I knew how soundly I had been defeated and had no hesitation in refusing to accept the Senior trophy.
Previously, between late September and November 1972, Davie had been a key member in a series of successful Victoria Park cross-country and road relay teams. With the assistance of Hugh Barrow, Pat Maclagan and Innis Mitchell we had won the Edinburgh Southern Road Relay at Fernieside, the Dunbartonshire cross country relay and, best of all, the Midland District Cross Country relay. I still have the SCCU plaque. 1973 was Davie's last year as a Junior and Victoria Park was second to Motherwell in the National. The top six were extremely classy: Jim Brown, Lawrie Spence, Lawrie Reilly, Ron McDonald, Davie McMeekin and Frank Clement! Following this, Davie was selected for the IAAF World Junior Championship. This took place at the Hippodrome de Waregem outside Ghent in Belgium. The Scottish team ran extremely well: Jim Brown won with his Monkland team-mate Ron McDonald 14th, Davie McMeekin 17th and Lawrie Spence 27th.
Although his main focus was of course track, Davie continued to run well in the Senior National Cross-Country Championship. In 1975 Victoria Park won the Midland District CC team award. In the National Davie came in 14th (1975), 16th (1976) and 12th (1977). He even supported his team in this event as late as 1981. He was twice first finisher for Victoria Park.
The Edinburgh to Glasgow Relay was very important to Victoria Park (although some would argue that the TRIAL for the McAndrew Relay and that race itself took precedence) Amazingly, David McMeekin ran SEVENTEEN E-G's in a row (1970 – 1986)! He attempted every stage except the last one. His road-running team-mate Alastair Johnston wrote:' To me the great thing about David was that, apart from being respectful of older distance men (!), he was really versatile, combining a UK International middle distance track career with an extremely high Scottish standard road and cross country career .He was a passionate supporter of VPAAC and contributed much to its success in team events.'
David made an immediate impact in the E-G in 1970 at only 17 years of age! On Stage 7 he was third fastest, pulling up 44 seconds on Edinburgh Athletic Club, setting up George Meredith to secure third place medals for Victoria Park. In 1971 Davie ran brilliantly to be fastest on Stage 3 and move into the lead. Sadly, after a terrific battle, his club finished a close second to the great Shettleston team. In 1972 on Stage 5 Davie was second fastest to Dick Wedlock, a former National Crsoss-Country Champion. In 1973 and '74, Davie was third fastest on Stage 4. A second silver medal was won by VP in 1978 and a second bronze in 1980. In addition Davie's club was fourth no less than six times. This consistency was partly due to his great team spirit, even when he had more or less retired from the track.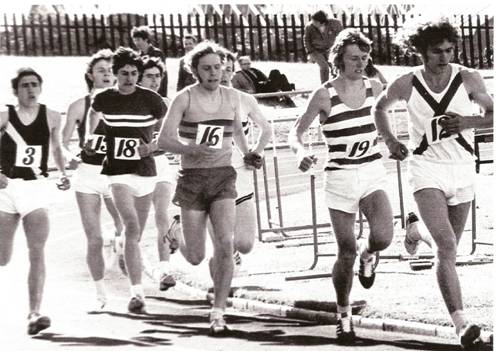 West District 1500m: David (19) Ian Scales (12), Lawrie Spence (16), Jim Brown (3)
Scottish Athletics Yearbooks provide some interesting statistics and comments on Davie McMeekin's progress as a middle distance runner. In 1969 as a Youth (Under 17) he won the Scottish Schools 800, title but was second to John McGill in the SAAA Championships. Nevertheless Davie topped the list with his 1:56.3 for fourth in the AAA event at Crystal Palace that August.
In 1970 as a Junior (Under 20) he won both the Scottish Schools and the SAAA Championships, improving to 1:52.5 at Leicester in late September. The Yearbook noted 'With wins in the two major title races in Scotland, a second in the Schools International and third placings in the AAA Junior final and the GB (Junior) match v West Germany, Dave McMeekin was far and away our most successful junior competitor at this distance.' In addition he won the West District 1500m and at Meadowbank improved his personal best to 3:54.3.
In 1971, Davie's success continued. He repeated his Scottish Schools and SAAA double; retained his West District 1500m title and produced new best times of 1:51.5 and 3:53.5. He also won the Schools International 800m and was third in the AAA Junior Final. The VPAAC magazine briefly mentions that he ran for Scotland v the RAF, winning the 1500m; and also represented Scotland v Northern Ireland finishing second in the 800m. Was this a defeat by Paul Lawther, I wonder, who much later wrote in an interview that: 'Probably the best training stint ever did was when I went to Gibraltar for a week with the likes of Seb Coe, Ian Stewart, Brendan Foster, Dave McMeekin and others. The training was intense, to say the least!' Davie certainly knew some great athletes. Davie himself has given an insight into his training cycle which consisted of: strength training; strength endurance; speed endurance and speed.
Winter would concentrate on strength: long slow distance with a couple of track sessions a week to keep up speed; and cross country or road races to keep a competitive edge.
Around January the strength endurance phase would start, which included at least three or four tough hill sessions a week, visits to the sand dunes at Gullane – or in Glasgow, Bellahouston Park or Cleveden Hill or the Clyde Tunnel. This was a tough period!
March would see the emphasis moving to the track, with short recovery speed endurance sessions.
As the competitive season developed, there would be fewer speed endurance sessions and more speed sessions with longer recovery. All track work was done at a good pace. eg 8 x 300 in 39/41 seconds with 2-3 minutes recovery.
The next yearbook states that 'David McMeekin, still a Junior under European rules although not in Scotland, dominated the 800m at Senior level in 1972. His performances in winning his Heat in the AAA Championships and then coming sixth in the Final with another fast run (1:49.0), deserve the highest praise. Given some international competition he should go even faster in 1973 and book his place to New Zealand for the Commonwealth Games.' Davie also won races at Birmingham and in Sweden; and on 24th June, 1972 he was victorious in the Senior SAAA 800m Championships. Once again he won the West District 1500m title as well as recording a winning 3:52.6 at Meadowbank in July. Thereafter Davie's stamina improved further, as is clear from his cross-country and road relay performances in late 1972 and early 1973). This was surely part of the build up for a very important athletics season. Then came the time for speed. In May 1973 he reduced his 400m time to 49.8. The 1500 was ignored; the focus was firmly on 800m. The yearbook is full of praise: 'Following his great 1972 season, David McMeekin went even better in 1973. After a fast run behind Danie Malan in June (1:47.4 in Leipzig), he finally beat Jim Paterson's Scottish National Record. This fine record, however, lasted barely sixteen days, as Frank Clement produced an astonishing 1:46.0 in an international meeting in Athens.'
Davie was undismayed however. He ran well in the heat and final of a Moscow international and was selected to compete for Scotland in the January 1974 Commonwealth Games. In the pre-Games meetings in New Zealand he showed strength in achieving a pb for 1500m (3:48.5). Then he got through his Commonwealth 800m heat to qualify for the semi-final where he was narrowly squeezed out of fifth place (1:48.12) defeating two of the three English representatives. The yearbook, which also deals with the summer 1974 season, states: 'Dave McMeekin tops the list with a fine personal best of 1:46.8 set in Paris behind Danie Malan of South Africa. He backed up this breakthrough with many good runs in the 1:47.0 – 1:48.0 range and gained selection for both the Commonwealth Games and the European Games representing Great Britain. Though not reaching the Finals on either occasion, he gained much valuable racing experience at the highest level.' Davie had that season's top six Scottish 800m marks and also raced in Stockholm, Warsaw and Rome. He produced a very fine personal best 1500m time of 3:43.1 (winning at Warley) in one of his few serious attempts at this distance..

The top 14 Scottish 800 metre times in 1974
It proved impossible for Davie to do better at 800m, although in 1975 he still ended up with the top three Scottish marks including 1:47.6 for sixth in the final of the AAA at Crystal Palace that autumn. He won a 1500m at Gateshead in 3:48.0; but the really magic moment of the season was when Davie became a four minute miler with 3:59.7 in a fast race at Stretford on 30th August, Just behind Frank Clement but in front of Ron McDonald. To break the barrier must have been extra satisfying since Davie had run miles in 4:01.9 and 4:02.3 shortly before the breakthrough.
His great rival Frank Clement writes that Davie was certainly the man to beat as a junior. Frank thinks that they had their first GB Senior International together in East Germany along with David Moorcroft. Frank was reserve but Davie was in the 800m. Frank notes that Davie tended to play down his training regime. He didn't go out for a run – it was always 'a jog', according to him. Given his solid road running and cross country pedigree, Frank considers that Davie's mile times could have been much faster if he had concentrated on this event and sought out races abroad. Frank adds, 'But I'm really glad that he left this distance to me!'
I do not have a yearbook for the 1976 season, but John Keddie has mentioned Davie's fine bronze medal in the AAA 800m, and I know that he improved his mile best time to an impressive 3:58.05. However Davie must have been very disappointed not to have been selected for the Montreal Olympic 800m. After running 1:45.76 in Zurich, Frank Clement was picked to accompany Steve Ovett. Frank was eighth in the 800m semi-final in Montreal, although he went on to finish a marvellous fifth in his main event, the 1500. I believe that Davie McMeekin should have been chosen for the Olympic 800m.
After that, injuries disrupted Davie's track performances. He does not appear on the 1977 lists and was reduced to 1:52.0 in 1978. After that it seems that only the Edinburgh to Glasgow could motivate him properly! Yet what a marvellous career he enjoyed. He should be celebrated as one of the finest Scottish athletes of his era."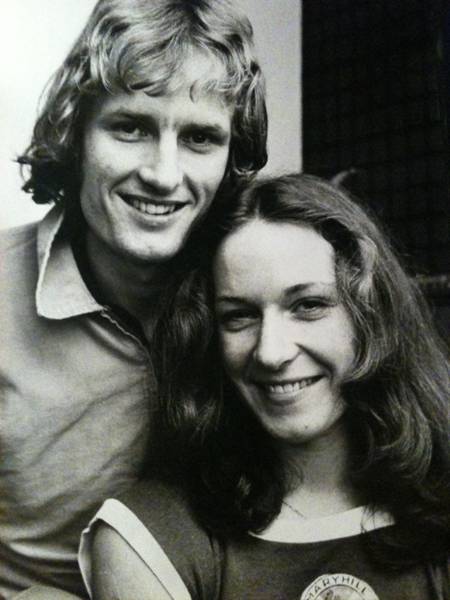 David with sister Evelyn
David was certainly one of our very best 800 metres runners and Frank was almost certainly 100% correct when he says that David could have been even better at the longer distance than he was. However he specialised in the 800 metres and travelled the world, representing Scotland doing it well. I have already mentioned his manner and approachability – we couldn't have had a better ambassador.