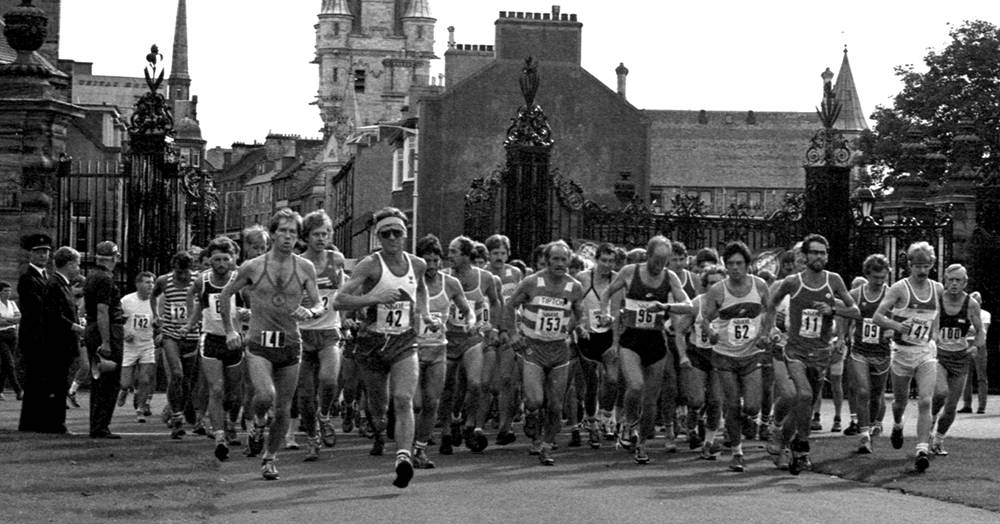 Two Bridges Start: 1983: Cavin Woodward (Leamington) 42, Ron Bentley (Tipton) 153 and Don Ritchie (Forres) 96
The Two Bridges was one of the real classics of Scottish ultra-distance running: everybody who was anybody in the sport from all over the British Isles and even further afield came and raced in it. Colin Youngson has done a superb job of chronicling the race, its history and the participants and it is a privilege to have it on these pages. The map below comes from the pre-race flyer for the race of 1969 and has been given to us by Alex Wilson. The documentation for the race was impressive with good programmes and a real Rolls Royce of a results sheet. In the first race there were no fewer than 32 starters – 29 Englishmen, one from Ireland, and 15 Scots. I think. There is a photograph of Graham Bennison, now with Fife AC – holding the winning team trophy aloft as a member of the Bolton United team in 1979: Graham ran in the race 'a lot' between 1973 and 1987. He mentions Bob Meadowcrcroft being annoyed that they (BUH) were the only team with all three runners (Bob, Graham and Tom (Parr) under 4 hours but they finished fourth. Graham's tendon went in the 1987 race and he was never able to run these long distances again. The name of Ken Shaw will be seen many times in the following race reports and he did indeed turn out in more races than any other runner. We heard of his death from Chris Holloway of Tipton Harriers and an appreciation of his life can be found at this link
http://www.gazetteandherald.co.uk/news/towns/calneheadlines/9318046.Family_s_tribute_to_marathon_man_Ken
Graham MacDonald of Pitreavie AAC knew Ken and has this to say about him. "I knew Ken quite well – first of all at the London to Brighton race when I was living in Ewell and assisting Don Turner and the Epsom lads. Later every year, he always made a point of shaking hands. I don't know if he remembered me or just shook hands with everyone. He was the most prolific runner of the Two Bridges – running every year from 1968 to 1997. That is thirty races and finishing 28 of them. His best time was (I think) four hours 15 minutes but sadly took 9 hours 40 minutes in his last race when he was not very well. He decided to retire after that but returned every year to meet up with his colleagues and was given the honour of starting the race in 2004 when it was the last of the trail races. He was a real character."
The Two Bridges Road Race was Scotland's most famous ultra distance marathon, run 38 times between 1968 and 2005, before it unfortunately came to an end due to roadworks and a lack of organisers and helpers. The original course started at the main entrance to Dunfermline Glen, and went through Crossford, Torryburn and Culross, over the Kincardine Bridge and then on to Skinflats, Bo'ness, Newton and over the Forth Road Bridge, up to Inverkeithing and finished at the Rosyth Civil Service Sports Centre. The overall distance was 36 miles 158 yards (58.082km) from 1986 to 1985; and then 35 miles 498 yards (56.783km) from 1996 onwards. From 2004 the race was known as the Two Bridges Multi-Terrain Challenge and went along 12 miles trail, 9 miles track and 14 miles road. For a list of winners google www.arrs.net , click on Longest Running Ultramarathons, and then on the 38 Two Bridges 36 mile races.
Phil Hampton, a distance runner who ran for the Royal Navy AC, in September 1966 had just returned to Rosyth from three months at sea on HMS Gurkha. His boyhood comic-strip hero had been Alf Tupper, the Tough of the Track, who trained very hard in all kinds of weather. Phil wished to get in a long run before the Edinburgh to Glasgow 42 miles 176 ultra-marathon (in which he later finished second in 4:56:53). Consequently he followed a signpost to the Kincardine Bridge and reckoned that if he continued to the Forth Road Bridge, crossed it an returned to base, it would be about 26 miles.
In Phil's own words this is what happened: "I set off at 6:00 am on a Sunday morning intending to return at about 9:00 am. I ripped up to Kincardine all right in about 1 hour 10 minutes, crossed the bridge and proceeded to look for a left fork on the other side of the river to take me back to the Forth Bridge. I found that the road didn't fork left for miles, and when it did, it wandered miles away from the river. Far from being 11 miles back, it was a mere 20 miles. Of course I had done my first 15 miles too fast so long before I got to the Forth Bridge I was on my knees. I eventually staggered home at about half past ten, to find my patient wife about to start a police search. When I had recovered, and it didn't take long to get over that 'to hell with it' state, I realised what a wonderful course there was for a road race. I mentioned this to Mr Bill McPherson of the Civil Service Sports Association who, being a wonderful grafter, eventually organised the inaugural race which was a tremendous success and made me glad that I had done that training run."
Phil went on to have considerable success. He not only won the famous Polytechnic Marathon (Windsor to Chiswick) twice, in 1969 (2:25:22) and 1971 (2:18:31) but also set a world record for the 50 Miles on the track at Epsom in 1971 in the superb time of 5 hours 1 minute and 1 second. He devised and and organised the Dartmoor Discovery 32 miles ultra-marathon from 1998 to 2010 when he was 75 years old.
ARRS, The Association of Road Running Statisticians, www.arrs.net) has a race history of the Two Bridges Road Race with a list if dates, the names of the winners and their times). However there is a much more detailed on-line History of the "London to Brighton Race" and this document is an attempt to do the same for the finest Scottish road ultra. Race summaries come from reports, kindly supplied by Ian Champion from the Road Runners Club newsletter. These reports were written mainly by Don Turner and Ernie Letley as well as John Softley and Derek Walton. In this history I have usually included only the first ten in each race. However, others who may wish a reminder of their place in a specific race (I do not have a note af all finishers) or who wish to send corrections or missing race reports may email Colin Youngson via cjyoungson@btinternet.com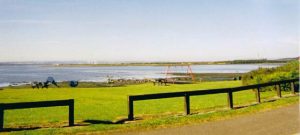 Just after the start: Looking South across the Firth
1968
32 competitors lined up at 10:00 am on Saturday 24th April on a warm day in The Glen in Dunfermline for the start of the inaugural race. Lynn Hughes (Thames Valley Harriers) went off fast with Chris O'Carroll, who reached 10 miles in 57:39, 15 seconds clear of Hughes. On the killing hill out of Bo'ness, and on the undulating road towards 30 miles, things started to happen. Hughes wasn't moving as well as he had been and O'Carroll was fading fast and had been overtaken by Hugh Mitchell (Shettleston Harriers). Don Turner of Pitreavie, who had been lurking near at hand, was making up ground fast, and by 30 miles had overtaken everyone except Hughes. Hughes reached 30 miles in 3:08:32; Turner 3:08:54; Mitchell 3:09:34; Ron Bentley of Tipton Harriers 3:14:00; in front of a straggling bunch of Hampton, Donkin, Brandon, Russell and Meadowcroft. Over the Forth Bridge, Turner went well clear and held on to the finish, still looking fresh, to win his first race for five years. There were 26 finishers, and the organisation, the attention to the well-being of the runners, and the tremendous hospitality were really first class. Bill McPherson, the organiser, and all his many helpers did us all proud.
1. Don Turner 3:47:08; 2. Hugh Mitchell 3:54:23; 3. Lynn Hughes 3:55:21; 4. Ron Bentley 3:58:53; 5. Willie Russell (Monkland) 4:00:32; 6. Bob Meadowcroft (Bolton) 4:01:54; 7. Ray Donkin (Sunderland) 4:04:15;
8. J Russell Brandon (Cheltenham) 4:06:42; 9. Phil Hampton (RNAC) 4:08:40; 10. Terry Rooke (Middlesborough) 4:15:59. 1st Veteran: G Stott (Warley) 15th 4:39:25 in front of Ron Pickard (Perth) 16th in 4:45:59.
First team: Tipton Harriers.
1969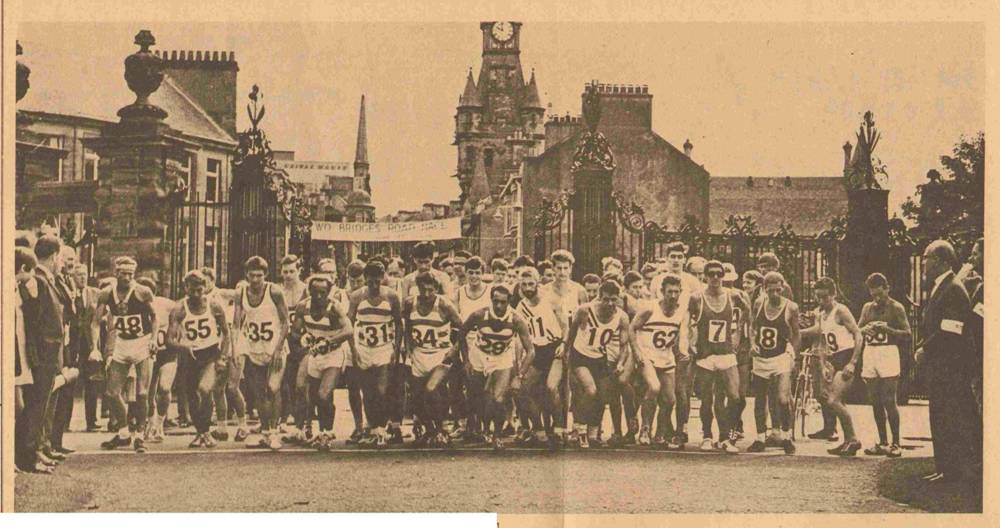 McLean (Bellahouston H) on the left, 48, the four Tipton men right in the centre, Jimmy Milne (EAC), 11, and I think I detect AJ Wood's brow behind number 7!
Cutting received from Tipton Harriers.
44 starters. Interest was centred on how Alastair Wood (Aberdeen AAC) would perform in his first effort above the marathon distance. A fast pace was also assured by the presence of Phil Hampton, already the winner of three marathons in the year. Wood moved away from the rest by five miles to record 58:36 at ten miles. He was followed by Hugh Mitchell (Shettleston), Phil Hampton (RNAC), Roger Cressy (Hillingdon) and Ken Grant (Army), with Ron Bentley, Gordon Bentley and Mike Evans of Tipton plus Jim Wight and his brother Alex Wight (Edinburgh AC) all inside the hour.
Hampton joined Wood by 20 miles (1:55:31), with Jim Wight, Mitchell and Cressy within sight at 1:56:11 and Alex Wight, Ron Bentley and Evans inside 6 minutes a mile pace. Into the steep hill out of Bo'ness (22 miles), Hampton and Wood were still piling on the pace to reach 25 miles together in 2:24:08. Just afterwards, on the straight but undulating stretch to 30 miles, Wood managed to escape to reach that point in an incredible 2:52:33. Surprisingly a new danger threatened because an inspired Jim Wight was gaining ground in second place (2:52:48). Hampton was beginning to fade and Cressy and Mitchell looked dangerous. Five men inside 3 hours for 30 miles and the race was wide open as they reached the Forth Road Bridge. Jim Wight continued to inch up on Wood over the next two miles but just when it looked as if the race would be his, Wood drew on those deep reserves of his, built up over years of top class running, and drew away steadily to record at the finish the magnificent time of 3:27:28. He was followed by Jim Wight running the race of his life; then Mitchell who said he just couldn't have run any faster; Hampton, probably tired after a long fine season; and Cressy in his first attempt at a race of this distance.
I (Don Turner) would rank Alastair Wood's, and Jim Wight's and Hugh Mitchell's performances very highly indeed, and it is clear that, could someone of this quality be persuaded to have a go at the London to Brighton, the record would go. (It did, when Alastair Wood won three years later).
1. Alastair Wood (Aberdeen AAC) 3:27:28; 2. Jim Wight (EAC) 3:29:30; 3. Hugh Mitchell (Shettleston) 3:31:31: 4. Phil Hampton (Navy South) 3:35:40; 5. Roger Cressy (Hillingdon AC) 3:37:19; 6. Ron Bentley (Tipton) 3:51:15;
7. GE Johnson (Tipton) 3:53:13; 8. T Parr (Bolton United H) 3:57:28; 9. Bill Carr (Tipton) 4:00.04; 10. Bob Meadowcroft (Bolton) 4:02:33. First Veteran: John Cox (Newbridge AC, Eire) 15th in 4:10:32.
Handicap winner: Gordon Porteous (Maryhill Harriers) First Team: Tipton Harriers. 37 runners finished.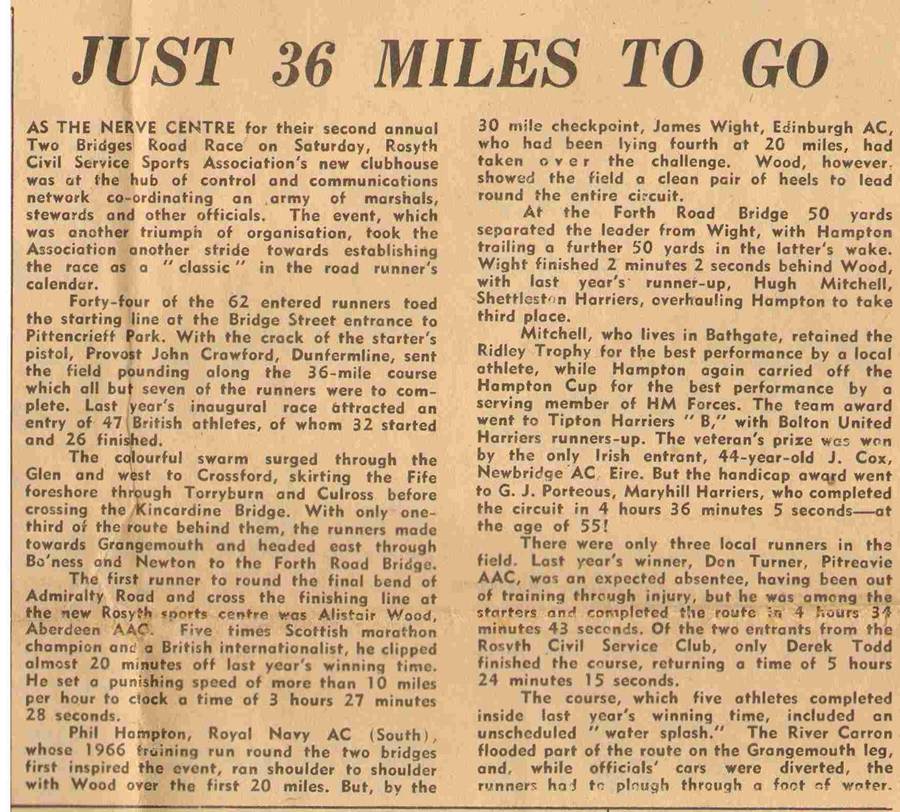 Report from the 'Dunfermline Herald'
1970
39 starters gathered in Pittencrieff Park, Dunfermline, on a cloudy Saturday morning. A large group reached 5 miles in a steady 29:22. Over the Kincardine Bridge and past 15 miles (1:28:15) the leaders were Phil Hampton (RN South), John Malpass and Ron Bentley of Tipton and John Berry of Wakefield. Hampton and Berry were pushing the pace by 20 miles (1:57:38) approaching Bo'ness). On the toughest section the sharp and then the long hill out of the town, Hampton broke clear (25 miles in 2:28:04) and led by two minutes from Ron Bentley, while Malpass, who had taken the hill better than Berry, was right on the latter's heels, as was John Linaker of Pitreavie.
The course now consisted of a straight undulating road, exceptionally quiet to those used to the London to Brighton and Liverpool to Blackpool roads. Hampton still had his two minute lead at 30 miles (3:00:19) from Ron Bentley and a refreshed Berry, while Linaker was fourth and Willie Russell (Shettleston) was four and a half minutes behind the leader. By the Forth Road Bridge, Hampton was tiring. On the other side past Inverkeithing at 35 miles, he was only one minute and twenty four seconds in front of Ron Bentley, and Willie Russell, moving through fast as he did in the Isle of Man, to present a late challenge. In Rosyth, Hampton only realised the threat just in time, and made a last effort to hold off Russell, who finished only 13 seconds behind after a valiant chase. Phil Hampton therefore just managed to win the race that he had inspired three years earlier.
1. Phil Hampton 3:41:19; 2. Willie Russell 3:41:32; 3. Ron Bentley 3:42:15; 4. John Berry 3:42:48; 5. John Malpass 3:45:18; 6. John Linaker 3:49:01; 7. Donald Ritchie (Aberdeen AAC) 3:50:50; 8. George Johnson (Tipton) 3:54:43; 9. Gordon Bentley (Tipton) 3:59:20; 10. Hugh Mitchell (Shettleston) 4:04:24. First Team: Tipton Harriers. 34 finished.
1971
Tipton's tremendous strength in depth was demonstrated when Tony Burkitt and Billy Carr did most of the pace making. Theyleft John Malpass behind, with the Bentley brothers further back. However Alex Wight was always well placed as the fastest marathon runner in the field, and he duly took the lead from Burkitt at the top of the hill out of Bo'ness (24 miles) and went past 30 miles in 2:52:51. Colin Hunt came through strongly towards the end. One of the features of the race was the strong running of the Wakefield team, who may prove a threat to Tipton before long. It is almost worth running in the race to get Raymond Hutcheson's results booklet! If you want a race on pleasant, quiet roads with plenty of enthusiastic support and a good social evening afterwards, come along next August.
1. Alex Wight (EAC) 3:28:20; 2. Colin Hunt (Wolverhampton and Bilston) 3:33:48; 3. Bill Carr (Tipton) 3:37:16; 4. Brian Pickersgill (Wakefield Harriers) 3:40:10; 5. John Malpass (Tipton) 3:40:27; 6. Tony Burkitt (Tipton) 3:42:06;
7. Willie Rusell (Shettleston) 3:46:19; 8. P 'Eddie' Edwards (Wakefield) 3:47:05; 9. John Berry (Wakefield) 3:48:36; 10. Ken Morris (RAF Shaftesbury) 3:54:15. First Team: Tipton Harriers 43 started, 33 finished.
1972
It was a tragedy, and somewhat ironic in this of all races, that Alastair Wood should go off course when leading the field by over a minute beyond 30 miles. The organisation which has been a model for such races slipped up when a marshal went on to the next refreshment point with Wood's special drink, thinking he had time to get back to his marshalling point, but Alastair, running ahead of schedule had gone by when he got back in time to direct the rest of the field. This cost Alastair about three minutes which was too much to recover on the Wight brothers. Although he set about chasing them furiously across the Forth Bridge they were also in great form, so much so that these first three all beat Wood's superb time of 3:27:28 (set two years ago), which was considered almost unbeatable then. So the records crumble.
All credit to Alex and Jim Wight for their splendid performances and to Jimmy Milne who made up the EAC team which gave the Tipton team one of their extremely rare beatings. Praise too to Mick Orton who, just back from holiday, could not quite reproduce his tremendous winning Comrades Marathon performance, and to Joe Keating for a great effort in a fine season for him. The race of course was run at a great pace, with Joe Keating leading at ten miles in 58:00; Wood and the Wights together at the marathon distance (2:27:26); and Wood alone at 30 miles in a great 2:47:52. Perhaps he resolved to take his revenge on the London to Brighton road, and if he did we were well rewarded. (Alastair Wood went on to win that most famous of races and smashed the record.)
1. Alex Wight (EAC) 3:24:07 (record); 2. Jim Wight (EAC) 3:24:49; 3. Alastair Wood (Aberdeen AAC) 3:25:49; 4. Mick Orton (Tipton) 3:30:02; 5. Joe Keating (Blaydon H) 3:32:29; 6. John Malpass (Tipton) 3:25:27;
7. Colin Hunt (Wolverhampton) 3:36:14; 8. Brian Pickersgill (Wakefield) 3:37:23; 9. Jimmy Milne (EAC) 3:43:02; 10. Billy Carr (Tipton) 3:43:48. 1st Veteran Willie Russell (Monkland) 15th in 3:52:55 1st Team: EAC . 38 finished.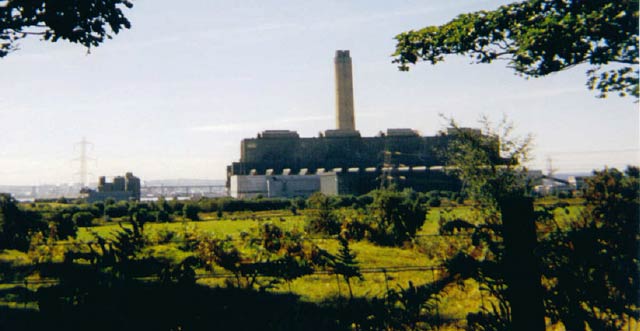 Longannet Power Station
1973
The absence of Alastair Wood and Alex and Jim Wight left the way clear for Cavin Woodward and maybe Mick Orton. Cavin went away like a shot and blistered through ten miles in 53:39, Orton and four others clocked 57:55. Cavin stretched his lead through 15 miles (1:21:30) but by the marathon distance (2:27:06 Mick was slowly closing. However Cavin showed what a good front runner he is. By 30 miles he was well ahead (2:49:55 to 2:54:01). Colin Hunt was timed at 2:58:41. These positions remained unaltered to the end. What a fight there was after that! Only 35 seconds covered the next four with Bill Carr just scraping home in front of the fast finishing Willie Russell, the slowly-moving John Berry and the steady Gavin Riley. A good rousing evening quenching our thirst ensured a return to Rosyth hospitality next year!
1. Cavin Woodward (Leamington AC) 3:25:21; 2. Mick Orton (Tipton) 3:31:48; 3. Colin Hunt (Wolves and Bilston) 3:41:08; 4. Bill Carr (Tipton) 3:46:18; 5. Willie Russell (Monkland H) 3:46:33; 6. John Berry (Wakefield) 3:46:42;
7. Gavin Riley (Bedford AC) 3:46:53; 8. Tommy Parr (Bolton United Harriers) 3:49:40; 9. Graham Bennison (Bolton) 3:53:09; 10. Tom Buckingham (Leamington) 3:53:29. First team: Tipton. 29 Finished
1974
An entry of 100 was a tribute to the popularity of this event. Sheldon Karlin of the Washington club set off at a great pace but Jim Wight kept him well covered and was in the lead by thirteen seconds at five miles (28:00). The main pack of 10 clocked 29:10. Wight was really flying as he went along the Forth riverside to go through ten miles in 55:16, two minutes clear of Karlin. At 20 miles Jim was timed at 1:49:47 with Don Macgregor looking dangerous in his first attempt over the marathon distance (1:53:57). Karlin was still hanging on (1:54:53) but the Aberdeen partnership of Wood and Heron was strong and ready for dividends. Macgregor had closed only slightly on the leader at 25 miles but Karlin had gone. Jim Wight went through the marathon distance in 2:25:22 and by 30 miles (2:48:10) Macgregor's challenge had just about faded although he was still hanging on gamely. Wood and heron were still going strong. Jim Wight however had run a well-judged race and he came home clear in 3:26:31, just outside the record, thus adding his name to that of his brother Alex on the winner's trophy. Rab Heron just got the better of his mentor Alastair Wood near the end, and then came Alan Richards, who had a fine run. The third Aberdeen man, Don Ritchie, finished strongly to give no other team a chance. Bob Thurston, winner of the US race, upheld American standards with sixth place in a fast run race. Another fine 'DO' and the evening social showed us that this race retains its top rating. Bill McPherson, Ernie Letley and their Committee can expect us back on 23rd August 1975. Meanwhile we can muse over Raymond Hutcheson's complete results booklet.
(We have recently received a cutting from Chris Holloway of Tipton Harriers which reads as follows: "HARRIERS HAND OVER TANKARDS: Tipton Harriers will have made a lot of friends in America with a sporting gesture at the end of the thirty six and a half miles Two Bridges Race in Scotland in which they finished second to Aberdeen AAC. The Tipton men received tankards as their prizes and these they immediately handed over to the team from Washington Sports Club who finished third. Ron Bentley who finished eleventh, but still won the prize for being first veteran, said," There were only ordinary prizes for third team so we thought the American chaps would like the tankards to take back with them." Tipton's second place was all the more meritotious for the fact that Allan Richards pulled a muscle at eight miles but was first man across the finishing line. He was fourth in the individual placings with Mick Orton (8), Ken Rock (10) and Bill Carr (14). Tipton's other four finishers were B teamers John Malpass (23), Tony Burkitt (25), Darrell McWhirter (30) and Gordon Bentley(35)." Chris reckons the clipping is from one of the two local papers, The Express & Star or The Herald which are well known Black Country papers.)
1. Jim Wight (EAC) 3:26:31; 2. Rab Heron (Aberdeen AAC) 3:32:04; 3. Alastair Wood (1st veteran, Aberdeen AAC) 3:32:43; 4. Alan Richards (Tipton) 3:34:47; 5. Donald Ritchie (Aberdeen AAC) 3:36:58; 6. Bob Thurston (Washington, USA) 3:37:53; 7. Don Macgregor (ESH) 3:40:45; 8. Mick Orton (Tipton) 3:41:55; 9. Alex Wight (EAC) 3:43:06; 10. K Rock (Tipton) 3:41:55. First team: Aberdeen AAC. 52 finished.
1975
At the start Cavin Woodward was ready for blast-off and he duly shot away to such an effect that he was almost two minutes up on the field at five miles and three minutes up at ten miles (54:59) on the trio of Alan Richards, Mick Orton and Colin Youngson (57:53). Youngson came from that great source of class road runners, Aberdeen, but was now running for Edinburgh Southern Harriers. 15 miles was passed by Woodward in 1:23:26, with the next three in 1:26:50. At 20 miles Woodward clocked 1:51:27 with the same three locked behind together at 1:55:04. Behind them, Alan Radcliffe and George Kay were surprising in their first ultra-marathon race. The pressure was on as they mounted the sharp hill before 25 miles. Youngson and Orton pushed ahead of Richards with Orton making the pace. They were both slowly pulling back the lone leader. (25 miles Woodward 2:20:55 and marathon 2:27:44; Orton 2:23:55 and 2:30:40; Youngson 2:23:55 and 2:30:44). However by 30 miles (2:50:04) Woodward was holding them again to a gap of just over three minutes (2:53:13). As the long grind across the Forth Bridge approached it was Youngson who emerged in a clear second place. Times at 35 miles: Woodward 3:20:02, Youngson 3:23:21 and Orton 3:24:23. There was no holding Cavin Woodward, and he came rushing into the finish for a fine run, just two and a half minutes outside Alex Wight's record. Colin Youngson had a great run, and we hope to see him attempting these distances again, while Mick Orton appears to be coming back to form.
The race itself is only part of the weekend and a good time was had by all at the social afterwards, by getting those tired limbs moving in other directions and by quenching parched throats. We look forward to the Bridges weekend, and those who haven't tried it yet, well you're missing something!
1. Cavin Woodward (Leamington) 3:26:45; 2. Colin Youngson (ESH) 3:29:44; 3. Mick Orton (Tipton) 3:31:52; 4. Alan Richards (Tipton) 3:33:35; 5. Alan Radcliffe (RN)(Pitreavie AC) 3:26:28; 6. George Kay (Barnsley RRC)
3:42:08; 7. Bill Carr (Tipton) 3:49:00; 8. Michael Coventry (Mitcham AC) 3:49:20; 9. GD Archer (Hillingdon AC) 3:51:10; 10. Darryl McWhirter (1st veteran: Tipton) 3:52:01. First team: Tipton Harriers. 69 entered. 52 finished.
1976
This year, after the Kincardine Bridge, the race follows the south bank of the estuary eastwards towards Falkirk, and through the industrial area of Grangemouth, over the Forth Bridge to the Civil Services Club at Rosyth. This club, led by E.C. Letley, is the heart and soul of this well-organised event, which provides a good weekend for all those who journey to Scotland. Half of this year's competitors came either from south of the border or from the USA. The weather was good, a bright sunny morning but not too warm.
After the leading group had split up, Mick Orton and Sandy Keith led the field. Fred Howell took third place some minutes behind. The two leaders were shoulder to shoulder through 15 miles and up the hill to 20 miles until 25 miles where Keith stopped for a drink and Orton went ahead. With the impressive structure of the Forth Bridge coming nearer and nearer, the Tipton man increased his lead steadily to win by nearly six minutes. Keith had to surrender second place to Howell on the Forth Bridge. Fourth was Alan Radcliffe of the Royal Navy. Max White, seventh, was the first of the visiting athletes from abroad.
1. Mick Orton (Tipton) 3:27:58; 2. Fred Howell (Tipton/Army) 3:33:53; 3. Sandy Keith (EAC) 3:38:01; 4. Alan Radcliffe (RN) 3:39:45; 5. Joe Keating (Ealing and Southall AC) 3:40:22; 6. Ian Burgess (Southampton and Eastleigh AC) 3:43:31; 7. Max White (Washington Running Club, USA) 3:48:55; 8. Ken Mayor (Bolton United Harriers) 3:49:52; 9. Dave Francis (Cupar and Fife) 3:50:10; 10. Graham Bennison (Bolton United Harriers) 3:58:33.
First team: Bolton United Harriers 29 points; second Tipton 30 points. 1st veteran Ron Bentley (Tipton) 13th 4:03.28. 52 finished.
Culross
1977
This year's race was the best yet. Who could believe that Mick Orton would be leading on the Forth Bridge, then after fading only a little, finish sixth? Such was the quality in depth of this year's runners. From the start the pace was fast, with Orton, Woodward and Ritchie locked together at 5 miles (27:19) and 10 miles (54:44) and with Joe Keating, Alex Wight, Fred Howell and Alan Radcliffe only 30 seconds behind. Through 15 miles (1:23:20) and 20 miles (1:51:39) Orton blasted on with Ritchie at his heels and Woodward hanging on grimly. Orton broke away on the steep hill out of Bo'ness and shot through 25 miles in 2:20:21, a minute clear of Ritchie with Woodward another 26 seconds down, and Wight, Howell and Keating a little strung out but keeping up a fast pace.
At 30 miles Orton was still a minute clear (2:49:59) with Ritchie having been joined by Alex Wight, who as course record holder was making a tremendous effort and had passed Woodward. On the Forth Bridge, Wight swept past Orton into the lead. But something stirred inside Cavin Woodward's deep resources. he picked up the pace to pass all three by the time he had climbed the hill into Inverkeithing. By 35 miles (3:21:02 he was a minute clear and now it was all over. Cavin covered that hilly five miles in well inside six minute miling. He received a great reception at the finish and seems to have returned to full fitness after an injury-plagued year. Ritchie's form has been such that he was a little disappointed with second place in front of Wight who made such a magnificent effort in the late stages. Howell and Keating chases and chased all the race but never quite got on terms with the leaders. Sixth was a tired Orton after a great effort to win the race from the front.
Not far back, Robin Y.P. Thomas surprised all to win the handicap with a great run in his first attempt at the distance. With 60 finishers including three Americans and a good social evening to come, it was yet another success story for the organisers and another 'must' next year for the athletes.
1. Cavin Woodward (Lamington Cycling and AC) 3:27:10; 2. Donald Ritchie (Forres Harriers) 3:28:34; 3. Alex Wight (EAC) 3:29:08; 4. Fred Howell (Tipton/Army) 3;29:51; 5. Joe Keating (Ealing and S) 3:30:51;
6. Mick Orton (Tipton) 3:32:18; 7. Ian Burgess (Southampton and E) 3:36:44; 8. Alan Radcliffe (Pitreavie AAC/Royal Navy) 3:29:23; 9. Robin Thomas (Edinburgh University AC) 3:40:04; 10. Mike Newton (South London Harriers)
3:40:14. First team: Tipton Harriers. 1st veteran George Kay (Barnsley RRC) 12th 3:48:25.
1978
There was a record field with experienced men like Ritchie, Orton, Woodward, Heron Keating, Hampton and Howell facing Jim Dingwall, Scottish marathon representative at the Edmonton Commonwealth Games, Andy Holden, Tipton's international steeplechaser and Ian Leonard, a 2:21 marathoner from Rhodesia.
Heron and Leonard were just in the lead at five miles (27:16) but six swept through ten miles together (55:07). By 15 miles (1:22:57) entering Grangemouth, Heron and Leonard were 30 seconds clear with Orton, Ritchie and Woodward timed at 1:23:31. 20 miles was reached by the two leaders in 1:50:42, Orton and Woodward (1:51:38) had now dropped the Brighton holder, Ritchie, (1:53:00) with Keating (1:54:30) still hanging on. Holden unfortunately didn't get much further than 20 miles, but let's hope he sees the event as a challenge now. The marathon distance was reached by Rab Heron, now out on his own in 2:26:13. Could he win the race from the front as he had so nearly done in Brighton (when he eventually finished second to Ritchie)?
Then Woodward started another amazing charge, and he was only four seconds behind Heron at 30 miles (2:49:24). After that Woodward ran away steadily with Heron slipping behind only a little and Orton trying to hold off Keating who was definitely gaining. Yet the order stayed the same until the end of a truly top-class race. Jim Dingwall ran steadily and sensibly. Since he lived in Falkirk, Jim succeeded in finishing first local resident (12th place 3.50.25).
1. Cavin Woodward (Leamington) 3:24:45. 2. Rab Heron (Brighton AC) 3:26:22; 3. Mick Orton (Tipton) 3:28:09; 4. Joe Keating (Blaydon H) 3:28:37; 5. Donald Ritchie (Forres H) 3:32:49; 6. Ian Leonard (Rhodes AC, Rhodesia) 3:37:58; 7. Martin Thomson (Leamington) 3:38:00; 8. Fred Howell (Wrexham/Army) 3:40:49; 9. Ken Mayor (Bolton United H) 3:42:21; 10. George Kay (1st veteran, Stafford AC) 3:44:09.
Team: Leamington Cycling and AC. A record 72 finished.
1979
Cavin Woodward, unbeaten on this course, was hot favourite. Two interesting entrants were Bermuda Marathon winner Andy Holden and Alan McGhee, the 1977 Fell Runner of the Year. Five miles (27:14) and ten miles (55:18) were passed by Heron, McGhee, Graves, Paul Livesey, Cavin Woodward and Ross MacDonald, with Andy Holden a few yards behind. Holden, Heron, Livesey and McGhee zoomed past 15 miles in 84 minutes, with Woodward and Graves not far behind. Woodward was forced to stop temporarily with leg problems. Heron and Holden were edging away at 20 miles (1:52:19) but were locked together in the lead at 25 miles (2:21:04). By the marathon distance (2:27:57) they were three minutes clear of McGhee. Woodward was beginning to make up ground, ahead of Graves. Livesey had retired. By 30 miles, Holden (2:49:51) had opened up a gap on his fellow red-head, Heron (2:50:32). Woodward (2:54:43) and Graves (2:57:28) had overtaken a tiring McGhee, who was now being pressed by Smith and Daykin. Holden extended his lead past 35 miles (3:19:07) and finished two and a half minutes clear of the unfortunate Heron who was runner-up for the third time. Woodward was a gallant third, well clear of fine debuts from Daykin and Smith. Holden, the former UK 3000m steeplechase record holder, displayed a fine sense of pace throughout unlike Alan McGhee (only 21 years old) who had the consolation of leading his Bolton comrades (Graham Bennison, 13th in 3:51:36) and Tommy Parr) to team victory.
1. Andy Holden (Tipton Harriers) 3:25:34; 2. Rab Heron (Brighton and Hove AC) 3:28:05; 3. Cavin Woodward (Leamington) 3:31:36; 4. Martin Daykin (Gloucester AC 3:38:26; 5. Alan Smith (Burton AC) 3:38:38;
6. Ian Graves (Fife AC) 3:39:14; 7. Mark Pritchard (Epsom and Ewell 3:42:01; 8. Stephen Wright (unattached) 3:42:49; 9. Dave Attwell (Altrincham and District) 3:46:10; 10. Dave Francis (1st local, Fife AC) 3:50:05
First team: Bolton United Harriers First veteran: Tommy Parr (Bolton) 15th 3:54:08. 70 runners finished.
The winning Bolton team in 1979: Graham Bennison holding the trophy, Tommy Parr (1st Veteran) and Alan McGhee
1980
The usual enthusiasm was evident as soon as we clocked in again at the Rosyth race headquarters, with all the runners welcomed like old friends, no matter whether fast or slow. 75 started. The early leaders through five miles (29:36) were Rab Heron, Mick Orton, Andy Holden, Martin Daykin and Ian Graves. The pace hotted up: 10 miles (58:18) and along to the outskirts of Grangemouth (15 miles) where Holden and Heron clocked 1:26:38, with Daykin and Graves (1:28:20) and Francis and Bennison (1:29:43). Colin Youngson looked dangerous in the next place in 1:30:58, with newcomer to the distance, John Lamont, another Aberdonian now living in London.
On past the oil refineries and 20 miles was hit in 1:53:24 by Heron and Holden, with Orton in 1:55:59, Daykin and Graves (1:58:08) and Youngson moving up in 1:58:49. Out of Bo'ness and on to the hilly section. Holden made his break, reaching 25 miles in 2:20:43 to Heron's 2:21:35 a long way clear of Orton (2:27:02) with Youngson now fourth (2:27:59) and Daykin moving away from Graves. Holden passed the marathon distance in 2:27:27, just outside record pace. He was moving really well now, with successive five mile splits from 20 to 35 miles of 27:19, 27:28 and 27:27, incredible running in the second half of the race, which brought him back inside record schedule. His 30 mile time was 2:48:11 with Heron 2:50:27 and Daykin running strongly in third (2:57:54), Youngson (2:58:07) and Orton (2:58:46). Holden passed 35 miles in 3:15:38 (Heron 3:20:22, Daykin 3:27:37, Youngson 3:30:56 and Orton 3:32:42)
So we had a new record from Andy Holden in 3:21:46, with Rab Heron second in a fine 3:26:54, and Martin Daykin third. Dave Dowdle came through late in the race to take sixth place and John Watkins had a good run for SLH. There was a keen tussle for the veteran award with George Kay remaining two or three minutes in front of John Cock of Epsom and Ewell. Everyone's a winner in this race. None more so than Ken Shaw (Cambridge AC) who was feted in the evening for having run and finished in all thirteen races. Thanks again to the organiser Ernie Letley and his gang. we can pore over Raymond Hutcheson's detailed Result Brochure of the race before we gather again next year.
1. Andy Holden (Tipton H) 3:21:46; 2. Rab Heron (Brighton and Hove) 3:26:54; 3. Martin Daykin (Gloucester AC) 3:34:07; 4. Colin Youngson (ESH) 3:38:23; 5. Mick Orton (Tipton) 3:40:25; 6. Dave Dowdle (Gloucester) 3:42:05;
7. John Lamont (Aberdeen AAC) 3:44:13; 8. Dave Francis (Fife AC) 3:44:23; 9. John Watkins (South London H) 3:44:34; 10. George Kay (1st veteran, Stafford AC) 3:45:31 First Team: Tipton Harriers.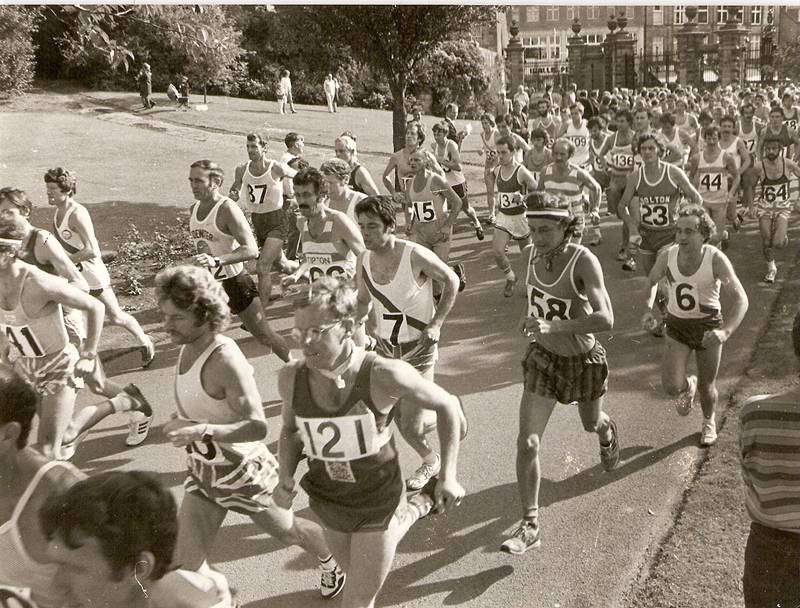 The Start, Early 1980's, Graham Bennison, Bolton UH (23) with Ron Bentley beside him.
1981
Unfortunately there is no report of this race although the results are available below. Mark Pickard started ultra-distance running phenomenally young. In 1981 he was only 21 years old and had a great year: setting a new British record for the 24 hours track event with 163 miles/263 kilometres. After this victory in the Two Bridges he went on to finish second in the London to Brighton race only three minutes down on the outstanding Bruce Fordyce from South Africa. In 1988 Mark actually won the London to Brighton when he came through late with some wonderful running on a long hilly section crossing the South Downs. He suffered a lot of injury during his career and wrote very well about his successes and disappointments in "Evidence of a Misspent Youth".
Mark wrote about his Two Bridges win in his book. "Before the start, from past experience I ate nothing. Some of the others commented that I wouldn't get very far without food. I proved them wrong in the best possible way, winning by a margin of over eight and a half minutes. I think that it was Don Turner who said afterwards that the proof of the pudding was in the eating of it – or not, as the case might be! The race went like a dream. Conscious of the fact that I had probably started too slowly in the Woodend to Southend 40 I set off rather more quickly here, breaking away from the group I had been with at about 20 miles, before taking the lead from Cavin Woodward on the long climb out of Bo'ness at around 22 miles. I felt comfortable running the last 14 miles on my own, recording 2:29:50 for the marathon and passing a very surprised-looking group of camera-clicking Japanese tourists as I came off the Forth Bridge, before completing the 36 miles 158 yards course in 3:26:01. This was the sixth fastest time ever but well off Andy Holden's course record of 3:21:46 set the previous year. My 5 mile splits were: 28:19, 28:56, 29:20, 28:26, 28:14, 28:20 and 28:15 with 6:11 for the 1 mile 158 yards giving an average pace of 5:42 per mile. Andy Holden didn't run on this occasion. If I remember correctly though, it was him I spoke to afterwards about my racing plans. He told me to be careful that I didn't hurt myself – prophetic words indeed as things were to turn out. It was the first open road race that I had ever won, and I was quite delighted. At the presentation I received a radio/cassette player (something I had always wanted), a statuette to keep and the massive Two Bridges Cup. The race is famous for its 'evening after' celebrations and at about midnight I was lifted shoulder high and carried around the room." .
Clive Rutland had completed the first London Marathon in 1981 in 2:27. He trained very hard with clubmates like Fergus Gillies, a Scottish marathon runner, and apparently his training included not only one long run on a Sunday but also another midweek. This dedication paid dividends in the Two Bridges which was undoubtedly one of his finest performances. Dave Dowdle reached his peak in May 1982 in a 24 hour road race in Gloucester. Helped for much of the way by his team mate Martin Daykin, who was a very successful international ultra-runner, Dave set a marvellous world best of 170 miles 974 yards/274.480 km. His training for this event had peaked at 240 miles in a week!
1. Mark Pickard (Epesom and Ewell H) 3:26:01; 2. Clive Rutland (Banbury H) 3:33:33; 3. Cavin Woodward (Leamington) 3:39:16; 4. Alan Richards (Tipton) 3:41:21; 5. Martin Daykin (Gloucester AC) 3:42:03;
6. John Watkins (SLH) 3:42:59; 7. Frank Thomas (Chelmsford AC) 3:43:46; 8. Dave Dowdle (Gloucester AC) 3:43:52; 9. G Smith (Tipton) 3:46:24; 10. Dave Francis (Fife AC) 3:46:38; 11. George Kay (1st veteran, Stafford) 3:46:45.
First Team: Tipton H 32 pts; second team: Gloucester AC 33 pts.
1982
A record field of 115 started. Immediately, Charlie Trayer, the strong challenger from Reading RRC, USA, set off alone followed by a group of five – Daykin, Johnson, Watkins and the Fife AC pair of Ian Graves and Bob Pemble. This group reached 5 miles in 28:25 with Trayer 13 seconds ahead. In the run through Culross to Longannet against a strong west wind, the chasing group dropped Pemble but by 10 miles (56;59) had been joined by Clive Rutland and Chris O'Carroll of Gloucester AC. Over the Kincardine Bridge and now with a following wind, by 15 miles(1:26:07) the pace had increased. Johnston and Daykin forged ahead, the former reaching 20 miles in 1:53:18, a minute in front of Daykin, with Watkins, Rutland, Graves and Ttayer 3 minutes adrift.
The first steep hill widened the gap, when Tim Johnston, the former international track and marathon star, now a veteran of 41, took a two and a half minute lead over Martin Daykin at 25 miles and reached the marathon distance in 2:28:17. Maintaining a sensible pace, Johnston went on to reach 30 miles in 2:50:54, still two and a half minutes ahead. Further back both Dave Francis and Les Davis were making a strong move forward. Watkins' third place was being threatened by Trayer. Crossing the Forth Bridge it looked doubtful if the leader would become the first veteran winner, as Daykin was gaining with every mile and finishing strongly. However Tim did hang on to reach the Rosyth Civil Service Sports Centre just 32 seconds in front of Martin, who has now filled the 5th to 2nd places in four successive years. John Watkins held on to 3rd place, 3 minutes ahead of Charlie Trayer, who becomes the highest placed overseas competitor in this event, with Dave Francis 5th and Les Davis 6th.
1. Tim Johnston (1st veteran, Portsmouth) 3:28:36; 2. Martin Daykin (Gloucester AC) 3:29:08; 3. John Watkins (South London Harriers) 3:35:16; 4. Charlie Trayer (USA) 3:38:18; 5. Dave Francis (Fife AC) 3:34:06;
6. Les Davis (Gloucester) 3:43:02; 7. Clive Rutland (Banbury) 3:44:13; 8. M Reid (VPH) 3:46:08; 9. Richard Dalby (Harrogate) 3:47:44; 10. George Kay (Stafford AC) 3:48:25;
First team: Gloucester AC (Daykin, Davis, Ken Leyshon 16th in 3:55:26. 104 finished.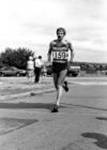 Billy Carr (Tipton)
1983
A record number of 126 started. There was bright sunshine, high humidity, and the prospect of a keen duel between ultra greats Don Ritchie and Cavin Woodward. For the first 5 miles, Dave Francis moved out in front followed by Woodward, Ritchie and Sam (or Ian) Graves but by 10 miles (58:11) all four were together. However on the Kincardine Bridge, Woodward and Ritchie broke away. By 20 miles (1:56:30) 25 miles (2:26:37) and 30 miles (2:57:55) the two leaders matched stride for stride and were now six minutes ahead of Graves, Francis and Jim Ulvestad (USA). The strong east wind on the Forth Road Bridge was troublesome and it was here that Don Ritchie made the first positive move forward, breaking away to become the first Scot to win this event since 1974, some 31 seconds in front of Cavin Woodward, who had dominated the ultra-marathon events so far this year. Meanwhile Allan Hardy produced a stirring finish to move up four places in the last four miles to finish third. The Fife AC pair stayed together to clinch fourth and fifth in front of another strong finisher, Bruce Robinson, who passed his tiring team mate to take sixth place. When Ian Mitchell appeared in 33rd position, the Fife AC team stole the team prize from the Americans, thus becoming the first Scottish winners since 1974. First lady was Mary Williams (Washington RC, USA) in 4:47:50.
1. Don Ritchie (Forres Harriers) 3:34:39; 2. Cavin Woodward (Leamington) 3:35:10; 3. Allan Hardy (Burnham Joggers) 3:44:04; 4. Samuel (Ian) Graves (Fife AC) 3:46:15; 5. Dave Francis (Fife AC) 3:46:15; 6. Bruce Robinson (Washington RC, USA) 3:49:41; 7. Paul Taylor (Woodstock H) 3:51:09; 8. James Ulvestad (Washington RC) 3:52:26; 9. Graham Smith (Tipton H) 3:55:04; 10. Eric Ratcliffe (Bingley H) 3:55:34; 11. Vic Gutteridge (1st veteran, Hillingdon AC) 4:00:36. A record 109 finished. First team: Fife AC (Graves, Francis, Ian Mitchell)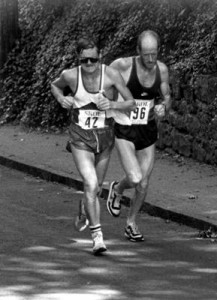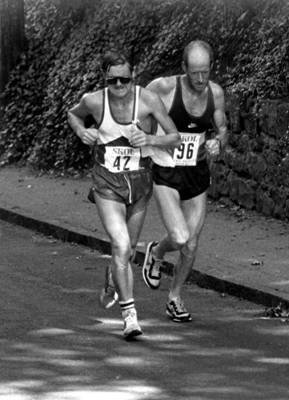 1983: Killer Hill: 22 Miles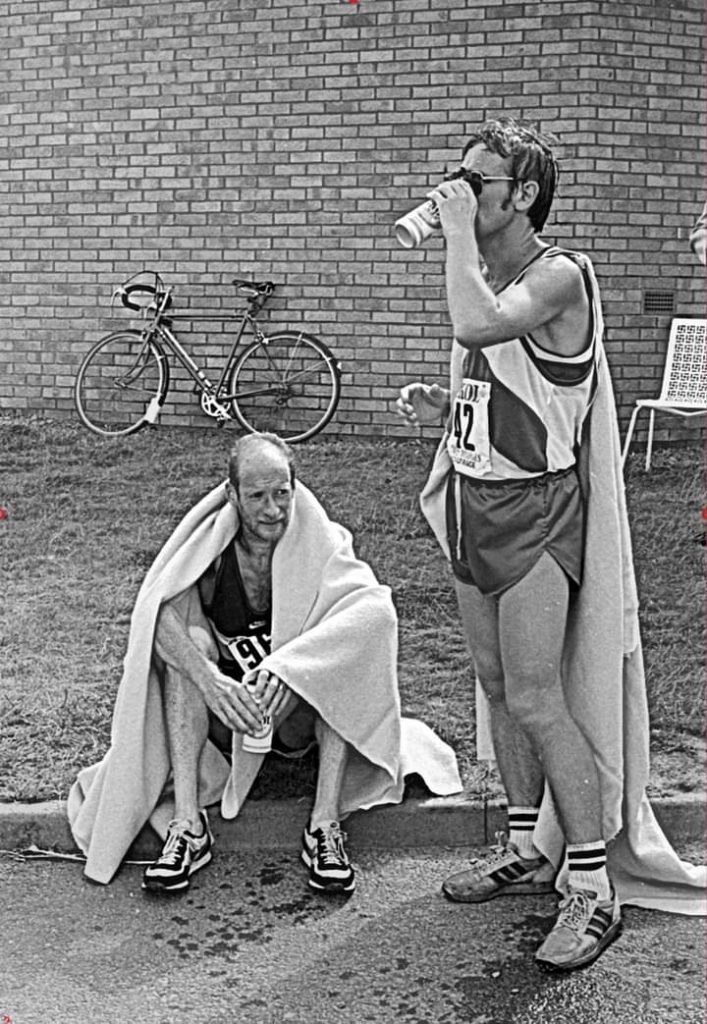 Don and Cavin 'rehydrating' after the 1983 race (photo by Graham McIndoe)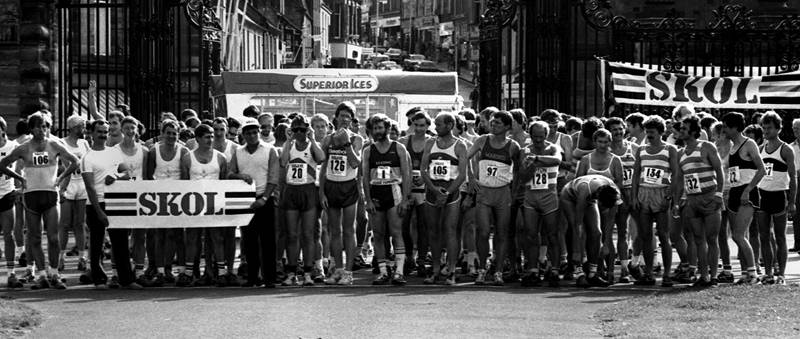 The Line-Up, 1984
1984
115 started on a sunny but breezy day. After the usual fast start it took until 10 miles (55:25) before Don Ritchie and Allan Hardy (who had finished third the previous year) had gained 16 seconds on Charlie Trayer, the US 50km champion, and Barry Heath who was running his first Two Bridges. Two minutes behind were Woodward, Graves, O'Connell and Tom Glare. Hardy was dropped in Grangemouth and at 20 miles (1:54:33) Ritchie, Heath and Trayer were stride for stride. About 5 minutes adrift were Woodward, Hardy, Glare, Graves struggling and John Morgan showing well. Carriden Brae (killer hill) did not affect the leaders, although Allan Hardy evidently began to regret his very fast early pace.
Ritchie and Heath stayed together while the American tried several times to get away only to drop back to the other two. All three reached 25 miles (2:25:40) and 30 miles (2:56:29) together. It was a surprise to many pundits that the apparently least experienced runner, Barry Heath, took a sixty yard lead on the Forth Road Bridge and, running very strongly, went further ahead to reach the finish three minutes ahead of Don Ritchie whose time was just eight seconds slower than the previous year when he won the race. (Barry further proved his excellent form when just a few weeks after this, he won the London to Brighton race, defeating Don into second once more). Charlie Trayer, only six seconds behind Ritchie and improving his PB by three and a half minutes became the highest ever places overseas competitor in this event. These three leaders had about seven minutes to enjoy the cans of SKOL lager which were handed to each competitor on arrival, before Cavin Woodward hung on to fourth, ahead of Tom Glare and Andrew Morgan. The redoubtable Ken Shaw in 50th place maintained his record of finishing in all 17 Two Bridges races so far.
1. Barry Heath (Royal Marines) 3:31:45; 2. Don Ritchie (1sr veteran, Forres H) 3:34:47; 3. Charlie Trayer (USA) 3:34:53; 4. Cavin Woodward (Leamington) 3:43:02; 5. Tom Glare (Woodstock H) 3:43:41; 6. John Morgan (Cambridge)
3:44:37; 7. Martin Thomson (Leamington) 3:46:41; 8. Graham Smith (Tipton) 3:47:10; 9. Sam Graves (Fife) 3:49:42; 10. S Bennett (Teviotdale) 3:49:52; 11. Andrew Battye (Woodstock H) 12, M Williams (USA) 3:50:28;
13. Paul Williams (Woodstock) 3:51:13; 1st Woman was Sandra Kiddy (USA) 4:19:13 1st Team: Woodstock Harriers. 103 finished.
1985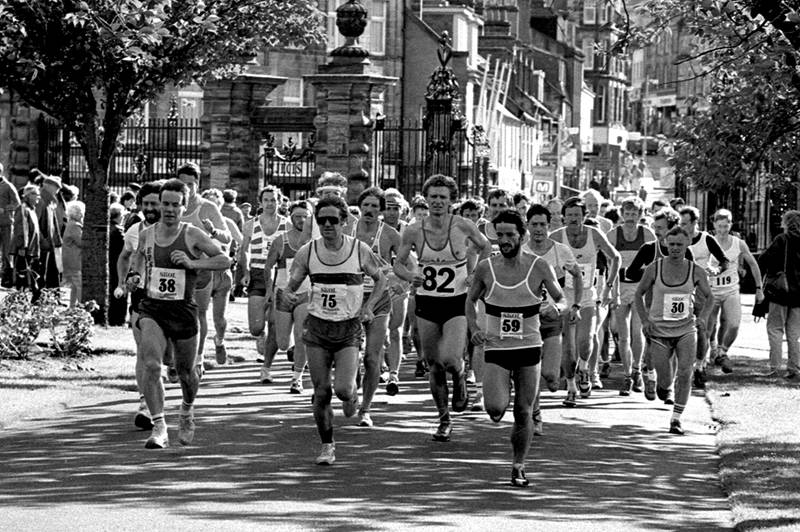 Start: 1985
Who could challenge Cavin Woodward as he attempted to win the event for the fifth time? 95 starters were soon affected by the strong west wind. At 5 miles (29:44) Woodward and Andrew Battye were closely followed by the Epsom pair Mark Pickard and Mike Coventry. The two leaders were three minutes ahead at 10 miles (59:52) while the chasing bunch were joined by Lawrence Taylor and David Kelly. Fifteen miles (1:30:22) and 20 miles (1:59:26) kept the two leaders together but it was evident that this was the slowest run for several years. Graham Flatters started to improve his position reaching sixth by 25 miles. Meanwhile Woodward had made a break at Carriden Brae but was hauled back by Andrew Battye who was five minutes ahead of Taylor and only one and a half minutes behind Woodward at the marathon mark (2:37:25).
The two leaders reached 30 miles in 3:02:24 but again had to contend with the strong side wind while crossing the Forth Road Bridge which again slowed the pace. Maintaining his lead of almost two minutes Woodward passed 35 miles in 3:21:19, and then ran in to the finish in a time just 15 minutes slower than his first win in 1973. Andrew Battye finished in good style; it was a further ten minutes before Lawrence Taylor and Graham Flatters arrived with the latter achieving the fastest last six miles.
1. Cavin Woodward (Leamington Cycling and AC) 3:40:40; 2. Andrew Battye (Woodstock H) 3:41:51; 3. Lawrence Taylor (Cambridge H) 3:51:17; 4. Graham Flatters (Dundee Hawkhill H) 3:51:25; 5. David Kelly (Barrow-in-Furness AC)
3:54:12; 6. Mark Pickard (Epsom and Ewell H) 3:56:16; 7. Tony Lenagan (1st Veteran, Wigan Harriers) 3:58:41; 8. Graham Smith (M40, Tipton) 3:59:40; 9. A Evason (M40, Tipton) 4:03:51; 10. Bob Emmerson (M50, Rugby and District
AC 4:04:30; 11. F Tunley (M40, Woodstock H) 4:06:25; 12. Ian Mitchell (Fife AC) 4:08:03. First Woman: Anne Franklyn (Mynyddwyr de Cymru FRC) 4:17:33 (record).
First team: Tipton Harriers 36 pts; Second team: Epsom and Ewell 38 pts. First Scot and first local: Ian Mitchell.
1986
105 started. On a warm day the youngest competitor, Bill Evans, dashed into a lead and arrived at five miles in 27:56 followed by a group moving at a more realistic pace including Cavin Woodward, Don Ritchie and Richard Dalby. By ten miles (57:12) the chasing group had been joined by Mike McHale of Pitreavie AC some 16 seconds behind Evans. Woodward was evidently in some difficulty and fell back. Through Grangemouth and on to Bo'ness, Dalby moved up to join Evans with Ritchie just eight seconds behind. However Evans raced up Carriden Brae to take a 50 second lead over Ritchie who was relentlessly maintaining a five and a half minutes per mile pace. The marathon point was reached in 2 hours 33 minutes where Ritchie passed Evans while Dalby was having a bad spell, dropping to fourth as McHale joined Evans. The long haul up to the 30 mile point (2:56:09) saw many changes of position with the experienced Alan Evason of Tipton and Andrew Battye moving into a challenging position. The Forth Road Bridge inspired Dalby to regain second place from McHale. A very large crowd at the finish greeted Don Ritchie who arrived in 3:36:37, followed by Richard Dalby and Mike McHale who was the first local finisher. The youngster Bill Evans found the last six miles very difficult and was passed by his clubmate Alan Evason, Andrew Battye and Dave Attwell, who ran the last ten miles faster than all except the winner. Don Ritchie won the Two Bridges Trophy, the first Scot award and the Veterans Shield. but generously passed the latter on to Alan Evason.
There was a report in 'Scotland's Runner' about the 1986 race by Bob Holmes an extract of which is reprinted here: "Its origins are classic, its organisation superb and for 19 years a friendly atmosphere has made it the best loved ultra in Great Britain. The Two Bridges 36 miler is a throwback to the good old days when club runners would travel the length of the land to run their guts out for a free beer, an early results sheet and a knees-up afterwards, and in the Kingdom of Fife the Corinthian spirit shows no signs of flagging.
Nor does Don Ritchie. After driving 160 miles from his Lossiemouth home, the 42 year old Forres Harrier overcame a hamstring injury, a rare spell of indifferent form and the customary challenge from south of the border to take this year's title on August 23rd. The Scot had almost two and a half minutes to spare on the fast finishing Yorkshireman Richard Dalby, while Pitreavie's Mike McHale ran a magnificent debut ultra for third place a minute and a half further back. Altogether 95 runners successfully negotiated the undulating course in traditionally sunny conditions.
But there could have been no more appropriate winner than the unassuming college lecturer who still holds more world records than Steve Cram and Seb Coe combined yet has received only the briefest mention in dispatches and not so much as a brown envelope in appearance money. And, characteristically, when he was awarded his prizes as overall winner, first Scot and first vet he promptly unloaded what, for him, was an embarrassment of riches to his nearest rivals. If Ritchie's action momentarily turned the presentation ceremony into a session of "pass the parcel" – the recipient of the veteran's award, Alan Evason, immediately handed it on to a Tipton team-mate – it was done in the spirit which the founders of this famous race would have approved. Indeed, it was not entirely inappropriate that a 20 year old van driver, Billy Evans should end up with the old man's prize for he had certainly put years on Don by hanging on to the finish after leading for 27 miles….
It's not often that the hero of the race is the guy who comes seventh, but I'm sure that none of the first half dozen would argue that the gutsy lad from the Midlands deserves this accolade. Out for a training run, Evans not only found himself in the lead at five miles, but inside the record-breaking pace set by clubmate Andy Holden in 1980. With a marathon personal best of 2:40 and a Birmingham League 800 metres race on the track the following Wednesday, he was not expected to be a threat, but when he had not come back to them bu the marathon mark(which he reached in 2:32) the old hands behind were beginning to take him seriously.
Ritchie finally overhauled him on a hill at 27 miles and from then on a twinge in the Scot's hamstring posed more of a threat than the chasing pack. Experience saw him to his second Two Bridges title, although his 3:36:37 was slower than his previous (1983) winning time and almost 15 minutes outside Holden's record (3:21:46). With Evans finally fading, 35 year old Dunfermline labourer, Mike McHale, ran the race of his life to take third place behind Dalby but Edinburgh-born New York runner, Norrie Williamson, was the only other Scot in the top ten."
1. Don Ritchie (Forres H) 3:36:37; 2. Richard Dalby (Nidd) 3:39:00; 3. Mike McHale (Pitreavie 3:40:38; 4. Alan Evason (Tipton) 3:42:50; 5. Andrew Battye (Woodstock) 3:44:44; 6. Dave Atwell (Altrincham) 3:45:03; 7. Bill Evans (Tipton) 3:47:39; 8. Dave Dowdle (Gloucester) 3:47:41; 9. C Woodward ((Leamington) 3:49:52; 10. N Williamson (New York) 3:51:03
1st Woman: Morag Taggart (Pitreavie) 4:40:25. 95 finished.
First team: Tipton Harriers; Second team: Pitreavie AC
1987
The temperature became uncomfortably hot after the first hour of this race. As the runners settled down, Don Ritchie, last year's winner, led a group with Charlie Trayer the main challenger from the USA close up, along with local runners Mike McHale and Sam Graves (Fife AC). By ten miles (56:10) this group were four minutes ahead of the next one containing Tipton clubmates Alan Evason and Billy Evans, who was more restrained compared to his tearaway tactics last year – and this eventually paid dividends. Graves dropped back at 15 miles and by 20 miles Trayer and Ritchie had fifty yards on McHale. The heat affected everyone, and Trayer, much more used to these conditions, seemed to sense victory as he moved ahead up 'Killer Hill'. He had forged a minute lead on Ritchie by 25 miles (2:25:36) with McHale a further two minutes down. However the Tipton duo had moved up to third and fourth only five minutes behind the leader at the marathon mark.
At 30 miles, Trayer was almost four minutes ahead, and the Tipton pair had gained a minute on Ritchie. on the Forth Road Bridge Evans made his move, while Eamon Dorling was also making progress. The American runner Charlie Trayer was not to be caught, however, and reached the finish as the very first overseas victor in 3:36:27. A tiring Don Ritchie was passed by Billy Evans one mile from home. Another notable performance was from prolific marathoner Ken Shaw, who completed the course for the 20th time in this 20th race over the Two Bridges course.
1. Charlie Trayer (Reading RRC, USA) 3:36:27; 2. Billy Evans (Tipton) 3:40:53; 3. Don Ritchie (Forres Harriers) 3:41:19; 4. Eamonn Dorling (Peterborough AC) 3:43:03; 5. Alan Evason (Tipton) 3:44:42; 6. William Sparrow
(Manchester AC) 3:47:41; 7. Mike McHale (Pitreavie, 1st local) 3:51:55; 8. Tony Lenagan (Wigan Phoenix AC) 3:52:28; 9. Adrian Higgs (Cheltenham and County H) 3:52:43; 10. William J Knox (Teviotdale H) 3:54:27.
1st Woman: Cathy Gunner (Staffordshire Moorlands) 55th in 4:46:20. First Team: Tipton Harriers. 97 finished.
1988
A record field of 133 starters set off into a strong south-west wind. Immediately, Charlie Trayer of the USA, last year's winner, set the pace followed by the course specialist and five times winner, Cavin Woodward. Also running strongly at 5 miles (28:05) was Mike McHale and Harry Clague (St Helen's AC). Meanwhile the eventual winner was safely tucked in behind a group of seven runners, some two minutes behind. The ten mile mark was reached first by McHale (58:15) a minute ahead of Trayer and Woodward with Clague close behind. After crossing Kincardine Bridge and turning eastwards some relief was felt from the strong headwinds. McHale, Clague and Woodward reached 20 miles (1:58:23) at Bo'ness together, while Bill Evans was only a minute behind having caught Trayer. At Carriden Brae (22 miles) the younger man made his decisive move to catch and pass the leading three, reaching 25 miles in 2:28:10 and the marathon point in 2:35:18. Clague was forced to withdraw with severe stomach pains. McHale was second and Woodward maintained a steady speed with Trayer hanging on to fourth place.
By 30 miles Woodward had caught Mchale, some three minutes behind Evans (2:57:38) and Andrew Battye had moved forward strongly to join Trayer a further three minutes adrift. Turning on to the Forth Road Bridge, the sidewind slowed McHale who was passed by both Woodward and Battye, but Bill Evans was comfortably ahead and reached the finish at the Civil Service Sports Centre in Rosyth to win his club's favourite road race at the third attempt, having previously been seventh and second. Cavin Woodward was next followed by Andrew Battye. Charlie Trayer and Mike McHale were clearly spent, the defending champion finishing nine minutes slower than his 1987 winning time. All finishers were presented with a special commemorative plaque celebrating the 21st consecutive annual running of Scotland's prestige ultra-marathon, supplied by Colonial and Mutual Insurance to the organisers of the Rosyth Civil Service Sports Association. A special presentation plaque was awarded to Ken Shaw of Aldbourne AC who had the unique achievement of completing all 21 Two Bridges Races to date.
1. Bill Evans (Tipton Harriers) 3:35:51; 2. Cavin Woodward (1st veteran, Leamington C&AC) 3:39:55; 3. Andrew Battye (Woodstock H) 3:41:19; 4. Charlie Trayer (Team Etronio, USA) 3:43:35; 5. Mike McHale (1st Scot and 1st Local)
3:50:05; 6. Alan Smith (Tipton) 3:52:27; 7. Alan Evason (M40, Tipton) 3:53:20; 8. Mich Francis (1st Armed Forces: Forres Harriers) 3:53:57; 9. Richard Dalby (Imperial AC) 4:00:36; 10. S Johnston (Les Croupiers RRC) 4:01:30.
First Woman: Dorothy Lucas and Irene Wilson 107th equal in 6:17:34. 111 Finished. First Team: Tipton Harriers (Evans, Smith, Evason); Second Team: Pitreavie AC (McHale, Ian Mitchell 11th, Frank Coyle 25th)
1989
There is no race report available but the winner has sent me the following information. "Gwyn Williams was a very strong and durable runner who had finished runner-up to Mark Pickard in the 1988 London to Brighton Race. In addition he won and set a Welsh track record of 6:53 – which still stands – in a 100km race in Nantes. His mate 'Chalkie' White, used to travel with Gwyn to races and to supply special drinks. On this occasion, Chalkie agreed to drive both Gwyn and Mick from Wales to Rosyth. Mick says that staying at Rosyth was great because although the accommodation was basic, it was a fascinating opportunity to meet and chat with some real battle hardened competitors.
The race was held in heavy rain and it was quite cold. Mick started very easily and didn't go anywhere near the front. he had done very little specific ultra training but was normally on 90 miles a week! His ten mile time was 58:40 and he caught the leaders almost by accident, before putting in a little surge on the Kincardine Bridge to see who would respond. No one did. Having got away, he tried to run as evenly as he could, wary of the big hill at 22 miles and concerned about how exposed the crossing of the Forth Bridge at 30 miles might be. He went through the marathon in 2:35 and still felt fine. he was getting his pre-arranged drinks at the feed stations as well as a few extra from Chalkie, who told Mick how he was ahead, and more importantly, that he was still going away, and Gwyn was second. Crossing the Bridge was very touch, the rain was very heavy and Mick was starting to get cold, so he was absolutely delighted to make it to the finish three and a half minutes clear, to be the first Welshman to win it and be part of a Welsh 1-2. At the presentation (Mick is not known to be shy) he asked to speak from the stage, thanking the marshals who had been out in such terrible conditions. Then he drank a few pints of heavy and enjoyed the evening disco! Looking back, Mick thinks that he was basically a marathon runner who could hang on for a bit, but not for a lot. 100km was a little too far to avoid slowing down in the final stages.
Mick McGeoch is renowned among the distance running fraternity as the opposite of a dour Welshman. He ran marathons and ultra-marathons for Wales on many occasions, including the 1991 100km World Championship in Italy, and is still featuring in international 'masters' cross-country contests. He has run nearly all the London Marathons so far with a very good pb of 2:17. At his peak he used to train up to 110 miles a week, with 22 miles on a Sunday and a weekly session of track repetitions, either shorter efforts in summer or 600 to 1200 metres in winter. he also finished third in the London to Brighton in 1989. he won the Barry 40 miles track race twice (in 1986 and 1988); and then helped to organise that event and also the Welsh Castles Relay.
David Kelly from Barrow AC went on to win the classic London to Brighton on a particularly tough day in 1991.
1. Mick McGeoch (Les Croupiers RRC) 3:36:02; 2. Gwyn Williams (Club '69', Tredegar) 3:39:44; 3. Geoff Large (Reading AC) 3:43:40; 4. David Kelly (Barrow AC) 3:45:18; 5. Andrew Stirling (1st local and 1st veteran, Falkirk Victoria
Harriers) 3:45:46; 6. Alan Smith (Tipton H) 3:47:42; 7. Andrew Battye (Woodstock H) 3:51:04; 8. Mike McHale (Pitreavie AC) 3:51:47; 9. Don Ritchie (M40, Forres H) 3:55:07; 10. Paul Taylor (Woodstock H) 3:56:08;
11. Thomas Williams (M40, Tipton) 3:58:41; 12. Tom Glare (Woodstock) 4:03:58; 13. Ian Mitchell (Pitreavie) 4:04:44; 14 Jeffrey Newman (Pitreavie) 4:06:22. 1st Woman. Gail Blake (Dundee RRAC) 59th in 5:11:59
1st Team: Woodsrock Harriers (Battye, Taylor, Glare) 29 points; 2nd Team. Pitreavie AAC (McHale, Mitchell, Newman) 35 points; 3rd Team. Tipton Harriers (Smith, Williams, Graham Smith (19th)) 36 points
1990
Erik Seedhouse had won the 1989 London to Brighton and this year's Moray Marathon and was expected to challenge Don Ritchie, former winner of this event and holder of many world records. Both set off at record breaking pace. They passed 5 miles (27:57) some two minutes in front of a Tipton Harriers trio – Alan Smith and the Barnes brothers. After drinks and sponges at 7 miles at Culross, the leaders passed 10 miles in 57:07, about three minutes in front of Alan Smith and the 1988 winner Bill Evans. Ritchie and Seedhouse reached 15 miles in 1:27:16, just two and a half minutes in front of Alan Smith who was running alone, four minutes clear of three other Tipton athletes. Ritchie moved slightly ahead of Seedhouse and reached 20 miles in 1:57:25, just 8 seconds ahead, with Smith still 3 minutes back. Further back, Hilary Walker, the leading lady, was moving up through the field with veteran race specialist Bob Emmerson. Through Bo'ness and up Carriden Brae, Seedhouse lost touch and was overtaken for second by Alan Smith at the marathon point.
This gradual slope up to South Queensferry resolved what was to be the finishing order. Ritchie reached 30 miles in 2:59:30, Smith 3:02:34, Seedhouse 3:03:31. Ten minutes later it became clear that Mick Francis had passed four or five runners on that important stretch. Local runnersIan Mitchell and Richard Davidson had also moved up well. By now the conditions had ensured that no record would be set, and Don Ritchie with his steady pace ran relaxed over the Forth Road Bridge and through Inverkeithing to reach the finish, to be followed by Alan Smith and Erik Seedhouse in his first Two Bridges race. In a change from previous years, the first top ten finishers received gold medals, the second ten silver medals while the 21st to to 30th finishers received bronze medals on arrival. Among the silver medallists was Hilary Walker, who finished 15th, higher than any previous lady entrant and achieved the best time ever. Ken Shaw succeeded in completing his 23rd race.
1. Don Ritchie (1st veteran, 1st Scot, Forres Harriers) 3:38:00; 2. Alan Smith (M40, Tipton) 3:42:47; 3. Erik Seedhouse (100km Assoc.) 3:48:05; 4. Mich Francis (Forres H) 3:59:17; 5. Richard Davidson (Dundee RR) 4:02:28;
6. Ian Mitchell (1st Local, Pitreavie AAC) 4:06:57; 7. Frank Grier (M40, Dundee RR) 4:09:14; 8. Allan Wilson (unattached) 4:09:35; 9. Thomas Williams (M40, Tipton) 4:09:53; 10. Tom Glare (Woodstock H) 4:12:22;
11. Bill Carr (M40, Tipton) 4:09:53. 1st woman: Hilary Walker (London Serpentine RC) 15th in $;15:23 (record place and time). Only 77 finished from 100 starters due to hot, humid conditions.
First Team: Tipton Harriers (Smith, Williams, Carr)
1991
Andy Stirling, the former Falkirk Victoria man, showed great fortitude to hold off the red-hot favourite, Don Ritchie. Cavin Woodward, Ritchie and Gwyn Williams broke away from the start and at 10 miles (59:20) were a minute clear of Stirling and Mike McHale running together. At 18 miles things began to hot up as Stirling and McHale caught the leading three, and Stirling immediately injected some pace stealing a few yards lead on Ritchie at 20 miles (2:00:45) just in front of Williams and McHale, with Woodward struggling at the back. Stirling broke well clear up the steep hill out of his home town, Bo'ness, and was over a minute clear of Ritchie at the top. Passing the marathon distance in 2:38:01, he reached 30 miles in 3:01:28 where the distance between them was less than a minute.
Over the Forth Bridge, Ritchie continued to close, and the sages nodded their heads he was just 12 seconds behind as they came off the bridge. However on the uphill through Inverkeithing, Andy Stirling pulled away to reach the finish at Rosyth for a fine win. Ritchie was a close second, and McHale and Williams hung on to their places. The first six were all Vets of a similar age, the promising young Simon Lund from Manchester being the first non-vet to finish. In the women's race, Hilary Johnson looked to have it sewn up most of the way, but ill-fitting insoles in her shoes caused problems, and at the end Carolyn Hunter-Rowe (Pudsey and Bramley) had closed to within two minutes.
Andy Stirling still lives in Bo'ness at sea-level and says that every training run started going uphill, which became his strength. He was Scottish Veteran Hill Running Champion four times. One of his regular sessions was trying to emulate past greats by running barefoot on a golf course. he was over a minute clear of Ritchie at 30 miles when he reached awkwardly for a drink and somehow got cramp in his left leg, which cause him to limp for a mile or so, as Andy's supporters told him, Ritchie closed rapidly over the Forth Bridge – which on the video still frightens Andy although in reality he never looked round! The steep hill out of Inverkeithing came to Andy's aid and thereafter he gained ground on the ups and lost on the downs all the way to the finish. He says that he had become interested in biorhythms and knew that, according to his date of birth, he was meant to be 'high' that day, while Don's date of birth suggested that he should be 'low'! Andy did lose two toenails in achieving victory however. Later on Andy and Don represented Scotland in the Home International 100km race near Edinburgh.
1. Andy Stirling (1st Scot and veteran, Bo'ness Road Runners) 3:41:04; 2. Don Ritchie (M40, Forres H) 3:41:28; 3. Mike McHale (M40, Pitreavie) 3:44:36; 4. Gwyn Williams (M40, Club 69) 3:47:37; 5. Tony Lenagan (M40, Wigan
Phoenix) 3:55:29; 6. Bernard Lloyd (M40, Wigan Phoenix) 3:56:08; 7. Simon Lund (unattached) 3:56:26; 8. Cavin Woodward (M40, Leamington) 3:59:06; 9. Ian Mitchell (Pitreavie) 4:03:45; 10. Terry Dolan (M40, Cambuslang H)
4:07:12; 11. Bob Emmerson (Leamington) 4:10:01. First Woman: Hilary Johnson (W35, RRC) 4:32:01. 68 Finished. First Team: Wigan Phoenix (Lenagan, Lloyd, Brian Gore M40, 14th in 4:17:46)
1992
In perfect conditions at the start, no one could have predicted the leading finishers, as Don Ritchie and another past winner, Charlie Trayer (USA) were among the favourites. At 5 miles Trayer was in front but then Mark Guichard moved strongly to the front and at ten miles (58:59) was clear from Alan Smith and Trayer. Guichard increased his lead at 15 miles and 20 miles (1:58:20) with Tipton Harriers packing well behind, but Pitreavie vests were also looking menacing. Guichard looked like a cear winner at 25 miles, having negotiated the hills out of Bo'ness and the marathon distance (2:39:22) but then came almost to an abrupt halt as heavy rain fell and the temperature dropped sharply.
This let Paul Rogers into the lead at 30 miles (3:05:23 with the wonderful sight of the Forth Bridges viewed with mixed feelings by the runners – the prospect of a hard slog but gradually nearing the end. Tailing the leader the Pitreavie charge was developing, with Mike Greally second, although he was shortly to retire, and Baxter and Duncan continuing their forward progress with a very tired Guichard in the place between them. On the tough five mile stretch over the Road Bridge and up through Inverkeithing, Baxter clocked 31:04 and Duncan 30:59 to put Baxter neck-and-neck with Rogers in the lead at 35 miles, with Duncan 1:13 behind. Over the final mile and a bit Peter Baxter stormed away for a splendid win in his first attempt at a race in excess of the marathon distance, with Kenny (or Archie) Duncan also rushing past Rogers into second place. These moves clinched the team race too, as Pitreavie overcame the annual but very welcome Tipton raiders.
Trudi Thomson ran a fine well-controlled race to win the women's award, a long way in front of the two Arbroath Footers, Pauline Gooney and Isobel Clark, who almost seemed as if they were enjoying it! Peter Baxter ran remarkably well, considering his lack of experience at the distance, and Don Ritchie, who never looked happy, confessed to having an off-patch at present – probably too much racing – and has to be respected for struggling round. No doubt he will soon return to his usual glories. Ken Shaw finished his 25th consecutive Bridges; and Peter Hart must have run most of them too. Both seemed to find it easy although they have gone up in weight! It was good to see Willie Russell running too having also run the first one. I (Don Turner) wish I still could!
1. Peter Baxter (Pitreavie AAC) 3:47:48; 2. Kenny Duncan (M40, Pitreavie) 3:48:59; 3. Paul Rogers (Tipton H) 3:49:32; 4. Simon Lund (Wigan Phoenix) 3:50:53; 5. Mick Francis (Moray RR) 3:53:03; 6. Dave Beattie (M40, Crawley)
3:54:10; 7. Paul Swan (Pitreavie) 3:54:33; 8. Alan Smith (M40, Tipton H) 3:55:55; 9. Brian Bosher (Sunderland) 3:56:41; 10. Keith Baxeley (M40, Northampton Phoenix) 3:59:22; 11. Don Ritchie (M40, Forres H) 4:00:52.
M50: Ronald Donkin (Sunderland) 4:13:54. 1st Woman: Trudi Thomson (Pitreavie AAC) 4:38:51 1st Team: Pitreavie AAC
1993
No report available. However, Andy Stirling states that he felt good all the way, and, won fairly comfortably, despite working a twelve hour shift the previous day, standing at a huge machine in a paper mill. He broke away from Smith, Hartley and Mick Francis up the steep hill out of Bo'ness at 22 miles. Mick Francis paid for this effort but he was much better at longer challenges like the West Highland Way race or 24 hour events, representing first Scotland and then Australia at the latter.
Andy Stirling (M40, Bo'ness RC) 3:45:28; 2. Alan Smith (M40, Tipton H) 3:51:47; 3. M Hartley (M40, Cann) 3:53:22; 4. Richard Davidson (Dundee RR) 3:53:54; 5. Paul Rogers (Tipton) 3:57:46; 6. Dave Beattie (Crawley) 4:02:48;
Mick Francis (Moray RR) 4:03:00; 8. Tom Glare (Woodstock H) 4:05:17; 9. Andy Bottomley (Wolverhampton) 4:09:27; 10. Colin Mathieson (BT Pitreavie) 4:12:06. 1st Woman: Trudi Thomson (BT Pitreavie) 4:26:37
1994
The obvious favourites before the start looked to be Danny de Chaumont, the rogue South African who 'won' the Brighton a few years back; and Trudi Thomson, the local star in the women's race. Simon Lund had other ideas, and was six seconds clear by five miles and over two minutes up by ten miles (59:07). Trudi Thomson was running comfortably in 66:01. By the time Ken Shaw passed in this 27th successive race, heavy rain had started, too much for his state of fitness. By 20 miles after Grangemouth, Lund had opened a gap of 3:20 with 1:58:58 from Andy Bottomley, clear in second, and then Bill Evans leading the Tipton challenge. Thomson was enjoying 14th place in an even 2:14.
Up and over the testing hill out of Bo'ness, through the marathon in 2:36:15, Lund was four minutes up and it was nearly five minutes at 30 miles with a fine 2:59:36, with the Forth Road Bridge in sight as the rain caught up with him. Bottomley was still second but Evans was gaining with de Chaumont isolated in fourth. Thomson was through in a fine 3:23:55 (2:57:37 marathon) in 13th place. The weather was now very unpleasant as Lund started to tire and Evans pushed through into second place on the tough exposed section over the Bridge. He was less than three minutes down at 35 miles and anything could still happen. In fact, Simon Lund did hang on to the finish, and I have seldom seen a winner look so exhausted, so it was splendidly judged on his part. It is always good to see a race won from the front and here he just made it to the limit of his reserves. The first four retained their positions and Trudi Thomson came home for her third successive victory, looking as if it was all very enjoyable in a top-class 4:06:45, knocking 9 minutes off the women's record. Another excellent race organised by the Civil Service team under new management, and we look forward to better weather next year.
Simon Lund (Wigan Phoenix) 3:41:16; 2. Bill Evans (Tipton H) 3:43:48; 3. Andy Bottomley (Wolv and Bilston) 3:45:29; 4. Danny de Chaumont (SA) 3:48:51; 5. Lee Harris (Wigan Phoenix) 3:57:15; 6. Colin Mathieson (Pitreavie AC)
3:59:02; 7. Tom Glare (Woodstock H) 3:59:30; 8. Andy Farquharson (Pitreavie AC) 4:02:35; 9. Adrian Higgs (Cheltenham H) 4:06:36; 10. Walter Hill (Crawley AC) 4:06:39; 11. Trudi Thomson (First Woman, Pitreavie AAC) 4:06:45
First Team: Wigan Phoenix, from Pitreavie and Tipton.
1995
Cloudy weather turned to rain as the race started. After a brief sortie to the front by Charlie Trayer, a regular American visitor, it was one of the usual early leaders Delroy Barnes and Tipton clubmate Bill Evans who led through ten miles in a rather slow 62:40, followed by past winner and local man Andrew Stirling. The rain had stopped by 15 miles (1:33:04), the pace had slightly increased and the gap the Tipton pair enjoyed had increased to 1:50 on a group of four pursuers – Stirling and the full Wigan team of John Moore, Lee Harris and Stephen Williams! By 20 miles (2:03:52) Evans was only 23 seconds clear of Barnes with Harris and Moore merely 50 seconds down on him. The sharp hill out of Bo'ness allowed the Wigan pair to escape. 25 miles in 2:35:37 and the marathon in 2:44:07 with Stirling two and a half minutes down and the previous leaders blown away. Colin Hutt from Kirkcaldy was running strongly in fourth.
With the Forth Road Bridge in view at 30 miles, Lee Harries was going well in front in 3:05:55, with John Moore also strong one and a half minutes down. Those two had pulled away, and although Andy Stirling closed slightly in third over the Bridge, it was a considerable Wigan triumph at the end, with Stephen Williams closing in to give them a very low points score. The winner's five mile splits in Raymond Hutcheson's splendid results booklet are a tribute to his fitness. They were: 32:19; 30:59; 31:36; 30:01; 30:42; 30:18; 30:07. Kate Todd from Kilmarnock was an untroubled winner of the women's race. The finishers were given the usual hospitable reception at the Rosyth clubhouse finish, many of them coming back year after year. ken Shaw arrived after a very long journey round the course, an hour and a half behind the field, and did not seem as if he wanted to extend his series. One hopes that others will.
lee Harris (Wigan Phoenix) 3:43:19; 2. John Moore (Wigan Phoenix) 3:48:19; 3. Andy Stirling (M45, Bo'ness RR) 3:50:45; 4. Colin Hutt (unattached) 3:55:20; 5. Stephen Williams (M45, Wigan Phoenix) 3:57:47; 6. Tom Glare
(Woodstock H) 3:58:06; 7. Ian Burgess (M40, Southampton City) 4:08:52; 8. Brian Bosher (M40, Sunderland H) 4;10:03; 9. Tony Lenagan (M50, Wigan Phoenix) 4:12:46; 10. Norrie Williamson (M40, 100km Association) 4:13:21.
First Woman: Kate Todd (W35, Johnny Walker Kilmarnock Harriers) 4:41:52. First team: Wigan Phoenix.
1996
Rumours of the race having problems through lack of local support seemed unfounded as a field of nearly a hundred runners were greeted with the usual enthusiasm at the Rosyth clubhouse. There was the first sizeable change of route this year, with a shortened run in from the Forth Road Bridge towards the end, cutting the distance by about a mile. This avoided a busy entrance to the motorway. the runners got away from the start at Pittencrieff Glen in drizzly rain. The starters included the ever-present Ken Shaw, who intended to do only 14 miles and so have covered 1000 miles in the Two Bridges race. Simon Lund of the strong Wigan contingent led at ten miles in 58:55, pursued by Ian Bloomfield from Chester-le-Street in 59:07. Bloomfield took the lead over the Kincardine Bridge and was still there at 20 miles, leaving Grangemouth in 1:58:52, but he wasn't to last much longer. Lund followed in 2:00:05 with Lee Harris, Colin Hutt, Carl Barker, Mark Guichard and John Moore going by in quick succession, just outside 2:01.
After the steep hill out of Bo'ness, Harris had joined Lund in the lead and they reached the marathon point in 2:39:01. By 30 miles, Harris was 9 seconds ahead in 3:01:54. Hutt followed in 3:04:54 – a good time on not too favourable a day. Further down, Guichard was running well, with Dave Beattie and George Kay making welcome returns to the ultra scene. It was Simon Lund who found the little bit extra on the final stages to lead his Wigan team mate to the finish. Hutt upheld the local distance running status. The strong Wigan squad dominated the team awards. First lady was Pauline Walker of the local Carnegie club; Ken Shaw too was feted afterward for his achievement. Let's hope this popular race does flourish – perhaps the coming large Hyundai complex can be persuaded to support the race.
Simon Lund (Wigan Phoenix) 3:34:12; 2. Lee Harries (Wigan Phoenix) 3:36:26; 3. Colin Hutt (unatt/Kirkcaldy) 3:40:14; 4. Carl Barker (Sydney Striders) 3:42:10; 5. John Moore (Wigan Phoenix) 3:44:01; 6. Mark Guichard (Dartford H) 3:46:58; 7. Tom Glare (Woodstock H) 3:48:28; 8. Paul Rogers (Tipton H) 3:50:12; 9. Alan W Russell (Babcock Pitreavie AC) 3:53:48; 10. John Worthington (Wigan Phoenix) 3:56:53. 1st M40: AW Russell (Pitreavie) 9th in 3:53:48. [Also first Local Runner]; M50: Michael Leary (Wigan Phoenix) 17th in 4:22: 23 M60: George Kay (100km Association) 15th in 4:20:11.
1st Lady: Pauline Walker (FMC Carnegie Harriers) 5:23:07. First Team: Wigan Phoenix A; Second Team: Wigan Phoenix B
1997
This was the 30th edition of this well-respected ultra race, which went off without a hitch, due to Race Director Tim Kille and his very hard working band of helpers centred round the Civil Service Sports Association Club at Rosyth.
86 started. Good conditions: Dry with cloud cover and a breeze. The shortened course has been measured accurately at 35 miles and 498 yards. At 10 miles (61:12) the Wigan pair of John Worthington and Lee Harris led, followed at a few seconds interval by Billy Evans, Allan Stewart and Colin Hutt. By 20 Miles (2:00:57) Harris was two minutes in front of Hutt, Evans and Stewart, with Worthington dropping away. Up the hill and beyond, Hutt really got stuck in and by the marathon had swept past Harris for a 48 second lead. Stewart and Evans were not far behind. Once in front, Hutt went further away, while Harris dropped back. 30 miles were passed in 3:06:34, when Colin had four minutes to spare over Allan and Billy. For the rest of the race the leader stretched further away, while Norrie Williamson and a rejuvenated Cavin Woodward closed in slightly on Stewart and Evans. Meanwhile there was a high quality women's race goin on between top runners, Eleanor Robertson, Hilary Walker and Helen Diamantides.
So this year's winner by over ten minutes, after a perfectly timed race, was local runner Colin Hutt. Allan Stewart finished very strongly, well clear of Billy Evans who showed he was back in the ultra groove. Wigan defeated Tipton by the slightest of margins in the team race due to a gutsy run by their third scorer, Paul Derbyshire. Eleanor Robinson kept ahead of Hilary Walker of Serpentine RC (4:21:16) and Helen Diamantides of Fife AC (4:24:37. Peter Hart of Leamington completed 20 finishes in 20 attemptes and Ken Shaw of Aldeborne AC finished just in time for the evening disco and received the biggest cheer of the day. That makes a record 30 starts and 28 finishes for him. At the reception as usual the reception for the English runners was warm, and special mention must be made to Committee members at the CSSA, especially Ernie Letley and Jim Henderson – and most important for the runners, the man who completes the excellently detailed results booklet, Raymond Hutcheson. Also present but not competing was the man who started it all in 1968, Phil Hampton. He was promoting a 'twinning' between the Two Bridges Road Race and a new race, the Dartmoor Discovery, starting and finishing in Princetown in early June over a distance of 34 miles 219 yards.
Colin Hutt (Bo'ness Road Runners) 3:40:39; 2. Allan Stewart (Moray RR) 3:51:24; 3. Bill Evans (Tipton) 3:56:06; 4. Norrie Williamson (M40, 100k Assoc) 4:00:31; 5. Cavin Woodward (M50, Leamington) 4:01:12; 6. Ian Brown
(Pitreavie AC) 4:03:15; 7. Mike McHale (M40, FMC Carnegie H) 4:04:45; 8. Dave Beattie (M50, Crawley) 4:05:22; 9. Lee Harris (Wigan Phoenix) 4:08:52; 10. Robert Jardine (Bo'ness RR) 4:14:15; 11. Tom Glare (Woodstock
Harriers). 73 finished. 1st Woman: Eleanor Robertson (W35, Border Harriers and AC) 12th in 4:17:05. 1st Team: Wigan Phoenix Harriers (Harris, Tony Lenagan (M50) 14th, Paul Derbyshire 15th) by one point from Tipton Harriers (Evans, Andrew
Richards 17th, Tom Williams (M50) 19th)
1998
Over a hundred set off. The race had been enlivened with its twinning with the Dartmoor Discovery. Ken Shaw was there to help with refreshment stations. At ten miles, Simon Pride came flying through in 55:08, already three and a half minutes clear of a group including Arthur Johns, Renier Steyn and locals Peter Morrison and Colin Hutt. Pride was over 5 minutes ahead at 20 miles (1:54:45), Steyn was second, just inside two hours, and Hutt was third. Interestingly Cavin Woodward was escorting son Ross and they passed in 15th place – Ross hardly being born when the Two Bridges race started. In fact, rumour has it that he was named after the race, as was his brother Glen who also runs!
Pride was still going away: marathon (2:32:50), 30 miles (2:55:16) with no signs of faltering. Steyn was well clear in second (3:02:26) and moving away from Hutt (3:07:30) with Morrison (3:17:20) but losing ground. The Woodwards were up to ninth with Ross straining at the leash. Simon Pride (who went on in May 1999 to win the World 100km road championship in a superb UK best time of 6:24:05) came home to the Rosyth clubhouse in 3:27:40 after a grand solo run, and no doubt would have compared well with the giants of the past timewise if he had had any challengers. At least his time was a record for the new course. Renier Steyn was 14 minutes down but well ahead of Colin Hutt – rarely have the first three been so spread out. Peter Morrison was fourth and Ross Woodward got up to fifth, with the best twin races performer, Arthur Johns 6th and Ross's Dad Cavin seventh. Bob Emmerson (60) anchored Leamington Cycling and Athletic club to team victory, just three points in front of the locals – Bo'ness Road Runners.
The great Cavin Woodward now has 14 finishes in the event with most wins, in 1973, 1975, 1977, 1978 and 1985! The weather stayed kind throughout the weekend which was thoroughly enjoyed as usual by everyone including the invading English runners on their holiday weekend.
Simon Pride (Keith and District AAC) 3:27:40; 2. Renier Steyn (Mr Price South Africa) 3:41:13; 3. Colin Hutt (BRR) 3:50:13; 4. Peter Morrison (Carnegie) 3:56:34; 5. Ross Woodward (Leamington C&AC) 4:02:15;
Arthur Johns (M40, Poole R) 4:02:52; 7. Cavin Woodward (M50, Leamington C&AC) 4:04:15; 8. Robert Jardine (BRR) 4:07:56; 9. Michael Nelhams (Stowmarket Striders) 4:08:19; 10. Andy Eccles (Wigan Phoenix) 4:09:55.
M60: Bob Emmerson (Leamington C & AC) 27th in 4:36:49. 89 finished. First Woman: Sylvia Watson (W35, Valley Striders) 4:48:17. First Team: Leamington C&AC 39 points; Second Team: Bo'ness RR 42 points.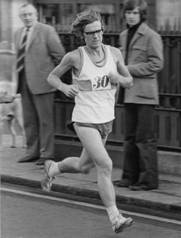 1999
The runners stood in silence before the 10:00 am start in memory of Tony Lenagan who ran 16 Two Bridges but sadly died in February. Alan Reid set off as if he really meant business, leading the 100 strong field through five miles (27:37) and ten miles (56:20) at which point he was nearly five minutes clear of the rest. John Worthington was second (61:07) from Ian Anderson (61:54), with Philip Derbyshire and Andy Eccles running together in 62:38. The weather was good. Reid reached 20 miles, between Grangemouth and Bo'ness, in 1:57:33 from Worthington (2:04:02) and Anderson (2:07:30), with Eccles moving away from Derbyshire. Reid slowed to a 34:50 five mile split on the tough hill after 20 miles. He was still nine minutes clear at the marathon point (2:40:35) but Eccles was gaining.
At 30 miles Reid (3:07:34) was still well ahead of Eccles (3:15:150. However Andy Eccles gained three minutes on the leader by the finish, but Alan Reid had timed his run well and he had control of the race throughout. John Worthington and Ian Anderson held their positions, with Dave Beattie following, and running faster than anyone from 30 miles onwards, Hilary Walker was always at the head of the women's race with steady 10 mile splits of 1:12:44, 1:15:17 and 1:18:21. Second was Jan Farmer from the same club, Serpentine, with local runner, Pauline Walker third.
(NB: Alan Reid is cheerful and indomitable despite being injury prone. This has not stopped him from racing ahead in the early stages of countless races and hanging on grimly. His finest ultra-running achievements include: Gold (2001), silver and bronze medals in the British 100km Road Championships, the Scottish 50km title in 1999 and 2000 and winning the Barry 40 miles track race in 2001.)
1. Alan Reid (Peterhead AC) 3:48:56; 2. Andy Eccles (Wigan Phoenix) 3:53:27; 3. John Worthington (Wigan Phoenix) 3:56:48; 4. Ian Anderson (RRC) 3:58:07; 5. Dave Beattie (M50, Crawley AC) 4:03:19; 6. Victor Johnson
(M40, Exmouth AC) 4:05:00; 7. Phillip Derbeyshire (M40, Wigan Phoenix) 4:07:48; 8. Peter Gledhill, M40, Barnsley AC) 4:08:46; 9. Anthony Richards (Tipton H) 4:10:33; 10. Ian Brown (M40, Pitreavie AAC) 4:12:45.
First Woman: Hilary Walker (W35, Serpentine RC) 4:27:42. First Team: Wigan Phoenix.
2000
Colin Hutt won for the second time. He recalls that Peter Morrison set off fast in a brave bid for victory and opened up a considerable lead, while Colin ran steadily. The infamous Carridean Brae at Bo'ness was reached at 26 miles and Colin pushed very hard uphill, catching Peter at the top, before moving ahead to win clearly. Colin had been coached by Andy Stirling (twice a winner himself) and during 1997 – 99 had won the well-known Edinburgh to North Berwick 22 mile race three times in succession. In recent years, Colin Hutt has tended to avoid the road due to injury but, as a young veteran representing Carnethy Hill Runners continued to do well in tough long distance hill and trail races (like the West Highland Way) as well as hilly duathlons and triathlons. In 2020, aged 53, living in Grantown-on-Spey and running almost entirely on trails and hills, as well as cross-training, Colin remains strong enough, wearing normal training shoes, to win or finish second in an annual ultra-distance race in Rovaniemi, Finland – over frozen rivers and lakes!
1. Colin Hutt (Bo'ness Road Runners) 3:41:48; 2. Peter Morrison (Fife AC) 3:47:20; 3. Mark Guichard (100km Assoc) 3:59:02; 4. Stephen Mason (Dundee Hawkhill H) 3:59:22; 5. Mark Laithwaite (Wigan Phoenix) 4:02:02;
6. Andy Eccles (Wigan Phoenix) 4:03:28. M50: Chris Morris (Tipton) 4:18:01. 1st Woman Debra Curley (Wigan Phoenix) 4:30:32. First Team: Wigan Phoenix.
2001
(By Derek Walton). The 34th edition of the Scottish ultra attracted a mixture of gnarled veterans, die-hards and first-timers in its 113 entrants, 102 of whom lined up in almost perfect conditions. This year's race had an international flavour with entries from Algeria, Holland, Morocco, South Africa and the Ukraine, but as usual the bulk of the entries were from south of the border. With no major road works the course was as per the usual route but on a personal note it is noticeable how much the volume of traffic has increased over the years, especially in the last third of the race; speeding motorists impervious to the wanderings and meanderings of fatigued runners, despite conspicuous yellow cautionary notices en-route.
After 35 miles 495 yards of road, Philip Derbyshire triumphed over seasoned ultra campaigner Ian Anderson by almost 4 minutes. In the women's race, Kath Charnock need have no worries. Starting slowly and joining Two Bridges regular Andy Richards of Tipton Harriers at 25 miles she was urged by him to press on for a course record as refreshing rain began to fall. Passing through the marathon mark in 3 hours 05 minutes she maintained a steady 7 minute miling pace to the Civil Service Sports Centre in Rosyth, crossing the finish 7th overall in 4:08:21, a record for the course used since 1996 (but slower than Trudi Thomson's 1994 record on the old, longer course).
Three runners, Bob Emmerson, Bill Humphries and Graham Smith completed their 20th Two Bridges; and Tim Kille, Jim Henderson and Ernie Letley, plus their marshals and assistants did their usual exemplary job in promoting and staging the race. The excellent value of hot buffet, and lively disco and DJ on the Saturday reflected the friendly social aspect of this sporting weekend.
1. Philip Derbyshire (Wigan Phoenix) 3:50:19; 2. Ian Anderson (York Knavesmire H) 3:54:06; 3. Andrey Reyer (Parus, Ukraine) 4:01:52; 4. Simon Lund (Wigan Phoenix) 4:03:19; 5. John Worthington (Wigan Phoenix) 4:05:34;
6. Andy Eccles (M40, Wigan Phoenix) 4:06:40; 7. Kath Charnock (W35, Wigan Phoenix) 4:08:21; 8. John Duffy (Shettleston H) 4:09:02; 9. Andrew Richards (M40, Tipton H) 4:14:40; 10. Roderick Burton (M40, Scunthorpe and District) 4:15:51. M50: Neil Macgregor (Shettleston H) 11th in 4:16:08. M60: George Kay (Stone MM) 29th in 4:44:09. 88 finishers. First Team: Wigan Phoenix; First Veteran Team: Wigan Phoenix.
2002
(Derek Walton reports). A minor milestone this year, the 35th running of this classic, first won in 1968 by Don Turner. Don still helps out and this year was reading out times and positions at the 30 mile point. This year saw a new winner, Brian Hennessey of Crawley AC. He had almost seven minutes in handover another new name, Carnegie Harriers Stevie Ogg, who was first local runner and first Scot. [N.B. Brian Hennessey had an excellent ultra running career, including victories in the Barry 40 miles track race (2003), the British 100km road championship (2004), and the London to Brighton Race (2002, 2003 and 2004).
Last year's winner Phil Derbyshire had to be content with third place, despite preparing well with 100 and 130 mile training weeks. The weather was ideal for the start but later on it really warmed up, which produced slower times. Despite the lower than normal entries and finishers, this race continues to flourish, not least to the excellent social scene and hospitality at the CSSA club in Rosyth. The race committee also have sponsorship, mainly from the Dunfermline and West Fife District Sports Council, and most importantly these days, liaise well with the local Police Force, who provided a speedy protective outrider for the leaders this year.
1. Brian Hennessey (Crawley) 3:44:30; 2. Stevie Ogg (Carnegie H) 3:51:29; 3. Phil Derbyshire (Wigan Phoenix) 3:54:07; 4. Ian Anderson (Knavesmire H) 3L55:23; 5. Simon Lund (Woodstock H) 3:55:37; 6. Andy Eccles (M40, Wigan
Phoenix) 3:58:07; 7. Michael Diver (Clydesdale Harriers) 4:06:07; 8. John Duffy (Shettleston H) 4:08:58; 9. Alex Nicol (M50, Carnegie H) 4:24:43; 10. Graham Baker (M50, RRC) 4:34:48.
First Woman: Margaret Swithenby (Milton Keynes AC) 4:58:54. M60: Bob Emmerson (Leamington C&AC) 5:08:07 First Team: Wigan Phoenix (Derbyshire, Eccles, Christopher Nightingale, 15th)
2003
(Derek Walton reports). This year's race was voted by regulars one of the best ever. 103 started on a sunny day. The heat eventually caused the finishers to dwindle to 77. As the race progressed, the cream rose to the top, as 2:24 marathoner, Royal Marine Brian Cole went clear before the Forth Road Bridge at 31 miles. Previously he had been biding his time in a class group including ultra internationalists Matt Lynas and Andy Eccles and previous winner Phil Derbyshire. Newcomer Stuart Buchan had an excellent debut to make the podium in third spot, less than a minute behind Matt. [N.B. Brian Cole was a very successful international ultra runner. He won the AAA 50k Ultra Distance (Road) Championship in 2004, as well as the Barry 40 miles track race, and has been victorious in the Dartmoor Discovery four times].
There was an encouraging female entry this year with at least a dozen finishers. The stylish and smooth- running Jackie Leak won by two minutes forty two seconds, never wavering far from 8 minute miling, and methodically imbibing her special drinks at each of the 14 drinks stations. Christine Costiff of the SLH finished very strongly for second. The oldest finisher and winner of the Ken Shaw Trophy was debutant74 year old Terry Kelly of Fearnville RC in 6:19:42 in 70th spot, despite taking a nastsy tunble at 16 miles. Incidentally, Ken again started the race and has now attended every staging of the event. He also holds the record number of finishes of 28 from 30 starts, but Leamington's Peter Hart (26) and Altrincham's Derek Walton (24) are steadily catching up.
Race Director Tim Kille and his team continue to do an excellent job with an army of volunteer marshals and timekeepers, and with local sponsorship from Dunfermline and West Fife Sports Council, Superfast Ferries, Rennies Coach Travel, Tesco and Stephen's Bakery. The event should be secure up to the 40th staging and with luck on to a major celebration for the big 50! [Sadly this was not to be]
Brian Cole (Royal Marines) 3:39:48; 2. Matthew Lynas (THH) 3:44:39; 3. Stuart Buchan (M40, Kingston-Hull AC); 4. Phil Derbyshire (Wigan Phoenix) 3:52:34; 5. Andy Eccles (M40, Wigan Phoenic) 4:02:03; 6. Simon Lund
(Woodstock H) 4:02:39; 7. Graham Cunliffe (M40, Clayton-le-Moors) 4:04:41; 8. Les Hill (M40, Dumfries) 4:05:35; 9. William Sichel (M45, Moray RR) 4:07:30; 10. Robert Wilson (M40, Greenock) 4:09:18.
M50: Mike McHale (Carnegie) 4:30:36. 1st Woman: Jackie Leak (Chiltern Harriers) 4:43:07. M60: Derek Walton (Altrincham AC) 24th in 4:44:46.
2004
The event changed to the Two Bridges Multi-Terrain Challenge – 12 miles trail, 9 miles track and 14 miles road.
No report is available.
1 John Worthington (Wigan Phoenix) 3.57.35; 2 Viesters Dude (Crawley) 3.58.30;
3 Andy Eccles (M40: Wigan Phoenix) 4.03.53; 4 Tim Walker (Carnegie H) 4.17.55;
5 Gerry Craig (Vic P) 4.19.15;
M50: Colin Mathieson (Pitreavie) 4.25.08;
M60: Derek Walton (Altrincham) 5.01.06;
First Team: Wigan Phoenix. Vets Team: Crawley.
Women: 1 Ros Alexander (Carnegie H) 4.16.58; 2 Carol-Ann Young (Portobello) 4.56.29;
3 Colleen Donaldson (unatt) 5.01.23.
Team: Wigan Phoenix.
2005
The final Two Bridges race of all, alas.
Multi Terrain again.
No report is available. After 38 wonderful races, perhaps no one has the heart to write one. It was fitting however that Wigan Phoenix should be the team winners yet again – their eleventh triumph since 1991.
John Worthington (Wigan Phoenix) 4:00:07; Andy Eccles (M40, Wigan Phoenix) 4:00:53; 3. Colin Mathieson (M50, Pitreavie AAC) 4:12:11; 4. Mohammed Manir (Wigan Phoenix) 4:13:36; 5. Paddy Jumelle (Haddington East Lothian
Pacemakers) 4:17:06; M60: Derek Walton (Altrincham) 5:16:30; Women: Heather Foundling-Hawker (Honiton) 4:17:52, 2. Elaine Calder (W35, S'haven) 4:46:18; 3. Pauline Walker (W35, Carnegie H) 4:52:27.
[N. B. Heather Foundling-Hawker continues to enjoy an excellent international ultra-running career. Her victories include: AAA 50K Championships (2005), European 50K Championships (2005), British 100K championship (2009) and four wins in the Dartmoor Discovery.]
And that's where Colin's excellent coverage of the race ends. The race reports sometimes lack a bit in fluency but they have an immediacy that comes across and transmits something of the excitement of the race and the complete commitment of those involved. It is perhaps a reflection on the modern day endurance scene that we cannot come up with such wonderful events – they would have of course to be mainly off road, but if our predecessors could devise races such as this , the Perth to Dundee and so on, surely it is not beyond the wit of the present generation to come up with equivalent challenges? Almost all of the black and white pictures come from Graham MacIndoe's collection – see almost three hundred of his pictures in the Graham's Gallery section of the website. Several of the pictures – including that of the 2003 start – come from a personal report on the race by Liz Easterbrook: it is a wonderfully detailed report on the race and what it was like to run and complete it. It can be found at www.richk.co.uk/Two%20Bridges/2bridges.htm and is well worth reading. The other black and white pictures were given by Graham Bennison who was a very good ultra runner with Bolton United Harriers and is now a respected member of Fife AAC.
Graham MacDonald at Pitreavie who worked at every one of the races has compiled a list of the individual performances for the entire series: well worth a look, it is at this link.
Ron Bentley, a regular fixture at these races died in February, 2019, aged 88. His obituary is at this link