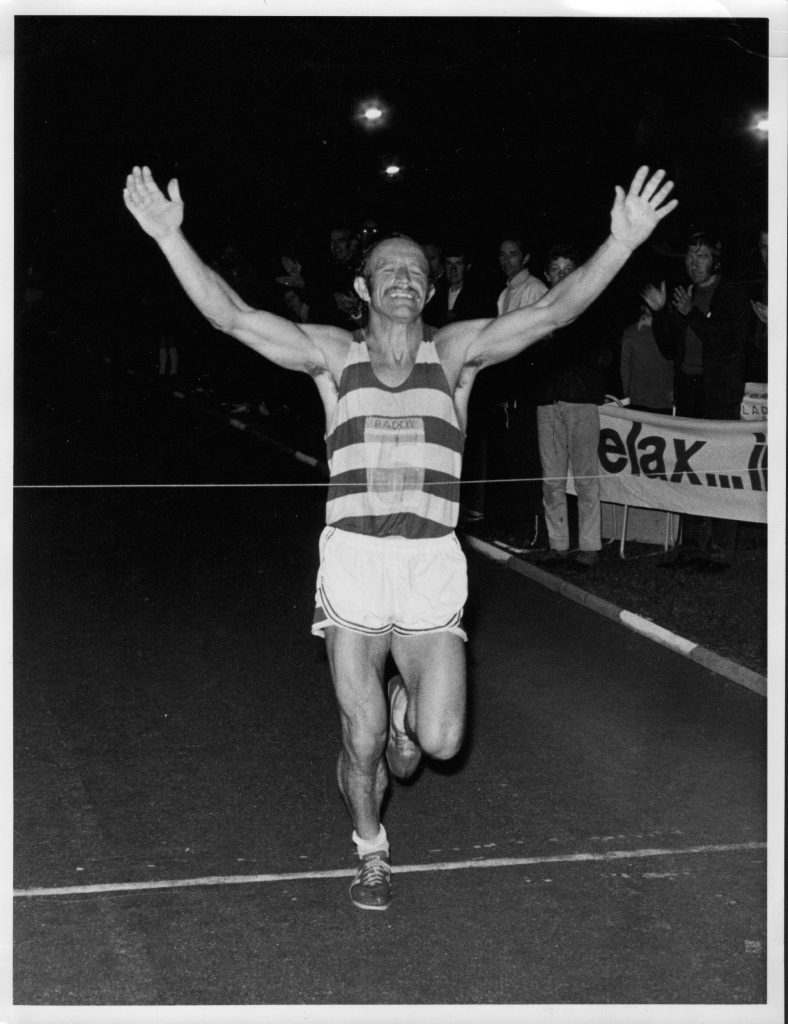 23rd February 2019
R.I.P Ron Bentley
Tipton Harriers are deeply saddened to report the death of Ron Bentley at the age of 88 after a long illness.
Born in November 1930 Ron became a member of the club in 1951 continuing right through to the present day. He was a Life member of the club this being awarded in 1972 some twenty years after he joined.
He was born in the heart of the Black Country. Proud of his Gornal roots he helped put Tipton Harriers on the map again in the late 60's and early 1970's following the earlier exploits of another Tipton Harrier Jack Holden during the period 1930 to 1950.
Ron's work ethic was forged in his upbringing. From a humble & simple background he became one of the most respected men of his era in the area. He could mix with anyone.
Outside the world of athletics, he worked in the metals industry for most of his life. A grafter in so many ways. He worked his way from loyal employee through to owner of a company. He & Eva, his wife, enjoyed danced, he baked, and he enjoyed films. He played table tennis to a high standard. He loved his wife, his family, friends and athletics. He was a proud father of his two children Jane & Ron and their children.
Ron's life spanned many generations of athletes and athletics. Athletes were his friends, inspirations, mentors and provided an extended family. He learned from those that had gone before absorbed their strengths and understood their weaknesses and set standards for those that followed after. He forged himself into being one of the club's greats.
Ron was known around the country and around the world. His name and that of Tipton Harriers were inseparable. From the UK to South Africa, the USA & Scandinavia, from Brighton to Rosyth, from Exeter to the Isle of Man Ron carried the colours and hopes of the Harriers. A true ambassador.
He became a natural leader, someone people looked to for direction and inspiration. He took groups training, far and wide. He covered thousands of miles on the roads, footpaths & canal towpaths across Staffordshire & Worcestershire.
He provided an important focal point for hundreds of runners not just from Tipton Harriers but from Dudley Harriers, Halesowen AC, Oldbury AC, Wolverhampton Harriers, Bilston AC and West Bromwich Harriers to name but a few. Many eventually joined Tipton Harriers at some point in their careers.
Engaging and mercurial he could encourage with a look, a shout or a simple firm handshake. His energy was infectious.
For over sixty years he dedicated himself to the club and our sport. He served the club as an athlete, volunteer, officer and President. For many generations he became simply the heartbeat of the club.
If Ron was going to be at a race or an event you knew it was worth entering or going to watch. You were in for good racing, good friendship and good fun. Many remember the antics and adventures when taking part in the old point to point road relays in the 50's & 60's like the London To Brighton and the Manchester To Blackpool.
He led by example in his training, racing and helping the club establish its base at Gospel Oak. He adored the club, its history its future and above all its people. He helped raise thousands of pounds to establish our sport in the Tipton area. He helped promote many events both for the club and other organisations in our sport such as the Birmingham & District Invitation Cross Country League. Midland Counties Cross Country Association or the Midland Masters Athletic Club. He was often first there and last to leave.
He laid foundations we see today in the spirit within the club, the work ethics and an integrity we aspire to. He saw countless athletes of all abilities come and go in over sixty years of our sport.
Ron was proud of the club, its athletes and its achievements.
He was also a pioneer in our sport in so many ways from his exploits in ultra-distance running in the 1960s through to the formation of the Masters' or Veterans' athletics movement in the Midlands. He was an ambassador for the club and all that is good in our sport.
At Sutton Park each spring from the 1970's onwards he would oversee the road relays marshalling his team, the supporters and the race. He was part of that special day that witnesses racing, friendship, success & failure in equal measures.
Greats from our sport from so many different eras would seek Ron out. Stan Long, Basil Heatley, Jim Alder, Brendan Foster, Bill Adcocks, Dave Moorcroft, Ron Hill are just some of the names he could count on as lifelong friends.
Around the course you would often hear him before you would see or meet him. He covered almost as many miles as the race itself. As the years went by and he was increasingly physically restricted he would park at the "top of the hill" and watch the race unfold from that area. Content at his continued involvement and support of a race he loved.
He was encyclopaedic in his knowledge of the sport. He would be able to watch a race, encourage all and sundry and be computing the team result in his head like a bookie calculating his odds. He was gracious in both victory and defeat.
We have not dwelt on his many athletic achievements. Winners' medals & world records came his way from many events as both athlete and team manager. He raced regularly always giving it his best. He won medals at county, area and national levels over road and cross country. His personal crowning glory was in November 1973 when he set a world record for the 24-hour race notching up 161 miles 545 yards.
This happened on Saturday 3rd and Sunday 4th November 1973. The place, the Walton & Hersham F.C. Stadium, Stompond Lane, Walton On Thames, Surrey, England. The event, the Road Runners Club Accolade 24 Hour Track Race. The cinder track cut up quite badly in the later stages.