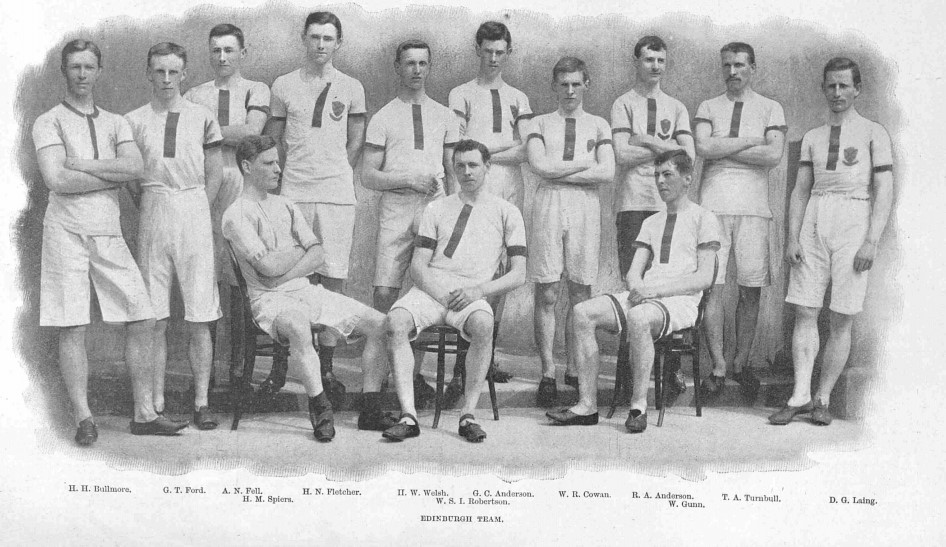 Edinburgh University team, 1899
The Inter-University Sports had been held between 1872 and 1879 with a gap where the 1874 sports should have been. They then, for whatever reason, ceased to be until 1899 and the trail is picked up with the following article in the 'Glasgow Herald' of 20th March, 1899. It is a report on a meeting to re-introduce the inter-university champs. It is reproduced here as it gives an insight into what prompted the move and what it was hoped would be gained from it.
"If we except football, athletic life at our Scottish universities is not as healthy as it might be; indeed, there was more activity and more genuine interest in general athletics at Edinburgh, Glasgow and St Andrews ten years ago than there is now. It is common to represent these centres of intellectual light as given up almost wholly to the worship of athleticism, but it is scarcely necessary to say that this is a delusion. Athletics have a fairly reasonable hold at Edinburgh but it might easily be stronger and more general without interfering in any way with the intellectual development of the students. This is evidently being felt, as a proposal, emanating from the capital, is on foot to establish inter-university sports, and a meeting of delegates from Edinburgh, Glasgow, St Andrews and Aberdeen is to be held shortly at Dundee to discuss the scheme, and, if at all possible, bring off a gathering this season. Glasgow students seem to think the idea will take practical shape, as on Friday several confined races were decided at Hampden Park. and though the performances were not of much account, there was enough merit to justify the expectation of better things. We may mention that many years ago, inter-varsity sports were held under the auspices of the Edinburgh University AC, but for some reason or other the event lost its charm, and was eventually dropped altogether. We hope the contemplated scheme will be carried through as the commonplace character of athletics at our universities is not only a reproach to those institutions as centres of intellectual and physical activity, but it is also a reproach on the prestige which we as a nation enjoy for athletic achievement."
It is only arguable that the sports before 1879 were 'under the auspices' of EUAC – there was always an organising committee of members from all the establishments involved and the venue went to each participating college in turn. However that may be, the move was success and the first of the new sports was held at Aberdeen,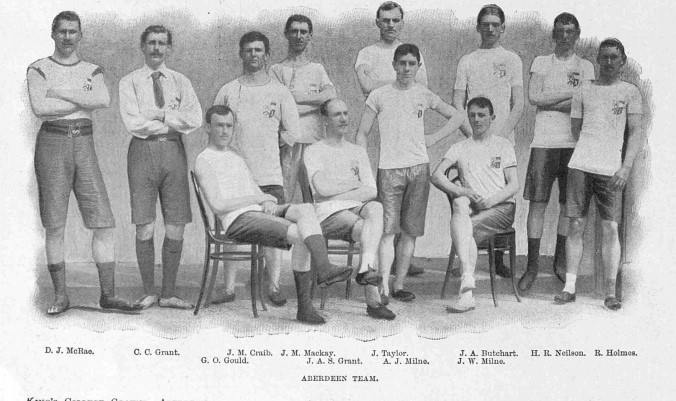 Aberdeen University team, 1899
"INTER-UNIVERSITY SPORTS AT ABERDEEN.
The first of the revived inter-university athletic meetings was held in brilliant weather and in presence of a fashionable attendance at the King's College grounds, Aberdeen on Saturday afternoon. Of the four Scottish universities, Glasgow, Edinburgh and Aberdeen were represented and the pick of the academic sportsmen were present. In the first contest, throwing the hammer, Aberdeen made a good show but they had to bow the knee to Glasgow, who had a tower of strength in Gunn. The one mile race was an easy thing for JW Milne, Aberdeen, who completed in satisfactory time. A fine tussle took place in the long leap event. Edinburgh had forward a fine jumper in GD Laing, who kept a formidable lead by never being under 20 feet and finished first with a fine leap of 20 feet 9 ins. Fitzgerald of Glasgow gave him trouble only once and ended a good second with 20 feet 4 1/2 ins. The 220 yards was a somewhat unsatisfactory race, the corners completely killing the outside men. Glasgow was an easy first with Jeffrey. Result:
Throwing the Hammer: 1st R Gunn (G) 95 feet; 2nd J Taylor (A) 93 feet;
One Mile Race: 1st JW Milne (A) 4 min 44 4-5th sec; 2nd: AN Fell (E);
Long Leap: 1st GD Laing (E) 20 feet 9 in; 2nd CC Fitzgerald (G);
220 yards race: 1st J Jeffrey (G) 24 2-5th sec; 2nd J Muir (G);
Putting the Weight: 1st DJ Macrae (A) 38 feet 8 ins; 2nd CC Grant (A);
120 yards hurdle race: 1st HM Fletcher (E) 17 1/4 sec; 2nd JAS Grant (A);
Quarter Mile Race: 1st WW Welsh (E) 53 3-5th sec; 2nd GT Ford (E);
High Jump: 1st CG Anderson (E) 5 feet 4 ins; 2nd CC Fitzgerald (G) and HR Neilson (A);
100 yards race: 1st GS Stewart (G) 10 4-5th sec; 2nd WW Welsh (E).
Abstract of points: (first place counts two, second place one) : Edinburgh 11 points, Glasgow 8 1/2 points, Aberdeen 7 1/2 points.
Sir David Stewart, LLD, afterwards presented the prizes to the successful competitors. It was 26 years he said since inter-university sports had been held in Scotland, and he congratulated Aberdeen upon the success which had attended their resuscitation. He also congratulated Edinburgh on topping the list."
"Glasgow Herald", 19th June 1899.
Perhaps he is the man responsible for creating the misapprehension that the sports ended in 1873: he was speaking in 1899 after all. Again the versatility of some of the competitors was notable although there were no double event winners.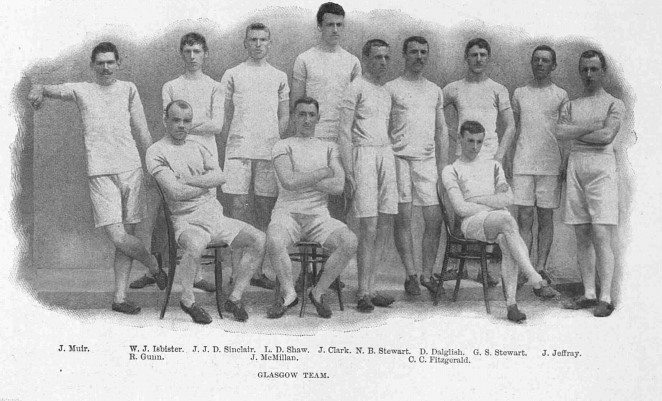 Glasgow University team, 1899
In 1900 Glasgow University had hoped to hold their sports on 9th June but had unfortunately to postpone them to the following Wednesday because the weather was so bad. The Glasgow Herald report on Thursday, 14th June, read: "Owing to the breakdown in the weather on Saturday last, the University Club held their sports at Anniesland last night in dull but fair weather. The sports were to decide the competitors to represent our Alma Mater at the Inter Varsity Sports in Edinburgh on Saturday first. The attendance was fairly good." There were ten events plus two for local schools with Glasgow Academy, Allan Glen's Paisley Grammar, and Whitehill among the prize winners. Edinburgh University was well known as the establishment which took these Sports most seriously and Glasgow had been chastised in the 1870's for not taking them seriously enough. This meeting is evidence that the situation had changed.
Came the Sports themselves and The Scotsman reported as follows: "At Craiglockhart on Saturday, i magnificent weather and before a large and fashionable audience, the representatives of the three great Scottish universities – Glasgow, Edinburgh and Aberdeen – met to decide which University was entitled to claim for the present season the athletic championship. Last year the sports, which had then been revived after having been in abeyance for a long period, were held at Aberdeen, and Edinburgh on that occasion won by 11 points to Glasgow's 8 1/2 and Aberdeen's 7 1/2. On Saturday it was anticipated that with an athlete of the calibre of WH Welsh among her representatives, the Metropolitan University would have little difficulty in retaining the championship and this anticipation was fully borne out by the results. The items for competition were throwing the hammer, putting the weight, long leap, high jump, quarter mile, 220 yards, 100 yards, 120 yards hurdle. Two entrants from each university to compete."
There are some points to note from this report – one is the reference to Edinburgh University by The Scotsman as 'the metropolitan university': none of the other papers consulted at any point called it so. It may have been how the citizens of Edinburgh saw the university but it seems peculiar unto them. 'The three great universities' makes no comment on the fourth – St Andrews – which was not present and would not be until 1906. And WH Welsh would have been an asset to any team in any age: before his career was over he would have won the triple treble – the 100 yards, 220 yards and 440 yards at three SAAA Championships – and set Scottisg records as well as being a regular member of Scottish teams.
Throwing the Hammer: 1. DJ Macrae, A, 107′ ; 2. G Minty, A, 3. R Gunn, G. Edinburgh, as was expected, was completely out classed in this event, all three points going to Aberdeen.
One Mile Race: 1. AS Fell, E; 2. JW Milne, A; 3. H Watson, A. Aberdeen with Watson and Milne, led for two laps with Fell, E, lying fourth and Renwick, G, third. Campbell, E, gave up at the beginning of the last lap. Then Fell drew ahead, shook off Milne's challenge and won by 10 yards. Time: 4min 50 3-5th sec.
Long Leap: 1. GC Anderson, E, 20′ 4″; 2. CC Fitzgerald 20′ 3 1/2″, G; JM Bell, E, 20′ 2 3/4″. The contest of the afternoon so far was unquestionable the long leap. After the weeding out, the three men above were left. Anderson then led with his 20′ 4″, Bell was second with his 20′ 2 3/4″ , and the Glasgow representative third, a quarter of an inch less. In his best effort, however, Fitzgerald got to within half inch of the winner.
220 yards: 1. WH Welsh, E; 2. AJ Milne, A; 3. JB Paterson, A. The start was a rather straggling one but Welsh soon headed the lot. Milne, though beaten by eight yards, kept the Edinburgh champion going up to the tape. Time: 22 3-5th sec.
Putting the weight: 1. DJ Macrae, A, 38′ 8 1/2″; 2. WH Welsh, E, 35′; 3. DM Petrie, A. Welsh's first put was his best. Twice he 'fouled' the others.
120 yards Hurdle Race: 1. GC Anderson, E; 2. AB Timms, E; 3. AJ Milne, A. Timms went off in great style, but lack of conditioning told against him and, knocking down the last two hurdles, he finished a poor second to Anderson who finished in good style The Glasgow hurdlers were not forward so the Western city was not represented in this race.
Quarter-Mile: 1. WH Welsh, E; 2. JA Mathers, E; 3. J Jeffrey, G. From the pistol, Welsh took a commanding lead. Easing up 100 yards from home, he allowed his club mate to get almost on level terms, then in the home straight, without trouble, increased his lead to twelve yards. Time: 54 1-5th sec.
High Jump: 1. GC Anderson, A, 5′ 5″; 2. BH Robertson, G, 5′ 4″. Anderson and Robertson both failed at 5′ 4″ at first, but ultimately cleared that height. Then Anderson went an inch higher and won.
100 yards race: 1. WH Welsh, E; 2. FH Fraser, A. Another easy victory for Welsh who won by 5 yards. Cowan, E, was third. Time: 10 2-5th sec.
Edinburgh won the championship with 17 points, Aberdeen coming next with 8, and Glasgow far in the rear having 2 points. "
Welsh then lived up to the expectations – first in 100, 220 and 440 yards plus a second in the shot putt. He was aided and abetted by GC Anderson who won high and long jumps plus the 120 yards hurdles: they picked up 13 of the university's 17.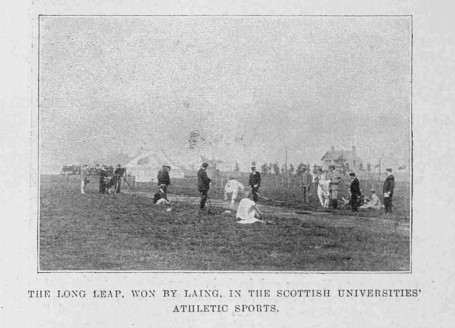 1899 Long Leap
.Edinburgh won again in 1901 and Welsh contributed even more to the team effort despite losing the 100 yards – the last event on a programme in which he had competed in 100 yards, 220 yards, 440 yards, shot putt and throwing the hammer. He had turned out in five out of nine events. The Sports were held in Glasgow at the Glasgow Exhibition. Placed men:
Throwing the Hammer: 1. MN McInnes, E; 2. J Macrae, A. Distance: 107′ 7 1/2″
One Mile: 1. AN Fell, E; 2. WG Gunn, E. Time: 4 min 42 1-5th sec
Long Leap: 1. GC Anderson, E, 19′ 1 1/2″; 2. HR Neilson, A, and M Holmes, E, 18′ 5 1/2″
220 Yards: 1. WH Welsh, E; 2. EAL Brown, G. Time: 24 2-5th sec.
Putting the Weight: 1. MN McInnes, E, 40′ 3£ ; 2. DJ Macrae, A, 36′ 7″
Quarter-Mile: 1. WH Welsh, E; 2. TF Campbell, E. Time: 53 3-5th sec
High Jump: 1. HR Neilson, A, 5′ 5″; 2. BH Robertson, G, 5′ 4″
100 Yards: 1. J Ford, G; 2. WH Welsh, E. Time: 10 4-5th sec
Team competition: 1st Edinburgh 18 1/2 points; 2nd Aberdeen 4 1/2 pts; 3rd Glasgow 4 pts.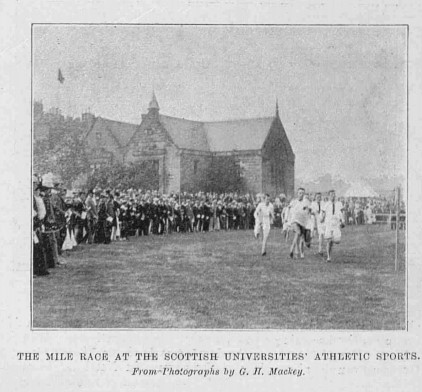 1899
In 1902 the event was held in King's College grounds, Aberdeen on 14th June. With no WH Welsh in the team this year, it might have been thought that Edinburgh's title was in jeopardy but the table of points winners told a different story.
| Event | Edinburgh | Glasgow | Aberdeen |
| --- | --- | --- | --- |
| Hammer | – | – | 3 |
| Mile | 2 | 1 | – |
| Broad Jump | 3 | – | – |
| 220 yards | 2 | 1 | – |
| Weight | – | 1 | 2 |
| Hurdles | 3 | – | – |
| Quarter Mile | 2 | – | 1 |
| High Jump | – | 2 | – |
| 100 yards | 1 | 3 | – |
| Totals | 13 | 8 | 3 |
The meeting was held in 'as disagreeable weather conditions as could be imagined' reported the Scotsman on 16th June, 1902, 'rain falling more or less heavily the whole time.' But it should be added that 'the somewhat depressing conditions were brightened by performances of the fine band of the Aberdeen Volunteer Royal Engineers led by Mr Stavert.'
It is not surprising that in the conditions the performances were not outstanding although most events were closely contested. The visitors were guests of the Aberdeen men at Dinner in the Students Union in the evening.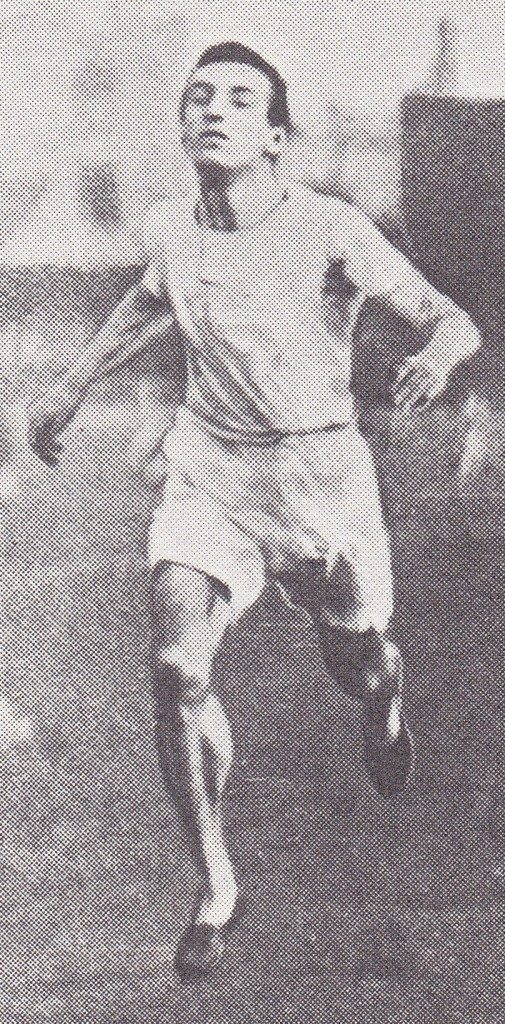 JP Stark, Glasgow University
In 1903, the Edinburgh University trials were held on the Wednesday, ten days before the Sports but the Scotsman comments on the Glasgow trials on the Saturday before the big event were maybe more interesting. They read: "Confined Sports were held at Gilmorehill on Saturday with a view to aiding the committee in selecting the team to compete in the Inter Varsity Sports to be held this week. Little interest was taken in the event beyond 'Varsity circles, and the attendance on that account was more select than numerous. Principal Story and several professors were present and evinced an intelligent interest in the proceedings. Some good sport was witnessed, particularly in the field events. … Altogether the Glasgow performances compare favourably with those of Edinburgh University at Colinton last Wednesday."
The actual sports were held on 13th June, 1903 at Craiglockhart, Edinburgh, where the home team won again with 15 1/2 points to Aberdeen's 7 and Glasgow's 4 1/2. HN Fletcher was unable to run in the hurdle race but his place was taken by GC Anderson, the Scottish champion, who went on and won the race – as well as winning the Broad Jump and being second in the High Jump. SP Wadson of Aberdeen also had a busy day winning the 220 and being second in both the 100 yards and the 440 yards. The numbers were always a problem and this one was labelled the fifth annual inter-university sports by the Scotsman.
Results:
Throwing the Hammer: 1. G Minty, A, 94′; 2. G Milne, A, 91′ 8″
100 yards: 1. J Ford, G; 2, SP Wadson, A. Time 10 3-5th sec
Broad Jump: 1. GC Anderson, E, 20′ 11 1/2″; 2. J Murray, A, 20′ 8 3/4″
220 yards: 1. SP Wadson, A; 2. A Milne, A. Time: 24 3-5th sec
Putting the Weight: 1. LD Shaw, G, 38′ 4″; 2. HN Fletcher, E, 35′ 5 1/2″
120 yards hurdles: 1. GC Anderson, E; 2. RS Steuart, E. Time: 16 4-5th sec
Quarter Mile: 1. JM Hardy, A; SP Wadson, A. Time 55 sec
High Jump: 1. JM Graham, E, 5′ 5 1/2″; 2. Equal – GC Anderson, E, and GH Wilson, G, 5′ 4 1/2″
Mile: 1. AD Anderson, E; 2. JA Jamieson, E. Time: 4 min 48 sec
The sports of 1904 were held on Saturday, 11th June, and reported the following Monday. The Scotsman first: On Saturday, at Anniesland, the ground of Glasgow Academicals, representatives of Edinburgh, Glasgow and Aberdeen Universities met for the sixth time to settle the question of athletic supremacy for the year. Up until Saturday, Edinburgh University had always been successful, gaining victory on all occasion by a substantial majority of points. On Saturday however, Glasgow University scored their first triumph, winning by one point. The actual points were:- Glasgow 12 points, Edinburgh 11 points; Aberdeen 7 points. For a time on Saturday Glasgow held a big lead being nine points ahead of Edinburgh at one stage of the proceedings. From then onwards however, Glasgow only managed one point while the Edinburgh men added nine. In the sprints the Glasgow men won easily, and in the half mile and high jump the Aberdeen men were prominent. In the quarter mile, one mile and long jump, the eastern competitors distinguished themselves, winning those events very comfortably. The weather for Saturday's meeting was all that could be desired which no doubt accounted for the large gathering of spectators, and throughout the afternoon music selections were provided by the band of the 1st Lanarkshire Garrison Artillery. The officials were:- judges Messrs A Ross Scott, H Barr and T Fraser; time keeper and referee Mr Mr DS Duncan; Starter Mr James Moore. Results:-
100 yards: 1. JP Stark, G; 2. JB Clarke, A. Time: 10 3-5th sec.
Throwing the Hammer: LD Shaw, G; 2. N McInnes, G. 106′ 8″ Won by 6′ 1″
Half Mile: 1. RF Twort, A; 2. TF Campbell, E. Time: 2 min 3 44-5th sec
High Jump: 1. GM Bain, A, 5′ 7 1/2″; 2. CH Wilson and J McConnell, G, tie at 5′ 6 1/4″
220 yards: 1. JP Stark, G; WH Welsh, E. Time: 24 4-5th sec
Putting the Weight: 1. LD Shaw, G, 39′ 10″; 2. N McInnes, G, 38′ 8″
120 yards hurdles: 1. RS Steuart, E; 2. DB Nicol, A. 17 4-5th sec
Quarter Mile: 1. WH Welsh, E; 2. JB Clarke, A. Time: 53 4-5th sec
Broad Jump: 1. JD Macrae, E, 21′ 11 3/4″; 2. CC Fitzgerald, G, 21′ 3 1/2″
One Mile: 1. AM Matthews, E; 2. JH Jamieson, E. Time: 4 min 43 4-5th sec.
The sprints were particularly strong in this meeting –
WH Welsh has been spoken of above – multi medallist in the SAAA championships, double winner in the international v Ireland in 1900;
JP Stark was three times SAAA 1000 yards champion, winner of the 220, three firsts and four seconds in the international v Ireland.
The officials were also of a high standard with Ross Scott officiating in the 1908 Olympic Games in London and in both 440 yards races where Halswell ran so well. Hugh Barr was seven times Scottish long jump champion, 100 yards champion and winner in the internationals against Ireland. DS Duncan had been Scottish champion at one mile, four miles and ten miles as well as over the country.
The Inter varsity championships which had started off so tentatively in 1871, were now integrated into Scottish athletics and attracted big crowds and extended coverage in the national press.