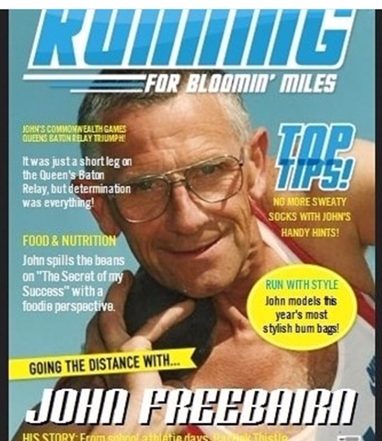 John had no real desire to become a professional athlete in the first place, he was a very good athlete but to the amateur administrators of the time, the rules were the rules and he could not compete as an amateur while playing professional football. However when his professional career came to an end he decided to become a properly qualified coach and the only way to do that was to take the appropriate SAAA courses and examinations. He became a veteran in athletics terms in January 1978, according to the SAAA list of coaches he had not a single coaching qualification in 1980 but in 1986 this letter dropped through his letter box.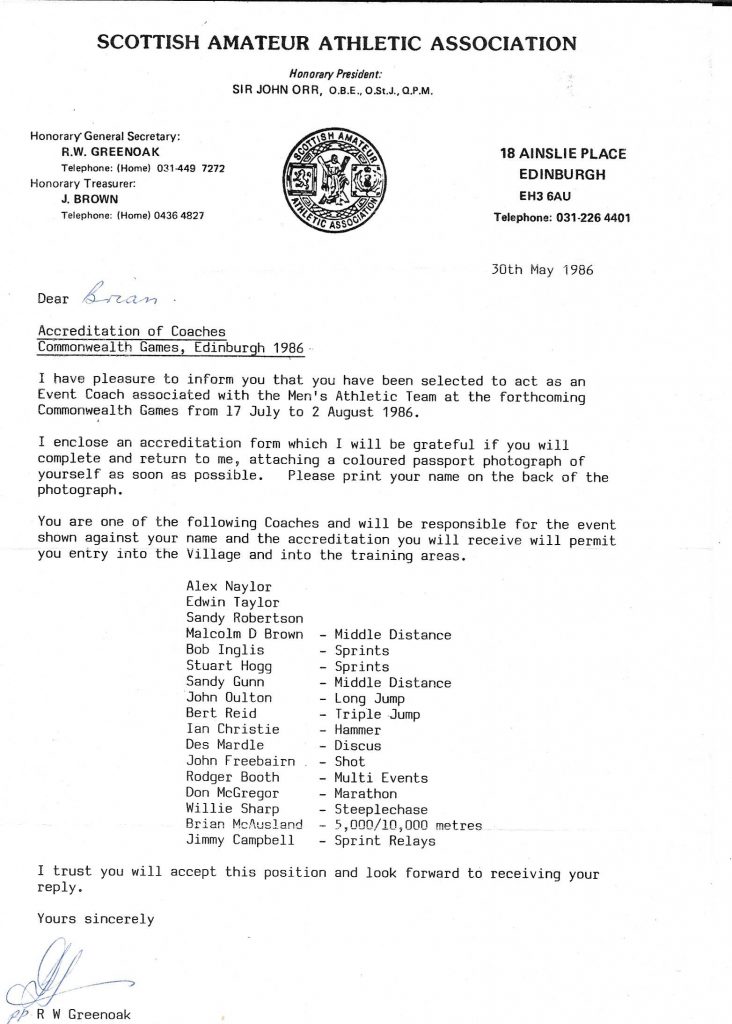 Clearly an intelligent man, an experienced and able athlete over a range of events, he had worked hard and gained the qualifications he needed. The qualification was a British one and came at three levels – Assistant Club Coach, then Club Coach and that led two years later to Senior Coach. He shot through the various stages and in 1986 he was Scottish staff coach for the shot putt, hence the appointment at the Commonwealth Games. By 1990 he had Senior Coach qualifications for Shot Putt and Discus and the Club Coach for Javelin. The Scottish coaching structure had a national coach with Group Coaches below him for the athletic disciplines (sprints, hurdles, endurance, throws and jumps) and each of these had a Staff coach for all the events in his group. To assist the Group Coach, there was a Group Organiser. John became Scottish Group Coach, responsible only to the National Coach, for all the throwing events – Shot, Discus, Hammer and Javelin – and he had his wife Cecilia as his Group Organiser.
The responsibilities of the Group Coach included the development of the events in his group at National, club and individual level, providing support for the coaches, and being accountable to the hierarchy (ie the national coach and the governing body) for these. There was an 'allowance' to help the Group Coach to do this – in 1995 it was £120 per year, and he could not claim it as a lump sum, it could be claimed in two lots of £20 at approximately six month intervals. It didn't even cover the telehone calls. Any coach wanting to run a proper workshop or training day had to raise the money him/herself through sponsorship, donations or charge the athletes and coaches the full cost of the event.
How did John tackle this very difficult task? Rather than recite statistics at this point, let us hear a coach who learned his trade with John as a national coach – Hugh Murray was eventually to succeed John as Group Coach for the Throws and he has this to say.
"I first met John in 1984 when I took my first tenuous and uncertain step on the coaching ladder to Assistant Club Coach.. The only speakers from that weekend I remember are John and Alec Naylor: they both impressed me..
The following year I took the brave step forward to Club Coach Discus. The course work was delivered by Des Mardell the father of the then GB International Discus thrower Paul. It involved attending a weekend on coaching theory, a weekend on the event , a written exam and a practical assessment.
John took me for the practical assessment which involved the production of a training plan for a session with the objectives of the session. Both I and my demonstrators were quite nervous to be in such company, never having done anything like this before. But John as ever put us at our ease. I must have done enough to satisfy him as I passed that element of the test and achieved my club coach award. I met John on many occasions afterwards as I progressed through the Coach Education system he was always encouraging and thorough in his examinations offering sound words of advice when necessary.
I was keen to extend my practical knowledge of coaching and as the Scottish Event Group Leader for Throws John made that possible through direct involvement with my development and by arranging for me to accompany him to conferences and practical weekends all over the UK where we learned from some of the best coaches in the World. It was during this time that Max Jones who was then UK Lead Coach for Throws, and later went on to become GB Athletics Head of Performance, appointed John as his UK National Coach for Shot. It was a well deserved appointment
During that time, I also had the opportunity to compete against John at County and District Championships. Indeed John competed for many years at the highest level as a Masters Athlete, then known as the Vets. Not only was he a good thrower, he was also a good jumper and competed with distinction in the Combined Events.
With John now established as Throws Event leader in Scotland I was offered the National Coach Discus post with Jim Hunter, Shot, and Willie Robertson, Hammer, and Eddie Taylor, Javelin.
John would organize National Squad Weekends throughout the Winter which we would staff. But John's weekends were rather special as they were a Freebairn family event with wife Celia and his two daughters, Susan and Joanne, looking after the important part of the weekend which was food and refreshments. The weekends were done on a limited budget which was partly increased by Celia's sales of home baking and the occasional raffle.
John personally coached his own daughter Suzie for Discus and she represented Scotland on several occasions. But it is for his encouragement and advice to other coaches over the years that we should be grateful.
There are many people over the years who have assisted and provided opportunities for me to develop as a coach and John Freebairn rates highly amongst them."
A lot of what Hugh said there could be echoed by other coaches throughout the country. John never pushed himself to the front of the photograph, however, and was never as well known as he should have been.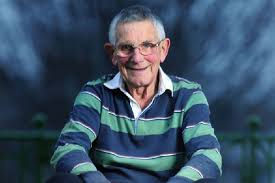 In June, 1990, Willie Robertson writing in "Scotland's Runner" on the topic of the Highland Games wrote: "This year might mark a turning point in amateur Highland Games. It is generally agreed that the recently formed Highland Games Commission is a step, if somewhat belated, in the right direction. A coaching scheme has been initiated by the commission with Kenny McDonald and John Freebairn appointed as principal coaches. Incredibly the SAAA had previously no policy on coaching these traditional events (shot excepted)." That was another job for John to do as well as the SAAA one. He was, of course, still training himself and in the next month's issue of the magazine, we read "Former profesional athlete John Freebairn. John who is of course the Group Coach for the throws won the caber at Bathgate. He probably won his first caber event before most of the field were born." But the SAAA job developed and as it involved encouraging the athletes and helping them develop, John travelled to do it. For example, in 1993 we read in a look ahead to the Highland Games that season. The divide between the two codes had been pretty well removed by then.
"John Freebairn, South Coach, believes Mark McDonald will be difficult to beat. "Mark is in his best ever condition this year. Andy Vince and I went to see him in September last year in a bit to help him with his conditioning, which is something he has continued throughout the winter. He has been in excellent form this season and will be hard to beat if he keeps up his strength level. Freebairn sees Kenny Wilson of Stranraer as another to impress if his technique continues to improve to match his strength. And Alan Pettigrew and Laurie Nisbet could also figure strongly"
The work done at development days, coaching big squads, teaching new throwers is all seen and reported on. The long drives to places like Dumfries to advise senior athletes of quality are never seen. The fact that John knew his events and its athletes was shown a few short months later when Mark McDonald (pictured below) became the first professssional athlete to win a Scottish amateur athletics title when he won the heavy events at Cowal Highland Gathering in Dunoon.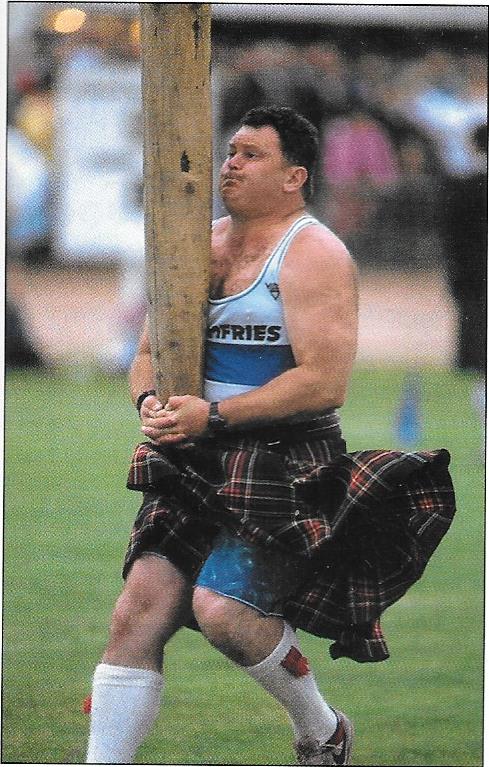 Away from the national scene, John was active in his local community of Kilsyth. He always had been – he had lived in Kilsyth all his life and was for many years a Community Council member. Many coaches stop working with children once they reach the heights of dealing with senior athletes, and one national coach said to me that his days of working with young athletes were over. That was not John. This was most easily seen in Kilsyth where he was a key founder of Colzium ASC (for 'Athletic and Swimming Club') and organiser of youth community games. The Colzium club started in the 1980's and covered all track and field events with athletes ranked individually and on occasion as relay teams (including 3 x 800m). The club's record in cross-country is also a good one for a club coming from such a small area. In 1981-82 they won the Scottish Under 11 girls championship with a team which had the first three finsihers (McDade. McGuinness and Finnegan), and were second in the under 13 age group team race (G Patterson was eighth individual); in 1982-83 they were third n the U11 national team race and in the under 13's they were the winning team (Patterson 2nd, Finnegan 3rd and McDade 8th); in 1983-84 they were second team in the under 13 (Cassidy 6th, Finnegan 9th) and second in the under 15 race (Patterson 12th); in 1985-86 they were third in the under 11's and third in the under 15's (Finnegan 7th, Keenan 14th, Artis 16th); in 86-87 they were second in the under 11's (McDowall 9th). Bear in mind that these were the national championships – the girls won medals in the District championships too and that was at a time when the standard was high. Unlike the men's championships, the SWCCU allowed English teams to enter runners and medals went to such clubs as Morpeth, Carlisle, Blaydon and Derwent Harriers. The boys also did well but without the victories at national level that the girls managed. It wasa similar story on the rack with both boys and girls being highly ranked at SAAA level – mainly in endurance and field events – and the girls doing slightly better than the boys. Many of the athletes went on to have successful athletic careers with bigger clubs such as Michelle McGuinness at Shettleston Harriers Ladies, Linzie Kerr at Glasgow AC and Mark Hamill at Cambuslang. It was a good club but had a very small catchment area with Strathkelcin Ladies and Springburn Harriers to the West and Cumbernauld to the East being bigger and longer established athletics clubs.
In addition to his work at national level, his involvement with Colzium, and his own training, he later took on a job as schools development coach for Glasgow and North Lanarkshire where he taught the young athletes many throwing events including the . using a specially made small size caber of his own. At a personal level I asked him to do three sessions with me at a Bearsden secondary school: no problem, he came and did a different implement every week and a staff member stayed behind to watch what he was doing and learn from it. He did so much in athletics that people would be excused for thinking that he had an easy day-job which gave him lots of time: not a bit of it. His full title was Mr John Freebairn, BSc, CEng, MICE, MIHT and he was responsible for the roads in the central part of Scotland. If you want a job done, ask a busy man. Remember that he was also a Community Councillor too for many years.
There were still, of course the international and representative fixtures where he had Scottish or British coaching responsibilities. One of the top appointments of his career was to the UK Youth Olympic Games 1993 where he was the combined event coach. This was a big meeting with 3500 athletes from 170 countries competing. The calibre of athlete involved can be seen from the fact that Christine Ohurogou and Tom Daley were both representing the British team.
John is a superb talent – a talented athlete, a telented football player, a talented coach and a man of talents away from the athletics arena that others would be proud of on their own. Athletics is lucky to have him among their numbers.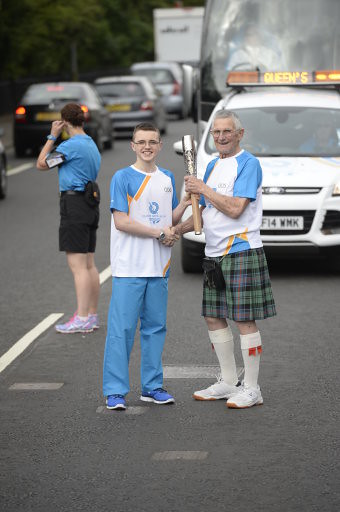 Receiving the CG baton for Glasgow on 23rd June 2014 on day 12 Stepps