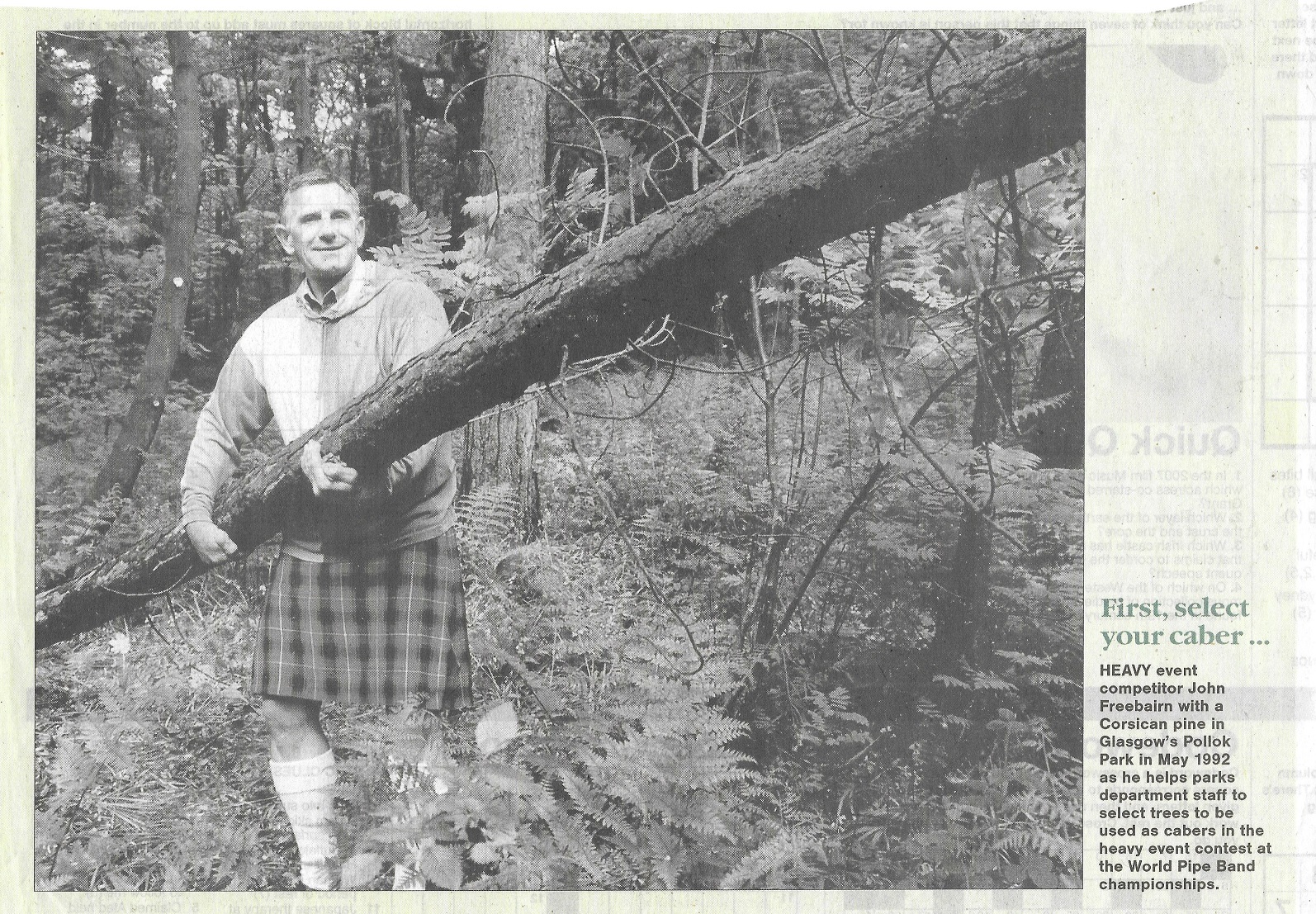 First of all we have some comments from for mer pro athlete Alastair Macfarlane, who, once reinstated, became Scottish marathon champion.
"I first became aware of the name John Freebairn in my very early teens through my interest in football. I knew that John played for Partick Thistle ad knew of his slightly unorthodox style of goalkeeping. It was only when I started competing at professional Highland Games in 1965 that I got to meet John and from then our paths seemed to meet on a pretty regular basis.
John was a terrifically talented and versatile field events competitor excelling particularly in the jumps. He was perhaps overshadowed by the likes of Bill Anderson and Arthur Rowe who swept all before them in the heavy events at that time but was always able to pick up place money. I remember him being more successful in the light field events and this is perhaps where his real talents lay. He would surely have made a top decathlete had he remained amateur. Although he probably never had a huge love of middle distance track events I can remember John often shouting encouragement to me during my races between his jumps or throws.
Eventually after our reinstatement to the amateur code and when I got involved in coaching, it was John who was my instructor when it came to throwing events on my coaching courses. And moving on a few years we found ourselves on the committee of the Scottish Veteran Harriers Club administering the needs of the Masters athletes in our sport where my memories of John are of someone who wasn't content to sit quietly at committee meetings while others made decisions!!"
Alastair Shaw in Vietnam who read the profile and said the following in an email.
"Still on the Highland Games scene I also read the profile of John Freebairn. You won't be surprised to know that I came across John, and his daughter Susan, a lot during my coaching and officiating days. Quite a character.
One thing I seem to have memory of is seeing a movie about a Highland Games at an Inverclyde weekend. Fairly sure it was called 'The Gathering'. The movie was a kind of 'fly on the wall' semi-documentary and John, if not actually featured, was certainly there, as he was able to comment on one of the central themes.
This was that the 'famous' caber, used at whatever games it was, could not be thrown by any of the athletes. In such a case my understanding is that the caber is supposed to be cut by 1 foot at a time until someone throws it. However the games chieftain refused to allow it to be cut as it was a famous symbol. He maintained the athletes were not good enough. John told us that sometimes, when organisers thought a caber was not challenging enough, they would leave it in a loch for a couple of weeks to soak up water. Although they denied it, he maintained that this is what happened on this occasion. The result being that the thing was virtually unliftable, let alone able to be thrown. I don't recall the actual outcome but I think they probably substituted the original for another to save face. "
He goes on to talk about the meeting at Inverclyde.
"That Inverclyde course was possibly one of the first times I met John and I'd guess it must have been not long after he started coaching as I think he was an attendee rather than one of the course staff.
As I'm sure you know only too well the memory sometimes plays tricks on long ago events, and I'm more than capable of remembering things as I'd like to, but I seem to recall that John quite liked giving the different coaching advice a practical go at the Inverclyde weekends. Possibly one of the few attendees that could actually do so. At the time he reminded me a bit of a real life 'Geordie' if you remember that movie.
I learned about his professional career side quite early on and we'd occasionally talk shop at meetings as Clackmannanshire, where I worked at the time, was within the old Central Region. "
Quite happy to talk about his day job to Alastair, and about football to Stuart Hogg.
*
We have included the comments on John on the first four pages but it might help if they are all collected here in the one place. Start with Hugh Murray – Hugh is a very good coach who worked with John for many years and ultimately took over from John as Scottish National Group Coach for Throws and speaks very highly of his mentor. This appears on the page on John as a Coach.
"I first met John in 1984 when I took my first tenuous and uncertain step on the coaching ladder to Assistant Club Coach.. The only speakers from that weekend I remember are John and Alec Naylor: they both impressed me..
The following year I took the brave step forward to Club Coach Discus. The course work was delivered by Des Mardell the father of the then GB International Discus thrower Paul. It involved attending a weekend on coaching theory, a weekend on the event , a written exam and a practical assessment.
John took me for the practical assessment which involved the production of a training plan for a session with the objectives of the session. Both I and my demonstrators were quite nervous to be in such company, never having done anything like this before. But John as ever put us at our ease. I must have done enough to satisfy him as I passed that element of the test and achieved my club coach award. I met John on many occasions afterwards as I progressed through the Coach Education system he was always encouraging and thorough in his examinations offering sound words of advice when necessary.
I was keen to extend my practical knowledge of coaching and as the Scottish Event Group Leader for Throws John made that possible through direct involvement with my development and by arranging for me to accompany him to conferences and practical weekends all over the UK where we learned from some of the best coaches in the World. It was during this time that Max Jones who was then UK Lead Coach for Throws, and later went on to become GB Athletics Head of Performance, appointed John as his UK National Coach for Shot. It was a well deserved appointment
During that time, I also had the opportunity to compete against John at County and District Championships. Indeed John competed for many years at the highest level as a Masters Athlete, then known as the Vets. Not only was he a good thrower, he was also a good jumper and competed with distinction in the Combined Events.
With John now established as Throws Event leader in Scotland I was offered the National Coach Discus post with Jim Hunter, Shot, and Willie Robertson, Hammer, and Eddie Taylor, Javelin.
John would organize National Squad Weekends throughout the Winter which we would staff. But John's weekends were rather special as they were a Freebairn family event with wife Celia and his two daughters, Susan and Joanne, looking after the important part of the weekend which was food and refreshments. The weekends were done on a limited budget which was partly increased by Celia's sales of home baking and the occasional raffle.
John personally coached his own daughter Suzie for Discus and she represented Scotland on several occasions. But it is for his encouragement and advice to other coaches over the years that we should be grateful.
There are many people over the years who have assisted and provided opportunities for me to develop as a coach and John Freebairn rates highly amongst them."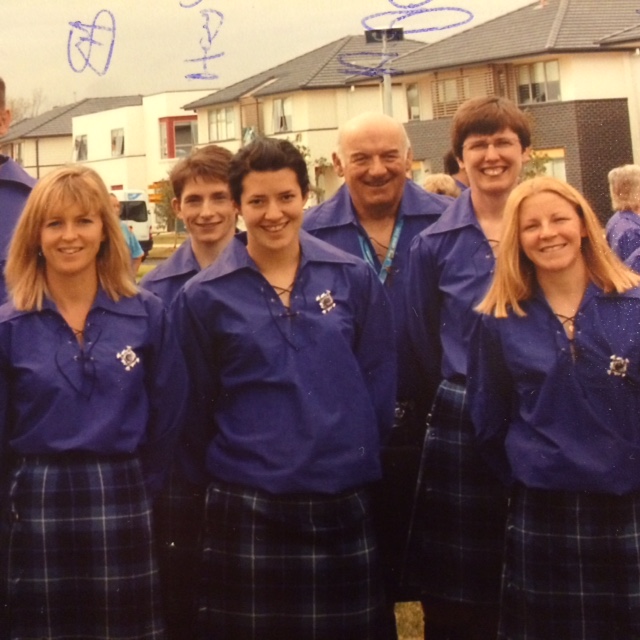 Hugh Murray, fourth from Left
Then there is Stuart Hogg. Stuart like John was a reluctant professional athlete who really wanted to be an amateur. However he made a good career for himself and then became a Scottish National Coach and worked with many very good athletes of his own. He has been fitness coach for most of the top teams in Scotland – Rangers, Aberdeen, Dundee United among them – and he competed at many of the same meetings as John. His comments are as follows:
"I first met John after his football career was over (prematurely circumstances probably made that decision for him) he turned to take his physical activities to the Professional Highland Games, competing in the heavy events as well as jumps. You would often see him take his kilt on and off several times a day as he switched from throwing to jumping.
I found John to be a really nice, honest guy. A great competitor but at the same time quite laid back: he never appeared to get flustered, he appeared to take everything in his stride. While I do not know all of his feats, I do know that he was a regular winner on the Pro circuit (as a track athlete you did not pay heed in detail how the non- track athletes had done). However we did converse quite often as I had worked in football as well. We exchanged stories as I knew some of the people he had worked with. In these conversations it was a great credit to him that he was not one to disrespect any of the people we chatted about – a true gentleman.
I have no doubt in the present day he would have made a great Decathlete. He was a good jumper, thrower and hurdler and but for the amateur/professional divide of that day, he would have shown that given the opportunity which was denied him.
I consider it a pleasure to have known John, a man I am sure who has influenced many young aspiring athletes in his time coaching."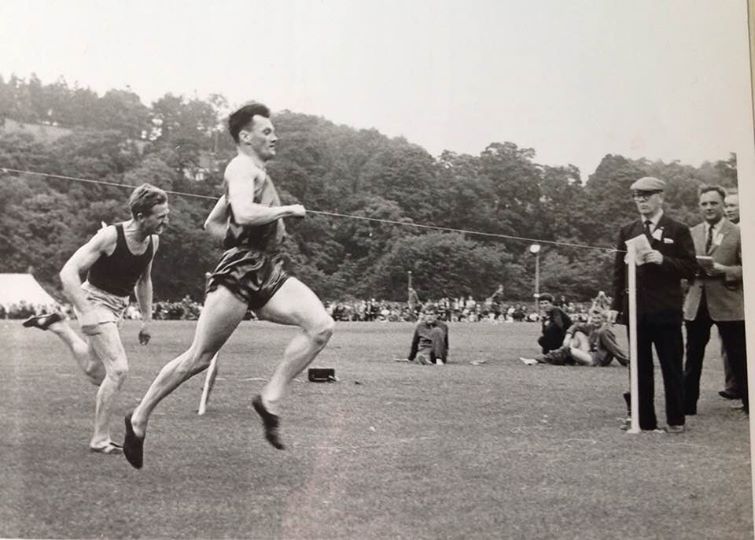 Stuart Hogg
Then there is the wee story about John at the Highland Games as told by Alastair MacNeil:
"Among those I got to know well was former Partick Thistle goalkeeper, John Freebairn. I had seen him many times at Firhill when, as a student, I had gone to watch fellow Tirisdeach, Johnny MacKenzie, playing for Thistle. Incidentally, the latter is the only fluent Gaelic speaker to have played for Scotland. John Freebairn often nearly caused Thistle fans to suffer heart attacks with his habit of coming well out of his goal area to make a clearance. On one occasion at Inverary a young newcomer appeared on the scene in the long jump. At one point during the event my teacher's brain must have taken over and I pointed out something he could do to improve his performance. John came up to me and said quietly, "I don't mind you coaching, but don't do it during the actual competition".
*
John died on 24th April, 2020, and among the tributes was this one by Jack Davidson on the SHGA website:
"John Freebairn who has died aged 82 was one of the best known figures on the Games circuit for twenty five years from early 1960's to mid '80's. During that time he enjoyed considerable success in both light and heavy events with marks of 6ft in high jump, 12'4" pole vault, 22ft plus long jump, 48 ft shot putt, 120 ft. hammer throw and 14 ft.weight over the bar reflecting his quality as an athlete. An excellent ambassador for the Games who also competed in Australia, Indonesia and throughout Europe John was popular and well respected, a true sportsman and man of integrity. Later he enjoyed success in Masters' athletics and coaching. Prior to his Games career he was professional footballer as goalkeeper with Partick Thistle in the old first division."
*
From Partick Thistle came this tribute:
Thursday 30th April, 2020 at 4:43pm
Those of us at Firhill of a somewhat older vintage received with great sadness news of the death of former goalkeeper John Freebairn. I am pleased to pay the following tribute to an unusual, almost unique custodian and a fine person. John made his Thistle debut against Kilmarnock on 28th October 1958 at Firhill. In total he was our last line of defence on 115 occasions. He was unusual. How many players have we signed from Glasgow University? His style was unique. While goalkeepers today suffer criticism for not coming off their line quickly enough, John adopted the opposite philosophy. His province covered virtually two thirds of the penalty area, thus causing all sorts of panic among our fans, but he was popular and effective nevertheless.
Away from the world of football, John was a significant performer at Highland Games meetings, tossing the caber with immense power and efficiency – an accomplished all round athlete. We have lost a goalkeeper like no other and we mourn the loss of a fine man.
Our thoughts at this sad time are with his family and friends and we offer to them our sincere condolences.
Robert Reid.
Honorary President
*
A happier memory of John from John Robertson as posted on on the Memiours of a Pro Athlete facebook page.
John Robertson Sad to lose another talented competitor and all round nice guy. I had many great competitions with John in the jumping events. He had great natural spring. An all round good athlete, John always wanted to help other competitors giving advice and looking for ways to improve. Mind I remember getting 43.5 different instructions before a jumping event. I think I got 22' in the TRIPLE jump 🤣😂🤣. Often I would see him throw 3 different styles with his 3 throws in the Shot Putt! The Putt under the chin being a favourite. We competed together at Gotland (an island off the east coast of Sweden) in the Gutnik Games. Both of us high jumping wearing the kilt. Great memories.
*
On the same web site, Thomas Miller said:
Thomas Miller remember him from Coatbridge running track sure his daughter trained there,he brought the jay scott memorial trophy and a 50 pound prize to our home as tony won the the best field event athlete at luss but did not know a true gentleman loved sport and all highland games events never seen him compete but looked a strong man.