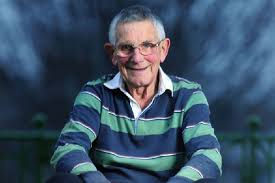 We have included the comments on John on the first four pages but it might help if they are all collected here in the one place. Start with Hugh Murray – Hugh is a very good coach who worked with John for many years and ultimately took over from John as Scottish National Group Coach for Throws and speaks very highly of hismentor. This appears on the page on John as a Coach.
"I first met John in 1984 when I took my first tenuous and uncertain step on the coaching ladder to Assistant Club Coach.. The only speakers from that weekend I remember are John and Alec Naylor: they both impressed me..
The following year I took the brave step forward to Club Coach Discus. The course work was delivered by Des Mardell the father of the then GB International Discus thrower Paul. It involved attending a weekend on coaching theory, a weekend on the event , a written exam and a practical assessment.
John took me for the practical assessment which involved the production of a training plan for a session with the objectives of the session. Both I and my demonstrators were quite nervous to be in such company, never having done anything like this before. But John as ever put us at our ease. I must have done enough to satisfy him as I passed that element of the test and achieved my club coach award. I met John on many occasions afterwards as I progressed through the Coach Education system he was always encouraging and thorough in his examinations offering sound words of advice when necessary.
I was keen to extend my practical knowledge of coaching and as the Scottish Event Group Leader for Throws John made that possible through direct involvement with my development and by arranging for me to accompany him to conferences and practical weekends all over the UK where we learned from some of the best coaches in the World. It was during this time that Max Jones who was then UK Lead Coach for Throws, and later went on to become GB Athletics Head of Performance, appointed John as his UK National Coach for Shot. It was a well deserved appointment
During that time, I also had the opportunity to compete against John at County and District Championships. Indeed John competed for many years at the highest level as a Masters Athlete, then known as the Vets. Not only was he a good thrower, he was also a good jumper and competed with distinction in the Combined Events.
With John now established as Throws Event leader in Scotland I was offered the National Coach Discus post with Jim Hunter, Shot, and Willie Robertson, Hammer, and Eddie Taylor, Javelin.
John would organize National Squad Weekends throughout the Winter which we would staff. But John's weekends were rather special as they were a Freebairn family event with wife Celia and his two daughters, Susan and Joanne, looking after the important part of the weekend which was food and refreshments. The weekends were done on a limited budget which was partly increased by Celia's sales of home baking and the occasional raffle.
John personally coached his own daughter Suzie for Discus and she represented Scotland on several occasions. But it is for his encouragement and advice to other coaches over the years that we should be grateful.
There are many people over the years who have assisted and provided opportunities for me to develop as a coach and John Freebairn rates highly amongst them."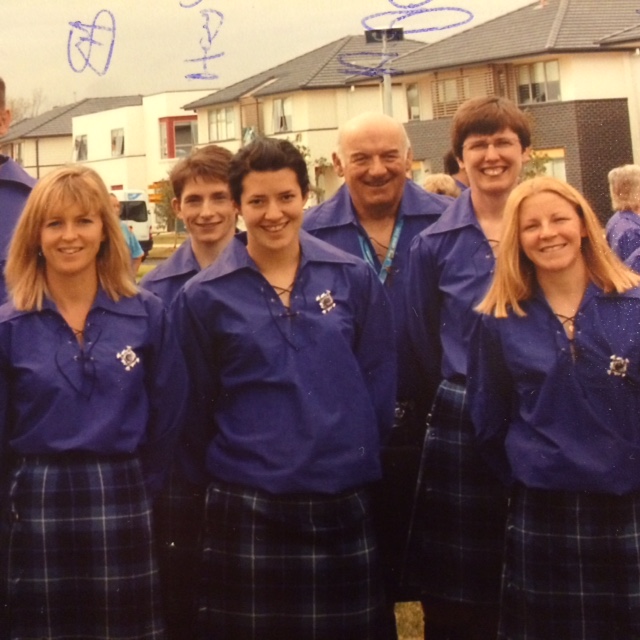 Hugh Murray, fourth from Left
Then there is Stuart Hogg. Stuart like John was a reluctant professional athlete who really wanted to be an amateur. However he made a good career for himself and then became a Scottish National Coach and worked with many very good athletes of his own. He has been fitness coach for most of the top teams in Scotland – Rangers, Aberdeen, Dundee United among them – and he competed at amny of the same meetings as John. His comments are as follows:
"I first met John after his football career was over (prematurely circumstances probably made that decision for him) he turned to take his physical activities to the Professional Highland Games, competing in the heavy events as well as jumps. You would often see him take his kilt on and off several times a day as he switched from throwing to jumping.
I found John to be a really nice, honest guy. A great competitor but at the same time quite laid back: he never appeared to get flustered, he appeared to take everything in his stride. While I do not know all of his feats, I do know that he was a regular winner on the Pro circuit (as a track athlete you did not pay heed in detail how the non- track athletes had done). However we did converse quite often as I had worked in football as well. We exchanged stories as I knew some of the people he had worked with. In these conversations it was a great credit to him that he was not one to disrespect any of the people we chatted about – a true gentleman.
I have no doubt in the present day he would have made a great Decathlete. He was a good jumper, thrower and hurdler and but for the amateur/professional divide of that day, he would have shown that given the opportunity which was denied him.
I consider it a pleasure to know John, a man I am sure who has influenced many young aspiring athletes in his time coaching."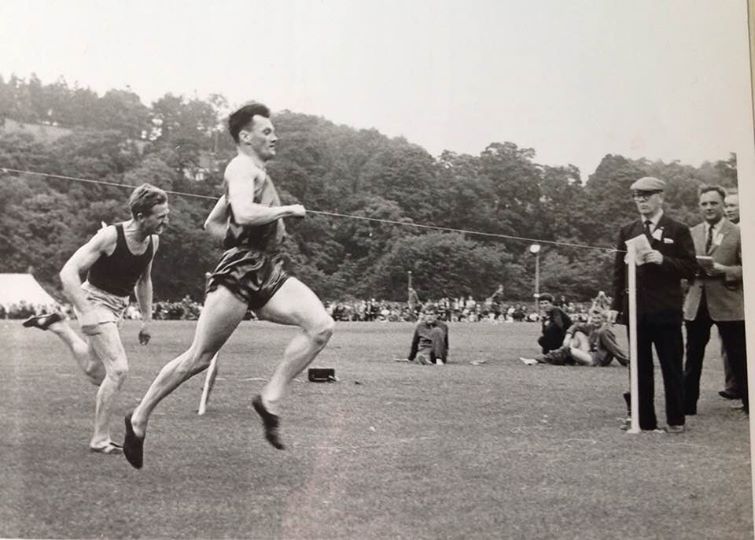 Stuart Hogg
Then there is the wee story about John at the Highland Games as told by Alastair MacNeil:
"Among those I got to know well was former Partick Thistle goalkeeper, John Freebairn. I had seen him many times at Firhill when, as a student, I had gone to watch fellow Tirisdeach, Johnny MacKenzie, playing for Thistle. Incidentally, the latter is the only fluent Gaelic speaker to have played for Scotland. John Freebairn often nearly caused Thistle fans to suffer heart attacks with his habit of coming well out of his goal area to make a learance. On one occasion at Inverary a young newcomer appeared on the scene in the long jump. At one point during the event my teacher's brain must have taken over and I pointed out something he could do to improve his performance. John came up to me and said quietly, "I don't mind you coaching, but don't do it during the actual competition".