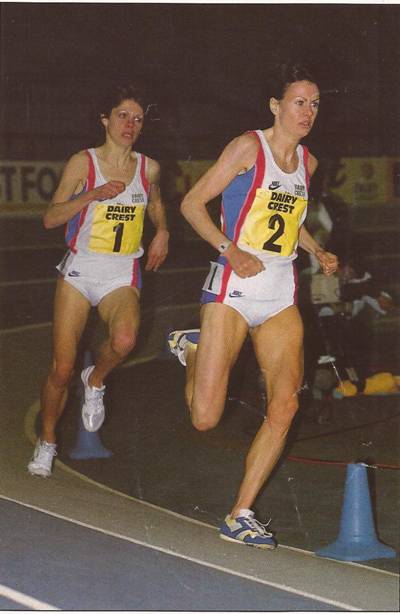 Representing GB in Kelvin Hall (Karen is Number 2)
Karen Hutcheson (Date of Birth 23rd September 1965) was a first class athlete who in the course of her career represented Pitreavie AAC, Queen Anne's High School, Lochgelly and District, Berry Hill Mansfield, Nantes and Roches-sur-Yon..   She began her career training with Jimmy Bryce's squad in Fife before moving to Mansfield in England and training with Alan Hargreaves.   She has now slipped almost totally from the consciousness of Scottish athletics fans and aficonados but if we take a quick look at her best times her quality quickly becomes evident.
| | | | | | |
| --- | --- | --- | --- | --- | --- |
| Distance | Time |  Scottish A-T Ranking | GB A-T Ranking | Date | Comments |
| 1500 | 4:09.46 | 9th | – | 4/9/89 | |
| One Mile | 4:28.8 | 3rd | 14th | 20/8/89 | |
| 2000m | 5:52.6 | 3rd | 26th | 28/1/90 | = Joyce Smith and Paula Fudge, faster than Kathy Butler |
| 3000m | 8:48.72 | 5th | 16th | 28/1/90 | CG 3000m Final in Auckland, NZ |
Karen first appears in the record books as a member of Pitreavie AAC in 1982 as an intermediate – ie an Under 17 athlete.   She is nowhere in 1982 but what a year she had if 1982 was her first in the sport!   Her best 400m time was 58.8 seconds which ranked her fifth Inter and 34th senior, at 800m she ran 2:12.8 which placed her second and 18th among the seniors and in the 1500m she was again second Inter but 16th senior with a time of 4:30.5.   In the 800 and 1500 she was s behind Elise Lyon of Wycombe Phoenix who would go on to win the Euro Junior 1500m.   Karen also recorded marks at the Mile (4:55.7 at Hendon) which placed her first Inter and seventh Senior and the 3000m, not an event normally run by her age group, in 10:03.0 which placed her seventeenth senior.    Competitively she won the SWAAA 800m at both East District (2:17.36) and in the East v West in 2:15.7,  and she won the 1500m in both East Championship (4:43.75) and SWAAA (4:38.0).   The year was remarkable for both the range of events and how well she ran in them – and to end the year with four championship titles is not a bad way to go.
In 1983 she ran well enough to set persona; bests in 800m (2:09.12 – ninth among the seniors), 1500m (4:22.97 – tenth) and 3000m (10:07.67 – eighteenth).   There was one personal best in 1984 and that was at 1500m where she ran 4:27.15 but better than that, Karen won her first SWAAA senior title at the distance.      There were two recorded times for 1985 and these were 2:08.28 for 800m and 4:25.4 for 1500m   The last three time were all ranked at ninth in Scotland (35th and 45th GB).   There was also another SWAAA medal – bronze in the 800m.   She was almost exactly contemporaneous with Liz McColgan , Yvonne Murray and Lynne McDougall and no doubt the races between them all helped them all to develop their talents.  At the end of summer 1985 she was twenty years old and really ready for the senior fray.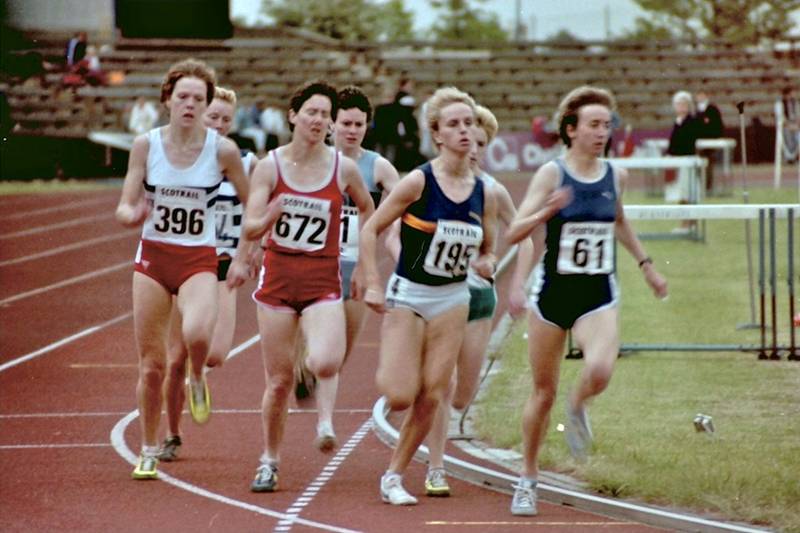 SWAAA Championships, 1984, Meadowbank: young Karen in blue behind 672.   Leader – Carol Sharp
The women's rankings for the 1986 were only published to a depth of five deep – sometimes not even that – and Karen only appeared in the 1500m list at number five with 4:18.72 behind Yvonne Murray, Chris Whittinghame Lynne McDougall and Liz Lynch.  She had however been third in the WAAA indoor 800m at Cosford in 2:06.35 behind Kirsty McDermott and Helen Thorpe.   In 1987, she repeated the performance with third in the WAAA Indoor 800 in 2:06.06 behind Janet Prictoe and Lorraine Baker, and then on 15th March at Cosford she turned in a 1000m in 2:44:45 which still places her eighteenth in Britain for the distance indoors.  . The UK Championships was limited to British entries and in 1987 it was held early season in Derby.   Karen did well here too finishing third in the 1500m in 4:17.04 behind Bev Nicholson and Shireen Bailey. On 14th June in Mechelen in Belgium, Karen raced to a 4:13.7  1500m which has her twenty second in the British All-Time Under 23 rankings.   1987 however was also the year when Karen won her first SWAAA 1500m.   The report in 'Scotland's Runner' read as follows: "Karen Hutcheson led from the start with an even paced 66.54 first lap and a time of 3:04.75 at the bell.   Behind her, a slow-starting Lynne McDougall fought back, closed on Jill Hunter and passed her on the last bend, to take second, but victory was Hutcheson's in a personal best of 4:14.04.   Pleased to be champion but disappointed that neither Liz Lynch nor Yvonne Murray had been there to help her to a to a faster time."       Result:  1.  Karen Hutcheson  4:14.04;  2.  Lynne McDougall    4:20.47;  3.  Jill Hunter   4:21.24   with Karen MacLeod and Violet Blair close up in fourth and fifth.     In the ranking lists at the end of the year, Karen appeared in the 1500m with 4:13.07 which placed her fourth,  the Mile with 4:35.24 and the 3000m with 9:01.46 and she was third in both of these as well.   In front of her in the 1500 were Yvonne, Liz and Lynne, and in the Mile and 3000m it was Liz and Yvonne!    By now she was running for Berry Hill Mansfield.
In the 1988  SWAAA 1500m championships Karen went in as defending champion against Lynne McIntyre whom she had beaten by six seconds the year before.   The race is described in 'Scotland's Runner' as follows: "Lynne McIntyre, showing some welcome signs of returning to form, relieved Karen Hutcheson of her 1500m title after the duo dropped Christine Whittingham about 700m from home.   In the end McIntyre won comfortably putting in a sub-66 second last lap to pull clear."   Result: 1.   L McIntyre   4:13.99;  2.  K Hutcheson  4:18.06;   3. C Whittingham  4:22.67.   At the end of the summer season, Karen was ranked in both 800m and 1500m.   In the 8700m she was fourth with 2:05.46 behind Yvonne Murray, Chris Whittingham and Lynne McIntyre but ahead of internationalists Sue Bevan, Liz McColgan and Carol-Ann Grey.    In the 1500m she was fifth with 4:15.85.   The list was headed by Yvonne (4:06.34), Liz, Lynne and Christine with Anglos Laura Wright and Sue Bevan immediately behind her.  It really was a very good time for Scottish women's middle distance running.
January 1990 was of course Commonwealth Games year and all Scots athletes had set their sites on competing in Auckland, New Zealand at the start of season 1989.   Karen was no exception and she started 1989 with a win in the SWAAA Indoors 800m in the fine time of 2:06.32..   Doug's report in 'Scotland's Runner' said "A further class run was the 2:06.32 victory by Anglo Karen Hutcheson who the previous week had won the Omron Games 1500m at Cosford."    She returned to the Kelvin Hall to represent GB against West Germany where she won in 4:13.52 which was a Scottish indoor native record.   Doug's report read: "One of the best contests was the women's 1500m, where Karen Hutcheson  the former Pitreavie runner, now based in Mansefield, had revenge over Nicky Morris who had beaten her for the Omron Games title at Cosford.   Hutcheson won by just 0.9 of a second which, when the SWAAA get around to formalising such matters, should presumably be recognised as a native record.   The 5'4″ powerhouse went on to beat Lynne McIntyre for the 1500m crown at the AAA/WAAA Championships a week later, the only Scot to win a title.   With it Hutcheson gained European Indoor selection."    Then on 19th February at Den Haag in The Netherlands, she ran 4:10.76 where she was out of the first three.   At the end of the indoor season  Karen appeared in two lists: the 800 where she led all the rest with 2:05.71 and the 1500 where she was second (behind Liz Lynch) with the 4:10.76.
Summer 1989 saw her finish second in the short-lived UK Championships at 3000m behind Liz Lynch in 9:00.61.  On 18th June she raced over in Sittard in the Netherlands she ran 2:04.84.   In the Scottish Championships at Crown Point in Glasgow she had a terrific race with Lynne McIntyre of Glasgow AC and the report on the race in 'Scotland's Runner' read: "This was clearly a two horse race as Lynne McIntyre and defending champion Karen Hutcheson left the pack early to take on a duel of their own.    They set up a fast pace and constantly increased the gap between themselves and the rest of the field.   The two stayed together into the final lap, the split time at that point being 3:02.73.   With 350 to go, Lynne started to pull away from Karen and started her long sprint for home.   Karen was unable to respond to this sudden burst and at the end of the race there was about 20m between them.   Lynne's time of 4:08. 14 beat her own best championship performance by over two seconds and was within the Commonwealth Games qualifying standard of 4:08.50."   Karen's time was 4:12.26.        In the ranking lists published the following month, Karen was third in the 3000m behind Yvonne and Liz.   The relative times were 8:38.51, 8:44.93 and 9:00.41.   Next was another Anglo, Laura Adam on 9:07.61.  (She was also ranked third in the 800m with 2:04.94 and third in the 1500 with 4:11.33)   The qualifying time for the 3000m  in the Commonwealth Games in Auckland was 9:00.00.   After the usual wrangling over selection procedures and priorities, Karen was picked for the Scottish team.    Selected without having done the actual qualifying time put added pressure on Karen but the presence of  two of her long time rivals and friends in the same event must have had some calming effect, however slight.   Like most Scots I watched the race unfold on television and the excitement grew as the race went on and the three Scots led the field for several laps but let Doug Gillon tell the story.   The report that follows is from the 'Glasgow Herald' of 29th January 1990.
"For five glorious laps of the Mount Smart Stadium here last night three petite Scottish lasses led the Commonwealth Games 3000m final.   It looked for a while as if Liz McColgan, Yvonne Murray and Karen Hutcheson might pull off a unique medal monopoly for Scotland.   But in the end the slim blue line cracked, succumbing to their fatal flaw, lack of finishing speed, as Canada's Angela Chalmers sprinted past to clain the gold.   Murray, the Olympic bronze medallist and last year's Europa and World Cup champion at the distance, had been good enough to outsprint Chalmers over  1500m last summer in Brussels, but was passed today in the final 40 metres with McColgan having to battle with Hutcheson for the bronze.   But the Scots have still got another shot at gold.   McColgan is adamant that she still has every chance of winning the 10000m on Friday, while Murray is due to run the 1500m heats earlier on the same day.   'After a run this evening we'll know whether Yvonne has recovered enough to compete in the 1500m," said coach Tommy Boyle this morning.   In that race the ESPC woman would face being outsprinted by Chalmers again.  
Last night's race was less than 200 metres old when McColgan squirmed from the pack with a muttered oath audible to her friend and rival, Murray.    Already McColgan had detected that the race could play into the hands of the fast finishers.   The Dundee Hawkhill Harrier swooped to the front and, after a sluggish 36.4-second  opening 200 metres, reeled off laps of 67 seconds, 70, 71, 71, 71.   In line astern the other Scots followed but could not dislodge the menacing figure of Chalmers.   McColgan led through 1000m in 2:53.98.   Had she maintained that pace the outcome might have been different but she reached 2000m in 5:52.43, easing the pressure on the Canadian, who had shown her hand with a fast 800m victory over Murray on the same track the previous weekend.   With exactly two laps left, Murray surged clear, jettisoning her two compatriots with a 32.5-second 200m but she could not sustain that momentum and Chalmers clung on delaying her own challenge until the final 80 metres before winning in a Games record time of 8:38.38.   It was eight seconds faster than she had ever run before.
Murray clocked 8:39.46, with McColgan taking the bronze in 8:47.66.   But perhaps the gutsiest performance of all was by Fifer Hutcheson, selected despite not having achieved the qualifying standard of 9:00.0.   She passed McColgan with 530 metres left in a bid to win the bronze medal but was outkicked in the end by McColgan.   The smallest of the Scots hung on to record 8:48.72 – 12 seconds faster than she had ever run in her life.   Murray said she had run 'exactly the way we had planned, I knew all about Angela's speed but she ran very well.   I had intended hanging on to Liz, but hoped she would push it more and we might have dropped the Canadian.'.   On a windy night with a hint of drizzle, the conditions did not favour McColgan.   'The weather was against my tactics,' she agreed.   'If it had been less windy it might have paid off.   It was very hard to front-run.   But I don't like jogging along, I'd rather race.    I've been running tired for a few days – there's nothing wrong, but the change of climate from Australia to here may have told on my body.   I'm not too happy about the run because I believed I could win.    But it has blown the cobwebs away for the 10000m on Friday.'
She reprimanded an intrusive Kiwi scribe who rudely criticised her race plan.   Told that he tactics were all wrong, she replied, 'How would you know?   Have you run in any races?'   Asked if she still thought she could win the 10000m against the New Zealanders the Olympic silver medallist said, 'Yes because I'm better than them.'"
I've quoted the article in full mainly because it's a good article with an excellent account of the race but also because of the comments from Yvonne and Liz.   Liz went on to win the 10000m on Friday from Jill Hunter of England by 10 seconds (32:23.56 to 32:33.21).   Yvonne was fourth in the final of the 1500m in 4:09.54 to Angela Chalmers's winning 4:08.41.    With Lynne McDougall fifth in 4:09.75, there were five in 1.34 seconds!!!    Karen also ran in the 1500 and was tenth in the final in 4:13.77.  The Games run was at the very start of the year and she ran well for the rest of 1990.  Immediately on her return,  Karen won the SWAAA indoor 3000m in 9:23.59.    That year she had personal best times of 2:09.2 for 800 (seventh in Scotland), 4:10.28 for 1500m (fourth, behind Yvonne, Liz and Lynne) and of course the 3000m at the Games was a huge pb at 3000m.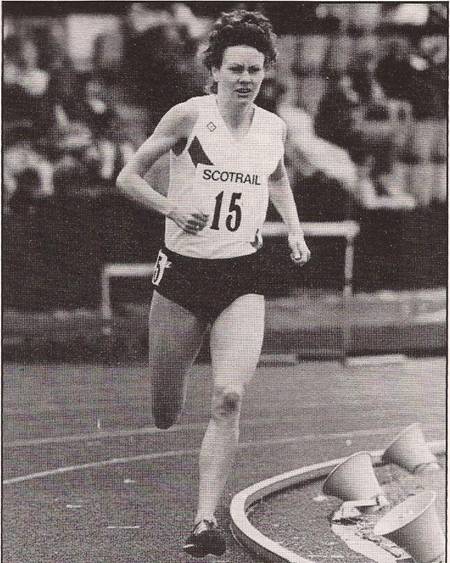 1991 must have been a kind of anti-climax after the wonderful year that had been 1990 but there were good runs nevertheless.  She was third in the UK Championships behind Liz Lynch and Jill Hunter in 9:11.66.  As for times, she ran 800 in 2:10.1 ranked her fifth in the country, 4:12.97 placed second of the country's 1500m runners and 9:02.22 saw her third fastest Scot over 3000m.   Karen started 1992 with a win in the WAAA indoor 3000m in 9:11.99 ahead of Sonia McGeorge and Zara Hyde.   Best performances from Karen that summer were a 1500m in the WAAA's at Sheffield where she was fifth in Heat 2 in 4:21.91 in June, 4:32.85 for One Mile when she finished sixth at Bordeaux on 2nd February which ranked third in Scotland   and    9:07.36 for 3000m when she won at Walnut, USA, on 17th April which was fifth fastest time by a Scot for the distance.
In 1993 she had become Karen Hargrave and appeared in two lists with very good times recorded indoors.   In the 1500m she ran 4:22.05 at the annual international meeting at Lievin in France on 28th February where she was second in the race and ranked top Scot indoors  and second over the whole year.   Up to 3000m where she was ranked at second indoors and fourth for the entire year with her time of 9:24.77 which she ran in Kelvin Hal on 30th January.   Karen was still running at a very high level.     Unfortunately she did not appear in the Scottish rankings for 1994 and then when she did appear in 1995 it was noted in the Annual Yearbook that "Karen Hargrave (formerly Hutcheson) now married and living in France recorded five 1500m runs below 4:25 and got within six seconds of her 1989 best."   Details:    4:15.82     Paris     22nd July;     4:18.36     Paris     21st July;     4:21.03     Viry-Chatillon    16th July;     4:22.78     Beaupreau   3rd June;     4:24.43    Nantes     21st May.    These were five of the top eight times by a Scot and the best put her in second place in the rankings.
In 1995, running in the colours of Nantes, Karen was ranked in the 3000m but not in the 1500m.   Ranked at the end of the season as third individual, she had four of the top 9 Scottish times with:   9:25.4 at Crystal Palace on 27th August where she finished seventh; 9:27.6 at Nantes on 26th May where she was first; 9:31.3 at Beaupreau on 8th April where she was first again; and 9:39.35 at Cherbourg on 7th May where was again first finisher.   In 1996 the recorded marks in the Yearbook are all indoors – 4:25.29 at 1500m and 9:37.33 for 3000m at Bordeaux on 13th January and both were winning times.  Karen ran another double at Lievin on 4th February when she was third in the 1500m in 4:26.90 and second in the 3000m in 9:37.33.   In rankings terms she was third Scot in the 1500 and fourth in the 3000m at the end of 1996.   Her last year of running for Nantes (1997) she was seventh best Scot over 1500m with her best time of 4:26.35 at Fort-de-France on 5th July; she also recorded 4:27.46 in Nogent-sur-Oise on 16th February.   There was not mention of Karen in Scotland in 1998 but in 1999 she appeared – still running in France but for the Roche-sur-Yon Club and was fifth ranked with 9:45.72 at Antony on 23rd May.   One of the fascinating things about this ranking is that the old guard of Murray, McColgan, McIntyre and company had given way to Haining, Skorupska, Fairweather and Fagan.   None of the former were still in the rankings.   Karen next appeared in the Scottish rankings in 2001 as a V35 running 4:48.95 at Angers on 20th February – others in the 1500m lists were Butler, Scott, Parkinson-Ovens and Palmer.   Where Lynne McIntyre and Liz McColgan were running almost entirely on the roads, Karen was still speeding round the track, albeit different tracks against different faces across the Channel.
The trail goes cold at this point and she does not reappear until 2007 although the results make it clear that there probably was not a cessation of activity on her part.   Her most recent appearances according to Power of 10 is in 2007 when there are times of 4:51.71 in Albi in France in March where she was second in the Championats Nationaux Interclubs N1B, 10K at Morlaix in France on 28th October when she ran 37:00 to finish seventh and a half marathon at Pezenas, also in France where her time of 84:28 placed her twenty third.   As recently as June 2008 she recorded 36:21 for a 10K on the road in France at the age of 43.
Karen is undoubtedly a talented athlete who in the late 80's and early 90's was among the very best Scotland has produced.  Her best recorded times for all distances are below.
| | | | | | | |
| --- | --- | --- | --- | --- | --- | --- |
| Event | Time | Year | | Event | Time | Year |
| 400 | 58.88 | 1982 | | 2000m | 5:52.6 | 1990 |
| 600 i | 1:31.3 | 1986 | | 3000m | 8:48.72 | 1990 |
| 600 | 1:34.4 | 1986 | | 5000m | 16:26.65 | 1996 |
| 800 | 2:04.84 | 1989 | | 10000m Road | 34:05 | 1995 |
| 1000 | 2:43.78 | 1987 | | 15000m Road | 54:45 | 1999 |
| 1500 | 4:09.46 | 1989 | | Half Marathon | 84:28 | 2007 |
| Mile | 428.8 | 1989 | | Ekiden | DNF | 1992 |