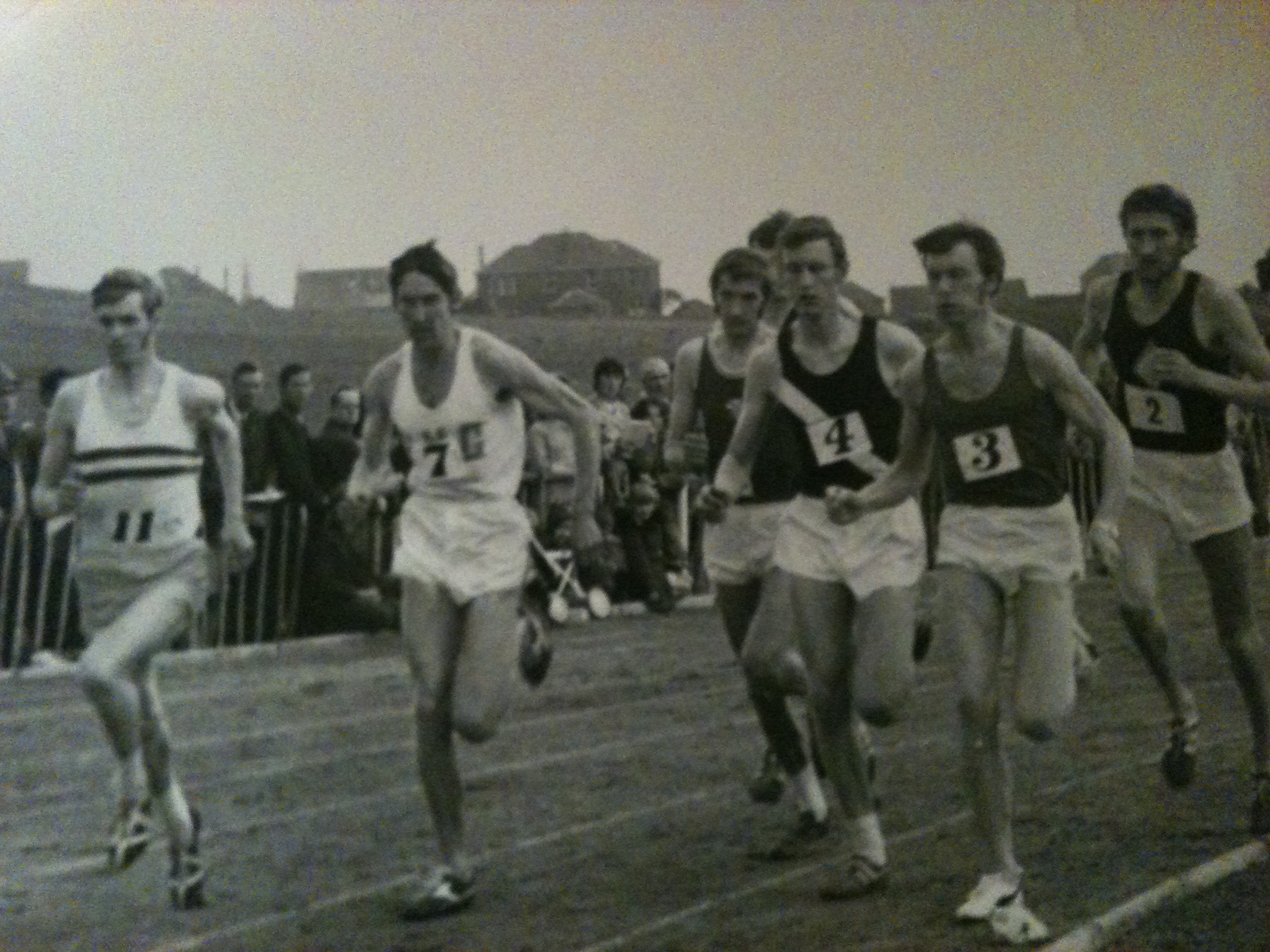 Ron McDonald (4) at Airdrie Highland Games with Hugh Barrow (7), Dick Wedlock (half hidden behind Ron) and Harry Gorman (2).
Ronald MacDonald was born on the 7th of November 1952. He was an athlete of enormous talent but suffered many injuries. Nevertheless he produced fine performances on track, country and road, from his days as a Youth in 1969 until 1982. He was an invaluable member of two clubs, Monkland Harriers and Clyde Valley AC, and ran for Scotland many times. His career will be dealt with in the following order: Cross-Country; Road; and finally Track.
In 1970, Ronnie MacDonald defeated his friend and rival Jim Brown by five seconds to win the Midland District Youths CC Championships and Monkland Harriers won the team award. He followed this up by an even closer victory in the National Youths CC, only four seconds in front of Jim Brown and Lawrie Spence. Monkland were team victors once again. Subsequently, Ron was 13th and a team counter for Scotland in the ICCU Junior CC International at Vichy, France.
Ronnie's success continued in 1971, when he only just managed to win the National Junior CC, sharing the winning time with Jim Brown! Both young men were coached by Tom Callaghan. However Ronnie's shorter but ferociously determined rival Jim was gaining in stamina, winning the Midland District Junior and Senior CC three years in a row between 1971 and 1973; as well as triumphing in the National Junior in 1972 and 1973, when Monkland won the team title both times. When MacDonald and Brown battled against each other in the National Junior, they ran absolutely flat out, creating an enthralling contest for spectators. In the International Junior CC at San Sebastian, Spain, after leading for most of the way, Jim Brown was outsprinted and finished third, with Ian Gilmour 13th and Ronnie MacDonald 14th. Scotland won a rare silver medal (behind the Auld Enemy). This was the best Junior performance for seven years.
In 1972, Ronnie represented Scotland in Spain, along with experienced team-mates Lachie Stewart and Dick Wedlock. Then Ron was third in the National Junior, behind Jim Brown and Paul Bannon. Once more he was selected for the International Junior CC, this time at Cambridge , where he was 23rd, with Jim Brown second and Lawrie Reilly 20th. Scotland were fifth team.
In late January 1973, Ronnie MacDonald was recovering from a hip injury. He restarted training on New Year's Day and built up to 50 miles a week, all on grass. In the Scottish Inter-Counties CC Championship at Irvine, according to reporter Ron Marshall, "he nursed himself through the field from the half-way point and steadily drew up to join the front-runners. His third place (21 seconds behind Dunbartonshire's Colin Youngson, eleven seconds behind Ayrshire's John Ferguson and just in front of Dunbartonshire's Hugh Barrow) was a satisfactory conclusion." Ronnie also led the Lanarkshire team to victory, three points in front of Dunbartonshire. A month later, Jim Brown retained his National Junior title, with Ronnie fourth and Monkland won the team. This year was the fourth and final time Ronnie MacDonald ran the International Junior CC, only on this occasion the Championship was the inaugural IAAF World Junior CC, which took place at Waregem Racecourse, outside Ghent, Holland. Jim Brown succeeded in winning a marvellous gold medal and his team-mate Ronnie was a counter yet again in 13th position, with Davie McMeekin and Lawrie Spence the other counters in 17th and 27th places. Only Nat Muir and Ronnie MacDonald have run four consecutive International Junior CC Championships for Scotland.
Ron MacDonald excelled in his first year racing in the 1974 Senior National CC, when on his local course, Drumpellier Park in Coatbridge, he finished third, behind Jim Brown and Andy McKean. Ron was of course selected for the World Senior CC at Monza, Italy, and ended up second Scot (31st), well behind Jim (4th) but gaining revenge on Andy (46th). Scotland was seventh from 15 teams. Then, in late 1974, Ron won the annual Inter-Area CC match, with his Scottish team-mates packing well to defeat the North, South and Midlands. Then in November 1974, the newly-formed Clyde Valley AC triumphed over the two main Edinburgh clubs in the first-ever SCCU Relay Championships at Bellahouston Park. The winning team was: Roy Baillie, Jim Brown, John Graham and Ron MacDonald.
For some time after that, Ron MacDonald was frequently injured, but he showed signs of a cross-country comeback in 1980, when we finished 11th in the National CC. His team won silver. Later that year, he was a member of the Clyde Valley outfit that came second in the National CC Relay. However he came right back to top form in 1982, with fourth in the National (with Jim Brown sixth and their team second); followed by a final run for Scotland in the World CC Championship in Rome, when he was fourth Scot (95th), behind Nat Muir (26th), Allister Hutton (30th) and John Robson (85th), but in front of Fraser Clyne, Alastair Douglas, Lawrie Spence and Ed Stewart.
On the road, Ron MacDonald twice won the prestigious 5-mile Nigel Barge Road Race at Maryhill, just after New Year: in 1971, at the tender age of 18, beating Commonwealth Games 10,000m representative Dick Wedlock by 3 seconds, to record 22 minutes 4 seconds. In 1982 he repeated the feat, this time beating Alastair Douglas by five seconds.
On New Year's Eve 1974, Ian Stewart defeated a strong field to win the Madrid 'Round the Houses' Road Race, and with the backing of Ron MacDonald (4th), Bill Mullett (6th) and Nat Muir (7th), Scotland won the team prize, from Portugal and Spain.
Ron first ran the Edinburgh to Glasgow Relay for Monkland Harriers when they finished ninth in 1971. Barely 19 years of age, he was second-fastest on the classy Stage Two, only 25 seconds behind Commonwealth 10,000m champion Lachie Stewart. In 1973, Monkland improved by one place, with Ronnie tackling the longest Stage Six, where he was 4th fastest behind Andy McKean, Dave Logue and Ian Stewart.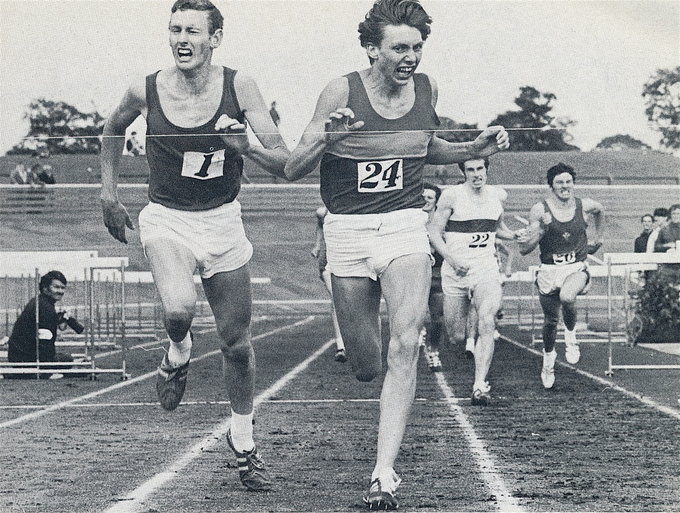 Ronnie just beaten by Dave Moorcroft in the AAA's Junior Championship, 1971
Clyde Valley AC won bronze in 1974, with Ron second-fastest on Stage Two, behind Lawrie Reilly. Another third place in the fastest-ever year of 1975. Ron was second-fastest, only ten seconds behind Dave Logue, on Stage Six. In 1976, Clyde Valley were fifth, with Ron less-fit but tackling the Eighth Stage.
1979 saw Clyde Valley winning silver in the inaugural Scottish Six-Stage Road Relay at Strathclyde Park. They repeated the feat in 1980, both times being denied victory only by the last leg heroics of Edinburgh Southern's finest runner, Allister Hutton. The Clyde Valley men at this time included Ron, Jim, Joe Small, Brian McSloy, John Graham, Ian Gilmour, Peter Fox and Colin Farquharson – an extremely talented bunch, indeed.
In 1980 Clyde Valley succeeded in winning gold in Scotland's favourite road relay. Ron moved his team up three places on Stage Two, sharing second-fastest on Stage Two with Ian Elliot, only 14 seconds behind Nat Muir. They were second in 1981, with Ron fastest on Stage Four. His swansong was in 1983, when his team won bronze, with Ron gaining two places on Stage Two.
Ron MacDonald's career in cross-country and road-running is very impressive. However his greatest successes came on the track, particularly over 1500m and the magic mile. As a Youth in 1969, Ronnie won the West District 800m 1.59.0 in front of list-topper Davie McMeekin. He won both the Scottish Schools and the SAAA Youths 1500m in front of Frank Clement and recorded a season's best of 4.01.4.
A Junior in 1970, he ran 1.59.3 for an early season 800m but his focus was on 1500m. He won the SAAA Championship in a close finish with John Ross, with Frank third. On the first of August, Ronnie MacDonald also won the AAA Junior 1500m at Kirkby, Liverpool, in a PB of 3.50.5. He was deservedly awarded GB Junior colours for the European title meet in Paris, where he qualified for the final. His stamina was also evident, with 3000m (8.39.8); and 5000m (14.48.2), after easily winning the Scottish Schools title. He set his 5000m PB when coming fourth in the Schools' International in Santry, Dublin on 13th July.
Then, in 1971, Ronnie reduced his 800m best to 1.56.8 and subsequently won the SAAA Junior 1500m (3.49.5) after a close finish with Frank Clement. However Craig Douglas battled to restrict him to silver in the SAAA Senior 1500m. Ronnie's new PB was set at Hawyards Park on 5th June, with a winning 3.46.0. This was set when pipping Adrian Weatherhead in a 4.04.0 mile victory. A fortnight later, Adrian ran a mile in 3.58.5! Ronnie topped the Scottish Junior 3000m list with 8.07.2. He picked up a bronze, one place behind Jim Brown, in the AAA Junior event. Ronnie retained his Scottish Schools 5000m title in a solo 14.24.6.
In 1972, Ron MacDonald became a Senior on the track. For 800m, he recorded 1.54.0. In addition he won the West District title. He made real progress in his favourite 1500, winning a slow SAAA Senior Championship after a terrific sprint with Craig Douglas and Jim Dingwall. He produced five times below 3.48 (with a best of 3.43.0 to reach the AAA final at Crystal Palace, where he finished 8th (3.44.6).
After recovering from a hip injury, Ron produced some good late season performances between the first of September and the sixth of October: 5000m in 14.35.2 and 1500m in 3.46.5 for two wins at Meadowbank; and a mile in 4.02.5 9 (fifth place at Crystal Palace).
In 1974 he showed better sustained form. On 18th May at Westerlands, Ron MacDonald won an 800m in 1.52.6. He finished second in the Scottish 1500m ranking lists (3.43.1) behind Frank Clement; and also picked up a silver medal in the SAAA event at Meadowbank on 22nd June, with only Klaus-Peter Justus of the GDR in front. Ron's fastest 1500m of the season took place at Crystal Palace, a track on which he always seemed to run well. The yearbook goes on to state: "Ron MacDonald joined the select band of sub-8 minute 3000m runners, when on 20th May at Crystal Palace, he won an early season race in the fast time of 7.55.4, defeating among other stars David Black, Commonwealth silver and bronze medallist."
1975 was another successful season. Ron MacDonald won silver again in the SAAA 1500m on 28th June at Meadowbank, behind Lawrie Spence. Then Ron produced 3.46.0 on 1st August at Crystal Palace. Then he gained revenge on Lawrie in Reykjavik on 19th August, by winning the 1500m (3.49.9) in a Scotland versus Iceland International Match. An odd feature of this competition was that Allan Wells, future 1980 Olympic gold and silver medal-winning sprinter, finished third in the long jump and ran the anchor leg for the winning 4x400m relay team!
Ron's good form continued. On 23rd August he ran a mile in 4.04.1. On 30th August he broke the four-minute barrier at Stretford with 3.59.7. Then on September 1st at Gateshead, he won the mile in his best-ever time of 3.59.1. Ron rounded off the season with another win: 8.08.4 for 3000m on the 6th of September at his home track in Coatbridge, just in front of Jim Brown. I do not have yearbooks for the 1976 and 1980 seasons, but Ron seems to have given up track running, since he does not appear in the ranking lists for 1977, 1978, 1979 and 1981. However he did run 8.03.9 in a winning 3000m at Haringey on the 7th of July 1982.
Eventually the injuries became too frequent for Ron MacDonald to compete at a high level. However this article has made clear how many fine races he ran. Undoubtedly he was unlucky not to make the team for the Commonwealth or European Games, since at his talented best he would have been very competitive with the stars, especially over 1500m.