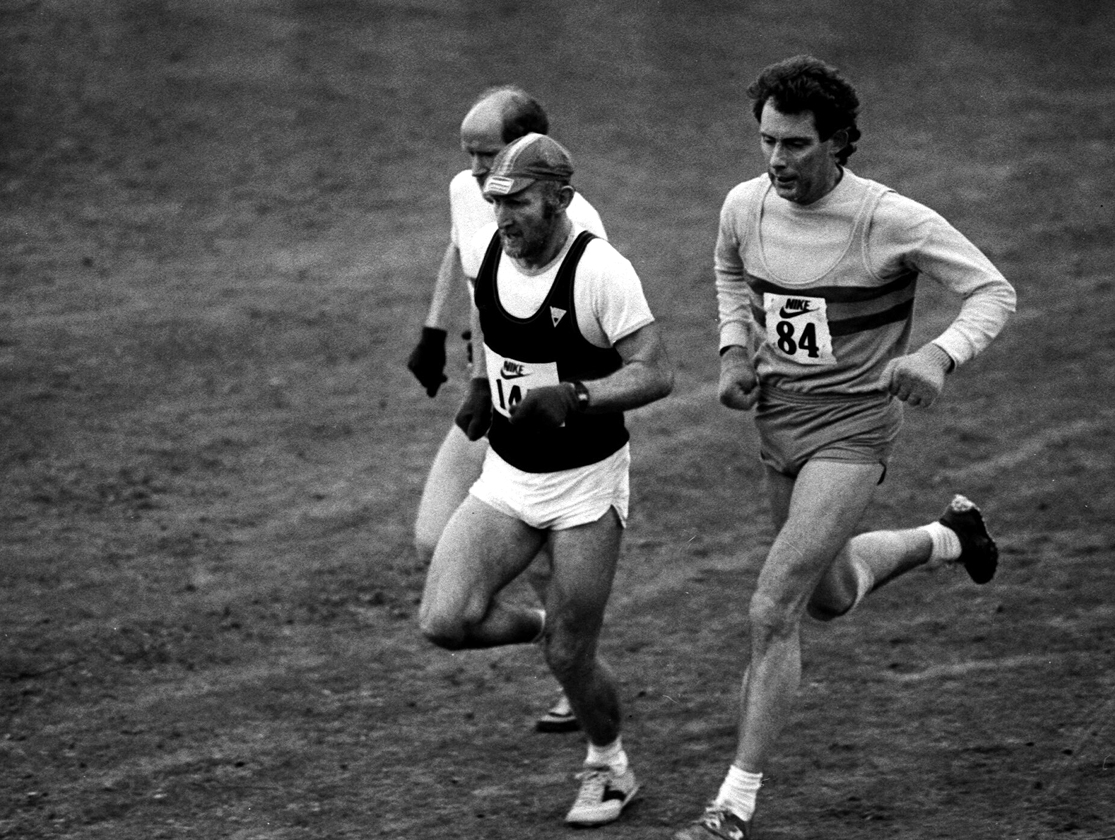 Dick Hodelet (84) in the vets cross-country, with Allan Adams and Donald Ritchie
Richard Theodoor Hodelet (born 13/03/1942 in Rothesay) won the Scottish 880 yards Championship in 1964 and represented his country on the track. He was also a good all-round distance runner, particularly as a veteran.
Dick's personal bests included: 10.2 (100 yards), 49.0 (440 yards); 1.50.4 (880 yards); 3.58.8 (1500m). His fastest 880 yards broke Jack Boyd's Scottish Native record, in the annual East versus West match at Pitreavie on 8th June 1966. Between 1964 and 1968, in the SAAA 880 yards he won one gold medal and three silver medals, after tremendous battles against the likes of Graeme Grant, Mike Maclean and Duncan Middleton. These four "contributed substantially to the advancement of the event in Scotland" according to John Keddie in his SAAA Centenary publication "Scottish Athletics".
Dick Hodelet is a life member of Greenock Glenpark Harriers (founded 1895) and in 2007 the Greenock Telegraph printed the following article. "One of Scotland's finest athletes has been inducted into an exclusive hall of fame: Wyndham Halswelle, the 1908 Olympic 400 metres Champion.   One Scottish record set by Halswelle a hundred years ago was beaten at Westerlands by Greenock runner Dick Hodelet in 1968 – and his record still stands to this day. (This was the Scottish Native Record for 600 yards. Halswelle ran 71.8 in 1906; Hodelet 71.5.)    Dick, a member of Glenpark for 46 years, and treasurer for 32 of them, still runs every day. And he is the over-40 record holder of a couple of times never beaten by local athletes – 48.7 seconds for 400 metres in Dublin and one minute 49.7 for 800 metres at Pitreavie, a Scottish record.   Dick was the last finance director at the former Inverclyde District Council. He is a long-standing stalwart of Greenock Glenpark Harriers and was the man behind Scotland's first mass marathon when he started the Inverclyde Folk Marathon in 1981."
 His GGH profile states that "Dick Hodelet was the winner of the most club championship titles in this famous club's history – a feat which is unlikely ever to be matched. (As well as numerous track titles, he won the club cross country championship an amazing ten times.) He has beaten world champions at his best, he still holds Scottish records over middle distance, and the dogged athlete has persevered, despite numerous injuries, to compete year after year, collecting titles in every age group he has competed in. A True Greenock Glenpark Harrier, Dick always insists that the club is called by its full name, never by the abbreviation."
 The Greenock Glenpark Harriers club records (updated April 2010) show that Dick Hodelet holds these marks at 100m, 200m, 400m, 800m and one mile.
When he turned 40 years of age, Dick Hodelet enjoyed several years of great success as a veteran. In 1984 he won the Scottish Veterans CC title, beating no less an opponent than the great Lachie Stewart. Dick won this prestigious race again in 1985, in front of Allan Adams and Bill Scally; and also finished third M45 in 1988. On the track he did even better in 1984, by breaking the Scottish Veterans Championship Best Performances for 1500m (4.11.01) and 5000m (15.17.7).
Nowadays, at the age of 70, Dick Hodelet continues to take part in the Glasgow Parkrun in Pollok Park.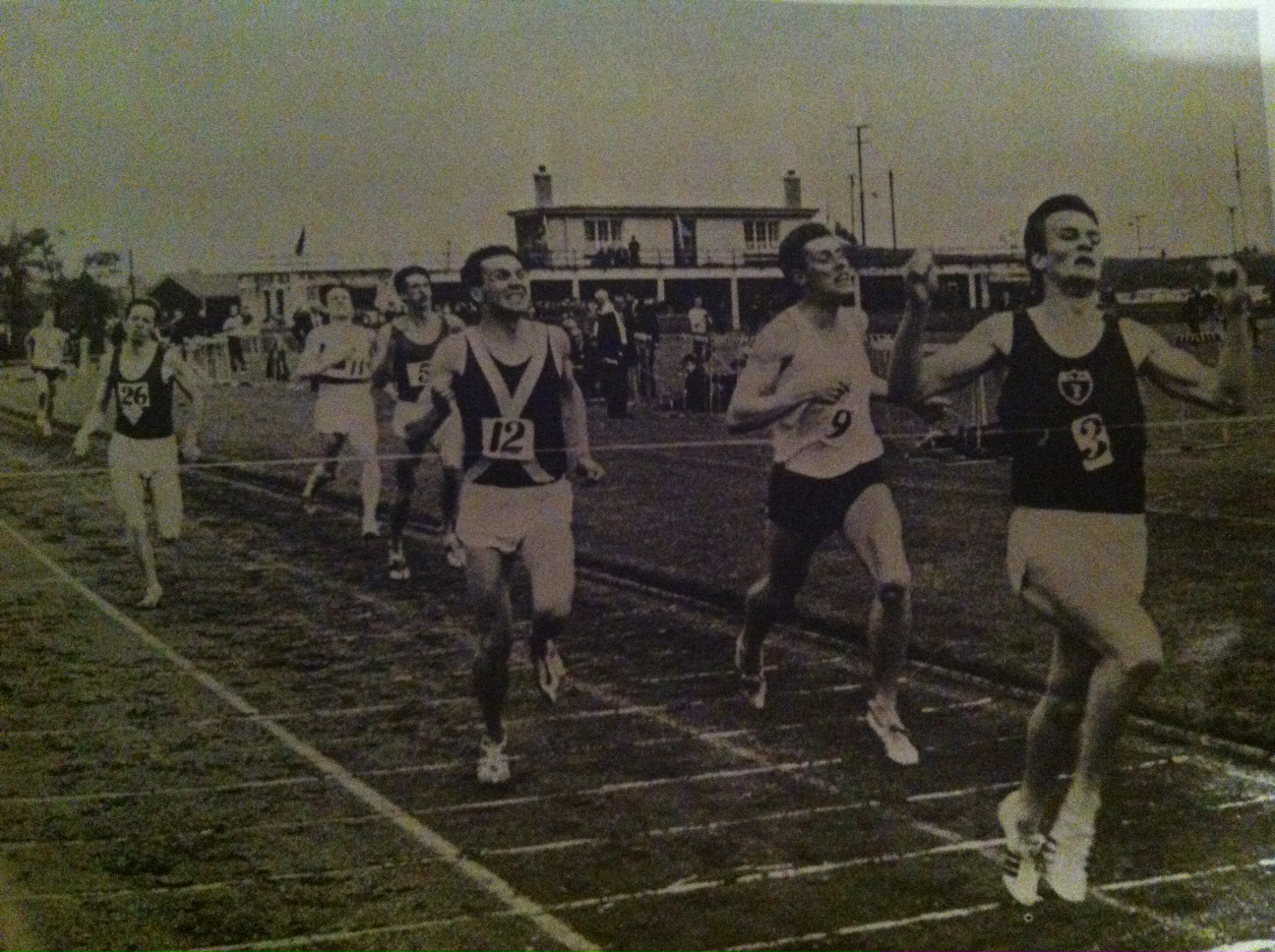 Dick (9) finishing second to Graeme Grant (Dumbarton) and just ahead of Mike McLean (Bellahouston)
That's Colin's profile of Dick Hodelet and what follows is Dick's own profile as printed in the local newspaper after he was asked to look back at his career by Mark Pollard
No Bugles No Drums
 My remit from Mark in writing this article was to detail my most memorable achievements which might inspire the current generation of athletes to go onto bigger things. So with that in mind I make no apology for the following personal trip down memory lane! To allow for more meaningful comparisons with today's standards I have converted races run in yards to their metric equivalents using recognised factors.
I joined Greenock Glenpark Harriers from Auchmountain Harriers as an 18 year old in July 1960 after Auchmountain Harriers folded. Why Glenpark and not Wellpark? Well three of us walked over from Auchmountain's clubhouse in Carwood Street one sunny summer's evening and Orangefield was closer than Old Inverkip Road! I had some success with Auchmountain, winning the youth's cross country championship and the Renfrewshire junior 800 metre title on the track. For me, at that time, track running was the be all and end all in athletics. All other running was only a means to making me a better runner on the track.
In the winter of 1960/61 as a promising junior I was invited to a weekly Monday night training session in the gym at Stow College in Glasgow, run by the then Scottish National coach, Tony Chapman. It was here that I was introduced to circuit training and this helped me immensely by building up my upper body and generally conditioning my heart and lungs. Any winter that I skipped on the circuit training resulted in a poor track season the next year. Circuit training is maybe a bit out of fashion nowadays, but in my view anyone with pretensions to winning championships must make it part of their winter training regime.
To be honest I cannot really remember any formal coaching at Glenpark. I just went along with what the older guys were doing and they were probably doing what Bill Elder, the club secretary and coach told them to do. As I progressed I can remember the interval training sessions that Jim Spence set as having a big influence on my training. He came up with a lot of innovative and varied sessions which were very tough, remember there was no track at Ravenscraig at this time. We used the Long Dam, the Puggy Line and the dam at Thom Street for interval speed training.
Bill Elder, or Big Bill as he was known to all and sundry, enjoyed unprecedented success over three decades coaching a conveyor belt of talent gleaned from the local Boys' Brigade ranks where he was a leader in the East Congregational Church on the Bali Brae. Bill was a colossus of a man, whose own running career was cut short by two major accidents. He did not suffer fools gladly and if you were in his bad books he let you know it!
My big breakthrough year on the track was 1963 but it did not start off well. I was eliminated in the heats of the Scottish 800m at Westerlands at Anniesland Cross, a track that was to be the scene of some of my best races in the future. However three days later at the Glasgow Transport Sports at Helenvale, I ran a heat and a final of the 800m in 1m53secs within an hour. I felt that I was now getting somewhere. At the end of the season I beat Hugh Barrow, the Scottish boy wonder of the day who had broken the world mile record for a 16 year old, in an 800m at Anniesland.
As part of my CA training I had to do an academic year at Glasgow University and in 1964 Westerlands was now my home track and training centre along with the Stevenson Building gym where the dreaded circuit training was done! I had a good cross country season prior to the University track season starting in May. The Uni had matches all over the country every week and I would run up to 4 events in a match, as I just loved racing so much. No doubt if I had a coach he would have restricted the amount of races I was running. I ended up with season bests of 11.2s for 100m, 23.2s for 200m, 49.6s for 400m and 1m51.9s for 800m when I won the Scottish Championship at Meadowbank in a new Championship record. This was particularly pleasing as Englishmen were 2nd, 3rd and 4th!  I was also in the Uni relay team which broke the Scottish 4 x 400m relay record, running the third lap, passing the baton to one Menzies Campbell who is now the leader of the LibDems! The fastest 800m in the world in 1963 was run by an Irishman, Noel Carroll, who was studying at Villanova University. I beat him at an International at Ayr in July, (the Scottish weather was a great leveller!), and at the Heysel Stadium in Brussels in August. Later in the year he reached the semi final at the Tokyo Olympics. So I knew I was doing something right.
1965 was a poor track season as I had changed jobs in the winter which involved a lot of travelling every day, which cut back on the training, mainly the circuit training! However I managed to put up a spirited defence of my Scottish title, being just pipped by my great friend and rival Graeme Grant.   In 1966 I still did not have a coach, but now working in Glasgow I started training with Graeme at Westerlands. He was coached by John Anderson, the Scottish National coach, now best known as the referee on the TV show Gladiators. So effectively I was also being coached. John coached athletes to Commonwealth, European, World and Olympic medals. John's philosophy was simple. By the time February had arrived we changed from stamina to speed training. Speed was everything in our sessions. But we had to learn to run fast when we were tired, very tired. A typical session was 30 x 200m in 30 seconds with a 90 second rest. The real killer was 20 x 20 second sprints with a 75 second interval. As most sessions were done on the grass at Westerlands as straight runs you had to turn around and get back to the start and be ready to go again in the 75 seconds!
In June 1966 I ran 1m 49.7s for the 800m on a cinder track at Pitreavie breaking the Scottish National Record having gone through the 400 in 52.3s, then hanging on for grim death in the home straight to fight of a sprint finish from Mike McLean. John Anderson's sessions were paying off! I just missed selection for the Commonwealth Games in Jamaica. Scotland could only afford to send twelve athletes from a short leet of fifteen; I was one of the three who stayed at home! As a consolation Scotland sent a team to Reykjavik for a two day match against Iceland. I was in great form, winning three golds and a silver. I won the the 800m, 2nd in the 400m and was in the winning 4 x 400m relay and 4 x 100m relay teams. The sprint relay was the last event of the match and one of our runners took ill just prior to the start and I took his place. Not many runners can say they have competed for Scotland in the sprints and cross country!
I also ran my fastest ever 400m that year, running 48.7s in Dublin. The Irishman Noel Carroll also ran in this race and he was clearly worried about me as just prior to the start I saw him in conversation with the lane steward. Lanes were drawn by the steward offering each runner a choice of numbered sticks which were a bit like an ice lolly stick and turned over. Mr Carroll was first up and he picked the stick on the extreme left which lo and behold gave him the lane inside me!
1967 was another poor track season. I had a lot of injuries and was also studying for my final exams. As far as studying and training was concerned I always felt the one complemented the other. All work and no play as they say makes Jack a dull boy!
1968 track season started well when I broke the Scottish record for the rarely run 600 yards at an invitation event at Westerlands. My time of 1m11.6s broke the 1906 record of the Olympic gold medallist W G Halswelle and still stands today. This was also an Olympic year and I had run well at a trial in Birmingham beating some good guys who went onto the Olympics at Mexico City later in the year. I was invited to a subsequent Olympic trial but could not run as I came down with the 'flu two days before the race! Such is life.
In 1969 I went to work in Sierra Leone for two years. For many years the country had been dubbed the white man's grave due to malaria and the heat. I arrived in the February pretty fit as I had won the Glenpark nine miles cross country race the weekend prior to leaving. I had been in Freetown a couple of weeks and went along to a track meeting at Brookfield's Stadium to see if I could get a run. As the locals had never seen a white man walk fast in the heat and humidity never mind run I was a bit of a novelty!
 There were two events I could run in, the 100m and the mile, neither of which was my best event. As I had very little track work under my belt I decide to run the 100m as a warm up. The stadium was packed as the Prime Minister of Sierra Leone was in attendance. There was much laughter in the stand as I finished a poor third to a guy who won wearing a pair of winkle picker shoes! All of a sudden the milers were my best friends as they made sure I wouldn't miss the start of the mile! They were anticipating another beating of the newcomer. For the first two laps I thought they were going to be right as I struggled with the early pace. I started to feel better at the start of the last lap and going down the back straight I had caught the local hero and swept by him in the home straight to win by twenty yards. Well it would have been twenty yards but nobody else finished the race as the crowd swarmed around me at the finish! For some reason the Prime Minister, who had arrived in a cavalcade of Cadillacs, decided to leave at that point, the cavalcade creating a dust storm as it drove round the track at 100 mph before exiting the stadium! I had warmed up wearing a Greenock Glenpark tee shirt and for the rest of my time in Sierra Leone people would stop me in the street to shout, "Hello Greenock"!
I joined a club called the Coca Cola club which within a week of me joining mysteriously changed its' name to The Republicans! I competed in the Sierra Leone Track Championships that year winning the 400m and 800m and helped my club to four relay victories. I joined the Freetown Rugby Club to try and keep fit and won two Sierra Leonean caps for matches against Liberia. As long as no one tackled me, or I had to tackle anyone, I loved playing rugby, but one tackle on the brick hard ground usually made me hide for the rest of the game! An elderly English gentlemen at one of the games told me later that he had never seen anyone play so well and so badly in the same game!
 I was back in Greenock by 1971 and by that time my track career was winding down. I still enjoyed running and had success in road and cross country events. I won the Glenpark Cross Country championships sixteen times, finished third and first Briton in the World Vets 10K road championships in Perpignan, France in 1983. I also won the inaugural Scottish National Veteran Cross Country title at Falkirk in 1985. I beat Alistair Hutton to win the first leg of the Edinburgh to Glasgow Relay. Alistair later won the London Marathon. I am still running and racing enthusiastically to this day.
 So what have I learned about running and coaching? I would say that the people who win Olympic medals are those who were born with natural speed and then work as hard as those who don't have the natural ability and compensate with harder training. Unfortunately this latter group, in my opinion, will not win major races. I have also been asked why did I not do any coaching. The short answer is that I would not have been any good at it. It takes a long time for an athlete to mature into a winner, and I am afraid I didn't have that much patience! However I did put something back into the sport, having recently retired as the Glenpark Club Treasurer after thirty two years. I also started the Inverclyde Marathon in 1981 which resulted in a running boom in Inverclyde, This was the first mass marathon held in Scotland, the fruits of which are still evident by the amount of people still jogging in our streets today. I organised this race for six years.
 I hope this article does encourage today's crop of athletes to see what can be achieved by a local. But they must have confidence and self belief and the ability to train hard today and come out the next day and do it all again! And maybe they will also appreciate that the grumpy old guy who likes to get changed in the corner of the clubhouse by the radiator won some good races and ran some fast times in his day! My 400m and 800m times set in the 1960's have not been beaten by any local runner. That in many ways is indicative of the drop in standards not only locally but nationally and nothing would give me greater pleasure to see my times go by the board, but only if it was a Glenparker!
 Athletics is a great sport and I have been fortunate enough to be involved in it for most of my life. I still run with Jim Sheridan and Tommy Knight who were in Auchmountain with me over fifty years ago! That level of friendship is priceless.
 Running is simple. When I was younger a popular American coach's book was called "Run, Run, Run!"  That is the best advice I can give today. Oh, and don't forget the circuit training!