The Marathon Boom had really exploded in Scotland by now. At least eleven races were available in the eighties: Aberdeen, Dundee, Glasgow, Edinburgh, SAAA, Inverclyde, Lochaber, Black Isle, Caithness, Moray and Loch Rannoch. Those were the days!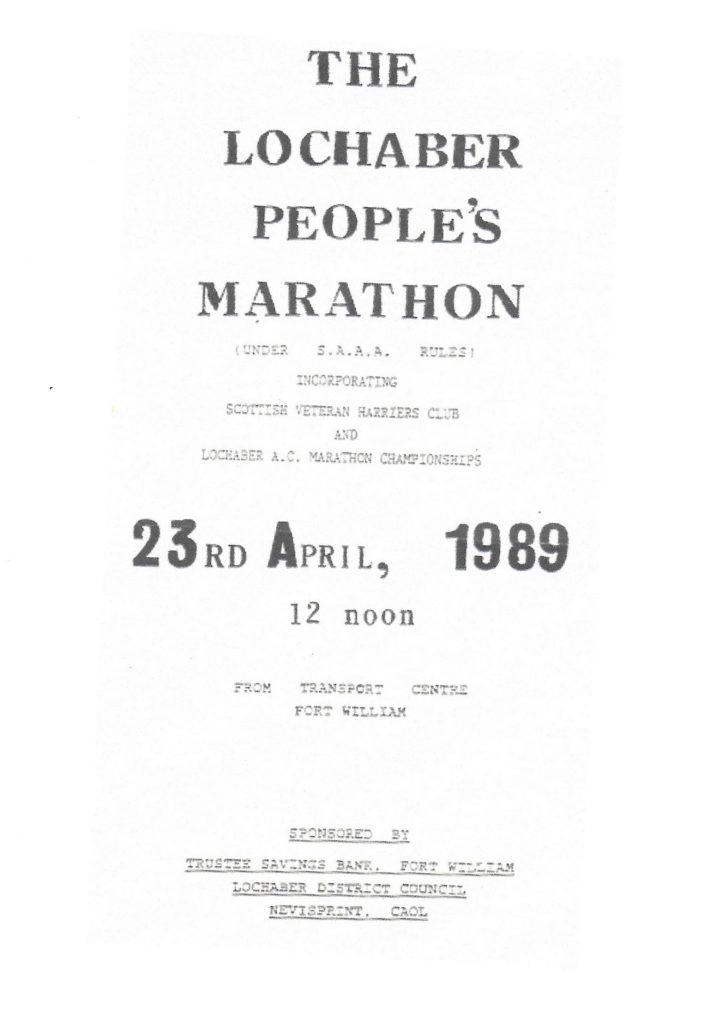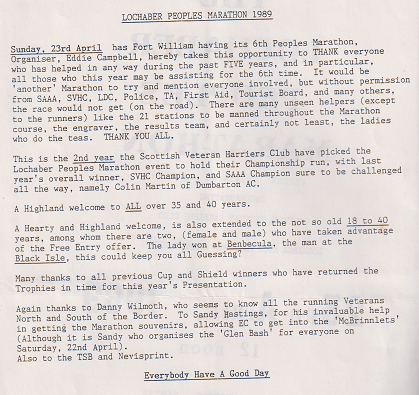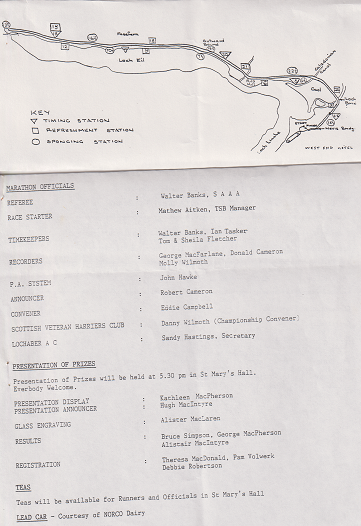 This was a very friendly, generous, well-organised event, with prizes sponsored by a wide range of local folk. There were awards for: first 12 finishers, first three females, three teams, first visitor, first local, youngest finisher, Lochaber AC members, first husband and wife – plus a tremendous amount of veteran prizes in every five year age group including W35, 40 and 45, plus M40. 45, 50, 55, 60 and 65.
The out and back route usually started with a short detour round some waterside streets, then cut back over Nevis Bridge, Lochy Bridge, Caol, then out along the A830 (Mallaig road) past Loch Eil, crossing the Caledonian Canal, passing Corpach, a Pulp Mill and Fassfern, before turning back around the 14-mile mark and returning to Fort William by the same way, before a sharp right turn into the finish near the Bus Station. It was definitely a flat course, but the wind coming off the loch often seemed to blow in your face both ways, which meant that no runner achieved a sub-2.20 time at the Lochaber Marathon. On the return journey especially, fine Highland scenery might be appreciated by the less-exhausted runners, with snow-topped Ben Nevis looming behind Fort William.
1984: Colin Martin (Dumbarton AAC) won the inaugural Lochaber Peoples Marathon at Fort William (in late April). He defeated a good field of over 300 competitors to establish a course record of 2.28.36. Walter Ryder (Morpeth Harriers), who kept up with Colin until the 14 miles mark, finished second and won the Veterans' prize in 2.32.47. Third was Roger Boswell (Lochaber) in 2.36.54. First Woman home was Lesley Kirkwood (Livingston) in 3.26.55. Christine Taylor (Glasgow) was second in 3.40.10 and Gay Anderson (Lochaber) third.
(Colin Martin was an excellent athlete with a wide range of ability who could cover events from 400m to cross-country to marathon, including the steeplechase. In 1973 and 1974, he ran for Scotland against Northern Ireland in two 11-mile road races.)
Allan Adams (Dumbarton AAC) recalls: "I had been recovering from an injury and was not race-fit, but decided to attempt the first six miles. Although a snowstorm developed, I was surprised to keep up with the pack, carried on, at 14 miles turned back (rounding three tyres and two cold marshals), and was still third at 21 miles, when I hit a very hard 'wall' and was completely out of blood sugar, yet managed to 'walk' the last five miles to finish around the 3 hour mark."
1985: Kay Dodson (Law and District) wrote: "Lochaber was always my favourite marathon. I loved the flat course along by Loch Eil and the organisation and local enthusiasm was second to none. I particularly remember the 1985 race. I had trained hard over the winter and was hoping I might break 3.10. I was delighted to run 3.08.44 (a course record) and to be first in the women's race. However, it was the weather that I remember best. It was very cold with a bitter wind and snowed for much of the race. My lasting memory is of a marshal clearing the snow off the 20-mile marker. The marshals and volunteers at the drink stations were the real heroes of the day. They must have been frozen but were cheerful as ever – but that was typical of the local enthusiasm for the event. Brian and our two children helped at one of the drink stations and they assured me it was very cold. I also remember meeting the legendary Eddie Campbell that day who was running in his Green Flash plimsolls. He wasn't one for fancy running shoes. What a great guy Eddie was. I am pretty sure that Helen Morton (Irvine AC) was second woman but I don't know who was third.
The men's race was won for the second successive time by Colin Martin (Dumbarton) in a new course record of 2.26.58. Second was Brian Carty (Shettleston – 2.29.06) and third Allan Adams (Dumbarton – 2.29.36). For a story of the race, see the photographs below, courtesy of Graham MacIndoe.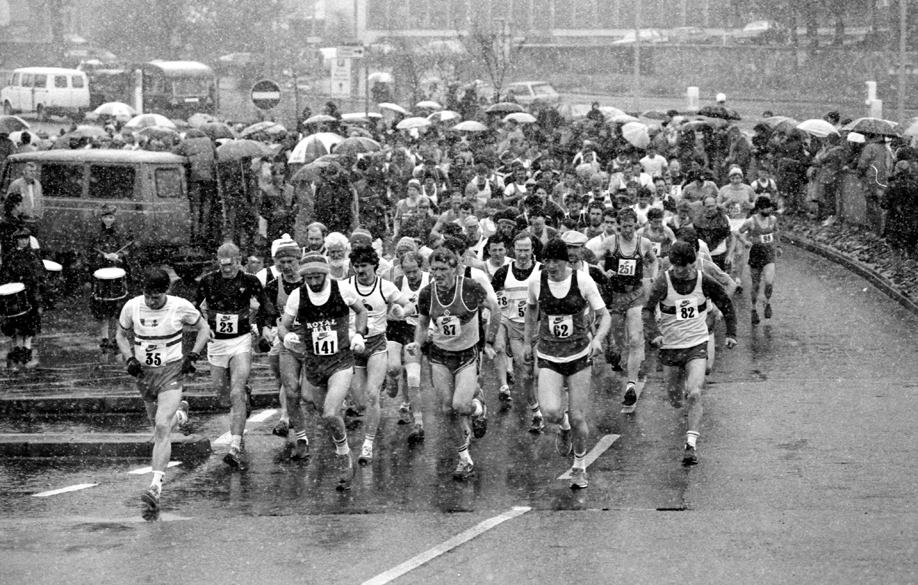 1985 Start. Alec Robertson Number 35 on the left.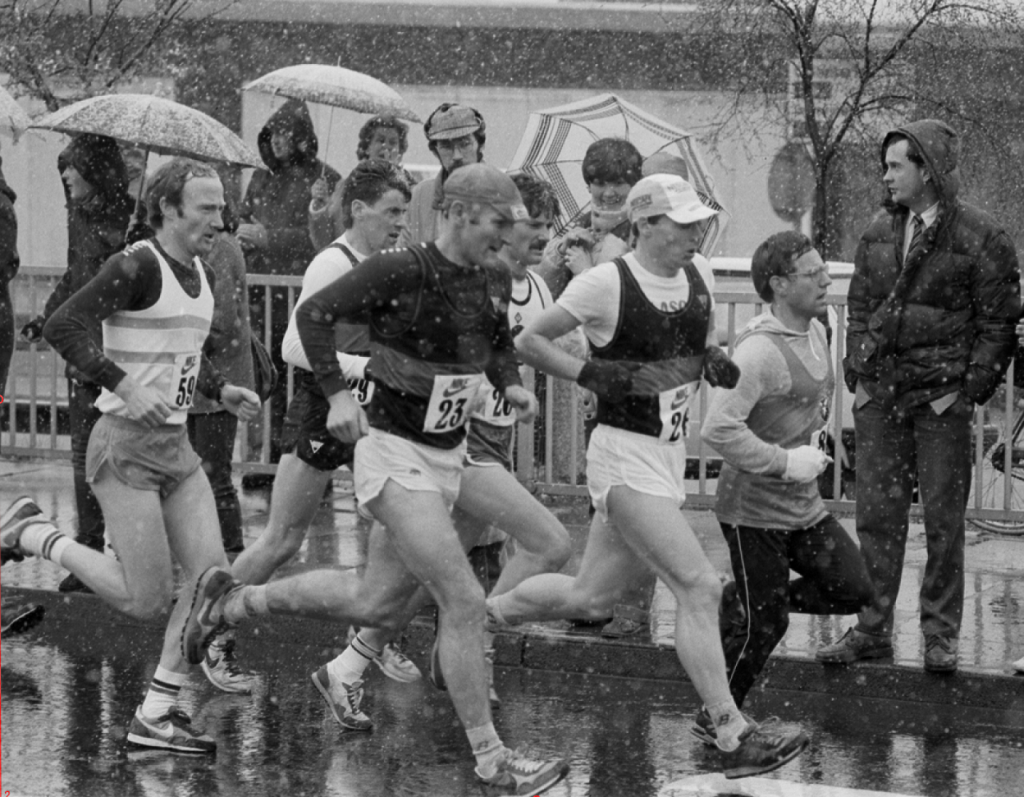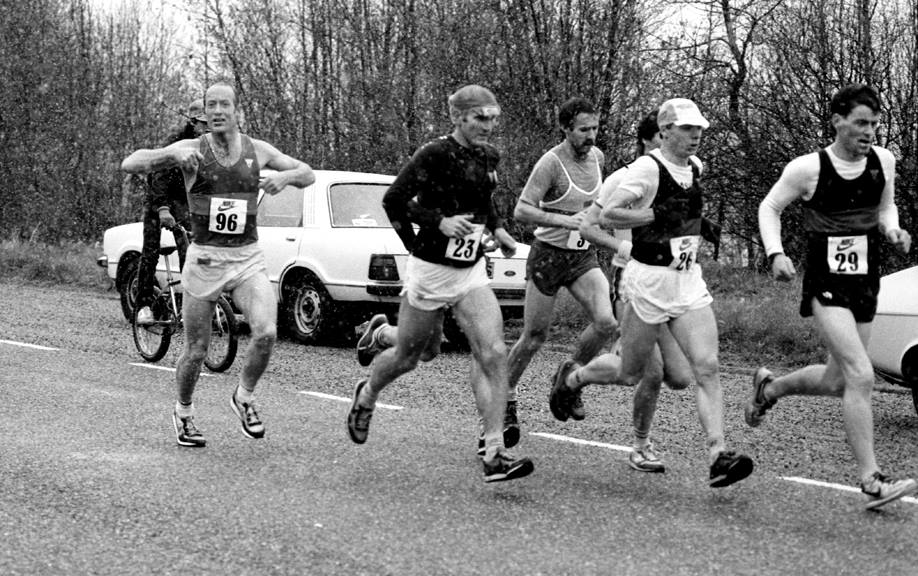 1985: Brian Carty asks for a warmer top!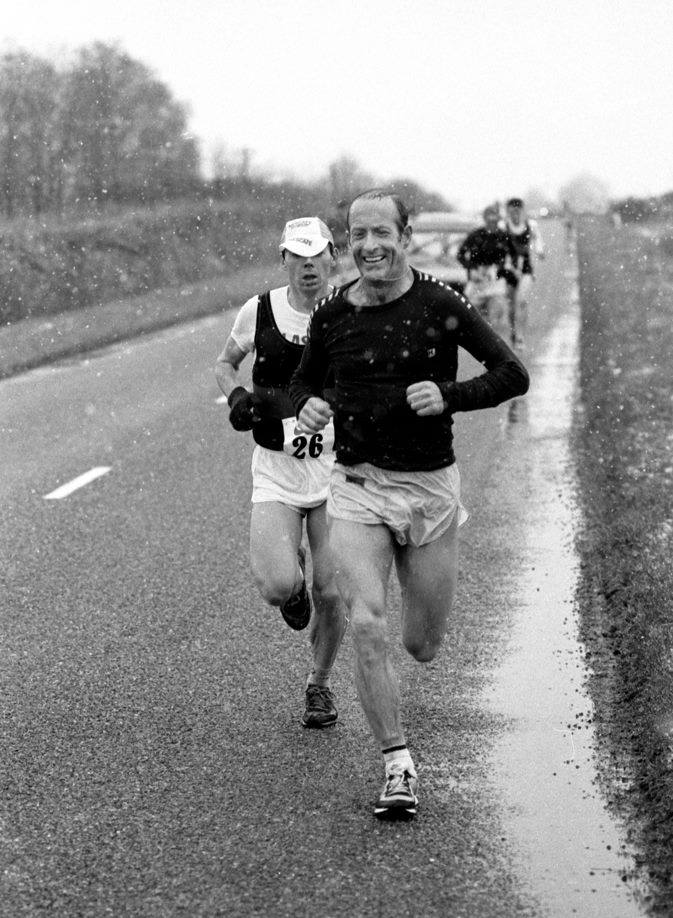 Brian Carty warmer and happier. Colin Martin behind, Allan Adams next.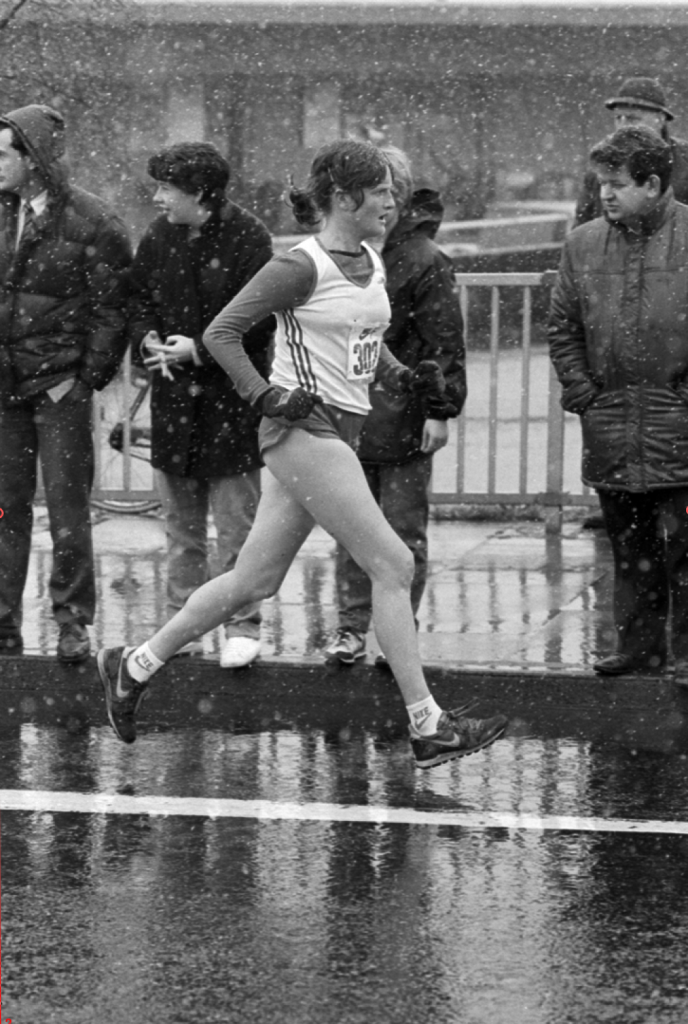 Second woman: Helen Morton, battling the snow and trying to chase Kay Dodson
Colin Martin recalls: "It was very cold with snow and sleet the whole race. I was part of a pack of seven runners until the turn at 14 miles, then ran together with Brian Carty until 17 miles. I passed the leader Alec Robertson (Edinburgh Southern Harriers) at 20 miles, then continued on my own until the finish. With help from Peter Walsh in 15th place, Dumbarton won the team race."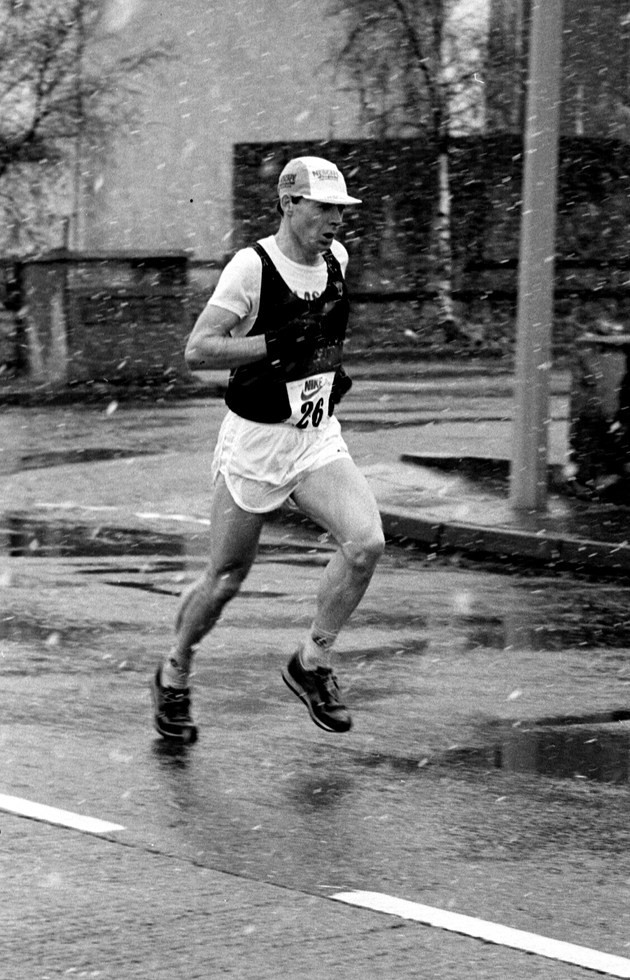 Colin Martin heading for victory in the 1985 Lochaber Marathon
Allan Adams remembers that Brian Carty was a hundred yards in front of him when Brian missed the right turn near the finish and let Allan through to claim second place. However, Allan thought this was unfair to Brian, so the organisers agreed to switch them round in the results and at the prize-giving.
Alec Robertson texted: "I gained quite a lead but, running back towards Fort William into the snow and wind, I just froze – and had to drop out after they passed me at 20 miles. I even asked one of the drink stations if they had a cup of tea for me!"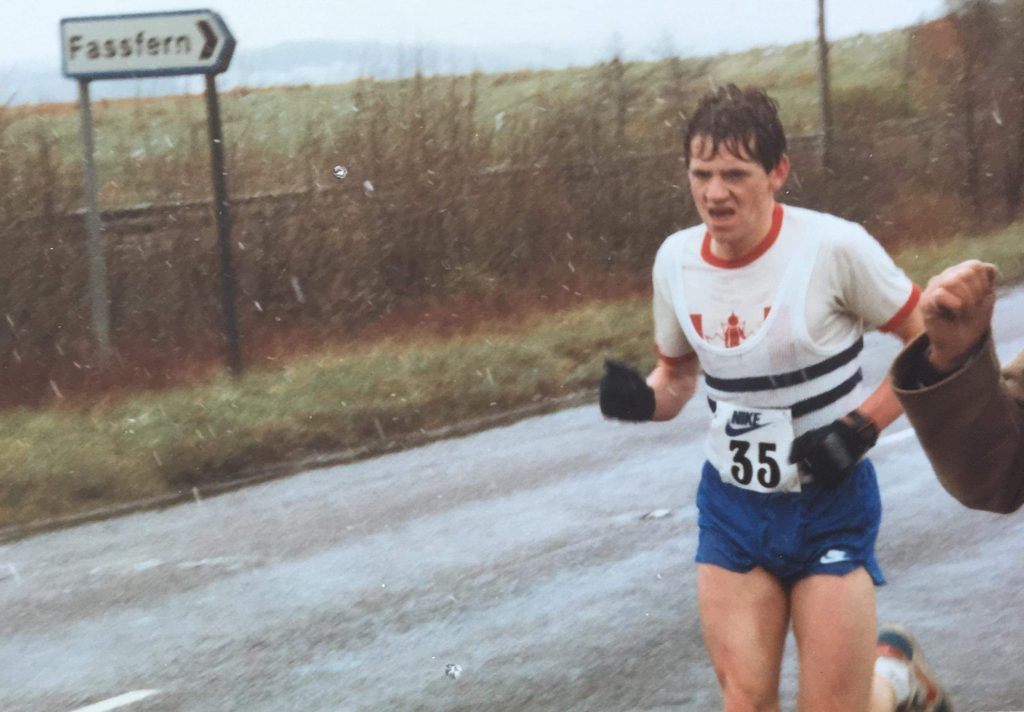 Alec being encouraged by his Dad (Hamish, a good marathon man in the 1950s)
1986: Allan Adams (Dumbarton) improved the course record to 2.26.36 after a battle with Brian Carty (Shettleston – 2.27.38). Third man home was Tom Walker (Calderglen) in 2.29.30. Fourth Alec Robertson (ESH – 2.32.35); fifth Jim Farquhar (Aberdeen AAC – 2.35.26) and sixth Mark Thomas (Aberdeen AAC – 2.35.44). First Woman was Pam Volwerk (Lochaber – 3.37.08) from Janet MacLugash (Banavie) and Dorothy Anderson (Caol).
Allan Adams recalls: "This was a sunny day with the temperature in the high 70s – a real change from the snow and sleet of 1985. I felt in good shape, since I had been training at 100 miles per week average for eleven weeks. From the start, Brian Carty, Thomas Walker and myself went into the lead. We dropped Walker by halfway and the race was between the two of us.
I felt strong about 23 miles, probably due to the 'pre-marathon diet' kicking in. (I used to eat only protein for three days and then only carbohydrate for the next three – plenty of pasta, glucose and Mars Bars!) I pulled away into a lead of a minute and set a new course record."
1987:
On 26th April 1987, the Lochaber Marathon featured a duel between two SAAA Marathon winners. Colin Youngson (Aberdeen AAC), who had won the Scottish Championship in 1975, 1981 and 1982 but was now finding the distance increasingly difficult, set out over-confidently, building up a two-minute lead by ten miles into what he thought was a headwind. However, after the turn he discovered that there was another headwind to struggle into on the way back, and also that Brian Carty (Shettleston H, the 1986 Scottish Marathon Champion) was pulling him in steadily. When Brian caught up at 22 miles, Colin assumed he was 'dead and buried' but Brian, true to form, started chatting pleasantly! Too knackered to respond in more than grunts, Colin dropped in behind for a bit of shelter. Just before 25 miles, he had recovered enough to make a last-ditch effort, ran very hard for half a mile and hung on desperately to the finish. Eighteen seconds later (2.26.33), a fresh Brian, such a genuinely nice guy, rolled in to congratulate Youngson who was panting helplessly against a wall. Colin's 2.26.15 was a course record until Fraser Clyne won Lochaber in 1994. Brian finished first Veteran. Aberdeen AAC won the team prize, due to support for the winner from John 'Alf Tupper' Mackay (third in 2.37.13) and Mark 'Zoot' Thomas (fourth in 2.41.14). Fifth and second Veteran was the redoubtable John Maitland (Lochaber AC – 2.44.18).
Patricia Mee (Altrincham and District) broke the record in 1987 with 3.07.15. Second was Betty Hall (unattached – 3.09.10), third Kay Dodson (Law and District – 3.13.34) and fourth Julie Harvey (Glasgow AC – 3.23.20).
Organiser Eddie Campbell, the legendary Ben Nevis runner, presented umpteen prizes, including clocks, engraved glasses and a £50 Boots token.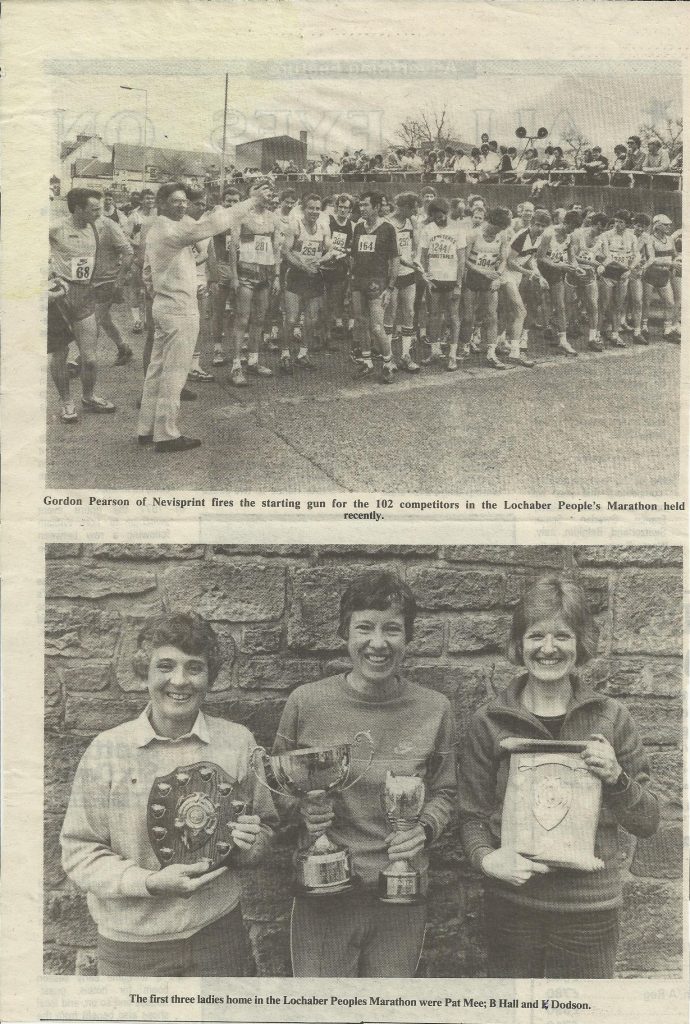 The 1987 start line photo shows Colin Youngson very keen to get going while others are still chatting casually. The other photo (left to right) features Kay Dodson, Patricia Mee and Betty Hall.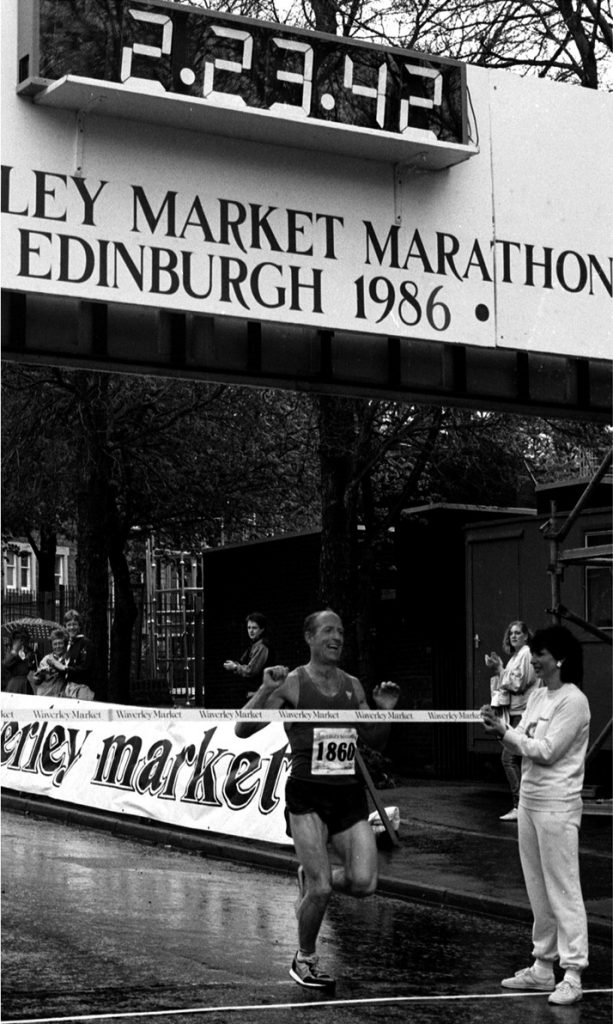 Brian Carty wins the 1986 Scottish Marathon Championship in Edinburgh
1988: This was the year when the Men's SAAA Marathon travelled to Fort William as part of the Lochaber race. Colin Martin, a Scottish Road-Running International in the seventies, had become a veteran the previous year. He and his Dumbarton training friend/rival Allan Adams (the 1989 British Veterans M45 Marathon champion at the Flying Fox event in Stone, Staffordshire, when he had also beaten all the M40 runners) had been doing 90 to 100 miles per week, with Tuesdays and Thursdays devoted to 400, 800 or even mile repetitions with Lachie Stewart and his promising son, Glen. Colin's Saturday session might be 22 miles on the road, with Sundays an hour and a half over country trails. Lochaber made an excellent target, since it also hosted the Scottish Veterans and SAAA events.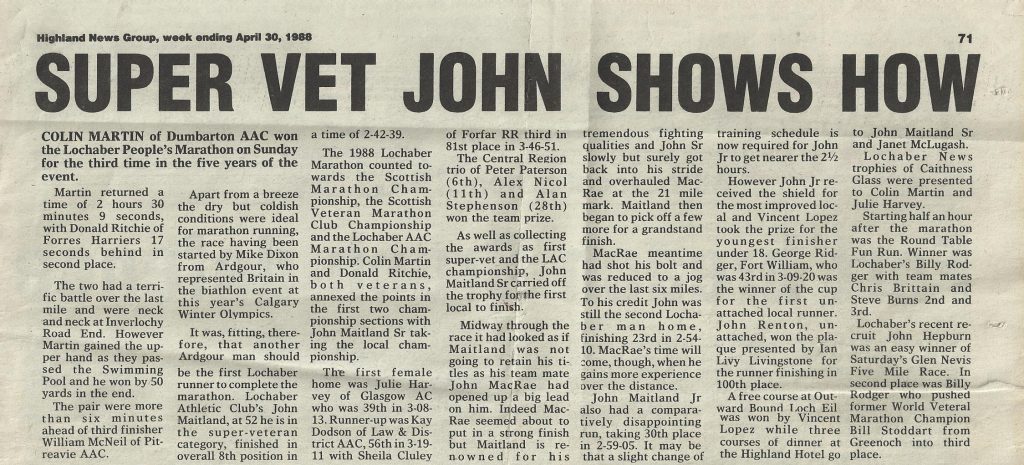 Kay Dodson added: "I remember the weekend very well. It was a Scottish Veteran Harriers Club weekend away organised by Danny and Molly Wilmoth for the Vets marathon championship. We all went up from Glasgow on a bus on the Friday and stayed in a hotel in Fort William. Some went to run the marathon and others to run the 5-mile Glen Nevis race on the Saturday and some did both. As ever, it was a very successful weekend with runners and partners enjoying the home-grown Saturday evening entertainment. No wonder we didn't run very good times. There were masses of prizes and I seem to remember going home with several, though I can't now remember what they all were. Again, fantastic organisation and hospitality from the Lochaber folk."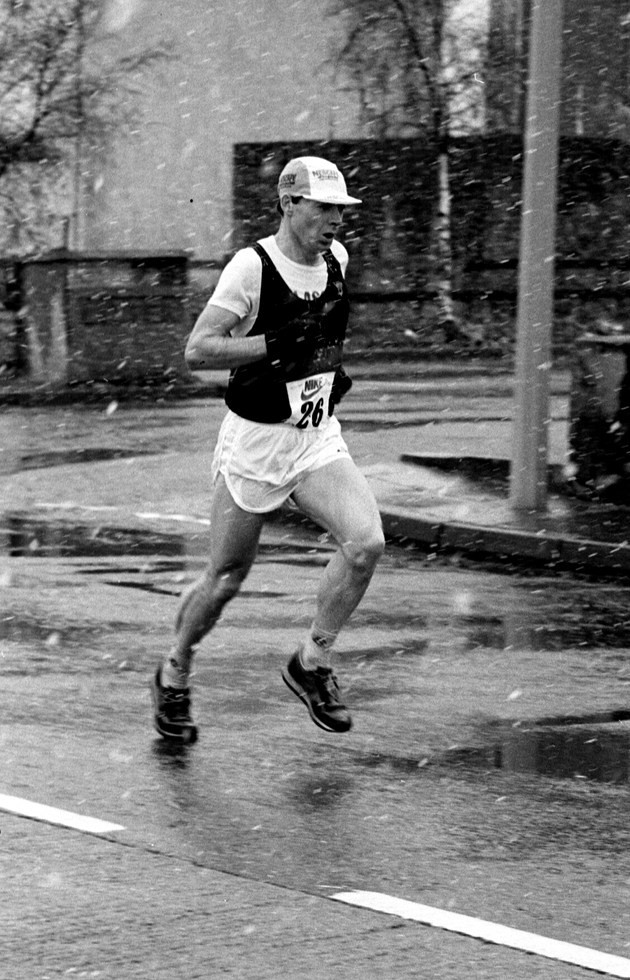 Colin Martin winning the 1985 Loch Rannoch Marathon
Colin Martin recalls: "This was a dry day with a very cold wind against the runners on the way back. I managed to finish 17 seconds clear to become Scottish AAA Marathon Champion – and won the Scottish Vets title too."
Don Ritchie, the legendary ultra-distance runner, wrote that on 24th April "a group of six runners formed by the time we left the town. I increased the pace and by the turn there were three of us left. At about 18 miles I managed to drop the Pitreavie runner McNeill, but Colin Martin stuck behind me." Colin remembers that over the next few miles, both athletes made attempts to get rid of the other, to no avail. Shortly after the right turn at Corpach, on a stiff little climb starting at a garage, Colin burst away and held a narrow lead to the end. It was a very gruelling race indeed. The result was: first Colin Martin (Dumbarton AAC – 2.30.09); second Donald Ritchie (Forres Harriers – 2.30.26); third Bill McNeill (Pitreavie – 2.36.39). Colin Martin went on to represent Scotland in the Nuremberg Marathon in June 1988.
Julie Harvey (Glasgow AC) won the Women's race in 3.08.13, beating Kay Dodson (Law and District 3.19.11) and Sheila Cluley (Forfar).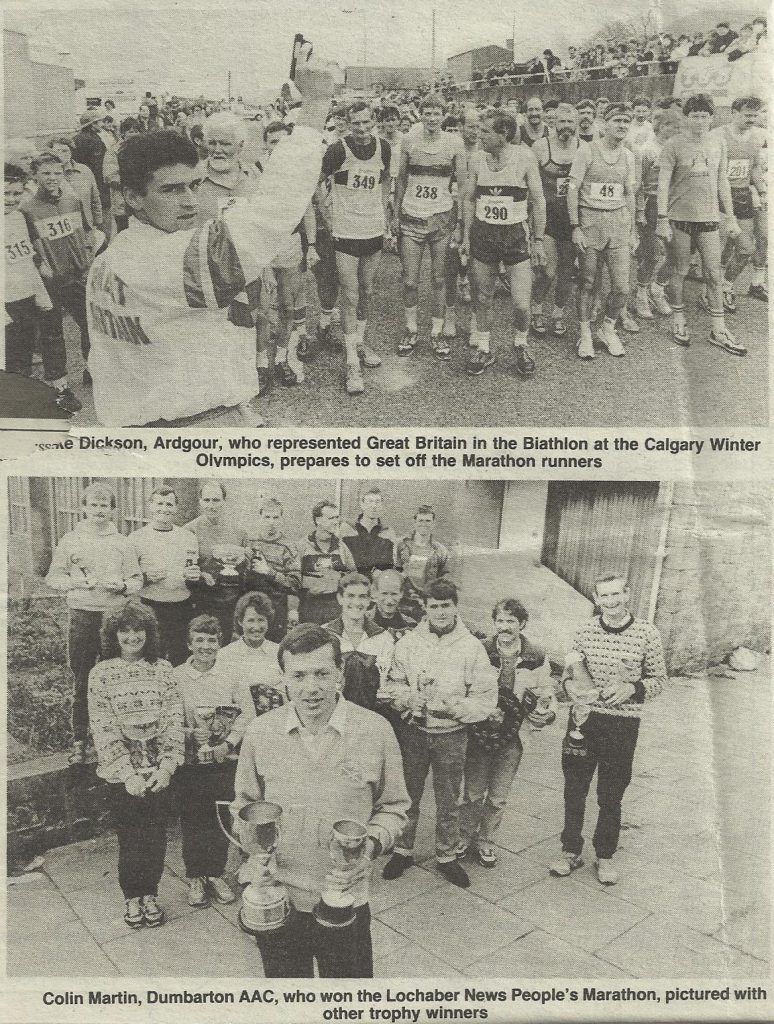 Winter Olympian Mike Dixon prepares to start the 1988 race, while bearded, white-haired Eddie Campbell stands on the left of the start line. Lochaber AC's John Maitland Senior (number 349) features in both photos.
1989: A report by Michael McQuaid read: "The prolific Colin Youngson (Aberdeen AAC) led the way as veterans showed their younger rivals a clean pair of heels in the Lochaber People's Marathon at Fort William on April 23rd. The event again incorporated the national veterans' marathon championship and the over 40s showed great staying power to fill the first five places overall. Youngson, who retained the national veterans' cross-country title in February, always appeared in control, but Dumbarton's Allan Adams dug in well to finish 29 seconds behind. Mike McHale of Pitreavie was third (2.31.30), followed by fellow veterans Robert Wood of Dundee Roadrunners (2.35.33) and Robert Young of Clydesdale (2.36.15). Another Clydesdaler, John Hanratty, salvaged some pride for the youngsters, finishing sixth in 2.37.19."
Colin Youngson gave the inside story, when he wrote: "The race started into a cold headwind, so I dithered at the back of a leading bunch of seven. A few minor aches (right hip, backs of legs). The turn was just before 14 miles (just under 82 minutes). With the wind behind us, the speed suddenly went up by a minute per mile at least! However, I could only gain an uncomfortable 50 yards on Allan Adams (Dumbarton AAC) – I kept passing his wife, who was cheering him on, then overtaking in her car, and each time I tried not to look stressed! 20 miles was passed in 1.54.55. It was a bit of a struggle towards the finish, and probably we both cracked up at the same rate but did not slow down drastically. First half 77 minutes/second half 72? My time was 2.29.40 and Allan ran 2.30.09. I was glad to win but the process was painful: I could not establish a safe lead; and Allan must have been frustrated to try so hard but not succeed in closing the gap. We were very well matched!"
I was amazed to receive ten prizes (including M40 Scottish Veteran Marathon Champion) from the great Eddie Campbell. The race memento coffee cups were especially good. A special event." (In October 1989, at the Flying Fox Marathon near Stone, Staffs, Allan Adams became M45 British Vets Marathon Champion – a title Colin won at the same venue in October 1993).
Elizabeth Walls (St Albans Striders) finished First Lady in 3.00.59 (a course record), from Renee Murray (Giffnock North 3.01.53) and Julie Harvey (Glasgow – 3.07.29). 147 runners started and only four failed to finish. 40 broke three hours – a very respectable percentage.
1990: Don Ritchie wrote: "On Sunday morning the 22nd of April, I set off for Fort William and picked up Mick Francis and Dennis Murphy in Forres to complete our Forres Harriers team for the Lochaber Marathon. I started cautiously and then moved through with Mick to join the lead group of six as we chased a runner from Edinburgh AC. This continued until about 10.5 miles when I increased the pace, which broke up the group. A runner from Alnwick Harriers, David Henderson, and I pulled away from the rest, passing 13 miles in 1.16.34. At the turn we began to close on the leader but I could not maintain my pace. Henderson moved away and a runner from Falkirk Victoria caught and passed me.
By then the sun was shining and conditions became quite warm. The early leader was caught and passed by each of us in turn, and then the Falkirk runner began to fade, so I passed him at about 19 miles. I gradually pulled back the leader and by Lochy Bridge I had reduced the gap to 20 metres. I caught him soon after this and ran on for a particularly sweet win. I was extremely pleased to win a marathon again, even though my time of 2.34.01 was not outstanding.
David Henderson from Alnwick was second in 2.36.14 and Colin McLennan (Edinburgh SPC) third in 2.39.05. Forres Harriers won the team race!"
Elizabeth Walls (St Albans) won the Women's race in 3.09.45, from Toni Respinger (Dundee RR) and Jacqui Thorn (Mid Cheshire).
1991: Don Ritchie wrote: On the 22nd of April, I picked up Mick Francis and Donald Gunn and drove to Fort William for the Lochaber Marathon. There was a good entry of 167 starters and the initial pace felt fine, but after a couple of miles I had to speed up to maintain contact with the leaders. We passed 10 miles in 57.06 and at the turn there were 11 in the group as the pace began to quicken. Three fell behind, leaving 8 of us to fight it out. I began to struggle at around 14.5 miles and had to let the group go but, as it began to break up, I began to catch some. I was 7th and at 20 miles reached in 1.54.45. I passed Neil Martin and then Henderson from Alnwick Harriers, who had been second the previous year. By Banavie I caught and passed the fourth runner and was now concentrating on pulling in the third, caught him at about 25 miles and got past quite easily. The second runner was in sight and I was gaining on him but the finish intervened before I could catch him. I was very pleased at how well I ran over the last seven miles. My drinks of 330ml of Enduro Booster did not show up at 10.5 miles or at 16.5 miles as required but both were offered at 18 miles, so I took one. I think that this helped me run well in the closing stages.
My time (2.30.40) was an improvement of 3.21 on my winning time in 1990. Forres Harriers won the team race again. Jim Cooper (Springburn Harriers) ran well to win in 2.28.34 from Les Atkinson (Alnwick Harriers – 2.29.47)."
The Women's race was won by E. Reid (City of Glasgow) in 3.20.27, from P. White of Preston and C. Louiwan (North London).
1992: Colin Youngson (Aberdeen AAC) wrote: "After the first mile, Davie Fairweather (Law and District M45) shot off. A group of six pursued cautiously at six-minute-mile pace. Organised pace sharing cut back on Davie's two-minute lead. There was a swirling side-wind. Peter Faulds (Falkirk) broke away at ten miles. I decided to hang on to George Reynolds (Forres H) the Scottish Marathon champion back in 1984. The turn was reached before 14 miles, but a headwind persisted, so I continued to shelter behind George. Peter caught Davie at 15 miles; we did so at 19 miles; and then overtook Peter at 21.
Poor George, who had done all the work, started slowing. At 23 we discussed finishing together but he was weakening. I drifted away at 24. There was a tough headwind during the last two miles, so I felt very tired at 25 but made it to the finish, in a qualifying time for next year's London Marathon, when I would be 45.
I won in 2.36.23; George ran 2.37.06; with Don Ritchie (Forres Harriers) third in 2.38.43. Mick Francis (Forres Harriers – 6th in 2.41.52) ensured that his team finished first.
The Prizegiving was as amazing as ever: I was Scottish Veteran Marathon Champion again, and received four cups and a shield for First Vet, First Visitor, First Gent (!) etc. This was my tenth and last marathon victory between 1973 and 1992. The four-hour drive home seemed like hard work."
Julie Armstrong (Giffnock North) finished First Lady in 3.06.37, from Aileen Reid (East Kilbride) and Suzanna Bennett (Metro Aberdeen).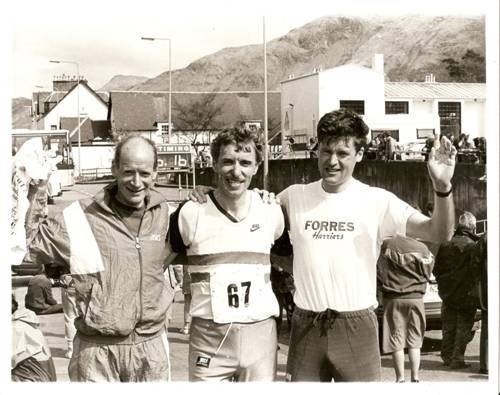 Donald, Colin and George after the 1992 Lochaber Marathon
1993: Jim Rodgers (East Hull – 2.33.52) won clearly from Bob Wood (Dundee RR – 2.36.35) and Bobby Young (Clydesdale – 2.38.57). First Woman was Ann Lippit (North London – 3.04.24) from Kate Todd (Kilmarnock) and Linda Trahan (Garioch).
1994: Fraser Clyne emailed "I was training for my first 100k due to be held in London on 8th May. So I planned to do two 50k races and a marathon in 5 weeks.
On March 19th I won the Pitreavie 50k in 3:03:43, on April 3rd I won the Speyside Way 50k in 3:02:07 and on April 24th I won Lochaber.
I don't recall much about the race other than taking the lead inside the first mile and running solo the whole way. I wanted to keep to a comfortable pace as I was keen to keep going with my 100k preparations.
The 100K didn't go well. I dropped out after 79K but six weeks later I fought off Terry Mitchell to win the Scottish marathon title at Loch Rannoch in 2:23:08 (Terry was second in 2:23:46)."
Fraser (a very successful GB and Scottish International marathoner) set a new course record at Lochaber with 2.25.17. Second was Andy Stirling (Bo'ness Runners – 2.36.45) and third John Durnin (Dundee Hawkhill Harriers – 2.37.00).
First Woman was Trudi Thomson (Pitreavie) who set a new course record of 2.52.12. Kate Todd (Kilmarnock) was second and Susan Low third. (Trudi Thomson was an outstanding Scottish marathon and GB International ultra-marathon runner who, not long after Lochaber, achieved a brilliant silver medal in the 1994 IAU 100km Championships in Japan.)
1995: In 1995 at Lochaber, John Duffy (born in 1955) a powerful runner (previously representing Spango Valley but now Shettleston Harriers) seized the opportunity to grab his first Scottish Marathon title. Duffy was pressed hard in the first half of the race by Alan Reid (Peterhead), the 29-year-old Banff-based athlete, who was rated one of the best distance runners in the North of Scotland. (Later on, Alan ran for GB over 100km; and won the British title at that distance.) Reid had made his marathon debut as a teenager in the Easter Ross race many years earlier. His only other attempt at the distance ended in failure at Loch Rannoch when he was forced to drop out with injury – and now he was hoping it would be a case of third time lucky. Duffy, however, proved too strong in the second half of the contest and gradually eased home in 2.31.19. Reid suffered badly in the closing stages and was in danger of failing to get a medal of any description until he rallied to record 2.35.52 and overhaul Richard Davidson (Dundee 2.35.59) and Davie Fairweather (Law) – just ten seconds separated these three at the end.
Margaret McLaren became Fife AC's first-ever Scottish Women's Marathon Champion when she recorded 3.07.17 to get the better of Susan Low (3.09.57) and Corina Cramer (Perth 3.15.45).
1996: John Duffy (Shettleston) retained his Lochaber title in 2.29.03. He was well clear of Brian Howie (Edinburgh Southern Harriers – 2.38.53) and Simon Pride (Keith – 2.40.24). First Woman was renowned International hill-runner Helene Diamantides (Westerlands – 3.04.22), from Margaret McLaren (Fife) and Susan Low (Coasters).
1997: Local Scottish International hill-runner David Rodgers (Lochaber) won in 2.35.40, from Nicol Maltman (Teviotdale Harriers – 2.36.11) and Allan Stewart (Moray – 2.38.13). First Woman home was defending champion Helene Diamantides (Westerlands – 3.04.22, from Margaret McLaren (Fife) and Maggie Creber (City of Edinburgh).
1998: Mike Girvan (Warrington – 2.30.46) won, from Fraser Clyne (Metro Aberdeen – 2.33.46) who was first Veteran. Third was Nicol Maltman (Teviotdale – 2.36.43).
Clare Pauzers (Herne Hill) created a very good new course record of 2.50.12. Second was M. Wooldridge (Newquay) and third Kate Todd (Kilmarnock).
1999: Simon Pride (Keith) improved considerably to reduce the course record to 2.24.24, in front of Nicol Maltman (Teviotdale – 2.31.51) and Clyde Marwick (Shettleston – 2.43.42). First Woman was Carol Cadger (Perth) in 3.13.30, from Sandra Marwick and Averil Dudek (Perth).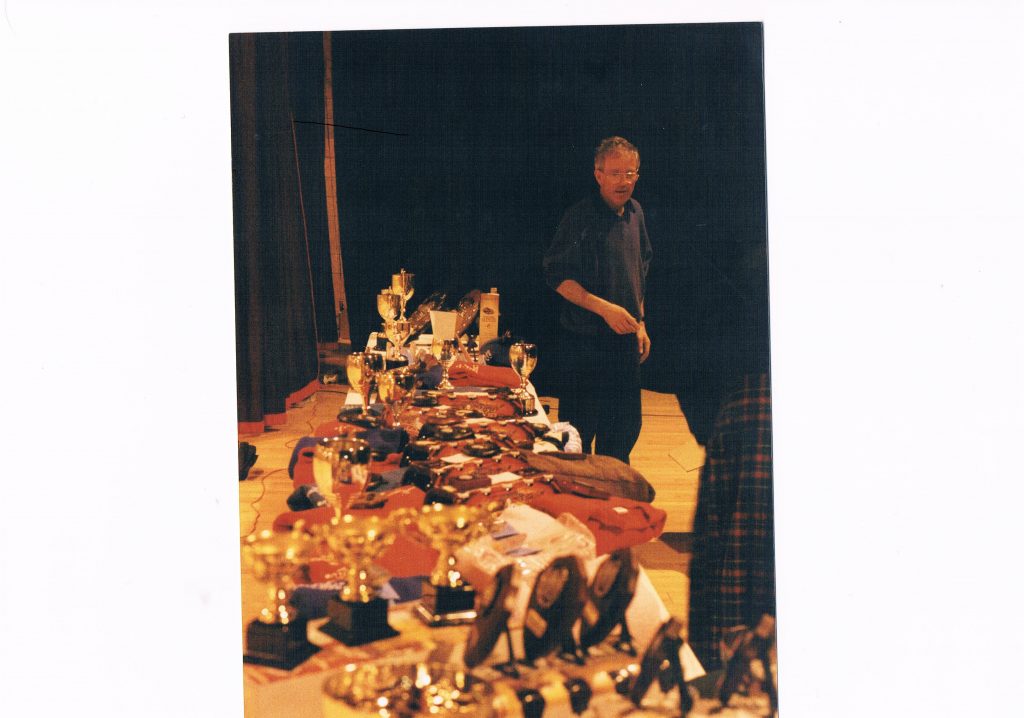 The Lochaber Marathon prize table overflows as usual!
2000: David Rodgers (Lochaber) won for the second time in 2.28.53, from consistent Nicol Maltman (Teviotdale – 2.38.40) and Alan Reid (Peterhead – 2.40.32). First Woman was Dawn Scott (Lochaber – 3.3.13.34) from Carol Cadger (Perth – 3.15.17) and C. Kaiser (Valley Striders).
2001: For the third time, David Rodgers (Lochaber) won his local marathon, this time in 2.32.20. Alan Reid (Peterhead) was second in 2.34.07 and Frank Harper (Carnegie) third in 2.39.05. Kate Jenkins of Carnethy Hill Runners finished first Woman in 3.03.20, in front of Elaine Calder and Carol Cadger (Perth). (Both Elaine and Carol ran International ultra-marathons for Scotland.)
2002: The Scottish Marathon Championship was held on 28th April, at the Lochaber Marathon in Fort William. Female gold medallist was Dawn Scott, twice silver medallist in the Scottish Hill Running Championship, from the local club Lochaber AC. Her time was 3.09.45. Second was Elaine Calder from Strathaven Striders (3.12.04) and third Debbie MacDonald from Hunter's Bog Trotters (3.20.51.)
Jamie Reid (Law and District AC) secured his first Scottish Marathon title, recording a very good new course record of 2.21.46. Some distance behind was silver medallist Brian Fieldsend (Inverness Harriers – 2.35.02) and third-placed Martin Ferguson (EAC – 2.36.20). (In 2003, on 31st August in the Elgin Moray Marathon in Elgin, over a much slower course, Jamie Reid retained his Scottish title in 2:34:08, still three minutes ahead of his closest rival James Snodgrass (Kilbarchan AAC – 2.37.20), with Andreas Merdes (Lothian RC 2.39.58) third. In 2007, also in Elgin, Jamie Reid (Cambuslang – 2.33.11) won his third Scottish Marathon title, gaining revenge on Simon Pride (Forres H – 2.33.46). Bronze medallist was David Gardiner (Kirkintilloch – 2.38.07).)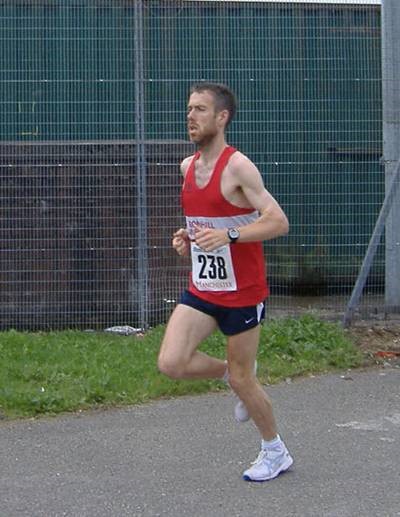 Jamie Reid
2003: The First Woman to finish the Lochaber Marathon was the indefatigable Kate Jenkins of Carnethy Hill Runners. Despite the marathon not being her best event, Kate recorded 3.05.44, with Dhvala Stott (Sri Chinmoy) second in 3.08.48 and Denise Muir (Kilbarchan) third.
Kate ran an incredible amount of races on all surfaces, for Gala Harriers, Carnethy Hill Runners and HBT. Between 1997 and 2012 she was Scottish Marathon Champion four times and won the Moray Marathon twelve times! In addition, she was Scottish Hill Running Champion in 1999 and 2001; and first Woman in the West Highland Way Race five times: 1999, 2000, 2003, 2004 and 2006. (She also won the 2004 Lairig Ghru Hill Race, which was 28 miles long, accompanied by Ben, the First Dog!)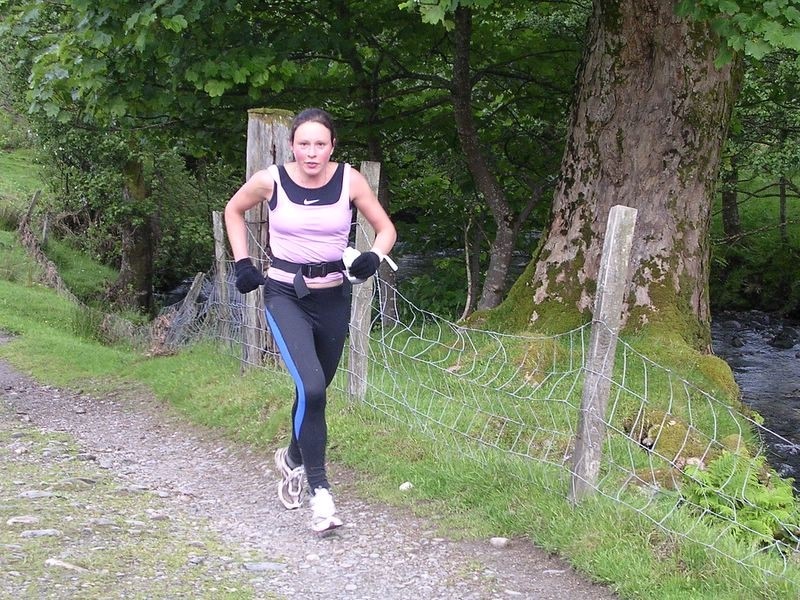 Kate Jenkins en route to winning the 2006 West Highland Way Race
In 2003, John Duffy (Shettleston Harriers) won the Lochaber Marathon in 2.41.22, from Jason Smith (Aviemore – 2.43.22) and V. Caravaggio (Italy – 2.45.03). Please note that this John Duffy was born in 1964 and a different runner from the Lochaber winner in 1995 and 1996.
2004: Simon Pride (Metro Aberdeen RC) was back to form, winning his third Scottish Marathon title with considerable ease. The event was held as part of the Lochaber Marathon once again, on 25th April, and Simon ran right away to secure gold in 2.21.21; with Andreas Merdes second in 2.37.50 and John Duffy (Shettleston H) third in 2.44.32. Second Lochaber finisher was actually Stewart Gregory (Holme Pierrepoint – 2.35.59) who was not eligible for a silver medal.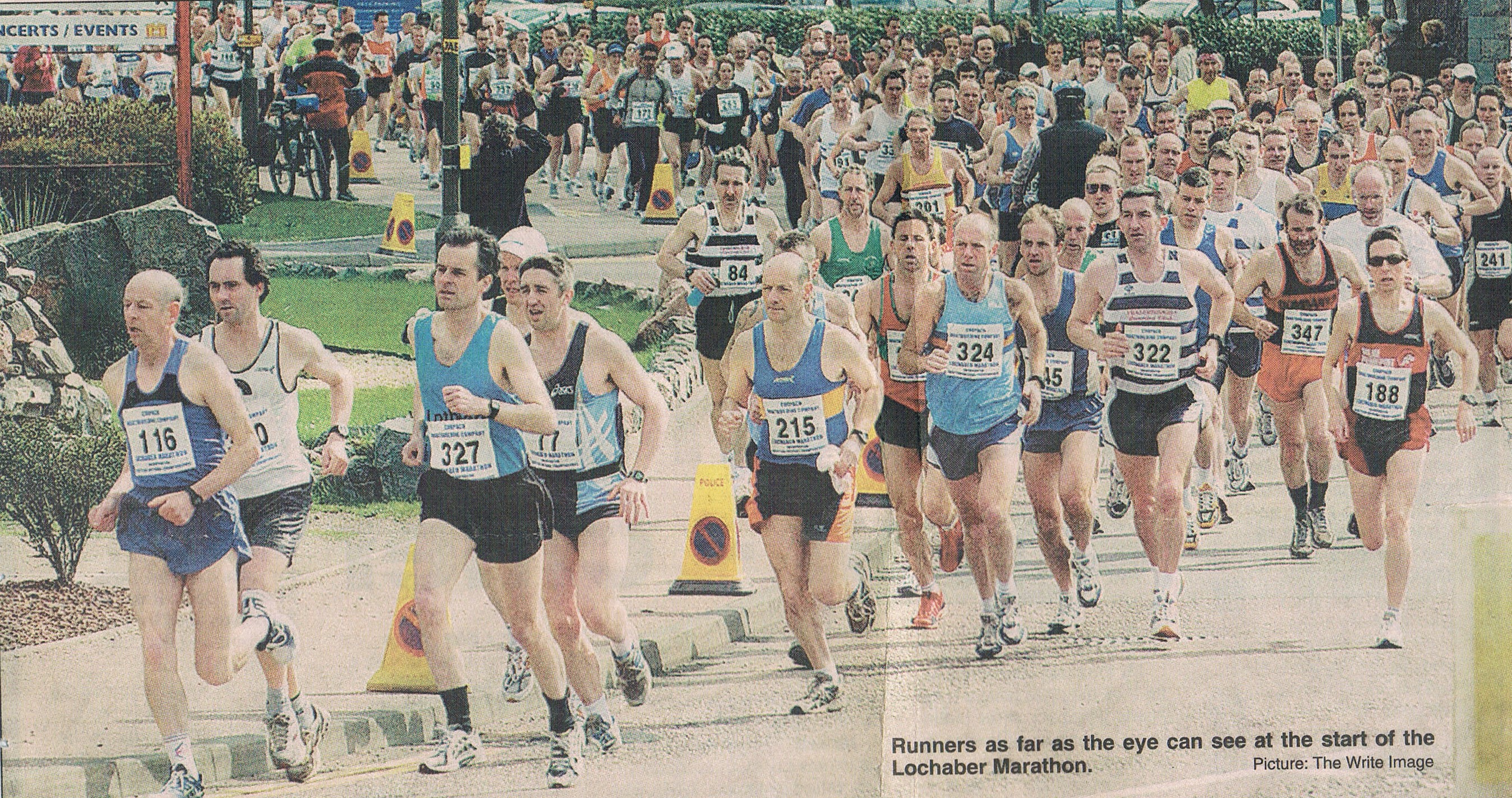 The start of the 2004 Lochaber Marathon
Fraser Clyne reported in the Aberdeen Press and Journal: "Simon Pride (Metro Aberdeen) won his third Scottish title when breaking the course record to win the 21st Lochaber Marathon ahead of a record field of 306 at Fort William yesterday. The 36-year-old British ultra-distance international, who is training for next month's European 100km championship in Italy, recorded 2.21.21 to knock 25 seconds off the previous mark, set by Cambuslang's Jamie Reid two years ago.
Pride admitted, however, that he wouldn't have run so quickly had it not been for the efforts of pacemaker Steven Wylie. "He sheltered me from the breeze on the outward half of the course, which was a great help and he kept going until about the 15-mile point," Simon said. "I knew I could get the record, although there was a bit of uncertainty near the end because I didn't see the last mile marker and I wasn't sure how far there was to go."
Pride hopes his victory in the Lochaber race will prove to be a lucky omen, as his last success at Lochaber was in 1999 just a few weeks before he went on to win the World 100km title in France. Pride also led Metro Aberdeen to the team prize from Duncan Wood (11th) and Nir Oren (53rd)."
Scottish Women's Marathon Champion was Janet Laing (Portobello AC – 3.12.09), from Elaine Calder (Strathaven S – 3.3.18.44) and Maggie Creber (Carnethy HRC – 3.19.14). Kath Charnock of Wigan (3.11.41) actually finished first Woman at Lochaber, but was a non-counter in the Scottish Championship.
2005: John Duffy (Shettleston – 2.42.15), the victor in 2003, won the Lochaber Marathon for the second time. Second was Mark Bendall (Horsforth – 2.44.00) and third Robert Wilson (Greenock – 2.51.12)
First Woman home was Fiona Matheson (Falkirk Victoria Harriers – 2.57.37) who was well clear of Amanda O'Leary (Bourneville – 3.08.53) and Gillian Godfree (Lothian).
(Fiona Matheson became a fantastic, widely-admired Masters athlete, winning Scottish Senior titles and, in various Masters age-groups, breaking World records and winning not only Scottish and British but European and World titles.)
2006: Simon Pride (Forres Harriers) won his third Lochaber Marathon in 2.27.57, from Ruairidh Campbell (Arbroath Footers – 2.30.57) and Robert Gilroy (Cambuslang Harriers – 2.33.39).
First Woman, retaining her title, was Fiona Matheson (Falkirk Victoria Harriers – 2.56.17) from Sue Bruce (Tewkesbury – 3.00.58) and Marietta van der Linden (City of Edinburgh).
2007: Ruairidh Campbell (Arbroath Footers) won the Lochaber Marathon in 2.35.30, from David Gardiner (Kirkintilloch Olympians – 2.42.27) and GB ultra-marathon International Jez Bragg (2.43.04).
Adela Salt (Trentham) won Women's contest in 2.53.08, from Lucy Colquhoun (City of Edinburgh – 2.59.48) and Julie Carter (Cumberland).
2008: At the Lochaber Marathon, near Fort William, first Woman home was Rebecca Johnson (Glasgow – 3.05.18); in front of the Scottish Women's Marathon Champion Louise Beveridge (Metro Aberdeen RC – 3.13.38); and Kate Jenkins (Gala Harriers – 3.15.35). (Since Rebecca was not a member of Scottish Athletics, she did not qualify for the Scottish gold medal.)
The Lochaber Marathon and Scottish Men's Marathon title was won by Stuart Kerr (Kirkintilloch Olympians – 2.34.01); in front of Keith Buchan (Fraserburgh AAC – 2.43.12); and Paul Hart (Dumfries RC – 2.45.10). Stuart's personal best marathon time seems to have been 2.29.53, set in 2012.
2009: Niku Millott (Metro Aberdeen RC) won the Lochaber Marathon in 2.43.08. (He had also finished first in the 2008 Moray Marathon at Elgin.) Second was Paul Roarty (Fife – 2.45.57) and third Steven Reid (Fife – 2.46.32).
First Woman was Katie Teague (3.03.11), from Lynnette Porter (Bitton – 3.07.55) and Elaine Whyte (Fraserburgh).
2010: Stuart Kerr (Kirkintilloch) won Lochaber again, this time in 2.31.43, after a race-long contest with Kerry-Liam Wilson (Cambuslang – 2.32.04) and Robert Gilroy (Cambuslang – 2.34.26).
Kerry-Liam Wilson recalls: "This was a good battle at the front. All three of us took the lead at some point, with only a few metres between us. Around mile 22/23 Robert dropped off.
Stuart nipped away within the last mile to victory. He did sit in and let Robert and myself do most of the work, but certainly got it tactically right. That race was a 25.5 mile run then he sprinted off and left me!"
(Kerry-Liam Wilson has been an absolutely outstanding Masters runner at M40 and M45, and is looking forward to continuing this success in the M50 category. He has won umpteen Scottish and British Masters titles on every surface, as well as medals in European and World Masters Championships. In the Senior Scottish Marathon Championships, he has won one silver and two bronze medals. In early 2019 at Perth, he became Senior Scottish 50 km Champion.)
First Woman was Pamela Tosh (Aberdeen AAC – 2.59.13), followed by Gail Murdoch (Carnegie Harriers – 3.07.56) and Katie McIntosh of Westerlands AC.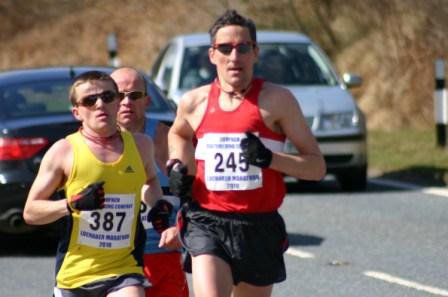 Left to right: Robert Gilroy, Stuart Kerr and Kerry-Liam Wilson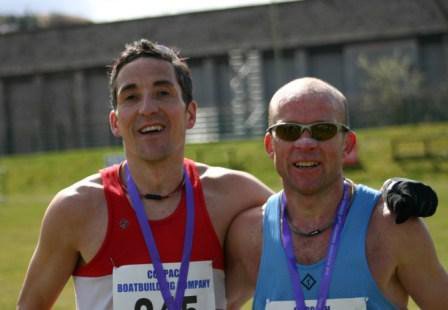 Kerry-Liam and Stuart after the presentation
2011: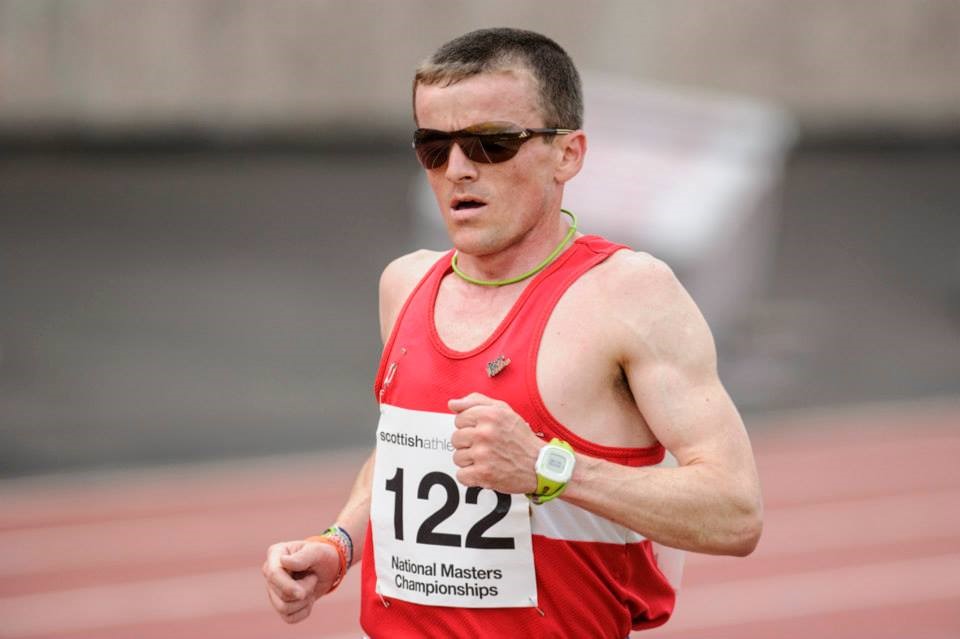 Robert Gilroy, who was Scottish Marathon champion in Edinburgh 2005
Robert Gilroy (Cambuslang Harriers) won the Lochaber Marathon in 2.35.44 from his team-mate Kerry-Liam Wilson (2.37.56) and Roger Van Gompel (Dundee Hawkhill Harriers – 2.45.34).
Female winner was Sarah Jarvis (Bingley) in a fine 2.51.33, from Erica Christie (3.17.26) and Melanie Henderson (Portobello).
(Robert Gilroy was a very hard training, high mileage runner who won the 2005 Scottish Marathon title in Edinburgh; as well as the Scottish 10 Miles Championship in 2014. He won Scottish and/or British Veteran/Masters titles on cross-country, track and road. His marathon PB was 2.26.22.)
He emailed: "I loved doing the Lochaber Marathon – what a great race, with its out and back course. There were not many spectators but that didn't bother me, because I trained on my own anyway. (Running to work, during lunchtime and then running back home from work too.) To be placed and then to win in Lochaber gave me quite a buzz!
My Mum and Dad were at all my races and that's why I always raced well and won often – because my two greatest supporters were there.
In 2011 when I won it, beating Kerry by over two minutes, I was so happy, because the two of us were well clear. It was a great tussle before I put the foot down and was glad to reach the finish line first."
Kerry-Liam Wilson wrote: "This was the race when I found out that warm weather, Lucozade and I are not a good combination. Stomach pain was incredible. Robert would go ahead. Then I'd go in front, and he was actually leaning against a fence during the last mile, when I hobbled past, only for him to pick himself up and overtake just before the football pitch section. Both suffered that day and he was just stronger in the end.
If anyone else had been close, he would easily have strolled past us. However, we were clear of the field. I won the SVHC M40 marathon title that day. Small consolation."
2012: Dan Gay (Hunter's Bogtrotters) won in 2.38.22, closely followed by Stuart Kerr (Kirkintilloch – 2.38.48) and Roger Van Gompel (Dundee HH – 2.38.51).
Megan Wright (also HBT) won the Women's race in 2.57.33, well clear of Rhona Anderson (Dunbar – 3.09.50) and Gail Murdoch (Carnegie Harriers).
2013: Robert Gilroy (Cambuslang) won in 2.33.19, from Steven Reid (Fife – 2.48.09) and Neil MacLachlan (Pitreavie – 2.55.20).
Robert Gilroy emailed: "In 2013 I won the race again, taking over two minutes off my time. I always remember that one, because at halfway you turn round and start heading all the way back towards the finish – and I looked across the road and could not believe that a woman was in second place – obviously, I didn't know Joasia Zakrzewski at the time! What a run by that girl, a really nice person. I enjoyed speaking to her after the race.
The Lochaber Marathon was a great event and it was a really good weekend away. I loved the race and the scenery too. If you were cruising in the race, like I was in 2013, you could really appreciate the scenery!"
First Woman home, in second place overall, smashing the course record, was Joasia Zakrzewski (Dumfries RC) in 2.45.55. Second Woman was Kim Fawke (Telford) in another fine time – 2.49.13. Third was Rhona Anderson (Dunbar – 3.08.32).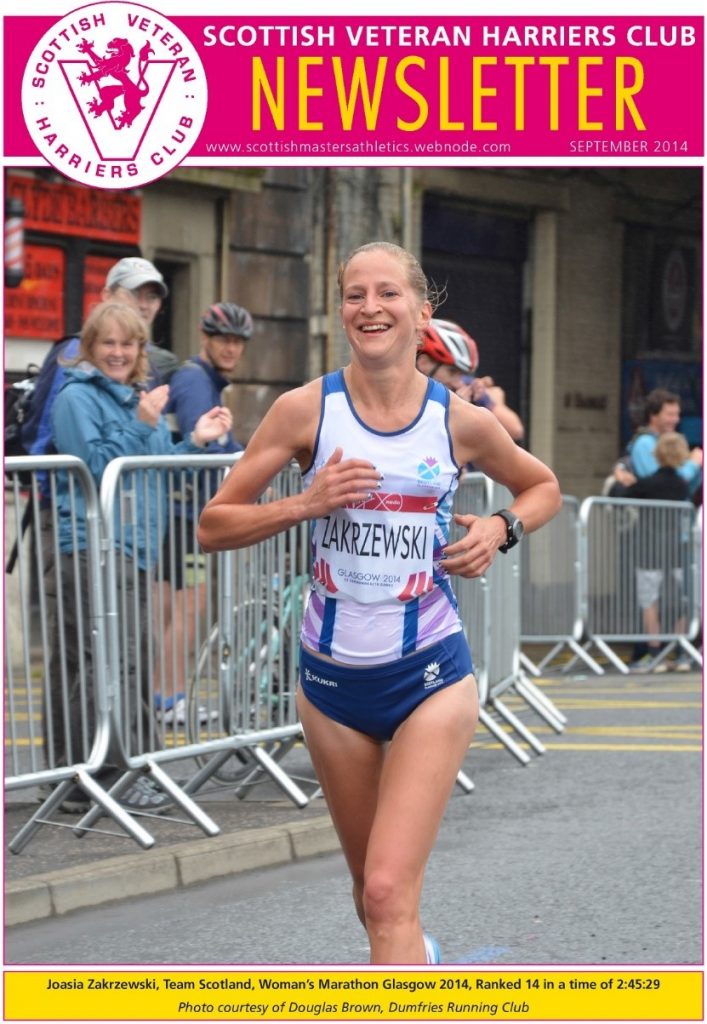 (At the 2014 IAU World 100km Championships, Scottish International runner Ellie Greenwood (who lived in Canada) won individual gold, setting a new Scottish record of 7.30.48. Along with Joasia Zakrzewski (a Scottish Marathon International, living in Dumfries), Jo Meek and Emily Gelder, Great Britain won the team title as well.)
2014: Roger Van Gompel (Dundee Hawkhill Harriers) won the Lochaber Marathon in 2.40.46, from ultra-distance runner Andrew Murray (2.42.29) and David Houston (Glasgow University – 2.45.21).
First Woman was Donna Finlayson (Victoria Park Glasgow) in 3.11.32, from Kathy Henly (Portobello) and Pam McCrossan (Clydesdale Harriers).
Sadly, this was the last Lochaber Marathon, after a distinguished history of 31 consecutive years. Lochaber AC's Dugie MacDonald had been heavily involved in organising the event, which was first held in 1984, and had hosted the Scottish Marathon Championships on a number of occasions.
He said, "The club was becoming increasingly concerned about traffic difficulties. We have always had a very good team organising the marathon, but health and safety issues were becoming a worry to everyone and we felt it just wouldn't be possible to continue. If someone else is interested in taking it over, we would be delighted."
In 2020, Dugie MacDonald recalled: "I took on the race as convenor in 1993 and retired in 2014 with a lot of lovely memories. It was a lot of hard work but I had a good team of helpers, the pleasure I got from meeting so many wonderful people made the job worthwhile – and it made the club financially sound. Since moving to Milton Keynes, I have taken up bowling, have managed to win a club tournament this year and am really enjoying it."
(Subsequently, from 2015, a Fort William Marathon took place in July. The entry information read "The race will take you on an incredible 26-mile journey (mainly along trails rather than tarmac) in the shadow of the UK's highest mountain Ben Nevis. You will run along part of the iconic Great Glen Way, Thomas Telford's Caledonian Canal and Neptune's Staircase. This marathon will test your endurance and strength and reward you with stunning views of the Scottish Highlands. This marathon is not simply about the time but about the journey you will take too …." M40 veteran Ruairidh Campbell (Arbroath Footers) won in 2.48.58. (He had won the original Lochaber Marathon in 2007.)
This popular, well-organised event continued in 2016, 2017, 2018 and 2019, by which time it seems to have been renamed The Fort William Trail Running Festival.)