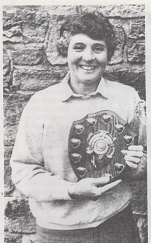 When, in late November 1991, Kay Dodson was elected as President of the Scottish Veteran Harriers Club, she wrote the following:
"I am very proud to have been elected President of the Club this year and I'm sure that we shall go on from strength to strength. I look forward to meeting many clubmates, old and new, at our events. Good luck and best wishes to everyone."
As will become clear from her well-written self-profile below, Kay is a talented person and a runner who has experienced fully and successfully so many aspects of our sport. Her love of exercising in the outdoors shines through!
QUESTIONNAIRE (for SVHC Newsletter)
NAME Kay Dodson
CLUBs Law and District AAC, SVHC, RRC, Carnethy Hill Runners
DATE OF BIRTH 23/12/1946
OCCUPATION Biochemistry Lecturer, latterly College Vice Principal, Retired 2006
HOW DID YOU GET INVOLVED IN THE SPORT? I started from a background of playing various sports including lacrosse (played lacrosse for St Andrew's University, 1965 to 1969), tennis, squash and a love of hill walking from school days, through university to the present day. I started running in 1983 in order to keep fit for the hills as I wasn't getting out much at this time as we had a young family. Brian and I started running in April 1983 and ran the Glasgow Marathon together in September, 1983 in 3 hours 46 mins. I was soon hooked on running for its own sake and never looked back.
HAS ANY INDIVIDUAL OR GROUP HAD A MARKED INFLUENCE ON YOUR ATTITUDE OR INDIVIDUAL PERFORMANCE? Joining SVHC early in my running career had a huge influence. Walter Ross was very supportive as were David Morrison, Tom O'Reilly and others too numerous to mention. One member, whose name I can't actually remember, used to phone me nearly every day with training tips and to ask how my training was going. I was inspired by Dale Greig who overcame prejudice and discrimination to put Scottish women's distance running on the athletics map. She was an amazing woman.
WHAT EXACTLY DO YOU GET OUT OF THE SPORT? When I was training and running regularly, I loved to feel fit and to feel that distance was no object. It was rewarding to win races and brought a feeling of confidence to so many aspect of my life. Also, it was a great way of relaxing after a sometimes stressful day at work, and I must admit to being one of those people who became addicted (in a positive way) to the runners 'high'. Incidentally, at 73, I am still addicted.
WHAT DO YOU CONSIDER TO BE YOUR BEST EVER PERFORMANCE OR PERFORMANCES?
At shorter distances my best times were:
10k Glasgow, March 1986, 38min 36sec
10 miles Tom Scott, April 1986, 61min 58sec
1/2 Marathon Irvine Valley, May 1987, 1 hr 24 min 14 sec
Marathon Glasgow, September 1986, 3hr 3 min 28 sec.
However, three 'ultra' races stand out as my really best performances and it's difficult to decide which I feel was my best:
The West Highland Way Race (95 miles) in 1989. I finished 1st woman, 13th overall in 21 hours 24 mins.
The South Downs Way Race (World Trail Championship, 80 miles) in 1992. I finished first W45 in 16 hours 03 mins.
Brechin 24 hour Race 1991. I ran 117 miles 1080 yds, was 1st woman, 3rd overall, setting a Scottish Women's All Comers Record for 24 hours on the road (it was strictly speaking a road race as it was round a park, not on a track.)
If I had to choose one, it would be my run at Brechin.
YOUR WORST? Manx Mountain Marathon (30 miles), April 1990 I was very ill equipped for what turned out to be a dreadful day with a bitterly cold blizzard and very strong winds blowing from the Irish Sea. I should have known better and worn more clothing. I have never been so cold and wet and I dropped out after about 15 miles. I was very annoyed with myself for being so ill prepared.
WHAT UNFULFILLED AMBITIONS DO YOU HAVE?
I now wish that I had continued to train to try to run a sub 3 hr marathon. I probably should have modified my training to include more speed work.
I also wish that I had carried on with 24 hour racing as I feel that I could have run well over 120 miles on a good day. Unfortunately, in the late 1990s, faced with a dreaded College restructuring, I took on a stressful job in senior management rather than face redundancy and I let the job become too big a part of my life. From then on, I just ran purely for pleasure and fitness without the extra stress of keeping up with training and racing. In fact I really enjoyed, and still do enjoy, the freedom of running purely for fun with no pressure of races.
OTHER LEISURE ACTIVITIES? Brian and I have cross country skied for many years, having completed the Grand Traverse of the Jura (France and Switzerland) and skied in Norway Finland and Austria. We also have done quite a bit of kayaking in Scotland. Hill walking has always been very important in our lives. We have done many long walks in the Alps and the Pyrenees, have climbed Kilimanjaro ( 5895m) and Kinabalu (4095), and trekked to Everest base camp (5300m). However, for me nowhere in the world compares to the Scottish hills. We have climbed all the Donalds and Donald tops, virtually all the Munros, most of the Corbetts and are now working our way through the Grahams (less descent for arthritic knees). We have visited some of the most remote corners of Scotland and I feel very lucky to have spent most of my life in such a beautiful country. Since we retired, we have enjoyed travel and have visited many parts of the world from the Arctic to the Antarctic, from Australasia to Canada and to many other countries in between. When we are at home, we both love gardening and grow a lot of our own vegetables and soft fruit. We are lucky that we both have the same interests to share and both remain fit and healthy.
WHAT DOES RUNNING BRING YOU THAT YOU WOULD NOT HAVE WANTED TO MISS? Fitness that has lasted me into my eighth decade, meeting some amazing 'real' and like-minded people, a sense of achievement that I don't think I would have got from any other sport, wonderful memories and experiences, but perhaps importantly, getting to know myself and pushing back the boundaries of what my body and mind is capable of. Also, I wouldn't want to miss turning up for the SVHC Christmas handicap each year and meeting up with old friends.
CAN YOU GIVE SOME DETAILS OF YOUR TRAINING? When I first started running, I was soon training to improve my marathon time. I followed Bruce Tulloh's training schedules building up to 70 miles a week and tapering off for races. My weekly schedule included a long run up to about 20 miles, a medium long run of about 13 miles, an interval session or less structured fartlek session, hill reps, a short fast run of about 5 miles and a couple of recovery days of short, untimed runs. I possibly did too much too soon, though I have never had any injuries other that the occasional niggle. My mentors at the 'vets' used to tell me that I probably left my best runs in training. I think they were right but I just loved running.
When I started running ultras, my training changed completely. I did very little real training during the week other than a few easy runs but I made up for this at the weekends. We would make a quick getaway when we finished work on Friday afternoons (we both worked at the same college) and set off up north for a weekend's running. We frequently did 'back to back' 40 milers on Saturday and Sunday often in the Cairngorms and also in the Western Highlands. I look back on these runs as some of the most enjoyable times I have ever had. Some notable examples were running the Lairig an Laoigh and the Lairig Ghru (35 miles) in a day and on another day, running a circuit of all the 4000 footers in the Cairngorms. We also had some great long runs in Glen Affric and the Great Wilderness. and in the far North. How good it felt to be fit!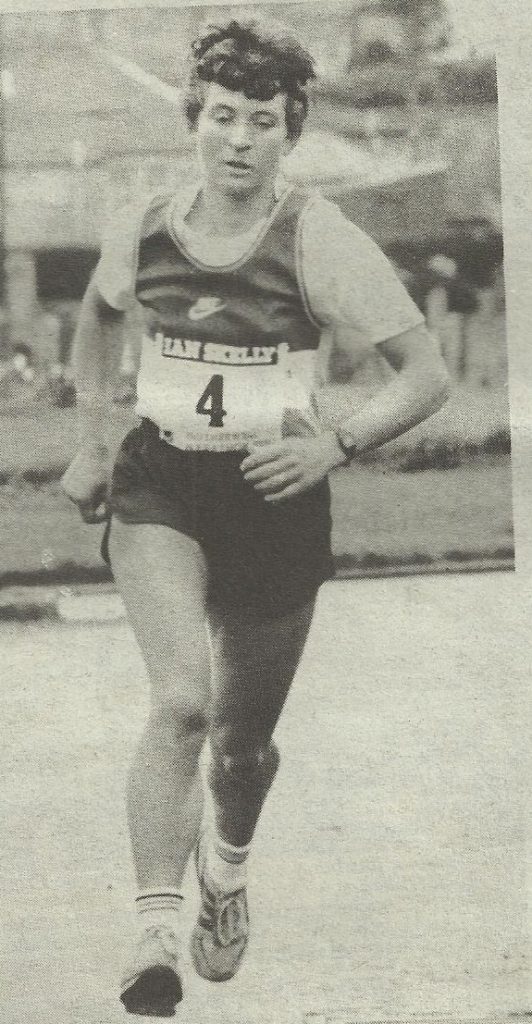 Kay on the way to winning the 1985 Motherwell Marathon
A brief running history – Kay Dodson
A friend had run the Glasgow marathon in 1982 and when Brian and I started running, he suggested we should try the 1983 Glasgow marathon. After I finished this first marathon comfortably, I began to train seriously with a view to improving my marathon time. After a good winter's training in 1983/84, I ran the Dundee marathon in April 1984 in 3 hours 26 mins and three weeks later, ran the Motherwell marathon in 3 hours 25 mins and was very surprised to win the women's race. By then I had joined the SVHC and was turning up regularly for the numerous races on the 'vets' calendar. In August 1984, I ran 3 hrs 18 mins at the Inverclyde marathon, taking 2nd place in the women's race. In September, I ran 3hrs 16 mins in Glasgow so it began to look as if my training seemed to be working. Then I embarked on a serious winter training schedule and, in April 1985, I ran the Lochaber marathon in 3 hrs 8 mins, winning the women's race. As well as taking the 1st woman prize, two other things still stick in my memory about that day: someone wiping the snow off the 20 mile marker; and meeting the legendary Eddie Campbell running in his 'Green Flash' plimsoles. 'Why would anyone want to buy expensive running shoes?' Eddie asked me 'when they can run in their plimsoles!' I followed my win at Lochaber by winning the women's race for a second time in the 1985 Motherwell marathon in 3 hrs 11 min. It was becoming a habit and beginning to look as if improvement just required consistent training. In August, I ran the 1985 Inverclyde marathon which that year was the Scottish vets championship. I finished in 3 hrs 8 mins, placing 2nd in the women's race and winning the vets championship. In September, I ran the Glasgow marathon in 3hrs 4 mins and began to feel that sub 3 hours was within my grasp.
I ran a number of half marathons during the autumn of 1985, and was placed either 1st woman or first vet at most races. I ran my first hill race, the Tinto race, in November, finishing 1st woman. However, hill running never became my favourite event. Over the years, I ran the Ben Lomond race, The Carnethy Five several times, the Greenmantle Dash and although I was usually well up in the pack at the top of the hill, I was never brave enough to fly downhill. My best race on the hills came in 1988 when I won the vets championship at the Campsie Hill race.
I return now to the winter of 1985/86 winning the West District women's vets cross country championship at Lanark racecourse and the National women's vets cross country championship at Irvine. Having got an entry for the 1986 London Marathon in the elite women's start, I began a serious winter training programme with a view to breaking 3 hours in London. As part of my build up, I ran a 10k in Glasgow in 38 min 36 sec, placing 2nd woman vet and four weeks later, ran the Tom Scott (10 miles) in 61min 58 secs placing 1st woman vet. Then came the 1986 London marathon for which I felt well prepared. However, being in the elite start turned out to be a very bad thing. The start went off far too fast for me and as the veteran men started right behind the women, I found it impossible to keep to my own planned even pace. I really struggled towards the end and was very disappointed with my 3 hr 4 min finish. Four weeks later my spirits were lifted a little as I took my third consecutive win at the Motherwell marathon finishing in 3 hrs, 9 mins. So it was back to the drawing board in my quest for a sub 3 hour marathon.
Over the next 6 months, I continued to train hard and ran some good races. Notable events were placing first woman vet at the Dumfries half marathon in June and placing 3rd in my age group at the Commonwealth vets 10k in Edinburgh in July. I had several other good runs in half marathons in the run up to the 1986 Glasgow Marathon in September. I felt well prepared, ran an even paced race but finished in a disappointing 3 hrs 3 mins to place 10th in the women's race. I just didn't seem to be able to run that few seconds a mile faster which was needed to break 3 hours. I felt that I could run further but not faster. Three weeks later I ran the Dumfries marathon just for fun, surprising myself by winning the women' s race in 3 hrs 11 mins in a spectacular sprint finish. Now was the time to review my running career and perhaps to think of running distances beyond the marathon as I seemed to be suited to endurance rather than speed.
Over the next year or so, I took the pressure off my quest for a sub 3 hour marathon and enjoyed some good races across a range of distances from 10k to marathons. There are too many races to mention them all but I will just mention another Glasgow marathon in 1987, placing 8th woman in 3hrs 7 mins, the challenging Snowdonia marathon in November 1987 and placing 1st vet at the Lochaber marathon in April 1988. I also ran SVHC championships where I had success winning the vets 10k championship in August 1987, the vets cross country championship in January 1988, the vets 10 mile championship at the Tom Scott in April 1988.
Some time in 1987, I had read an article in a Sunday newspaper about Bobby Shields and Duncan Watson running the West Highland Way and deciding to organise an annual race. The idea of running from the outskirts of the largest city in Scotland, by the shores of the largest loch to the foot of the highest mountain was a very attractive prospect so for better or worse, I entered the 1988 race. I had lots of miles in my legs and races under my belt so what could go wrong? I trained over the route and also much closer to home on the Southern Upland Way. It would just be a very long day in the hills and so it was. I very much enjoyed the experience and was pleased to finish in 23 hrs 9mins, placing third in the women's race. My first taste of ultra-running was a success so I then began to think of the following year's race and how I could get the time down. I put in a lot of miles in preparation for the 1989 race running a number of half marathons, the 1998 Lochaber marathon, the White Peak marathon, where I finished 1st vet. Other notable races in 1988/9 were taking part in the first BVAF cross country international held in Wales in November 1988 and even venturing onto the track at the SVHC indoor track championships at the Kelvin Hall, Glasgow, in February 1989. I would never have thought myself a track runner, and only entered to support the event but managed to finish 1st in my age group in both the 1500m and 3000m!
By June 1989 I was ready for my second running of the West Highland Way race. I had decided that the best way to reduce my time was not to stop. In 1988, I had had some brief stops and realised that stopping wasted a lot of time and was unnecessary. Brian was my backup and we had a good system of Brian coming out to meet me at each checkpoint with food and drink. I then walked a little way whilst I ate and drank and then ran on, never stopping for the whole 95 miles. It worked well and I had a great run, finishing in 21 hrs 24 mins, 13th overall, and winning the women's race. I regard this as one of my best running performances. So what other ultra events could I tackle? The answer soon became clear when I found out about 24 hour racing from articles in the RRC magazine. I learnt that there were several 24 hour races a year in the UK so I decided to aim for the Blackpool 24 hour race to be held in October 1990.
I decided on a gradual build up for the race and over the next year embarked on a schedule including the Two Bridges (36 miles) in August 1989, finishing 2nd vet in 5 hrs 19min, the Bolton 40, finishing in 5hrs 57min and winning the women's race, the London to Brighton (53 miles), finishing in 8 hrs 15min, 5th woman. I also ran the Snowdonia marathon again in October 1989, the Lochaber marathon in April 1990, the Fellsman (60 miles and 11000' over the Yorkshire fells) in May 1990, and the first Scottish 100k on the track at Livingstone in June 1990, finishing 10th and first woman in 9hrs 51 mins. It was at this race that I first met Don Ritchie having watched with amazement as he circled the track like a train to set a world age group (over 45) best. I now felt ready for my first 24 hour race and I was delighted to achieve 104 miles at Blackpool in 1990.
Twenty Four Hour races can become addictive and I ran several more over the next couple of years, my best performance being at Brechin in May 1991 when I ran 117 miles 1080 yds, finishing 3rd overall, 1st woman, and setting a Scottish Women's All Comers record for 24 hours on the road, probably my best ever performance. After Brechin, I ran the Bury 24 hour race in September1991 hoping to improve my distance a little but only managed 111 miles, finishing 5th overall and winning the women's race. More 24 hr races followed at Doncaster and Hull. There is little to interest the spectator at a 24 hour race but for the runner there is excitement every 6 hours when it is time to change direction! I am greatly indebted to Brian for being my very patient, efficient and sometimes persuasive back-up for all my ultra races. By September 1991, I had clocked up 20,000 miles in training and racing. Then I stopped counting.
So what is there to do after 24 hour racing? There are a great variety of other long runs and races all great fun and giving massive feelings of achievement. I ran the South Downs Way race (80 miles), in June 1992 which was the World Trail Championship that year, in 16 hrs and 3 mins, winning the W 45 category. I ran across Scotland from Bowling on the Clyde to Edinburgh, on the Forth and Clyde and Union Canal tow paths (63 miles in 10 hrs, 30 mins) with friends from the Carnethy Hill Running club and in 1996, I was a member of the Carnethy women's relay team of five who set a record for running the 212 miles of the Southern Upland Way, East to West, in 35 hrs 51 mins. Another notable run with Carnethy friends was from Dalwhinnie to Fort William (45 miles) through the hills. For a number of years Brian and I ran the Darlington Dash, part of the Northern triangle race series, held in November. It was a different route every year, always about 40 miles and using 'Wainwright style' maps which were given out at the start. It was not always the fastest runners who won but those with the best map reading and navigation skills. Over the years, Brian and I have run many, many miles over and through the hills, and on long distance paths, in all parts of Scotland – a great life of running which still continues today, albeit in a more leisurely way.
When Kay was editor of the SVHC Newsletter, she contributed several interesting articles. Here are four.
October 1986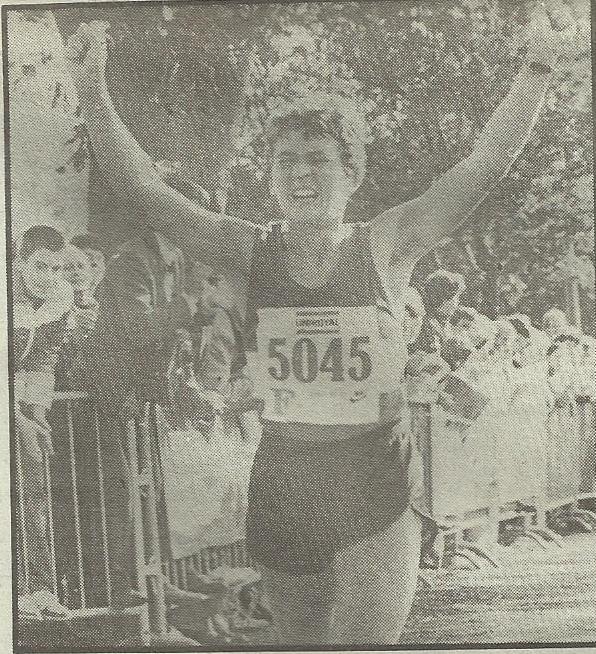 The Dumfries Marathon, 1986 – a Sprint Finish!
It was a fine, breezy day on Sunday, October 12th, 1986, when several of us, members of Law and District AC, travelled south to run in the Dumfries 800 Marathon, a celebration event to mark the Octocentenary of the town. It would perhaps be the only ever Dumfries Marathon so I wanted to take part even though I had run the Glasgow marathon 3 weeks previously, finishing 10th woman in 3.03, and just failing yet again to break the 3 hour barrier.
I was still disappointed with my Glasgow run and had no great expectations in Dumfries, my 13th marathon, other than to enjoy a run around the pleasant Dumfriesshire countryside. I knew that there were another couple of women running who would be strong competitors, Carolyn Brown of Dumfries Running Club and Kate Todd of Loudoun Road Runners but I decided just to run my own race. It was all going quite smoothly until the 25 mile mark when someone in the crowd shouted to me that the first lady was only a short distance ahead. So that was it. I had to make a bit of an effort. I suppose the adrenaline must have kicked in and I put on a bit of a spurt but not too much too soon as I couldn't risk cramp at this stage. And then, with just a few hundred yards to go, I saw her. It was Carolyn, just 50 yds ahead. Then it all came back to me – the good advice given to me by the legendary David Morrison who mentored me when I first joined the 'vets' – how to pass rivals effectively – "get up to them, collect yourself, then GO and never look back and once you have gone you can't slow down just KEEP GOING no matter how bad you feel". So, with David's words ringing in my ears, I did go and I didn't look back and I did feel bad. There was doubt in my mind. Did David really think I could do this in the last few hundred yards of a marathon? Well, I would soon find out and I wouldn't let him down. I hung on and there was the finish line. I had won the women's race. It was a slow 3 h 11 mins, well outside my PB, with Carolyn finishing just seconds behind me and, unbeknown to me, Kate Todd was finishing strongly less than a minute behind Carolyn, 70 seconds separating the first three women according to the official record. I never expected to have to finish a marathon with a sprint finish but I had done it! It was my fifth marathon win.
I was delighted to find that David Fairweather had placed second in the race, and first vet, clocking 2 h 28 min, after an equally dramatic battle with eventual winner, Dave Wilson of Wallasey. The next surprise was that our team from Law and District AC were awarded the team prize, with David Fairweather, Ian Donnelly who finished 24th in 2 h 55 min and myself counting for the team. However, that was not the end of the drama. A complaint was made to the organisers by a well-known Central Belt club which shall remain nameless. The complaint was that a team containing a WOMAN wasn't allowed to win the team prize! I thought that this was a bit silly as surely if a team of 3 men couldn't beat a team of two men and a woman they didn't really deserve to win the prize. I think the organisers must also have thought that it was a bit silly as, after some discussion, the complaint was dismissed and we retained our team prize. I suspect that the organisers had actually broken some SAAA rule in awarding us the prize but rules are made to be broken. I have always remembered the words of Walter Ross, one of our SVHC founding fathers, who once said to me "with running as with everything in life, let's not take ourselves too seriously. Running is for fun and, at the end of the day, we are all fun runners."
Kay Dodson
March 1988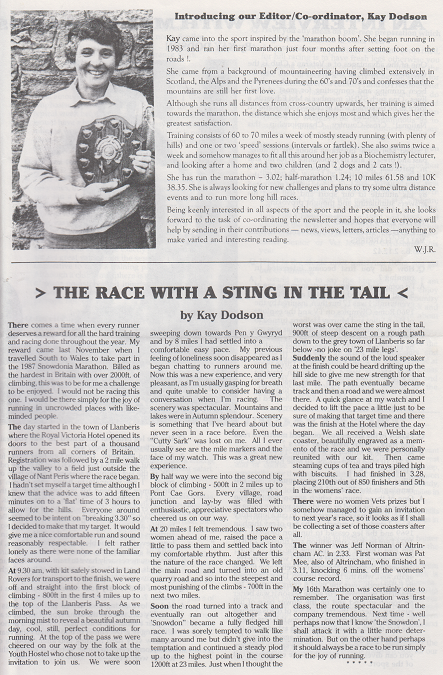 November1988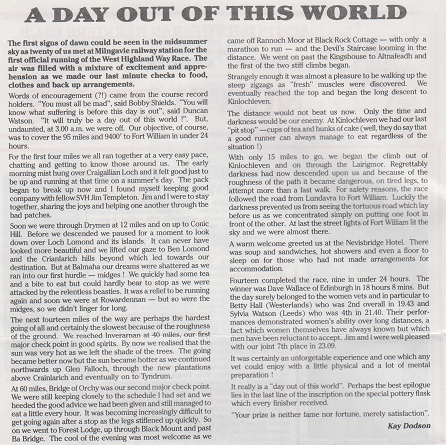 July 1989