This page covers endurance athletes whose surname begins with the letter C, who were active between 1945 and 1990. There will be omissions – if you think some athlete should be added. let us know. If there are corrections or additions that we need to make, let us know of these too and we will do them as quickly as possible.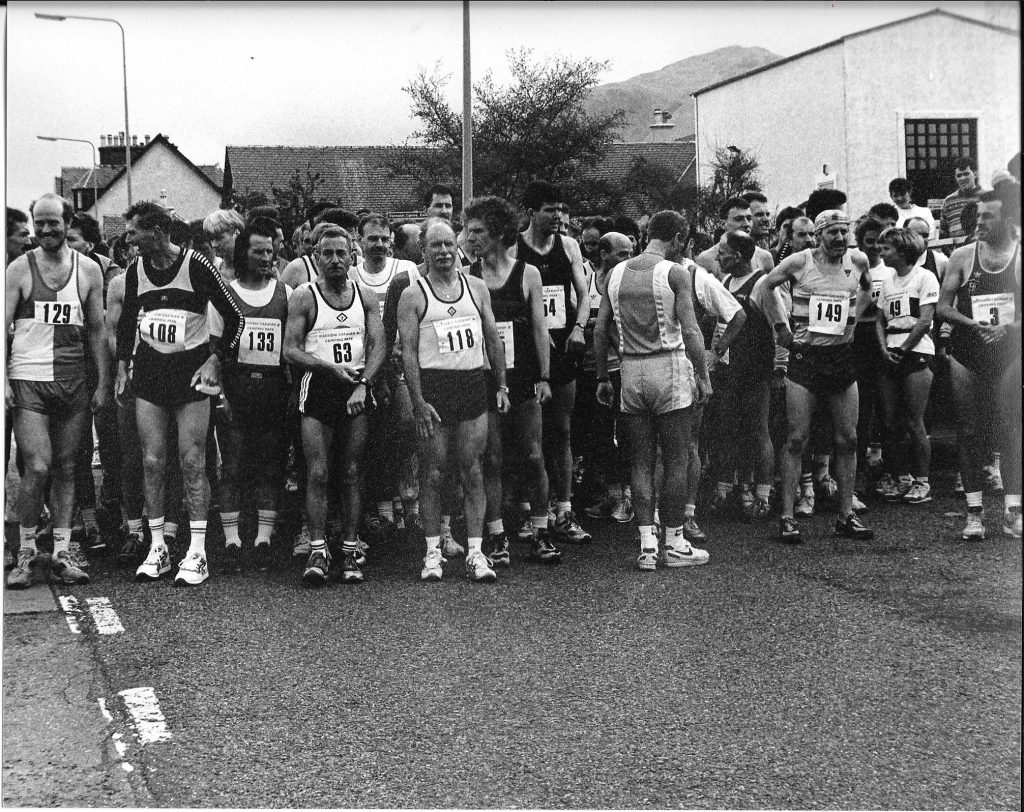 Start of Lochaber Marathon
William Cairns (Dumbarton AAC)
3000m S/chase: 9:30.6 1972; 10 Miles: 53:02.4 1972; Marathon 2:38:53 1982
Billy Cairns was a contemporary of Colin Martin, Graeme Grant, Jack Brown, Bobby Mills, Bob Chapman and Hugh Elder. He represented Dumbarton in the 1960's and 70's over the country (in all the main championships), on the roads (McAndrew and Edinburgh to Glasgow relays, etc) and on the track where his main event was the steeplechase. He was also a key member of the team that pioneered the Glasgow to Fort William relay which started in George Square and wound its way through the north and west of the city before joining what is now the West Highland Way: the remainder of its route diverged from the WHW in many places making it a much tougher event than the plain Milngavie to Fort William currently followed.
RC "Bobby" Calderwood (Victoria Park AAC)
BOBBY CALDERWOOD was a very fine runner as can be seen by his two runs in the International Cross Country Championships in 1956 and 1957 – in '56 he was first Scots counter when he finished in 41st position..
After running as a Youth and Junior Bobby's first run in the Senior National was in 1956 when he was second club counter when he crossed the line in ninth place. In '57 he was eighth and again in the victorious squad, in '58 he was nineteenth to be a counter in the gold medal team for the third consecutive year. There were medals in the following three years but not as bright – '59 saw him in thirty fifth and second team, '60 saw another thirty fifth place and bronze and in '61 it was seventy third for more bronze.
As for the Edinburgh to Glasgow, there were another four golds and three bronzes for Bobby. In 1952 a very young Bobby was second on the first stage in the winning team and although he missed the event in 1953, he made up for it with finishing first on the first stage in 1954 to set the team on its way. He missed out again in 1955 and then in 1956 he was again second on the first stage as part of another gold medal team performance. 1957 was to be his final gold medal when he again 'won' the first stage for the second time. In '58 he ran the first stage in the team that finished third but unfortunately the records don't show the individual times below the winning club. In 1959 he was third fastest on the long sixth stage to see the team finish third. The team started to disintegrate at that point and although the team of the 1960's would prove to be very good by 1960 the team could only finish twelfth with Bobby sixteenth on the first stage that he had dominated six years just a short time before.
Adrian Callan (Springburn Harriers, Shettleston Harriers) – see full profile
TBP Callaghan (Monkland Harriers) – see full profile
Tommy was a runner first, then a coach and administrator of high quality at Monkland Harriers. As a runner he was a steady, reliable athlete who paced his races carefully. As a coach he worked with really top class athletes such as Ron McDonald and Jim Brown.
Alexander Cameron (Edinburgh University, Edinburgh Southern Harriers)
6 Miles: 31:29.2 1968; marathon 2:34:31 1974
Big Sandy Cameron is one of the most popular runners in the country. He was described by Alistair Blamire as "loyal cross-country team player and 2:30 marathon man." Although he ran for Edinburgh University with Martin Craven (and they both won team bronze medals in the 1961 Junior National XC), he is known to be an Edinburgh Southern Harrier through and through. Sandy was in the ESH veteran team that won the Scottish Masters XC title in 1980. He secured individual M65 bronze in 2007.
He ran in pretty well every event on the calendar from the Mamore Hill Race in Kinlochleven, and the Three Peaks in England, to the Lochaber Marathon at Fort William and the Edinburgh to North Berwick. Serving the club through several waves of talented runners at a time when ESH was the strongest club in the land, his contemporaries were such as Ken Ballantyne, Martin Craven, Fergus Murray, Don Macgregor, Gareth Bryan-Jones, John Robson, Allister Hutton and Colin Youngson. He ran in one Edinburgh to Glasgow race (1967), but turned out in the National almost every year. If anybody represents all that is best about the Scottish club man and distance runner, it is Sandy Cameron.
Angus Cameron (Edinburgh Southern Harriers)
Marathon: 2:42:29 1971
Duncan Cameron (Dundee Hawkhill Harriers, Army)
880y: 1:57.0 1966; Mile: 4:20.5 1962
Evan Cameron (Edinburgh Southern Harriers) – see full profile
Hamish W Cameron (Aberdeen University, Victoria Park AAC, Forres Harriers)
Marathon: 2:43:16 1974
Hamish just kept on running steadily while others slowed and, as a veteran, gained revenge on many athletes who used to be faster than he was. For AU, he took part twice in the E to G. He ran several times for Scotland in the British and Irish Masters XC International. For many years, he was the invaluable Secretary of Forres Harriers and also organised the North Cross-Country League. In addition, he appeared in the final of 'Mastermind'!
Keith Cameron (Pitreavie AAC, Edinburgh AC)
400m: 49.1 1981; 800m: 1:51.63 1982
Robert Cameron (Central Region AAC, Bridgend) – see full profile
Brian Campbell, Hamilton Harriers, Clydesdale Harriers – see profile at the Three Amigos
Eddie CAMPBELL, St Mary's Fort William, Lochaber AC.
Eddie remains a legendary figure, especially in Fort William, and had countless friends. When the Ben Nevis race restarted after the war, in 1951, he finished second, but went on to win three times and lead Lochaber to the team title on several occasions. Eddie completed this arduous event 44 times; and, counting training runs, reckoned he had reached the top of Britain's highest mountain on 1200 occasions. Eddie was also a keen road runner, taking part in umpteen Scottish Marathon Club races, often linked to Highland Games, all over Scotland. He finished the 1955 Scottish Marathon championship, under the first-class standard time. Eddie won the 1958 North of Scotland Cross-Country title and finished second in the Goatfell event and third in the Cairngorm race. In later years, Eddie initiated many events: Lochaber Marathon and Half Marathon, Glasgow to Fort William Relay, Fort William to Inverness Relay, Aonach Mor and Lairig Ghru races; and, in his own inimitable fashion, often presented all the prizes.
Iain Campbell (East Kilbride, Clemson University [USA], Metropolitan Police)
5000m: 14:02.0 1985; 10,000m: 29:51.67 1984
Iain, a whole-hearted, gutsy athlete, ran well for Scotland in the 1978 World Junior XC; and again in 1979, when he finished first Scot in a very good tenth place. For East Kilbride, he took part in the E to G. Many years later he represented his country again in the British and Irish Masters 5 Nations International XC championship, finishing just outside the medals in the M45 and M50 age groups.
Iain Campbell (Dundee Hawkhill Harriers)
Iain featured in Dundee teams that won several important medals: gold in the 1989 E to G, when he was fastest on Stage 5, and silver in 1990; gold in the 1990 Six-Stage Road Relay and again in 1994; and gold in the 1991 Scottish XC Relay.
Ian Campbell (Edinburgh Southern Harriers) (10/12/59)
400m: 49.70 1988; 800m: 1:52.0 1989
Ian Campbell (Edinburgh Southern Harriers) (16/12/65)
400: 49.21 1985; 800m: 1:50.8 1985
J Campbell (Shettleston Harriers)
Campbell was a young senior when he appeared on the scene. He showed tremendous talent and determination and in the 1961 E to G, he was fastest on Stage Three, gaining three places and moving into the lead which his team never lost. Unfortunately for Scottish athletics he died suddenly very soon after that and his talent could not be appreciated on the wider Scottish stage.
Roderick Campbell (Octavians)
S/chase: 9:42.4 1964
Ronald Campbell (Glasgow University)
880y: 1:67.2 1962
R Carey, (Annan & District AC, Border Harriers)
Rob was a very good runner and steeplechaser indeed. Tall and powerfully built, he was member of Annan & District at the same time as such as Mike Carroll, and for a period, Steve Ovett. His peak period was between 1984/84 and 1986/87. In the national junior cross-country championships of 1985 he finished tenth, just 4 seconds down on Steven Begen of Springburn Harriers and a year later he was second in the same championship – 12 seconds down on Begen and 25 seconds in front of Tom Hanlon. This earned him selection for the ICCU World Junior Championships. He got the better of Began the following year when they were both first year seniors – Carey was 31st and Begen 66th. He also ran well on the road and won or was placed in many a race in the Borders and south east of the country, in addition to running on the second stage of the Edinburgh to Glasgow in 1989. As a steeplechaser he was ranked number six in Scotland in 1986 with a best of 9:14.45; a year later, as a member of Border Harriers, he was seven seconds faster with 9:07.59 which ranked him eighth; and in 1989, still with Border Harriers, he was timed at 9:10.0 and ranked seventh.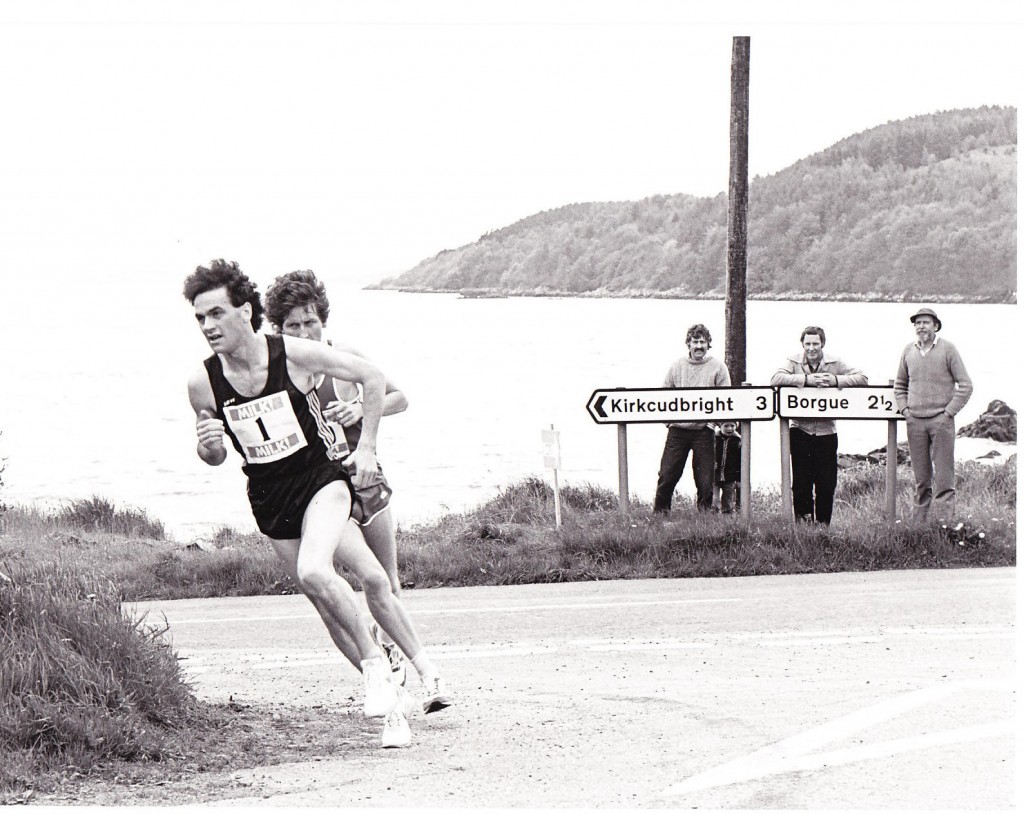 Mike Carroll followed by Graham Crawford
George Carlin (Clydesdale Harriers)
A talented runner who ran well on the roads, over the country and on the track. George also ran well on the hills and was part of several award winning teams in the 1970's and 80's. He was a 2:25 marathon runner and a 9 minutes + steeplechaser. On the country he won many team medals of all three colours – gold, silver and bronze.
Michael Carroll (Annan and District) – see full profile
3000m: 8:17.9 1989; 5000m: 14:15.3 1989; 10000m: 29:22.5 1989; Mar 2:19:18 1993.
Jack Carcas (Edinburgh AC)
Jack was one of the original members of Edinburgh AC in 1962 and was mentioned in Jim Alder's autobiography as one who had an effect on his life. Jack Carcas originated in the North East of England and has to his credit a very fast time in the Morpeth to Newcastle in the New Years day race. He may have other performances which are not known in Scotland. He ran in all major races including the Edinburgh to Glasgow and the National cross-country championship.
Albert Carse (Braidburn AC, Edinburgh AC)
Mile: 4:17.4 1965; Two Miles: 9:17.5 1965; Three Miles: 14:05.0 1965; 3000m S/chase: 9:58.4 1961
Bert Carse was a member of Braidburn AC when it merged with Edinburgh Harriers, Edinburgh Eastern and Edinburgh Northern to form Edinburgh AC in 1962. He was a very good athlete and, apart from the steeplechase pb noted above, most of his best running was done as a member of the new club for whom he ran in road and cross-country races as well as in the various leagues and championships on the track. He ran the first stage of the E-G in 1962 – their first year in the race. In 1963 he ran the second stage and moved the club from 13th to 11th, in '64 he picked up one place on the second, in '65 he ran the fastest time on the second stage moving from sixth to second – faster than Alex Wight, Alex Brown, Joe Reilly and all the rest. That was the last time he ran in the race. Cross-country he was twelfth in the National in 1965, one second behind Craig Douglas, having been 54th the year before. Bert emigrated to Perth, Australia.
David Carter, St Andrews University
David (in 5th place) was the best runner in the team which won gold medals in the 1958 Scottish National Junior XC championships; in 1959 he secured an individual bronze medal – the second team counter was future Olympian Donald Macgregor in 7th – and the team finished second. In the 1959 E to G, St Andrews University achieved a good 7th place.
Peter Cartwright, Falkirk Victoria Harriers, Clydesdale Harriers
Brian Carty (Shettleston Harriers) – see full profile
Brian ran his first marathon in Glasgow in 1982 at the age of 39 and clocked 2:40. By the spring of 1983 he was a Shettleston Harrier and that year he was fourth in the Jimmy Scott race, third in the Motherwell Marathon in 2:32:57, fourth in the SAAA Marathon in 2:33:45, before finishing his season with 2::26:15 for fifth place in the Inverclyde Marathon in August. The high spot of his career however had to be on 1st June, 1986 when he won the SAAA Marathon championship. Brian also ran over the country with some distinction. He was part of Shettleston veteran teams that won the Scottish Masters XC title in 1985 and 1985; and secured individual M40 silver in 1987.
Steve Cassells, Aberdeen AAC
Steve was in the Aberdeen team which won the 1976 Scottish Junior National XC. He was a great clubman, for many years training hard and regularly, and raced frequently on country and road – preferring the half marathon.
David Causon, Garscube Harriers
David was a long serving and loyal member of Garscube Harriers who turned out faithfully in every race he could including club, county, district and national championships. He was also a member of the Scottish Marathon Club and one of the first to join the Scottish Veteran Harriers Club to which body he donated a marathon trophy.
David Cavers (Teviotdale Harriers)
5000m: 14:45.8 1991; 10000m: 3000, S/chase: 9:20.67 1989; Marathon: 2:16:06 2008
Dave Cavers was a most remarkable cross-country runner, who also completed one very good marathon. He had ten victories in the East District Cross-Country League and had many contributions to Teviotdale's best team performances. In addition he was East District Cross-Country champion six times between 1992 and 2001. However it is Dave's record in the Senior National that is most amazing in its high quality and consistency. Between 1989 and 2001 he was second, fourth twice, fifth twice, seventh, eighth twice, ninth, tenth twice, twelfth and fourteenth. If only Scotland had not been excluded from competing as a separate nation in the IAAF World Cross-Country! Dave's silver medal in 1999 was won at Beach Park, Irvine, when he was defeated by Bobby Quinn but finished in front of Tommy Murray, Phil Mowbray and Tom Hanlon. When he was fourth in 2000, the three in front were also very high quality GB Internationals – Quinn, Murray and Glen Stewart.
Bob Chapman (Dumbarton AAC)
Bob was a Royal Navy officer stationed on the Clyde in the late 60's early 70's who joined Dumbarton AAC while he was there. A very good runner on whatever surface he was competing, he helped the club to several team medals.
Richard Charleston (Wolverhampton & Bilston, EAC)
1983 1500m 3.46.7; 1984 5000m 14.03.74; 1983 3000m Steeplechase 8.46.27
Richard was part of the EAC team which won the 1984 Scottish 6 Stage Road Relay. In 1985 he became Scottish Half Marathon champion. He featured in the Scottish rankings between 1982 and 1989. Undoubtedly Richard was at his best on the track: winning the Scottish Steeplechase title in 1982 and 1986 and finishing second in 1983. He ran the Steeplechase for Scotland 8 times; including a 12th place finish in the 1986 Commonwealth Games.
Dougie Childs (Greenock Glenpark Harriers)
Doug was a good regular member of many Glenpark teams racing well for them on the country in County, District and National championships, on the track in inter club events as well as in the Edinburgh to Glasgow relay and all the classic road races (McAndrew, Nigel Barge, GU Road Race.
Bruce Chinnick, (Wales), Forres Harriers, Aberdeen AAC
1990: 3000m 8.22.0; 5000m 14.21.72; 10,000m 30.09.5
Bruce won the North District XC title in 1986 and 1987 and was also a tough competitor on the road, with a half marathon best of 65.38. He ran the E to G for the North District Select.
Joseph Clare (Aberdeen, Royal Navy, Blackheath)
Six Miles: 30:38.6 1968; 10 Miles: 51:15.6 1968; Marathon: 2:18.43 1968
Joe was a tall, powerful, very reliable athlete who trained for a while in Aberdeen with International runners Alastair Wood and Steve Taylor. He won the North District XC title in 1969. His marathon best was set while winning the 1968 Inverness to Forres Marathon. Earlier that year he had won a silver medal in the Scottish 10 Miles Track championship. In 1970, on his debut, he was victorious in the famous London to Brighton ultra-marathon. For Aberdeen AAC, in the Senior National, he contributed to team silver in 1968; and he added E to G bronze in 1967 and silver in 1968. He was part of the AAAC ten man squad that broke the John o'Groats to Land's End Relay record in 1973.
Graham Clark , Spango Valley AAC– see full profile
Talented Scottish distance runner who ran for Scotland in the international cross-country race but died tragically early.
J Clark, Clyde Valley
In the Scottish Masters XC championships, he won M60 titles in 1983 and 1985; and added a silver medal in 1986.
James Clark (Shettleston Harriers)
James finished 12th in the 1948 Senior National XC and Shettleston won the team title; which they did again in 1949 and 1950.
Robert G Clark (Edinburgh University)
440y: 51.2 1961; 880y: 1:55.2 1961; Mile: 4:16.2 1961
A member of Clydesdale Harriers before going to Edinburgh University, Robert already had a good athletics career as a track and cross country runner behind him when he arrived in the Capital. He won SAAA gold as a member of the Clydesdale 4 x 440 yards team that won the SAAA Championships in 1960 and individually was second in SAAA 880 yards in the same year. Robert had a good athletics career at University including winning the Scottish Universities Mile in 1860. He represented the University with distinction on the road and over the country as well as on the track.
Roy Clark (Royal Navy, Clydesdale Harriers)
An ultra distance runner who was posted to Faslane in the 1960's and joined Clydesdale Harriers. He ran in the Edinburgh to Glasgow 45 miles race as well as many club races including the County, District and National Championships.
HB (Ben) Clegg (Edinburgh Southern Harriers)
Two Miles 9:28.0 1962; Three Miles 14:25.0 1963; 30:17.0 1963.
You can see from the times above recorded on grass and cinders that Ben was a considerably good runner. His talent was not limited to the track – he ran in three Edinburgh to Glasgow relays picking up three bronze medals, and in three senior national cross country championship races where he won bronze in 1962, silver in 1963 and gold in 1964. ESH won again the following year but by then Ben had moved on and would not run in another National.
David Clelland, St Modans AC
David won silver medals in the Scottish Two Miles Steeplechase track championships in 1950 and 1951; and bronze in 1946 and 1952. For St Modans, he ran the E to G in 1950 and 1951, then switched to Falkirk Victoria Harriers, running the great race four more times, gaining 'most improved medals' not only in 1953 (11th) but also 1954 (5th). Much later he won bronze medals in the M50 Scottish Veterans XC championships – in 1979 and 1981.
Frank Clement (Bellahouston Harriers, Strathclyde U) – see full profile
R Climie (Bellahouston Harriers)
In the E to G, he won three team bronze medals: in May 1949, November 1949 and 1952. In the Senior National, he gained two team silver medals in 1948 and 1949.
Ian Cloudsley (Shettleston Harriers)
Ian was a very good Junior who was third in the Junior National in 1954/55 which was won by team mate Graham Everett. He also ran in two Edinburgh to Glasgow Relays: in 1955 on the first stage when he was third on the first stage for the winning team; and in 1956 he ran on the eighth stage for the team that finished second.
Fraser Clyne (Aberdeen AAC) – see full profile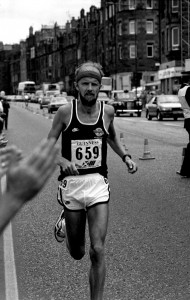 Fraser Clyne
Thomas Cochrane (Beith Harriers, British Army, Portsmouth AC)
Two Miles: 9:16.0 1964; Three Miles: 14:22.8 1966; 300m S/chase: 9:31.2 1966
Tommy Cochrane was a very talented athlete indeed: had he run for a more fashionable club with increased competition opportunities, he would have been even more successful than he was. He won the South Western District cross-country championship seven times and when the District was amalgamated with the Western District he was given the trophy to keep. He ran in the International Cross-Country in both 1963 and 1964 after finishing ninth and sixth in the domestic championship. Tom moved to Bournemouth where he carried on his athletics and became a well known coach.
P Coleman (Falkirk Victoria)
Marathon: 2:23.03 1982.
Ron Coleman (Dundee Hawkhill Harriers)
Two Miles: 9:23.0 1964; Three Miles: 14:08.0 1965; Six Miles: 29:57.4 1965; Marathon: 2:28:94 1965
Ron Coleman was a very important figure in athletics in Dundee as well as wider afield in Scotland. First and foremost a runner and a loyal member of Dundee Hawkhill Harriers. When the club first ran in the Edinburgh to Glasgow in 1961 and won the 'most meritorious' medals Ron ran on the difficult sixth stage. He went on to run in another seven relays on stages 1, 2 and 6. He also ran on the country in all major championships. Ron was a really good long-distance road runner, for example winning the challenging Spean Bridge to Fort William race in 1962. He was 6th in the 1964 Ben Nevis Race.
TC Coleman, West Kilbride AAC
Coleman was a very good runner with the short-lived West Kilbride club. They had many excellent runners and won several championship races. He was fifth in the Youths' (U17) age group of the national in 1949 wen the club won the team race, in '50 he was fourth in the same race, and in 1952 as a Junior he was unplaced. In 1953 as part of n incomplete Junior team he was tenth in the National.
On the track he had individual success – in June 1949 he won the SAAA Junior Mile title from Tommy Lambert of Bellahouston, a feat he repeated in 1950 winning comfortably from Alex Breckenridge of Victoria Park.
Joe Connaghan (Spango Valley)
Joe was a good runner in his own right with some very good performances to his credit but is just as well known as the father of the two outstanding brothers mentioned below.
Peter Conaghan (Spango Valley)
5000m: 14:24.0 1984
Peter was the older of the two brothers (their father Joe was a late convert to the sport and was a good runner too). Peter ran in the IAAF international cross country championships in 1984 after finishing eighth in the national. He continued to run well in the national and also ran in the Edinburgh to Glasgow for his club.
Stephen Conaghan (Spango Valley)
5000m: 14:37.0 1986; 10000m: 31:28.66 1987
Stephen was also a talented athlete who ran well on all surfaces and was part of teams which won prizes and medals in County, District and National championships as well as open races.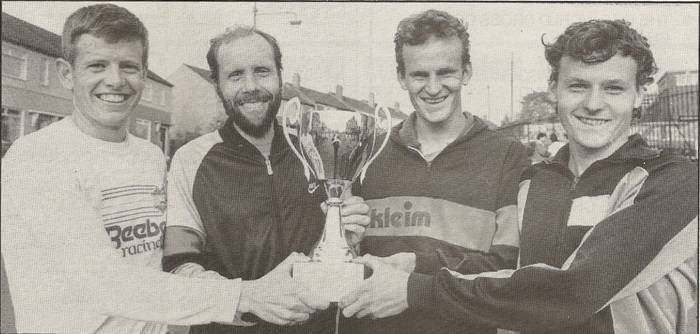 Winning team in 1986 McAndrew Relay: Chris Robison, Lawrie Spence, Peter and Stephen Conaghan
Jimmy CONN, Lochaber AC
Between 1952 and 1960, Jimmy ran 9 successive Ben Nevis Races, finishing in the top ten 7 times, with his best position 3rd (in 1952 and 1960). He contributed to four team victories. In his centenary book – "The Ben Race" – Hugh Dan MacLennan wrote of Jimmy "He must go down as the finest runner (certainly from Lochaber) who never won the ultimate accolade".
Joseph Connolly (Bellahouston Harriers) – see full profile
S Connelley (Springburn)
Marathon: 2:35:40 1980
John Convery (Ayr Seaforth, Edinburgh AC)
440y: 50.2 1962; 880y: 1:51.8 1970
John Convery was a very good 880 yards runner over quite a long period running for Ayr Seaforth and then for Edinburgh AC. he was born in Northern Ireland ,and then lived in Ayrshire before moving to Edinburgh. Mainly a track man he did run in the Edinburgh to Glasgow on the third stage in 1964, 1965, 1966, 1967, 1969, 1971 (when he moved the team from tenth to fourth) , 1972 (fastest time on the stage) and 1973 (second team and silver medal). John did not run as frequently over the country although he ran in the National often. And in 1972 he was a team with Jim Alder, the Wight brothers, Matheson and Dave Tyler which was good enough to win another team silver
Brian Cook (Dundee Hawkhill Harriers)
Brian contributed to gold medals in the 1990 Six Stage Road Relay and silver in 1989; and to silver in the 1990 E to G.
J Cook (Garscube Harriers)
In the early/mid 1960's Garscube Harriers had two outstanding young athletes in Ricky Wood and James Cook. James was the younger of the two and he won the 1967 National Youth Cross-Country title, earning selection for the Scottish Junior cross-country team. A year later, as a first year Junior he was eighth in the National, sandwiched between A McKean and T Patterson of Shettleston, he was again selected for the Junior International.team . He ran in the 1968 Edinburgh to Glasgow.
Jim Cooper (Springburn Harriers)
Jim Cooper, known to most as 'Cooperman', was a long serving member of Springburn Harriers. He ran in the Edinburgh to Glasgow 10 times between 1981 and 1992, six of them on the tough sixth stage. In 1985, Springburn had finished 9th in the E to G and secured medals for the most meritorious unplaced performance and Jim ran on the sixth stage that day. He was also part of the team that won the 1988 Scottish 6 Stage Road Relay, and a year later, added a silver medal in the 1989 Scottish Cross-Country Relay. He ran everywhere that his club required him to run – road or cross-country, and in a lot of individual races over the summer. While he continued to carry on running without a break, and extended his range to include the marathon (2:28:34 in 1991), he became a qualified coach with the club.
Ross Copestake (Dundee Hawkhill Harriers, Birchfield Harriers, Wolverhampton and Bilston AC)
1500m: 3:47.2 1983; Mile: 4:04.6 1983; 3000m: 7:57.3 1983; 5000m: 14:26.7 1988; 3000m S/chase 9:05.2 1983
Ross first came to the notice of athletics followers as a cross country runner. Winning the Youths' (U17) championship in 1980,he was selected for the IAAF cross-country championships as a junior. Working his way through the Junior ranks and the first year as a senior, he was fourth in the 1984 national behind Muir, Hutton and Clyne and was selected for the international in the senior age group; the following year he was third behind Muir and Robson and in front of Braidwood, Dingwall and Haskett ; and in 1987 he was eighth and in both years he ran for his country in the international. Strangely for one so quick on the track and so gifted over the country, he only ran two Edinburgh to Glasgow Relays – first of all in 1981 and then not again until 1988 although his contemporary through the age groups, Richie Barrie, turned out every year.
Alan Coutts (Greenock Wellpark Harriers)
5000m: 14:51.6 1978; 10000m: 30:41.6 1980
Alex Coutts (Strathclyde University)
10000m: 32:06.8 1975
John Cowan (Bellahouston)
Marathon: 2:24:09 1985
John Cowan (Victoria Park, Clydesdale and Cambuslang)
John Cowan was always a very good runner: as a Boy (U15) and Youth (U17) with Victoria Park he was part of a very good team that won medals at County, District and National level and his school, (Braidfield) was always involved in athletics too. As a Senior man with Clydesdale Harriers he showed a lot of promise but, after moving across to the south side of Glasgow he joined Cambuslang Harriers whom he helped to several team medals.
Fred Cowan, Bellahouston Harriers
Freddy joined Bellahouston around 1950 from the West of Scotland Harriers and he became a very good 880y track runner winning quite a few handicaps best around 1-56, he was also a good distance runner although a bit inconsistent. One of his outstanding runs was winning the first leg in 1956 in the Edinburgh – Glasgow beating Bobby Calderwood in a sprint finish. He still trains and runs in the Vets track Fred was a reliable member of the Bellahouston teams in the very late 50's/early 60's period with two silver medals to show for his efforts in the Edinburgh to Glasgow Relay. He still trains and runs in the vets track champs. he will be 85 years old this year (2018)
Douglas Cowie (RAF, Forres Harriers)
Marathon: 2:21.14 1986
Doug was a very determined, well organised runner who was influenced by former RAF team-mate Steve Jones (British record holder for the marathon). Doug's training – for cycling, duathlon and triathlon, as well as running – was impressive, so he seldom became injured. He ran marathons for Scotland in Home-countries contests; and often took part for Scotland in the British and Irish Masters International Cross-Country. As a coach, he had considerable success at Forres, and one of his athletes ran for GB in the World Junior Cross.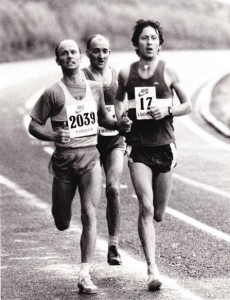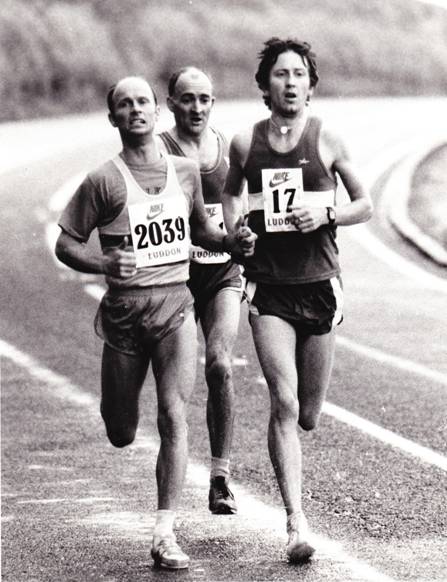 Hammy Cox (2019), Graham Crawford (17) and Alex Gilmour.
Hamilton Cox (Greenock Glenpark Harriers, Spango Valley AAC) – see full profile
Martin Coyle (Spango Valley)
10000m: 33:23,4 1978
Thomas Coyle (Edinburgh Southern Harriers)
5000m: 14:36.0 1971; 10000m: 31:52.0 1971; 3000m S/chase: 9:28.6 1971; Marathon: 2:26:39 1971
Tommy was part of the ESH team which won the E to G in 1969.
William Coyle (Shettleston Harriers)
800m: 1:54.8 1988; 1500m: 3:50.51 1990; 3000m: 8:06.2 1992; 5000m: 14:18.1 1997; 10000m: 29:59.8 1997; 3000m S/chase: 9:10.7 1991; Marathon: 2:32:54
Billy Coyle came in to the sport in the early 1980's and coached by Bill Scally he followed Bill's example and did what his club needed him to do. The range of personal bests goes from to 1997 and he was still running and racing well into the 21st century. Billy ran well in the Edinburgh to Glasgow Relay and over the country too, helping his club to many gold, silver and bronze medals.
Anthony Coyne (Falkirk Victoria, Bellahouston, Shettleston) – see full profile
1500m: 3:51.72 1986; 3000m: 8:24.6 1990; 10000m 31:21.8 1992; marathon: 2:19:16 1984
Archie 'Baldie' Craig (Bellahouston Harriers) –
Archie won the SCCU Championship in 1913 and ran in seven international cross-country championships between 1913 and 1924. He was the father of Archie Junior and George both of whom, like their father, ran for Scotland. Although his running career was entirely with Bellahouston Harriers, he later moved to Shettleston Harriers where he was a coach. When he was President of the SAAA in 1937/38 though it was as a member of Lochwinnoch AC – a small club in Renfrewshire that provided many runners for Bellahouston Harriers, the most notable of whom was Harry Fenion.
Archie Craig, jnr (Shettleston Harriers)– see profile
Archie Craig junior ran in the cross-country international in 1938 and '39.
George Craig (Shettleston Harriers) – see full profile
George was the younger of the two sons of Archie Craig and ran in the international in 1948, '49 and '50.
Martin G Craven (Edinburgh University, Edinburgh Southern Harriers, Kendal) – see full profile
Two Miles: 9:12.0 1963; Three Miles: 13:56.6 1963; 5000m: 14:32.6 1972; Six Miles: 29:47.4 1963; 10000m: 29:55.4 1973; 10 Miles: 49:19.6 1973; Marathon: 2:18:38
Graham Crawford (Springburn Harriers, Glasgow University) – see full profile
1500m: 3:50.7 1984; 3000m: 8:10.7 1984; 5000m: 14:11.3 1985.
John Crawford (Victoria Park, Glasgow University)
Six Miles: 31:09.0 1967; 3000m S/chase: 10:03.2 1969.
Stewart Crawford (Victoria Park, Glasgow University)
3000m S/chase: 9:45.2 1972
Ray Cresswell (Aberdeen AAC)
1500m: 3:50.19 1989; 3000m: 8:24.82 1989; 5000m: 14:46.06 1989; 10000m: 31:22.77 1992; 3000m S/chase: 9:14.46 1989.
Ray Cresswell always had considerable talent and as a Junior ran 1500m in 3:58.4. In the Edinburgh -Glasgow, he was part of a winning team in 1986 and 1988 (when he was fastest on Stage Three, moving from third to first.) In addition he won bronze medals in the 1988 National (twentieth finisher) and the 1989 Six-Stage Relay.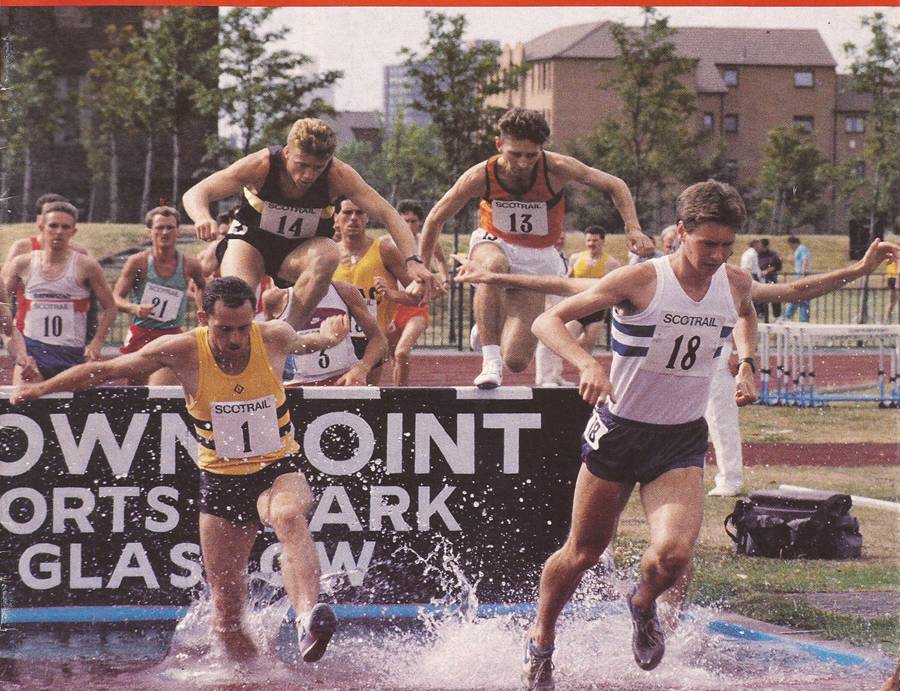 Graeme Croll (1)
Graeme Croll (East Kilbride, Cambuslang) – see full profile
Marcus Crolla (Grimsby)
Two Miles: 9:49.o 1959; Three Miles: 14:08.8 1960
Stephen Cromar, Dundee Hawkhill Harriers
Stephen first won a medal in the Scottish Masters XC championship in 1996 – silver behind Pitreavie's John Linaker. Since then, Stephen has only once been defeated in this annual event: winning the M60 title in 2002; M65 gold four years in succession (2004-2007); the M70 championship in 2009 and 2012; and M75 in 2017 and 2018. Only Ian Leggett (M70 – 2011) managed to edge Stephen out of first place. The Dundee Hawkhill Harrier ran well for Scotland several times in the British and Irish Masters XC International, including 9th M65 in 2005; and M65 team silver in 2007.
Stephen Cullen, Garscube Harriers
Arguably, Stephen symbolised the club runner of the 1945 – 90 period better than any other. Stephen trained hard, raced hard and did whatever his club needed him to do. He ran in all cross-country championships as well as all of the open races at one time or another; he ran in the Edinburgh to Glasgow as well as in all the classics – the McAndrew, the Nigel Barge, the University Road Race, etc. I was surprised to see that he hadn't been ranked as a steeplechaser at any point. He is, of course, still running but also coaching and helping others in the club.
Iain Cumming (Pitreavie)
400m: 49.28 1989; 800m: 1:52.2 1988
Alan Currie, Maryhill Harriers
Alan was a talented athlete who won the West District Junior Cross-Country championship on a wet afternoon in Kilmarnock in 1989. Second was Ian Tierney of East Kilbride, third was Scott Murray of Kimarnock. Unfortunately Alan's extremely long legs, ideal for steeplechasing, were injury prone and he missed the national championships where Ian Tierney was second and Scott Murray was third. The injury problem unfortunately put paid to his career far too early.
Alan Currie (Dumbarton, Edinburgh University, Edinburgh Southern)
1500m: 3:46.96 1983; Mile: 4:05.9 1984: 3000m: 8:13.0 1985
Alan was a bit overshadowed by younger brother Alistair but was a very good athlete in his own right – look at the times posted in the 1980's above. Like Alistair he ran road and cross-country as well as track.
Alistair Currie (Dumbarton, Loughborough, Newham and Essex) – see full profle
800m: 1:49.01 1985; 1500m: 3:49.43 1985; Mile: 3:59,29 1985; 2000m: 5:20.91 i 1987; 3000m: 7:53.39 1989; 5000m: 14:11.20 1989; 3000m S/chase: 9:01.7 1991
Hugh Currie
Hugh ran for Bellahouston Harriers as a young man; but concentrated on climbing and became a member of the Creag Dhu Mountaineering club. He was very fit when he came into the sport as a veteran (with the Allander club in the late 1970s) and set the M65 record for the London Marathon. In the Inverclyde Marathon he established two British age group records for the marathon: M60 in 2.47.33 (1985 – later, Bill McBrinn ran a little faster); and M65 in 2.51.39 (a record which was still Hugh Currie's in 2018).
Martin Currie (Central Region)
800m: 1:54.33