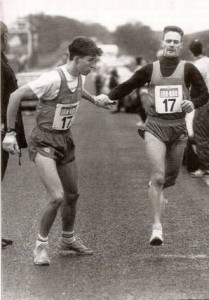 Tony Coyne (on right) passing the baton to Billy Coyle in the 1993 E-G
Tony Coyne was a very good endurance runner with a good turn of speed who was one of the Bellahouston Harriers group of talented athletes which included Peter Fleming and Andy Daly.   After a successful career as an athlete which included a spell at Shettleston Harriers, he returned to Bellahouston Harriers where he is now a coach.    We began by asking Tony to answer a variation of the Scottish Marathon Club questionnaire.
Name:   Tony Coyne
Date of Birth:   11/08/58
Club/s:   Bellahouston Harriers/Shettleston Harriers
Occupation:   Dental Technician, the same as Lachie Stewart who used to work in the Lab that I worked in a few years before me.
List of Personal Bests:   1500:   3:51          3000:   8:24          5000:   14:36          10K:   30:20          Half Marathon   67:00          Marathon:   2:19:16
How Did You Get involved In The Sport Initially?   I worked in a Dental Lab that George Braidwood came to as an apprentice and he used to run home after work.   At that time I used to play a bit of football and as we both lived in the same part of Glasgow I used to join him on his runs home after work.   After a few weeks he invited me down to run at Bellahouston Harriers and that was the last time I kicked a ball for nearly 20 years.
Has Any Individual Or Group Had A Marked Effect Either On Your Attitude To The Sport Or n Your Performances?   I was lucky enough to be involved in the group training sessions that Frank Dick used to do at Bellahouston Sports Centre before he went on to become the sports guru to the stars.   After that I was part of the Alex Naylor group that produced a few stars in the 80's.   The last few years of my running career were spent under the guidance of Bill Scally, the man who inspired me to become a coach and a man whom I admired greatly for his dedication to the Shettleston Harriers, his athletes and the sport of athletics in general.   I cannot begin to tell you how much I learned about training whilst part of his squad.
What Exactly Do You Get Out Of The Sport?   I have learned to be a well organised person, and I got a great sense of achievement from training and competition.
Can You Describe Your General Attitude To The Sport?   I think that athletics has made me appreciate other people more, and the efforts that they put into their training is just as great as the talented guys who pick up all the prizes.
What Was Your Best Ever Performance?   Third place in the Barcelona marathon on my debut for Scotland when the team won the team prize too.   (I even got a big hug and a kiss from Brian Goodwin as I crossed the finish line.)
And Your Worst?   One year, before the E-G I had been having an early autumn purple patch and was looking forward to the big race as I was the lead off man and feeling confident of us doing really well, but stupidly on the Friday before the race weekend I donated a nice pint of my rare blood group to the Blood Transfusion Service (doing my civic duty) not realising that giving away a pint of red blood cells would have a hell of an effect on my performance on the Sunday and I duly finished second last on the first stage blowing the club's chances that year.   (It took me a few years to own up to that never to be repeated mistake to my team mates.).
Did you achieve all your goals or was there something that you feel you missed out on?   On reflection, I think I achieved all that I could.  Being married with a young family and mortgage meant i was not in a position to try athletics full time, but I don't lose any sleep thinking about it.
What Did Running Bring You That You Would Not Have Wanted To Miss?   A mental toughness and a competitive edge which I feel helped me as a runner but has also helped in my chosen  career.
Could You Give Some Details Of Your Training And/Or Your Training Philosophy?   Back in the day, a typical training week would be:
Monday:   (1)   Lunchtime group interval session on the golf course in Alexandra Park with G Braidwood, F Clement, P Fleming, A Daly, G Getty and J Hendry.
(2)   pm   Easy jog home from work
Tuesday:   am: Easy jog to work;        lunchtime: gym session;           pm easy jog home
Wednesday:   am   Easy jog to work         pm   Track Session at Crown Point Track
Thursday:   Repeat of Tuesday.
Friday:   am   Easy jog to work
Saturday:   Race
Sunday:   am   Two hour group run (Braidwood, Fleming, Getty and Daly) in Pollok Park and surrounding golf courses.
My training philosophy?   Always respect other runners whatever level they are at because we were all joggers at one time.
***
An indication of the status of Bellahouston Harriers in Scottish marathon running at the time can best be seen in the Scottish Marathon ranking lists for 1983.   Only Aberdeen had more in the lists, the nearest Glasgow club was Victoria Park with four sub 2:30 men while Bella had ten!    They were
| | |
| --- | --- |
| Peter Fleming | 2:17:46 |
| Andy Daly | 2:19:30 |
| Tony Coyne | 2:20:07 |
| George Braidwood | 2:21:27 |
| Graham Getty | 2:24:24 |
| Robert Marshall | 2:24:42 |
| Tom Donnelly | 2:28:16 |
| Campbell Joss | 2:28:52 |
| David Wyper | 2:29:24 |
| Jimmy Russell | 2:31:25 |
Vicky Park's best was 2:23:54 by Alan Wilson.    Of those above, Tony was under 2:20 in less than a year as was Graham Getty, Jimmy Russell was under 2:30 and Bob Guthrie was under 2:25.   It was a quite remarkable group.
Back to Elite Endurance