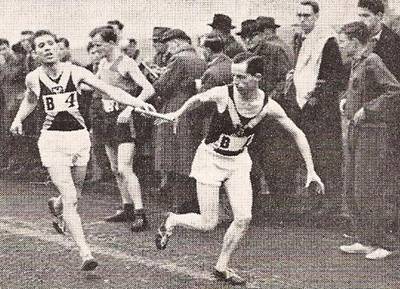 Dick Penman to Joe Connolly: Edinburgh to Glasgow, 1958
Joe Connolly was neat and tidy in everything he did – he always looked well dressed with his hair neatly parted, he was also a very neat runner, no arms flailing around, no really jaggy elbows which of course meant no wasted effort.    He was also a great Bellahouston Harrier and he was often seen out on the road at the Edinburgh to Glasgow, after he had done his stint, giving his man advice and encouragement.   But most of all he was one of the best road and country runners the country had in the 1950's and early 60's.   For instance, on the road, having taken a lead from Dick Penman in the E-G of 1958 he held it despite the best efforts of Binnie and Wood to chase him down; and on the country a Scottish Championship and five international vests speak of his class.   Unfortunately there were no track titles but then, with Graham Everett in the Mile and Ian Binnie, Alastair Wood and the like around, that was no disgrace.   One of the things that always interests me when talking or writing about champion athletes is how they got into the sport in the first place.   We are lucky in that respect that in June 1956, just as things were starting to happen for Joe Connolly, the 'Scots Athlete' had him as one of their Rising Stars with a profile by Joe Gordon.   It is reproduced in full here.
 "One of Bellahouston's group of young members who has been improving steadily and now looks like rising to the top is Joe Connolly, a 20 years old British Railways Clerk.   Joe, small and slim, looks anything but a distance runner, but during the past year has certainly made his mark in cross-country and track.      When he joined Bellahouston Harriers in 1950, Joe had no previous running experience, but he managed to finish second in his first race, a boys two miles cross-country and in spite of vowing "never again" he carried on training.   In 1951 he won his club's track championship, and ran in various races from 100 yards to 880 yards, managing 2 min 15 sec for the latter as his best time.   During the winter of this year, Joe ran for his club team in Youth Cross-Country races, being a non-counter in teh Renfrewshire and Midland District Championships.   the National at Hamilton however saw Joe making 15th position and being a member of the third placed team.  
In 1952 Joe improved his half mile time to 2 min 11.3 sec and qualified for the Scottish Youths 880 yards final.   During the cross-country season 1952/53, Joe began to show some indication of his form to come when he won the Bellahouston Harriers Grandison Trophy, breaking the course record in two out of three races.   In the Clydesdale Youth Race he was defeated by Ian Tierney of Cambuslang in the record time of 14 min 42 sec after having his stride broken by a dog in the finishing sprint!   His form on the country varied somewhat, but once again at Hamilton he finished 12th in the youth race, being a member of the winning team.  
Joe started track season 1953 with the intention of improving on all his performances and his best 880 yards time came down to 2 min 5.2 sec.   August of the same year saw Joe starting his National Service with the RAF but found little opportunity for serious training.   However, he says, "I feel that this period of rest from competition proved beneficial as I had continually been competing since 1951."   
During track season 1955 Joe re-started serious training and ran in various RAF races.   He clocked 53.2 seconds for 440 yards, and the good time of 1 minutes 59.3 for 880 yards in the Technical Command Championships.   After his demob in August, he competed in half-mile handicaps and picked up several prizes.   Joe was no longer on shift work at his job on the Railways and thus was able to train every evening.   This improved his form tremendously and in the early season road relays he was running really well and ran a magnificent race to win the first stage of the Edinburgh to Glasgow Relay in 26 minutes 24 seconds, a time which is the second fastest time ever.   In the Renfrewshire Championships Joe was second counter for his team, but as they only finished second once again a championship medal eluded him.   He hopes one day to beat this 'hoodoo'.
Later in the season Joe suffered from 'flu which affected his running but a week's lie-off helped and he came back with a 'bang' to finish fourth in the Scottish Junior National, again being a member of the winning team.   Competing in the English Junior race in Warwick, Joe feels that he ran below form and finished 37th.   After a few weeks rest, light training on the track was started and April found Joe training six times a week.   Since then he has concentrated on interval running, over distances from 220 yards to 880 yards and runs between six and eight miles during each session including approximatelytwo miles warm-up and limbering down.  Occasionally eh has an easy session on the Golf Course to provide a break in the routine.   
Jow has also been consistently clocking under 4 minutes 30 seconds  for the mile on poor tracks and with top class competition seems likely to improve vastly upon these times.   Although a self coached athlete Joe gives credit to his Bellahouston clubmates and officials for suggestions n training etc.   He aims this season to improve all his times from 880 yards to three miles and his further ambitions are to represent Scotland bothin track and cross-country which I am sure with all his enthusiasm, he can eventually realise.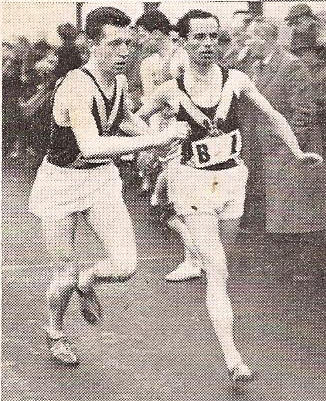 Joe passes the baton to Des after the first class run in the 1958 race
That's a pretty comprehensive report on the start of Joe's career in the sport but as the 'Scots Athlete' of the same year reminded us, he was not the only star in Bellahouston.   "Bellahouston Harriers On The Upsurge.   Bellahouston Harriers are beginning to close the gap with such as Edinburgh Varsity, Shettleston and Victoria Park.   One of their up-and-coming stars is young Gordon Nelson, the new steeplechase champion who has followed in the footsteps of previous champions from the same club Bob Climie and Tommy Lamb.   Joe Connolly is also a fine versatile runner and they have three of the finest half-milers in the country in Stoddart, Fraser, Cowan.   I doubt if any club in Scotland could beat them in a 4 x 880 yards race.   They are fortunate in having several very enthusiastic club officials at their disposal."    (Stoddart  [1:57.3], Fraser [1:58.1] and Cowan [1:59.8] were second, third and sixth in the SAAA Championship 880 yards that year.)
Came the winter 1956/57 and the previews for the season and for each separate race started to appear.   Emmet Farrell said in the October 'Scots Athlete', after discussing VPAAC and Shettleston Harriers, Perhaps the big two will be expected to fight out the issue again.   Yet I fancy a strong challenge may come from Bellahouston with a van composed of such as Nelson, Connolly, Goodwin, Fenion and Penman.    The support of their tail may decide the success of their challenge."    The success of their challenge was not such as to upset the 'big two' too much – in the Edinburgh to Glasgow, they were third behind Victoria Park and Shettleston with Joe running the very difficult second stage and turning in the fourth fastest time – no mean feat.   But it was a Bellahouston man who was the surprise 'hit' of the National when Harry Fenion won the race in style; where was Joe Connolly?   "Colleague Joe Connolly just out of the junior ranks made a brilliant debut made a brilliant debut in earning his first jersey by holding off McLaren for second place.   Had Gordon Nelson not had to call off through tonsilitis,  Bellahouston might have had an incredible 1-2-3  and could possibly have won the team race."   They were in fact second with Fenion, Connolly, Penman 22, Irving 23, Irvine 33 and Dickson 44 the other scoring runners.   In to season 1957/58 and although they were getting closer, Bellahouston split the other two and Joe continued to improve.   In the Edinburgh to Glasgow he ran the second stage and was only one second behind the fastest time on the stage.   In the National in February 1958, Joe led the club team home when he was sixth, two places ahead of Harry Fenion who was one place ahead of Des Dickson.   They were second – only ten points behind the winning Victoria Park team.    It was good enough too to get a second international cross country vest for Joe  who finished 34th which was thirty places up on the previous year's performance and this time too he was a scoring runner for the Scottish team.
'Continued to improve….' he certainly did.   In the SAAA Championships for 1958, he was second in the Six Miles and third in the Three Miles.   Results were: Six Miles:   1.   AJ Wood   29:10.2;   2.   J Connolly   29:13.8;   3.   J Wright   30:22.4.   Three Miles:   1.   I Binnie   13:57.6;   2.   A Jackson   14:16.2;   3.   J Connolly   14:27.2.   There was a minor controversy after the championships/trials since it had been said that first three would go but despite his non-appearance for the event, Binnie was selected instead of John Wright (Clydesdale) for the Six Miles.   In the event he actually ran in neither!    Joe Connolly was initially selected for the Six Miles only but in the event he was selected in both Three and Six Miles.   He ran in the Six Miles right at the start of the Games and finished seventh in 30:20.4.    I will put the top ten into a table so that the calibre of opposition will be easily seen
| | | | |
| --- | --- | --- | --- |
| Place | Name | Country | Time |
| 1. | D Power | Australia | 28:47.8 |
| 2. | J Merriman | Wales | 28:48.8 |
| 3. | A Anentia | Kenya | 28:51.2 |
| 4. | M Hyman | England | 28:58.6 |
| 5. | F Norris | England | 29:44.0 |
| 6. | AS Kanuti | Kenya | 30:03.6 |
| 7. | J Connolly | Scotland | 30:20.4 |
| 8. | Barry Magee | New Zealand | 30:27.2 |
| 9. | S Eldon | England | 30:30.0 |
| 10. | M Shah | Pakistan | 31:03.2 |
Others behind him included Hugh Foord (England) and Ray Puckett (NZ).    In the Three miles, Binnie was 14th of the 21 finishers, Connolly was 16th (and had been lapped in the process) with Wood not running.
Winter 1958/59 was not only the best season yet  for the club but Joe Connolly had an excellent season and followed this with a very good summer in 1959.    Colin Shields in his official history of the SCCU said, Bellahouston Harriers who had been so near success in past years, finally achieved the breakthrough they deserved in season 1958/59.    They won the Midland Relay title for only the second time in the history of the race as Des Dickson (Bellahouston) and William Kerr (VPAAC) led the field on the opening lap.   The Bellahouston runners, Bert Irving, Harry Fenion and Joe Connolly ran away from their rivals to win by 250 yards."   More important yet – they won the Edinburgh to Glasgow relay in November.   After VP and Shettleston had swapped the lead for the first four laps, Dick Penman took Bellahouston into a lead on the fifth stage with Joe Connolly on the fearsome long sixth stage being hunted by Alastair Wood for Shettleston and Ian Binnie for Victoria Park.   When he kept the lead and handed over to Des Dickson and Ramsey Black for the last two stages, the team won the gold that they had so richly deserved for so many years.   Joe Connolly's run was the one that clinched it although all the remaining outstanding runners did their share of the heavy lifting.   In the National at Hamilton in February Joe Connolly was seventh and was selected for the team to compete in Portugal where he was fifty seventh..   In summer 1959 Joe improved even further in what were to be his specialist and appeared on two Scottish ranking lists: in the Three Miles he was ranked ninth for his time of 14:26,  and in the Six Miles he was sixth with a time of 30:23.6.
November 1959 saw Bellahouston defending their title in the Edinburgh to Glasgow race and they finished second, a mere eighteen seconds behind the winners with Joe being second fastest on the long sixth stage to Motherwell's Andy Brown.   In the Midland Cross-Country championship, Joe was third over the demanding Renton trail outside Dumbarton finishing behind Graham Everett (Shettleston) and Andrew Brown (Motherwell) and in the National in February 1960 he was fourth behind Everett, Wood and Brown to book his place to the International yet again.   He was forty fourth this time and again a scoring runner for the Scotland team.
Summer 1960 and Joe Connolly ran well enough to be ranked at no fewer than four distances.   At one mile he was eleventh with 4:19.2, at two miles he was seventh with 9:11.4, at three miles he was sixth with 14:08.2 and he was third in the six miles with a season's best of 29:06.6.   In the championships he did particularly well with second in the Six and third in the Three Miles.    But if the 1958 Empire Games were the highspot of his track career, the winter 1960/61 would see the top performance of his country career.   Third in the Midland District Championships after helping Bellahouston to another second place in the Edinburgh to Glasgow with a sparkling fastest time on the second stage.   But it was in the National Cross Country Championships that he was at his very best with his first (and only) championship triumph.   They were all there – Everett who had had a very good winter up to that point, Alastair Wood who always wintered well, Andy Brown, Adrian Jackson, Gordon Eadie, Ian Harris and John McLaren all ran.   Again he was selected for the international, to be held in Nantes, where Graham Everett, second at Hamilton, narrowly beat him for the honour of being first Scot home.    Everett was 18th and Connolly 21st.         In summer 1961 he was again in four national track ranking lists: in the Mile he was 21st with 4:23.8, in the Two Miles 12th with 9:15.6, in the Three Miles he was 3rd with 13:53.4 and in the Six Miles he was 4th with 29:43.0.   In the SAAA Championships he was third in the Six Miles.     Over three years he had two seconds and three thirds in the Championships.   This was the last year that he was to appear in the ranking lists and there were to be no more international cross-country vests.
In fact he only ran one more Edinburgh to Glasgow race and was first on the first stage in a team that was fourth.   He did not appear in any more National Cross Country races either and his career just stopped with the 1961 eight stage relay.   Joe had represented all that was good about the sport in the sport after the war – he came into the sport as a Youth, worked to get to the top and, self-coached for his entire career, won national titles, gained international jerseys and ran well in the Empire Games.   He would be an excellent role model for any young runner in the country in the twenty first century.