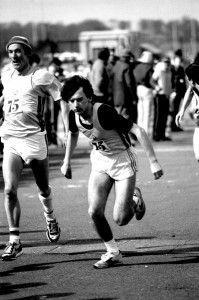 Graham taking over from Lachie Stewart in the 1983 Six Stage Relay
Graham Clark (born 31st March 1956) was a Scottish Cross-Country International athlete. Tragically, he died young in 2003 and since then Carnegie Harriers Running Club have organised the Graham Clark Memorial Race every August. This is 3.9 miles in length: three laps of the Knockhill Racing Circuit near Dunfermline. Below is a profile of this talented, sadly-missed runner.
At the very start of Graham's athletic career, a major influence was Olympic Marathon runner Donald Macgregor, who contributes these memories of his young protégé.
"I first met Graham when he was a third year pupil at Dunoon Grammar School in 1972. I had just got back from the Munich Olympics and taken up my new job as Principal Teacher of Modern Languages. I had written an article for the school newsletter in which I described my experiences and asked if any pupils wanted to come running with me. Only around three or four responded. Graham was clearly the best of these, and in a group we ran around 3.5 miles round Hafton Estate. Soon Graham and I started going longer runs up Glen Massan and over the hill to Kilmun, an extremely hilly route through Puck's Glen. On one occasion Kenny Moore (USA Olympic Marathon runner) and his wife came to visit me in Dunoon, and we went out with them on a sunny but damp day.      
Graham, whose father worked as the school janitor, by now was doing quite hard fartlek with me, although he did not come on my long Sunday runs over 15-20 miles. We were more like club mates than pupil and teacher.
At the end of fourth year (I think), he left Dunoon and went to work for the Ordnance Survey in Southampton. That didn't last too long and he was soon back in the area, and joined Spango Valley AC.
I had left Dunoon by then, and saw him only occasionally at races.
I was shocked to hear of his early death. Purely by coincidence I saw an ad for a 'Graham Clark Memorial Race' and on enquiry established that it was him. I then discovered that his wife Angela taught at Bell-Baxter High School in Cupar, not far from St Andrews. I went to see her and showed her some souvenirs from my Dunoon days, and later presented her with a cup from the Fukuoka Marathon (in Japan) for the winner of the race in Graham's memory at Knockhill.Graham was a fine cross-country runner and competed twice for Scotland in the World Championships."
Cameron Spence, who ran for Northern Ireland four times in the World Cross, was a key member of Spango Valley. He wrote the following. "I first met Graham in 1975. Dave Martin had brought him over for the 'Sail Away Greenock' Relay. I got him signed up and what an asset he proved to be to Spango. He helped us to establish the club as one of the best in Scotland and to win many, many championships. But for me his finest performance was at Irvine in 1980 at the Senior National CC, where he finished fourth. This was at a time when Scottish Athletics was on the crest of a wave, because we had so many talented runners in those days and to make the top ten or even twenty you had to be good. Graham was. He represented Scotland at two World CC Championships and won many individual titles on track, cross-country and road."
In the Edinburgh to Glasgow Road Relay, Graham Clark first appeared for Spango Valley in 1977, when they finished 21st and last. However Graham moved up four places on the classy Stage Two and finished only three seconds slower than his erstwhile mentor Don Macgregor. In 1978, Graham's club improved considerably to tenth, and he was sixth-fastest on Two, gaining five places. In 1979 Spango repeated tenth place, but Graham gained no fewer than eight places on Two and was third-fastest. In 1981, Spango won the most meritorious performance medals for finishing seventh, with Graham gaining three places on Stage Four (third fastest). Finally in 1984 Spango Valley were the third team to reach George Square, with Graham having moved them into that position on the long Stage Six.
In the Six-Stage Road Relay, Graham Clark's best run was in 1980, when Spango ended up fourth and he was sixth fastest on the long leg. Then in 1984 he was one of the team that won bronze medals in this Scottish Championship event.
Graham's best times on the track all dated from 1982: 3000 metres (8.13.5); 5000m (14.38.42); 10,000m (30.28.4).
There was little doubt that his favourite surface was the country. In the West District Senior CC he was third in 1978; second (by six seconds to Brian McSloy) in 1979; and second again (by only three seconds to McSloy) in 1980. In the West District CC Relay, Spango finished second in 1977, but enjoyed a day of triumph in 1979, when Hammy Cox, Graham Clark, Tom Dobbin and Cameron Spence led from start to finish. Graham recorded the third-fastest time in that event.
Other highlights recalled by Cameron Spence include the following.
"Graham first ran for Scotland in 1977 and finished second. He won his first Renfrewshire title in the 10 mile Road Race Championship in 1979; in the same year he won his first Renfrewshire CC title.
In 1982 he won the famous Beith road race on New Year's Day, after he had been up all night celebrating. This was even mentioned in the national press."
The Scottish Senior National CC Championship was perhaps the setting for Graham Clark's greatest runs. In 1979 he was seventh, and unlucky not to be selected for the World CC. However he made no mistake at Irvine in 1980. In his centenary history of the SCCU, Colin Shields wrote the following.
"The Championships were held over the level, well-drained grassland course at Beach Park, Irvine…….The course, which received fulsome praise from competitors as the best championship trail for over a decade, was conducive to fast running except for the final 600 yards of each of the three laps in the Senior race. A long, sweeping downhill stretch led to a 150 metres stretch of strength-sapping sandy beach, and this was closely followed by a 1 in 5 sandhill that had the fittest athletes walking up with their hands on their knees by the final lap. Defending champion Nat Muir recorded his usual outstanding performance, turning in a decisive mid-race surge that brought him home 17 seconds clear of John Robson, with 1978 champion Allister Hutton finishing third a further 29 seconds behind."
Graham Clark finished an excellent fourth, only 8 seconds down on the illustrious Hutton, and in front of so many international runners, such as Lawrie Spence, Gordon Rimmer, Brian McSloy, Jim Brown, John Graham, Cameron Spence, Ron MacDonald, Fraser Clyne etc. In the World CC Championships on the Longchamps Racecourse in Paris, Graham Clark was sixth counter in the Scottish team which finished seventh. This was to prove Scotland's best team performance in the World Cross while participating as an individual nation between 1973 and 1987.   Graham was tenth in the National in 1981; ran for Scotland again in the 1982 World Cross; and finished 13th in the 1983 National.   Cameron Spence added the following.
"Graham moved south in the early 1980s and continued running down there. He moved back to Scotland, to Dundonald in fact, in the 1990s and rejoined Spango. He wasn't the same runner who had left ten years earlier but he still enjoyed competing. He then moved to Dunfermline and made the sensible decision to join Carnegie. I had a phone call from one of their members and he was very glad that Graham had joined them. Graham started competing for them, joined the Committee and became Secretary. Then he started coaching. He had a great bunch of lads under his wing and they were all improving. During his final year he became their President. He will be sorely missed."