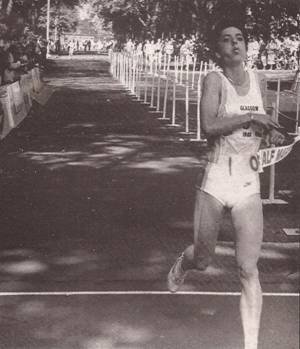 Sheila Catford winning the Glasgow Half-Marathon in 1988
Sheila Catford is ranked fifth on the Scottish all-time list for the marathon behind Liz McColgan, Kathy Butler, Hayley Haining and Lynn Harding and above such as Lynn MacDougall, Karen Macleod and Susan Partridge.   She is also eleventh on the Half Marathon list and has good times at 10 miles, 10K and 5 miles on the road.   However, along with Heather MacDuff, she is possibly the least known of all Scottish ranked distance racers.   A lot of that has to do with her domicile being in Yorkshire where she ran for Leeds City AC,  but her career as a Scottish internationalist was comparatively short and that added to the complications.   Nor is there much information in the press about her, nor are other athletes a good source if information.   What follows has been put together solely from information available in the public domain in an effort to paint a portrait of this excellent athlete.
Sheila Catford first came to the attention of the Scottish athletics public in September, 1987, when the 'Glasgow Herald' carried the headline "Brave Marathon Victory" above an article by Doug Gillon which read "Scotland found a new athletics star when Sheila Catford scored a stunning victory in the Glasgow Marathon.   Catford was unable even to walk after a serious accident last year yet she was only 26 seconds away from breaking the course record when she clocked 2:37:31. sixtieth  overallamong a field of 5300 finishers.   It was her sixth marathon. …. Catford, who disguises her Dundee birthplace beneath a thick Yorkshire accent, wrote to the SWAAA last year telling them she was available for selection.   But her hopes of international recognition were dashed when a car crashed into her bike on a roundabout.   'I couldn't walk for three and a half months,' she said  with scarcely a pause to draw breath.   'I had severe headaches for six weeks and it was five and a half months before I could even jog for ten minutes.   In fact I spent the day of the London Marathon doing a two hour session on an exercise bike, watching the TV and moaning, "I should be running in that!"   I had hoped to get into the Scottish Commonwealth Games team.'   Catford, who has aspirations of being selected for Scotland in future, reckons a cup of water cost her a record and a return trip to Paris for two.   "I'm not used to drinking on the run, and it gave me a dreadful stitch.   I was nearly two minutes inside  record schedule at 18 miles."   Victory represented a double for Maryhill Harrier Brian Scobie, Catford's coach.   Scobie also trained the 1985 women's winner, Angie Pain."
That was on the 11th September but just a month earlier, on 9th August, 1987 – she had won the Newark Half Marathon in 1:13:26 and on 20th December in the Saltwell Harriers 10K Road Race she won in 34:21 which was a course record.   She actually won this race four times in succession recording subsequent times of 34:40 (1988), 35:04 (1989) and 35:58 (1990).   So with these three races alone she had shown impressive quality at 10K (where she had also won the Liverpool 10K), Half Marathon and Marathon.   Having ,missed out on the 86 Commonwealth Games Sheila must have had a realistic chance of going to the Commonwealth Games in Auckland in 1990.   Her next race in Glasgow was in the Half Marathon in September 1988 where the race description with the photograph above read : "The exhaustion of running a half marathon flat out is all too graphically expressed by Sheila Catford.   Unusually for a road race of this distance, Sheila Catford, Sandra Branney and Lorna Irving ran alongside each other between miles three and ten before Catford's strength allowed her to pull away and win in 72:49, a personal best.   Branney. who like the winner will be chasing a Commonwealth Games marathon place in New Zealand also ran faster than ever before, recording 73:02.   Irving was 73:26."
The reference to Catford's strength above is interesting because neither Sandra nor Lorna were perceived by anyone to be lacking in that department in any way.   Sheila was a member of :Leeds City AC and trained with Brian Scobie's excellent group of endurance runners.   It was probably the best group of women long distance runners in Britain at the time with runners of the calibre of Veronique Marot, Angie Hulley (Pain), Julie Holland, Sarah Rowell, Jill Clarke, Sandra Atherton and Sheila taking part in his sessions.    Undoubtedly this helped Sheila and explained the remark from 'Scotland's Runner' about her strength 'allowing her to pull clear.'
Came 1989 and in the London Marathon in April and Sheila finished eleventh in 2:33:04.   Doug Gillon reported under the headline "England Snubbed As Lynn Books Her Games Place"  as follows:    "After having shattered the UK women's marathon best in the ADT London race yesterday, Veronique Marot snubbed England's selectors by announcing, 'I'm not interested in the Commonwealth Games'  …  Lynn Harding, first Scot in 2:31:45 beat Lynda Bain's Scottish best and was well inside 2:35 which guarantees Auckland selection … Sheila Catford, also of Leeds, booked her passport when she knocked 40 seconds from her best time with 2:33:04."   Sheila also won the Moray Marathon on 6th August, 1989 on what was clearly a bad day for road racing (the men's race was won outside 2:31!) in the slow time 3:10:08.   Back racing in Leeds she again won the Saltwell Harriers race in December to set herself up for the Games the following year.
The Auckland Games were held in January 1990 and the Scottish representatives were Lynn Harding and Sheila Catford.   There was a report in the 'Glasgow Herald' on 23rd January, 1990 which read: "Sheila Catford who is due to run in the marathon for Scotland a week on Wednesday, struck a big blow for her morale this evening when she finished second in an 8000m road race in the city's Domain Park.   The winner was the New Zealander Wendy Bisset who is not due to compete in the Games.   Ripon-based Catford finished eight seconds behind in 26:07, scoring a seven second victory over England medal hope Angie Pain, the former Glasgow marathon winner."    This time was ranked highly in the GB 5 Miles lists but was demoted to a sidebar marked Measurement doubtful'   The Games marathon was another story however.   The race was won by Lisa Martin of Australia in 2:25:28 (eight minutes clear of second placed Tani Ruckle, also Australia) with Angie Pain (under her maiden name of Angela Hulley) third in 2:36:35.   Sheila was first Scot and placed ninth with 2:43:48 with Lynn Harding eleventh in 2:47:24 and Moira O'Neill of Ireland (brought up in Scotland as Moira O'Boyle and member of both Clydesdale Harriers and then Victoria Park AAC) twelfth in 2:48:52.   All three were well below their normal running form.    It wasn't her last marathon in 1990 however because she was third in the WAAA's Marathon Championship in April (held in conjunction with the London race) in a time of 2:36:42 against the winning time of 2:33:07 run by Nicky McCracken.   the following year, 1991, she won the Albo d'Oro della Firenze marathon in Italy in 2:35:37 and the trail runs cold thereafter.
It is difficult to find results for Sheila after that although she is reported to have run in the 1992 Glasgow Half Marathon where Liz McColgan managed to get a run on the when she had not entered – apparently she woke up at 6:00 am, felt like a run and had Peter phone in saying she wanted to run!   However it went, the trail for Sheila effectively went cold after 1990.  Sheila  split from husband Dave and reverted to her maiden name of Sheila Boyde and appears on various websites as Sheila Boyde.     A good number deal with her career outside of athletics:   "Sheila Boyde, Nutritional Consultant trained under Dr Patrick Hatfield at  The Institute of Optimum Nutrition  in London.   Sheila has a BSc (Hons) in Health Related Exercise and Fitness and continues to be actively involved in her local community promoting health and fitness and she also has both the UK Athletics Coaching Award (Level 3) and the YMCA Personal Fitness Trainer Award (Level 3).   She was also Nutritional Advisor on the Yorkshire TV Series "Wellbeing" along with a teaching career in a range of schools and institutions."
She continues to run however and has appearances recorded under the colours of Ripon Runners ("Coaching sessions at Ripon Runners continue with professional ex-athlete coach Sheila Boyde.   She recently threw up a challenge to anyone interested in running.   "Do you want to get fitter in 2007?   Do you want to streamline your physique and be part of a very sociable happy group?   If so then join Sheila on Thursday nights at 6:30 at one of Ripon Runners club meeting nights"    and Harrogate Harriers (On the first Sunday of the New Year (2009) Harrogate Harriers A Team of Sheila Boyde, Paul Render, Ben Grant and Ashley Brook came second in the Harrogate Ringway Relay covering the 22 miles in 2:18:04.)   The Power of 10 has her as a member of Ripon and gives her credit, as a V45 for 10K's in 39:54 at Melmerby and 40:07 at Harrogate in September in 2009.
However it works out, it is good to see that she is still running and running well in addition to putting something back in to her local communities.