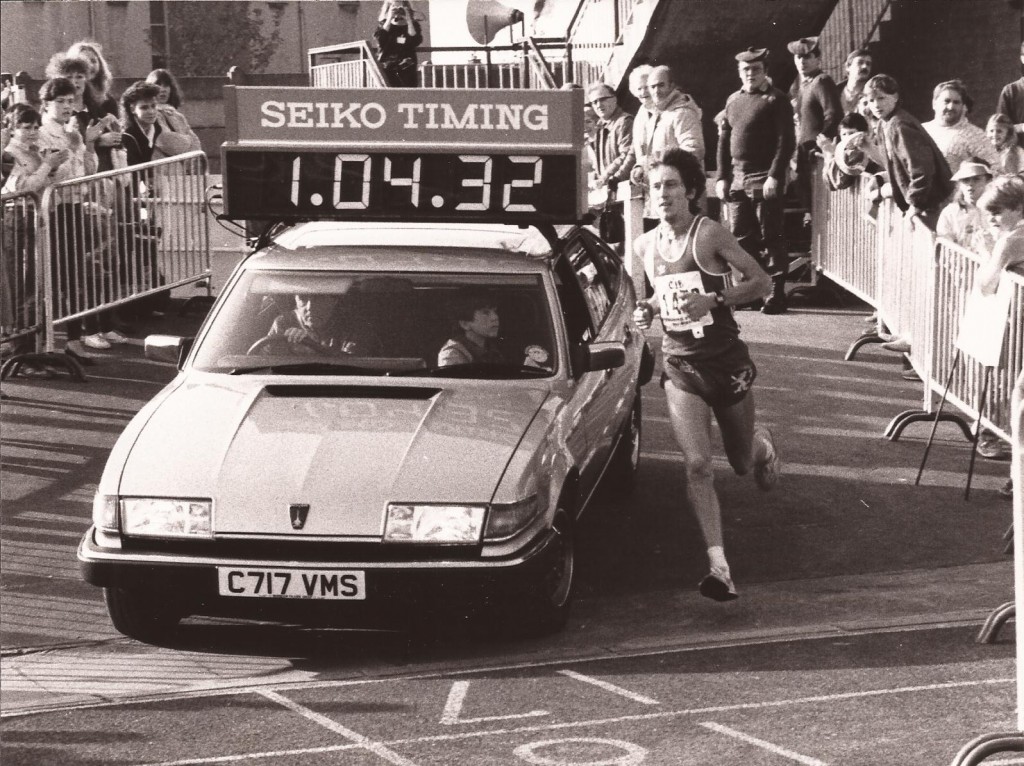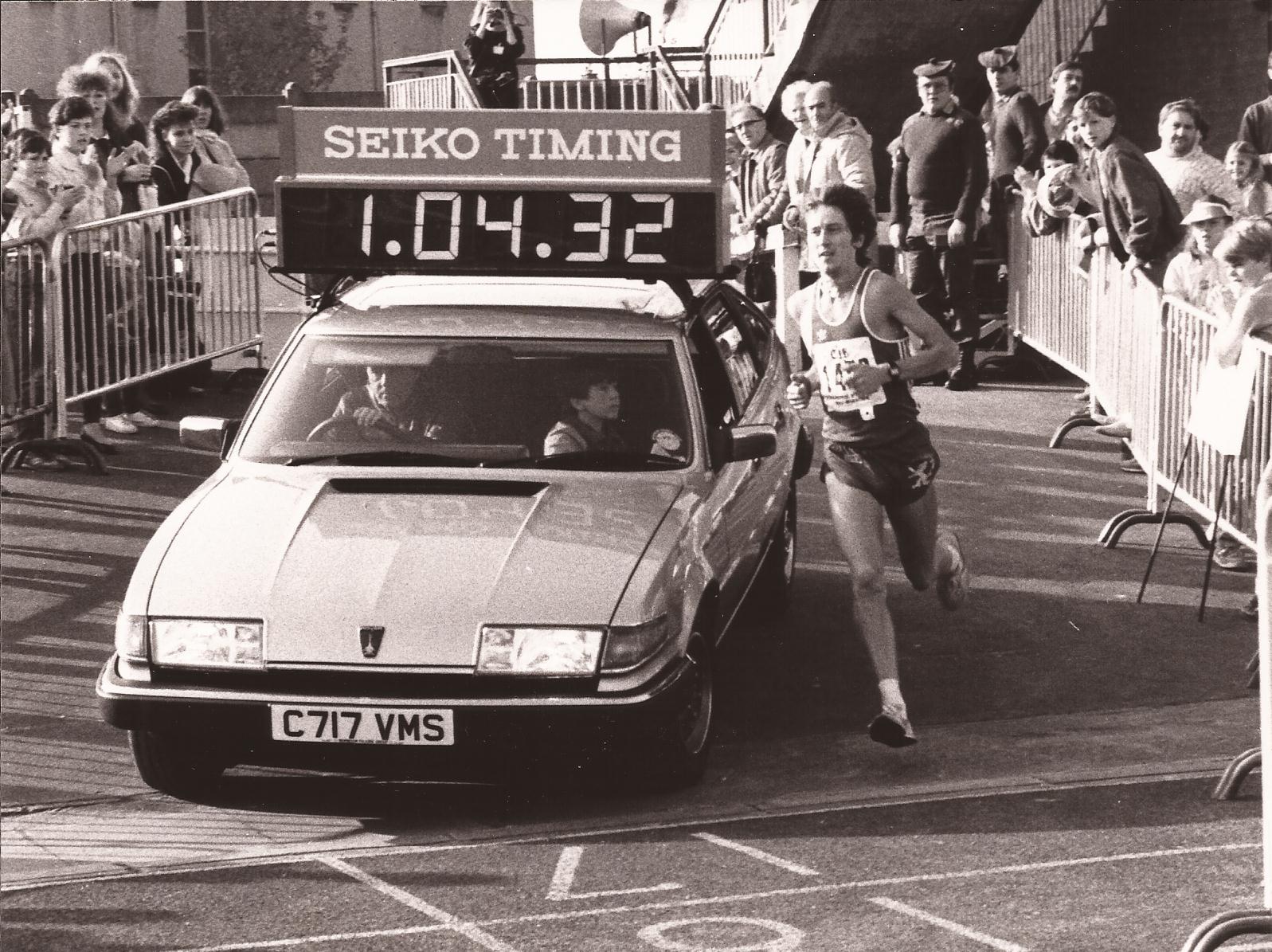 Graham Crawford is one of Scotland's best respected athletes – respected as a person but also highly respected as a runner and class performer. On the road, over the country and on the track, he was an excellent competitor. Look at some of his series of victories on the surfaces – three Jimmy Flockhart wins over the country, winning the Strathallan 1500 four times and the 3000m six, and of course for the half-marathon distance – don't even go there!. 13 half-marathon wins in one year (ie 13 x 13) and a very good run in the Sun Life stage race from Glasgow to London. When in form, he gave no one an easy time in a race. There is a story of Ian Stewart, after being beaten by Harald Norpoth in a hard battle of a race lying on the track and asking for the TV microphone: he then said to Harald through the TV screen, in a very tight close up, that "that was a bloody hard race Harald, and next time you'll get more of the same!" That could well have been Graham Crawford's thinking after a defeat. But, as we will see below, he was just as hard on himself in training and that was maybe what made him so hard in the race situation. I asked him to complete the questionnaire but we just passed on that and asked the professional journalist to share his own memories of his career. You'll agree that it makes for a fascinating read and insight into the career of a very good athlete indeed.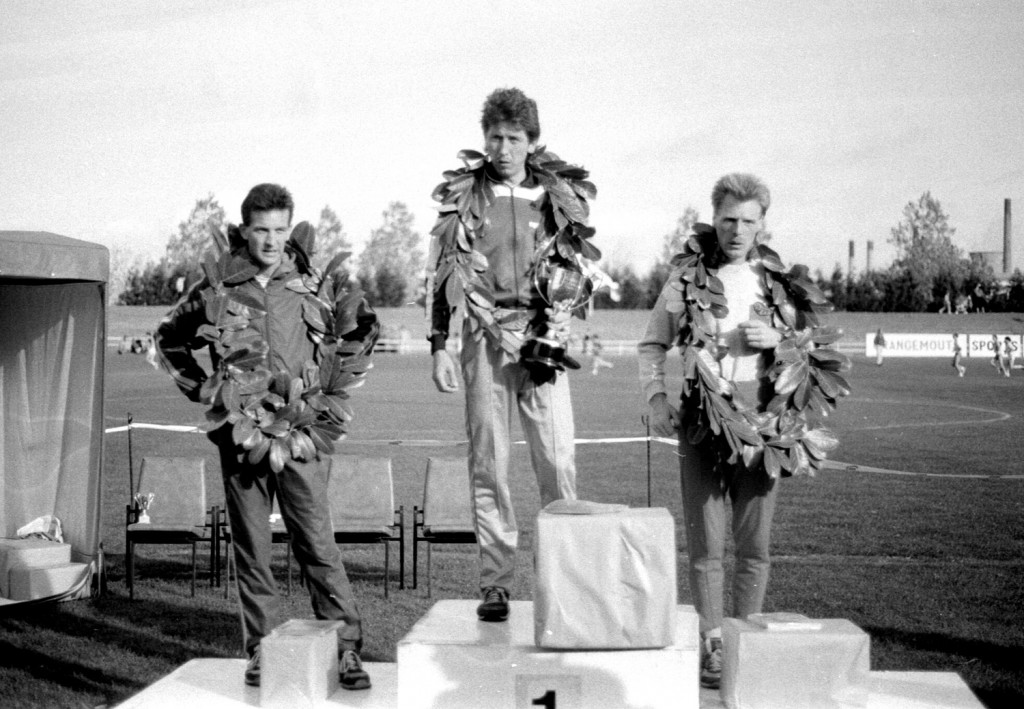 Falkirk Half Marathon 1985
Graham Crawford. DOB. October 5, 1956. Occupation journalist.
Club Springburn Harriers, briefly Wolverhampton and Bilston second claim.
PBs – 800m – 1.58.4; 1,500m – 3.50; 3,000m – 8.10; 5,000m – 14.10; 10mile – 48.48; 10.3 mile – 49.19; half marathon – 63.46.
Ran for Scotland on track, road and cross country. Represented GB at half marathon.
I played football constantly as a youngster and ran everywhere. I loved being outdoors, being physical. I remember doing impromptu longish distance running races with a few pals when I was 10 and 11 years old. In my teens I did paper rounds and milk rounds, and PE was the only lesson I looked forward to at secondary school. My heart would soar, while everyone else moaned, on days the PE teacher said we were doing a cross country run. Not long after starting Bishopbriggs High I heard about 'novice races' being held by Springburn Harriers aimed at all the local secondaries including St Ninian's in Kirkintilloch and Lenzie Academy. I ran my heart out over a mile and a quarter, finished about 5th, and was hooked. Old Jack Crawford (whom the club's annual road race is named after) invited those interested to come along to the Springburn club nights, based at the old wooden hut at the bottom of Auchinairn Road, Bishopbriggs. I quickly found out that the club had a long history of producing top young runners, including former world junior cross country champion Eddie Knox. OId Jack offered support in the early track and road races, meticulously recording our times.
I was small and skinny for my age, and was greatly encouraged when I made the Bishopbriggs High team, running against boys up to two years older, for the Lanarkshire Schools (at muddy, challenging Cleland) and Scottish Schools. Initially I tended to train autumn to spring in those days, and was delighted to be the fourth counter for a Springburn senior boys team which took second at the national cross country. A few years on, as a second year youth, I got serious about training. The club coach was Eddie Sinclair (best known for his success with miling great Graham Williamson) but he and my clubmates were Kirkintilloch and Lenzie based, so I did my own thing. I remember doing a basic winter diet of 20-25 one-minute hill reps on Monday, Wednesdays and Fridays (I felt I lived on that hill by a Friday), a long run on a Sunday and steady sustained runs of around 55mins on other days. I backed off the hills a few weeks before the Scottish National at Drumpellier Park, Coatbridge, and did a few fast rep sessions with spikes on grass. To my delight, I finished fourth behind John Graham and Nat Muir. Not far behind me were the likes of Hammy Cox, Eddie Stewart and Graham Laing. I also led my Springburn teammates to the team prize, and that meant a lot to me. The club subsequently went down to the English National (at Luton?) with high hopes of a successful cross-border raid, especially as our top junior Jim Lawson was eligible to join us as a youth in England, but we all thought we ran below our best. Even though we still managed second of 93 teams, a fine achievement, we were deflated. We felt we could have won.
I experienced a bigger disappointment at the Scottish Schools cross country championship. With John Graham and Nat Muir no longer at school, I was favourite in some eyes to win. However, I was unwell on the day and finished seventh. It was won by my Springburn teammate Tommy Patterson whom I had beaten by 30 seconds two weeks earlier at Drumpellier. Instead, I was a minute behind him. That hurt. I remember having a wee sob to myself later that night. However, with hindsight a lot of young Springburn runners who enjoyed success didn't handle the transition to being a senior and quit the sport, while my lack of championship success kept a hunger alive. I've always missed out on individual championship medals. Four times fourth in the West District cross country is an example.
As a junior man, I again trained very hard, clocking 70-80 miles a week on my own. Nat was turning into a world class athlete, so my realistic target I felt was second in the junior National. However, I picked up a bad injury and while I was recuperating I got distracted and involved in a pretty carefree, reckless life. I partied endlessly and didn't turn a leg for four years, and there was no coach there to say 'hey, it's time to get going again – there is always another race, another target'. At the age of 24, having made a pretty good job of messing things up, I was realising I couldn't go on like that. I caught a UK marathon trial race on the television and in that moment decided it was time to start running again. Six months later, I was a match for anyone at Springburn and within two years was running cross country for Scotland and clocking the second fastest times at the McAndrew and Kilbarchan relays. I was in a hurry, and by then I was being assisted by older clubmate Harry Gorman who was advising me on pace/speed training. I really did appreciate his involvement, and it was a fruitful relationship (he was best man at my wedding. I can remember our shared delight and surprise at my relatively rapid progress on track and road. They were exciting, fun times. A very one-paced runner was discovering that with application and quality training, he could actually run quite fast.
The relationship was eventually marred by my propensity for secret overtraining and we went our separate ways. The culmination was a winter where I averaged 125 weeks for about three months, still doing quality sessions, hill work (up ploughed fields with 1kg weights around each ankle!) and circuit training. It was too much for too long. If I had the least bit of spare energy, I expended it in training. Rest was a four-letter word. After a few disappointing races where I ran flat because of my deep-seated fatigue, I was persuaded by Harry to take six weeks off. That summer, having resumed more sensible training, I set track PBs at most distances. Overtraining was a fairly common Scottish trait and I had it bad. I was very driven. I foolishly wanted to train hard and race well all the year round. I loved doing hard sessions, and loved racing – cross country, road, track, highland games, low key hill races. Dave Bedford was my boyhood hero and as well details of his legendary training, I soaked up everything from the Athletics Weekly about the many top English and Scottish runners in the seventies and eighties. It was always the more extreme trainers I tried to match. Looking back, I can see I lacked real specific targets and structure and that some other Scottish runners and plenty of English runners were clearly better at getting the balance right. While their training was goal-orientated and structured, I was a spontaneous, compulsive, obsessive, runaway train and essentially uncoachable. I once ran 50 races in 14 weeks, and over the years swung from purple patches, when I could control my training excesses, to periods of deep disappointment where my relentless desire to win was never going to be enough to overcome deep fatigue in overtrained and under-rested muscles. Perhaps because I lacked natural pace, I was always overcompensating by trying to be tougher and stronger – endure more.
I finally learned the lesson of rest being as important as hard work in 1986, when initially my legs were so shot from a half marathon I had no option but to run easy for a week. And lo and behold, I could go out on the seventh day and run really fast again. It would be difficult to imagine a more surreal and remarkable year – and, as usual, it was not planned. In the space of eight months, I was to run 20 half marathons and win 13 of them as well as win two 15-milers, an extremely fast 10 miler and perform well in many shorter races. It remains quite a unique block of racing I believe. And, I repeat, it was all spontaneous – a fun journey of discovery.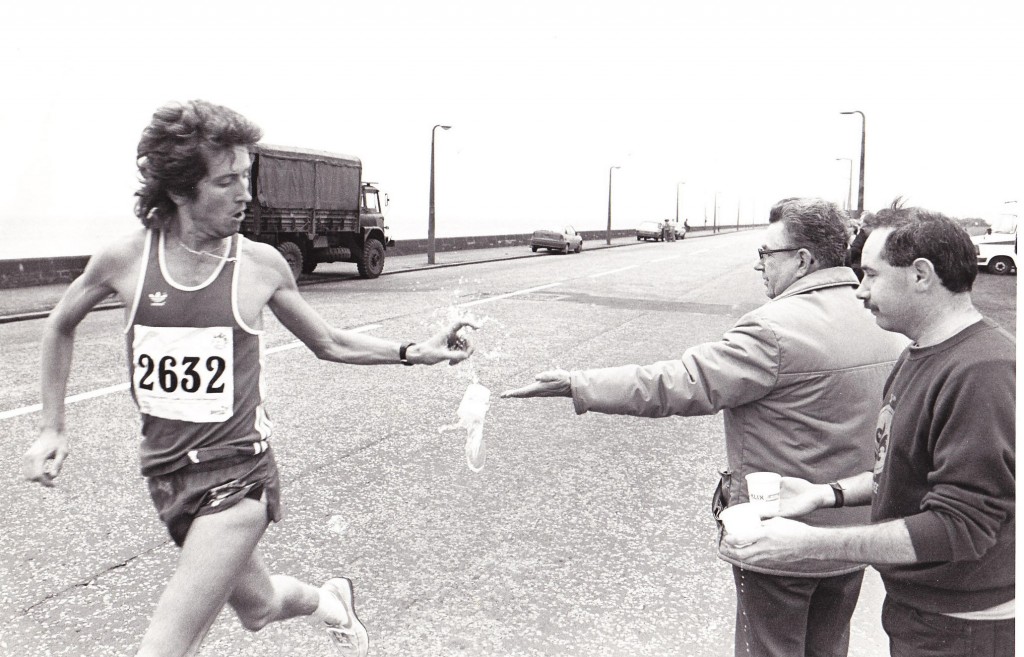 The first half marathon – Dundee
My first half marathon experience had been a happy baptism, at Dundee the previous October, which I won in 66.35. Two weeks later, split by the second fastest leg at the West District Cross Country relays, I ran 65.29 to win the Falkirk Half Marathon. I then had a relatively unspectacular winter's training and racing (and yet another poor national cross country) before clocking a respectable 29.49 for the Kodak 10k starting at Crownpoint, Glasgow, won by Nat Muir in 28.45, two seconds in front of Allister Hutton.
On a windy March 23, 1986 I found myself lining up for the Inverness half marathon. I went off hard with Simon Axon and was soundly beaten by him. I ran 66.35 and he was about a minute faster. Two weeks later – split by a long leg at the six-stage relays – I set a course record winning the Glen Fruin 15 (14.6 miles?) race at Helensburgh in 75.38 just ahead of Bellahouston's Andy Daly. Two weeks later it was the Jimmy Scott memorial 15 miler at Strathclyde Park where I led home Peter Carton of Shettleston in 78.10. Was I pleased with the run? Yes, it was hilly in parts, windy and I had spent hours moving house earlier that morning! A fortnight later, and four days after a windy 3,000m in 8.38, I had a rare dnf in the Pearl half in Edinburgh won by Neil Tennant in 64.41 on what I thought was a particularly challenging course. It was an exceptional run by Neil. Two days later I won a Sri Chimnoy two-mile race in 9.14 followed by a hilly 10k road win in Dundee in 32.23 four days after that. Eight days on, on May 18, I set off at a blast with Peter Fleming of Bellahouston in the Luddon Half Marathon, Kirkintilloch, clocking 19.05 after an undulating four miles before we hit strong wind. Peter broke the tape in 65.57 with me second in 66.35.
Six days later, I was down in Kirkcudbright for another half and fancying my chances. Looking around, I did not see anyone to worry me. From the gun, a lad tore away ahead of me. I was a fast starter in these races, and I remember thinking he must just one of those new, inexperienced guys who get carried away for the first half mile before fading. A few miles later, I was thinking otherwise. We were tramping along, locked into a relentless pace. 19 minutes at four miles INTO a wind and I'm hanging on, repeatedly thinking 'who the hell is this guy?', (reminiscent of Butch Cassidy and Sundance Kid wondering who were the indefatigable posse chasing them down at the start of the film). At six miles I remember thinking, 'if this was a 10k I've just had a damn good race'. About a mile up the road, the elastic broke and Mike Carroll of Annan (I eventually discovered his name) went on to clock 63.32 and put nearly a minute between us. It was a class performance. He was a tough, relentless pacer. Later that year he was 30 yards ahead of the pack in the Great North Run after two miles, in a race which Steve Jones and Mike Musyoki clocked under 61 minutes, a world best I think. Carroll ran 64 something, but I remember thinking that if he had screwed the nut early on he could have clocked around 62 and taken some big scalps.
A week after Kirkcudbright, during which I sneaked in a windy track session on cinder (3x3x400, averaging 65 secs, with 30 seconds between efforts and a lap between sets), I won a six-mile road race at East Kilbride in 30.52, trying to save something for the Irvine Valley Half Marathon the following day. I won that half in 70.09 and my training diary records it was 'quite windy and extremely hilly'. Five days of easy recovery runs later, I won a hilly Bearsden Half Marathon in 68.15, with Alasdair Douglas second in 69.54 ahead of Alan Wilson, 72.11, and Alan Adams 72.12. I remember thinking around about then 'this is good, let's just roll with it – where can I race next?' However, that euphoria was punctured eight days later when I struggled to clock just over 70 minutes to finish seventh on a very hot day at the Clydebank Half. I went off fast with Laurie Spence and Peter Fleming, but after a long sustained climb after a few miles I think Laurie and I suffered while Peter proved to be imperious in 64.17 (on a difficult course on a hot day!) Alan Wilson had quick revenge on me in second place, followed by Hammy Cox and Tommy Murray. Undaunted, a week later I won the Lochgilphead Half on a hot and windy day in 70.44, six minutes ahead of the second placer. A week later – split by a midweek 8.20 open graded 3,000m at Meadowbank behind Colin Hume, 8.09, and George Braidwood, 8.12 – I won a hilly and warm Dalry 10k in 30.47 by more than a minute from Kilbarchan's Gordon Tenney, and then did a fairly hard track session the following day! A week after Dalry, I won a hilly Stonehaven Half Marathon in 71.16, and then, on the following day, took the Knock Hill race at Crieff by a second from Ian Howie in 18.24. Just two days on I ran a windy 3,000m in 8.32 at Grangemouth behind George Braidwood. Four days later, I chanced my battle-weary legs at the Runsport Marathon at Stirling. In ideal conditions on a flat course, I missed the opportunity for a fast time, clocking 65.57 behind a very impressive Peter Fleming, 63.16, Simon Axon, 65.35, and Donnie Bain of Falkirk, 65.40. Six days later, I ran a 1,500 at a windy Crownpoint for sixth in 3.56 behind Nat Muir, 3.52, Braidwood and Robert Fitzsimmons, 3.53. Pleased at the time with the lack of track work, I ran a four-mile relay race leg at Dundee the following day without going flat out. Just two days later, on the Tuesday evening, I found myself locked in an epic battle with Terry Mitchell in the Crieff Half Marathon, with him collapsing over the line four seconds in front of me in 63.42. (Terry, my apologies for my ungracious behaviour after the race when I took you to task for not sharing the pace. I could be a bit of a p***k in the heat of battle at times in those days). I had been obsessed with running a fast time while Terry was thinking of winning. What was our reward for such a tough duel over 13 miles on a hot summer's evening? Terry won 12 shuttlecocks and I received six golf balls!
Just four recovery days later, I was on the start line for the old Helensburgh Half Marathon course, a two lapper which involved twice making the climb up Sinclair Street. I was 100 metres or so clear at halfway, but looked around at 9 miles to see Dougie Frame of Law closing. He caught me by 11 miles and I hung on to him until the final mile when I chucked in the proverbial kitchen sink, determined not be beat by a close margin, as had happened at Crieff. I won by five seconds in 66.05. My prize was a medal. With the golf balls four days earlier, I remember thinking it was scant reward for two such tough races in five days. A week later I was at my beloved Strathallan Highland Games at Bridge of Allan (I was living there at the time) where I won the 3,000 metres handicap off scratch in 8.42 before finishing second in the 1500 handicap off scratch in 4.02 right behind my young clubmate Davie Donnet (off 35 metres). Three evenings after that, it was an 8.28 clocking for 3,000m at Coatbridge just behind Willie Nelson of Law. Just a further three days on, I was up at 4.30am, for the drive up to Elgin for the Moray Half Marathon. I beat Bruce Chinnick by more than a minute and set a course record of 66.09 which still stands today. The training diary says I was tired, and I did easy 40 minute and 30 minute recovery runs each day for four days and then a single easy run of five miles before winning the Blairgowrie Half Marathon by a minute from a German runner in 67.05. Just three days later, August 20, I was delighted to record 3.53 for a 1,500m at Meadowbank (Alistair Currie 3.46), barely three seconds slower than my pb. This was run on sheer condition, with no track work. (By this time my resting pulse before a weekend race was dropping to as low as 33 beats a minute). Four days on, I won the Midlothian Half Marathon in 67.20. Two days after, I did 12×400 with 40 secs recovery, and five days later, on August 31, I was on the start line for the Livingston Half. My running diary says it was undulating and quite windy, but I solo ran 64.41 to finish over a minute ahead of Dave Cavers of Teviotdale. A week of easy running later, I pushed the pace at the Land o Burns Half at Ayr (some hills, windy in parts), but was outstayed by Alex Gilmour of Cambuslang in the last mile, running 64.24 to his 64.02, with Dougie Frame third in 65.50 and Laurie Spence (didn't beat him often) clocking 67.54. I then gave myself six days of easy recovering running, though totalling 11 to 14 miles in two runs most days, and it paid off in the Round Cumbrae '10' starting in Millport. It was a complete circuit of the island, flat and the true distance was around 10.25/10.3 miles. There was no wind, making perfect running conditions, and I tore off from the gun. Immediately on my own, I only had the lead car and mile markers for company. By mile three or four miles, I realised I was hitting a perfect beat, clocking 4.43/44 for every mile. It became a target for me to try and maintain, and I managed it. I passed through nine miles in 42.30 and reckon I was around 47.15 at '10 miles' and crossed the line in 49.15, a record. What thrilled me most was seeing the previous record holders' names engraved on the tiny trophy – John Graham 49.29 and Jim Brown 49.38. Clyde Valley's finest, and big hitters (I had gone through my teenage years and early twenties hearing Brown spoken of with awe by other runners). They may not have had as benign conditions as I had, but it was now my record. Think it still stands. Second behind me was Cambuslang's Charlie Thomson in 51.51, saying he felt he had a good run. The road show continued, and a week later, on September 22, I won a windy Aberfeldy Half Marathon in 67.39, ahead of Falkirk's Martin Coyle, 68.23.
However, the first cracks were beginning to show. The diary reveals I was tired all week and six days after Aberfeldy I dropped out of the Livingston 6-mile road race, 'weary' at four miles. Allister Hutton won just ahead of John Robson. Not for the first time, I had failed to show my best when up against the big guns. The following week showed I was very tired. I just jogged a little and even took two days off, but on Sunday, October 5, I won the Stranraer Half in 66.02 but felt the course was short. I gave myself two weeks, including a week away on holiday up north with the wife, before picking up the Fort William Half Marathon on the way home. On a cold, wet and windy day, I ran in training shoes determined to do just enough to win in 69.06. There was just one more week to go for my last half of an incredible year, at Falkirk on October 26. I took an early lead only to be caught by Donnie Bain at around 9 miles. However, he didn't manage to open a gap, and with a mile to go I gave it everything I had. I was tired and mentally spent from all the racing, but I really liked the idea of winning 13 races at 13 miles in one year. I got a bit of a gap and hung on to win by ten seconds in 66.45. A week later I won the Lasswade cross country, six days later was sixth (25.06) in the Glasgow Uni five mile won by Nat Muir in 24.18, and eight days later I ran the fastest leg in the second stage of the Edinburgh to Glasgow relay. Just six days on from that, I was a weary third behind Terry Mitchell in the Gauldry cross country. I think that last burst of shorter races after Falkirk was act of defiance against the stories I was hearing. People were saying that after that crazy sequence of halfs and other races that I would be burnt out and possibly never run well again.
Anyway, after Gauldry I was indeed well and truly done – for the year.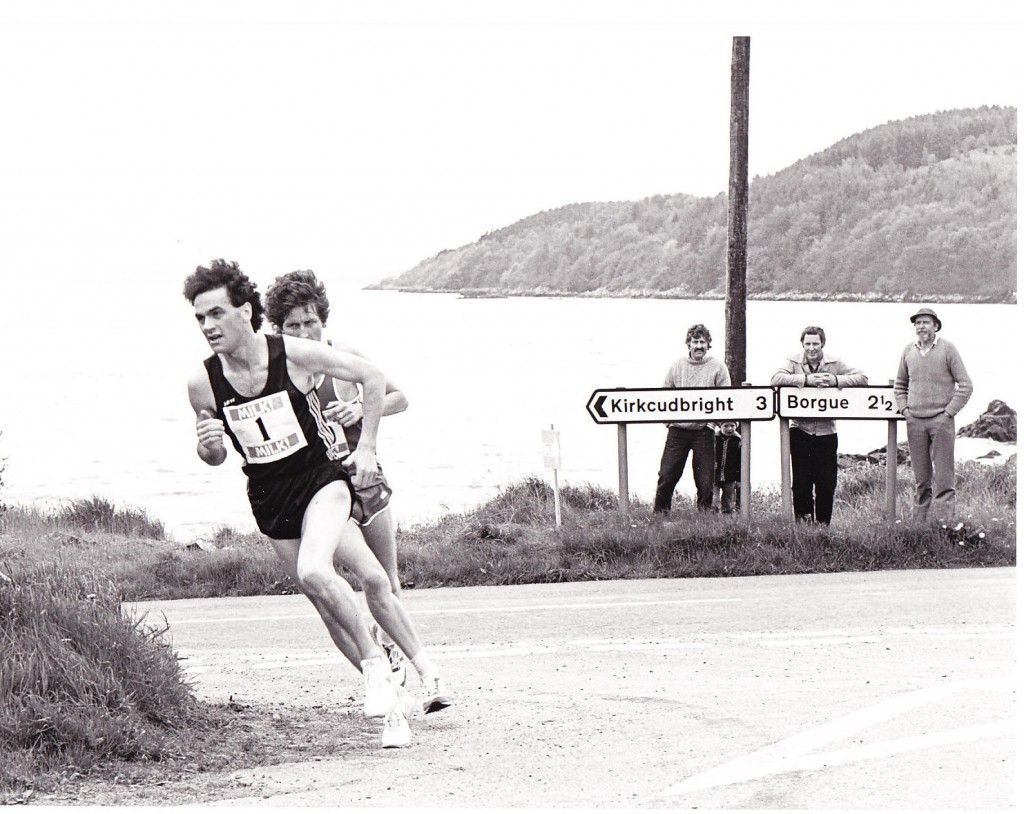 Trailing Mike Carroll in the Kirkcudbright Half Marathon
Other proud running memories? My relay team races with Springburn. Like many distance runners I was a fairly selfish athlete, however a good relay race could really arouse my passion. Three times in four years, we finished second in the Scottish cross country relays, and on the other occasion were third. We never quite got our best four of Adrian Callan, George Braidwood, David Donnet and me all firing on the same day. However, we were formidable opponents. Emphatically winning the west district cross country relay with Adrian, George and Jim Cooper was a happy day for us all, as was when we unexpectedly won the six-stage road relay at Livingston. I nearly blew that for the team and would never have lived it down. I somehow had got it into my head that the race was at Strathclyde Park where it had been before. On arrival at the park, I became increasingly uneasy at the complete lack of runners until the penny dropped that perhaps I was in the wrong place. I called Adrian's parents and they directed me to Livingston. I drove as fast as I could, however Livingston is a big town and I could see no sign of runners there either. Spotting a police car I waved for it to stop and asked for help. They said 'follow us'. Eight minutes later I was at the far end of the town where the race was already under way. I had five minutes to get my number on and jog to the start of my second leg. Yes, it was that close.
Another proud achievement was winning the Jimmy Flockart Memorial cross country at Drumpellier Park three times. The third time, I was 35 years old and not expected to beat the young, up and coming Stephen Wylie of Cambuslang. I remember Doug Gillon of the Glasgow Herald giving me a nice write-up for that.
I was also pleased of my achievements at Strathallan Highland Games, especially since I lived in Bridge of Allan for four years. I won the 3,000 handicap six times and the 1,500 handicap four times, and in the early years they involved pretty fast times for a grass track against good runners. I loved the highland games and would often run two or three races in a day, which helped my clock up those 50 races in 14 weeks. I guess my view was 'when you are fit, make hay'. I might have messed up at times with that approach, but it was who I was. I loved racing, and loved winning. I also liked having somewhere to go at the weekend, and better still if it was a race I had not tackled before. I had no qualms about getting in the car and driving up to Elgin or down to Stranraer. It kept the spark alive, as did my ever-evolving training regimes. I trained twice a day most days, but broke up the tedium of always running by mixing in circuits and weights at times, both of which I think helped me. Over the years I did land training with swimmers, and circuits with wrestlers, boxers and cyclists. I believed I made the most of my limited pace, with the weights, circuits, hill work and lots of intervals and track racing. I was 29 years old before I ran my first half marathon. Too many young runners move up distance too soon these days, and don't run enough track in the summer. I can be a real bore about that. There is no point me giving a typical week's training, because I'm not sure there was such a thing for me. I experimented a lot, did too much at times and generally trained hard. I don't think it is the detail that counts, it is the essence – consistent hard training in whatever shape or form helps you. Also keeping the spark, the desire – there are many ways to climb a mountain. 3x4x400 on cinders with spikes in 62 secs, with 30secs recovery and a lap between sets was a session which served me well at peak fitness for 1,500s and 3,000s (a distance I really enjoyed) at the start of the track season. When I was fit, 8x2mins very fast on the road with 30secs recovery was another key session. Recoveries were generally pretty short. Another memorable training period saw me doing 2min spells on the road during a 16-18 mile run. I started once a week doing about 10x2mins with 2min recoveries. Not too hard, just letting it come naturally. Each week I added on two more reps and eventually also cut the recovery. Eventually I was doing 26x2mins with one minute recovery and it felt boundless. I was getting so strong on it – and faster. As a variation, I did 10x2mins with 1min recovery and then straight into 10x1min faster with 30secs recovery and then straight in 10x30secs very fast with 30secs recovery. It felt marvellous to be able to do that and still be in one piece. A good session was as satisfying as a good race to me.
When I trained around the streets of Bishopbriggs and Glasgow on my own as a teenager in winter nights, I use to fantasise over the last few miles that I was on my way to winning an Olympic or European marathon goal. Funnily, I never did run my dream event. The half marathons I did suggested a potential for the full distance, but they also served to inform me how hard it would be to do a second 13 miles. I knew, knowing my nature, that it would have be pretty near to my half marathon pace, and because of health and injury problems I never did get the continuity of training that I knew would be necessarily to show the marathon its full respect.
Regrets? Not one. It is how the movie unfolded, but I agree with John Graham when he observed that if he was to do it again he would have been a little kinder to himself at times.
I'm deeply impressed and grateful for the compilation Brian McAusland and Colin Youngson have put together of so many of Scotland's finest middle and distance runners, many whom have inspired me and achieved far much more. I am a running fan. Reading the stories reminds of how many good runners we had in my generation alone. Thanks guys, for the races and the memories. I'm humbled and honoured to have this opportunity to tell some of my own wee stories as well. Hopefully, 1986 at least was quirky enough to be of interest. It just happened. I just went along, fascinated, for the ride.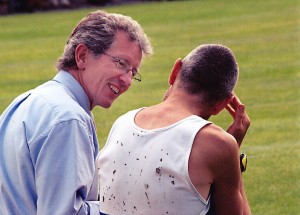 Graham the journalist interviewing Colin Donnelly at Oban
Graham As A Veteran
And that's where Graham's own amazing story ends but we can't leave it there. He is still running as a V50 and as I write (March 2013) he has just been first in his category at the Jack Crawford Memorial 10K promoted by his own club, Springburn Harriers. As an indication of his quality over the past few years, the Power of 10 website, while not comprehensive, gives a picture shown in the table below. No comment of mine is required about the standard but it is always a source of inspiration to see man who is a lifelong runner and clearly enjoys the sport for its own sake.
| | | | | | |
| --- | --- | --- | --- | --- | --- |
| Date | Event | Venue | Category and position | Overall Position | Time |
| 9 March 2013 | Jack Crawford 10K | Bishopbriggs | V50 1st | 11th | 36:13 |
| 23rd February 2013 | National CC | Falkirk | V 50 2nd | 130th | 46:20 |
| 8th April 2012 | Round the Loch 6K | Glasgow | V50 1st | 6th | 20:52 |
| 22nd April 2012 | Fyvie Castle and Lake 5K | Fyvie | V50 1st | 3rd | 17:12 |
| 28th April 2012 | Conoco Phillips 5K | Balmoral | V50 1st | 5th | 17:34 |
| 17 April 2011 | Fyvie Castle and Lake 5K | Fyvie | V50 1st | 4th | 17:39 |
| 22nd October 2011 | DK 10K | Dinnet | | 5th | 39:31 |
| 27th June 2010 | Follow The Herring 10K | Portsoy | V50 3rd | 6th | 37:01 |
| 17th January 2009 | Jack Crawford 10K | Bishopbriggs | V45 1st | 5th | 35:10 |
| 24th January 2009 | Buchlyvie 10K | Buchlyvie | V45 1st | 2nd | 35:04 |
| 12th April 2009 | Tom Scott Memorial RR | Motherwell | V45 1st | 3rd | 20:12 |
| 10th May 2008 | Deafblind Canal Bank 10K | Bishopbriggs | | 1st | 37:12 |
| 17th August 2008 | Bellahouston 5K | Glasgow | V45 1st | 9th | 16:52 |
| 31st August 2008 | Oban 10K | Oban | V45 1st | 1st | 36:17 |
As a Relay Runner
Graham speaks in his profile of his love of relay running, and he ran many while a veteran that I have not listed above, so it might be appropriate to look at his record in these events. In the biggest and best of them all, the Edinburgh to Glasgow 8 stage relay, he ran in nine with a net gain of eleven places. He ran the second stage five times with the best run being in 1986 when he came from ninth to fourth with the fastest time of the day, while in 1982 he came from 17th to 10th and in 1983 from sixteenth to twelfth. The West District Relay title won in 1989/90 that is referred to above did indeed come after several years of frustrating near misses for the club. Third in 1982/83 with a team of Harry Gorman, Graham Crawford, Jim Martin and Adrian Callan, with Graham third fastest overall on the day, and with athletes over the next few years such as Graham, Adrian, George, Stephen Begen and David Donnet at their disposal they did not improve on it until 1987/88 when they were second. The runners this time were Begen, Crawford, MacIndoe and Callan. They could never, as he says, get the top four together at the same time until season 1989/90. David Donnet ran the first stage and handed over in fourto Graham who worked his way through to first before sending Adrian Callan off. He held first as did George Braidwood on the final stage for a long awaited triumph. The 'Glasgow Herald' reported as follows: "Springburn Harriers, already winners of the Lanarkshire relay title, scored their first victory in the senior 4 x 2.5 mile event at the SCCU Western District Cross-Country relay championship defeating 120 teams at Dalmuir Park, Clydebank. They received the Struthers Shield for their victory, having taken the lead at half distance and held on to it with some good performances from Scottish internationalists Adrian Callan and George Braidwood." They proved it was no fluke by being third the following year with a team of MacIndoe, Braidwood, Crawford and Donnet. Although they did not win the National Cross-Country Relay at any point, this particular group came very close indeed. In 1987/88 the quartet of Begen (first), Crawford (3rd), Donnet (5th) and Callan finished second; in 1988/89 it was Cooper (29th), Crawford (5th), Donnet (6th) and Callan who were second and in 1989/90 the team was Donnet (8th), Crawford (2nd), Callan (2nd) and Braidwood who finished third. They won it again in 1993/94 with a team of Jim Cooper, Adrian Callan, George Braidwood and Graham, the picture above is of him working on the second stage of the mucky, hilly Woodilee course at Lenzie. He refers above to the winning of the Scottish Six-Man Road Relay race in 1988 and it is indeed quite a story. You can access Doug Gillon's very full account of the race – in which Graham, after arriving late – ran the fastest time of the day on the third stage – at
http://news.google.com/newspapers?nid=2507&dat=19880328&id=DDlAAAAAIBAJ&sjid=OlkMAAAAIBAJ&pg=3113,7616820
That was the third stage but generally Graham seemed to specialise in running the second stage – my feeling is that the second stage needs a fighter and a hard competitive spirit – just in case the first runner has a poor one, or in case ground has to be made up, or in case a lead has to be maintained, and in any of these situations there is no more competitive runner than Mr Crawford.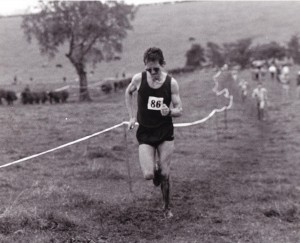 In the winning West District Relay Team.
On The Track
It is maybe appropriate to take a look at some of Graham's running on track and over the country a bit more closely. As far as track running is concerned, his record on all surfaces is good – grass at Highland Gatherings, cinder on occasion and tartan in others all came the same to him. He progressed quite rapidly in the early 1980's. Have a look at the table below: every year in every event was faster than the year before with the single blip at 3000m in 1985!
| | | | |
| --- | --- | --- | --- |
| Year | Event | Time | Scottish Ranking |
| 1981 | 5000m | 14:51.68 | 26th |
| 1982 | 3000m | 8:24.93 | 13th |
| 1982 | 5000m | 14:38.77 | 23rd |
| 1983 | 3000m | 8:14.70 | 12th |
| 1983 | 5000m | 14:25.12 | 17th |
| 1984 | 1500m | 3:50.7 | 24th |
| 1984 | 3000m | 8:10.7 | 5th |
| 1984 | 5000m | 14:13.16 | 6th |
| 1985 | 3000m | 8:17.0 | 17th |
| 1985 | 5000m | 14:11.3 | 10th |
The 8:10.7 for 3000m noted in the table above has particular memories for him. He says, "One of my proudest races was setting my 3000 pb of 8.10 in an open graded at Meadowbank. Alastair Currie, by then a 3.41 or faster 1500m runner, was running his first serious 3000 and his brother Alan agreed to set the pace. It was quickly just the three of us at the front, and Alan dropped off the pace with three laps to go leaving Alistair in front. I was hanging on to Alistair with no particular plan other than to run a fast time. With 750 to go Alistair dropped his shoulders or arms just slightly as if he was uncomfortable for the first time and I instinctively seized the moment and rushed passed him. I had about 30 metres on him at the bell and was making a long run for home. At 250 I looked back and saw that Alistair had woken up to the fact that he could muster a finish, and a fast one. As he charged down on me and I gave everything I had around the last bend and up the home straight. I won, perhaps by a metre". I had caught Alistair just at the right moment because he had not run a 3k before and that little bit of doubt crept in for him." And he continued to run well – 3:53 for 1500m and 8:28 and 8:30.94 for 3000m in 1986 which you will remember was his year for running all those half-marathons. If we put his personal best times into a table we get the following:
| | | | | |
| --- | --- | --- | --- | --- |
| Event | Time | | Event | Time |
| 800m | 1:58.4 | | 5000m | 14:10 |
| 1500m | 3:50.7 | | 10 Miles | 48:48 |
| 3000m | 8:8:10 | | Half Marathon | 63:46 |
He also picked up several Scottish representative appearances. "On track, I represented Scotland in some kind of match in Birmingham in a 3,000′, ran 8.14 for third in windy conditions behind two English runners. that got me picked soon after for a Celtic international 5000 (Ireland, Wales, Iceland) at Meadowbank. John Woods won in 14.06 I think and I was just a second behind Lawrie in 14.13 off a slow first mile."
(And former Scottish steeplechase champion Tom O'Reilly told me that Graham ran in some steeplechase races for Springburn in inter-club fixtures and that he could have been a good class steeplechaser had he wanted to do so.)
There were several road honours too and when asked he said, "On the road, I ran for Scotland in a half marathon against Welsh and English teams at Stafford with Charlie Haskett and Tommy Murray. think that was in 1987, the same year I ran for Great Britain in a half marathon at Zuider on Zee in Holland in January. memorable for being colder than I've ever experienced before. Someone said the wind chill was minus 17. I had big lumps of ice clinging to the back of my hair where the sweat had frozen. Ran 68 minutes +"
The British vest referred to above was won in January of 1987 and it was reported in "Scotland's Runner" as follows under the headline "Ups and Downs of Holland." "When Springburn Harrier Graham Crawford discovered on his arrival at Amsterdam Airport on January 11th that his first race for Great Britain would be run over frozen sand dunes and beaches, he quickly forgot any idea of a fast time on the flats of Holland. And when temperatures on race day plummeted to minus 13 degrees C, and were worsened by a chill wind straight off the Russian continent, the 18th International Egmond Ann Zee Half Marathon simply became a matter for survival.
In the Blairgowrie 2 Miles
The 30-year-old Scot borrowed a pair of running tights from team-mate Jimmy Armsworth and bought a ridiculous woolly hat that had him looking like a Smurf. He didn't care, his ears were now safe. And lining up also with gloves and three tops, he still felt far from overdressed. "I cannot honestly say I have experienced it colder," he says. In the race, which attracted 7500 starters, Crawford and Ashworth started steadily and so never made contact with the leading group. But they went through the field to finish 17th and 7th respectively, in 68:44 and 67:25. Both felt that they had had solid runs, especially Ashworth who had clocked over 130 miles and three track sessions in the previous seven days, in his determination not to interrupt preparation for this year's London Marathon. The race was won by England's Mike Bishop in the remarkably fast time (and record) of 65:11, in view of the course and conditions. Second was Dutch 5000 metres runner, Rob de Brouwer, ahead of fellow countryman Marti ten Kate. Belgium's evergreen Karl Lismont was 14th, and former Olympic marathon silver medallist Gerard Nijboer 22nd. Other British placings included Bishop twin, Martin, in eighth, and super-veteran Mike Hurd, 26th in 70:53."
The Stafford Race was written up in the 'Glasgow Herald' of 7th April 1987 as follows: "CRAWFORD HAT-TRICK OF VESTS" Graham Crawford of Springburn Harriers, Scotland's most successful and consistent runner over the half-marathon last summer, leads a a Scottish team in the home countries international match incorporated into the Potteries Half-Marathon at Stafford on Sunday. Crawford gained his first major UK international honour when representing Great Britain in a half-marathon international race in Holland earlier this year and, with with previous Scottish international appearances over cross-country and track to his credit, this versatile athlete completes his full set of Scottish international vests. Tommy Murray of Greenock Glenpark Harriers and English-based Charlie Haskett (Dundee Hawkhill Harriers (who were both in Scotland's team in the World Cross-Country Championships at Warsaw last month) complete the three-man team."
While we are on the subject of road running, Graham also recorded 49:19 for 10.25 and it is fair to wonder about how well could he have run the marathon. It's a question he himself raises above, but with this proven speed in road races – and relatively speaking, he gets faster than most of his peers the greater the distance run. There is no doubt that 48:48 and 63:46 are better than 1:58 and 3:50. He was also easily strong enough for the distance – it took immense deep down strength to run as often as he did in 1986. If there is any doubt remaining about his strength, he ran in the Sun Life Great Race from Glasgow to London in September 1990 where with runners like John Graham, Dave Moorcroft and Steve Brace dropping out for various reasons he made it all the way to London. The report in "Scotland's Runner" read as follows:
"The winner of the inaugural Sun Life Great Race was Paulo Catarino of Portugal who collected prize money of £35,000 for his not inconsiderable efforts. Twenty six year old Catarino completed the 230 mile, 20 stage race in the incredible time of 18-32-43. Consistency was the key to the event, illustrated by the fact that Catarino did not win a single stage over the three weeks of the race. The deciding factor in his triumph was that he did not finish any lower than eighth on any given day. Delmir dos Santos, the 24 year old Brazilian running for the American Boulder Road Runners Club took the green vest for the overall points winner. His colossal total of ten stage victories ensured his success. The first four stages of the race were dominated by 43 year old Kenyan, Kipsubei Kisgei if not always for the right reasons! Although he won all three Scottish legs, he self destructed when he was seen to strike dos Santos on the fourth stage from Gretna to Carlisle. The starting field numbered 107 when the race got under way in Glasgow on September 2nd. By the day of the final Westminster stage, only 82 runners remained. Many of the 'big' names withdrew or failed to finish including Mike McLeod, John Graham, Fraser Clyne (who was supposed to write a diary of the event for 'Scotland's Runner'), Steve Brace, Gary Kiernan and Dave Moorcroft. In the team contest, the lead changed hands many times before the Boulder outfit took the title.
Hammy Cox, representing Red Counties AC, finished 18th, the highest placed Scot and the third Briton. Brian Kirkwood, UK Elite, ended 38th with Graham Crawford, Wolverhampton & Bilston, finishing in a highly creditable 58th, after entering the event at the last minute. After recovering, Graham said, "It was a first class event which was highly professional in its organisation – especially considering that this was the first event of its kind. The word most used by competitors when describing the event was 'fascinating.' Both your own performance and the changes of position up front made it constantly interesting," he said.
With the bulk of the race being run at a phenomenal sub-5 minute-mile pace it was not surprising that many athletes didn't last the pace. However Graham found that despite the rigours, the most common reason for withdrawing was bad blisters. "The race proved that many runners under-estimate their powers of recovery," commented Graham Crawford. As for his personal performance, Crawford was more than delighted. "I didn't intend to run but as it got nearer, I was bitten by the bug and it was a case of 'what the hell' in the end. The Springburn Harrier's worst moments occurred – ironically – in the Scottish stages. "By stage four (Gretna to Carlisle) I was unsure whether I would last one mile, never mind the 12.8!" he says.
Crawford had only one or two minor criticisms. "The organisers may have slightly under-estimated the amount of back-up needed in a race of this size. Masseurs and physios are essential in a competition of this duration," he said. "Also, you often got the impression that 99% of the locals didn't realise what was going on. Perhaps more emphasis could be put on publicity next time." As for prospective entrants for next year's race, Graham had some advice. "A period of sustained road running prior to the event is essential, aiming for at least 80 miles per week at sub six minute pace," he said. I would certainly recommend the event to any athlete. It is certainly something you should experience."
Finally, although the publicity he generated for his club was invaluable and stretched over decades, he was on one occasion in hot water with Springburn Harriers. In 1991 the result of the Brampton to Carlisle road race which was won by Carl Thackray, had David Donnet of Springburn second, Mike Carroll of Annan third and Graham Crawford fourth. There was no third runner from the club so there was no team prize. Why was there no third runner? Well, the race was held in the same weekend as the prestigious Edinburgh to Glasgow Relay and the club was none too pleased at two of their top three or four runners absenting themselves.
Some Thoughts On Cross-Country Running
Graham was also a good enough country runner to run for Scotland in the World Cross-Country Championships in Gateshead in 1983 when he finished eighth, he was actually two places higher eight years later when he was sixth in the National at Irvine. He was however reported as follows by Doug Gillon in "Scotland's Runner" as saying, "It was Graham Crawford of Springburn, finishing sixth just behind hill-running specialist Colin Donnelly of Cambuslang who put the Caird Park race into perspective. Not that Crawford is a mediocre runner. His performance in last year's Great Race, and a string of more than a dozen half marathon wins a few years ago, mark him at the age of 35 as a durable and morethan proficient performer. "But I would have to say that when I finished eighth a few years ago, I ran much better, and in far higher quality company," he confessed with frank objectivity."
He also represented Scotland in a home international cross country at Cumbernauld, and in several similar or televised invitational events at Gateshead, along with appearances in such events as the Inter-Area match at Cumbernauld. The cross-country talent was always in evidence. Graham wrote a piece for the excellent 'Scotland's Runner' magazine which I will reproduce in its entirety here because of the insight it gives into his beginnings in the sport.
"In the beginning, there was cross-country. A harrier was measured by his ability in an event in which time and distance were only relevant in relation to those around him. Nobody started and stopped sports watches.
To me as a youngster cross-country was the be all and end all. I was the complete opposite to today's 'fair weather' new runner. My season began with the return to school in August/September, peaked with the main championships in February/March, and fizzled out rapidly thereafter with the advent of Spring and its uncanny ability to convince a young lad that, in girls, there is definitely more to life than being left battered to death by hailstones, semi naked, in the middle of a farmer's field.
Still, come Autumn, off you would trot again into the wet and windy nights, undaunted and with fresh dreams, aims, targets and schedules. The call of the wild perhaps. You certainly always returned for more, and particular races could operate a pull of their own – despite all logic.
Beith was the best. I mean the best example. New Year's Day, up to your knees in cow shit and then back to the wooden hut and a washdown in troughs of freezing and rapidly blackening water. If you got lucky there was a ballot prize (a big attraction) and then a two hour wait for the reduced service bus to crawl its way back to Glasgow. No it wasn't a ballot prize that made you return after saying never, NEVER, again. It was perverse logic at play. You wanted to finish in the first three and figured nobody, but nobody would go back. Of course, everyone was thinking the same, and we'd all turn up again. I did it until I was old enough to take a Hogmanay hangover with me.
Ayrshire has always been good for cross-country races on the most heart-breaking of winter days, and Stewarton is another legend. I have vivid memories of big lassies and wee lassies in their early teens come staggering down the street (true, a cross-country race that finished in the street) with bare feet, or only one loose sock with a ball of mud flapping on the end, and collapsing, sobbing, into their mother's arms. (They weren't so well prepared in those days – the late Sixties – and come to think of it, it was the biggest lassies that made the biggest fuss. Still, nearly every competitor had marvellous fun going back into the fields afterwards to find the shoes schlupped off in the mud.
Lanarkshire's greatest course, sadly no longer in use, was at Cleland. Heavy, heavy going, a mighty hill and enough barbed-wire fences to have every man counting "one – two" as he crossed the line.
Ah, the memories, it's no wonder I can't understand new runners reeling back in horror when I suggest a wee diversion off the tarmac during a training run. Just across a few fields so I can smell the mud and the grass again.
"WHAAAT? What about the nettles? There's a barbed wire fence. And a burn. Geez, what about the farmer?" they wail.
And I sigh, and explain, "In the beginning for all the greats and for much of their development, there was cross-country. Cram, Coe, Ovett, Moorcroft, Aouita, Foster, Hill, Bedford, McCafferty, Lopez – them all. Budd, Weitz and Kristiansen as well. They know the delights, the challenges, the benefits and the joy of running strong over a true test of stamina and grit."
Lachie Stewart won the Stewarton race in 1968, 1969 and then made it a hat-trick in 1970, after winning the Commonwealth Games 10000 metres. And his son Glen, who is showing the same kind of talent, will probably be there this year.
So join a club, get to know the races (some can be well-kept secrets but at least there are now hot showers afterwards), and there will be more than enough satisfaction, fun and fascination to get you the door with the rest of us on the cold wet and windy nights.
And by the way, Beith is now a road race."
The article appeared in the October, 1986, issue of the magazine and was written in conjunction with an article on Nat Muir. It is quite a powerful statement of the attractions of the sport but also indicates the depths of the love Graham has for all kinds of endurance running.
Early Cross-Country Running
The Springburn Harriers young athletes were mainly coached by Eddie Sinclair, himself a cross-country internationalist in the 1950's and their boy's senior boys, youth and junior teams all did very well and were among the best in Scotland, winning medals and titles at County, District and National level as well as in regular open races such as those at Bellahouston Park. The table below give some indication of this success in the National Championship for Graham's teams.
| | | | | |
| --- | --- | --- | --- | --- |
| Year | Age Group | Team Position | Runners | Comments |
| 1971/72 | Senior Boy | 2nd | J Fleming 6th, G Crawford 10th, P McKerracher 14th, T Patterson 23rd | Youths team 1st, J Lawson 1st |
| 1972/73 | Youth | 2nd | J Fleming 3rd, J Lawson 6th, T Patterson 11th, P McKerracher 29th | |
| 1973/74 | Youth | 1st | G Crawford 4th, T Patterson 10th, J Fleming 13th, W Paterson 15th | Springburn 42 pts, Shettleston 70 pts |
| 1974/75 | Junior | 5th | T Patterson 12th, G Crawford 27th, J Fleming 37th, P McKerracher 53rd | Equal in points to fourth team, 6 pts behind the third team |
| 1975/76 | Junior | 8th | T Patterson 10th, G Crawford 20th, J Fleming 42nd. | Fourth runner and position unknown. |
As he himself says above, in season 1973/74 when they won the team title, the club realised that Jim Lawson who had been a member of the Junior team was, because of the English age groupings, eligible to run with the Youths team. The club decided to send an Under 17 team to the English Cross-County Championships. The team went down to the race and, despite running below their best, came home with the silver medals which should have been a source of great pride. This was not the case however since they felt they had not performed to their ability.
Graham's best run in the senior national was in 1983 when he led the club home in eighth position. This led to his selection to run for Scotland in the International Amateur Athletic Federation championship which that year was held in Gateshead. He finished in 182nd and was a scoring Scottish runner.
1986 Revisited
And finally, if you want more on 1986, have a look at "Scotland's Runner" for November 1986: his own look back is on pages 44 and 45, while Colin Shields makes some percipient observations on page 43. The magazine is online at http://salroadrunningandcrosscountrymedalists.co.uk/Archive/Scotland's%20Runner/SR%20No%205.pdf . Even so, it might not be appreciated how hard he worked himself in 1986: the sheer scale of the feat can be seen if we set the results out in tabular form. (* means course record time).
| | | | | | | | | |
| --- | --- | --- | --- | --- | --- | --- | --- | --- |
| Time Gap | Event | Place | Time | | Time Gap | Event | Place | Time |
| | Kodak 10K | | 29:49 | | 4 days | Helensburgh Half Marathon | 1st | 66:05 |
| | Inverness Half Marathon | 2nd | 66:35 | | 7 days | Strathallan: 3000m + 1500m | 1st/2nd | 8:53/4:02 |
| 2 weeks | Glen Fruin 15 | 1st | 75:38* | | 3 days | Coatbridge, 3000m | 2nd | 8:28 |
| 2 weeks | Jimmy Scott 15 | 1st | 78:10 | | 3 days | Moray Half Marathon | 1st | 66:09* |
| 10 days | 3000m | | 8:38 | | 5 days | Blairgowrie Half Marathon | 1st | 67:05 |
| 4 days | Pearl Half Marathon | DNF | | | 3 days | Meadowbank, 1500m | 2nd | 3:53 |
| 2 days | Sri Chinmoy | 1st | 9:14 | | 4 days | Midlothian Half Marathon | 1st | 67:20 |
| 4 days | 10K Dundee | 1st | 32:23 | | 5 days | Livingston Half Marathon | 1st | 64:41 |
| 8 days | Luddon Half Marathon | 2nd | 66:35 | | 7 days | Land o'Burns Half Marathon | 2nd | 64:24 |
| 6 days | Kirkcudbright Half Marathon | 2nd | 64: | | 6 days | Round Cumbrae 10 | 1st | 49:10* |
| 7 days | East Kilbride 6 Miles | 1st | 30:52 | | 7 days | Aberfeldy Half Marathon | 1st | 67:39 |
| 1 day | Irvine Valley Half Marathon | 1st | 70:09 | | 6 days | Livingston 6 Miles | DNF | |
| 5 days | Bearsden Half Marathon | 1st | 68:15 | | 7 days | Stranraer Half Marathon | 1st | 66:02 |
| 8 days | Clydebank Half Marathon | 7th | 70:+ | | 2 weeks | Fort William Half Marathon | 1st | 69:06 |
| 7 days | Lochgilphead Half Marathon | 1st | 70:44 | | 7 days | Falkirk Half Marathon | 1st | 66:45 |
| 3 days | 3000m | 3rd | 8:20 | | | | | |
| 4 days | Dalry 10K | 1st | 30:47 | | 7 days | Lasswade Cross Country | 1st | |
| 7 days | Stonehaven Half Marathon | 1st | 71:16 | | 6 days | Glasgow University 5 Miles | 6th | 25:06 |
| 1 day | Crieff Knock Hill | 1st | 18:24 | | 8 days | Edinburgh to Glasgow Relay | 2nd Stage | Fastest Time |
| 2 days | Grangemouth, 3000m | 2nd | 8:32 | | | | | |
| 4 days | Runsport Half Marathon | 4th | 65:57 | | | 44 Races: 23 wins, 8 seconds | | |
| 6 days | Crown Point, 1500m | 6th | 3:56 | | | 20 Half Marathons: 13 victories, 5 seconds | | |
| 1 day | 4 Miles Relay leg, Dundee | | | | | Also won Glen Fruin 15, Jimmy Scott 15, Sri Chinmor2, S/allan 3000m | | |
| 4 days | Crieff Half Marathon | 2nd | 63:46 | | | Dundee 10K, EK 6, Dalry 10K,Knock Hill, Cumbrae 10, | | |
The run at Ayr of 64:24 has him still placed 12th on the Scottish All-Time lists.*
In case you were wondering, Graham's track statistics for the next few years are noted in the table below.
| | | | |
| --- | --- | --- | --- |
| | Distance | Time | Ranking Position |
| 1986 | 1500m | 3:53.0 | 31st |
| | 3000m | 8:20.94 | 14th |
| 1989 | 3000m | 8:33.4 | 35th |
| 1990 | 3000m | 8:21.9 | 21st |
| | 5000m | 14:24.9 | 18th |
| 1991 | 3000m | 8:35.6 | 24th |
The 'Glasgow Herald' had the results in most weeks but fairly often in the 'In Brief' section. He was virtually an ever present that summer. For instance the month from 21st May to the end of June had the following:
"Graham Crawford of Springburn Harriers, already a winner of several top-class half-marathons this year, successfully moved up in distance when winning the Jim Scott Memorial 15 mile road race at Strathclyde Park. Crawford covered the three laps around the loch in 1:16:10 and finished 42 sceonds ahead of Peter Carton (Shettleston Harriers)." 21/4/86
"Scottish International Mike Carroll of Annan and District AC won the Kirkcudbright Milk Half-Marathon from 300 competitors and led his club to victory in the team context. Carroll set a course record of 63:32 when winning for the second successive year with Graham Crawford of Springburn Harriers runner-up in 64:27." 26/5/86
"Graham Crawford (Springburn Harriers) scored his second road race victory in 24 hours when he defeated 300 rivals at the Irvine Valley Half Marathon at Galston yesterday. He covered the hilly course in 70:08 to win by over 600 yards from Gordon Tenney (Linwood AC)." 2/6/86
"CRAWFORD KEEPS HIS ROAD RACE RECORD. Scottish Internationalist Graham Crawford of Springburn Harriers continued his recent series of road race successes when winning the half-marathon at Bearsden and Milngavie Highland Games at Kilmardinny. Crawford led more than 400 rivals from the start, covering the hilly course in one hour eight minutes 15 seconds to win by more than quarter of a mile from local runner Alistair Douglas (Victoria Park). 9/6/86
The report of the Clydebank Half Marathon the next week was so scanty that it only reported down to third finisher.
"Graham Crawford (Springburn Harriers) continued his string of road race victories when winning the inaugural Mid-Argyll Half-Marathon at Lochgilphead yesterday in 70 minutes 44 seconds." 23/6/86
There was a shortage of results in the 'Herald' during the Commonwealth Games in 1986 which enjoyed mammoth coverage, with the European Championships a month later also getting some good coverage. But it was not long before the scribes there cottoned on to his continuing successes. Some more reports.
"Graham Crawford won the Moray Half-Marathon in 1-6-9". 11/8/86
"Scotland's most consistent road runner, Graham Crawford (Springburn Harriers), recorded another victory when defeating over 300 rivals in the TSB Alyth to Blairgowrie Half-Marathon in 67:05 finishing 600 yards in front of RAF Serviceman George Reynolds (Aberdeen AAC)." 18/8/86
"Graham Crawford of Springburn Harriers won the Goretex Fabrics Half-Marathon at Howdden Park, Livingston, his fourth victory in three weeks. He set a course record of 66:41 and won by 300 yards from Denis Cavers (Teviotdale). [I think he meant David Cavers!] 1/9/86.
"Graham Crawford (Springburn Harriers) brought his road running season to a triumphant close on Cumbrae when he beat John Graham's course record for the 10.25 mile road race by 13 seconds. Crawford's time was 49:15." 15/9/86.
"Scotland's most prolific road runner of the year, Graham Crawford (Springburn Harriers) scored his eleventh half-marathon victory in 20 weeks, defeating 200 competitors in the Stranraer Half Marathon yesterday – his 30th birthday. Victory won him a trip to the Paris Marathon next spring. Leading from the early stages he won in 66:02 from Ian Park (Ballydrain Harriers)." 6/10/86
It was a mad racing programme that no half sensible coach, exercise physiologist or sports scientist would have organised or recommended. If a summer like that can lead to a fastest time on the torrid second stage of the Edinburgh to Glasgow, maybe more runners should have tried it. It was a wonderful year and superb display of fitness, speed and, of course, enthusiasm. It is also a year that Graham can look back on with pride.
In fact he can look back on his whole running career with considerable pride in his achievements and his many successes over many surfaces and in all weathers. One international vest in any endurance discipline would please most athletes – to gain international recognition on the track, on the roads and over the country takes remarkable talent. And through it all his enjoyment shines through – too many of our top runners can't wait to get out of the sport as soon as they have, in Emmet Farrell's phrase, "shed their silk". I suspect that Graham will be running for a long time yet.