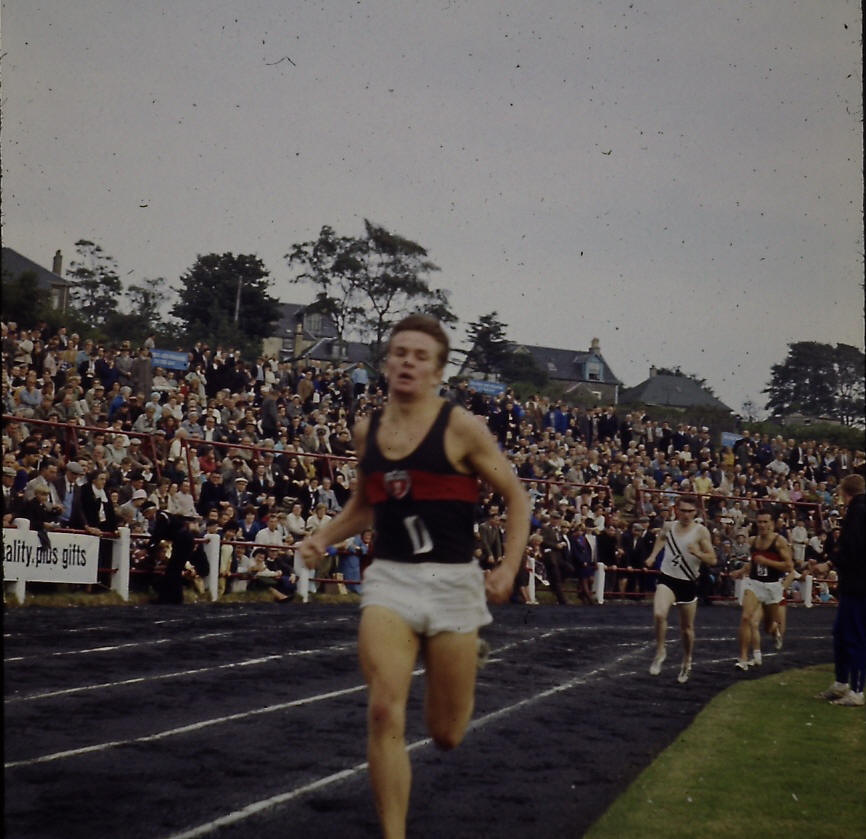 Graeme Grant at Cowal
Gerard M. GAFFNEY (20.11.55) Greenock Wellpark
1978 10,000m; 33.16.2; 1979 Marathon 2.24.09
Probably Gerry's best run as a senior athlete was when he finished a very respectable 6th in the 1979 Scottish Marathon championship. In the E to G he ran the important Stage Six between 1980 and 1982.
In the Scottish Veterans XC championships Gerry won M40 silver in 1996; and later that year was first Scot (6th overall) in the annual British and Irish 5 Nations Masters International XC, leading his team to second place. In that event he was in the top ten three times and won three team silver medals. In 2001, he finished 4th M45 in the International and his team achieved a rare Scottish victory. Even in 2012, Gerry was still going strongly – 5th M55 and another team silver.
Andy GALLAGHER, Maryhill Harriers, brother of Mike who, like many another, was a seriously talented runner who never fulfilled his potential. He was a good road runner, a very good track man (particularly in the steeplechase) and an even better cross-country man. Represented his club in all the championships and team races.
Billy GALLAGHER (Vale of Leven AAC) was a good club runner who ran in championships and in Edinburgh to Glasgow races in the 1960's (in 1961 he picked up one place (7th to 6th) on the second stage with the team which featured Lachie Stewart, Pat Moy and Hughie McErlean..
Joseph GALLAGHER, Spango Valley AAC
After racing the E to G for Spango many times, including 7th place and the 'most improved' awards in 1981, he was part of the team which won thoroughly deserved bronze medals in the 1984. In the 1983 Scottish 6 Stage Road Relay, he had secured another bronze.
Mike GALLAGHER, Maryhill Harriers
Mike, brother of Andy, was a runner who never seemed to get the credit that was his due. He often finished high up in the national cross-country championships, wa a solid track runner and ran on the road – Edinburgh to Glasgow as well as all the well known events such as the McAndrew Relay, the Nigel Barge, the GU Road Race, the Allan Scally Relay, etc. As a marathon runner he ran in the Essonne Marathon in the mid-80's as well as in domestic races like the SAAA Championships.
Willie GALLAGHER, Vale of Leven AAC, Shettleston Harriers
Willie was one of the founder-members of the Vale of Leven AAC in 1949. The club had several very good runners such as Pat Moy, Walter Lennie, Alex McDougall and latterly Lachie Stewart. Willie was one of the best and won many races. Willie Gallagher was the team manager's dream athlete. He ran – and ran well – in everything: he ran in county relays and championships, in District relays and championships, he ran in the National Championships and in the Edinburgh to Glasgow and he ran on the track, on the roads and even in the Ben Nevis hill race. And he never seemed to miss big chunks of time because he was injured either. He was very unfortunate not to have been selected for the Scottish cross-country team just missing out twice when he was ninth. Part of that problem of course was the shortage of international fixtures in the post-war period when there was really only one fixture and another reason was the very high quality of all of the athletes around at the time. He left the club for a year and ran for Shettleston in season 1954/55 when he won a silver in the Edinburgh to Glasgow.
Frank E. GAMWELL (28.11.43) Edinburgh Univ, Pitreavie, Ilford, Perth Strathtay
One Mile 4.19.0 (1965) 3 Miles 14.17.8 (1967) 6 Miles 29.33.0 (1967) Steeplechase 9.35.4 (1967) Marathon 2.35.14 (1994 – aged 51)
Frank was a valuable member of the illustrious mid-1960s Edinburgh University team. In the 1964 E to G, EU secured silver medals. One real highlight was in the 1965 event, when EU broke the race record and won gold. Frank took them into the lead when he was fastest on Stage Five. Another great day was in the 1966 Senior National XC, when the students finished first in the team contest.
Brian GARDNER Clyde Valley
10,000m 30.58.0 (1984)
Other best times were: 1:57 (800m), 3:57 (1500m), 8:28 (3,000m), 14:44 (5,000m).
In the Senior National XC, Brian was part of the CV squad which won team silver in 1982.
As a Veteran (or 'Master'), Brian's greatest moment was winning the 'home' international Cross Country (M45) at Croydon in 2004. He went on to win the European Cross-Country Championship in Sweden. Brian also achieved Scottish veteran track and XC titles; and, at British level, two gold medals for M45 5000m championship and Road 10 Miles. In addition, he has been successful at Modern Triathlon and Open Water swimming.
James GARVEY, St Modan's AAC, Vale of Leven
He was a good long-distance road runner; who also ran the E to G for the Vale 6 times, including 1955, when 5th place ensured the 'most meritorious' medals and 1956, when his team was fourth. He completed the 1959 Ben Nevis race in a respectable 23rd place. Later in his career he moved to the stirling area and joined St Modan's AC and ran in many of the Scottish Marathon Club road races including the marathon itself, and the Strathallan 20 miles+.
William GAULD Carnethy Hill Runners
Bill won two Scottish Masters XC titles: M55 in 1991 and M60 in 1995. However, his main love was hill racing – he continued to run many events into his late seventies. Here are some of his impressive achievements. Bill was: British Fell Running Over 50 Champion in 1985, 1986, and 1987; Scottish Over 50 Hill Running Champion 1989 and 1991; World Over 65 Mountain Running Champion 2001 and World Over 70 Mountain Running Champion 2003.
David GEDDES (12.07.56) Garscube Harriers
Marathon 2.27.18 (1981)
David is a very popular runner who competes in every championship for his club and in many open races too. He is a solid, very good, reliable club runner as his marathon time shows.
Douglas GEMMELL Clydesdale Harriers
5000m 14.53.4 (1971); 10.000m 30.53.0 (1972); Marathon 2.29.02 (1974).
A calm, sensible, determined, thoughtful individual, in the E to G, Douglas ran for his team nearly every year between 1965 and 1982, usually on the classy Second Stage. He never ever lost a single place in any of his many appearances. In 1970, Clydesdale finished fifth and won the 'most meritorious' medals. He was also successful in Highland Games road races; and ran for SCCU in representative cross-country matches.
Douglas made a startling comeback as a veteran athlete in 1996, when he won the Scottish M50 XC title and finished an excellent second individual in the British Masters XC championship. In 1997, he contributed to M50 team silver when running for Scotland in the annual British and Irish Masters 5 Nations International XC.
Nigel GEMMELL (30.09.63) Southampton & Eastleigh, Gala
3000m 8.17.7 (1986) 5000m 14.19.5 (1991) 10,000m 30.22.30 (1992) Steeplechase 9.14.6 (1993)
Nigel appeared in the Scottish rankings between 1981 and 1994.
Graham R. GETTY (10.05.60) Strathclyde Univ, Bellahouston, Shaftesbury Barnet, Cambuslang – see full profile
14.42.4 (1990); 30.43.66 (1988;) Marathon 2.19.24 (1984).
With Strathclyde University, enthusiastic Graham won team gold medals in the 1979 Junior National, when he was 12th individual.
With Bellahouston Harriers, Graham won team silver in: the 1983 E to G: and the 1987 Senior National; as well as bronze in the 1984 Six Stage Relay.
With Cambuslang, he secured another silver in the 1989 E to G, won national team CC champs 1989 and 1992.
With Shaftesbury, he won Southern Cross-Country team: 1991; won southern 12 stage road relay 1986 and 1992; 2nd in national 12 stage road relay 1991 and 4th team in National CC champs 1991.
Marathon running suited him well: third place in the 1985 Scottish championship; and running for Scotland in an international team match included in that year's Glasgow Marathon.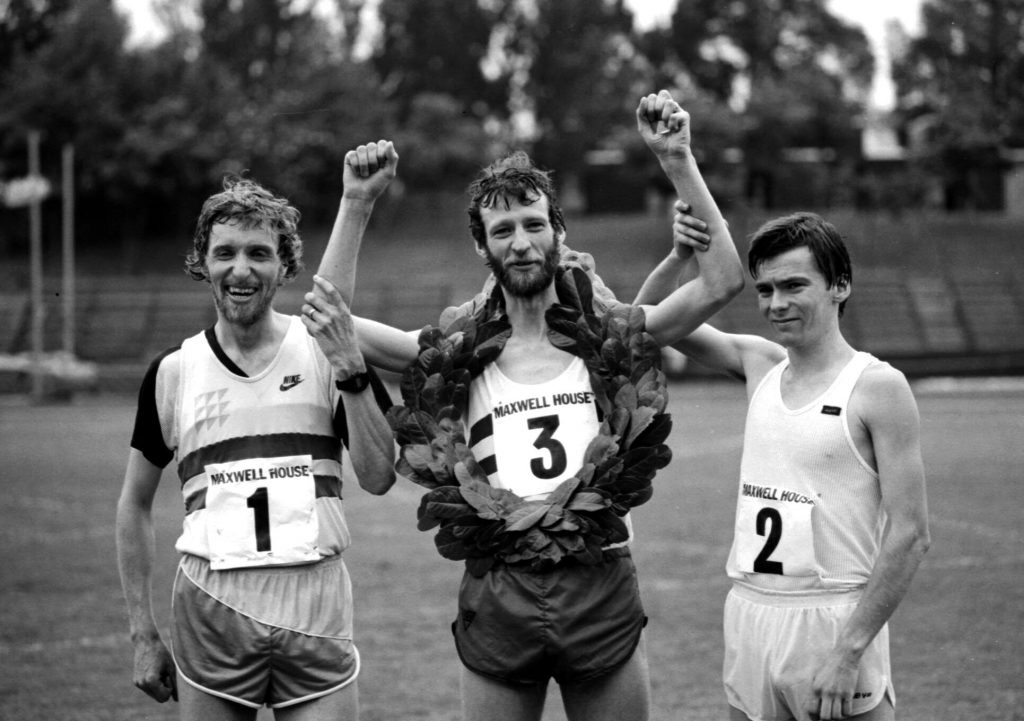 Colin Youngson (1), Evan Cameron (3) and Graham Getty (2)
AC GIBSON, Hamilton Harriers
Alex was a very highly respected runner when I first came into the sport in the 1950's. It was no wonder because when all the big prizes were going to the big clubs, his record at Hamilton Harriers was incredibly consistent. Between 1950 and 1960, his record in the National Cross-Country championships was 10th, 7th, 8th, 6th, 9th, 10th, 14th, 20th, – , 12th and 20th, This led to four international vests in the ICCU Cross-Country Championships in 1951, '52, '53, and '54. In the Edinburgh to Glasgow between 1949 and 1954 he ran the sixth stage every year and turned in the following times – 5th fastest, 5th fastest, 4th fastest, 3rd fastest and 5th fastest. Remember this was on the arguably most difficult stage at the time when Ian Binnie, Joe McGhee, Joe Connolly and company were contesting the stage.
Alan GIBSON (8.06.51) Hutchesons' GS, Glasgow Univ, Shettleston
800m 1.53.4 (1969)
Archibald GIBSON Hamilton Harriers
He was third in the 1948 Scottish 3 Miles championship. In cross-country, he was a Senior International athlete four times in succession, between 1951 and 1954. His best placing in the Senior National XC was sixth in 1953; when he went on to run a fine race to finish 31st (but third Scot) in the International XC.
Douglas GIBSON, Falkirk Victoria Harriers
Douglas was in the team which finished third in the 1980 Scottish Six Stage Relay. He ran the E to G three times from 1978 to 1980.
George GIBSON (9.08.60) Kilbarchan
800m 1.51.8 (1990) 1500m 3.56.5 (1992)
George was a popular athlete on the endurance scene taking part successfully on all surfaces. A member of the British Milers Club he competed in many top class races. He appeared in the Scottish rankings between 1985 and 1996. He was a Scottish International track athlete, indoors (1989 – 800m) and outdoors (1993 – 3000m). He ran the E to G twelve times for Kilbarchan, gaining team bronze medals in 1997 and silver in 1998. He was the father of Claire Gibson a Scottish international 800m runner.
Hugh GIBSON, Hamilton Harriers
Hugh ran in the first post-war Edinburgh to Glasgow Road Relay in May 1949 and four more up to 1954. In 1956 he ran a fast ten mile road race. As a veteran, he won many medals in the Scottish Masters Cross-Country Championships: M50 bronze in 1986 and silver in 1987; M55 gold in 1989 and silver in 1988, 1990 and 1992; M60 silver in 1995; and M65 silver in 1998, 2000 and 2002. Hugh won the Scottish M70 title in 2003; and added a final silver medal in 2004. Running frequently for Scotland in the British and Irish Masters International XC championships, Hugh specialised in contributing to team silver medals – at M60, M65 and M70 (three times). Individually, he finished second M70 in both 2002 and 2003: great achievements in this competitive 5 Nations battle. Altogether, Hugh Gibson enjoyed an extremely long and satisfying running career.
James A. (Jimmy) GIBSON, Maryhill Harriers
Jimmy ran the E to G nine times between 1951 and 1962. He joined the Scottish Marathon Club in 1952 and served in the committee for many years after 1963. Jimmy was a consistently good long-distance road runner, winning races like the 1958 Bute Highland Games 18; and the 1960 Brechin Right of Way 12; as well as placing highly in many other events: for example Dunblane, Cumnock and Clydebank to Helensburgh. He featured in SMC select teams for Cross-Country matches; and was seventh in the 1959 Scottish Marathon championship.
Stuart W. GIBSON [NI] (27.06.58) Edinburgh University, Edinburgh AC, Hunters Bog Trotters
1.49.6 (1977); 3.49.63 (1979); 3000m 8.17.6 (1979).
Stuart was a popular, gentle man who possessed considerable athletic talent. He finished third in the 1981 Scottish championship 1500m but was also successful in cross country (team bronze in the 1979 Junior National XC) and road races. Stuart ran the E to G several times: for EU; and for the infamously sociable brown-vested Trotters, including 1990, when they finished 8th and won the 'most improved' medals.
Thomas GIBSON Bellahouston Harriers
Before WW2 Thomas finished third individual in the 1938 Senior National XC championships. His team won bronze in 1936 and 1938 and gold in 1939; another gold in 1947 and silver in 1948.
He ran for Scotland in the International XC in 1938, a feat he repeated after the War, in 1946.
In the E to G, Bellahouston won in 1936 (with Thomas fastest on Stage 4); were third in 1937; won in 1938; and were second in 1939.
Douglas GIFFORD, Garscube Harriers, Glasgow University
Douglas Gifford was a fine athlete whose best running was done in the colours of Glasgow University H & H. Third in the Under 17 National in 1958 as a Garscube Harrier, he was 25th in the Junior race the following year for Glasgow University and started an excellent run of success. In 1960 he was third scoring runner in the third placed team and in 1961 he led the Junior team into second place when he finished ninth. A year later he was 27th and the team was unplaced. He continued to run the following year but with less success. In the E-G his first run was in 1958 when he ran the first leg, in '59 he ran the second stage, in 1960 he ran the sixth stage for the team that finished third – the first time a University team had medalled in the relay, and ran six again in 1961 and fourth in '62 when the team was again third finishers. He also ran on the track with some success in University competitions.
David L. GILLANDERS (18.11.49) Thames Valley, Sheffield Univ, Shettleston, Malmo (Swe)
Steeplechase 9.08.0 (1975) 1500m 3.56.5 (1977) 5000m 14.31.2 (1977) 10,000m 30.30.6 (1977)
David's best run was when he was very young – a very good ninth (and first Scot) in the 1969 Junior International XC. That year he had finished 5th in the Scottish Junior National, when Shettleston won team gold; and followed that with 5th again in 1970 and team silver. In 1973 he added another second place team award in the Senior National.
Ian GILLESPIE (18.05.70) Westbury, Birchfield, Clydebank AC
800m 1.50.1 (1993); 1500m 3.39.8 (1997); One Mile 3.56.64 (1993); 3000m 7.48.28 (1997); 5000m 13.18.06 (1997)
In 1990 he started his career by winning team gold (with Clydebank AC) in the Junior National XC.
Ian developed into a very good Scottish International track athlete, indoors and outdoors, over 1500m, One Mile and 5000m. In 1998, he ran 3000m for GB in the European Indoors; and 5000m for Scotland in the Commonwealth Games.
Ian was second in the 1996 AAA 3000m indoors; and third in the 1997 UK 5000m. Ian won Scottish titles for Indoor 1500m in 1993 and 1994; was third in the 1991 Outdoor 1500m; and second in the 2002 5000m.
Douglas F. GILLON (12.07.46) Heriot Watt Univ, Edinburgh, Victoria Park – see full profile
Steeplechase 9.46.4 (1966)
Doug was a promising young athlete who won a Scottish Schools Steeplechase title. After university, work severely restricted his running but he developed into a superb Athletics Journalist who for many years made a huge contribution to the sport.
Alexander C. GILMOUR (21.12.54) Cambuslang
3.54.60 (1980); 8.05.3 (1985); 5000m 14.06.53 (1985); 10,000m 29.37.12 (1986).
Alex was a Scottish International athlete on track (5000m – 1985) and cross-country (1984 World Senior XC championships). He won a bronze medal in the 1985 Scottish 5000m championships.
For Cambuslang he was an absolute stalwart. The Scottish XC Relay was won in 1981, 1984 and 1988; and they were also victorious in the 1986 Six Stage Relay. In the E to G, several medals were won: 1986 silver; 1987 gold; 1988 bronze; and 1989 silver. In the Senior National XC, after two silvers and a bronze, Cambuslang won three years in succession (1988-1990). In 1988 Alex was first home for his club in an excellent 5th place.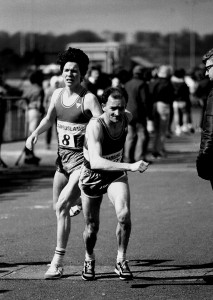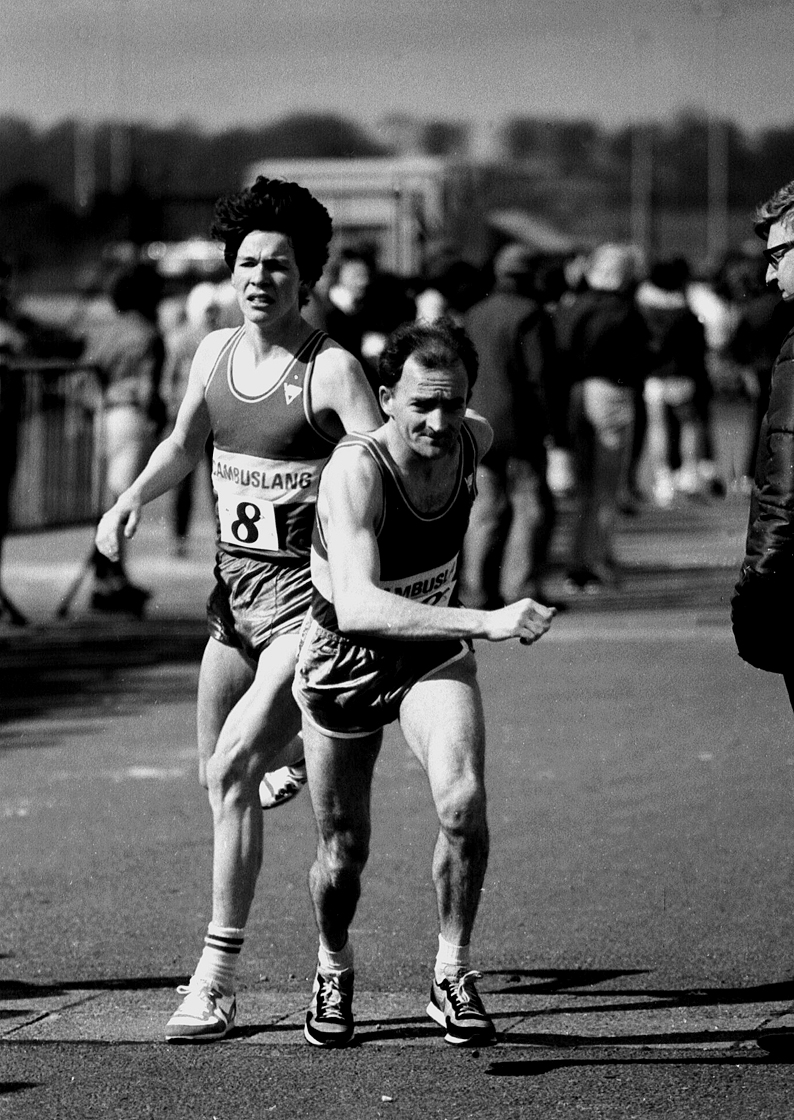 Alex Gilmour taking over from Jim Orr
Ian W. GILMOUR (21.01.52) Birmingham Univ, Monkland, Wolverhampton & Bilston, Clyde Valley, Middlesbrough & Cleveland – see full profile
3.47.6 (1978); One Mile 4.06.3 (1977); 3000m 8.03.1 (1978); Steeplechase 8.31.09 (1978); 5000m 13.50.85 (1979; 10,000m 29.19.91 (1982)
Ian was a Scottish International track athlete, winning ten vests, for 5000m as well as Steeplechase. In addition, between 1973 and 1981, he ran for Scotland four times in the World Senior XC championships; and once in the International Junior (1971 – 13th individual).
In the 1978 Commonwealth he finished a good 8th in the final. Two AAA indoor titles were won at 2000m Steeplechase (1974 and 1979); and he secured a bronze medal in the 1978 UK 3000m Steeplechase. His Scottish title was won for the 1978 Steeplechase, he was second in 1974 and1981 and third in 1973.
As an invaluable club athlete for Monkland and Clyde Valley, he ran the E to G (including fastest stage times and team gold for CV in 1980). In 1978, CV won the Scottish XC Relay championships. Senior National team silver was achieved in 1981.
Andrew E. GIRLING (26.01.55) – Glasgow Univ, Victoria Park
30.22.36 (1984); Marathon 2.15.41 (1984).
Andy ran for Glasgow University in the 1983 E to G. The following year he exploded onto the Scottish marathon running scene with an outstanding second place in a very competitive Glasgow International Marathon. Then in 1985, running for Invicta East Ken, he improved to 2.15.38 when 19th in the London Marathon. After that he seemed to have retired but resurfaced as a veteran athlete who still produces good age-group cross-country performances in Kent.
John GLADWIN Edinburgh Southern Harriers
John was a very talented athlete as a Junior. He contributed to team gold in the Scottish Junior XC in 1980 and also in 1981 (when he was fourth). He ran in the International Junior XC in 1980 and 1981 (when he finished 31st and first Scot). Then he took part in the 1981 European Clubs XC championship and played his part in the ESH team that won the 1981 Six-Stage Road Relay.
Kenneth GLASS (27.08.58) Dundee HS, Dundee Hawkhill, Edinburgh Univ, Edinburgh
400m 48.5 (1979); 800m 1.48.90 (1981).
Ken was a Scottish International track athlete between 1979 and 1981, at 400m, 4x400m and 800m. He won two Scottish Championship medals: 400m bronze in 1979; and 800m bronze in 1981.
James GOLDER Beith, Ayrshire, Edinburgh Southern Harriers
3.53.6 (1977); 5000m; 14.39.3 (1977).
Jim won a bronze medal in the 1976 Scottish Championship Indoor 1500m. He ran for Ayrshire AC in five E to G Relays: 3rd on Stage 1 in 1976; 1977; 1978; 1979; and 1980, when he was fifth on Stage 1.
Brian GOODWIN (21.03.1943-2.09.2007) Bellahouston Harriers – see full profile
3 Miles 14.20.2 (1964); 5000m 14.47.6 (1971); Steeplechase 9.21.2 (1963); 6 Miles 29.26.0 (1965); 10,000m (30.24.6 (1971); Marathon 2.29.56 (1967).
Brian won a bronze medal in the 1968 Scottish Championship 6 Miles. Between 1962 and 1973 he ran the E to G for Bellahouston twelve times, including 1970, when he was third on Stage One and his team finished 7th. Then for many years, he was a well-known official.
William GOODWIN Bellahouston
6 Miles 30.20.4 (1959)
Elder brother of Brian. He was also a better runner than Brian but unlucky with injuries. Billy won a bronze medal in the 1959 Scottish Championship 6 Miles. That year he was first in the Junior National Cross-Country and the Junior Midlands Cross-Country championships. In the E to G, Bellahouston won gold in 1958; and silver in 1959 and 1960. with Willie a crucial part of the team.
Alan D. GORDON (b. 21.09.1932, d. 2014) Achilles – see full profile
1500m 3.47.8 (1959); 1 Mile 4.06.0 (1959). He was ranked first in Scotland for both distances that year.
Alan ran One Mile for Scotland in 1957; and also in the 1958 Cardiff Commonwealth Games.
(On 6th May, 1954, running for Oxford University on the Iffley Road track, he finished fourth in the OU v AAA mile, which was won by Roger Bannister in 3.59.4 – the first time four minutes was broken for One Mile.)
Brian J. GORDON (3.06.48) Aberdeen AAC, Edinburgh AC
400m 48.46 (1974); 800m 1.50.4 (1974)'
Brian was a Scottish International track athlete at 400m, 4x400m and 800m. In 1975 he won the Scottish 600m Indoor title. He was second in the 300m Indoors in 1973 and third in 1972 and 1974. In addition, he secured a silver medal in the 1974 400m; and bronze in the 1972 400m and 1973 800m.
Harry GORMAN (8.12.46) Springburn Harriers
3.53.1 (1969); 3 Miles 13.54.2 (1967); 3000m 8.28.2 (1971)
In 1971 Harry won the West District 1500m title.
In the 1970 Senior National, Harry finished a respectable 23rd. He went on to represent SCCU in representative cross-country contests.
Between 1966 and 1976, he ran the E to G ten times, including 1974 (when his club were fourth).
William GORMAN, Shettleston Harriers
In 1959, William was in the team which won the Edinburgh to Glasgow Road Relay. In the Senior National XC, he secured team bronze in 1958. In 1956, he had been part of the Shettleston team which won silver medals in the Scottish Junior National XC.
Mark GORMLEY (22.09.61) Cambuslang
3000m 8.20.9 (1991); 5000m 14.33.4 (1991); 10,000m 30.19.61 (1992); Marathon 2.29.41 (1992).
Mark appeared in the Scottish rankings from 1989 to 1994. In the Six Stage Relay, Cambuslang won silver in 1990 and 1993; and bronze in 1993. In the E to G, Mark's team won 1988 bronze, 1989 silver, 1991 silver, 1993 bronze and 1994 bronze. Mark was fastest on Stage Eight in 1992. In the Senior National they won the team title in 1991 and 1992.
Donald GORRIE (2.4.1933) Achilles – see full profile
Achilles
Donald won the 1955 Scottish 880 yards title in 1.54.2. At Pitreavie a week later he broke Hamish Stothard's Scottish Native record with 1.52.9 at an SAAA v Atalanta match. In the AAA Championships he finished a creditable 4th in 1.52.0. A month later he contributed an 800m leg to the winning British medley relay team at the World Student Games.
In 1957 he ran his fastest ever half mile 1.50.8.
In later years he became an M.P. and President of Edinburgh Southern Harriers.
Alan GOURLAY Edinburgh AC
Alan contributed to: E to G 1979 team silver, when he was fastest on Stage 3; gold in the 1981 Senior National cross country championships; and silver in the 1981 6 Stage Road Relay.
George GOVAN Shettleston Harriers
George won a bronze medal in the 1957 Scottish Championship 3000m Steeplechase (9.36.0). In 1961 he ran the 6 Miles in 31.24.6.
He was third in the 1956 Junior National XC (team silver); and fourth in 1957 (team gold). In the 1959 Senior National, Shettleston Harriers won the team title, with George tenth. In 1961 and 1962, George was in the winning team again.
In the E to G, Shettleston won gold in 1955 and 1959, silver in 1956 and 1958 and bronze in 1957.
Paul GOWANS Edinburgh SH
3.53.0 (1980); 8.23.2 (1979); 14.37.0 (1979)
Paul ran twice in the Scottish Junior National XC, winning two team medals: silver in 1975 and bronze in 1977.
John E. GRAHAM (18.06.56) Clyde Valley, Birchfield – see full profile
1500m 3.46.66 (1978; 3000m 8.02.8 (1977); Steeplechase 8.39.30 (1978); 5000m 14.01.5 (1977); Marathon 2.09.28 (1981)
John, an extrovert, sociable but very determined, versatile, hard-training runner, broke Scottish records (Native for Steeplechase; National for Marathon), was twice fourth in the Commonwealth Games Marathon (1982 and 1986) and topped the annual Scottish Marathon ranking lists six times. He won silver medals in the Scottish Steeplechase championship in 1978 and 1979.
He was a Scottish International athlete on track, cross-country (Junior and Senior) and road. With Clyde Valley, John won many medals in the National XC; and the E to G (team victories in 1979 – when he was fastest on Stage Two – and 1980).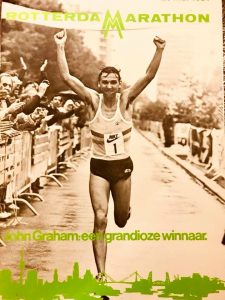 Alan GRANT (19.04.44) Coventry Godiva, Shettleston
1500m 3.50.4 (1968); One Mile 4.05.5 (1968); 3000m 8.27.6i (1968); 2 Miles 8.55.0 (1967); 3 Miles 14.00.0 (1968); 6 Miles 29.22.6 (1968); 10,000m 30.27.4 (1971); Marathon 2.25.31 (1969).
Alan was a Scottish International track athlete at One Mile; and won Scottish Championship bronze medals in the 1966 3 Miles and 1967 One Mile. With Shettleston, he won 1969 Senior National team silver.
Graeme D. GRANT (24.05.46) Dumbarton, Heriot Watt Univ, Edinburgh SH – see full profile
400m 49.6 (1971); 440 yards 49.8 (1966); 800m 1.48.2 (1966); 1500m 3.49.5 (1971); One Mile 4.07.8 (1966).
Graeme, a powerful runner, was a Scottish International track athlete at 880 yards, 800m and One Mile. He ran 880 yards and One Mile in the 1966 Commonwealth Games. In the Scottish Championships, he won 880 yards titles in 1965 and 1966 and was third in 1967; then in 1969 he finished second in the 800m. For Dumbarton AC, he ran the E to G each year from 1966-1969.
J GRANT, Greenock Glenpark Harriers
In the 1950 E to G, he was fastest on the prestigious Stage Two and his team finished third. Between May 1949 and November 1961 he ran the great race thirteen times.
Kenneth GRANT Army, Dundee Hawkhill Harriers
3 Miles 14.29.6 (1968); 6 Miles 31.07.6 (1966); 10,000m 30-20.0 (1970); Marathon 2-29:00 (1970).
Kenny ran the E to G for Dundee Hawks in 1968 (when they finished 8th), 1969 and 1970. In the 1970 Edinburgh Commonwealth Games Marathon, when several 'big names' dropped out, he ran for Gibraltar and finished 22nd – first home from his three-man team.
S. Ian GRAVES (27.05.48) Dundee Hawkhill, Fife AC
3.51.6 (1974); 32.03.5 (1978); 2.22.19 (1984)
Ian Graves, a popular, versatile athlete, from 1983 preferred to be called Sam. After early success on track and cross-country, he specialised in road running and became a Scottish International Marathon runner, featuring strongly in races like: Perth to Dundee; the Dundee Marathon; and the Two Bridges 36 miles (including 1983, when Fife won a famous team victory).
He won two widely varying Scottish Championship medals: silver in the 1973 Indoor 1500m; and bronze in the 1987 Marathon.
For Dundee Hawks, Ian ran the E to G five times in succession (1968-1972). With Fife, he won 'most improved' medals when they were 6th in 1976; then every year to 1982, when they were 6th again; then 1983, 1984, 1985 and 1988. Altogether, he ran in this great road relay 15 times. Sam ran twice for Scotland in the tough Anglesey International Marathon – in 1987 and 1988. Then he ran for Scotland in the 1988 British and Irish Masters XC International.
David GRAY (23.12.63) Ayr Seaforth
49.0 (1986); 800m 1.50.7 (1983)
David appeared in the annual Scottish ranking lists between 1982 and 1989.
J GRAY, Edinburgh AC
He ran for Scotland in the 1978 World Junior Cross-Country Championships. EAC won the Scottish National Youth XC team title in 1977; and the Junior Cross-Country in 1978.
JOHN GRAY Aberdeen AAC
John won the East District Youth XC title in 1956. He showed considerable stamina when he was 4th in the 1959 Dundee 13 Miles. In 1960, he was in the Aberdeen AAC team which won the East District XC Relay championships. John was first equal in the deciding race in the North-East XC League, in which Aberdeen won the overall title narrowly. Then John Gray and Steve Taylor combined to finish second in Britain in an unusual two-man 10 miles track relay (which entailed each runner completing 40×220 yards with a minimum of rest) and was organised by 'Athletics Weekly'. The duo were beaten (by 15 seconds only) by the Portsmouth AC pairing of Bruce Tulloh and Martin Hyman, both of whom became major players in British Athletics. Unfortunately, John retired early to become an enthusiastic golfer.
Michael GREALLY (18.06.60) Pitreavie
31.24.9 (1994); 2.21.40 (1994)
Michael appeared in the annual Scottish ranking lists between 1989 and 1995.
Charles V. GREENLEES, Strathtay Harriers, Aberdeen University, Aberdeen AAC.
Charlie (born 1932) was in the very first AU team to run the E to G: in 1964 they finished 11th and won the 'most improved' awards. Charlie ran the Ben Nevis Race twice. He featured in the annual Scottish rankings six times (all for marathons) between 1967 and 1974; and finished 8th in the 1968 Scottish Marathon championship; but his best time was 2.37.08 (1977), set in Turku, Finland. By that time he was living in Finland and racing there and in Sweden, although he returned to Scotland eventually. Well before the 'marathon boom', Charlie ran a total of 30 marathon; and completed the Finlandia 50 miles cross-country ski race four times. In 1974 he took part in the World Veteran Marathon in Paris, on a very hot day over a difficult course (forest tracks with stretches of grass and gravel), and finished 23rd (from 500 finishers) which made him second Scot (behind M40 winner, Alastair Wood) and third Scottish Veteran Harrier (behind Wood and Charlie McAlinden of Ireland, who had both been Scottish Marathon champions). The World Veteran Marathon club gold medals went to the SVHC.
Frank GRIBBEN Monkland Harriers, Edinburgh
1500m 3.59.1 (1974); Steeplechase 9.42.6 (1974)
Frank was in the Monkland Harriers Boys and Youths teams as Ronnie MacDonald and was in the winning Youths team at the National in 1970, before he moved to Edinburgh.
Gary GRINDLAY (6.09.63) Edinburgh Southern, Bingley, Bellahouston, Falkirk Victoria
3000m 8.14.88i (1991); 5000m 14.08.5 (1987)
Gary appeared in the annual Scottish ranking lists between 1987 and 1993. He won a bronze medal in the 1991 Scottish Championship Indoor 3000m.
With ESH, he won team medals in the Senior National XC: gold in 1987; and silver in 1988 (when he was a fine tenth). Gary won another gold in the 1989 Six Stage Relay.
With Falkirk Vics in the E to G, Gary was fastest on Stage 8 in 1989; won team gold in 1990; and silver in 1992 and 1993 (when he was fastest on Stage One).
Gordon GRUBB Maryhill
Gordon with his long flowing fair hair was easily recognisable. He as a good club runner with Maryhill Harriers in the 1980's. He ran distance track races, cross-country and road.
Thomas GRUBB Shettleston
Steeplechase 9-41.6 (1970).
Tommy was part of Shettleston teams that won: 1971 Junior National gold; 1972 Senior National XC gold; 1972 English National XC gold; and E to G gold in 1970 and 1971 (when he was fastest on Stage Seven).
Douglas W. GUNSTONE (10.07.50) Dundee Hawkhill, Edinburgh, Highgate, Springburn – see full profile
1500m 3.58.8 (1972); 3000m 8.21.4i (1971); 5000m 14.06.8 (1972); 10,000m (29.25.6); 10 Miles Track 48.55.4 (1975); Marathon 2.19.51 (1978).
Doug was a talented, versatile young runner and a good team man who carved out a very successful athletic career. He was a Scottish International athlete on track, road and cross-country (Junior and Senior). In Scottish Championships he won: gold in the 1975 10,000m (plus two silver and three bronze at the same distance); gold in two Track Ten Miles (1973 and 1975); bronze in the 1975 Indoor; and silver in the 1976 Marathon.
In the E to G, Doug ran three times for DHH; and won five team silvers with EAC. In addition, he secured three silver and one bronze in the Scottish XC Relay; and three successive team golds in the Senior National XC (1974-1976) and another one in 1978.
John GUNSTONE Glasgow University, Victoria Park
10,000m 31.55.0 (1973); Steeplechase 9.46.4 (1973).
John (younger brother of Douglas) enjoyed his running at university but did not try to emulate his brother's serious dedication. John was a popular, sociable man who won team bronze with GU in the 1973 Junior National, when he finished tenth; and ran the E to G for GU in 1972, when they were seventh, 1973 and 1974.