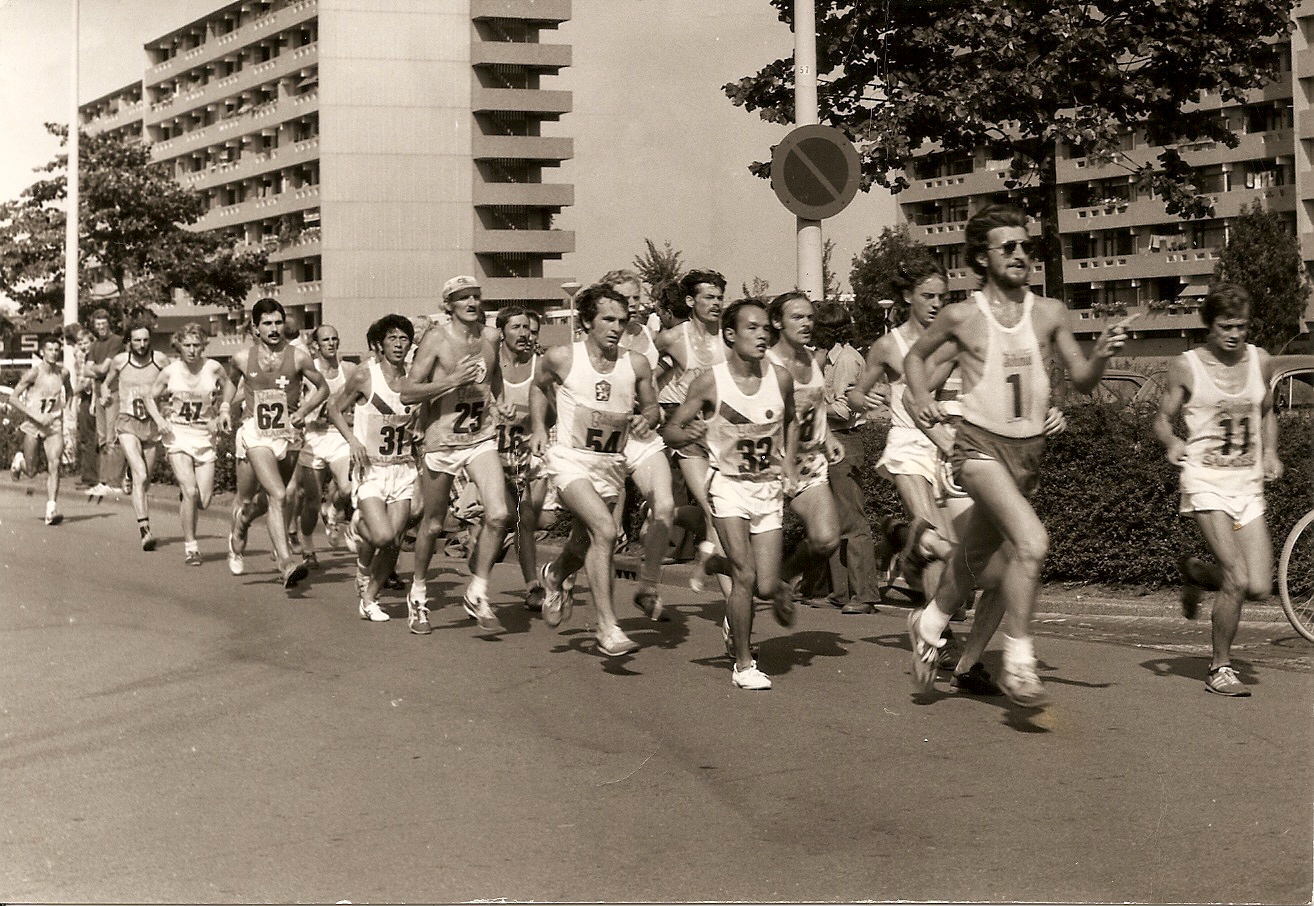 The Enschede Marathon, 1977. Many Scots here: Willie Day, Jim Dingwall, Sandy Keith, Colin Youngson …
Andrew Daly (Bellahouston Harriers) – see full profile
3000m S/chase: 9:59.7 1979; 5000m: 14:49.94 1981; Marathon: 2:15:47 1985
Duncan Davidson (Forres)
Marathon: 2:35:10 1971
John C (Jack) Davidson (Ayr Seaforth AC)
880y: 1:55.4 1963; One Mile: 4:25.0 1963
1963: second in SAAA 880 yards
John Davidson (Corby Town, Kettering)
1500m: 3:56.8 1971; 3000m: 8:23.2 1971
John also had a connection with Monkland Harriers, finishing ninth in the Junior National and running in the Edinburgh to Glasgow in 1973. That team finished eighth and won the 'most meritorious medals' with Jim Brown, Ronnie McDonald, Tom Callaghan, Ian Gilmour, Joe Small, Willie and Eddie Devlin.
Gwynn Davis (Edinburgh University, Aberystwyth) – Wales
800m: 1:52.5 1972; 1500m: 3:47.4 1972; One Mile: 4:11.2 1972
William Day (Falkirk Victoria Harriers) – see full profile
3000m: 8:42.4 1971; 5000m: 14:51.2 1974; 10000m: 29:59.6 1972; 3000m S/chase 9:38.5 1979; 10 Miles: 50:01.0 1975; Marathon: 2:17:56 1977
Jim Devine (Edinburgh Southern Harriers)
800m: 1:53.16 1983
Eddie Devlin (Strathclyde University, Monkland Harriers, Clyde Valley AAC)
3000m S/chase: 9:07.2 1978; 5000m: 14:42.6 1975
Eddie Devlin was an extremely versatile runner, competing successfully in all distances from 800m through to the marathon. Surprisingly, he only appears in the ranking lists in the 3000m steeplechase, 9th place in 1978. On the roads & country he was a consistent & reliable performer, more often than not producing a solid performance on the first leg of relays.
He was a member of the Clyde Valley AAC team which won the S.C.C.U. National Cross Country Relay Championship in 1977 & '79. He competed in the Edinburgh to Glasgow Relay on no less than sixteen occasions for Strathclyde Univ., Monkland Harriers & Clyde Valley, picking up 2 gold, 1 silver & 3 bronze medals.
In the Edinburgh to Glasgow Relay, he ran every year from 1969 to 1984 inclusive (16 races) for three teams: Strathclyde University, Monkland Harriers and Clyde Valley AAC. In 1980 he had fastest time on the seventh stage.
J Devlin (Edinburgh Eastern Harriers)
Three Miles: 14:36.4 1959; Six Miles: 31:31.9 1959.
Francis W (Frank) Dick (Royal HSFP, Edinburgh Southern, Edinburgh University, Octavians, Loughborough)
880 yards: 1:54.7 1962
Barry Dickson (Ayrshire, Stirling University)
400m: 50.2 1975; 800m: 1:52.7 1977
Desmond Dickson (Bellahouston Harriers)
One Mile: 4:20.2 1959; Two Miles 9:33.0 1959; Three Miles: 14:52.3 1959; Six Miles: 30:48.0 1959
In the very good Bellahouston Harriers team of the late 1950's and early 60's Des Dickson was a fixture. His first run in the Edinburgh to Glasgow Relay was for the winning team in November, 1958, when he ran the fastest time of the day on Stage Seven. He ran in seven races winning two silvers to add to his collection. He also ran in the National Cross-Country Championships six times as a senior with his best race being in March 1958 when he finished ninth. He was selected for the international with two of his Bellahouston team mates, Joe Connolly who was sixth and Harry Fenion who was eighth. He won several silver medals for the national but unfortunately the gold eluded him.
George Dickson (Garscube Harriers)
George was a good cross-country and road runner in themid/late 1950's for Garscube Harriers when they had such athletes as Alex Kidd, Arthur Warton, Stan Horn and Gordon Dunn. He first appears in the National results in 1953 when he was 12th in the Youths race; by 1956 he was fifth Junior and the following year he was 30th in the Senior event. As for the other 'biggie', he ran in four Edinburgh to Glasgow Relays on third, fourth, sixth and eighth stages performing well on each and picking up a total of four places and never losing one. Like many other athletes at the time, he disappeared suddenly in his early Twenties: possibly because he went to do his National Service or maybe he just gave up the sport but he was a good runner.
William Dickson (Law and District)
Marathon: 2:25:23 1983
Billy Dickson was a member of several good Law and District teams in the 1980's along with well known names like Hugh Forgie, Doug Frame and Jim Thomson.
Jim Dingwall (Heriot's, Edinburgh University, Edinburgh AC, Falkirk Victoria, City of Hull) – see full profile.
800m: 1:56.1 1974; 1500m: 3:45.8 1973; 3000m: 7:57.8 1975; 5000m: 13:48.0 1975; 10000m: 28:45.25 1978; Marathon: 2:11:44 1983.
John Diver (Clydebank AAC)
800m: 1:52.3 1983
P Dixon
Marathon: 2:37:11 1982
Tom Dobbin (Greenock Glenpark Harriers)
880y: 1:56.5 1964 and 1965
Tom was top class half miler with Glenpark in the 1960's who won the British Youths Half Mile Championship at Crystal Palace and seemed to have a great career ahead of him. He also ran cross country for the club in some very good young athletes teams locally and nationally. After taking some years out because of business commitments, he returned as a veteran runner.
Ian G Docherty (Dundee Hawkhill Harriers, St Andrews University)
Three Miles: 14:37.8 1962; Six Miles: 1965
James Docherty (Victoria Park)
800m: 1:55.69 1982; 1500m: 3:59.8 1978
James Doig (Aberdeen AAC) – see full profile
10000m: 30:34.0 1990; Marathon: 2:17.58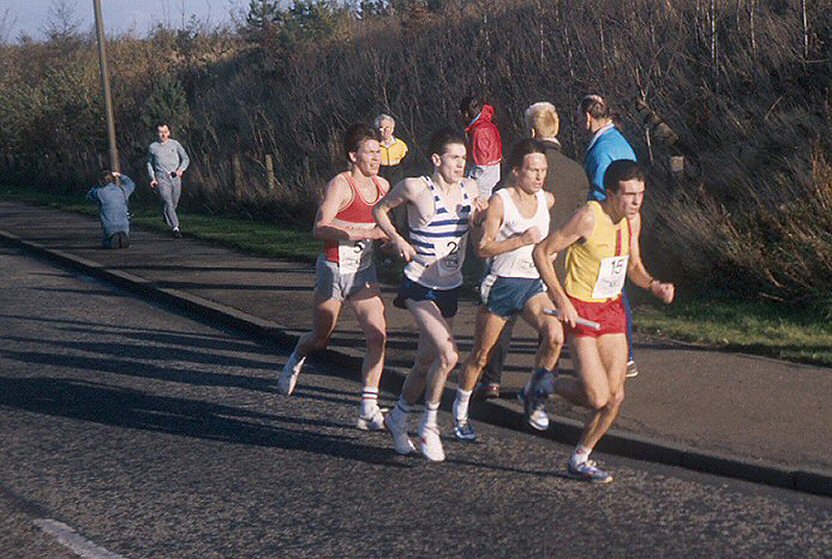 Paul Dugdale leads Adrian Weatherhead, Mark Wallace and Jim Orr
Steven Doig (Fife Southern, Old Gaytonians, Clydesdale Harriers)
1500: 3:44.7 1986; One Mile: 4:01.02 1990; 3000m: 8:11.6 1990; 5000m: 14:10.9 1990
Steven was a very talented runner who first ran in the National Cross Country championships in 1983 in the Youths age group. He went on to win Scottish international honours on the track as well as over the country where he was unlucky not to be selected for the international event in New York. After graduation he moved down to live and work in Harrow for several years where he ran for Shaftesbury and then Old Gaytonians, training with Bob Parker's group. Almost all of his best times were run during this period before he returned to Scotland. He also ran in some Edinburgh to Glasgow relays for Clydesdale Harriers, the most memorable run being on the second stage in 1990 when he moved the team from 13th to sixth with the fourth fastest time of the day.
Philip Dolan (Clydesdale Harriers) – see full profile
3000m: 8:42.2 1972; 5000m: 14:17.4 1977; 10000m: 30:07.8 1979; 10 Miles: 51:00.6 1975; Marathon: 2:21:59 1977
Andrew Donachie (Edinburgh, City of Edinburgh, Glasgow University)
800m: 1:52.76 1989; 3000m S/chase: 9:34.8 1991
Neil Donachie (Rover Scouts, Braidburn AAC, Edinburgh AC)
880y: 1:54.2 1963; One Mile: 4:25.4 1959.
Neil Donachie has had a long and distinguished career in Scottish athletics as a runner, then as an official and administrator. He started out as a member of the Edinburgh Rovers and Scouts club as a Youth in 1949/50. The Rovers and Scouts became Braidburn AC in 1952/53 and then in the early 1960's Edinburgh AC was formed. Neil remained a member through both amalgamations and changes of name. A good cross-country and road runner who turned out Edinburgh to Glasgow relays as well as National championships, Neil was principally a track runner who specialised in the half mile distance. He ran all over Scotland in scratch as well as handicap races – at Murrayfield for the prestigious Edinburgh Highland Games, at Bridge of Allan for the historic Strathallan Gathering and all sorts of meetings. He ran well in championships and was third in the SAAA 880 yards championship in 1959. In that year he was ranked sixth in the country with 1:54.6 which was one place behind Graham Everett and one in front of Bruce Tulloh. Both well known names and so it was until 1963 when he was ninth equal with Dick Hodelet, another famous name) on 1:54.2 which was to be his personal best for the distance.
After his running career, Neil's love of the sport led him into administration and officiating. He worked at club level, at District and at National levels as both administrator and official with a serious appetite for work. He travels all over the country as a valuable member of any team.
Ian C Donald (Shettleston Harriers, Clydesdale Harriers)
Six Miles: 30:26.0 1967; 10 Miles: 52:04.0 1967
Ian Donald joined Shettleston Harriers as a Youth (U17) and, in addition to winning the club championship twice, won team gold, silver and bronze in the Edinburgh to Glasgow and National cross-country championships. A first class hill runner, he won many of the classic hill races between Goatfell and the West Highlands. Moving to Clydesdale Harriers in 1964 he was an ever-present in their teams until his untimely death in 1980. He ran particularly well in their hill running teams with the Shields brothers, Pat Younger and many more whom he inspired to take up the sport.
Colin Donnelly (Cambuslang Harriers) – see full profile
Tom Donnelly (Aberdeen University, Bellahouston Harriers)
Marathon: 2:27:33 1981
David Donnet (Springburn Harriers, Glasgow University, Wolverhamptom & Bilston)
800m: 1:53.1 1989; 1500m: 3:47.5 1990; 3000m: 8:05.1 1990; 5000m: 14:10.5 1990;
David was a good athlete who never seemed to get the credit he deserved for the running that he did. His best run in the National championship was probably in 1987 when he was third in the Junior race behind Alaister Russell and Tom Hanlon and won selection for the IAAF world cross country championship in Warsaw. This was Scotland's last appearance in this championship as an independent nation, and David was Scotland's fourth placer. Unfortunately, soon after his debut as a Senior athlete, he left the country for business reasons.
Tom Donoghue (Edinburgh Southern)
3000m S/chase: 9:59.9 1982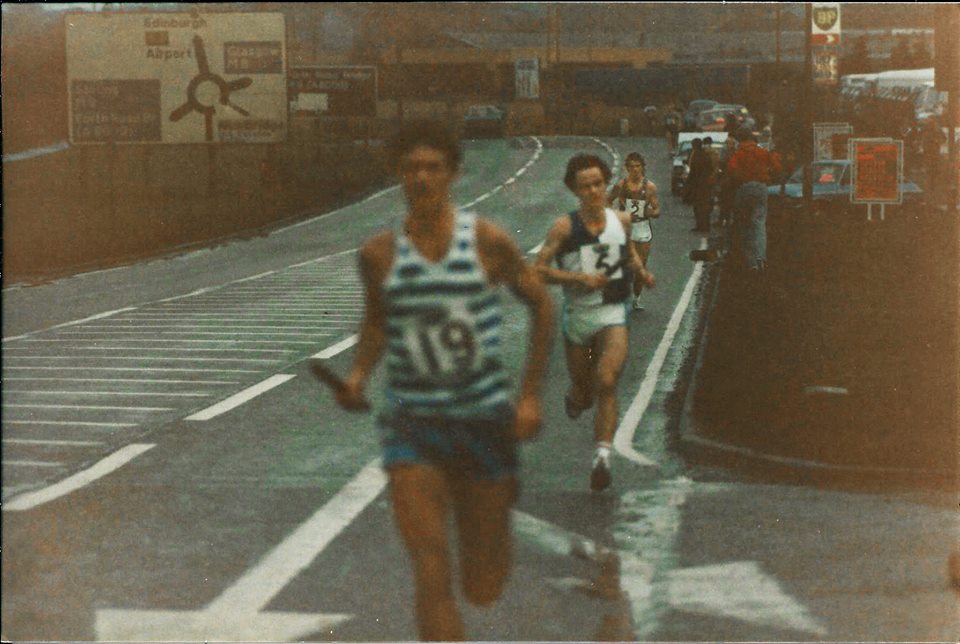 Alastair Douglas leads Richie Barrie
Alistair Douglas (Victoria Park AAC, Glasgow University) – see full profile
1500m: 3:51.0 1979; 3000m: 8:07.47 i 1988; 5000m: 14:07.78 1985; 10000m: 29:29.39 1988
Craig Douglas (Teviotdale Harriers, Edinburgh Southern Harriers) – see full profile
440y: 49.8 1965; 400m; 51.3 1971; 880y: 1:49.9 1966; 800m: 1:50.2 1971; One Mile: 4:01.8 1970; 1500m: 3:47.0 1971; Two Miles: 9:18.2 i 1972; 5000m: 14:36.2 1974.
Sam Downie (Falkirk Victoria Harriers)
3000m: 8:45.0 1971; 10000m: 31:05.0 1971
Sam Downie was a very good athlete indeed who just exploded on the distance running scene in 1970/71, ran very well indeed and then, just as suddenly disappeared. THat he had talent, there is no doubt. eg in the 1972 national he was 14th ahead of (in order) A Wight, P Maclagan, A Faulds, N Morrison, C Youngson, W Day, M Patterson, J Dingwall …; the following year he was 18th, just behind Dingwall and just in front of team mate Willie Day. And that was it.
Charles Doyle (Greenock Wellpark Harriers)
Marathon: 2:39:4 1980
William Drysdale (Monkland Harriers, Law and District) – see full profile
Six Miles: 30:09.2 1967; Ten Miles: 51:50.0 1967; One Hour: 17, 408 metres;
Third SAAA 10 miles in 1966
JJ Duffy (Garscube Harriers)
Joe Duffy's first race was in a Youths' event in 1946 when he finished seventh, and a year later he was fourth. In the National that year he finished well back on a snowy course. The Dunbartonshire championships were held two weeks later and he won from team mate Robert Smith. After being called-up for national service twelve weeks before the Scottish Novice Championships, he surprised everybody by winning it by a clear ten seconds from Walter Lennie of the Vale of Leven. These were to be the highlights of his running on the country and he ran in the National until 1951. He raced more frequently in the Edinburgh to Glasgow between May 1949 and 1953 running on stages 1, 2, 5 and 6.
John Duffy [ Hadleigh Olympiads] – see full profile
Jock Duffy won the SAAA Marathon in 1973 and then took silver in 1852.
John Duffy (Greenock Wellpark, Spango Valley)
10000m: 30:59.0 1986; Marathon: 2:18:44 1987
Second SAAA marathon 1992
Patrick Duffy (Greenock Glenpark Harriers, Edinburgh Southern Harriers)
400m: 50.0 1978 800m: 1:51.96 1990; 1500m: 3:51.2 1990
Pat Duffy was a very good and competitive middle distance runner who ran cross-country and road for his club – he was as likely to be seen at The McAndrew or Edinburgh to Glasgow relays as at most track meets. Mainly a track runner, he was a staunch member of Glenpark who joined ESH to run in the British League where he ran with distinction for the Edinburgh club. Domestically he was second in the SAAA 800m in 1990 and third in 1986.
Peter Duffy (Aberdeen AAC, Motherwell YMCA)
Six Miles: 31:16.8 1966; Ten Miles: 53:31.0 1969; Ten Miles Road: 51.27 1968; Marathon: 2:32.52 1969.
Peter Duffy is a unique character, tough and cheerfully irrepressible, who ran for Aberdeen AAC (until 1965) and Motherwell YMCA (from 1966). With Aberdeen, he won two team silver medals (1964 and 1965) in the Scottish Senior National XC – and finished 22nd both times. In the E to G he secured two bronze medals – in 1963 with Aberdeen and in and 1966 with Motherwell; and another silver back with Aberdeen in 1972. He trained with and learned from the best: after training and racing with Alastair Wood, Steve Taylor and Don Ritchie at Aberdeen, he went on to run with John Graham (who remembers him fondly) at Motherwell) and Fraser Clyne. Peter won an SAAA silver medal for the Track Ten Miles in 1966 and Marathon bronze in 1969. For 55 years he was a keen hill runner: on Ben Nevis, 8 consecutive times under 2 hrs between 1962 and 1969, twice 8th finisher, with a best time 1.51.01 (twice first to the top but his descending was less skilful). Peter was 9th in the 1972 Three peaks and won the Cairngorm race in 1961, taking ten minutes off the record. For many years he tackled the World Mountain Veteran championships from the first one in 2001 until he was 79 years old in 2014 – unfortunately 80 year olds are not allowed to take part.
Paul Dugdale (Dundee University, Horwich RMI) ENG
10000m: 30:21.49 1987
Second SAAA 5000 1990, 3rd in 1991
David Duguid (Aberdeen AAC)
10000m: 31:04.8 1989; 3000m S/chase: 9:13.9 1987
Dave Duguid a stylish athlete, ran well as a Junior and went on to record Senior best times including 8:39 (3000m), 31:04.8 (10000m) and 68:36 (half marathon). He won the Aberdeen 10K in 1988. In the Edinburgh to Glasgow, he won bronze in 1987 and gold in 1988 when he kept the lead on Stage Four, as well as bronze in 1989 .
Robert O Duncan (Aberdeen)
One Mile 4:24.0 1960; Three Miles: 14:32.6 1961; Six Miles: 30:55.0 1960
Gordon Dunn (Garscube Harriers, Victoria Park AAC)
Gordon Dunn was a member of Garscube Harriers in the 1950's. A good runner he he was 5th in the Junior National in 1953 and in his third year as a senior he finished sixth in the senior national and was selected for the international fixture. In the Edinburgh to Glasgow he ran on the fourth and first stages before settling on the second where he ran well in '53, '54 and '55. Then in 1957/58, the season after his international appearance, he switched to Victoria Park AAC for who he ran the fastest seventh stage in the Edinburgh to Glasgow in November 1957 winning gold, and in the National in March 1958 he was the club's third counter, finishing ahead of Calderwood, Binnie and Kane, helping the team to gold medals. After that brief flourish for Victoria Park, Dunn did not appear again in the results for either Victoria Park or Garscube Harriers.