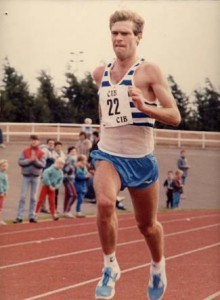 Alastair winning the Falkirk Half Marathon in 1987
Alastair Douglas (born on 10th December 1960) is probably the most unsung of Scotland's athletic talents in recent years.   A Scottish Internationalist on the track, on the road and over the country, he joined Victoria Park AAC in 1972 having been inspired by David Bedford in his build-up to the Munich Olympics and then by the Olympics themselves.   Locally, Jim Brown winning the National Cross-Country Championships in 1974 was a source of inspiration – although that did not stop him having a real go at him when they met in races, and getting the better of him in the National in 1982 – his first year as a senior.   Alastair ran with and against the best – Ron McDonald, Jim Brown, Graham Williamson and any other athlete in the period from about 1979 to the end of the century – and at some time or another beat most of them.  The only thing that his career lacked was a single defining race to tell the world how good he really was.   Given the length of his career and the number of races run, it is almost impossible to cover them all here but several events are taken for each year to indicate the calibre of his running.   He also had a long-ish career as a student starting with a BSc from 1978 – 82 and then going directly to medicine after that.   Of course as a student there are various diversions from the dedicated monk-style of the successful modern athlete and it's fair to say that Ali
Alastair got involved in typical GUAC Student activities such as the traditional week/weekend at the Isle of Man.  On one occasion a team of Douglas MacDonald, Alastair, Ian Archibald and Raph Murray (Freya's uncle) won the relay at the Manx Easter Festival as well as being third in the Friday night team race and for their efforts picked up the awards for the best overall team and the best student team   They are pictured below on the left – click on the image for a bigger picture.   The picture on the right is of the Scottish Universities 8-in-a-row cross-country winning team: Tom Logue, Ian Archibald, Alastair, Doug McDonald and Gordon Colvin at the back with Raph Murray and Steve Brennan in front. He himself rates the Glasgow University victory in the British Universities cross-country championships as one of the highlights of his career: the English favourites were stunned because Glasgow University had not entered into their calculations!
Initially Alastair was coached by Albert Smith at Victoria Park and in the mid-80's he had a short spell with Alex Naylor but by and large he looked after his own training.  He trained with a good group at Victoria Park and one of his club-mates reckon that this was the best track running he ever did.  Even then it was clear that he had a desire to succeed and it was when training with Albie that he went to Professor Peter Radford (an Olympic medallist and a man who had shared the world 100m record for a time) and asked if he could help him to improve his sprinting.   He was advised to do skipping and to do specific drills.  He used to do them behind the stand at Westerlands and when the other runners saw him at it they apparently cracked up!   His career really started to take off in 1977 when he won the Scottish Schools Cross Country Championships and was third in the Senior Boys race in the National Cross Country Championships, picking up a team medal with the victorious Victoria Park Team.   That was his final year in the age group and the following year as a first year Youth (Under 17) he was second to Graham Williamson in the National Cross-Country Championship leading his club to the third team award.   On the strength of this run he was selected for the Junior International Championships in Dusseldorf where he finished fifty ninth.  In summer 1977 as a Youth, He was first in the Scottish Schools 3000m in 8:55.0, second in the SAAA 3000m (8:43.5) and SAAA 1500 (4:02.3) and third in the West District 1500m .   Further afield he was eighth in the Final of the AAA's 1500mm with a time of 4:00.8 and fifth in the British Schools 3000m in 8:46.
As far as the National was concerned he went one better in 1977-78 when he won the title and then finished thirty sixth in the International at Bellahouston Park in Glasgow.   Later in the year, in November he had a quite outstanding debut in the Edinburgh to Glasgow Road Relay when he 'won' the first stage to put his team in a good position from which the finished second.  A Junior on the track in 1978, he was first in the West District 1500m in 3:58.6, second in the Schools 1500m in 3:58.4 and second in the SAAA 1500m in 3:56.0.   His best times at the longer distances were 8:29.6 for the 3000m and 14:34.2 for the 5000m
Alistair ran well enough in the National in 1979 to be selected for the international to be held in Limerick where he was eleventh finisher, one place behind Ian Campbell of Dundee.   His track form was also excellent when he  ran into third place at the AAA's 5000m championship.  He was still a Junior on the track in summer 1959 and was second to Colin Hume with a 3:56.3 against Hume's 3:55.7   His best for the season however was 3:51.0 for fourth at Grangemouth on 15th June .   This made him second on the list behind Graham Williamson who had a really amazing time of 3:36.6.   First in the Junior 3000m (8:17.8) ahead of Peter Fox and Adrian Callan and 500 where his time was 14:36.2 – well clear of the second runner.
In season 1979-80 Alastair was asked to run the very difficult  second stage of the Edinburgh – Glasgow race where he faced some of the very best road runners in the country but he was equal to the task, taking over in third place and maintaining this position with the fourth fastest time of the day.   In the National in 1980 he was twelfth in the junior race which was a bit far back for selection to the team.   This was down to injury (Achilles tendon) and he probably only ran in it because it was the National Championship.       .
In the 1980 – 81 season, he had several good races and featured two that he himself rates very highly.   But first, in the Edinburgh to Glasgow in November he again had fourth time on the second leg but moved his club up from eighth to fifth.    He ran a very good run in the international race at Gateshead that year in which he was second Scot behind Nat Muir (another feature of that race was that Adrian Callan defeated Lasse Viren double  Olympic winner in a sprint finish.  Alistair has this to say about the winter that year: "That winter actually featured another of my best ever races: the GU Road Race – I led all the way into Great Western Road with only Nat Muir and Ronnie McDonald with me.   Nat, it has to be said, was cruising and took off over the last half mile.   I had a titanic struggle with Ron for second place which he got.   The times were among the fastest ever recorded for that course, which was changed shortly afterward.   I was also tenth in the San Silvester Road Race in Madrid  – with Graham Williamson and Graham Laing just ahead."   He ended the season on a very high note when he won the Junior Cross Country Championship to go with the Youth title he won in 1978 ahead of several of those (Colin Hume, Paul Fox and others) who had beaten him the previous year.   The reward was a run in the Senior team for the International, at Zorzuela in Spain, where the Scots team was struck by a mystery illness which made three runners drop out of the race and Alistair in 192nd position was again a counting runner for his country.     And of course he won the Scottish Universities Cross Country championship leading Glasgow University to victory  for the eighth time in succession – a contemporary says "Edinburgh University won it in Edinburgh the following year – so we didn't get the 'one-over-the-eight!"   Over the summer of 1981, Alastair was not only Scottish Universities champion for the 1500 in 3:56.8 but also for 5000m with 14:31.1.   Best times for the season were 3:56.8 for the 1500m, 8:13.8 for the 3000m and 14:28.37 for 5000m.Alistair again: In the summer of 1981, I concentrated mainly on the 1500m and got my only sub 3:50 time   I also made the final of the Scottish Senior 1500m along with Ian Archibald who had been training with me that summer – Ian won the title – cuffing me in the Final.   That night we travelled to France for a Scottish Universities Athletics Tour.   My disappointment in my performance was not helped by Ian's constant reminders of how good he was and how slow I was.   However. this gets me to another memorable race.   Scot Unis v Paris Unis over 3000m.   I beat Ian into second place in a sprint finish in a pb (8:22).   It shut him up for a day or two.   (Good friends then; good friends now!)
In the Edinburgh to Glasgow in 1981 he ran on the fourth stage where he moved from sixth to third with the second fastest time of the day in a team that finished fourth.   The National in 1982 was one of his best races in the event: in his first race as a senior man he finished fifth ahead some of the strongest runners in the country.
| | | | | | |
| --- | --- | --- | --- | --- | --- |
| Place | Runner | Club | Place | Runner | Club |
| 1 | A Hutton | ESH | 7 | L Spence | Shettleston |
| 2 | J Robson | ESH | 8 | E Stewart | Cambuslang |
| 3 | N Muir | Shettleston | 9 | T Mitchell | Fife |
| 4 | R McDonald | Clyde V | 10 | G Braidwood | Bellahouston |
| 5 | A Douglas | GU H&H | 11 | J Dingwall | Falkirk |
| 6 | J Brown | Clyde V | 12 | N Black | Bellahouston |
For a first year senior to come in ahead of that seven is quite remarkable.    He was, of course, selected for the International and travelled to Rome for his fifth outing in a Scottish vest where he finished 135th – again it was a scoring position for the team.  The following summer (1982) his best time for 5000m was 14:46.0.    At the end of the year he ran in the E-G, back on the second stage where he dropped one place (6th to 7th) but that was to George Braidwood of Bellahouston Harriers who ran really well to pick up from eleventh to sixth.   The National was not such a happy hunting ground in 1983 when he could only finish forty first.   In November he missed the Edinburgh to Glasgow either for Victoria Park or for the University team.   The 1983-84 cross-country season gave him one of his happiest memories when he was part of the Glasgow University team that won the British Universities team championships and he ran better than the previous year in the National when he was twenty fifth.   In the E-G in November that year he was again on the second stage and pulled in one place when he moved from 8th to seventh with the sixth time on that stage.  In the course of that winter he won the tough inter-area match on the heavy Stirling course and also had a very good run in the Belfast International where he was twelfth in 22:51 and with Nat Muir second (22:10 and Neil Tennant ninth (22:39, the team was second to England.  That summer (1984) there was a 14:24.1 for 5000m.    At the cross-country championships in 1985 he moved closer again to his true form when he was tenth across the line.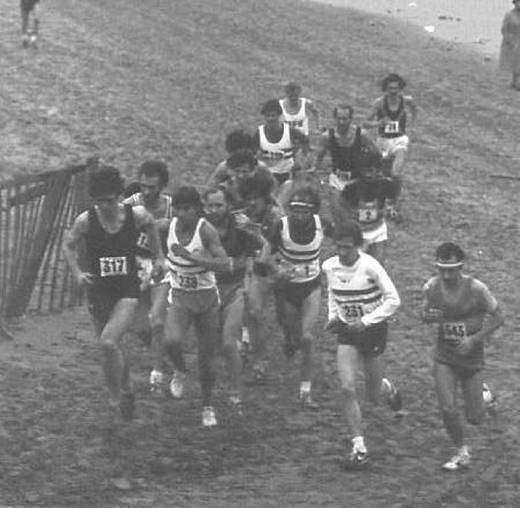 From the 1982 National Cross-Country: Look for Nat, Allister, Lawrie, Fraser, John Robson and Alastair for a start!
In the summer of 1985 he set not one but two pb's for the 5000m: 14:11 for second in the British Students at Crystal Palace beating Robert Quinn into third place and then 14:07.78 for fourth in the National behind Braidwood, Quinn and Gilmour.   Alastair then contracted glandular fever and and struggled for four months.
1985-86 season he ran the Edinburgh to Glasgow, this time on the long seven miles of the sixth stage where he picked up from thirteenth to twelfth.
On the 18th of May 1986 he ran in the well-supported and high quality Luddon Half Marathon at Kirkintilloch and finished third in 67:01 behind Peter Fleming (65:56) and Graham Crawford  (66:36) and then bettered that with a 65:37.   Later in 1986, on 24th August, he went to Irvine for the Marymass 10 Mile Sand Run and won in a new record time of 53:23 – a full one and a half minutes ahead on the second man. On the track he ran 30:31.8 for 1000m.    He started the winter with a good run in the George Cummings Road Relay at Kilbarchan where he had third fastest time (11:24) behind Tommy Murray (11:21 and Doug Frame (11:22).
The traditional winter starter is the McAndrew relay and it was next on the roster – again Alistair was third fastest over the trail with 15:12 behind Peter Fleming (15:07) and Steven Doig (15:11).   The next Saturday was the Dumbarton Relay Championship and the fastest run of the day was by Alastair Douglas with 10:13 from James Austin's 10:19.   On the 12th October 1986 an open cross-country race was held at Clydebank and Alastair won in 25:57.    In the 1986 Edinburgh to Glasgow he was obviously injured  and he dropped from fourth to sixteenth on the second stage.   That was in November and on 6th December Alastair went through to East Kilbride for their 10K Road Race which was won by John Robson (28:39), followed by Chris Robison (28:55), Peter Fleming (28:56 and Alastair (29:19).  He also, in November, ran in the Bellahouston Open Race where he was fourth in 33:37 – the race being won by Chris Robison in 33:03.   Right at the start of the New Year, 2nd January 1987, He went down to Beith where he was second to Chris Robison (22:24) with a time of 22:56. Eight days late he was second to Nat Muir in the Springburn Cup race finishing only one second behind him with 26:10 to Nat's 26:09.   In the National that year he was a very good 15th.     Outwith Scotland he was fourth in the British Students and twelfth in the English Inter-Counties
In March '87 he went to the fearsome Edinburgh University King's Buildings 10 Mile Road Race which he won and at the end of the month he won again – this time in the St Mungo's Charity 10K Road Race in Glasgow where his winning time was 28:26 which was another victory by over a minute.    On the track he ran in the Glasgow University Sports Day in May where he won the 3000m in 8:47.0 as preparation for the BUAC Championships.   They were in June 1987 and were held at Meadowbank and Alastair was out in the 10000 metres where he won another medal for finishing second in 30:18.86  By the end of the summer he was ranked eighth in Scotland for the 10000m track with a season's best of 30:18.86.
Heading into winter 1987 – 88 Alastair had four races in August: On 2nd August he ran the fastest South Lap in the Corrie Capers Relay in Arran, on 13th he won the Round Cumbrae 10 Miles in Millport in 57:04 from Chris Robison who was well back in 52:42.   On the 19th it was the Irvine Marymass Festival again where he ran in a 10K Road Race this time and finished third in 31:06 behind Alex Gilmour (Cambuslang) and Steven Conaghan (Glenpark).   The month was finished competitively with first place in the Inverclyde Quarter Marathon in 32:05 in another close finish – only two seconds in front of Lawrie Spence.   Came 26th September and he was fastest of the day in the Kilbarchan Relay with a time of 11:12, three seconds faster than John Graham running for Motherwell.   On the 25th October, he won the popular and well-supported Grangemouth half marathon in 65:45 from track and cross country internationalist Chris Robison who was over a minute seconds behind.    In the Glasgow University 5 Mile Road Race only the race recorders cost him another win when he was second to Adrian Callan but in exactly the same time of 22:26.    Given that Victoria Park did not have a team in the Edinburgh to Glasgow in November 1987.   In November '87 he was fourth in a race at Gateshead with Steve Cram one of the runners in front.    Alastair went to East Kilbride on 8th December 1987 for the 10K Road Race where that man Callan again won (29:23) with John Robson second (29:27) and Alastair in third place with 29:40.   The reward for all this fine running was a trip to a New Year's 10K in Balzano, Italy.   Adrian Callan was twelfth (29:30), Alastair fifteenth (29:45) and Eddie Stewart twenty fifth and they won the team prize.   He won the Dunbartonshire County cross-country championships at Postie's Park in Dumbarton leading VPAAC to a team victory and just for a change ran in an indoors 3000m for a Scottish Select v Midland Counties where he was third in 8:20.   He also that winter set an indoor pb of 8:07 behind John Robson.  He was 46th in National Cross-Country Championship in 1988.
On 2nd April, 1988, he ran  the Balloch – Clydebank 12+ miles which he won in 62:02 from Steven Conaghan who was just four seconds back    In June he won the Bearsden Highland Games Road Race with 67:32 from Andy Daly on 72:17.   Then on 28th June he won the Polaroid 10K in Alexandria in 30:56.   His best month of the summer was July with two wins in consecutive weeks and a Senior SAAA championship.   On 17th July he went to Inverness for the People's 10K and against a really first class field he won in 29:31 from Chris Hall , Fraser Clyne, Peter Fleming  and Graham Laing among others.    The 'Scotland's Runner' report on the race can be accessed here .   Colin Youngson, who also ran in the race where he finished eighth and first vet, says "the real stars were Fraser Clyne and Alastair Douglas.   Alastair won but was only two seconds outside the record set by Motherwell's Peter Fox, missing out on a £200 prize for a new record.   The 'Press and Journal' reports "But Alistair, the West of Scotland 5000 champion, was involved in the most thrilling finish of the event since it began five years ago, holding off the pace-setters, Aberdeen's Chris Hall and Fraser Clyne by a second.   Alastair's time was 29:31, Chris and Fraser clocked 29:32, with Peter Fleming fourth in 29:46.   The first three picked up an additional £50 each for coming within ten seconds of the record.   Alistair said, after picking up the trophy from Provost Alan Sellar: "I only knew I had the chance of breaking the record when I saw the clock ten yards from the finish and by that time it was too late.   Chris, Fraser and Peter were in the lead for most of the race but I knew I had a superior sprint finish."   The victory gives Alistair a points boost for the Scottish AAA's road-race championship which included the Inverness race in its calendar this year."
Five days later (22nd July) he won the SAAA Track 10000m Champion with a time of 29:29.39 which not only won the race but topped the Scottish rankings for that year and was also a lifetime personal best.   'Scotland's Runner' reported on the race which was held at the SAAA Championships in Glasgow as follows: "This race, the last final on Friday evening, proved to be one of the classic tussles of the championship.   A group of six – Peter Fox, Tommy Murray, Billy Robertson, Alistair Douglas, Alec Gilmour and Alan Robson – broke clear of the large field at about 3000m, this group whittling down to Murray, Douglas and Robertson 600m later.   Robertson was dropped just after halfway, and it then became a battle of attrition between Murray and Douglas, the little Glenpark Harrier knowing that somehow he had to burn off Douglas before the end.   For the last eleven laps (70 secs, 69, 71, 71, 72, 71, 72, 71, 72, 70, 64) they clung together before with 100m remaining the inevitable happened and Douglas eventually over took to win in 29:29.40 – almost his exact time in winning the Inverness 10K over the roads just five days previously!   Result: 1.   A Douglas (VPAAC) 29:29.4; 2.   T Murray (Glenpark Harriers) 29:31.43′ 3.   W Robertson (Bellahouston H) 29:56.12″
A look at Alastair on the track.
Cowal, 1981 – look at that crowd!
Alastair's personal bests's for track running are listed below.
| | |
| --- | --- |
| Event | Performance |
| 1500m | 3:49.3 |
| 3000m | 8:07 |
| 5000m | 14:07 |
| 10000m | 29:29 |
| Half Marathon | 64:30 |
Mainly known as a cross country runner Alistair showed enough talent in his forays on to the track to indicate that had he decided to spend more time there, he could have been a considerably good track man at a time when Scotland was already blessed with quality athletes in his chosen events.   For instance, in the year in which he won the 10000m championship referred to above, he was working 100 hours a week as a junior doctor and in fact he had to turn down at least one invitation to represent his country at 3000m on the track because of the working hours required of him.    His achievements on the track were at their best when he was a young athlete – even at school at Glasgow Academy he set a 1500m record of 4:01 which still stands.   As a student his track running had been every bit as good as his cross-country exploits: we have mentioned some already but to summarise: 3 Scottish Universities Cross-Country Championship victories, 2 x 500, track championships and 1 x 1500m;   at British student championships there's a fifth (1982), a fourth (1987) and a team winner's gold in 1984 on the country and on the track he had second in the 5000m in 1981, 1984 and 1985, a third in the same event in 1982 and a second in the 10000m in 1987.   For reasons many and varied he never ran much on the track as a senior athlete, which can only bring to mind the old Scots query "What if ……….?"    Certainly a friend and athletics team-mate of Alastair's says : "My view was that he underperformed on the track, despite winning the SAAA 1000m.   His best track years were when he trained with Alby Smith who focused more on middle distance.   I can't remember his best 1500m time but this was the only track event where he has a pb that probably reflected the best that he could do."   He certainly made the final of the SAAA 1500m in 1980.
He started the1988-89 season with fastest time in the Dunbartonshire Relays leading his club to second place. On 17th December he ran in the Irvine Harriers Runners v Cyclists race and won from Bobby Quinn with no time given.   On 23rd April he turned out again in the St Mungo's Hospice 10K race where he was fourth this time in 33:28 and just three days later he was eleventh in the Adidas Torsion 5K where he was back in eleventh in 14:55.    On 3rd May he ran in the Adidas Torsion 8K Road Race in Glasgow which was won by his friend Robert Quinn in 22:51 with Alastair tenth in 24:30.   Three days later on 6th May Bobby won the Campsie 10K at Lennoxtown in 29:54 with Alistair seventh in 32:06.    Four days on and Tommy Murray won a (short course) 10K in 29:48.2 with Alastair ninth in 30:07.   He appeared on the rankings for 1989 at 10000 metres with a best of 30:00.6.   In the second half of the summer (August 1989) he raced at Grangemouth in the Inter-District 5000m for the West of Scotland and finished fifth in 14:49.   He had many close finishes in his career and more often than not he won them – this time the sixth placed runner as Martin Ferguson from Edinburgh who was also given 14:49.  On 16th July he went back to the scene of his previous success in Inverness for the People's 10k where this time he finished sixth in 30:52, with the race being won by Peter Fleming in 29:39.  On 17th September when the Great Scottish Run was held over the unusual distance of 25K he was fifth finisher in 80:45 and second Scot behind Tommy Murray (80:27).
The traditional start to the winter season was the McAndrew Relay race at Scotstoun, promoted by his own club.   This time, 1989 – 90,  Alastair had the fastest time of the day – a not inconsiderable feat – with 15:03.  On 28th October in the National Relays he was second fastest in 12:21 with Peter McColgan fastest (12:07) He then had a very good run moving from 21st to 16th on second stage of the E-G.  The Allan Scally Relays on the first Saturday in November were another good day for Alastair when he was fourth fastest in 22:18: the first three were Nat Muir in 22:02, John Robson in 22:09 and Allister Hutton in 22:15.   On 19th November he returned to Bellahouston Park where he was third behind Tommy Murray and Eddie Stewart (Cambuslang Harriers) and one week later he won the County Championships in 28:32 in front of Glen Stewart (28:47).  Saving the best to the end of November he ran in the Presto Open Cross Country Races at Gateshead on the 25th and finished seventh in 20:42 which made him first Scot ahead of John Robson (9th in 20:50 and Bobby Quinn (10th in 20:25).    Right at the start of 1990 he won another classic – the Nigel Barge Road Race at Maryhill over the tried and tested course from Cleveden Street and he won in 21:48 – another close finish and a victory by only one second.  It was a real classic course and all the stars of the past including Ian Binnie, Emmet Farrell, Andy Brown, Jim Brown had run it and to be only one second outside the course record was another exceptional run.   It is one of the races that Alastair himself rates highly. On the eleventh of February he ran in the Falkirk Round the Houses 10K at Grangemouth and emerged victorious with a time of 29:43 from Billy Coyle (Shettleston) in 29:51.   On 24th February he ran into fifth place again for the second time, finishing one place and three seconds ahead of Steve Ovett, a magnificent run.   The following day, 25th February, he ran for the SAAA District select against Scottish Universities,  Scottish Schools,  Loughborough and Birmingham in the 3000m and finished third in 8:31.
Unfortunately after this good winter and excellent run in the National, his appearances became fewer and more intermittent.   Maybe it was injury, maybe it was work-related, but the truth is that he was not seen in action very often over the next few years.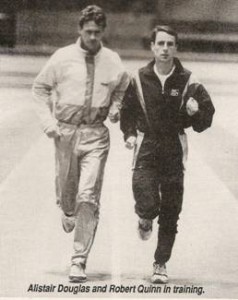 Alistair himself says that by the early 1990's chronic injuries were taking their toll and stopping him training properly.   He continued to run and even ran in the last-ever Edinburgh to Glasgow race in 2002.   The year before that – 2001 – he won the Scottish Veterans Indoor 3000m championship which had the additional significance that he had now won an individual Scottish title in four different age groups – Youth, Junior, Senior and Veteran.     Races when he was able to run were good.   Some instances: Summer 1990 started with a fast run in the Glasgow Brightside 10K Road Race where he was eight in a very good field with the first two places filled by Geoff Turnbull and Gary Nagel of the English club, Valli Harriers, with another Englishman also ahead of him.   Alastair says "The races from the St Mungo's Hospice on deserve further mention.   I had been inured for about three months.   I was still working a lot of hours as a hospital doctor.   During that summer I basically used races on my days off to get myself fit and would go for steady runs in between.   I raced a lot.   As the year progressed, my performances improved and probably peaked  at Nigel Barge, Celtic International (third ahead of McColgan and Quinn who beat me at the National a few weeks later) and English Inter-Counties (seventh).   After that I think my performances declined.   I think fifth in the National was a decline and definitely bu the Brightside 10K.   I had probably over-raced by this time."
On 1st September 1990 he was second to Robert Quinn in the Calderglen 10 Miles with a time of 50:43 behind the winning time of 49:50.   In 1991 he ran exceptionally well for several weeks in the summer: on 8th June he was second to Nat Muir in the Monklands Festival 10K in Coatbridge with only two seconds separating the runners – 33:03 to 33:05; he faced Nat four days later when on 12th June he was again second, again by two seconds in 30:52 (Nat 30:50); and on 16th June in the Inverclyde 10K at Greenock he was again second to Nat Muir in 30:23 to Nat's 30:23.   There's consistency!  On 1st July in 1991 he won the Isle of Mull Half Marathon in 70:34 which was a course record and two weeks later (15th July) he was second to Bobby Quinn in the Saltcoats 4 mile race with Quinn setting a record 19:33 for the course and Alistair being only one second behind him.   Two weeks later on the Isle of Arran, in the Corrie Capers Relay he set the fastest time of the day on the first stage of the relay.   Training was going well and so was racing.   Then there was a big gap.   The next race that I could find was the Nigel Barge race on 5th January 1992 when he was thirtieth and then on 29th February 1992 when he finished eleventh in the Balloch to Clydebank in a very creditable 67:15.
If  we look at his Edinburgh to Glasgow appearances over the next ten years we see that although by-and-large he did not run at the same consistently high level, he did well enough:   In 1990 he ran on the eight stage; 1991 he ran a first-class second stage to bring his club from sixth to first with the third fastest time of the day; in 1992 he did not run; 1993 he ran on the 6th stage;   in 1995 he ran on the second stage; in 1996 he again  ran on the second stage; in 1999 he was on the eighth stage: in 2000  he was on the  first stage; 2002 he was on first stage in the last E-G.
He therefore ran in the race for his club from 1978 – 2002: he ran in a total 19 E-G's (could have been more), and ran on five different stages 1,2,4,6,8.   The figure could have been higher because on several occasions when he would certainly have been an important runner for them, the club did not have a team in the race.   The eight-man Edinburgh – Glasgow was one where the club man came into his own and even when the club was not going well and Alastair was, he turned out and there were also times when he was not running/racing well but competed for his club.   Indeed for all but one of his years at University he turned out for Victoria Park and after a single year racing in University colours on open races, he was good enough to get his University 'blue'.
Looking back at his career, Alastair says "I was (either fortunately or unfortunately) competing against exceptional athletes.   Graham Williamson was in my age group.   I was second to him on many occasions.   he was in fact the top Junior in the world at the time.   There was also Nat Muir who was one of the world's top distance runners in the early 80's who totally dominated the Scottish scene during that era.   Although it was inspirational to be up against these runners – in retrospect I feel it made me train too hard too young to try to compete with them.   I think if I had taken a "more conservative" approach to training and incremented the training loads more gradually, I would have ended up with better PB's and I would have been able to run at a high level for longer.  In saying that, I have no real regrets – if I hadn't pushed myself at a young age I might have always wondered – what if?"
Alastair  makes the following comments on his racing: "I think 1991 was the last year I was able to produce performances of Scottish international calibre.   Second by one second to Nat Muir at Inverclyde 10K and ahead of Tommy Murray and Hamy Cox.   I won a 10K in Boston, USA, in 29:24 which was a course record.   However the chronic injury which had been plaguing me for a couple of years returned, and I went into semi-retirement.   I managed a few reasonable races in the mid-90's – fourth twice in the Glasgow University Road Race , won Queen's Drive races and the Dunbartonshire CC Championships.   I even got another another appearance for Scotland, in the European Mountain Running Championships in 1997.    Turned vet in 2000 and won a few things:   National Vets Indoors 3000m in 2001, first vet in the Paisley 10K and first vet in the Great Scottish Run in 2003.   I still run and occasionally compete to this day.   I was in the Victoria Park AAC first team in the McAndrew Relay in 2008 – thirty years after first being in the first team in 1978.   (Probably more a statement on the decline of VPAAC!)   I have even won a couple of races in the last two years    I won a Parkrun 5K (on a day when any decent runner was running in the National Relays) and I won the Elie 10K in 2010.   That means I have won races in five different decades from the 70's onwards."