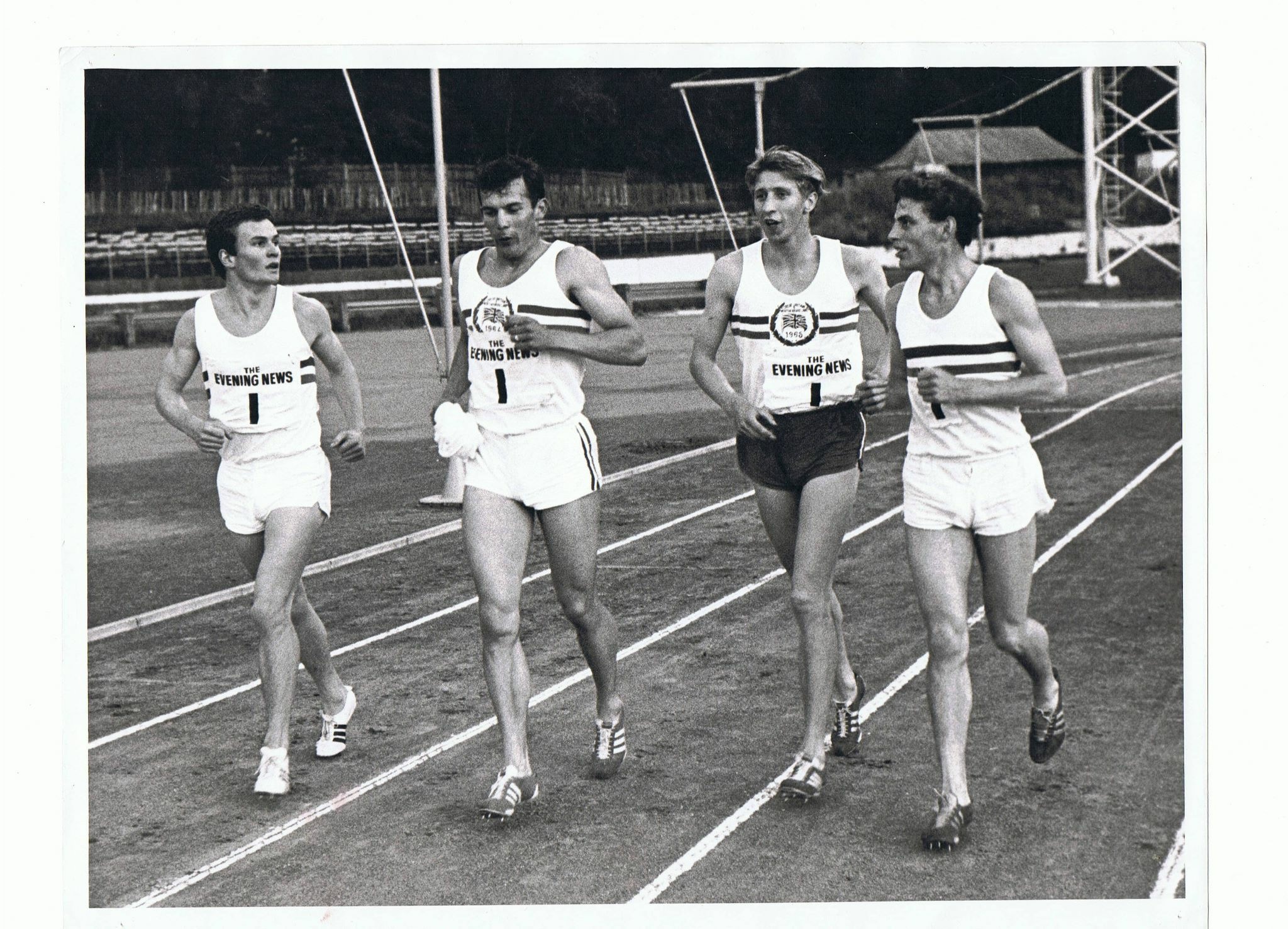 Graeme Grant on the left with Chris Carter, John Boulter and Mick Varah,
GB 4 x 880 yards world relay record setting team, in 1966
Graeme David Grant was one of a group of four half-milers who completely dominated the event in Scottish athletics from the early-1960's up to 1970.   The other three were Dick Hodelet (13/3/1942), Duncan Middleton (4/7/46) and Mike Maclean (4/5/1946).   They virtually monopolised the event, all won SAAA Championships, all set Scottish records and all were at least Scottish internationalists.   For the record, if we look at championships won, then we get this:
SAAA 880 yards winners:   1964  Hodelet;    1965  Grant;   1966  Grant;     1967  Middleton;   1968:  Maclean.
SAAA 800 metres winners:   1969:  Maclean;   1970:  Maclean
As juniors (ie Under 20) Grant won the Mile in 1964 while Maclean won the 880 yards in 1965.
Records were also set by the quartet:
1964:   880 yards    1:504.  Hodelet;     1966:   880y   1:50.3   Grant;   1966:   880y   1:50.2   Grant
1970:   800 metres:   1:50.2   Maclean;   1970:   800m  1:47.7   Maclean
And at other distances:   1969:  600y   Maclean   1:11.5;   1971:   1000m  Grant   2:23.3
There were also of course many other very good athletes around at the same time  such as Craig Douglas, Jim McLatchie, Hugh Barrow and Ken Ballantyne when they came on the scene but they were the top half-milers for the seven or eight years when they were at their peak.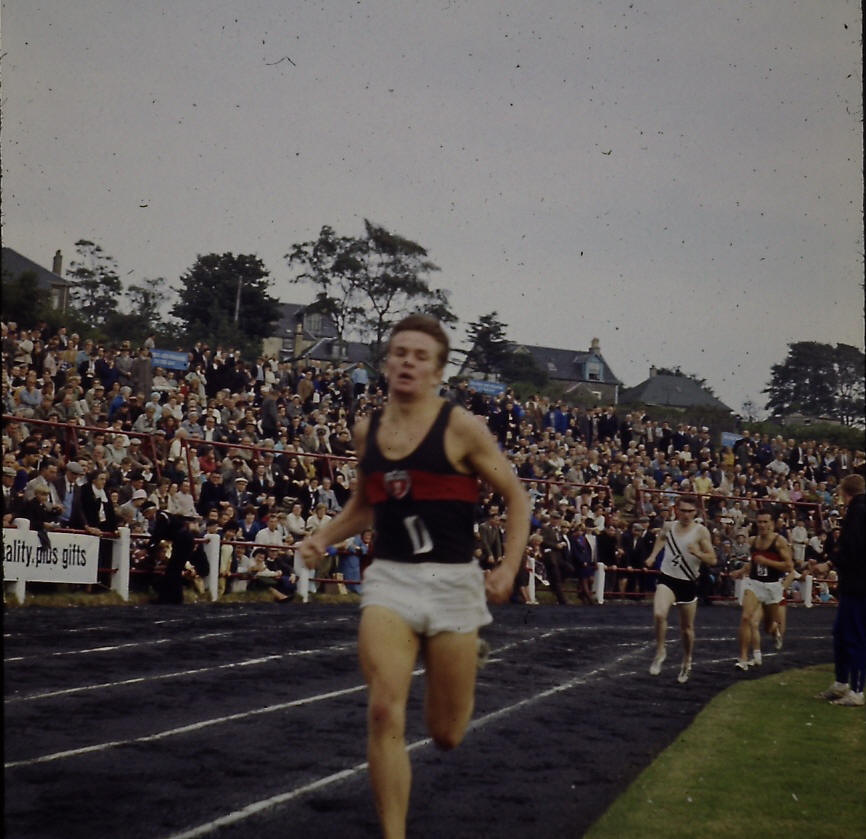 Graeme leading at Cowal Highland Games
Graeme was a pupil at Hermitage Academy in Helensburgh and joined Dumbartoon AAC from there.   He needed to join a club and Dumbarton was a good club with a strong track team at the time – Bobby Mills, decathlete, Jack Brown a very good middle distance runner but versatile enough to take part in field events, the young and talented Colin Martiin and several others were there.   Living in Helensburgh he didn't have a great part in the club's social life but did come the eight miles to Dumbarton for training sessions with club members on the Common  beside the Brock Baths.  1964 was the year when Graeme Grant first made the headlines – he won the SAAA Junior Mile in 4:21.0 but had an even better run of 4:12.5  which ranked him eleventh in Scotland.   However at what was to be his best distance, he only ranked 18th with a time of 1.55.7.   With a date of birth of 24th May 1946, however, it should be noted that he was a comparative novice in the event and barely 18 years old.
He started his year on 30th May in the West District C*hampionships at Westerlands when, in the absence of any 880 yards event for Junior Men, he finished third in the Junior Mile behind Joe Reilly of Victoria Park and Tom Brown of St Modan's in 4:23.9.   In the Lanarkshire Police Sports at Shawfield on 13th June, a very popular meeting with the runners running on a track inside the outer ring which was used for most of the year for greyhound racing, Graeme had a very busy afternoon.   "H Baillie (Bellahouston) who has been showing tremendous for in Junior sprinting events this season, was beaten by only one-and-a-half yards in the 300 yards having given away 14 yards to the winner, GD Grant (Dumbarton)."   This win was followed up with a second place in the open mile behind JD Knox of Shettleston who won in 4:16.7.   A week later, on 22nd June, Graeme won the junior half-mile at Babcock & Wilcox Sports in Renfrew off a mark of 30 yards in 1:50.9  (the senior race was won by Danny Wilmoth (Springburn) in 1:56.9 off 62 yards).   The last week of June was, as usual, the SAAA Championships and here Grant won the Mile from Brown (St Modan's) and Raeburn (Teviotdale) and, in the words of the 'Glasgow Herald' reporter, 'anointed himself with distinction'.   He next appeared in the results on 1st August at Bridge of Allan where he won the Junior 880 yards from a mark of 30 yards in 1:54.9.   There were probably many more races that are unreported at this period because of the handicap system where he could run really well and still be unplaced (and hence not mentioned in results) but where, nevertheless, he was learning his trade as a young half miler and sharpening his elbows as well.   22nd August saw Graeme compete at Rothesay in the Bute Highland Games where he won the Mile off 10 yards from Alex Brown and Ian McCafferty in 4:16.1.
*
By the end of 1965, Graeme had won his first senior championship and was ranked nationally in four different events.   The championship win was in the West District championships but he started his season with a sixth place in the invitation mile at Hampden behind Bill Allison (ESH), Ian McPherson (VP), Lachie Stewart, Ian McCafferty, and Albert Smith (VP), with Joe Reilly (VP) and Eddie Knox (Springburn) in his wake.   The Scotstoun meeting in May was always a good one and went under various titles – Glasgow Highland Games at one time, the Glasgow Athletic Championships at another and this year it was the latter, and held on 22nd May.   Graeme ran well enough here to win the junior mile from Jim Brennan of Maryhill in 4:23.8.   A week later at Dam Park in Ayr on 29th May, he defeated the man who was to become one of his main rivals, Mike Maclean, and the more experienced Brian Scobie to win the half-mile West District championship in 1:54.3.   Into June and on 12th June the 'Glasgow Herald' reported on the Lanarkshire Constabulary Sports at Shawfield as follows: "G Grant (Dumbarton) had another success here in the three-quarter mile special invitation scratch race in 3 min 4.2 sec with W Ewing (Aberdeen University) and C Douglas (Teviotdale) unable to match the speed of the winner over the last 50 yards."    As in 1964, he turned out at Babcock & Wilcox Sports on 19th but this time in the senior 880 yards which he won in 1:52 off a mark of 12 yards.  Grant had also had a double victory in handicap races at Lanark as well as having a good run to finish behind Craig Douglas at Pitreavie at the start of June.   With the West District title safely won, the big domestic race of the season was the SAAA Championship half mile which he duly won in 1:54.9.
The report on the race read: "GD Grant (Dumbarton), a junior with the stamina one expects from a senior, ran away with the senior 880 yards from such notable opponents as RT Hodelet (Greenock Glenpark) and JC Douglas (Teviotdale).   Coming out of the last bend into the headwind, Grant made his break followed by Douglas.    Hodelet, given little chance in these columns on Friday, showed how a champion strives to retain his title and, astonishingly, passed Douglas in the last 50 yards, a gallant runner up to the new champion."  
Clearly in good form, Grant, representing the SAAA, tackled the American team from Brigham Young University at Westerlands in Glasgow on Monday, 5th July over the 880 yards and won in 1:52.7.   He continued racing in handicap races at various highland games and sports meetings before setting a ground record on the heavy, soaking wet, grass of Battery Park in Gourock  on 24th July.   The 'Glasgow Herald' thought it worthy of the top spot in its coverage of the event.   Despite the sodden conditions six ground records were established at Gourock Highland Games on Saturday, the most notable being that of GD Grant (Dumbarton) who won the open half-mile from scratch in the excellent time of  1 min 54.9 sec.   Grant ran so well that even at half distance he looked all over the winner – no mean achievement against opposition of the calibre of I McPherson (Victoria Park) who after having eight yards start was beaten by ten."  
It was a race of a different sort altogether the following week at Pitreavie when he represented the SAAA against the British Army.   He rose to the occasion again and won in 1:56.7 with the other Scot, Dick Hodelet, in third place.    He also represented the SAAA on 23rd August at Murrafueld in the Edinburgh Games against Iceland when he again won – this time in 1:55.5 from team mate Craig Douglas.
By the end of the year he had best times of 50.6 for the quarter-mile (ranked 23rd), 1:52.0 for 880 yards (3rd), 4 11.7 for the Mile (10th) and (maybe strangely) 60.5 for 440 yards hurdles (23rd).
If 1965 was a good year for Graeme Grant, 1966 was even better.   His pb was hacked well down, he ran in the Empire Games in Jamaica and should have had a share in a world record.   If we start at the beginning, there had been several inter-club fixtures for Dumbarton in the track league early that year, but the first competitive appearance fro Graeme was at the Glasgow meeting at Scotstoun on 23rd May when he was second in the 440 yards in 50.6 seconds.   He was unplaced at Westerlands in the West Districts the following Saturday, but only because he was racing in a top class field south of the border.   In the British Games in London he was out in the 880 yards with his performance heralded in this report:   "JP Boulter provided his finest run for a long time, leading from start to finish for a victory in 1:47.9 – the second fastest in Europe this season.   He held off an unexpected but highly impressive challenge from GD Grant, the Scottish runner who finished second.   Grant, a surveyor from Helensburgh, was one of the least considered runners at the start but 1 min 48.2 sec later he had forced himself right into the selectors' reckoning and taken some powerful strides towards Scotland's Empire Games team."    Strangely enough, for all his very good running, Grant never won a GB vest but on 22nd June 1966 he ran in a British squad which broke the world record for the 4 x 880 yards at Crystal Palace in London.   The team, pictured at the top of the page, was Graeme Grant 1:49.5, Mike Varah (1:48.9), Chris Carter (1:48.0) and John Boulter (1:48.2), was timed at 7:14.6.   Unfortunately, after winning the race, the team was disqualified because a false time as called out (unofficially) to one of the runners.   The race was clearly one, none of the runners infringed any of the rules but they were disqualified by an example of "officialdom gone mad"!    There was a letter from Menzies Campbell in the "Glasgow Herald" two days later in which he complained that the BBC had altered the programme for viewers on the 22nd with the result that viewers in Scotland could not see the athletics in which there was 'considerable interest in the fortunes of GD Grant'.   BBC Scotland had decided at the last minute to show show-jumping from Ingliston rather than the Crystal Palace event which was seen by the rest of the UK.
 Graeme took another giant step in the direction of Games selection in the SAAA Championship at New Meadowbank on 26th June when he won his second national half-mile title.   "GD Grant has settled all doubt in my mind as to who is our best 880 yards man by beating RT Hodelet and M Maclean with two yards to spare.   At the bell, Grant was timed at 53.8 seconds and appeared to have no fears of a break by anyone at that stage.   With 220 yards to go those three were clear of the field, and for the rest of the race the respective gaps of two yards and a couple of feet stayed the same.   How Maclean was timed at 1 min 51.2 sec behind Hodelet's 1 min 50.7 sec when he went over the line virtually on his shoulder only the timekeepers can tell."    Grant's time was 1:50.3.   Having run a fast 440 and 880, the following week at Gateshead, on 29th June,  he finished third behind John Whetton and John McGrow in a 1500m in 3:46.6.
On 9th July at the AAA's championships, Grant finished sixth in the final in 1:50: the race was won by Irishman Noel Carroll in a championship best performance of 1:48.0 with Chris Carter and John Boulter second and third.   By the end of the month it was back to 'auld claes an' parritch' for him when he won the 880 yards at Gourock Highland Games from Duncan Middleton (off 10 yards to Grants scratch on the starting line) in 1:54.1.
At the start of August he was in Jamaica with the Scottish Empire Games team, listed to run in the 880 yards and Mile.   Second in the fifth heat behind L Yearwood and ahead of Ralph Doubell, he went through to the semi-final in a heat won in 1:50.  The semi-final was another story and he could only finish eighth in his semi-final.   In the Mile, he won through to the final by running his heat to finish fourth in 4:10.1 but did not finish the race when he got there.
By the end of the year he had bests of 49.8 for the 440 yards run in Birmingham on 2nd July which ranked him ninth,  1.48.2 for the 800m (Birmingham 28th May) which topped the list,  and for the 1500m 3.46.6  which placed him second (behind McCafferty) and a Mile time of 4.07.8 6.
There was a slight drop off in performance in 1967 – not surprising after the 'high' of 1966 – no records, no championships and no ranking topping performances either.  However, he had run cross-country that winter being part of the Dumbarton AAC team that won the Dunbartonshire County relay championships over the unforgiving trail at Clydebank on 8th October.   The following Tuesday in the invitation mile race at the inauguration of the Westerlands floodlights, Graeme was second to Hugh Barrow in 4:16.5, two and a half seconds behind the winner.  At the very end of the month – 29th October, Grant ran the lead-off leg for Dumbarton AAC in the Midland District Relay Championships at King's Park in Stirling and the team had a hard battle for third place with his team mate Bobby Mills outsprinting Graeme's rival Dunky Middleton of Springburn Harriers for third place.   On  19th November Graeme ran in his first Edinburgh to Glasgow Realay.   He was on the first stage and finished tenth – one place and three seconds behind Ian Binnie of Victoria Park.   Two weeks later, 3rd December, he was second in the Dunbartonshire Championships Strathleven, 44 seconds behind Ian Donald (Clydesdale) with Bobby Mills third.  At Bellahouston Park on 21st January he finished an excellent 17th in the Midland District Championship – one place ahead of Allan Faulds, two ahead of John McLaren and leaving such athletes as Bill Scally, Tommy Patterson, Albert Smith, Alastair Johnston and many others well behind.   A very successful winter season on the roads and over the country leading into the summer of 1967.
Starting the summer with a 440 yards in an inter-club with Forth Valley and Dundee Hawkhill at Grangemouth  on 22nd April he won the match event in 51.4:m  he was only second across the line however since Mike Maclean, running as a guest, ran 51.0.   Nevertheless it was a good start to the season.   Having had a good under-distance run, he then ran over-distance at Durham on 6th May turning in a time of 4:10.7 for the Mile when finishing second.   The Glasgow Championships were held on 20th May but Graeme Grant was further south- running in an 880 yards at Huddersfield he returned victorious.   the report read: "GD Grant (Dumbarton) made an encouraging foray into England on Saturday by winning the 880 yards in 1:55.7 at Longwood Harriers floodlit meeting in Huddersfield.   With 220 yards to go, A Simpson, the British mile champion, and Walter Wilkinson, another four minute miler,   made a battle of it round the bend.   Into the home straight these two left just enough room in  the inside room for someone of Grant's width to squeeze through.   The uncompromising Scot made room nicely and finished a fifth of a second ahead of Simpson."   Back home and on 30th May he won the 440 yards and 880 yards events at the Dunbartonshire County Championships in 51.5 and 1:55 respectively.
He had to move up a gear for the home countries international at Grangemouth on 10th June when he faced Olympian John Whetton in the half-mile and finished second in 1:52.6.   On 17th June he was back at his happy hunting ground of Moorcroft Park in Renfrew for the Babcock & Wilcox Sports and he won his heat in 1:54.9 and the final in 1:52.5 running from scratch on a grass track.   It is interesting to look back and see that our runners were running heats of the half-mile which was maybe a valuable exercise and preparation for championship racing when now, almost 50 years later, they very seldom run more than a single race in a week, never mind in a weekend and certainly never in a day!   Graeme had run well in under distance races as well as in over distance events but the real test would be in the SAAA 880 yards championship where he was looking for a third win.   In his preview of the championships, Ron Marshall in the 'Glasgow Herald' said:
"The 880 yards has aroused the most interest as it did last year among Scottish enthusiasts.   The holder GD Grant (Dumbarton) is one who can bombast his way round any track no matter the standard of opposition and he is not shy to let his presence be known to any rival who gets in his way.   That attitude may knock his main rival, M Maclean (Bellahouston) off his stride, only metaphorically one hopes, but there is a feeling in many quarters that this is Maclean's year.   Not to be dismissed are AD Middleton (Springburn) who has still to consolidate on his indoor performances, and JC Douglas."
After that, how did the race go?   Marshall again:
"As he stood modestly on the rostrum awaiting the 880 yards winner's trophy, AD Middleton (Springburn) might have been picturing again in his mind that last 100 yards as he swept past the ailing defender, GD Grant (Dumbarton), in pursuit of the man who in everyone's eyes was the new champion, MJ Maclean (Bellahouston).   But in Middleton's words, ' Mike seemed to be coming back easily to me – it made me forget how tired I was.'   And as Middleton took the tape by two yards the stopwatches froze in a new Scottish national record time of 1 min 50.2 sec."      Grant's time was 1:51.2 – exactly one second down.
Running on the first night of the AAA's Championships in London on 14th July, he ran fast enough to record a season's best for himself with 1:51.1 but it only gave him fourth place in his heat and he did not qualify for the final, although Middleton did.   In the Land-o'Burns Trophy meeting at Ayr, which was a mammoth event with 30 events on the programme at ten clubs invited to take part, Grant finished fourth in the 440 yards in the good time of 50.5.     On the wet and soggy track at Adamslie Park in Kirkintilloch, Graeme won the half mile off a mark of four yards and turned in a time of 2:01.1 – a remarkable time on the short track with far too many tight bends for fast running.   The Edinburgh Highland Games were always an attractive fixture and in 1967 it featured an international match between Scotland and Iceland – Grant was out in the half-mile which he won in 1:54.2, just in front of Middleton who had been timed at 1;54.3.   The last Saturday in August was always the Cowal Highland Gathering with events on Friday night and on Saturday afternoon.   It was a grand meeting ending with the 'March of a Thousand Pipers; who, having gathered out of sight of the park, traditionally come marching in formation, wave after wave of them, over the hill and down on to the track and they gather in formation in the infield: a marvellous sight.   Athletics was always of a high standard -as were the lavish expenses paid – and in 1967 Graeme was out in the mile on Saturday – McCafferty was the man though but Graeme took the field through the bell in 3:03.1 before leaving the track to McCafferty and Barrow who battled it out right to the final straight where the Motherwell man triumphed in 4:03.1.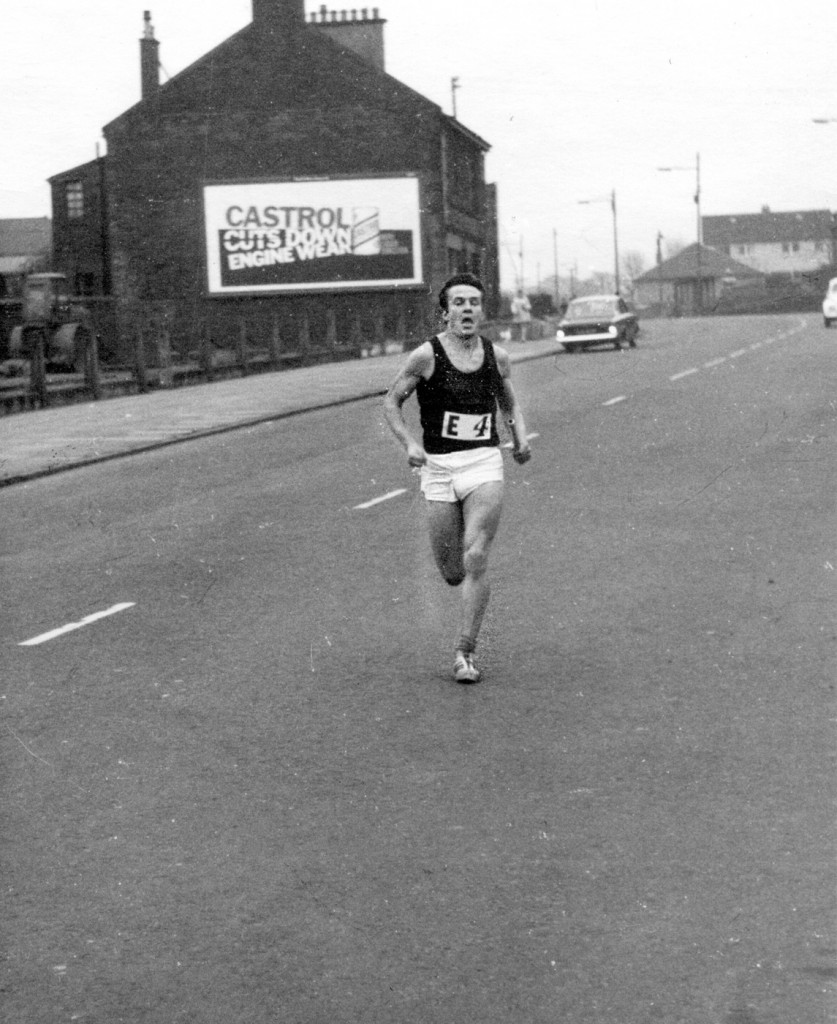 Graeme Grant on the seventh stage of the Edinburgh to Glasgow Relay, 1967
Into the winter of 1967/68 and Dumbarton AAC again won the Dunbartonshire Cross Country Relay Championship with Grant on the last stage of the race.   He switched to the first leg for the District Relay on 28th October for the club team which finished fifth.   He was out again in the Edinburgh to Glasgow on 18th November, running the seventh stage this time and was sixth fastest on the stage picking up four places from seventeenth to thirteenth.   December 2nd saw Dumbarton win the County Championships again and on 19th January, back in Bellahouston Park, Graeme was nineteenth across the finishing line in another very good run for a track specialist.   There was no sign of him running the National but a race of that distance only two and a bit months before the track season was maybe not to be expected from a man ranked number three on the Scottish all-time list for the half-mile  and number ten for the mile.
The summer of 1968 was not his most productive – possibly due to injury.    He also started running for Heriot-Watt University in Edinburgh and the transition to tertiary education is often a difficult one so that maybe had something to do with it.    There had been no sign of Grant in any of the early season races – he did not race at Hampden at the end of April and he missed  both the Glasgow Championships at Scotstoun and the West Districts at Westerlands before tackling the Scottish Universities Championships on 1st June.   He finished second to A McFie of Edinburgh University in 1:58.3, only one tenth of a second behind.    Two weeks later he ran in the British Universities Championships at Westerlands, on 15th June, where he finished second (1:54.6) in a tight finish to Andy Carter of Manchester (1:54.3).    University examinations would be over by the end of May and there may well be a connection between end of term work and absence from the tracks around Scotland.   This 1:54.6 was his best time of the year and only ranked him 18th among Scottish 880 yards runners for the season.   The Scottish half-mile title was won by Mike Maclean quite comfortably in 1:51.6 from Dick Hodelet.     While rivals such as Chris Carter went on to compete in the Olympic Games in Mexico in October, Graeme had to face the rigours of the Scottish winter.
It was now on to 1968/69 for Graeme Grant.   On 12th October in the DAAA County Cross-Country Relay Championship at Strathleven Estate, Grant ran on the first stage for Dumbarton and turned in the joint fastest time with Ian Donald (Clydesdale Harriers) to send his team to victory.   Not in the quartet  for the District Relay, Graeme turned out on the first stage of the Edinburgh to Glasgow on 16 November where, clearly below par, he was nineteenth of the twenty runners.   Missing the County Championships in December, he was back to form in the District Championships at Bellahouston on 18th January where he finished eighth – one place behind Eddie Knox of Springburn.
Summer 1969 was a happier one for Graeme than 1968 had been – an SAAA medal and a couple of fast runs over 800 metres and 1500 metres.   With the Commonwealth Games coming to Edinburgh in 1970, the SAAA switched to metric distances for the championships.   This had unfortunate side effects with 'reporters' becoming 'journalists' and not reporting.   eg at the end of April Heriot Watt defeated Glasgow University at Westerlands with almost the entire 'Glasgow Herald'  article taken up with the issue of how switching to metric would confuse officials, athletes and the public.   Which is unfortunate for many of the athletes but we know that Graeme was first in the 1500m in 3:56.2 for a fairly good start to the season.   However John Cherry (Springburn) and Mike Maclean were the form men when the SAAA team for the inter-area match at Leicester on 14th June was picked.   With the absence of his name from the results columns (eg he did not run in the West or even the East District Championships, nor was he in evidence at the Scottish Universities Championships.   However when the SAAA Championships took place on 28th June he came away with the second place medal.   The race was won by Mike Maclean in 1:51.5 with Graeme almost two seconds away in 1:53.3 while Ross Billson of Ayr Seaforth was third in 1:54.2.    It was his fastest run for two years.   He was to go even faster in 1969 though.   On a tour of Norway at the end of the month he ran 1: 51.3 when finishing third in Oslo.   This was good enough to rank him third in Scotland at the end of the year.
Winter 1969/70 and there was no Graeme Grant in the Dumbarton AAC team in the County Relay or in the District Relay – he was now running for Heriot Watt in the early season relays and ran the first stage for them in the East Relay in November: the team finished 24th.   He was back in Dumbarton's black and red for the Edinburgh to Glasgow where he ran the seventh stage.   Taking over in tenth, he handed over in the same place in equal sixteenth time.   On 24th January he finished 52nd in the West District Championships at Lenzie with the team in ninth.   Missing the national again and summer 1970 with the Commonwealth Games loomed.
The  SAAA Championships came early in 1970 – the first Saturday in June rather than the traditional last weekend – because the Commonwealth Games were to be held at the same stadium just over a month later.   Graeme had not a single result logged before the championships, he was not placed in the event and missed out totally on the great occasion.   His best run of the year was clocked at 1:54.4 to place him equal seventeenth best Scot over the distance.
1971 was to be a magnificent Indian summer for Graeme before he emigrated to South Africa but before that, with no indoor facility in Scotland, indeed there was no permanent indoor track in Britain at the time, cross-country and road running beckoned once again.  He resisted the beckoning and did not run in any of the events which mattered from county relays to national via the E-G relay.    His club affiliation for the year was noted as HWU/ESH – he had joined Edinburgh Southern Harriers, no doubt to access the extra competition at British League level that such an affiliation afforded.   How much difference these changes – no serious winter racing over the country plus change of club and possibly fresh motivation plus the impending emigration (give it one last real go!) – made is incalculable but he was rounding into his best season since 1967.
His first notable mark came in the 400 metres on 1st May in a four-cornered contest between ESH and three universities – Edinburgh, Heriot Watt and Aberdeen.   The race was won by David Jenkins in 46.4 seconds with Graeme third in 49.6.    His new enthusiasm was shown very clearly at the Scottish Universities Championships on 17th May at Pitreavie where he won the 400m, the 800m and the 1500m all on the same afternoon.   On a day of strong winds he won the 400 in 50.7 seconds from Tom Renwick (both HWU), the 800m in 1:56.5 from Frank Clement 1:59.3 – Strathclyde), and finally he won the 1500m in 4:02.7 from Stuart Easton (4:05.1 – St Andrews).   Came 29th May and in the East District Championships, Graeme won the 800 metres from Craig Douglas (ex-Teviotdale, now also ESH) in 1:54.
Proof of his continuing good running came at Rawyards Park in Airdrie at the Airdrie Highland Games on 5th June.   It was a good cinder track which the Parks Department always had in good condition for the games and many good, fast times were posted there.    In the invitation 1000 metres Graeme – now always entered as HWU – equalled the Scottish record of 2:23,3, six yards in front of Frank Clement.   He was to run this unusual distance twice more in 1971 and the Scottish Athletics yearbook had this to say about it:   "This seldom run event produced a Scottish record equalling performance by Graeme Grant at Airdrie.   He had two other good performances at Belfast and seemed ideally suited to this distance.   The stronger Frank Clement bested 800 metres runner David McMeekin in their tussle at Airdrie."   The Belfast performances of 2:23.6 (19th June) and 2:24.1 (27th July) gave him the top three times of the year with NormanMorrison's 2:24.3  at Belfast on 19th June being next best.
In the British Games at Edinburgh on 12th June, Graeme was third in the 800 metres in 1:50.1 behind Dave Cropper (1:49.6) and Pete Browne (1:49.8) to prove that he could still mix it with the best that Britain could offer.   Missing the SAAA Championships, Grant won the B 1500m race in the British Athletic League Division One for Edinburgh Southern in 3:49.5 on 3rd July.   In the AAA's championships on 24th July, luck was not with him when he reached the final but could only finish eighth in 1:52.   There was a much better run from him on 31st July when he defeated Peter Stewart of Birchfield in the BAL match at Hayes in 1:53.6 against Stewart's 56.7 – just before the European Championships where Stewart was to run in the 1500m.
Back at home on 7th August and running in the Scottish relay championship 4 x 400m he won gold along with JC Douglas, A Chedburn and A Douglas) and then won silver with the 4 x 800m team with J Raeburn, K Ballantyne, Grant and Douglas behind the Bellahouston team of Wallace, Jackson, Maclean and Clement.   In the Edinburgh Highland Games at Meadowbank on 21st August, he won the 800m in 1:50.0 from Ross Billson (1:50.3) to round off the season nicely to top the rankings for the year, being 0.2 sec faster than Billson.
He had five times in the top eight recorded by Scotsmen with another two at 14th and 21st on the season ending rankings.   It had been a very good season indeed for Graeme Grant who was heading for South Africa in 1972.  There is ony the one time in 1972 in the rankings – a 1:51.2 which was fifth best for the year.
He was a very interesting runner.   Not known for his gentle "after you, Claude" running style, he would run over someone rather than round him, he was never afraid to take on the pace, make the others dance to his tune and do his very best every time.   Most 880y/800m runners at the time did some cross-country but Graeme did quite a lot of good runs in championship races.   Where some would turn out in low key events to get some bulk into their training but avoid putting themselves on the line, he turned out in county, district and national events, he ran 2.5 mile relay legs and five mile stages of the Edinburgh to Glasgow.      It was unfortunate that he never really did himself justice in the Jamaica Games or even the AAA's championships.   Maybe even more unfortunate that he did not get a share of a world record when the relay team was disqualified for reasons outwith their control.  He ran it, he deserved it.
Graeme Grant was a very good runner.