BETTY GILCHRIST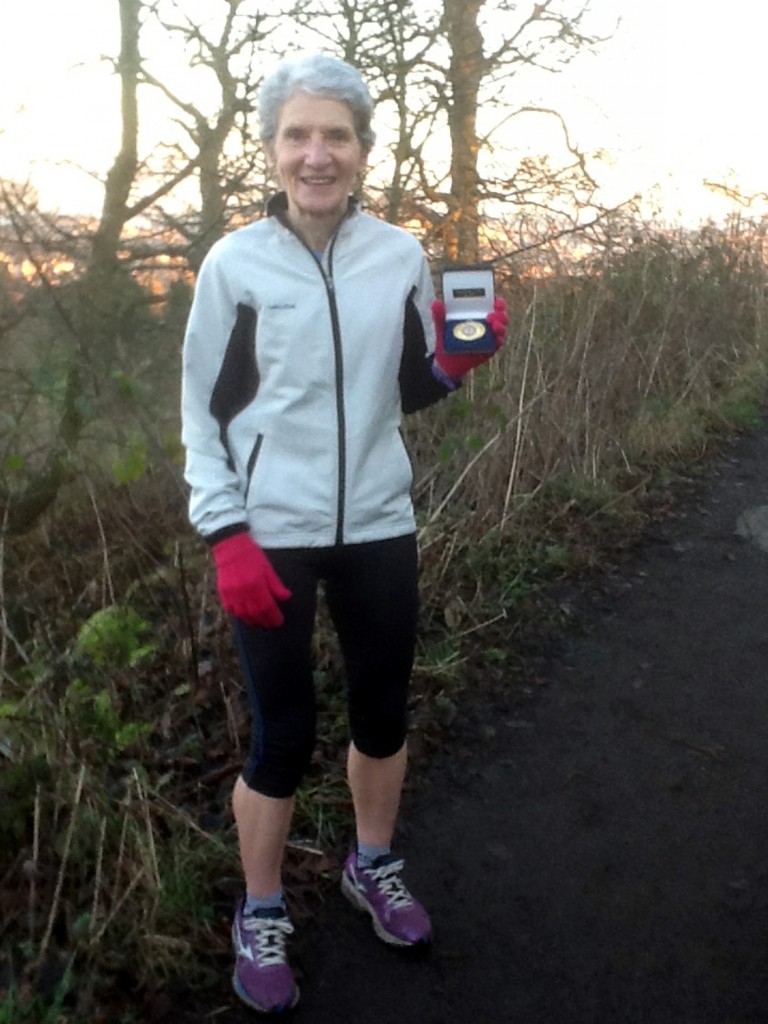 [Betty (W70) achieved clear victories in both the 2014 British and Irish Masters Cross Country International at Nottingham; and the 2015 Scottish Masters CC at Kilmarnock.]
CLUB: Ferranti AAC (a friendly and supportive club).
DATE OF BIRTH: 20 -9-44.
OCCUPATION: Retired.
HOW DID YOU GET INVOLVED IN SPORT: I lived in Saudi Arabia for over 20 years and met Ian Wilson who invited me to join his group.
HAS ANY INDIVIDUAL OR GROUP HAD A MARKED INFLUENCE ON YOUR ATTITUDE OR INDIVIDUAL PERFORMANCE?
Ian was a fantastic coach who really encouraged us and is still coaching very successfully in Ireland.
WHAT EXACTLY DO YOU GET OUT OF THE SPORT?
Keeps you fit and you meet some friendly people at races – and living in Edinburgh
we have great running routes on our doorstep – hills, river paths, canal paths or along the shore.
WHAT DO YOU CONSIDER TO BE YOUR BEST EVER PERFORMANCE OR PERFORMANCES?
Hard question but my favourite five races would be: Bahrain Marathon Relay; Brampton to Carlisle; Midnight Sun; Porty New Year's Day; and of course Parkrun (great for us older runners).
YOUR WORST? Haddington Half.
WHAT UNFULFILLED AMBITIONS DO YOU HAVE?
To run a decent time at Haddington!!! (4th time lucky.)
OTHER LEISURE ACTIVITIES? Gym – swim – walk.
WHAT DOES RUNNING BRING YOU THAT YOU WOULD NOT HAVE WANTED TO MISS? Friends around the world.
CAN YOU GIVE SOME DETAILS OF YOUR TRAINING? Don't really do any speed sessions any more. Simply go out and run. I had a bad foot injury about two years ago, and later that year had a hernia operation, so mileage and speed have dropped but I am still happy to be out there.
Monday – 3 miles + gym.
Tuesday – 5 miles fartlek + gym.
Wednesday – 5 miles off-road.
Thursday – 5 miles with hills + gym.
Friday – 7 miles tempo for me (= steady for my running partner).
Saturday – Parkrun or race.
Sunday – 90 to 105 minutes Time On Your Feet; or race.
(As one of her five favourite races, Betty names The Bahrain Marathon Relay. Below is some information about this unusual event.)
The Bahrain Marathon Relay, the largest race in the Middle East, takes place at the end of October, and starts at 10 a.m. at the Bahrain International Circuit, home of the Bahrain Grand Prix. Temperatures soar to the mid to high 30s by early afternoon. The 50 km event is undoubtedly an exhausting challenge, given desert conditions, with heat and humidity. There are 16 stages, each approximately 3 km in length. There are eight runners in a team. Each athlete will run either one, two or three legs of the relay. There may be 150 teams competing.
Ian and Teresa Wilson spent over 30 years working in Saudi Arabia and, through their positive coaching methods, succeeded in training seemingly ordinary athletes up to both Olympic and World Championships levels. Teresa is originally from Stillorgan in Co. Dublin. Ian is originally from Sunderland. Eventually, they decided to retire and settle in Co. Laois, Eire, at the end of 2013. Their company is Nuparc Wellness, a business established to assess health and wellbeing of individuals in large corporations. Ian is a UK Level 4 endurance coach; and Teresa a UK Level 2 endurance coach. Even in semi-retirement, hey have taken Irish teams to Bahrain.
The Bahrain Marathon Relay, for which the Wilsons have prepared many teams, was first run in 1981 and has grown to the point where the event attracts a large number of teams and athletes ranging from Olympic standard to those who just enjoy a healthy jog and the camaraderie of taking part. It has become an important highlight not only for Bahrain and its neighbouring countries but also for countless runners who fly in from all over the world to compete. There is a good deal of corporate sponsorship and almost two million dollars has been raised for charity, during the 27 years of the relay.
Roads through the desert, camel trains, extreme heat, rainstorms, sudden hot head- or tail-winds – all these aspects add to the uniqueness of this event. The full history of each race makes fascinating reading.
Scottish athletes who have taken part include Phyllis O'Brien (HBT); Ivie Rennie and Gordon Reid (Kilmarnock AC); Janice Madsen, former British Marathon International Lynn Harding, and David, Betty Gilchrist's son.
Betty herself holds the record for most appearances by a woman in the Bahrain Marathon Relay, having run 22 stages. Teresa Wilson and Jackie Newton tie with 18.