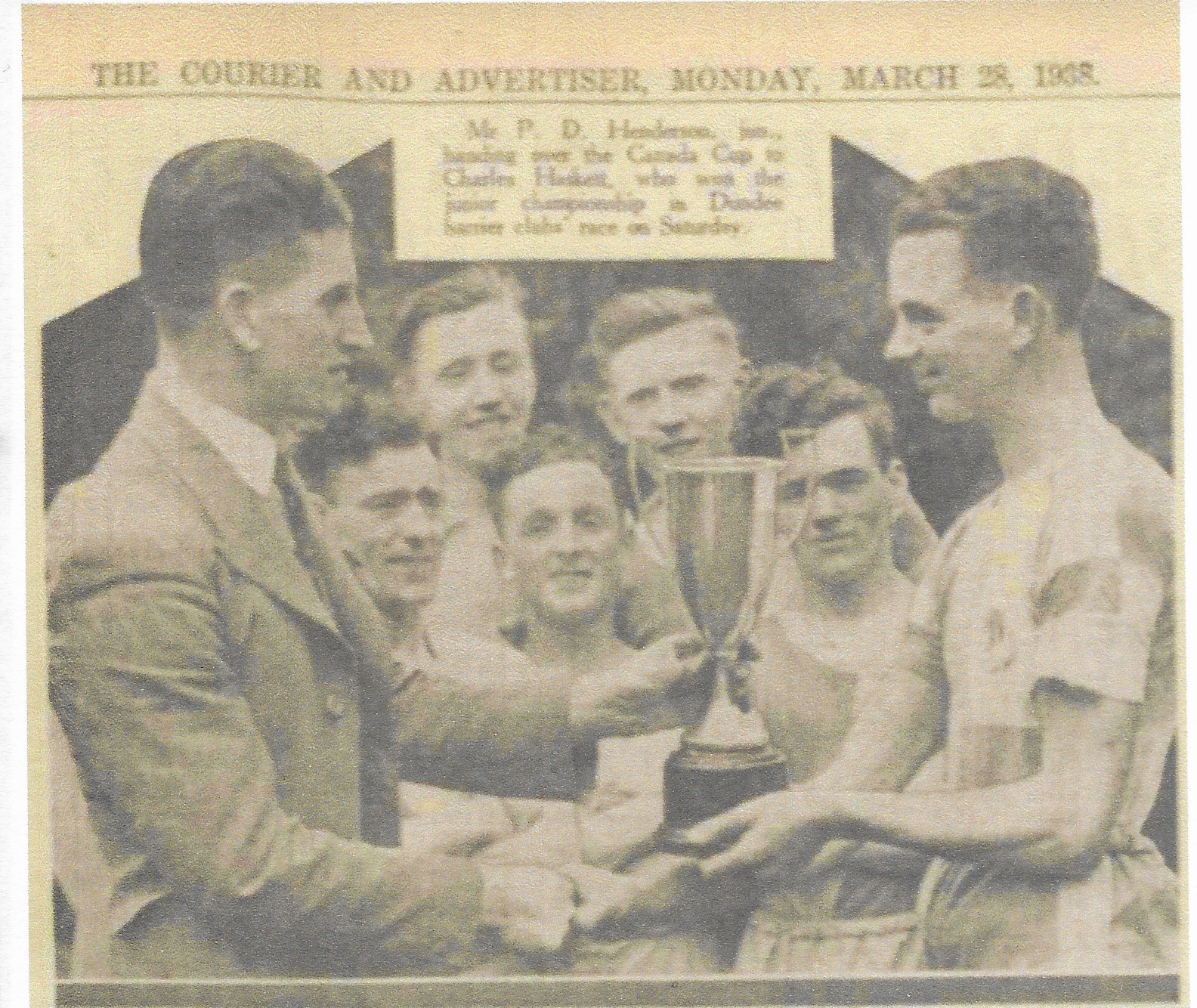 The Haskett name is well known in Scottish athletics circles. It is equally well known that the family hails from Dundee and that they have been stalwarts of the Dundee Hawkhill Harriers for almost a century. The family contribution to Scottish athletics locally and nationally has been considerable. It is perhaps only right that we look at this contribution and the people involved.
In the 1930's there were four brothers – George (the oldest), Charles, James and Ralph. George, Charles and James were all runners; all four were members of the Boys Brigade and all liked to take part in outdoor activities. George married Janet (Nettie) Fransen, another member of Hawkhill Harriers, and Charles married Christina Donnet who was also a member of the Hawks. Christina's brother Alex was a member of Dundee Thistle Harriers. George was also a loyal member of the Dundee Thistle Cycle Club and was in fact secretary for several years. They passed this love of the outdoors to their children.
Charles, always known as Chick, had five children – 3 daughters and 2 sons. Only the oldest of the daughters, Chris, took up running and she was a really outstanding athlete. Read her profile from the link below and you'll be in no doubt about that at all. Of the boys, Charles, always known as Charlie, was the younger son and better known in athletic circles but his older brother Scott was also a talented athlete who was also a good football player . He decided that that would be his sport. He played for the Harp and emigrated to Canada in the early 1970's. Chick's youngest brother Ralph did not do much running in Scotland and emigrated to California He has two sons, one of whom, Gordon (Gordy), runs and coaches out there.
The next generation was also involved in the sport and Charlie's son Mark has been ranked nationally at 800m, 1500m, One Mile and 3000m. Read about them all – each has his own part in the story of the remarkable family.
The Haskett Family in the 1930's The Haskett Family in the 1940's Janet Fransen . Alex M Donnet
Christine Haskett Price .Charlie Haskett Mark Haskett Gordy Haskett