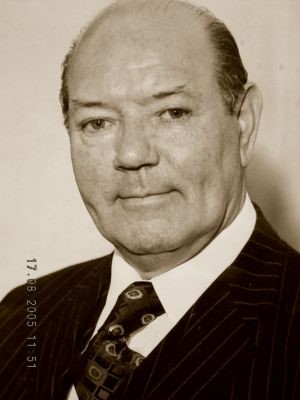 The Haskett family presence in the Dundee athletics circles in the 1930's started as four brothers but before long had spread to the Donnet family. Three members of the family were runners in the 30's and 40's – AM, E and C. Alexander Mitchell Donnet was a very good runner indeed and won many medals and trophies both individual and team with the Dundee Thistle club. His connection to the Hasketts was that his sister, Chrissie who was also a runner, had married Charles Haskett
In 1935-36 in his first run in the National he was first Thistle man home when he was 12th and the team was fifth. A year later, in 1936-37 he was eighth, second counter for the team, when they were second. In 1937-38 he was ninth and there was no club team that year. In 38-39 he was ninth again for the team that was fifth and was finally selected for the International fixture in Cardiff where he was 47th finisher for the Scottish team. A total of three top ten finished in the senior national, one gold team medal and an international vest is not a bad haul for four years! There were many other medal winning performances both individual and team in East District and open races for Alex Donnet. In the Edinburgh to Glasgow eight man relay, he ran in 1936, '37, '38 and '39. He ran the first stage for the winning team in 1937 and the first stage for the team that finished third in 1938, winning his stage and setting a record for it. He also ran the second (1936) and sixth (1939) stages.
He was a good Committee man at club , District and National level. He helped the club set up the Kingsway Relay and served on the East District Committee of the Cross-Country Union, became Vice-President of the national governing body in 1946-47 and President in 1947-48.
He was also a good Committee man in the Trade Union Movement. Born on 26th June 1916, he attended Harris Academy in Dundee. He joined the National Union of General and Municipal Workers in 1935 and, in 1959, was appointed as the union's full-time regional officer for Scotland, and from 1970 until 1976 was also the union's national chairman. Donnet became active in the Scottish Trades Union Congress (STUC), and was elected as its president for 1970/71. In 1972, he was for the first time elected to the General Council of the Trades Union Congress (TUC), serving for four years; he also served on the Commission on the Constitution, Scottish Economic Council, Forestry Commission, Price Commission and Scottish Transport Group. In 1978, Donnet retired from his trade union posts and received a life peerage which he accepted under the title of Baron Donnet of Balgay. He retired in 1982 and died three years later.