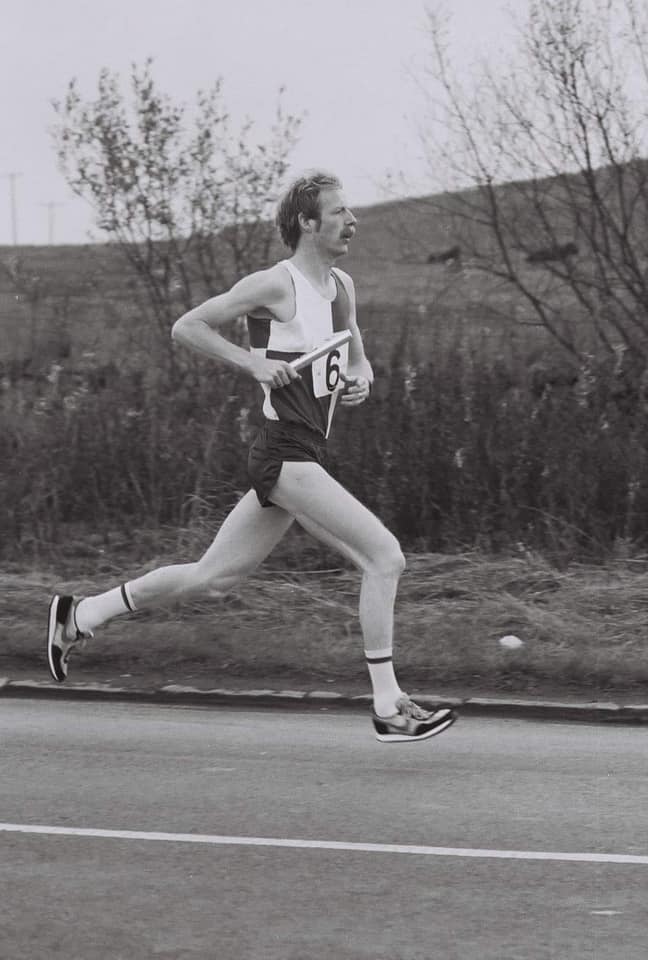 Charlie Haskett running the Edinburgh to Glasgow Relay, 1983
Charles HASKETT (born 8.09.57) Dundee Hawkhill, Bolton United.
Personal Bests: 3000m 8.24.0 (1985); 5000m 14.11.9 (1985); 10,000m 29.57.68 (1985); 3000m Steeplechase 9.34.9 (1982); Marathon 2.18.29 (1986).
Charlie Haskett was a Scottish International athlete on three surfaces: cross-country, track and road.
As a Junior, he ran the World Cross twice (1975 Rabat and 1976 Chepstow). He remembers that, in Rabat, he and his older sister Christine both raced for Scotland, as did Ian Stewart and his sister Mary. Two sets of siblings! That was the year when Ian Stewart became Senior World Cross-Country champion.
As a Senior, Charlie ran the World Cross four times between 1984 and Scotland's last appearance in 1987. The venues were: East Rutherford, USA; Lisbon; Colombier (Switzerland); and Warsaw. Carlos Lopes of Portugal won the first two years; and John Ngugi of Kenya the next two. Both were superbly impressive runners, Charlie remembers. Charlie himself was a team counter in the Nine-Man Scotland collective twice: 6th in Lisbon; and a very good third in Colombier. He ran for Scotland in another six XC events, including: Gateshead (1985) when he was fourth and final scorer for the first team that finished second to England A, but beat Wales, Belgium, Northern Ireland and several other combos; London (1985) when he was second Scot to Nat Muir but in front of Terry Mitchell, Allister Hutton and the B team; and Fermoy (Ireland 1986) when he finished 6th and second Scot behind Adrian Callan but ahead of Eddie Stewart.
On the track, Charlie ran 10,000m for Scotland at a 1984 match in Hungary. He finished second, only ten seconds behind Terry Mitchell but well ahead of the Hungarians. Just as well: although Scotland won the men's team contest, the women lost – and Scotland beat Hungary overall with a combined score only two points better than the hosts!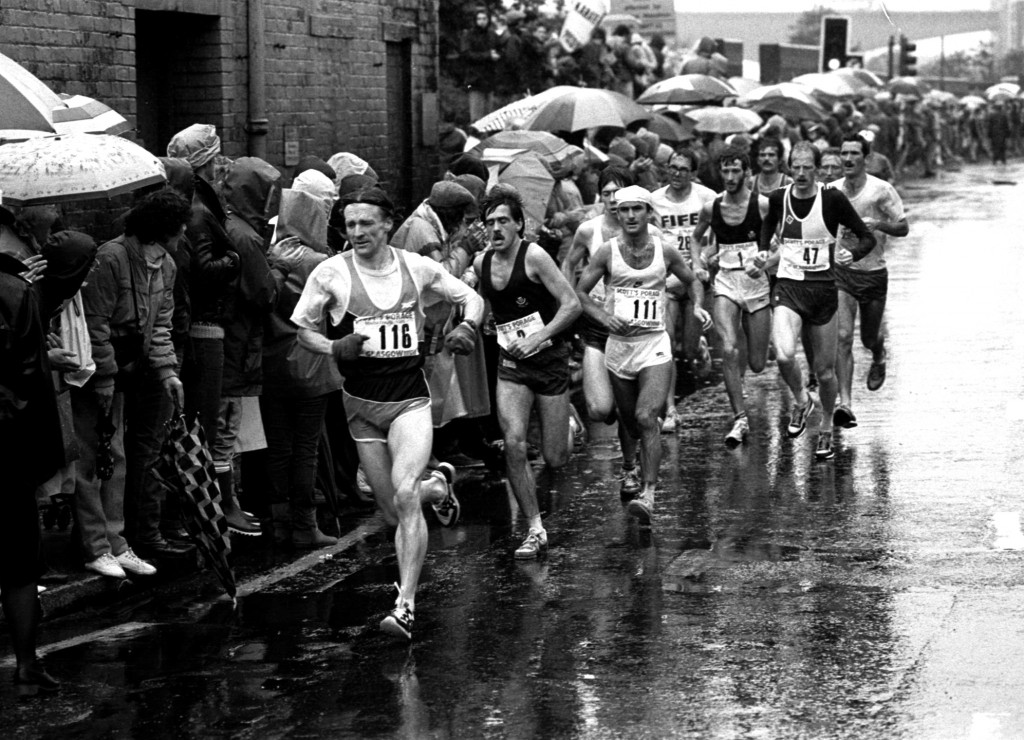 Charlie (47) running in the 1985 Glasgow Marathon – in good company with Murray McNaught, Jim Brown, Andy Daly, Donald Macgregor and Evan Cameron
He ran for Scotland three times on the road: Aberdeen International Marathon 1984, when he was fourth but second Scot, 33 seconds behind George Reynolds. The team finished second to England. In the Stafford Half Marathon 1987, Charlie was only two seconds behind the winner, Steve Brace (Wales). The Dundonian's time was an excellent 65.11 – and he beat his team-mates Graham Crawford and Tommy Murray. Scotland won the team contest against Wales. In the 1988 Livingston Half Marathon, Charlie was fourth, behind Peter Fleming but in front of Hammy Cox. Scotland finished second to England but defeated Northern Ireland and Wales.
10 Senior Scotland vests on the country (plus two as a Junior); one on the track; and three on the road. Charlie Haskett and his illustrious older sister Christine have undoubtedly raced middle or long distance for Scotland considerably more often than any other siblings in history!
Charlie Haskett (aged 12) was a spectator at the 1970 Commonwealth Games in Edinburgh (in which his sister Christine raced). He was inspired by the feats of Lachie Stewart and other Scottish stars and, before long, was running well himself.
Charlie won the East District Senior Boys CC in both 1972 and 1973, followed by East District Youths Cross Country in 1974 and 1975.
Then in the 1975 National Cross Country, he won a silver medal in the Under-17 age-group behind the peerless Nat Muir. In 1976 he finished eighth junior. Charlie represented Scotland in the IAAF World Junior CC in both years. He also ran for Scottish Schools in the 1974 International in Ireland; and raced 3000m in a Track International.
Charlie Haskett qualified as a Civil Engineer at Abertay University. Between 1985 and 1987 he lived in Bolton and worked in Manchester. Due to intense competition in that area, he ran personal bests for 5000m, 10,000m and 10k, as well as marathon. After that he lived with his young family for several years in Aberdeen – and in fact became Aberdeen AAC President, while always preserving his allegiance to Dundee Hawkhill Harriers.
His consistency in the Scottish Senior National was outstanding: seven successive top ten performances between 1984 and 1990. His best placing was sixth in 1985 and 1986.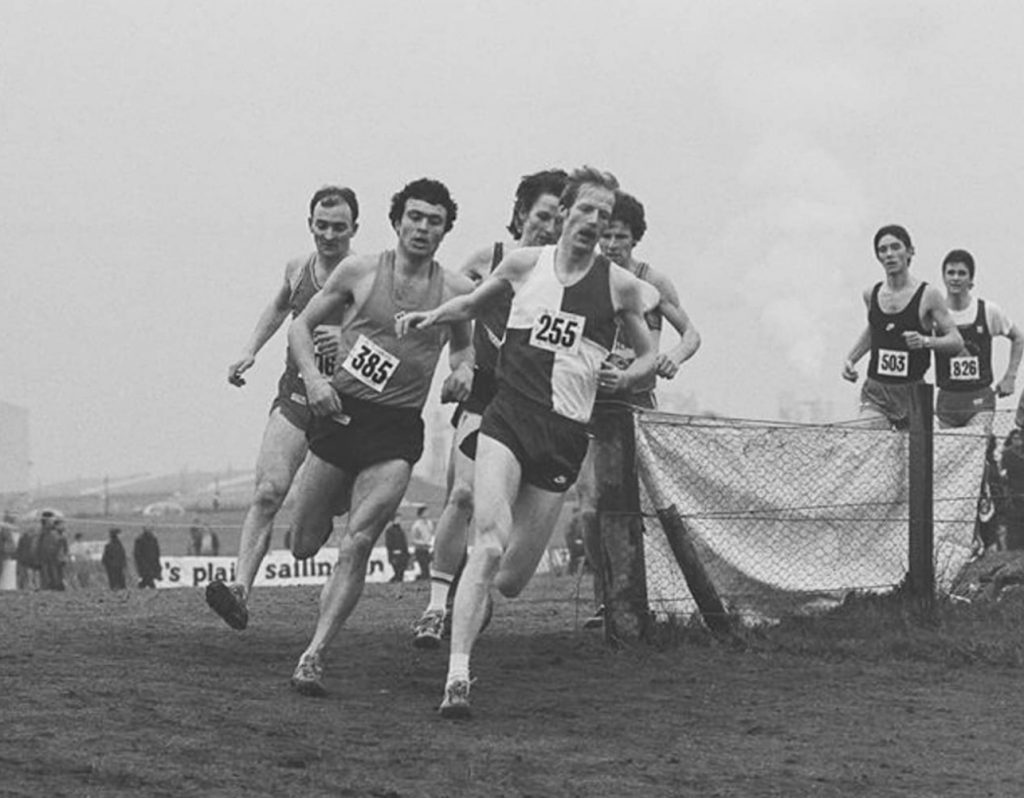 Charlie in the 1984 Senior Scottish National Cross-Country Championships, leading (left to right) Alex Gilmour, Callum Henderson, Peter Fleming, Eddie Stewart, Alan Wilson and Graham Williamson
On both Country and Road, Charlie Haskett contributed a great deal to Dundee Hawkhill Harriers teams.
In the Senior National XC, Dundee won team bronze in 1990, silver in 1991 and bronze in 1993. Then, in the Scottish XC Relay, Charlie won a bronze medal in 1989 and silver in 2000.
Between 1981 and 2001, he ran the E to G 18 times, including 1989 team gold and 1990 silver.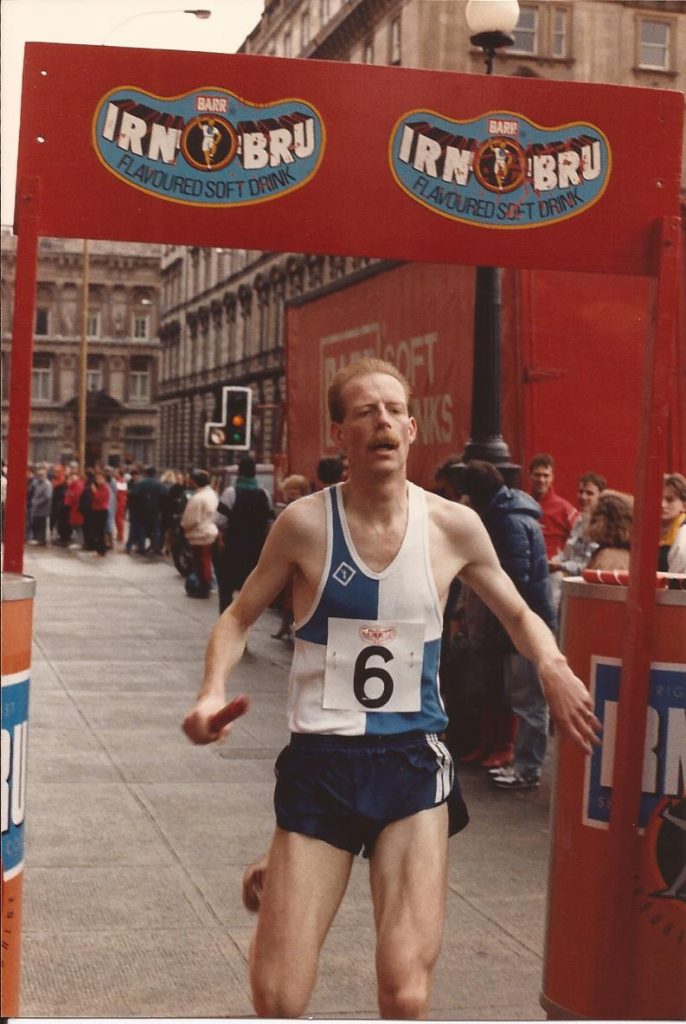 Charlie finishing the Edinburgh to Glasgow Relay in 1988
The Six Stage Road Relay yielded 1989 silver, 1990 gold, 1991 silver and 1994 gold. In 1994 DHH were invited to represent Scotland in the European Clubs Road Races in Porto. Unfortunately, the organisers did not make clear what distance the runners were expected to race – they were assuming 10k or less. It turned out to be a Half Marathon! This was bad news for anyone whose best event was 1500m. Not only that, but the course featured laps of the river-side, up and down steep hills. Nevertheless, Charlie finished first Scot and broke 70 minutes but others had to drop out. Never mind, post-race refreshments helped to cheer everyone up.
On the track, Charlie won the East District 5000m title in 1982 and 1983.
He won silver medals in the Scottish Marathon championship in Dundee 1984 (only 25 seconds behind Don Macgregor); and, on a very hot day in Dundee 1987 – Terry Mitchell won.
Charlie's PB in London 1986 (2.18.29) earned him a place in the Scottish team for the Glasgow Marathon – but he had to prefer the British selectors' invitation to compete (with Terry Mitchell) and represent Great Britain in an International Marathon that started in Buffalo, USA and finished near Niagara Falls, Canada. In heatwave conditions (95% humidity), Charlie ran sensibly and, despite being hampered by a cold, finished in a very respectable 7th place, with Terry 4th.
As a veteran, Charlie continued to feature prominently in Dundee Hawkhill Harriers teams. In the Scottish Masters Cross-Country, he won individual bronze (M45) in 2006. Dundee Hawkhill Masters finished third team in 1999; 2000; 2002 (when Charlie was 8th overall); and 2006.
After 2007, apart from his Civil Engineer occupation, Charlie was doing a lot of officiating for Aberdeen AAC, so that he kept on training but only took part in a few local races like the Baker Hughes 10k and the Proms 3k series. Then he and his wife Fiona moved to Edinburgh in 2011, since their son Mark and daughter Lia had settled there. He started training a bit harder in that hilly city and returned to Masters racing in his early 60s.
In both 2018 and 2020 he finished third M60 in the Scottish Masters Cross-Country. The latter was a particularly good run behind the peerless Colin Donnelly and past champion Eddie Stewart, but in front of World Veteran 10k champion Alastair Walker (having overtaken him with 800m to go).
Charlie and Fiona enjoy a yearly holiday which includes a foreign half marathon. For example, they have been to Prague, Toronto, Vancouver and Eindhoven. Recently, Charlie ran 86.14, which is certainly a good time for someone in his age category – and now his target is to break 86 minutes!
On the first Friday of every month (unless Lockdown is in force) Charlie Haskett enjoys a beer or two with former London Marathon victor Allister Hutton and Allister's Edinburgh Southern Harriers team manager during that club's glory years, Ian Mackenzie. The venue is either Edinburgh's Café Royal or Milne's Bar (The Poets' Pub). Memories of races past are sure to feature in the conversation!
Looking back at his peak racing years, Charlie Haskett states that: his favourite event was cross-country; he was someone who trained hard but raced harder; and that he always tried to do his best for Dundee Hawkhill Harriers teams and Scotland. Well, there is no doubt that he was – and continues to be – a true stalwart, who has enjoyed a long and successful running career.