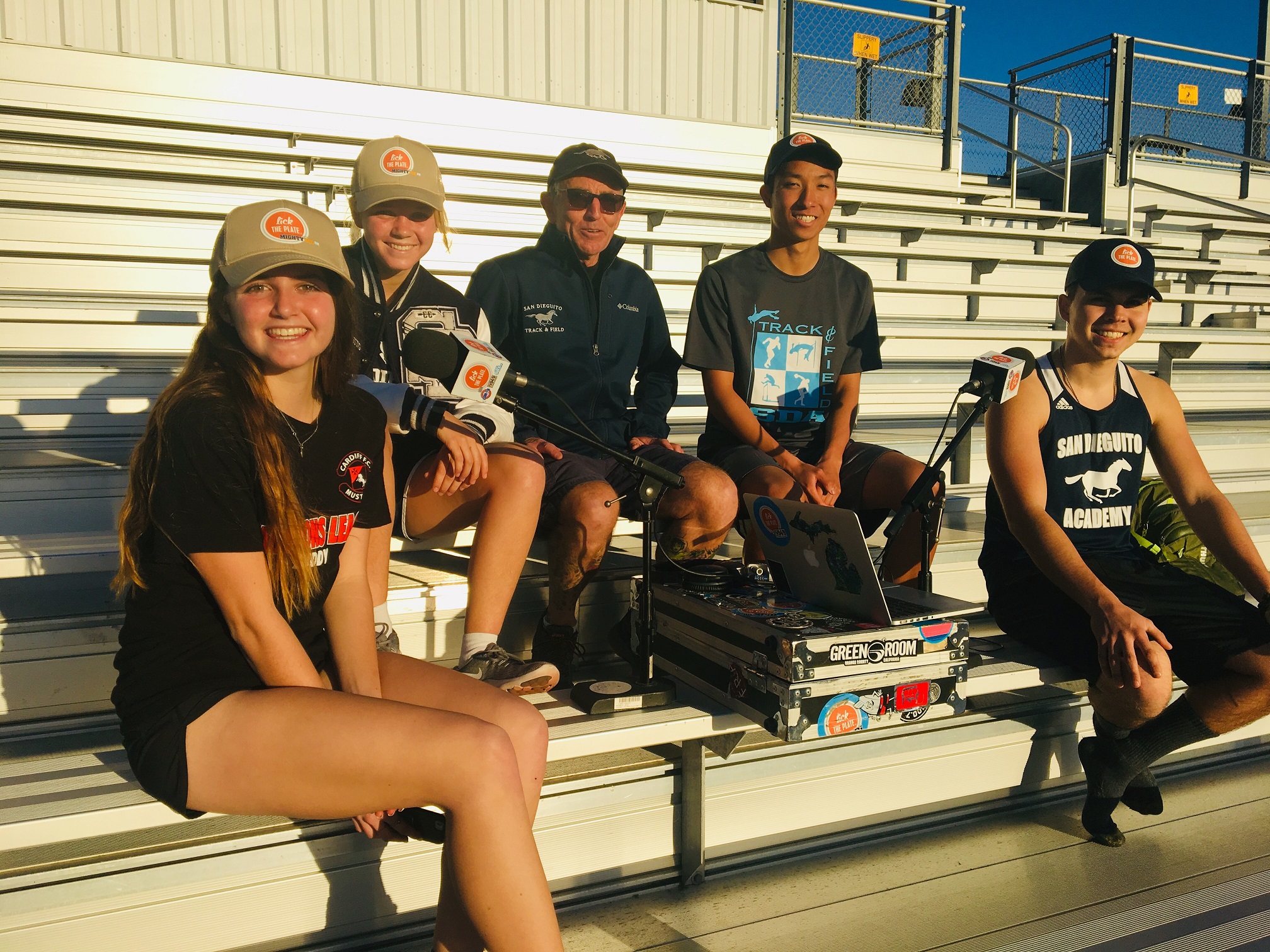 Gordy Haskett, centre, with some of his runners
Gordon 'Gordy' Haskett is the son of Ralph Haskett, the youngest of the four Haskett brothers who emigrated to America. Gordon was a talented runner himself before settling in to being a coach in San Diego. The first race result I saw with his name attached was the La Jolla Half Marathon in 1991 wwhich began at the Del Mar Fairgrounds and ended at La Jolla Cove. Won by James Sheremata in 1:11.43. John Butler of Long Beach finished second with a time of 1:12:14, and Encinitas' Gordy Haskett was third, coming in at 1:13:13. Not bad on a hilly trail in Californian heat. We now know that he was a runner in the Haskett tradition. There is more about him as a coach at the following extract from an online article at
https://www.encinitasadvocate.com/sdea-encinitas-sda-cross-country-haskett-2016sep08-story.html
The Mustangs open the 2016 season on Sept. 10 with the Bronco Roundup, hosted by Rancho Bernardo High at Kit Carson Park in Escondido. Haskett says this event will get the athletes' feet wet, while it's the Sept. 17 Mt. Carmel Invitational at Morley Field — the same course the Mustangs will run the section championships on in November — where he'll really get a gauge on his teams.
The much larger SDA boys squad (there are 60 boys running as opposed to just 25 girls) has talent at the top with senior Ross Urbina and sophomore twins Zack and Conner Edwards. And with a lot of youth making up the rest of the team — Haskett says he has 23 freshman and 12 more sophomores — almost any one of the youngsters could step up as a surprise contributor.
"We have this wave of freshman and sophomores, some of them haven't even raced cross country before, so we'll have to see," Haskett said.
On the girls side, junior Sarah Lavake leads the pack with a trio of seniors in Veronica Ness, Kyra Benowitz and Vicky Van der Wagt also in the mix. However, the Mustangs will be without the top two runners from the 2015 group that posted its best finish ever.
"If the girls can run as a very tight pack, they have a chance to sneak in there," Haskett said.
Haskett knows of what he speaks as he could have run in college following a stellar career at San Dieguito, but chose to attend a culinary academy instead. Through culinary school, working as a pastry chef and even living for a year in England, Haskett, who was born and raised in Encinitas, never stopped running.
While in the process of opening a wholesale bakery in Carlsbad, he also ran for Grossmont College and fulfilled his dream of joining the prestigious San Diego Toads running club. Haskett has run all over the world and raced in more than a dozen marathons."
Mark Haskett, Charlie's son, reported as follow about Gordy: "I managed to get in touch with Gordy; turns out he was quite an impressive runner!
His PBs were:
Mile- 4:17
5k- 14:55
10k- 30:47
1/2 marathon- 1:09:23
Marathon- 2:23:57
IronMan World Championships Hawaii- 10:10:58
He said that he has never run the London Marathon, but confirmed he has been a high school athletics coach in San Diego for 18 years. Also said he has been running for 45 years in total now and is proud to be part of the Haskett Clan!"