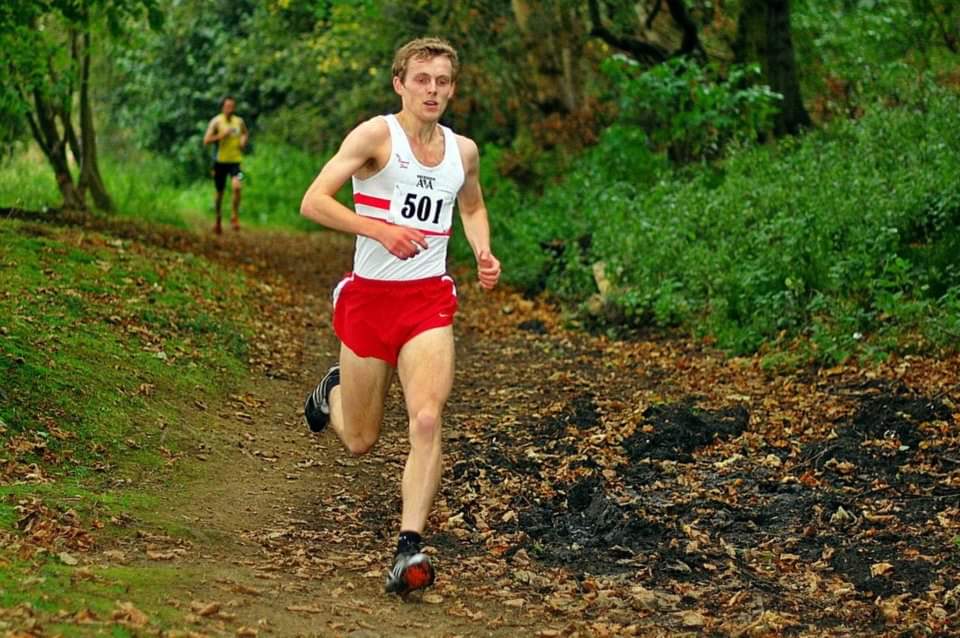 Mark, the son of Charlie Haskett, was a talented, successful young middle-distance athlete, who now, in his early thirties, is showing promise that he can improve personal bests at longer distances. There is no doubt that, over 800m and 1500m, he can claim to be the fastest Haskett yet.
Mark was born in Dundee on the 14th of September 1988; and reckons that he took up running at the age of nine! Certainly, he joined Aberdeen AAC and was coached by Joyce and Ken Hogg for several years. He raced for AAAC between 2001 and 2016, although from 2006 and 2010, he also represented Edinburgh University (and was coached by Dave Campbell). From 2013 to 2017 he was a member of Thames Valley, before joining Corstorphine in 2017. He has continued to run for the Edinburgh club since then.
Despite strong competition from many precociously-gifted teenage racers, Mark ran for Scottish Schools in the Home Countries Schools International Cross-County; and – at under 13, under 15 and under 17 – competed for Scotland in three London Mini-Marathons. At 800m, Mark won Scottish Schools under 17 bronze in 2005 and under 20 silver in 2006; as well as under 15 silver in the 2003 Scottish National championships.
At 1500m, he collected Scottish Schools under 15 bronze (2003), under 17 bronze (2005); and under 20 silver (2006). In addition, he was victorious in the Scottish Junior 3000m (2006). Another fine achievement was silver in the 2006 Scottish National under 17 Cross-Country championships. Coincidentally, his Dad Charlie also won silver in the same age group back in 1975!
As an under 20, Mark finished a good 9th in the Scottish Cross-Country championships. At under 23, he was 7th in the Scottish Universities XC, having previously represented SU at the 2007 Celtic Universities event. In 2010, he won a bronze medal in the Scottish under 23 1500m; and was 8th in the Scottish Senior 4k Cross-Country. On the road, Mark was first under 23 in the 2009 City of Aberdeen Baker Hughes 10k (and twice finished third overall in that prestigious event).
Mark remembers taking part three times (2007, 20010, 2011) in the televised January BUPA Cross-Country races in Holyrood Park, Edinburgh. Twice, it was against not only Scottish District opponents but also World Class International Athletes like Eliud Kipchoge and Kenenisa Bekele. They may have looked small, skinny and unimpressive, but Mark was amazed at their speed!
Having (as an under-23) been a Scottish Senior 1500m finalist twice, when he made his debut as a genuine Senior Athlete, Mark improved to 5th place in 2011. This was a particularly successful year, with fourth in the Scottish Indoor 3000m and a very respectable 21st in the Senior National XC.
In 2013, Mark produced one of his finest performances when he won bronze in the Scottish National Indoor 3000m, recording a personal best of 8.29.68. (His 800m PB – 1.53.85 – was set in August 2010 at Linwood; and his 1500m PB – an impressive 3.53.55 – in June 2011 at Watford in the BMC Grand Prix.)
After many years of hard, speed-based track training, Mark Haskett found that he became physically unable to continue that regime. A nagging hip flexor injury made increasing training mileage difficult, which meant less progress than he had hoped for at 5000m, 10k, 10 miles and half marathon.
However, now that he is married to his wife Alex and settled in Edinburgh, a sensible weekly mileage has led to good basic fitness. Since he is self-coached, every session is run on his own, because training with others might lead to strong competitive instinct taking over – and more injuries occurring.
Just before Lockdown, on March 7th 2020, Mark was encouraged by recording a new 10k PB (32.34) at the Jack Crawford Springfield Cup race. He is optimistic that further progress will be made in future – and he may even make a good marathon debut.
He looks back with justified pride at several of his youthful achievements and is content that he fulfilled his potential at middle-distance track running. His father Charlie (who is still running well in his early 60s) has always been a great inspiration to Mark; and it will be interesting to find out how Mark's career, at longer distances, develops in the near future.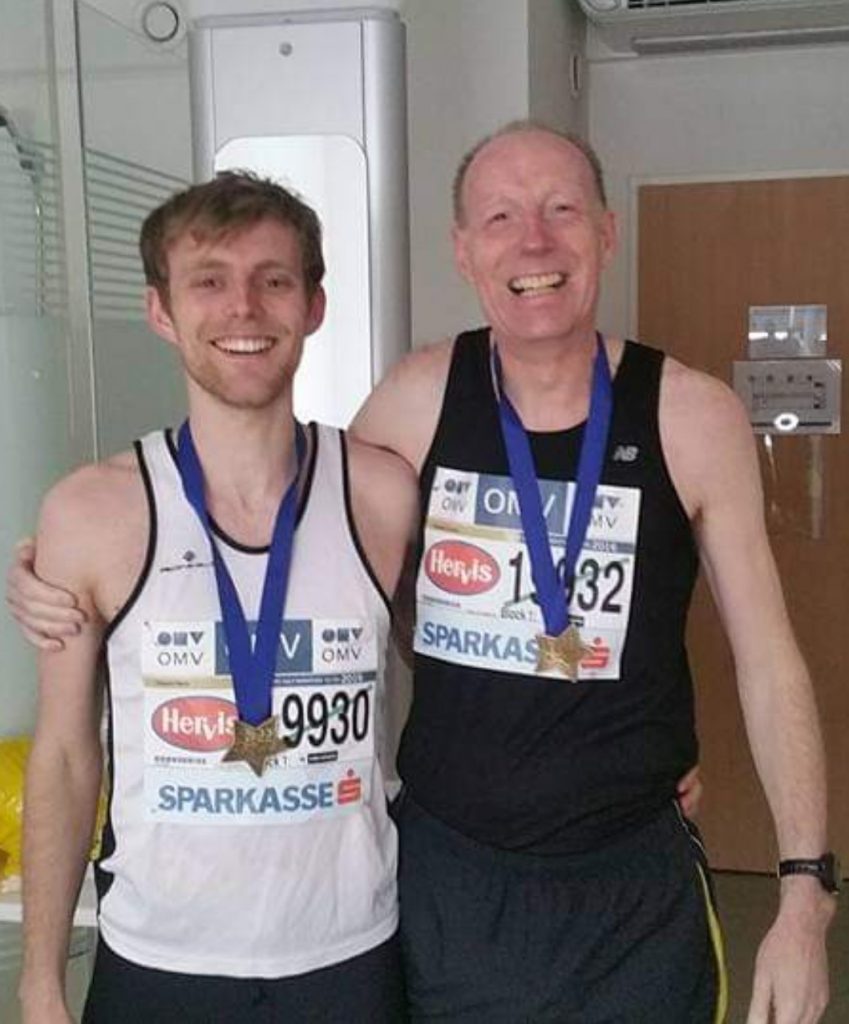 Mark and Charlie Haskett after they both ran the 2016 Vienna Half Marathon