This page started as a birthday card for the club on their 90th anniversary on 4th April 2020 and has been slightly altered and added to as an addition to the club page on the website.
NEW GLASGOW CLUB FORMED
At a meeting in the Unionist Rooms, Partick, a new club was formed under the title Victoria Park AAC. A constitution and rules were adopted, and the following office-bearers appointed:- Hon President Jas K Crawford; President: Peter Morrison; Vice-president; R Johnstone; Treasurer: Jas Totten; Secretary: D McKenzie; Captain: DK Thomson; Vice-captain: KA Smith; Application is to be made to the SAAA for membership.
Glasgow Herald, 7th April, 1930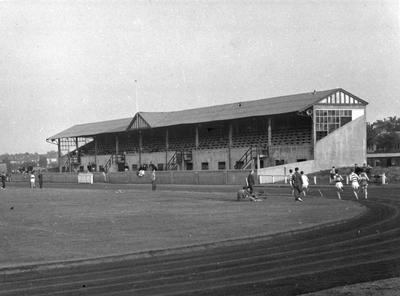 Scotstoun as most of us remember it. It was a very attractive venue altogether with a good track, well maintained and, almost as important, the outer perimeter that was used for training sessions, for warm ups and, in the very beginning, as part of the annual cross-country race trail.

SS Beattie: The club's first SAAA Champion and record holder
Sam Beattie was Victoria Park's most successful track athlete of the 1930's winning his first track title, the 100 yards, in 1939. He also won the club's first field events titles too with gold in the long jump in 1936, '37 and '38, and also in the Triple Jump in 1937 and '38. There were also silvers in the 100 yards, Broad Jump and Triple Jump. Read about him here
This photograph, taken in April 1950 at Mountblow Recreation Ground in Dalmuir, was sent by Craig Rayment whose father Albert Charles Rayment is on the right in the front row. Label from the back is below.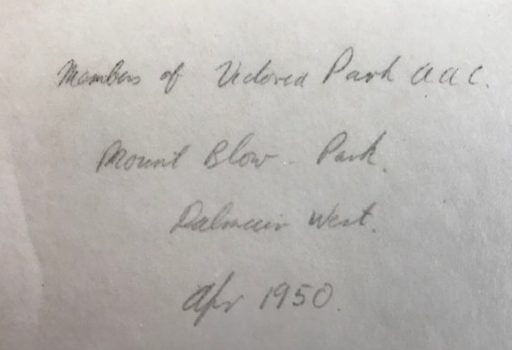 He was not the last sprinter to be produced by the club: the squad from the 1950's was quite outstanding and was as good as, if not better than any similar squad in the land at any time. Some pictures below.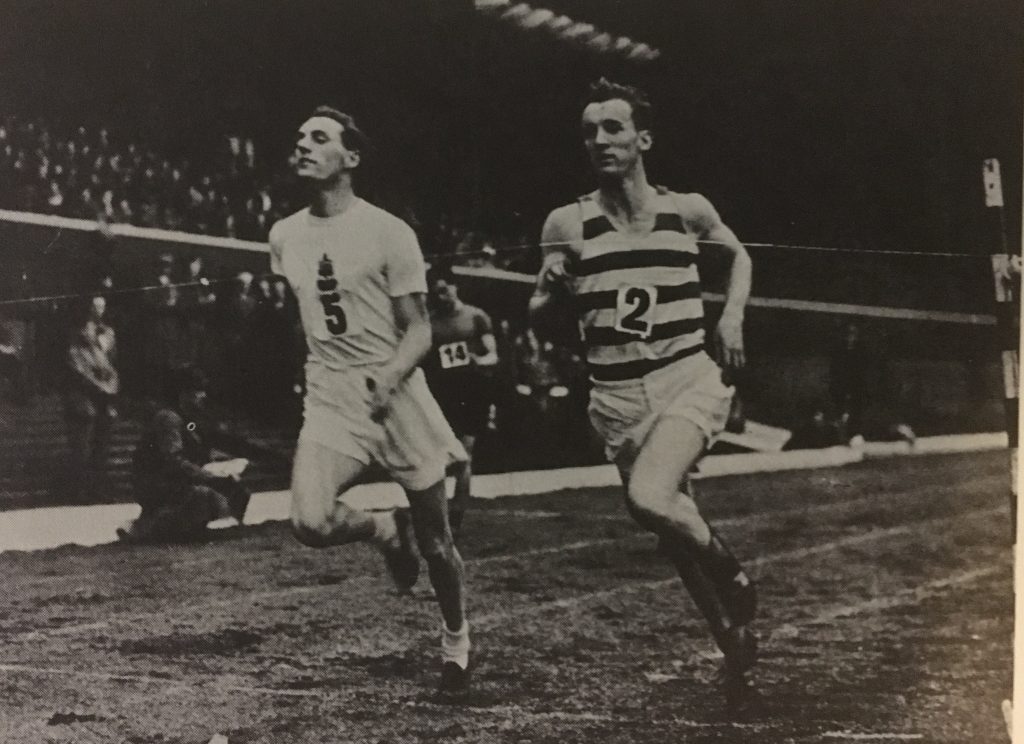 Willie Jack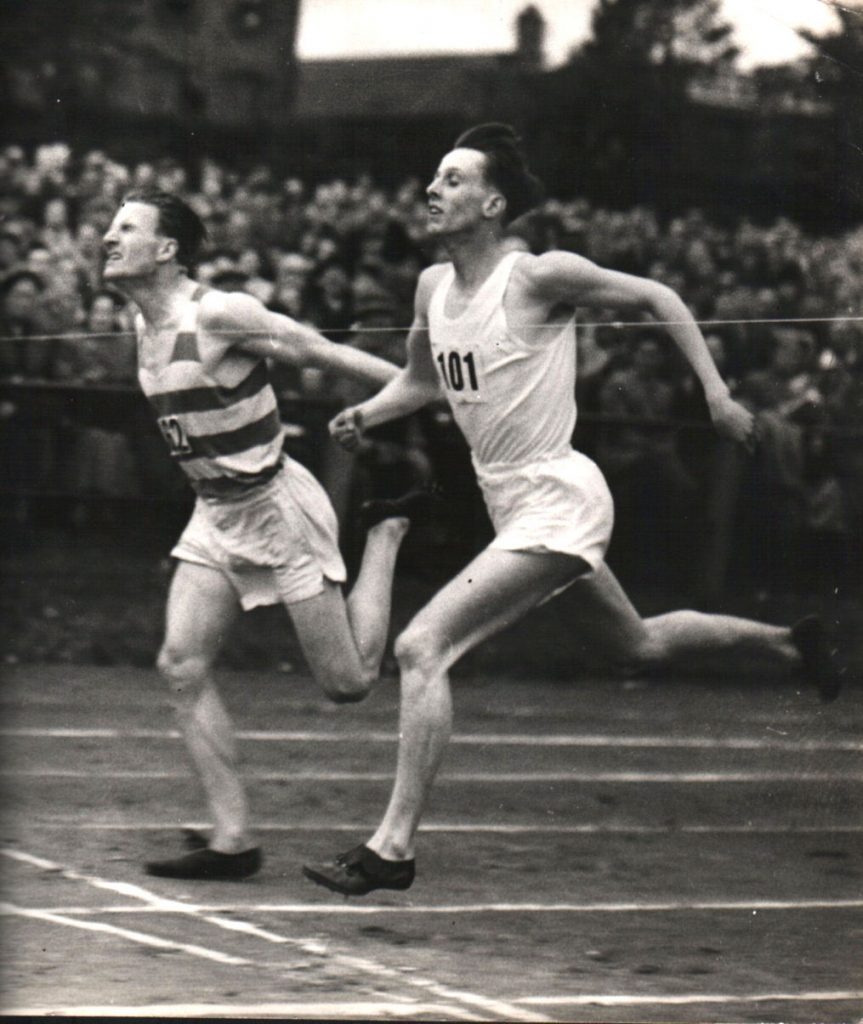 Bobby Quinn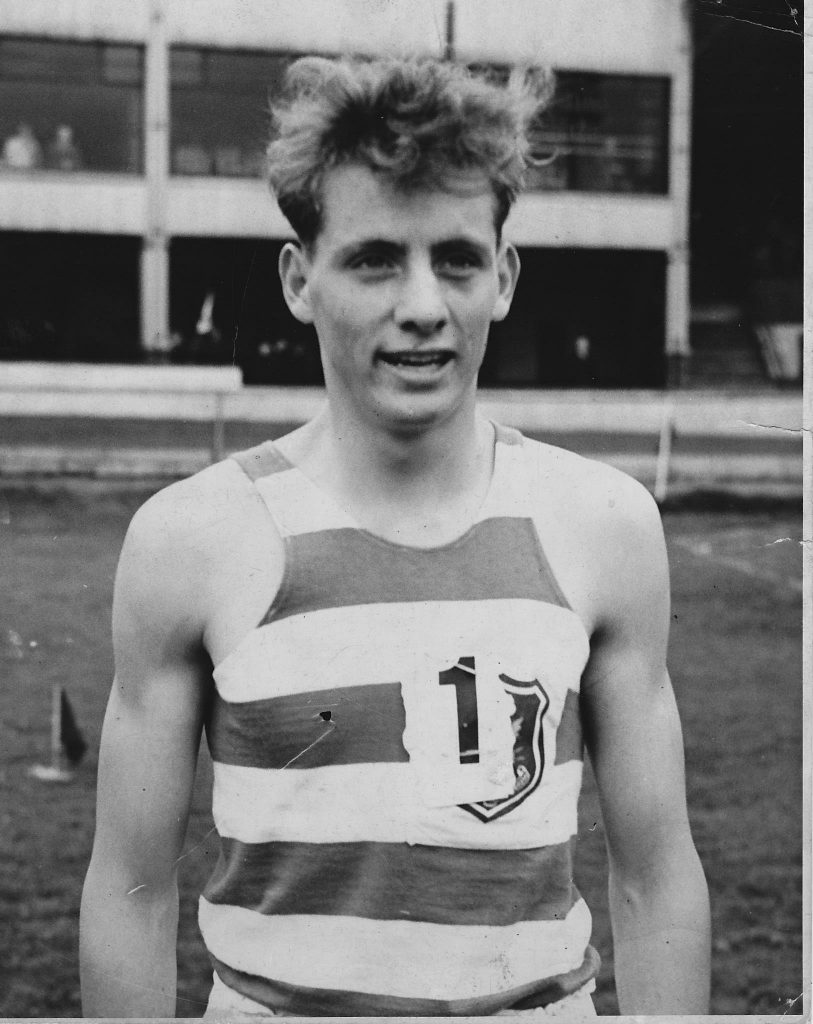 Mike Hildrey
You can read all about these sprinters and several others from Willie McFarlane's groups that totally dominated Scottish sprinting in the 1950's and early 60's at this link . The championships and trophies won by this group has probably never been equalled by any club in s similar time span. If you are interested in Victoria Park, or just Scottish sprinting, you really should look at this.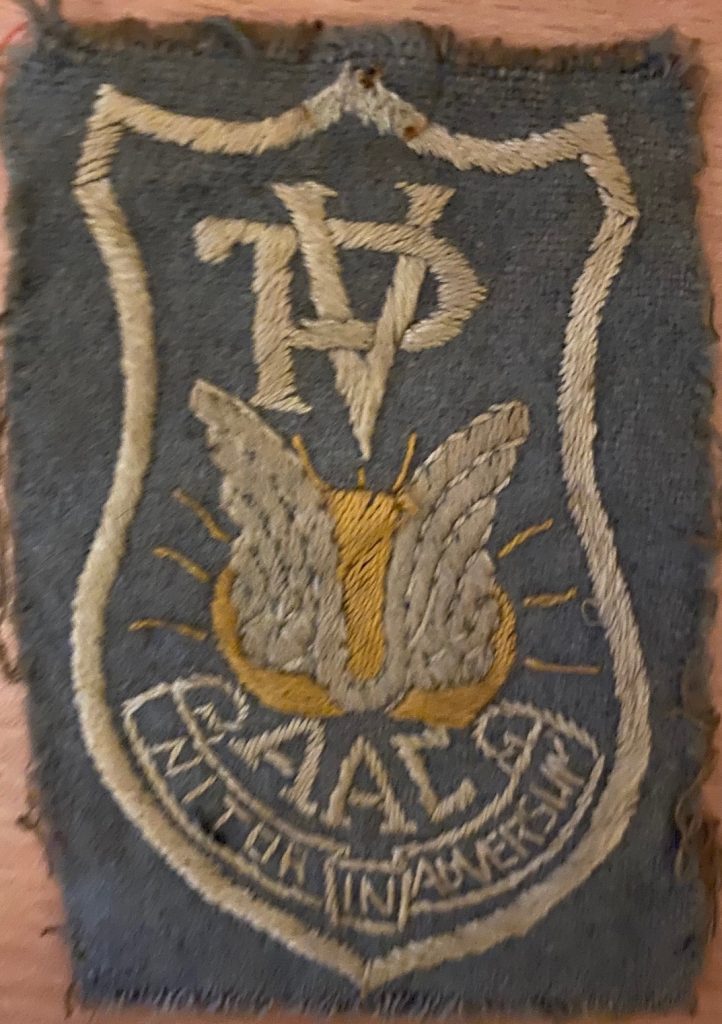 The 50's were not just a period when the club dominated the sprints – their middle distance and particularly long distance runners were quite outstanding. Their top man joined the club and ran with some success in the 1930's but really came good after the war – I'm talking about Andy Forbes, pictured below.
An inspiration to many all over Scotland he went on to be a very good runner as a veteran: read about his wonderful career at this link .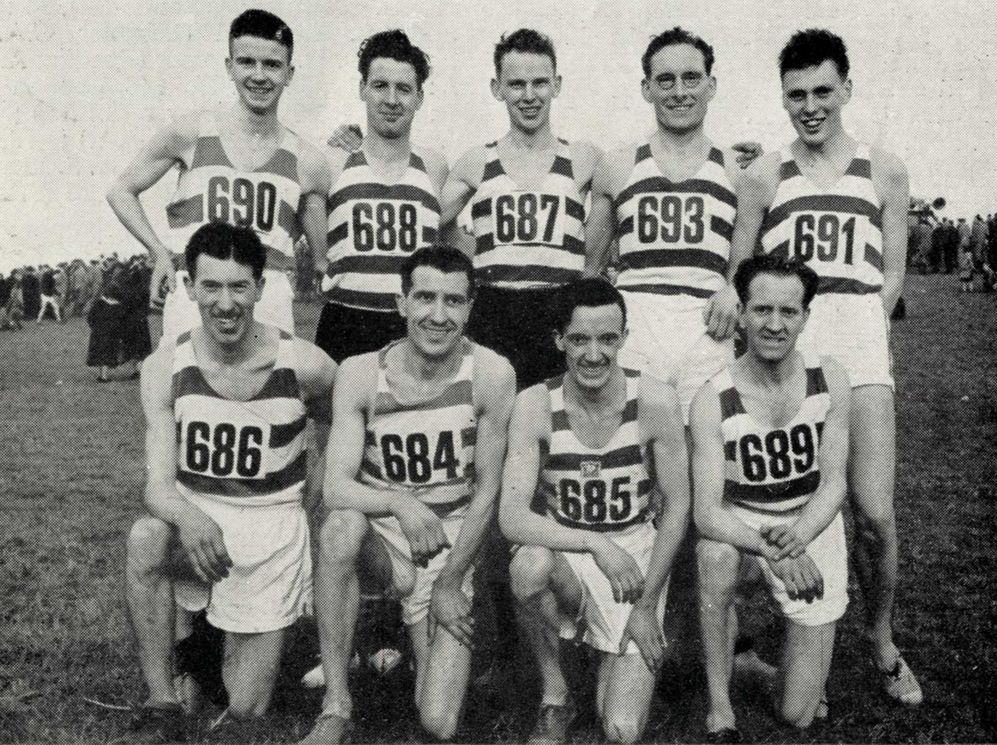 Victoria Park became the first club outside England to win the team title after a close race the Scottish team came out on top with some good packing. Silver medals went to Bolton United Harriers and bronze to Manchester A. and C.C. The names above are all Victoria Park legends and some are national legends – Names like Ian Binnie, John McLaren, Andy Forbes, Alex Breckenridge are all known outside Scotland. For individual profiles, click on the name of your chosen athlete.
The sprinters won many a medley and 4 x 440 yards title because of the quality of the club's top middle distance runners.
Hugh Barrow leading the great Gaston Roelants
The top middle distance runner in the club in the 60's was the talented Hugh Barrow – the only Scottish miler ever to hold a world record. Some of Hugh's honours:
* Scotland and SAAA teams in many forms from 1962 to 1971
* Rest of Britain v England Indoors 1963 * Rest of Britain v Olympic Team 1964
* GB 1967 World Mile Record Holder at 16 – the only Scot ever to hold a world mile record.
His complete profile can be read here . Pictured below with the VPAAC record breaking medley relay team.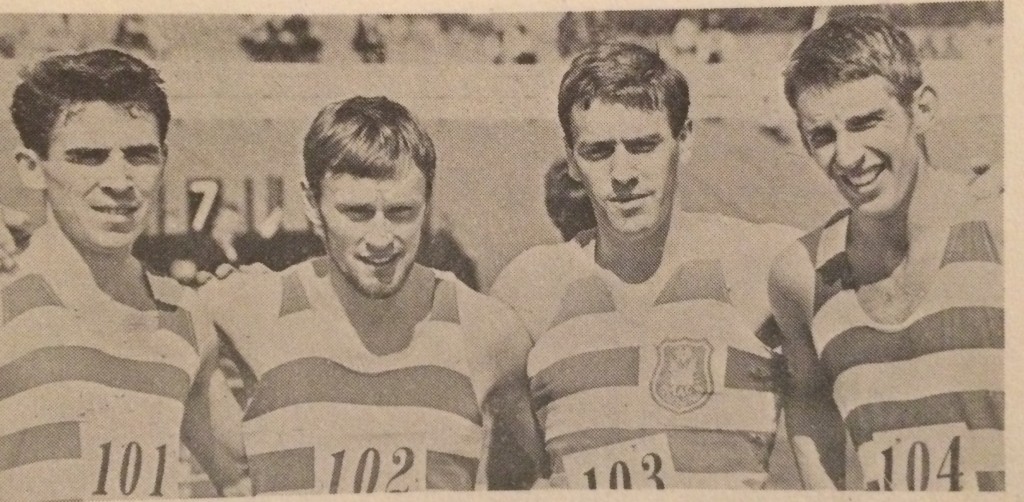 In case you think that the club distance running tradition had ended with the 1950's, their road runners in the 1950's and 60's, you had better think again. We'll finish this quick look at the club's record with two superb distance and marathon runners.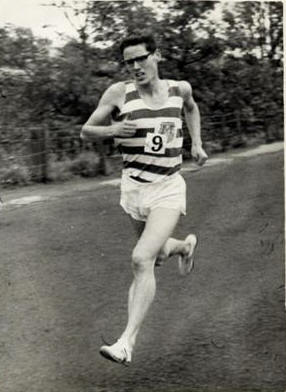 Pat Maclagan was a quiet but concentrated and determined athlete who, because of his unassuming personality never quite received the attention he deserved. It probably didn't worry him. His record as an athlete was superb and his profile can be found at this link. He won his first ever marathon (at Shettleston) and went on to win the Scottish title.
One of the best races on the calendar was the McAndrew Relay run every year on the first Saturday in October. With some effort, the original trail for the race is seen on this photograph.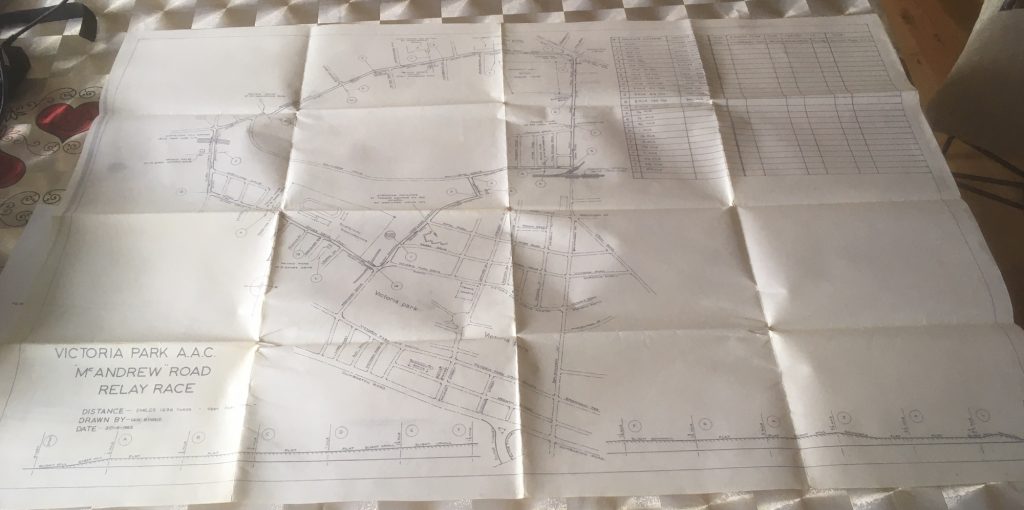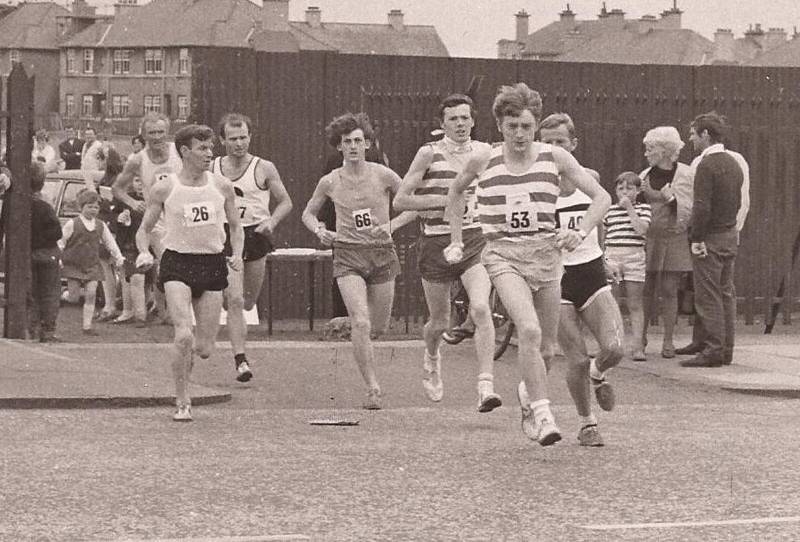 Alastair Johnston (53) leading the field at the start of the 14 mile road race at Babcock's Sports
Alastair Johnston was another of the same vintage who was a top class athlete and popular with other runners. Alastair was a top class performer on all surfaces and a sub 2:20 marathon man whose career was effectively ruined by a tragic accident at Meadowbank. You can read about him by clicking on his name above.
Clubs do not live by competitors alone – they need administrators and officials. One of the best of these came to Victoria Park from Edinburgh and has been a pillar of other athletics groups such as the Scottish Athletics League for decades as well as of the club itself. I speak of Hugh Stevenson – Hugo – and his profile can be found by clicking on this link.
Finally, club president Gordon Innes combined the old and the new showing club HQ (Scotstoun) as it is and as it was: an excellent idea, beautifully executed.
And finally a quest for information: can anyone name these three runners doing their best for the club?