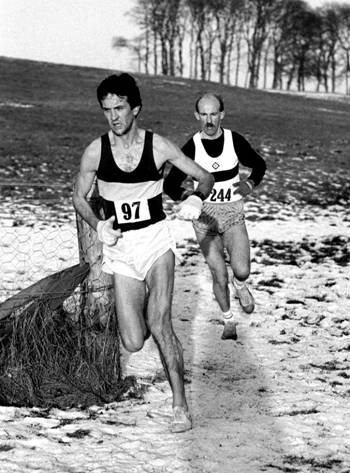 Alistair Walker (244)
Alastair Walker Teviotdale Harriers
Personal Bests: 5000m: 14.31.51 1990; 10000m: 30.03.04 1990; Marathon: 2.22.01 1987
Alastair was a good all-round endurance runner who was part of the rock on which the club's many successes in the 70's and 80's were founded. Starting his career with the club in the late 1960's, he had several outstanding runs including the fastest time on his stage of the Edinburgh to Glasgow in 1986, and perhaps the greatest team triumph took place on 28th October 1989 when Teviotdale Harriers won the Scottish Cross-Country Relays at Inverness. Keith Logan, Rob Hall, Alastair Walker and Dave Walker won the gold medals.
Alastair himself, was ranked third in Scotland over 10000m in 1990 and went on to have a very good career as a veteran athlete. In 2017, in Derry, finished an excellent second M60 in the British and Irish Five Nations Masters International XC.
David Walker Ayr Seaforth, Shettleston Harriers
Personal Bests: 3000m S/C: 10.01.8 1968
James Walker Edinburgh University, Bellahouston Harriers
Personal Bests: 3000m S/C: 9.25.6 1973
Mark Walker Central Region
Personal Bests: 3000m S/C: 9.49.0 1981
R Clark Wallace Shettleston Harriers
Personal Bests: 3000m S/C: 9.55.8 1960; Marathon: 2.30.46 1962
3rd place in Scottish Marathon Championships in 1963
Clark Wallace was an easily recognisable, good natured, hard running competitor at every distance up to the marathon and a key member of many club teams for a long period. Off the track he was a tireless worker for the club too. He had one international vest – in 1953 when he was thirty third finisher and a counting runner for the Scottish team. He joined the club after the War at the same time as Willie Laing and both were to play big parts in the development of the post-war club. Clark was a big heavy built man, not at all your typical distance runner. His record in the National was Sixteen Races; Seven Gold, One Silver, Four Bronze
He was equally at home on the road and he competed in nineteen Edinburgh to Glasgow Relays. He ran in both 1949 races on the first stage and both times set fastest time for the stage, in 1950 he was fastest man on the fourth stage and in 1955 was again fastest on the fourth stage. In total he amassed six gold team medals, seven silver and one bronze to add to his cross-country collection. As a result of these he was an indispensable part of the London-Brighton team (the first two Scottish teams were invited to the National London to Brighton) and he took part in no fewer than eleven of these. Always at home on the roads he was third in the SAAA Marathon Championships from Westerlands in 1963.
On the track, he was second in the SAAA Two Miles Steeplechase in 1954, third in the 3000m steeplechase in 1955 and second in 1956 and 1958.
Colin Wallace (Kilbarchan AAC)
Personal Bests: 3000m S/C: 9.20.6 1987
Colin was an excellent Junior endurance athlete on all surfaces who unfortunately had his career cut short through injury
Mark Wallace (Victoria Park)
Mark was a member of Victoria Park who had a good career as a Youth and Junior athlete and ran in the 1987 international championship after finishing fourth in the National championship.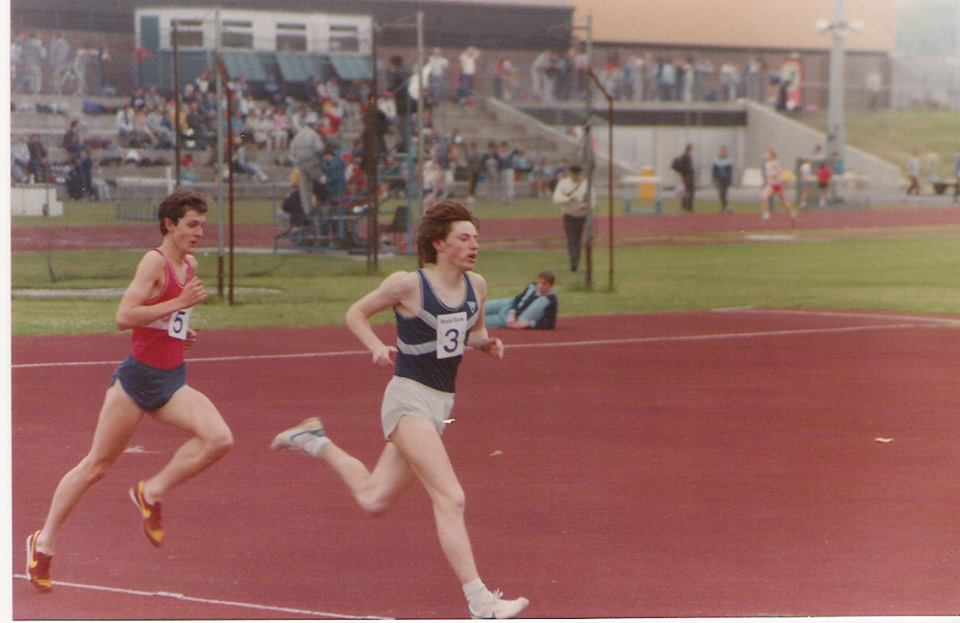 Sam Wallace and Gerry McCann
Sam Wallace Cambuslang Harriers
Personal Bests: 800m: 1.51.77 1987; 1500m: 3.45.6 1986; 1 mile: 4.08.8 1987
Highest rank as a senior: 6th in Scotland over 1500m in 1987
Sam was an outstanding talent all the way from Junior Boy to Senior Man whose career was cut short when he contracted ME. He won Scottish Schools and Scottish age group championships at Under 15, Under 17 and Under 20 on track (mainly) and on cross-country. He also won the AAA's U20 indoor 1500m two years in succession, and was second in the 800m in the second of them. A valued member of the GB squad it was a real blow when he had to stop racing.
Maurice A Wands Hillingdon
Personal Bests: 800m: 1.51.4 1969; 1500m: 3.44.9 1969; 1 mile: 4.05.8; 3000m: 8.27.0 1971; 3 miles: 14.27.5 1969
Ranked no. 1 in Scotland over 1500m in 1969
Rees J G Ward Cambridge Univ, Pitreavie, RAF, Plymouth, Shettleston Harriers
Personal Bests: 800m: 1.53.1 1972; 1500m: 3.43.6 1973 ; mile: 4.01.56 1975; 3000m: 8.12.2 1978; 5000m: 14.25.4 1978; 10000m: 30.29.2 1982
Rees Ward ran for Shettleston for short time in the 1970's, turning several top class races. His record in the National included fourth in 1974, fifth in '76 and 2nd in '78 the last two of which gained him selection for the IAAF World Cross Country Championships in 1975 & '77. He was also a member of Shettleston Harriers winning teams in the Edinburgh to Glasgow relay in 1976 (his only run in the race) and the S.C.C.U. cross country championship in 1977.
Alistair Watson Edinburgh Univ, Edinburgh SH
Personal Bests: 6 miles: 31.24.8 1966; Marathon: 2.44.22 1966
Douglas Watson Wirral
Personal Bests: Marathon: 2.26.56 1980
W Hunter Watson – Edinburgh Southern, Edinburgh, Aberdeen – see full profile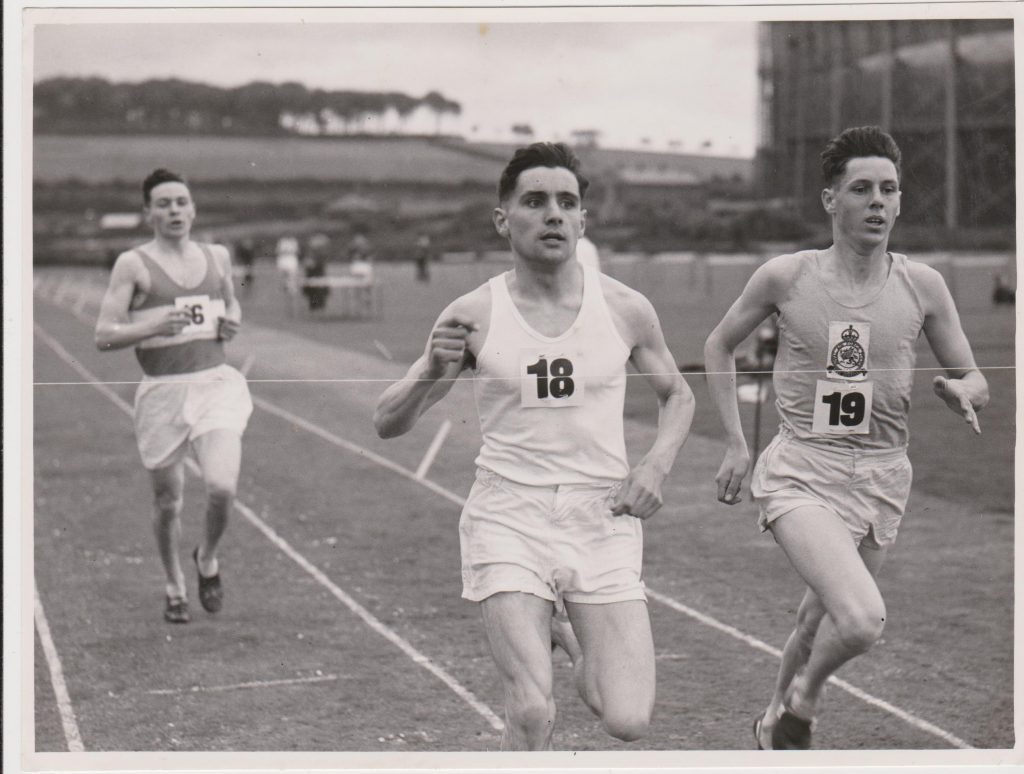 Hunter Watson (18)
Alastair Watt Fife, RAF
Personal Bests: Marathon: 2.24.44 1981
David Watt Calderglen
Personal Bests: Marathon: 2.20.28 1987
Edward Watt Surrey
Personal Bests: 1500m: 3.59.4 1960; 1 mile: 4.12.7 1959; 3000m: 8.25.8 1961; 2 miles: 9.06.0 1961; 3 miles: 14.05.8 1961; 6 miles: 29.43.4 1961
Ranked 3rd in Scotland over 3000m in 1961
Mark Watt Shettleston Harriers
Personal Bests: 800m: 1.55.0 1973; 1500m: 3.57.7 1975; 3000m S/C: 9.34.8 1975
S.C.C.U. National Junior Boys Champion 1970, Senior Boys Champion '71 & 72, Youths Champion '73. Mark was a really outstanding talent who had several good races as a Junior before leaving the sport.
Ray Weatherburn Portsmouth, Edinburgh SH
Personal Bests: 800m: 1.49.0 1976; 1500m: 3.45.2 1971; 1 mile: 4.03.5 1978; 3000m: 8.20.2 1973
AAA 800m 1st 1974; SAAA 3rd 800m 1975, 1st indoor 600 1974, 2nd indoor 600 in 1976
Ranked 3rd in Scotland over 800m in 1975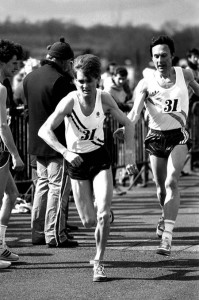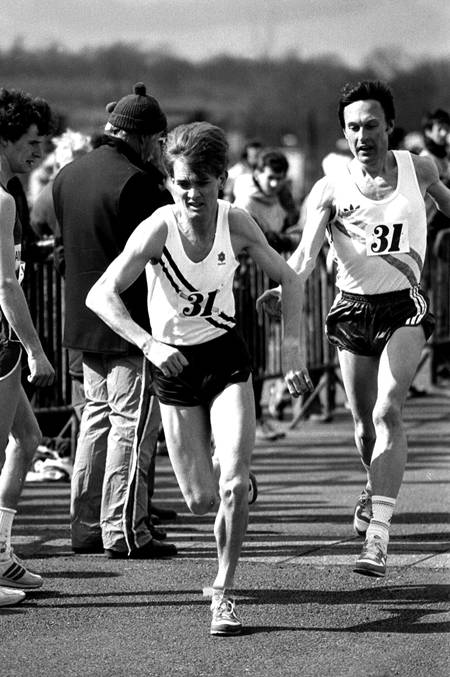 Adrian Weatherhead (Edinburgh AC, Heriot-Watt University, Octavians) – see full profile
James Webster East Kent, Invicta
Personal Bests: ; 800m: 1.50.48 1984; 1500m: 3.42.8 1984; 1 mile: 4.02.1 1983; 3000m: 8.09.71 1986
Ranked 3rd in Scotland over 1 mile in 1984
Dick Wedlock – see full profile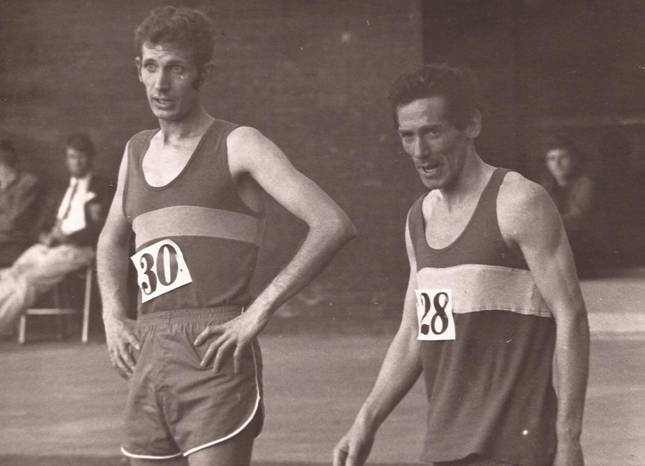 Dick Wedlock on Left with Lachie Stewart after 1000m championship in 1969
George Wenk. Welwyn
440y: 50.1 1964; 880y: 1:50.7 1964; One Mile: 4:22.4 1964
SAAA 2nd 880y 1962, 2nd 880y 1964
John E Wenk – Welwyn, Anglo-Scottish
Personal Bests: ; 880y: 1.49.3 1961; 800m: 1.48.9 1962; 1500m: 3.52.6 1961; 1 mile: 4.09.1 1962
John represented Scotland in the 1962 Commonwealth Games 880y where he made it through to the semi-final where he finished sixth in 1:52.3. He had a good competition record as noted below.
2nd in AAA 880y 1960, 1st in S.A.A.A. 880y 1962, 2nd. '59, ranked 1st in Scotland over 880y 1960 & '61, 800m in '62, 2nd over 1500m in '61
Conrad White Edinburgh Univ
Personal Bests: 3000m S/C: 9.51.7 1979; Marathon: 2.32.15 1979
Conrad White ran for the University between 1976 and 1979 taking in four Edinburgh to Glasgow Relays in which he covered the second stage, the sixth and the seventh twice.
Ian A White Small Heath
Personal Bests: 800m: 1.55.9 1970; 2000m S/C: 5.49.2 1970; 3000m S/C: 9.46.2 1969
Ian White, Clyde Valley
800m: !:52.23 1981
Jack White Edinburgh SH
Personal Bests: 3000m S/C: 9.32.2 1960; 3 miles: 14.41.8 1964; 6 miles: 31.01.0 1964
Competitively on the track, Jack was also very good and he was 3rd in S.A.A.A. 3000m S/Chase in 1964. There was more to him than that and he also ran cross-country and road races and relays in the winter. He had more success on the road in the club's Edinburgh to Glasgow relay team and ran in a total of eight relays (one of the for the Edinburgh University team which won in 1967) winning gold and silver for the club.
Dennis Whiting Aberdeen
Personal Bests: 1 mile: 4.20.4 1963; 2 miles: 9.22.0 1963; 3 miles: 14.25.4 1963; 6 miles: 30.22.0 1965.
Whiting's calibre as a track runner can be seen from the range of personal best times above but he was also a good runner on the road and over the country. Running with Alastair Wood, Steve Taylor, Mel Edwards and the great squad of the early 1960's he ran in six Edinburgh to Glasgow races and never dropped a single place in any one of them, and over the country where his best place in the senior national was eleventh in 1963.
Frank Whitley Greenock Wellpark, Thames Valley
Personal Bests: 1 mile: 4.14.0 1969; 3000m: 8.18.6 1969; 2 miles: 9.05.6 1968; 5000m: 14.25.6 1969; 6 miles: 29.47.0 1968; 10000m: 30.24.8 1969; Marathon: 2.46.06 1969
Frank was a popular member of Greenock Wellpark Harriers who supported the club in all events – track, cross-country and on the roads before he moved to London. He had a wonderful range of events at which he could do well note that in the list above, his pb for the mile (on cinder tracks and with all the qualifications of competing in the 1960's) was set in the same year as his pb for the marathon.
Alex and Jim Wight were brothers who ran for Edinburgh University and then for Edinburgh Athletic Club and who were top class athletes in their own right. Details of their careers can be seen via the links below.
Alex S. Wight – Edinburgh Univ, Edinburgh AC. see full profile
James K. Wight – Edinburgh Univ, Edinburgh AC see full profile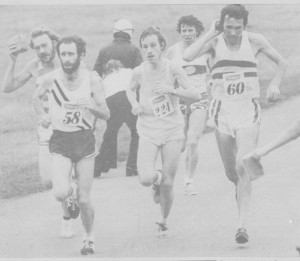 Graham Williamson Springburn Harriers – see full profile
Graham was one of Scotland's all-time great athletes who was good on whatever surface all through his career. Initially coached by Eddie Sinclair at Springburn Harriers and then by George Gandy at Loughborough he was maybe a bit unfortunate to be racing at the same time as Coe, Cram and Ovett
Alan M Wilson – Victoria Park
Personal Bests: 5000m: 14.07.3 1983 ; 10000m: 31.24.5 1984; Marathon: 2.17.40 1984
Hugh Wilson East Kilbride
Personal Bests: 1500m: 3.54.6 1979; 5000m: 15.00.0 1979; Marathon: 2.32.50 1982
Hugh was a good athlete as can be seen from times above. Coming in to the East Kilbride team in 1973, he ran in 13 Edinburgh to Glasgow relays in 14 years on stages 1, 4, 5 and 7, including 1974 when they won the meals for the most meritorious unplaced performance. He represented the club in championship cross-country races and open races on all surfaces. Hugh was tragically killed in a road accident while cycling, remembered in East Kilbride's annual Hugh Wilson Memorial 5 mile road race.
Mark Wilson Edinburgh AC
Personal Bests: 800m: 1.54.0 1977; 1500m: 3.56.2 1976
Peter Wilson – Aberdeen, Newbury see full profile
Robert Wilson Falkirk Victoria Harriers
Personal Bests: 3000m S/C: 10.02.2 1966
Rod Wilson Falkirk Victoria
Personal Bests: 1000m: 32.12.0 1971
Thomas Wiseman Garscube Harriers, Victoria Park AAC, Clydesdale Harriers
Personal Bests: 1500m: 3.58.6 1972; 3000m S/C: 9.38.6 1980; 10000m: 32.12.0 1972; Marathon: 2.24.01 1982
Tommy Wiseman will always be remembered as a Garscube Harrier as he spent almost all of his career with them. A lively, effervescent character he was very talented and ran some really sparkling races defeating almost all the top men at one time or another but he never seemed to time his peaks well.
Alastair J Wood – (Shettleston, Aberdeen, Cambuslang) – see full profile
One of Scotland's best known characters and greatest runners, Alastair ran for Britain on the track and for Scotland over the country as well. You really should read his complete profile.
James L Wright Tipton, Edinburgh AC
Personal Bests:1 mile: 4.17.0 1967; 3000m: 8.30.4 1970 ; 2 miles: 8.56.0 1968; 3 miles: 13.35.2 1968; 5000m: 14.43.8 1971; 6 miles: 27.56.6+ 1968; 10000m: 29.34.8 1969; 10 miles: 49.40.0+ 1968; 1 hour: 18441m 1970
Ranked 2nd in Scotland over 6 miles & 10 miles in 1968 and one of many Anglos to run for Edinburgh AC at the time.
William Wright Edinburgh AC
Personal Bests: 1500m: 3.51.8 1986
David J Wyper West of Scotland Harriers, Bellahouston Harriers
Personal Bests: 10000m: 31.44.0 1972; 1 hour: 17035m 1971; Marathon: 2.24.35 1972
Although he ran well in all road races, and David was second in the S.A.A.A. Marathon in 1972, he is best known for his feats as an ultra distance runner.
Bill Yate Maryhill
Personal Bests: 5000m: 14.40.0 1975; 10000m: 30.24.8 1975
Easily recognised by his shock of almost white hair, Bill was known for his 'take-the-race-by-the-scruff-of-the-neck' tactics. No one ever had an easy race when Bill was around and he won or was placed in a lot of events. He was third in the S.A.A.A 10000m in 1975 and was also a very good road and cross-country man whose career in athletics was far too short.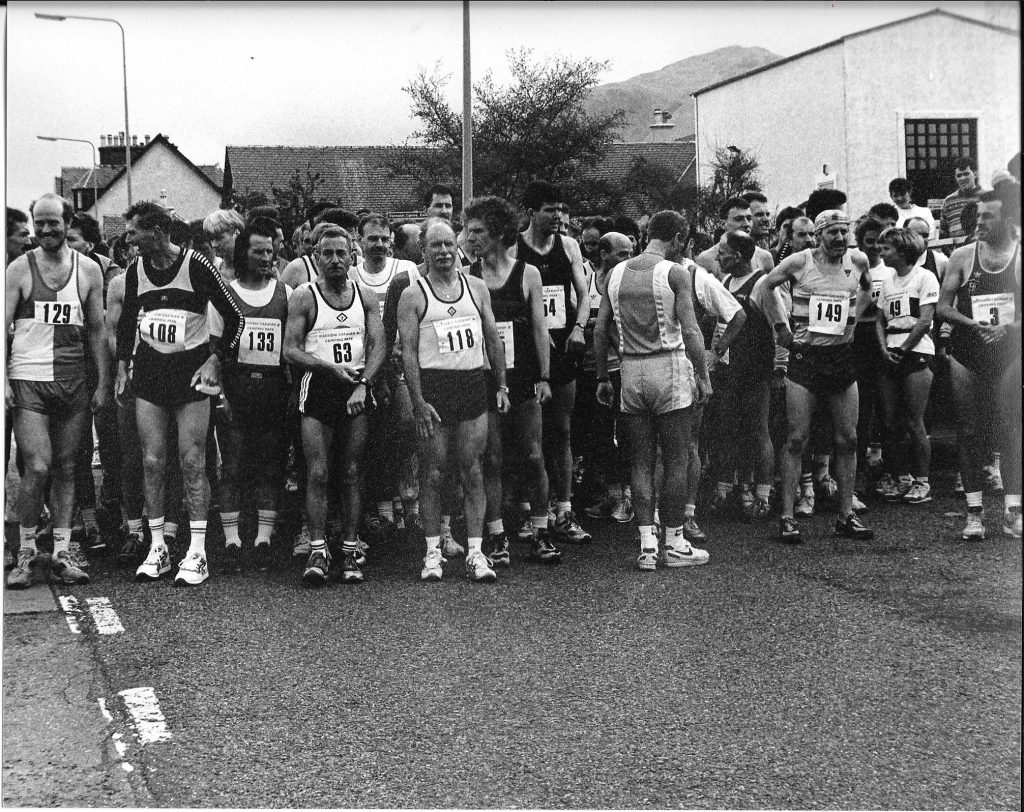 Bobby Young (118)
Ian R Young Edinburgh University, Springburn Harriers
Personal Bests: 2 miles: 9.20.0 1967; 3 miles: 14.01.6 1967
Ian came up through the age groups as one of Eddie Sinclair's battalion of young athletes who conquered almost everything that was put in front of them. Ian was second to McCafferty in the Youths National in 1963, was first winner of the SSAA Cross-Country championships and won the SSAA Mile the same year. He ran for Scottish Schools and also for the Scottish Junior team in the cross country international in Dublin in 1964. He went on to study at Edinburgh and started running for them in season '64/'65. He gained a second Junior international vest that year for the race in Ostend. As a student at Edinburgh he had a sparkling athletic career. Ian was second in S.A.A.A 3 miles in 1967.
Robert Young – Clydesdale Harriers – see full profile
Coming into the sport late, Bobby was an instant, popular hit and he has gone right through the age groups of veteran athletics with great success, however it is measured, whether by an incredible amount of medals won, friends made or good times had. He is now looking forward to the M75 category.
Roger Young Edinburgh University
Personal Bests: 3000m S/C: 9.47.2 1965; 2 miles: 9.29.6 1963; 3 miles: 14.20.6 1964; 6 miles: 30.00.8 1965
Roger started at Edinburgh University in 1962/63 having been a noted athlete at schools level. Second to Ian McCafferty in the National Junior cross-country championships, he was selected, as was Edinburgh team-mate Ian Young, for the international but had to withdraw. Captain of the EUH&H in 1964/65 he was virtually an ever present in teams at District and National championships. He stopped running in 1966.
Terry Young Central Region
Personal Bests: 400m: 49.1 1977800m: 1.49.4 1978; 1500: 3.50.9 1979
Terry Young was a prodigious talent. Coached throughout his athletics career by John Erskine, he won the S.A.A.A. Junior 800m in 1977, then went on to win the senior 800m in 1978 and '79 before having to give up athletics.
Colin Youngson (Aberdeen AAC, Aberdeen University, Edinburgh Southern Harriers, Victoria Park, Metro Aberdeen) – see full profile
Colin is another athlete who performed very well at a very wide range of events. Prolific racer and collector of precious metals during a golden age of Scottish endurance running when the standard was really high he represented Scotland on the road, track and over the country during a career still going strong at the age of 70+ Outstanding as a senior and now a veteran, his profile should certainly be read. Currently enjoys contributing to this website!