John Wright winning the Junior National in 1958.
John was a very talented Junior man who also had a very successful career as a runner for the British Army while doing National Service. The following profile was done for Clydesdale Harriers and is reproduced here. Before his first junior national victory and although the club had turned out many very good teams, and had won medals (eg in 1955 they were third team in the National and won the SAAA 4 x 440 yards title on the track, it was the first individual cross country victory at national level since Dunky Wright in 1923. It reads –
"The Committee wish to place on record the magnificent performance of John Wright in winning the NCCU Junior Cross Country Championship. This is the first time any major cross country title has come the way of the club for a good number of years." Extract from Clydesdale Harriers Minutes of 13th March 1957: it is the only time that any athlete has been mentioned in the minutes in red and is a mark of the extreme respect accorded to this superb athlete.
Partly because of this I feel that John is a good example of the club man of the time and of what the top Scottish athletes of the time were doing. His pedigree in the club was without equal. His father Harold and his uncle Willie had run for the club and then acted as trainers. This was particularly true of Willie who trained John. His grandfather Jack Wright (of whom club president Jock Kirkland said "Copy him, because in his age and your youth it was hard to tell who was the younger") had also been a club member and a Scottish internationalist in his day. Jack's brother George was also a very good quality athlete and both men were founder members of the club.
John is primarily known as a cross country runner and joined the club as a Youth (Under 17) in 1954. In his first run in the National Cross Country Championships was a tenth place in the Youths race – good enough but the following year he was second – only 14 seconds behind Billy Goodwin of Bellahouston Harriers and five ahead of J Ewing of Victoria Park. The team was also second – they felt that they had a good chance of winning but after John's second place, Bobby Clark was seventh and Jackie Hislop was fifteenth but the expected fourth counter, Willie Roddick, had a poor run to finish seventy first and the next counter was in fact Denis Stirrat in thirtieth which gained second place medals for the team. They were only four points behind Shettleston's winning team. It was also coincidentally the first time in several decades when the Senior Men won National medals being led home by Cyril O'Boyle in sixth place with George White (11th), Pat Younger (12th), John Hume (30th), Jackie Higginson (52nd) and Jimmy Young (53rd) being the other counters.
John running with the winner Pat McParland in his first Junior National
The Bible of Scottish athletics at the time was the 'Scots Athlete' magazine produced by Walter Ross and one of its top features was John Emmet Farrell's Running Commentary which dealt mainly with Scottish athletics in a very knowledgeable way but also covered the international scene. He previewed the race and then reported on it in some detail and it is his words that are used below.
'The race for the Junior Cross Country Championship of Scotland appears to be, at least on paper, to be the most open of the races. …………………..Strictly on the basis of the showing at Lenzie, P McParland of Springburn and Geo. Govan of Shettleston who came to the tape in close proximity may be installed as co-favourites with that grand little Clydesdale runner John Wright lying handy.' (Running Commentary by J Emmet Farrell) was how it was previewed and in the next issue the following report appeared.
'At least half a dozen runners were forward to win the title but before half distance it was apparent that only P McParland (Springburn) and John Wright of Clydesdale would contest the issue. The latter running very sweetly indeed stuck to his rival closer than a brother but could not quite cope with his rival's stronger finish. A grand win for McParland and a good showing for Wright's chances next year as he is still a Junior.' (Running Commentary by J Emmet Farrell)
Result: 1. Pat McParland (Springburn) 31:26
John Wright (Clydesdale) 31:36
George Govan (Shettleston) 32:04
The First Victory : 1957
John kept working away and was by now one of the stars of the future in Scottish Athletics – indeed he was a 'star of the present' and after another year of sterling performances, he was once again a favourite for the National Junior Cross Country title by January of the following year. Emmet Farrell again previewed the event: 'Slim, consistent John Wright of Clydesdale Harriers looks at the moment a hot contender for this year's Championship.' (Running Commentary by J Emmet Farrell in January 1957).
His report of the race in the next issue was the kind that most runners can only dream about: May 1957: 'Slim, immaculately stylish John Wright of Clydesdale running with machine like precision trounced his rivals in the Junior Championship and emerged the easiest winner of the day, an ample compensation for last year's runner up position. His form overshadowed the competent running of Edinburgh Eastern's D. Togwell and Springburn's J Rooney who finished in front of the more fancied Geo. Govan of Shettleston'. (Running Commentary by J Emmet Farrell) in May 1957)
Result: J Wright 31:50; 2. D Togneri; 3. J Rooney; 4. G Govan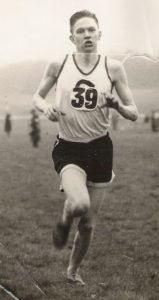 Winning in 1957
The following year it was held again at Hamilton Race Course but over a different trail. In previous years it had been three laps of the race course proper but this time the course left the race course and went down past the Mausoleum and along the banks of the Clyde before coming back up to the course again. He won again by an even larger margin – this time from Joe Connolly of Bellahouston Harriers leaving many good men such as Tommy Cochrane and Ian Harris of Beith behind him. He went pn training and racing and went into 1958/59 in good heart.
One of the questions that any athlete would/should be asking at this point would be about the training he was doing to get these results. Well, he was training six days a week, never training on a Friday. His week went as follows.
Saturday: A race or an inter club run.
Sunday: 12 laps of the perimeter at the Recreation Ground at Mountblow in Clydebank. The perimeter was a fairly accurate half mile and his coach, Willie Wright, always believed in a fast start to be right up with the race. This meant a first lap in about 2:07 followed by another in about 2:12 before settling in to laps of 2:20. In other words a mile in 4:19 followed by five in 4:40. It would be a very good session to-day.
Monday: He would usually run from his home in Linnvale, Clydebank, out to Anniesland Cross (going round the outside of the toilets at the furthest point to make sure the distance was always the same) and back. This was just under 5 miles and took a bit over 23 minutes. It was again a fast run.
Tuesday: It was a club night so he would train from the Baths in Bruce Street with the pack over distances of 10 or 12 miles most nights.
Wednesday: Willie Wright was friendly with Allan Scally the Shettleston Harriers coach so on Wednesdays he would go to Helenvale track in Glasgow and train with Graham Everett. Where Willie usually got John to do repetition 400's with 400 jog recovery (which was pretty standard for the time) Scally kept the 400's in 58 or 59 seconds and progressively reduced the intervals until they were doing 15 x 400 inside 60 seconds with 60 seconds recovery. This of course was on a cinder track. (Graham was also an excellent cross country runner but was better known as seven times Scottish One Mile Champion and British Mile Champion who defeated Murray Halberg (New Zealand) for the title).
Thursday: Another club night but he would only do an easy 4.5 or 5 miles if he was racing on the Saturday.
Friday: He never ever trained on a Friday.
In 1958, like every other top athlete in the country he wanted to make the team for the Empire Games in Cardiff but only just failed to do so. The trials were at the Scottish Championships and he ran in the Six Miles on the Friday night where he finished third in 30:22.8 and with three to go he should have been selected. But the selectors decided instead to take only the first two finishers and add in Ian Binnie who had run but dropped out. On the Saturday John could do no better than sixth in the Three Miles in 14:40.2. The track at Meadowbank was very poor and cut up dreadfully so that after the first couple of laps, the runners were running in the third lane. Most of the athletes signed a letter of protest to the SAAA's about it. It was a disappointment but nothing compared to the disappointment the following year over the country.
Winning the Junior National in 1958
Although known as a country specialist he was clearly also a considerably good track runner with wins in many open and highland games meetings such as Shotts, Strathallan, Bute and Cowal. On one occasion he ran the first stage in the Scottish Medley Relay Championship at Cowal and although not an 800 metres specialist he was barely two metres down on Mike Rawson of Birchfield at the changeover and ahead of some top class half milers such as JP Paterson and Neil Donnachie.
After a good season in 1959, he finished a very good ninth in the Senior National Cross Country Championship of 1959 in a bunch of three with Connolly (Bellahouston), Ross (Edinburgh Southern) and John being seventh, eighth, ninth. The selectors decided to take only seven to Lisbon and John and Ross were told they were reserves but not travelling. The runners spoke to each other and agreed to pay their own fare out to Portugal. Their clubs put up most of the money and then they were told that there was only room on the plane for seven. They couldn't come. It was finally revealed that most of the plane seats were taken up by officials. On the day one of the selected seven athletes couldn't run and John's name was actually printed in the official programme. It was this event that led to him joining the Army to do his National Service – all 18 year olds had to do two years of National Service but like many others John had had his deferred because he was doing an apprenticeship in Singer's Factory and could have had a further extension but he was so peeved that he decided at that point just to go and do it then.
When he reported to Oswestry for six weeks square bashing (ie basic training) he saw that they had a running track and asked one of the regulars if he could do some running. The guy happened to be the regimental cross country champion and John didn't get the permission. After basic training he was posted to Germany and won the regimental championship despite going off the course and then represented the regiment at the Area Championships where he beat the much more fancied runner from the Gordon Highlanders. They soon approached his regiment asking if he could be transferred to their Unit where he would be expected to train and run and ould have every facility to do so. Without asking him, the offer was turned down and he stayed with the regiment. He won the Divisional Championships and went to the BAOR Championships at Dusseldorf where he finished second to Ben Grubb – British International cross country and steeplechase runner. He ran regularly thereafter with such as Ernie Pomfret (another GB Internationalist), Tommy Cochrane of Beith and other high quality athletes.
He also joined a German club – MTV Celle – and ran for them regularly with good results with his friend Terry Wells who had not been a runner before joining up. He enjoyed this time and combined the club running with Army duties. When he left the Army he was running really well after training and racing with guys such as Pomfret and Grubb. He ran a time trial over 3 Miles and was inside 13:30 which looked good for future athletics. When he came home, the club had moved to a new 440 yards track at Whitecrook from the 330 yards track at Mountblow. It was terribly soft and cut up easily to such an extent that the Council added some material to it to make it more robust. Meantime, John had run on it and decided that it was too soft for serious training and returned to train on his own at Mountblow. One of his sessions involved repetition 330's. After 10 reps he was going well so he stepped up to 12 and then decided to go to 15 and end the session there. On the 15th rep he tore his Achilles tendon. Doctors repeatedly told him to rest, and the pain was always still there when he returned to training. He was advised to see physiotherapist Walter Kinloch at Corunna Street in Glasgow. This required a medical referral and the doctors would not recognise the physiotherapists qualifications or professional body. No treatment was possible. And John's career ended in a way that would be unthinkable at any point over the past twenty or thirty years.
However, good club man that he was, he kept on running for the club and served on the Committee for almost another twenty years.