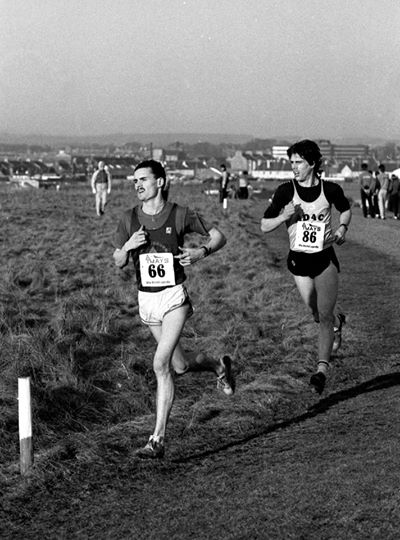 Stephen leading Rob Carey in the SCCU Junior Men's Championships, 1986
Stephen Begen was one of a very talented group of young endurance runners that included Alistair Currie, Alaister Russell, Adrian Callan and Tom Hanlon. They were possibly a bit overshadowed by the previous generation of John Robson, Graham Williamson, Nat Muir, Allister Hutton and Neil Tennant, at a time when Scottish athletics was almost a conveyor belt of talent. Muir and Hutton were not too far behind Lachie Stewart, Ian Stewart and Ian McCafferty generation either. Among the runners of his own generation Steven earned every international honour that came his way and it is worth looking at his career in some detail.
Steven came from a rough area of Glasgow but was spotted as a promising runner by his PE teacher, John Cairney of Shettleston Harriers, and encouraged to take up the sport. He went along to Springburn Harriers and Eddie Sinclair and a whole new world opened up for him. Eddie demanded commitment and Steven was prepared to give him that commitment – and the results were clear for all to see.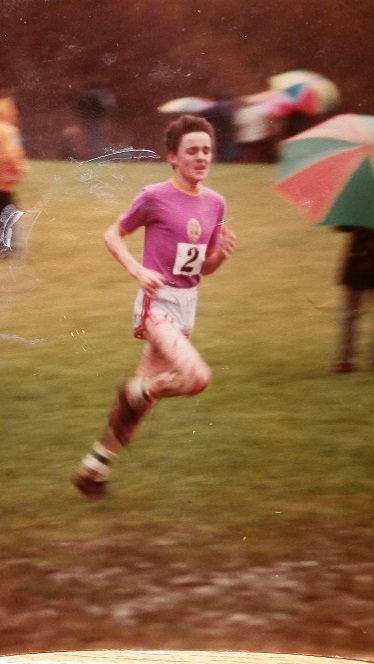 Young Stephen ran in the Scottish schools championships three times in all. He is pictured above running for All Saints Secondary School in the Scottish Schools Championships at Heriot Watt University in 1980/81 when he finished third behind David Russell and David McShane. This earned him selection for the British schools international held at Havant in a team completed by the addition of Scott Holden and Tom Hanlon. He also ran in the Glasgow schools championships which was quite a big race and won his age group twice. He was 15 when his father died and he had to leave school. At that point he was working in a bakery before and after school. His schools athletics over, he continued with Springburn Harriers and the only coach he would ever work with – Eddie Sinclair.
At Springburn as a junior boy (Under 13) his first medal had come his way on 6 October 1979 in the Young Athletes Relay, known as the Living Fire relay after the company which sponsored the event. Each team contained three junior boys, three senior boys and three Youths with the objective to test and nurture strength and depth in the clubs. Springburn was the first team home, three minutes up on second placed Falkirk Victoria Harriers and Stephen had his medal. This was followed by the Lanarkshire County Relays on 13th October where Springburn was again first team, Steven was of course still a novice at that point and the club's top runner in the age group at that point was M Kerr who was quickest on the day. Later that month, on 20th October in the West District Young Athletes Relay at Johnstone, Springburn was first team although on this occasion Stephen did not make the A team – the runners were M Kerr, J Kyle, A Callan who were all more experienced and faster than he was. In the National Relays on 27th October, Falkirk Victoria Harriers were first team, Springburn was second but the fastest time was by a runner who would be one of Steven's real rivals for several years, Scott Holden of Falkirk. The two main championships of the winter season take place after New Year and in the West District Championships on 19th January, 1980, in Clydebank, he was 20th Junior Boy, second Springburn runner and the team finished fifth. The National came round on 9th February, and Steven was 18th in his age group.
*
The new cross-country season started on 11 Oct 1980 with Stephen now up an age group running in the Senior Boys relay at the Lanarkshire Championship in relay at Coatbridge where the team won the title. On 28th November, in the Lanarkshire Championships, Springburn won all the titles except the Youths team. He was rapidly progressing and on 17th January, 1981 in the West Districts Bellahouston Steven was eighth Senior Boy, and the team was fourth. On 28th February in the National championships, he was thirteenth finisher – one place ahead of Alistair Currie. There were 182 finishers, Springburn won the team race with I Davidson (4), K Sinclair (8), Stephen and A Day (46)
**
So far most of his successes had been as part of a team but in September 1981 he won the Livingston road race – it was run the same weekend that his father died and all the more significant for that. He followed that on 5th December 1981 the popular East Kilbride Road Races were held and Stephen Begen was first in the senior boys one and a half miles race. Two weeks later on 19th December in the Inter Counties at Houston in the snow, the first three Senior Boys were Robert Hawkins of Kilbarchan, Brian Scally of Shettleston and Stephen Begen who led the Lanarkshire county team to victor. On 2nd January 1982 in the classic New Year's races at Beith, Springburn won the Senior Boys race. Events were coming thick and fast at this point and Stephen was i on the action. At the end of the month, on 23rd January, in the West District Champs, Stephen was 7th and the first three in the race were Skilling of Ayr, G Walker of Clydesdale, and B Scally of Shettleston. Springburn had the third team with Begen leading scoring runners M Kerr and D Donnet home. Before the National on 27th February, Stephen won the Glasgow Schools Cross-Country Championship.
The National was at Irvine on 27th February, and Stephen was second in the Senior Boys race behind Scott Holden of Falkirk Victoria Harriers. He was only two seconds down – 17:18 to 17:20. Brian Scally who had beaten Stephen in several races, was fourth. There were 172 finishers.
Stephen was never known as a track runner but in the Scottish Senior Boys track championship on 27th June at Meadowbank, he was seventh in the 1500m as with a time of 4:25.83. That was his only track ranking as a young athlete despite all his cross-country and road race successes.
Into the 1982/83 season and on the 9th October, the team was second in the Lanarkshire road relays at Coatbridge. In the West District Cross-Country on 22nd January 1983 he was second behind David Russell, Law & District, the very good runner who won every age group championship at District and National level from Under 13 to Under 20 levels. The main race of the cross-country season was the national in February 1983 where Stephen, up an age group to Youths level (Under 17) was second to Bobby Quinn of Kilbarchan, and in front of Steven Marshall and David McShane who were third and fourth. They were a very impressive quartet who would have held their own in any cross-country tournament at any time. Into summer 1983 and although not known as a track runners, Steven showed what he could do when in the SAAA age group championships at Scotstoun on June 11th he had an amazing distance running double. In the Under 17's age group he won the 1500m in 4:08.33, which was a good performance in its own right, and went on to take the 3000m title in 8:54.32.
****
Stephen's biggest moment of his career so far came on 25 February, 1984 in the National Youth Championship Cross-Country at Beach Park, Irvine when he won from Pat Morris of Cambuslang Harriers (22:19 to 22:35) and Tom Hanlon of Edinburgh. The reward was selection for the international cross-country team for the world championships in New York. This was the first time, other than once in the very north of Africa, that the championships had been held outside Europe. They were on the fast running Meadowside Race course in New Jersey with 15 complete teams in the Junior race. Withe four runners to count, Stephen was the last scoring runner for the Scottish team when he finished in 66th place. David McShane was 76th and Alistair Currie 90th.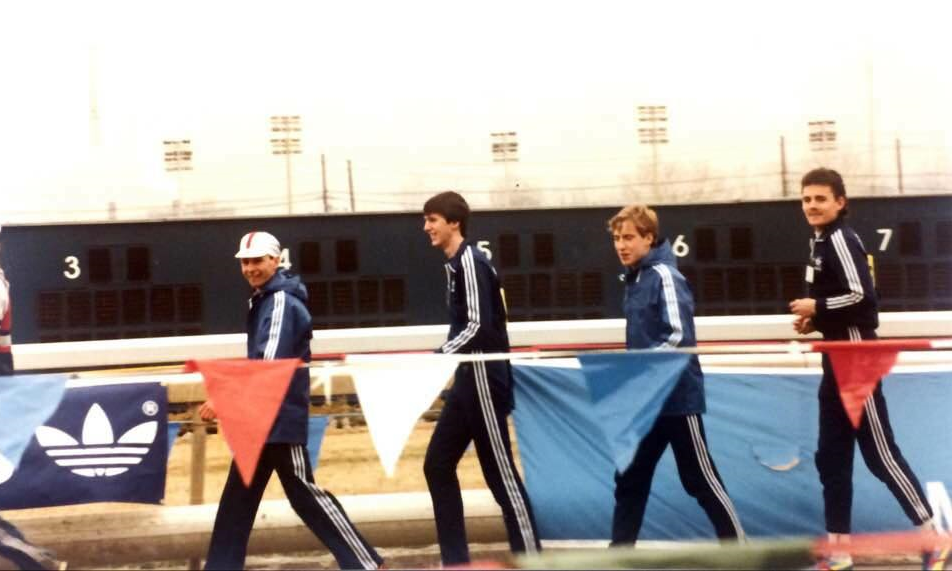 Stephen on the right, behind David McShane, in New York, 1984
As a junior in season 1984/85 Stephen was eligible for many more races and, although he was only a first year junior, he had to face the much larger fields of seniors of all ages in almost every race. This was evident in the first race of the winter, the McAndrew Relay at Scotstoun, where there were 135 teams and 540 runners in action. Springburn finished out of the medals but not without a fight – they were leading at the end of the second stage. Stephen missed the District and National Relays but on Sunday 18th November he ran his first Edinburgh to Glasgow relay, running on the third stage, he ran well to hold his position and hand over the baton in third place.
In the West District Championships on 26th January 1985 Stephen was second in the Junior behind Bobby Quinn of Kilbarchan but ahead of McShane, Wight and Carey. On 23rd February the National Championships were held at the Jack Kane Sports Centre in Edinburgh and in his first year as a Junior Man, Steven finished ninth. There were two English runners in front of him – Paul Dugdale and Richard Archer and there were also runners who, while they were junior men within Scotland, were seniors internationally. In addition Stephen's run in the District Championships had been a very good one, and he was selected for the international race in Lisbon at the end of March.
Stephen had been no less successful on the roads in 1984 either – the best race being his victory in the Grangemouth 'Round the Houses'.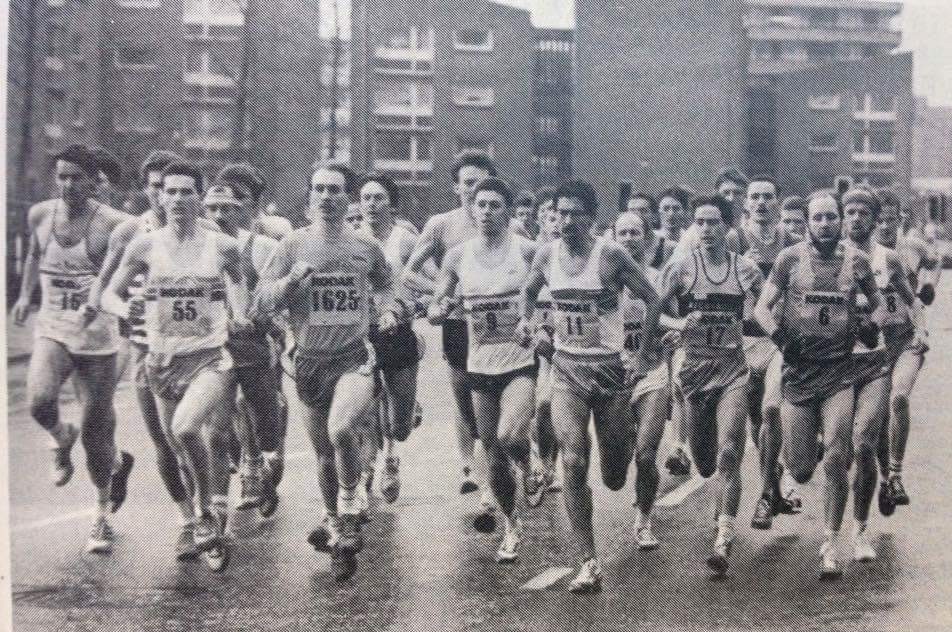 Kodak 10K Road Race, Glasgow, 1986: Stephen can be seen behind number 17, Bobby Quinn's left shoulder
Springburn had several good runners coming together at the same time and after the George Cummings relay at the end of September, and the McAndrew at the start of October, the top three of Graham Crawford, Adrian Callan and Stephen Begen all ran in the same four man team with the reliable Jim Cooper in the West District relay championship at Kilmarnock on 19th October where they finished second with Stephen on the anchor leg. Unfortunately, when it came to the National Relays at St Andrews only one of that four was able to turn out and the club finished 10th. They were all in the eight man team for the Edinburgh to Glasgow Relay on 17th November 1985 with Stephen running on the fourth stage; the team finished eighth. The two big championships in 1986 were the District and the National Championships. Stephen won the West District championship at Rouken Glen from Stephen Connaghan of Spango Valley AAC and the tough Rob Carey of Annan & District AAC. Top junior in the west, and it was on to the national championships. After a very tough race at Irvine with Rob Carey of Annan & District AC, he came out on top to take the title. Stephen admits that it was a hard one and as was often the case, he gives credit to his coach Eddie Sinclair. As they came to the top of the Dragon Hill, there was Eddie calling to him to go for it; hearing that Carey seemed to drop back and Stephen went on to victory, leading the Springburn team to third place medals. This won him his first Senior World Championship vest for the event held at Neuchatel in Switzerland.
Clubmate Tom Gillespie has a nice story about Stephen's second Scottish Junior Championship. He says –
My own best memory is of him winning the National junior XC at Irvine. He'd been away from the club for the previous few months, and was even assumed to have packed in like a lot of others that age. Saw him walking with Eddie Sinclair for most of the time of his warmup, and he then goes out and wins. When I asked him about it, he replied that "Yes, Eddie was very motivational…"
There was more high quality running to come from Stephen yet. On 9th March, 1986, the Kodak 10K was held in Glasgow, starting and finishing at Crown Point Track. The field was one of the best assembled in the country for a 10K. Nat Muir, Allister Hutton, John Robson, Lawrie Spence, Fraser Clyne, Bobby Quinn were the top Scots on the line; there were Colin Reitz, Paul Davies-Hale and Bernie Ford from England as well as Paul O'Callaghan, John McLaughlin and Gerry Craig from Ireland. They can all be seen in Graham MacIndoe's photograph above And Steven was in the mix too. It was a hard, hard race – it was also very fast with the first 15 being inside 30 minutes, 16th was 30:01 and 17th was 30:07. Steven finished 12th in 29:44, and not surprisingly, was the first Under 20 runner. Behind him there were a whole host of quality distance running talent – Lawrie Spence, Adrian Weatherhead, Fraser Clyne, Peter Fleming, Graham Crawford and many others. It was a top class event and a fitting run from Steven. The photograph below shows Stephen working really hard in front of Peter Fleming and Graham Crawford on the run-in to the track: all three were sub-30 minutes.
Running 29:44 for 10K was good – but Stephen did it twice. Later that year he was invited to the Battersea Park 10K in London and again ran 29:44. To be so close to a personal best for the distance must have been disappointing to say the least but it did confirm the great shape he was in.,
At the end of the month – Sunday, 30th March – he was in the Springburn Harriers team that finished an agonising fourth in the National six-stage relays. Running on the fourth stage he pulled the team from fourth to third and in the process setting the fastest time of the day for his lap.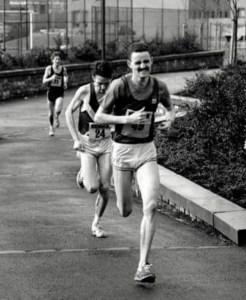 Kodak 10K, Glasgow, 1986. Stephen finishing ahead of Peter Fleming and Graham Crawford
In season 1986/87, although he did not run often, Stephen did help his club to more medals – they were second team in the National Cross-Country relay held on 24th October, 1987 at Galashiels. He ran on the fourth stage in a team of Adrian Callan, David Donnet and Graham Crawford. Adrian ran the fastest time of the day and Stephen was eleventh in a race where 108 complete teams finished.
Among Stephen's honours in a wonderful career, which was really too short, were the three races in World Cross-Country teams in 1984, 1985 and 1986. It is worth noting that he twice moved up an age group for international duty: in 1984 he had won the SCCU Youths title and competed in the Junior race, and in 1986 he won the Junior Scottish championship and competed as a Senior Man.
All Scottish champions are talented and fast runners on whatever surface they find themselves. That's a given. Not all courses are alike despite the trend towards flat fast grass running, and runners have preferences. When the West District championships were held on a frozen, hilly course at East Kilbride in the 70's, many Scottish and even British runners turned up but refused to run. Similarly when the national was held on a muddy, hard, hilly trail at Livingston, several of the top men did not race. When you ask Stephen about his favourite country venues he mentions Stewarton in Ayrshire and the Braidfield Farm course in Clydebank. Both hard unforgiving venues for the event. That tells you what else the man brought to his sport – a sense of balance, yes, but also courage. To run fast down a rock strewn hill, or leap an Ayrshire burn demands both. Hard work, speed and courage were the secrets of his success. His achievements were recognised by his club and in 1987 he was made an Honorary Life Member of Springburn Harriers.
The last words come from Stephen himself. He was asked a few questions about his time as a runner,
the first being what he regarded as his best race. "I think my best race was the Kodak 10K when I managed to run sub 30 minutes and test myself against some top senior athletes. Equally my second Scottish championship at Beach Park was probably my toughest test where Rob Carey pushed me to my limits on the day."
What athletes all want to know, he was asked to give some information about his training: "A typical week would look like this: Monday: 15 x 150 at full pace; Tuesday: 6-8 mile bunch run at 90% race pace with all-out assault on the last 1k; Wednesday: 8 x 400, all sub 60 seconds with 1 minute recovery; Thursday: Steady bunch run, about 8 miles; Friday: Easy jog or walk; Saturday: Race; Sunday: 20 mile easy run plus a fast 3-4 mile leg opener in the evening,"
When and why did he stop running, after all he had just run in his first senior international. "Although it seems I did run some of the 1987 season, I really had made my mind up after the 1986 world cross-country. I was already running twice a day, four times a week. I really couldn't see myself punish as hard while working full time on a building site. I, rightly or wrongly, though that if I can't reach the standards of top athletes with the effort I was putting in thenI couldn't see the point. "
Looking back at his running career, what did he get from it? "Discipline, commitment, friendship and a sense of belonging. I firmly believe that the traits Eddie instilled in the young athletes paved the way for our futures. I personally took those traits into my working life and have continued to keep them close. Running gave me an escape from what I saw as a limited future, it opened my world to new horizons and the ability to reach my goals."
I have fond memories of track meetings at Coatbridge – running the 200m and doing the high jump in league meetings. I also met many fantastic people: Aidy Callan was a true gent, Eddie Sinclair a real inspiration, Steven Murphy is still my best mate and Nat Muir was an idol but very down to earth.
That is quite a testament to Eddie Sinclair, his coach, but when Stephen compares himself to the top athletes in the mid 1980's, he is not comparing like with like. He was doing a strenuous day job and training twice a day on top of that while the top men were full time professionals, with unlimited sponsorship and back-up facilities. Regardless of that, Stephen was a genuine credit to the sport, to the club and to himself.