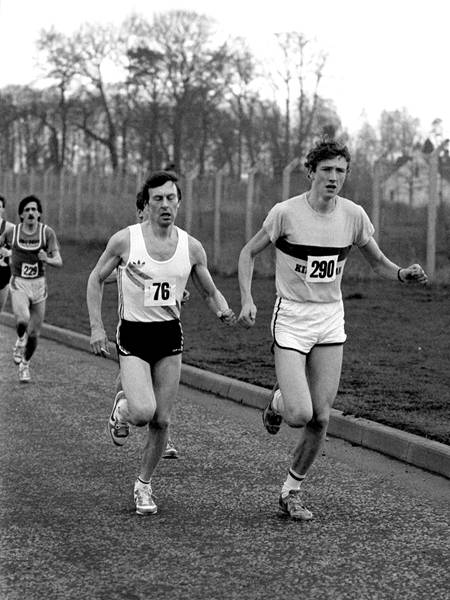 Adrian Weatherhead (76) with Alan Puckrin (290) leading Jim Brown (229)
Scotland is a small country so you would expect all those interested in endurance running, whichever branch was their speciality, would know each other or at least know what each other was doing.   That is not necessarily the case as can be seen from the career of Adrian Weatherhead,   Well known as a top flight athlete, his actual career seems to be a well-kept secret.  He won SAAA titles at various distances  on the track, indoor and out (did YOU know that he was also a steeplechaser?   I didn't!) and a cross country internationalist  who turned late in his career to road running where he turned out to be a master of his trade.   He was reported to be a speed merchant in training who was seen out regularly doing lunch time training sessions on the grass beside the North Meadow Walk in the Meadows – often accompanied by the accomplished 400m/800m runner Tom Renwick.   Andy McKean was one of our best ever cross-country runners but Adrian was runner-up to him National Cross-Country Championship three times and Andy says, 'I recall glancing over my shoulder to see him uncomfortably close behind, dancing light footedly over the snow in Drumpellier Park in Coatbridge.'   All photographs on this page are by Graham MacIndoe unless otherwise stated.   This profile has been written by Colin Youngson and tells the story of an athlete who should be remembered for his achievements more than he is.   Before the profile however, let's look at Adrian's replies to the questionnaire.
Name:   Adrian Weatherhead
Club/s:   Octavians, Polytechnic Harriers/Edinburgh AC
Date of Birth:   22/9/43
Occupation:   Retired Local Government Officer.
Personal Bests:  
| | |
| --- | --- |
| Event | Time |
| 800m | 1:51.6 |
| 1500m | 3:41.35 |
| Mile | 3:57.59 |
| 5000m | 13:47.28 |
| Road 10K | 29:36 |
| 10 Miles | 49:46 |
| Half Marathon | 66:00 |
How did you get involved in the sport:   School to get fit for rugby (400/800m); then Octavians AC and Heriot Watt University.
Has any individual or group had any marked effect on either your attitude to the sport or individual performances?     Peter Snell and Jim Ryun
What exactly did you get out of the sport?   1.  The satisfaction of proving certain people who doubted my ability wrong.   2.   The satisfaction of watching my training being translated into results.   3.   The thrill of becoming a GB International athlete.   4.   The enduring legacy of well-being which physical fitness gives one.
Can you describe your general attitude to the sport?   A sport which is both rewarding for achievement through effort but unforgiving when preparation is lacking.   It is therefore a sport when competitors stand or fall by their own efforts and can neither depend upon nor blame team mates as in other sports.
What do you consider your best ever performance/performances?   1.   My fastest mile run in blustery conditions finishing only two seconds down on Filbert Bayi, the then new world record holder.   2.   Outsprinting the notoriously fast-finishing Andre de Hertoge in the Scotland v Benelux match 1500m since I did not have the blistering sprint speed which many of my contemporary rivals possessed.   I covered the last 400m in 54 seconds.
What ambitions did you have that remain unfulfilled?   Olympic and European Championships.
What did you do apart from running to relax?   Jog/run 5 – 6 miles per day; swim a hard mile most days; astronomy; competitive small-bore target shooting; playing the guitar.
What did running bring you that you would have wanted not to miss?   The pleasures of achievement, health and fitness.
Can you give some details of your training?   Basically the type of schedule advocated by John Anderson (one of the world's best and, to my knowledge the only British coach that the former Soviet Union sports machine ever invited to join them).   The opposite of the Lydiard method – plenty of high quality track running along with one's winter mileage.   No track anaerobic session was ever run at a slower than summer race pace.
Adrian P Weatherhead was born on 22nd September, 1943.   By 1965 he was running for Octavians AC and recorded a time of 1:56.9 for 880 yards.   During the next 25 years he produced an extremely impressive series of top class performances on every surface: outdoor and indoor track, cross-country and (almost as an afterthought) road.   Since he had no interest in taking part in veterans-only competition he retired at the age of 47 having made a considerable mark on the Scottish record books.
Adrian went to Heriot-Watt University in Edinburgh and represented them with distinction.   For example in November 1968 he ran the fastest time in the East District Cross-Country Relay Championships round the hoof-marked, bumpy Hazlehead pony track in Aberdeen, outpacing future GB internationalists Donald Macgregor, Gareth Bryan-Jones and Alistair Blamire.   Although for many years he refused to run on the road (to prevent injury), he was a formidable cross-country runner and at the end of the same month as the East relay, he was narrowly outkicked by John Myatt in the Scottish Universities Trial over the Aberdeen University course.   In December in the Scottish Universities v Scottish Cross Country Union match at Camperdown Park, Dundee, Adrian finished fifth behind Lachie Stewart, Dick Wedlock, Alistair Blamire and Myatt.   Weatherhead emphasised his place amongst the nest Scottish Cross-Country runners on January 18th, 1969 by winning the East District title on Musselburgh Racecourse.   At around the same time he ran 3000m in 8:13.8 at Cosford on the indoor track.   Then he finished thirteenth on his first run in the Senior National at Duddingston Park.
Weatherhead also ran for HWU during the track season, for example doubling up at 1500m and 5000m in a match against Aberdeen University and Glasgow University at Westerlands in April 1969.   Adrian graduated that summer but improved his best 800m time to 1:52.3, was a close second to Craig Douglas (who later won the SAAA title) in the East District 1500m, ran a pb of 3:48.1 (third in the Scottish rankings) when winning a race for the Scottish Universities v English Universities at Crystal Palace and completed a Mile in 4:04.0.   By now Adrian was running for Polytechnic Harriers as well as for Octavians and also won over 5000m (14:17.2) at Crystal Palace.   In addition he won a 3000m (8:20.0) in Oslo.
By December 1969 Adrian Weatherhead was representing the SCCU in the annual cross-country fixture with the Scot Unis, this time at Paties Road, Colinton, Edinburgh.   His cross-country career continued intermittently but with a great deal of success.   In the 1970 National on Ayr Racecourse he was sixth, securing selection for the International Cross-Country at Vichy, France, where he contributed well as fourth Scottish counter in forty second place ahead of Dick Wedlock and Norman Morrison..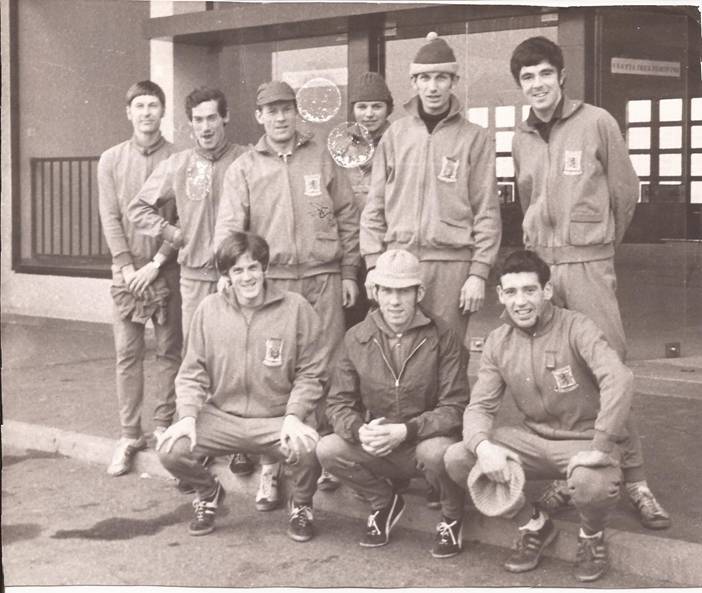 The Vichy team:   Adrian, Lachie Stewart, Bill Stoddart,  Bill Mullett, Dick Wedlock, Gareth Bryan-Jones in the rear, Norman Morrison, Ian McCafferty and Jim Alder in front.
(Picture from Lachie Stewart)
In 1971 Adrian regained his East District Cross-Country title (which he also won in 1976).   He improved further in 1973 in the National at Drumpellier Park, Coatbridge, finishing an outstanding second behind Andy McKean.   By now Weatherhead was running for Edinburgh AC and they won the team championship.   The first IAAF World CC Championships took place at Waregem Racecourse, Ghent, Belgium, where Adrian was fifth Scottish counter in seventy second place.
At Coatbridge in both 1975 and 1976, Adrian Weatherhead was second to Andy McKean in the National and EAC won the team title.   For some reason (indoor races?) Weatherhead did not run the World Cross-Country again.   However he continued to compete well for his club.  In the National, EAC were victorious in 1978 at Bellahouston Park (Adrian tenth) and in 1981 at Callendar Park, Falkirk, (Adrian fourteenth).   He was twenty first when EAC won silver at the Jack Kane Centre, Edinburgh, in 1983; and signed off with thirty sixth (but first M40 veteran) in 1984 having won three individual silver medals n the National Cross-Country plus five team golds and one silver.   In the National Cross-Country Relay, he won team bronze in 1976 and silver in 1978.
Despite enjoying consistent excellence over the country, Adrian Weatherhead's main focus was the track.   In 1970 he won the East District 1500m from Jim Dingwall and improved his one mile best to 4:00.7 at Crystal Palace.   he also ran 5000m: second in the East District and third in the SAAA Championships (14:09.2) behind Ian and Lachie Stewart.
Further progress was clear in 1971 when Adrian was second in the Scottish 1500m rankings to the outstanding Peter Stewart.   Weatherhead not only ran 3:40.9 during a mile in 3:58.5, but also his seventh fastest 1500m was only 3:47.4.   During the indoor season he had run 3000min 8:02.61 when second in the AAA's Indoor Championships at Cosford (in front of Andy Holden but behind Peter Stewart who went on to win the European indoor title at that distance) winning his first Great Britain outdoor vest and he won an outdoor 3000m at Belfast in 8:10.0.   Furthermore he broke14 minutes for 5000m three times, was second in the SAAA event to Ian McCafferty, won a bronze medal in t he AAA's Championships and was unlucky not to be selected for the European Athletics Championships.   His new pb was 13:47.28 at Crystal Palace in the AAA event.   In the Scottish rankings this was second only to Ian Stewart.
In 1972, after winning a silver medal in the AAA indoors 1500m (3:46.7) on January 29th, Adrian Weatherhead was selected to run 1500m for Great Britain in the match against Spain at Cosford on February 19th.   He finished third behind fellow-Scot Frank Clement and Spaniard Jean Borraz.   The outdoor season produced a 5000m in 13:50.4, third in the rankings behind Ian Stewart and McCafferty.   He also won his first outdoor Great Britain vest v Greece and the Netherlands in Athens.      In 1973 Adrian won the SAAA Indoor 1500m (3:51.3) at Bell's Sports Centre, Perth.   He followed that with victory in the outdoor East District 1500m from Jim Dingwall with a season's best of 3:42.7, second in the 5000m and his season's best was 13:54.
1974 provided further proof of Adrian Weatherhead's speed, consistency and versatility.   The season started normally enough with a win in the East District 1500m.   Two good 5000m races both produced a time of 13:48, including a win in the English Inter-Counties at Crystal Palace.   Adrian won the English Inter-Counties title and ended up second in the Scottish rankings.   The big surprise was Weatherhead's victory in the Scottish Championships – in the steeplechase!   He defeated list-topper Ian Gilmour with 8:52.8 and also recorded 8:50.6  as second-fastest Scot that season.   Then Adrian competed for Scotland in the match versus Norway in Oslo: winning the 1500m in 3:43.4 as well as coming fifth in the steeplechase.
1975 was another good year.   Adrian ran 1500m in a pb of 3:41.35 when finishing fifth in the AAA Championships (second in the rankings to Frank Clement).   Another pb was 3:57.59 for the Mile at Crystal Palace in May which was repeated in the IAC meeting in September the same year.   He also raced another 1500m for Great Britain v East Germany (DDR) in Dresden where he finished second.   He had also won a 1500m the previous week in the Spanish Games in Madrid where he beat the Spanish record holder Antonio Burgos.   He ran for Scotland in the British Isles Cup in Munich, and won a 5000m race in Munich (14:11.6).   1976 started with a win in the SAAA Indoor 1500m (3:48.9) in Perth.   In 1977 it was evident that Adrian's speed had not lessened: 800m in 1:52.8; 1500m in 3:41.46 (third in the rankings – his sixth fastest mark was 3:47.5); and a Mile in 3:58.7, making him the oldest person ever to break four minutes.   He also won the last two of his seven Great Britain vests that year. .    1978 was less successful: 1500m in 3:49.6 and 3000m indoors (8:07.8).
In 1979 Adrian  became the oldest athlete to win the SAAA 1500m title outsprinting Hugh Forgie and Steve Rimmer.   He also ran 3:43.3 in the AAA 1500m final.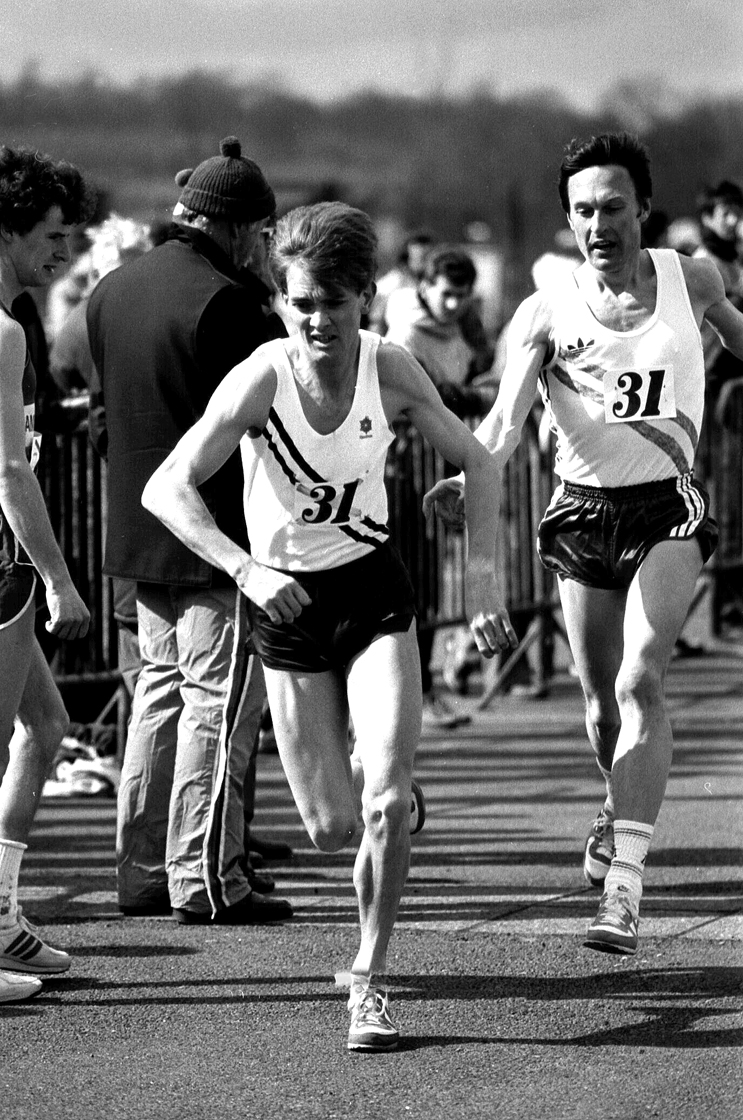 Having retired from the track, Adrian Weatherhead continued to run cross-country until 1984 (as reported above).   However the real shock was his late career as a road runner!   In the 1983 Scottish Six-Stage Relay he won team silver with EAC, next year they won gold and in 1988 silver again.   He also won the Grangemouth 10K race twice (fastest time 29:36) and the Falkirk Half Marathon in 66 minutes, all achieved as a 40 – 42 year old vet.
However the Edinburgh to Glasgow Relay was the event in which Adrian made most impact, when he was aged 40 to 47.   EAC had finished second in this prestigious event seven times in the previous decade – they could really have done with Weatherhead then to turn silver into gold!   Adrian would only run the hilly first stage but did so seven years out of the next eight starting in 1983 with a tremendous 26:16 (33 seconds clear of the next man and only 16 seconds slower than the record).   He was sixth fastest in 1985, second in 1986, seventh in 1987 (when EAC won team silver), fifth in 1988, seventh in 1989 and sixth in 1990 – only 14 seconds slower than the fastest man – future Olympian Tom Hanlon).
Adrian Weatherhead's career had been truly remarkable and very successful.   It is a shame that he had no interest in the burgeoning area of veteran athletics, since there is no doubt that he was capable of winning at British, European and World level.   Nevertheless his achievements were admirable – speed and stamina nurtured by very effective training, in addition to tactical awareness and a sense of racing adventure.
With regard to Adrian's road running, there is a good picture of him on the first stage of the 1985 Edinburgh to Glasgow Relay in the Edinburgh – Glasgow section of this website.   Colin mentions his conditions for running his first relay and they are backed up by Doug Gillon's report on the race in the 'Glasgow Herald' of  12th November, 1983, beginning "The sweetest sight for veteran marathon runner Colin Youngson must have been the Corinthian pillars of Stirling's Library with its Cyclops clock-eye staring unblinkingly at the finishers of the Edinburgh to Glasgow Road Race…" and goes on to say:   "Adrian Weatherhead, now 40, had never run in the race before despite a lifetime in the sport.   Yet he insisted that he would run the opening leg or not at all for his club, Edinburgh AC.   In a run of spectacular effort he finished 33 seconds clear of the second team. "    Many clubs in the race have the situation of one of their best runners insisting that he was a track man but not a road runner, none, I would suggest, have had the reward of the same athlete returning in such a spectacular fashion in subsequent years!   A first class athlete on all surfaces, Adrian Weatherhead deserves to be better known in Scotland.