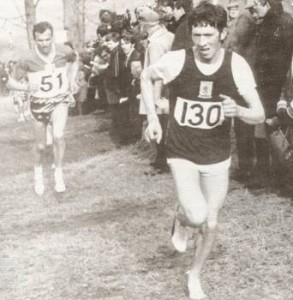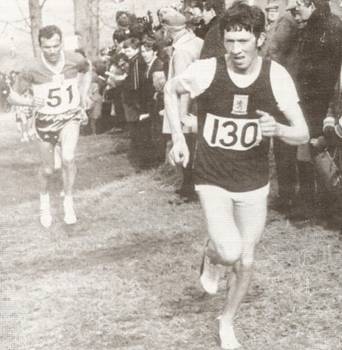 Ian McCafferty , World Championships, Clydebank, 199
Kenny Macanna, Garscube Harriers, Glasgow University
400m: 49.9 1974; 800m: 1:56.8 1975
Kenny was best know as a track runner specialising in the 400m/800m double although he did support his club on the road and over the country.
Duncan Macauley, Cambuslang Harriers
800m: 1:54.78 1980
Alan B MacDonald, Garscube Harriers
400m: 50.7 1970; 800m: 1:51.2 1970
Alan was a good track runner and represented Garscube in inter-club fixtures as well as running the major championships. He also turned out in cross-country championships up to and including the National Championships and on the road in the Edinburgh to Glasgow.
Donald Macdonald, Garscube Harriers
Donnie was a 440y/880y specialist who ran for Glasgow and Scottish select teams, often in relay squads as well as individual events. He won the 1958 Scottish 880 yards title, defeating JV Paterson and L Locke, and in consequence was selected for the Empire Games held in Cardiff that year. Running in the half-mile he ran 1:54.6 and was eliminated in his Heat. In the 4 x 440y relay with JV Paterson, John McIsaac and RH Thomson he ran the first stage for the team. After a good career as a runner, Donnie became a coach and his star pupil was WM Campbell.
J MacDonald, Perth Strathtay Harriers
Mile: 4:24.9 1960
Ronald MacDonald, Monkland Harriers, Glasgow University, Clyde Valley – see full profile
800m: 1:52.6 1974; 1000m: 2:23.5 1975; 1500m: 3:43.0 1972; Mile: 3:59.1 1974; 2000m: 5:19.6 1974 3000m: 7:55.0 1974; 5000m: 14:24.6 1971
Ronnie was a popular athlete who initially formed a first class partnership with Jim Brown coached by Tom Callaghan, and went on to Scottish and British honours on the track and international vests with Scotland over the country.
William J MacDonald, Glasgow University, Victoria Park, Inverness Harriers
2:37:32 1969
Willie was one of GU's best cross-country runners and also represented Scottish Universities versus the SCCU. He ran the E to G three times. However he always liked long road races and, as soon as he was 21, which was the legal age to run a marathon, he did so. A year later, in 1969, he finished fourth in the Scottish Championship Marathon. For VP in 1972, Willie ran the famous Morpeth to Newcastle road race, and his team finished third.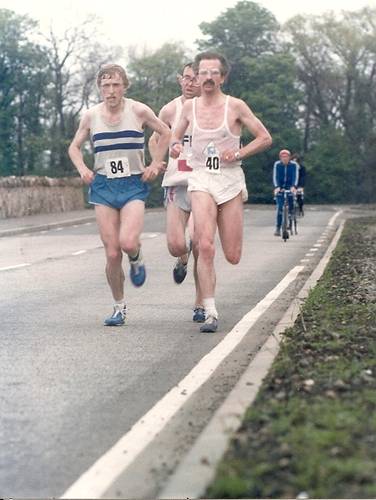 Alastair Macfarlane leads Colin Youngson and Don Macgregor in the 1979 SAAA marathon
Alastair Macfarlane, Springburn Harriers
10000m: 31:16.8 1974; Marathon: 2:18:03 1979
Alastair, starting out with the St Modan's club in Stirling, had a spell as a distinguished professional runner before being re-instated. He was soon recognised as a genuine talent, especially on the road. at a time when the country was blessed with a big number of quality endurance athletes. He ran four SAAA marathons, won medals in all of them but his big triumph was when he won the race in 1979.
DS Macfarlane, Glasgow University
880y: 1:57.3 1959
Duncan Macfarlane, Victoria Park AAC
Duncan joined the club in the immediate post war years and ran for them on the track and also over the country. A valuable relay runner, whether it was 4 x 1 mile on the track or the eight stage Edinburgh to Glasgow relay. He contributed to several team medals in the Senior National Cross Country Championships: silver in 1947 (when he finished 12th); silver in 1949; bronze in 1950; gold in 1951 (14th). In the Edinburgh to Glasgow Road Relay, Duncan gained two team silver medals in 1949 and then an excellent gold in 1950, when he stayed in fourth place on Stage 3, taking over from Alex Breckenridge and handing on to Donald Henson.
Duncan Macfarlane, Scunthorpe, Gateshead, Sheffield
1500m: 3:51.3 1985; 3000m: 8:18.0 1985; 5000m: 1:24.96 1986; 10000m: 31:18.5 1991
David MacFarquhar, Inverness Royal Academy, Aberdeen University
Mile: 4:32.2 1961
Dave – always an enthusiastic, energetic, encouraging person – showed promise as a schoolboy miler (winning, in a record time, the June 1961 Inverness inter-schools event) before going to AU. In the annual Scottish rankings, he was listed three times as a 400m Hurdler and did well in Scottish Universities track championships. He improved considerably as a cross-country runner and, in late 1966, finished fourth in a North-East League race, behind three Aberdeen AAC stars but in front of the legendary Alastair Wood. Dave was selected to represent Scottish Universities at cross country. In the E to G, which he ran three times, AU finished 11th in 1964 and won the 'most improved' medals.
Roderick MacFarquhar, Inverness, Aberdeen University, Aberdeen AAC
800m: 1:54.0 1963; Mile: 4:15.5 1961; Three Miles: 14:51,6 1961; 10000m: 33:21.0
Roddy was a talented and successful young athlete who won Scottish schoolboys and SAAA Junior titles at 800m/1500m. As a schoolboy he won the SSAA half mile twice (15-17 age group in his fifth year and 17-19 in his sixth), the second time round gaining selection for the Scotland versus Wales Schools international at Colwyn Bay – and won that one too. He also specialised in track rather than country while at University. In his first race for the University (against Edinburgh in 1961) he won the half mile. Later that year he won the Scottish Universities Mile championship from the holder, Clark of Edinburgh, in 4:15.5, a record. He was also a member of the Atalanta Club (comprised of athletes from the four ancient universities) and he ran very well for them too. In 1963 for Atalanta he won the half mile from Anglo-Scot John Wenk in 1:54.2 with both men getting the same time. Earlier that year he had won the Universities half mile title in 1:54.3 with the first three within three yards of each other.
A track internationalist, he ran for Scotland against Belgium in 1963. As a veteran athlete between the ages of 40 and 50, he had considerable success, showing speed and stamina at distances from 1500m to 10,000m and also featured in Aberdeen AAC's winning teams in Scottish veteran cross country championships and the 8-Stage Relay from Alloa to Bishopbriggs.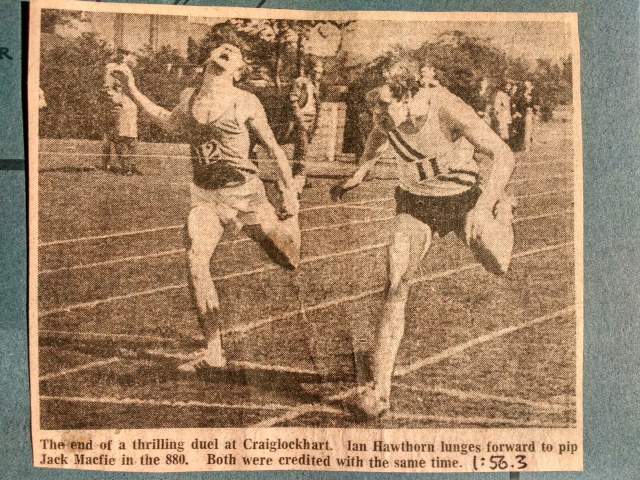 Jack MacFie, Edinburgh University, Victoria Park
880y: 1:54.2 1968′ 800m: 1:53.3 1969
A pupil at Daniel Stewart's in Edinburgh, he won Scottish Schools mile at Goldenacre in 1965 ahead of Doug Gillon and John Fairgrieve, then placed 3rd in a sprint finish behind two much vaunted English boys at the Schools International at Brighton. His DSC records for 880yds and Mile stood until metrication. He studied medicine at Edinburgh University, earned a blue and was captain of Athletics in season 1969. He won Scottish Universities 880yds at St Andrews in 1968. He was also a member of Edinburgh AC and, much later, of Victoria Park and competed for them in Edinburgh – Glasgow. His work as a hospital doctor and GP, including spells in Canada and New Zealand, curtailed his athletics career. He also played rugby for a few seasons as full back with Stewart's FP 1st XV.
His best event was 880yds/800m as well as mile and 4×400 relays. Track took precedence over longer distances but he could still be a useful member of the road race team. In his early years he trained with his pal and fellow Leither Doug Gillon, and both took advice and encouragement from John Convery and Neil Donachie at Edinburgh AC, later to be joined there by Iain Hathorn in a talented middle distance group.
Fiecely competitive, Jack's signature running style was unforgettable, eyeballs out and right arm flailing as he made his characteristic surge for the finish line alongside Hathorn, Martin Sinclair, or in a memorable victory over Graham Grant at Saughton Enclosure in 1968.
He also gained fame as world record holder for the Post Office Tower, London, run, when he achieved 4:46 in a challenge match for Edinburgh v London Universities in April 1968. The sobriquet Post Office Tower MacFie stood for several years until Norman Morrison took if off him. Yet he had stamina too: in the 1969 E to G he was part of EU's bronze medal winning team. Later on, he ran the event for Victoria Park.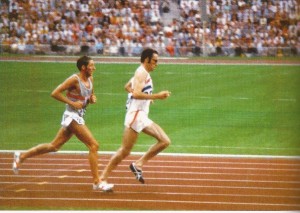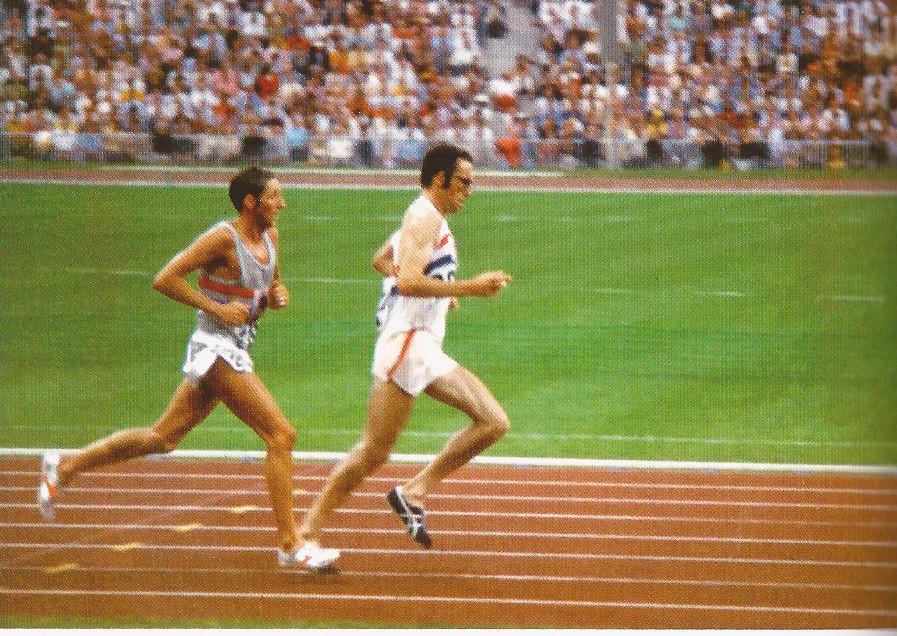 Donald Macgregor and Ron Hill (6th and 7th) finishing on the track in Munich marathon
Donald Macgregor, St Andrews University, Edinburgh Southern Harriers, Fife AC – see full profile
Mile: 4:19.3 1963; 2 Miles: 8:58 1967; 3 Miles: 14:02.2 1967; 5000m: 14:07.0 1972; 6 Miles: 28:42.0 1964; 10000m: 29:53.8 1973; 10 Miles: 49:41 1967; Marathon: 2:16:53 1970
Donald Macgregor is one of Scottish athletics best ever distance runners. His best single performance was probably seventh place in the Munich Olympics although there are many to choose from. He had a long top class career as a marathon runner with more sub 2:20 times to his credit than any other Scot ever.
Graham McHorton
800m: 1:1:55.0 1976
Ian Macintosh, Ranelagh, Springburn – see full profile
2 Miles: 9:10.6 1968; 3 Miles: 14:07.7 1968; 6 Miles: 29:08.6 1968; 10000m: 30:38.0 1968; Marathon: 2: 21:30 1972
Born in Glasgow, Ian moved south to England with his parents when he was just seven years old. Taking up running when still at school, he joined Springburn Harriers and ran in some cross-country races as a junior. Ian won the 1978 SAAA Marathon Championships from Donald Macgregor and Eric Fisher. He ran rather well on the country too: in the 1964 Scottish Junior National Cross Country he finished eighth and was first home for Springburn. Ian Young was 17th and the team fourth – only six points from bronze medals. The following year Ian was tenth Junior, just behind Alistair Blamire and ahead of Jim Wight, both of whom were in the winning Edinburgh University team. On the road he ran in a couple of Edinburgh to Glasgow relays: in 1964 he was on the second stage moving up from 12th to 9th and in 1971 he ran on the sixth stage, maintaining fourth.
James Mackay, Edinburgh Southern Harriers
Two Miles: 9:14.1 1966; Six Miles: 31:04.0 1967; 3000m S/chase: 9:56.6 1965
John Mackay, Clydesdale Harriers, Clydebank AC, Shettleston Harriers
800m: 1:50.4 1985; 1500m: 3:46.41 1982; Mile: 4:05.8 1981; 3000m: 8:06.2 1990; 5000m: 14:16.4 1990
John MacKay started as an U15 athlete with St Columba's High School in Clydebank and moved to the veterans ranks via Clydesdale Harriers, Clydebank AAC and Shettleston Harriers. As a Junior and Senior Man athlete he was a member of the British Milers Club and ran many excellent races whittling his time down to those you see above. At this point John was a Scottish international track athlete at 1500m but there was more to him than that as he ran well over the country and on the road. With Clydebank AC, he ran mainly 800m/1500m with country during the winter season, but when he moved to Shettleston he maintained his track running but became a very good runner on the roads and over the country.
(Robert) Bert MacKay Motherwell YMCA – see full profile
800m: 1:56.3 1962; Mile: 4:08.7 1962; Two Miles: 8:57.2 1961; Three Miles: 13:56.6 1964; 5000m: 14:24.4 1969; Six Miles: 30:37 1969; 10000m: 31:30 1972; 10 Miles: 51:23 1969
Bert was a quality runner who was at home on most surfaces although he seemed to prefer the track – and he ran for Scotland on track and cross country. As a member of the Motherwell YMCA he was part of many medal winning teams at YMCA, County, District, and National relays and championships as well as the Edinburgh to Glasgow. When the two Browns, McCafferty and the rest moved to form Law & District AAC, Bert did not follow them remaining with the YMCA team.
Forbes MACKENZIE Shettleston Harriers, Forres Harriers
Forbes was a brilliant young runner from Northern Scotland. There was surprise when he travelled south for the 1954 Senior National XC and finished fifth. He was second counter for Shettleston Harriers – and the team was victorious – but missed him out from the points tally, so no medal for him, for some obscure official reason. In 'The Scots Athlete', Emmet Farrell reported "surely the palm must be awarded to young Forbes McKenzie of Inverness who has shown good form all season, but ran above himself when it was most needed. Surely it is but poetic justice for such a far-travelled athlete to find his efforts rewarded." In the International XC championships report, Farrell continued "Eddie Bannon ran well for 14th. Of the others the pick were little Harry Fenion with a commendable 24th place and heroic Forbes Mackenzie who finished 27th despite sustaining a foot injury." In 1962 and 1963, he won the Northern District Cross-Country title.
Iain MACKENZIE Forres Harriers, Aberdeen AAC
1966 Two Miles 9.25.0
Younger brother of Forbes Mackenzie. Iain was a fine road runner and Northern District Cross-Country champion eight times (with three second places) between 1966 and 1981. For Aberdeen he finished 12th in the 1965 Junior National XC and 10th in 1966; and also contributed to team bronze in the 1974 Senior National. In the E to G (which he ran 11 times) he was fastest on Stage Three in 1964; and featured in teams which finished 2nd equal (1967), 2nd (1968 and 1972 – when he was second fastest on Stage 3) and third (1973). He is President of Forres Harriers.
Stan MACKENZIE Forres Harriers, Cambuslang H
1990 3000S 9.37.7
For years, Stan was a good road and cross-country runner in Northern Scotland. He ran the E to G for the North District Select. Stan flourished as a veteran athlete – finishing second M50 for Forres in the 2013 Scottish Masters XC; plus, with Cambuslang, securing two individual bronze and two over-50 team gold medals (2016 and 2017). Stan ran well for Scotland in the 2014 British and Irish 5 Nations Masters International Cross-Country.
Stewart MACKENZIE (27.03.63) Victoria Park
1980 800 1.54.84
Stewart contributed to team silver medals in the 1982 Junior National Cross-Country.
Patrick W. MACLAGAN (17.01.44) Victoria Park SEE FULL PROFILE
1970: 5000m:14.33.6; 1967: 6M: 28.58.0; 1971 10,000m 30.04.8; 1971 10M 48.45.0; 1971 1hr 19678m; 1970: Marathon: 2.20:49
An intense, hard-training individual, Pat was an invaluable contributor to Vicky Park's success for many years. The club was famed for road running, so he stood out as a Scottish Cross-Country International athlete (who also ran for his country on the road). On the track, he won a silver medal in the 1966 Scottish 6 Miles championship; and his 10 miles / One Hour marks are outstanding; as was his 1971 Scottish Marathon victory.
Jack MACLEAN Bellahouston – SEE FULL PROFILE
1974: Marathon: 2.43.30
Jack (born 1929) became Captain of the Scottish Marathon Club in 1977.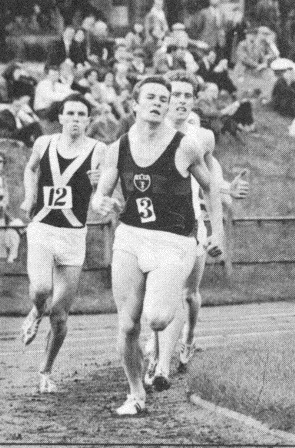 Mike MacLean (12)
Michael J. MACLEAN (4.05.46) Bellahouston – SEE FULL PROFILE
10 vests, 880, 800, 4×400
1967: 880 yards: 48.8;1970: 800m: 1-47.7; 1969: 1500m: 3.52.1
Championship Record: Commonwealth Games 1970 800 (sf), 4×400 (6th). GB: 3 AAA800 '70. Scottish: 1 880y '68, 1 800 '69, 1 800 '70, 2 880y '67, 3 880y '66.
Ian MACMILLAN (24.01.40) Edinburgh AC, Invicta
1969: 3000m: 8.20.0; 5000m: 14.14.0; 10,000m: 29.43.0; Marathon: 2.20.34; 3000m Steeplechase 9.17.4.
In the 1970 E to G, Ian's team finished fourth and he ran well to be third-fastest on the prestigious Stage Two. In the Senior National XC, he contributed to team bronze medals in 1969 and silver in 1970, when he was 15th.
MACNAMARA, J VALE OF LEVEN,
SMC Captain from 1952 for some years. Club championship from 1959 "Macnamara Cup"
Fraser MACPHERSON Victoria Park
Fraser was a good young athlete indeed who came up through the ranks from Senior Boy to Semior Man and ran in every cross-country race he could as well as turning out in the Edinburgh to Glasgow for the club. His career in Scottish athletics came to a stop in the late fifties when he just left the sport. Younger brother of Fraser.
Ian G. MACPHERSON (15.12.44) Victoria Park
1965 1M 4.07.8; 1964: 2 Miles: 9.02.0; 1965: 3 Miles: 14.10.0; 1963: 6 Miles: 30.40.0
In 1965, Ian was a Scottish International athlete, racing One Mile. In the Junior National XC, his team won silver medals in 1964 and bronze in 1965, when he was 15th. In the 1966 E to G he was second fastest on Stage Eight and overtook a rival to bring VP home in second position.
Ronald Thomas Stewart MACPHERSON, Oxford University.
Tommy was a Scottish International athlete at One Mile in 1947.
Allan MacRae, Lochaber AC
Allan was a shepherd from Little Assynt, Lochinver. He placed highly in several Ben Nevis Races and won the event in 1966. This was the first win by a local athlete for ten years. The race took place in blistering heat, with visibility on the mountain down to 100 feet at half-way and 50 feet at the summit. In 1992, Allan led the Assynt crofters' successful bid to buy the Assynt estate.
Brian MAHER (26.07.46) Aberdeen AAC, Hunter's Bog Trotters
1982 10,000m 33.00; 1983 Marathon 2.25.45
Brian ('Bob') Maher won the Edinburgh Inter-Schools Under-14 880 yards title in 1960 but, between 1986 and 1994, a true HBT man, relished tough long distance races: Seven Hills of Edinburgh (1st Veteran 1988); Lairig Ghru 28 miles (1st equal 3 hrs 27 minutes in 1988 and 1st Veteran 1989); and his favourite race, The Great Wilderness Challenge, which he ran many times (best position 4th).
John "Jack" R. MAITLAND (22.02.62) Aberdeen University, Leeds University, Aberdeen AAC
1984 10,000m: 31.35.4; 1983: Marathon: 2.23.27.
Jack has competed at the highest World and European levels as: an orienteer (winning the Karrimor Elite contest); a fell runner (victorious in the Sierre to Zinal epic; a close second in the 1984 Ben Nevis Race, thirty seconds behind Kenny Stuart, whose course record still stands in 2018); and a duathlete and triathlete (first Scot in the 1990 demonstration triathlon event at the Commonwealth Games). A compulsive racer and heavy trainer, he was born in Aberdeen and convinced to try fell running by Colin Donnelly (when both were at Aberdeen University – AU won team bronze in the 1980 National Junior XC). In recent years, he has been a very important influence on many GB triathletes, such as Olympic heroes, Alistair and Jonny Brownlee. However, back in 1985 he was fourth home for Aberdeen AAC in the Scottish Senior National Cross-Country, when his team was fourth and he finished a respectable 34th!
John MAITLAND, Lochaber AC
John (or Jack) was a tall, rangy, cheerful man who enjoyed several years of good-class veteran running. At M50, he finished a very good 5th (and first Senior Veteran, clocking 2.44.18) in the 1987 Lochaber Marathon. In the Scottish Masters Cross-Country championships, he won the M50 title in 1988 and 1989; plus M55 bronze in 1993; and M60 gold in 1998. He ran for Scotland in the very first British and Irish Masters Cross-Country International in 1988.
Ian MALCOLM Edinburgh University
1974 Marathon 2.41.20
Ian ran the E to G five times between 1970 and 1975.
Thomas MALONE Shettleston
1961 3M 14.36.6; 1961 6M 30.28.6
Tommy joined Shettleston at the age of 15, He was club and Lanarkshire youth champion in 1956 and ran in the Edinburgh to Glasgow in 1958, '60 and '61. In the E to G, Tom contributed to team silver in 1958 and gold in 1960, when he was fastest on Stage 8. In 1961, Shettleston won again, with Tom fastest on Stage 7. In the Senior National, he featured in two more team victories: 1961 and 1962 (when he was 13th finisher). Tom emigrated to Boksburgh in the Transvaal, South Africa where he became a seriously good ultra distance runner who competed in and won the Comrades Marathon – the 55 miles of the Durban to Pietermaritzburg race. He ran it in 1966 (365 starters) and won, then in 1967 (542 runners)when the route was reversed, he collapsed feet from the finish and was passed on the line to finish second. He went on to finish the race 10 times.
Nichol MALTMAN (14.03.55) Teviotdale Harriers
1995 Mar 2.34.30; 1999 Mar 2.31.51
Nichol was a veteran when he achieved most success. He ran the E to G for Teviotdale five times, including 6th place in 1992. In the Scottish XC Masters Relay, he contributed to team bronze in 1996. In the Scottish Masters XC he was 6th M40 in 1996 and 1998; and Teviotdale won team bronze medals in 1996 and 1997. Nichol ran for Scotland in the annual British and Irish Masters XC International.
Lawrence 'Larry' P. MANGELSHOT (28.05.63) North London, Woodford Green, Edinburgh, City of Edinburgh
800m: 1.50.5 (1993); 1500m: 3.43.74 (1989); 1 Mile: 4.01.6 (1991); 3000m: 8.14.0 (1990); 5000m: 14.34.1 (1993)
Larry was a Scottish Track International athlete at 800m, 1500m and One Mile. He won silver medals in the Scottish 1500m championships in 1990 and 1991, plus bronze in 1996. He also ran for Scotland in the international fixture organised to open the East Kilbride running track against Ireland.
Donald MARKIE (10.06.50) (Falkirk Victoria Harriers)
1982 Mar 2.25.48
Donald ran the E to G for Falkirk Victoria in 1981, when the team finished 5th; and also competed that year in the Scottish Six-Stage Road Relay; as well as contesting the Senior National Cross-Country championships.
Glen MARLAND (Victoria Park)
1978 1500m: 3:59.4
C MARR, Sheffield University
After finishing 5th in the 1977 Scottish Junior National XC, he ran for Scotland in the World Junior XC championships.
David MARR (Edinburgh)
3000m S/chase: 9:37.6
Alan MARSHALL (Clydesdale Harriers, Shettleston Harriers, Clydebank AAC, East Kilbride)
1980: 800m: 1:52.3; 1500m: 1979 3:50.5; 1978 5000m 14:42.8 1978 10000m 31:22.4; 1974 3000m S/chase 9:58.8
Alan's competitive record in the SAAA championships reveals that in the indoor 1500 he was second in 1975.
Alan was a very gifted young athlete as a Senior Boy (U15) and Youth (U17) with Clydesdale Harriers before moving to Shettleston in winter 1972/73. He was a very good track athlete gaining international honours in 1983. While with Shettleston, before moving back to Clydesdale, he won several team medals including team gold in 1976 and bronze in 1977. He was a Scottish International athlete at 800m in 1973.
David MARSHALL (Motherwell YMCA, Clyde Valley)
David was the son of Willie Marshall who ran in many medal winning teams with the Brown brothers, John Lineker, Ian McCafferty and David Simpson. David was also a very good runner who ran in several Edinburgh to Glasgow teams for both Motherwell and Clyde Valley, as well as cross-country. He was in the team that won the E t o G in 1979.
Peter MARSHALL (Haddington and East Lothian Pacemakers)
Peter was third Senior in the 1987 Scottish Hill Running Championships; and went on to win the M40 category four times in succession between 1988 and 1991. In the 1989 Scottish Masters Cross Country championship, he finished third M40. Peter ran the E to G four times between 1987 and 1991.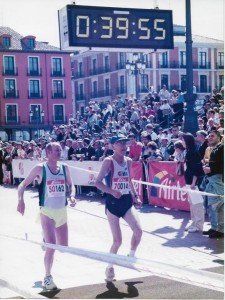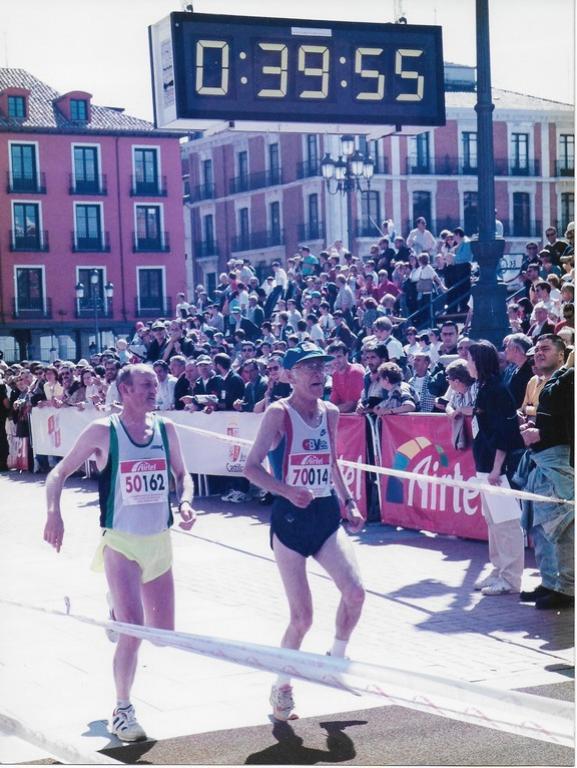 Willie Marshall on the right
Robert MARSHALL, Bellahouston Harriers, Morpeth Harriers – see full profile
1983 Marathon 2:24:42
Robert only started running in his last year at Strathclyde University when persuaded by friends. He then joined Bellahouston Harriers and trained with Jimmy Irvine. He proved to be a 'natural' and turned in many good marathon times and in 1986 he was third in the SAAA Marathon. He has had an outstanding career as a veteran runner, winning Scottish and British Masters cross-country titles and running well for Scotland in the annual British and Irish Masters International XC championships
Steven MARSHALL, Clyde Valley, Motherwell, Dundee University
1985 1500m 3:48.63; 1985 3000m 8:11.3
Steven's father was Willie Marshall of Motherwell YMCA – a complicated situation because David Marshall's Dad was also called Willie. Steven was a very good athlete as a young man and, coached by John Aderson while at Dundee University he turned in a whole series of good runs. After finishing fifth in the Scottish Junior National, Steven ran for Scotland in the 1984 World Junior Cross-Country championships.
Willie MARSHALL (Motherwell YMCA, Clyde Valley, Cambuslang Harriers)) – see full profile
Willie, father of David, was a reliable member of the great Motherwell team of the 160's which won medals in almost every outing. He ran in teams with Ian McCafferty, Dick Wedlock, Bert Mackay, the Brown brothers, etc and as a veteran he won world titles.
Colin MARTIN, Dumbarton AAC – see full profile
1965 880y 1:55.0; 1970 800m: 1:55.8.
Colin was an excellent athlete with a wide range of ability who could cover events from 400m to marathon, including the steeplechase. He was unfortunate not to be selected for the 1966 Commonwealth Games but injury played a part in that. In 1973 and 1974, he ran for Scotland against Northern Ireland in two 11 mile road races; and was Scottish Marathon Champion in 1988. One of the most loyal clubmen in the country, he supported Dumbarton AAC in every endeavour from national cross-country championships to county events, from local road races to the Edinburgh to Glasgow and he raced 'whatever the weather' eg the snow smothered Lochaber Marathon. A good runner and a good example to any athlete. Dumbarton won the 1995 team title in the Scottish Masters XC championships. Running for Scotland in the 1992 British and Irish Masters XC International, Colin contributed to M45 team gold medals.
David MARTIN, Garscube Harriers, Spango Valley
David was a talented runner on all surfaces – road, track and cross-country – who ran in all the major championships as well as the Edinburgh to Glasgow for Garscube in the late 1960's and up to 1970 when he was 54th in the National Cross-Country, leading his club home and ahead of more than a few quality athletes. He moved to Renfrewshire and joined Spango Valley but his career as an athlete suffered a severe setback when hw was involved in a road accident. He made a comeback though and continued to race for his club for several years.
George MARTIN, Springburn Harriers
George was a former professional athlete. He competed in the famous New Year professional meeting at Powderhall, Edinburgh. George ran in the mile race, winning bronze in 1952, silver in 1953 and gold in 1954. In the Scottish Masters XC championships, he won the M50 title in 1974 and added a bronze medal in 1977. Later, George coached that fine athlete Adrian Callan.
James MARTIN (Bathgate)
1972 3000m S/chase 9:5.6
James MARTIN (Springburn)
James was one of the many good athletes coached as a young man by Eddie Sinclair at Springburn Harriers, He won many medals of all colours individually and as a team runner. He ran for a few years as a senior in all the races that mattered including the E-G but eventually gave up through injury.
Neil MARTIN (Fife)
1988 3000m S/chase 9:16.3
Robert MASSON (Aberdeen AAC)
1972: Marathon: 2:37:16
Bob Masson's career statistics are very interesting – he started out in 1971, 72 and 73 ranked only in the marathon, then went on being ranked nationally until 2006 for all the decathlon events and in fact was third in the SAAA Decathlon in 1976. Bob even went on to be National Event Coach for the multi-events but he has good memories of the 1971 E-G race where he ran the fourth leg for Aberdeen University and club mate Hunter Watson ran the same leg for the club – and both ran identical times!
W. Brian MATHER (Teviotdale Harriers)
1961: Three Miles: 14:53.4; 1961: 3000m S/chase 8:57.6; 1064: Six Miles: 31:48.4
Brian was a good all round endurance athlete who ran for Teviotdale in the late 50's and 60's. He ran in all the championships cross-country and in track matches for the track league. In the E-G he ran stage two in 1959 when the club won the most meritorious medals, six in 1960, second in 1961, '62, first in 63, 64, fourth in 1965, six in 1966 and fifth in 1968. Four runs on stages two and six is a testimonial to his ability in the eyes of his team mates. Brian was a good long-distance road runner, for example finishing third in the prestigious Clydebank to Helensburgh race in 1967, well under Scottish Marathon Club First Class standard.
Alex MATHESON, (Morpeth and Edinburgh AC)
1969: 3 Miles 14:02.0; 10,000m: 1969 30:56.0; 1970: Marathon 2:25:27; 1972: 3000m: 8:28.4; One Hour: 18089m
In the 1960's and 70's there were several good runners from Morpeth who were attracted to Edinburgh AC and ran for them when required or when in Scotland. He contributed to silver medals in the 1972 Senior National XC; and to 5th place in the 1971 E to G.
Ian MATHESON (Aberdeen AAC, Thames Valley, Dundee Hawkhill Harriers)
1991: 3000m 8:20.74; 5000m: 14:10.06 5000m: 1992; 10000m: 30:41.9 1985; 3000m S/chase: 9:28.6 1988
Ian was a brilliant young athlete who trained very hard. He won East District Cross-Country titles as a Senior Boy (1980) and a Youth (1982). In the E to G, he helped Aberdeen achieve victory in 1983 and 1988. In the Senior National Country, Aberdeen won bronze medals in 1988; and more bronze in the 1989 Scottish Six-Stage Relay. Perhaps Ian was even better as a hill runner, who represented Scotland in the 1989 World Championships.
George P Matheson (Edinburgh Southern Harriers)
1500m: 3:51.66 1991; 3000m: 8:16.2 1991; 5000m: 14:32.78 1990; 3000m S/chase: 8:50.6 1990
His record in the SAAA Championships for the 3000m S/chase: second in 1991; 3rd in 1987. '88, '89, 90, '92, '93.
George was in ESH teams which won the E to G in 1981; and the 6 Stage Road Relay in 1989.
Alistair GD Matson (Edinburgh University, Edinburgh Southern, Wycombe)
5000m 14.51.0 1969; 10,000m: 30:56.8 1969; Marathon: 2:30:40 1967
Alistair was a tall strong runners who seemed at home in races like the Tom Scott 10 miles Road Race. In the Senior National XC, he won team bronze with EU in 1965 and another bronze with ESH in 1968. In the E to G, ESH finished third in 1968.
Alexander Maxwell, Shettleston Harriers
Alex featured in Shettleston teams that won gold in the November 1949 E to G and bronze in the 1951 Senior National Cross-Country.
James A Maycock, Aberdeen University
Jim ran the E to G four times including 1964, when AU won the 'most improved' awards. He was a full blue for cross country and ran well for Scottish Universities.
Paul Mayles, (Kilbarchan AAC)
After finishing 4th in the 1986 Scottish Junior National Cross-Country, leading Kilbarchan to a team win (Mayles 4, Hearle 5, Snodgrass 29, R Hawkins 39), he ran for Scotland in the World Junior Cross-Country championship. He is a bit of a mystery in that he appeared that year but there is no record of him having run in the national before or since and he did not run in the E-G. However in 1986 Kilbarchan won bronze medals in the Scottish Cross-Country Relay Championship.