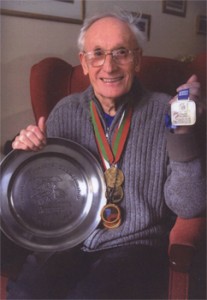 .
Gordon Porteous
John Park, (Beith Harriers, Maryhill Harriers, West Kilbride AAC)
John was a member, with the Barr brothers, of the successful Beith team before the War and when their clubhouse was requisitioned for the military during the War, he joined Maryhill. When the West Kilbride club was formed in 1946 he was a founder member. A road runner of note he was one of the first of the post war marathon runners – he won a standard medal at the British marathon championships in 1946, generally reckoned at the time to be his best performance. The youngest of the 62 starters in the race, he was 9th in 2:56. Also in the field were Squire Yarrow, Dunky Wright, Donald McNab Robertson, Tom Richards and a few South Africans. He was 3rd in the SAAA Marathon from Falkirk to Meadowbank in 1947 and 3rd in the 1946 Stewarton to Pollokshaws 17 miles in 1946. He died at the age of 29 from kidney trouble in August 1948.
John Parnell (Salisbury)
Marathon: 2.30.11 1992
Alan Partridge (Glasgow Univ, Jordanhill College, East Kilbride AAC)
1500m: 3.59.6 1977; 5000m: 14.25.4 1977; 10,000m: 30.39.7 1977; 3000m S/C: 9.29.4 1975; Marathon: 2.22.30 1982
Alan was a well known runner on the track, road and country for many years, mainly in the colours of East Kilbride. In 1970 he finished 8th in the Scottish Junior National XC and his East Kilbride team won bronze medals. His best performances over the country were probably second in the 1971 Scottish Universities championship; eighth in the senior National Cross Country in 1977, and second to Jim Brown in the Midland district senior cross country in 1973.
Father of Susan Partridge.
David Paterson (Vale of Leven)
Marathon: 2.43.06 1977
David was a real talent who came in to the sport far too late. Stylish and talented he ran well in all the local races in the West of Scotland and it is only a pity that he did not continue into the veterans movement.
Jack Paterson, Polytechnic Harriers – see full profile
Jack won the SAAA Marathon championship twice (1949 and 1951) and ran in the Empire Games in Auckland. Despite living in England he raced frequently north of the border and was popular with the Scottish athletes.
James Paterson (Eastbourne, Brighton & Hove)
880y: 1.54.2 1967; 800m: 1.52.1 1968; 1500m: 3.52.2 1068; 1 mile: 4.10.8. 1967
JV Paterson (Edinburgh Southern Harriers, Edinburgh University) – see full profile
Paterson was a very good athlete, whose training and life were very well organised and who won SAAA titles at 440y, 880y (twice each) and the two miles steeplechase. He was awarded the Crabbie Cup twice. Paterson also ran on the roads (he took part in the Edinburgh to Glasgow and on one occasion moved from fourteenth to ninth, then on his next run he went from tenth to fourth. Each time he ran the fastest time on his leg. He also won gold in the ESH team that won the gold. Unfortunately Paterson had a very short career which ended when he emigrated to Rhodesia on graduation in 1958.
Michael Paterson (Brighton & Hove)
5000m: 14.36.6 1973
Ron Paton (Strathclyde University, Clydesdale Harriers, Dumbarton AAC)
Marathon: 2.41.12 1972
Ron was a good runner at Strathclyde University running in their colours in cross-country, road (including the Edinburgh to Glasgow) and on the track. He did the same with both clubs in Dunbartonshire with some success. When with Clydesdale he was one of four runners (with Allan Faulds, Phil Dolan and Doug Gemmell) who ran in the notorious English national in Birmingham in 1972. Withe Dumbarton he was part of their squad that ran from Glasgow George Square to Fort William.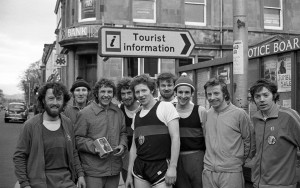 Dumbarton team that ran the Glasgow-Ft William. Ron Paton third from the left
Stuart Paton ( Belgrave Harriers)
800m: 1.47.43 1988; 1500m: 3.40.04 1984; 1 mile: 4.05.9 1983; 3000m: 8.10.49 1988; 5000m: 14.22.83 1990
Stuart was a fast middle distance runner who travelled to Scotland frequently for selection races and was rewarded with several international vests. He ranked third in Scotland over 800m in 1982, '87 & '88, third over 1500m in '84. Competitively his biggest win was in the A.A.A. 1500m indoor title in 1983. His abilities were not confined to the track however. In 1982 after finishing fourth in the junior national cross-country championship he ran for Scotland in the IAAF international finishing 50th.
Anthony Patrick (Aberdeen University, Octavians)
880y: 1.56.5 1967; 1 mile: 4.10.8 1966
Greg Paterson (Monkland Harriers, Clyde Valley AAC)
3000m S/C: 9.39.4 1976
A good all-round endurance athlete, Greg competed in two Edinburgh-Glasgow relays for Clyde Valley alongside John Graham, Jim Brown and Ronnie McDonald.
Michael Patterson (Bellahouston Harriers)
10000m: 32.01.0 1972
Tommy Patterson (Shettleston Harriers)
1 mile: 4.19.6 ; 3000m: 8.45.8 1972; 5000m: 14.39.4 1972; 3000m S/C: 9.44.8 1968
A very good road and cross country man, member of many Shettleston teams over the years. He was in the winning team in the National senior cross country in 1971 and '72. the E-G winning teams in 1968, & '70 (when he ran the fastest time on the third stage both times) '71, '72, 2nd team in 1969.
Tommy ran in the Junior international in 1968 after coming in ninth in the Scottish national.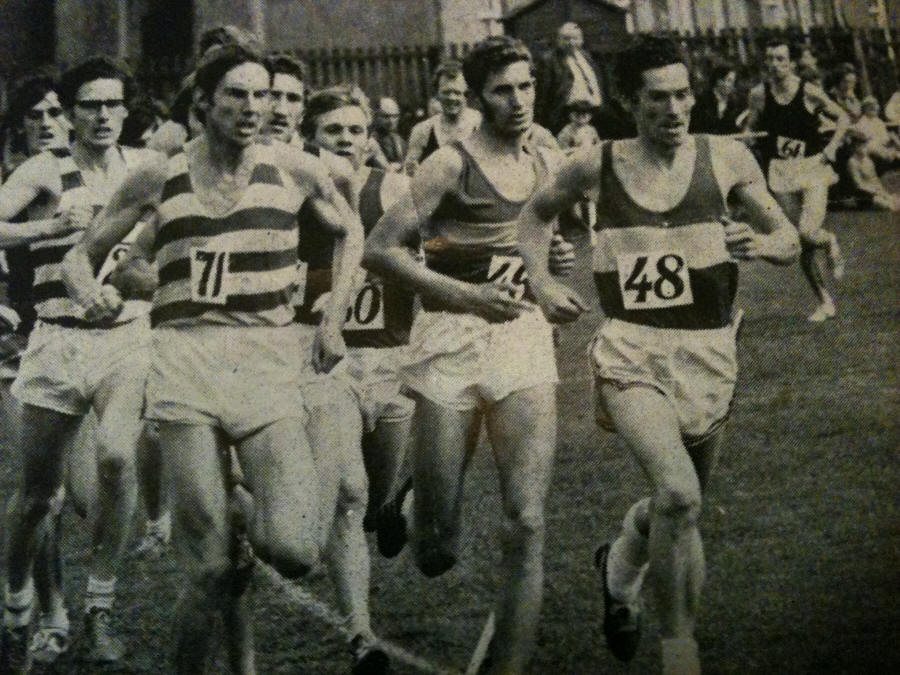 Tommy Patterson, Shettleston, in the middle of the picture between Hugh Barrow and Dick Wedlock
Tommy Patterson (Springburn Harriers)
800m: 1.56.4 1976; 1500m: 3.52.2 1977 ; 3000m: 8.05.6 1977
Tommy was second behind Colin Youngson (ESH) on Stage One of the 1975 E to G, with both breaking the previous record for the Fettes to Maybury stretch. In 1974, Springburn had finished in a good fifth place.
B Pattieson, (Dundee Hawkhill Harriers)
In the 1990 E to G, he was fastest on Stage Seven and contributed to team silver medals.
Joe Patton (Birchfield Harriers, Portsmouth, Edinburgh AC)
1500m: 3.59.1 1976; 5000m: 14.28.0 1975; 10000m: 29.04.22 1982
Joe was a regular member of many Edinburgh AC teams, travelling up for all the important races. He was a member of the winning team in the National Senior cross country in 1974 and '78, also in the team which finished second in the E-G in 1974 and '82. He ran twice for Scotland in the IAAF championships. First in 1976, then in 1979 although in neither year did he figure in the first ten in the National.
Steven Peddie (Aberdeen AAC)
10,000m: 33.36.0 1982
In 1982, Steve led the AAAC team to bronze medals in the Scottish Junior National XC championships.
Andy Pender, Falkirk Victoria Harriers
Andy was a club stalwart when FVH was revived in the early 1970s. He ran the E to G in 1974 and 1975. As a veteran he won M40 bronze in the 1981 Scottish Masters Cross-Country championships; and contributed to team silver in 1980.
Richard Penman (Bellahouston Harriers)
2 miles: 9.17.0 1961; 6 miles: 30.49.2 1959
Dick Penman was a key member of all the great Bellahouston team victories and performances of the 1950's. This included fastest time on stage five of the Edinburgh to Glasgow in 1958 when they won the race from Victoria Park and Shettleston. When they won silver in 1959, he was fastest on Stage 5 once again. He gave up his amateur status to take part in Billy Butlin's John o'Groats to Land's End race.
Dick moved to Leeds.
Kenneth Penrice (Victoria Park AAC, Ayr Seaforth Harriers)
800m: 1.53.43 1990; 1500m: 3.54.3 1990; 10000m: 31.28.84 1988
John Pentecost (Falkirk Victoria)
3000m: 8.31.79 1989; 3000m S/C: 9.06.05 1984
A regular, reliable and hard working member of the Falkirk Victoria teams which finished second in '85 and third in '84 in the National Senior cross country championships. He was also in Falkirk's winning Edinburgh to Glasgow team in 1984 and '90, running the fastest time on stage 8, also in the team to finish 3rd in '85.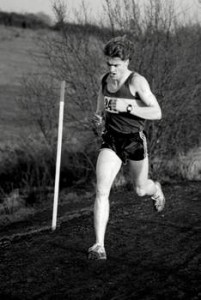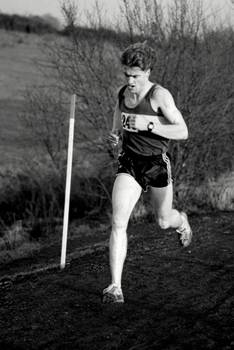 John Pentecost
Archie Peters (Maryhill Harriers, Vale of Leven AAC)
Archie was a member of Maryhill Harriers immediately before the War who ran well enough to win gold and silver team medals. After the War he had moved to the Vale of Leven and helped set up the club which in very short order won the SCCU Novice Championship and produced many quality runners. He was the coach with the Vale for many years thereafter.
Graham Peters (Victoria Park)
880y: 1.54.8 1963; 1 mile: 4.16.8 1963; 2 miles: 9.26.2 1963
Graham was a member of a very good group of Victoria Park members in the early 1960's, who after a short time in the sport left to go into farm management in England. When Hugh Barrow broke the AAA Junior Mile record in 1962, Graham drove him to Whitton Park.
Kenny Phillips (Beith Harriers) – see full profile
Ronald Pickard (Perth Railway)
Marathon: 2.53.40 1968
Alan Picken, Springburn Harriers
Alan was one of the members of the Springburn teams, coached by Eddie Sinclair, that went through the age groups winning gold, silver and bronze at country, district and national level.
Ian Picken, Springburn Harriers, Strathclyde University
He won the 1968 Scottish National Youth Cross-Country title; and ran for Scotland in the 1969 International Junior Cross-Country championships. Springburn won team silver in the 1969 Scottish Junior National XC, when Ian finished 7th.
George Pirie (Leamington)
Marathon: 2.29.34 1974
Brian Pitt (Dumbarton)
10000m: 31.48.5 1990
A good runner who ran in all the championships and ran well – he would have been a useful team runner in almost any team in the land.
John Pollock (Victoria Park)
3000m S/C: 9.33.46 1984
Norman Ponsonby (Clydesdale Harriers, Clydebank AAC, Ayr Seaforth)
10000m: 33.25.0 1978; 3000m S/C: 9.48.1 1977
Gordon Porteous (Maryhill Harriers) – See Complete Profile
Marathon: 2.49.28 1966
Gordon (born 1914) was a good club runner for Maryhill – good enough to win a Scottish vest in 1946 and to be in the team in 1948 when his friend and team mate Emmet Farrell won the SCCU Championships for the second time. But it was as a veteran that he excelled, setting world records in the marathon distance until he was in his 90's. Check out his profile by clicking on his name above.
Paul Porter (Victoria Park)
1500m: 3.58.8 1978
Brian Potts (Clydesdale Harriers)
3000m S/C: 9.50.7 1988
Brian was a good runner on the track and on the road, he was very good over the country but was excellent on the hills. He won many of the short and medium hill races (Tinto was his favourite), set many records and ran for Scotland on the hills. He was also a noted competitor on the Island Peaks race.
John Poulton (Motherwell YMCA)
6 miles: 31.16.4 1959 ; Marathon: 2.42.11 1966
He was in the National Senior cross country winning team in 1963, second team in '64 and in E-G winning teams of 1962, '64, second placed team in '65, 3 third teams in '61 & '66. John was also a good long-distance road runner.
Ben Preece (Aberdeen AAC)
In 1990, Ben was one of the Aberdeen team that won gold in the Scottish Veterans Cross-Country championships. He secured individual silver as second M45; and team silver in 1991. For Scotland at M45, he ran in the 1991 British and Irish Masters International XC (Aberdeen). His 10k best was 32.40; and his fastest marathon 2.33 (Dublin). However Ben, a tall, strong, very sociable man, was a real mountain endurance runner, who won the 28 miles Lairig Ghru race twice and set an unbeaten veteran course record; ran the Great Wilderness Challenge 25 times (creating a long-lasting M50 course record); and went on (with Run the Highlands) to traverse Scotland from Inverness to Skye; and also 122 miles from Perthshire to Spey Bay in Moray. Ben completed the Highland Cross Duathlon twenty times.
Peter Preston (Monkland Harriers, Cambuslang)
In 1972, he was part of the winning Monkland team in the Scottish Junior National Cross-Country. He ran the E to G in 1971 and 1972. Later he switched clubs to Cambuslang and ran the E to G for them in 1975, 1976 and 1978, when they finished 6th.
Alan Puckrin (Kilbarchan, Greenock Glenpark, Edinburgh SH, Inverclyde)
1500m: 3.46.43 1989; 3000m: 8.00.49i 1989; 5000m: 13.57.22 1989; 10000m: 29.32.29 1994
2nd in S.A.A.A. 10000m in 1994, 3rd in '97, 3rd indoor 3000m 1997. Ranked 2nd in Scotland over 5000m 1989, 3rd at 5000m & 10000m in 1994.
Alan was a Scottish International Track athlete at 3000m and 5000m. He ran for Scotland in the 1983 World Junior Cross-Country championships. Greenock Glenpark Harriers won the 1989 Scottish XC Relay championship. Alan also won medals in the E to G and Six Stage Road Relay.
J Quinn (Motherwell YMCA Harriers)
He ran for Scotland in the 1987 World Junior XC championships.
Bobby Quinn (Glasgow University, Kilbarchan AAC) – see full profile
Bobby was a stand-out runner on all surfaces at all times of the year – road, track, country, hills – he was a Scottish international runner on them all. In addition, he won Scottish National XC champion titles as a Youth, a Junior (twice) and a Senior (four times). As a Masters athlete, he won M40 gold in the British and Irish Masters International XC and continued to win Scottish age group titles into his fifties.