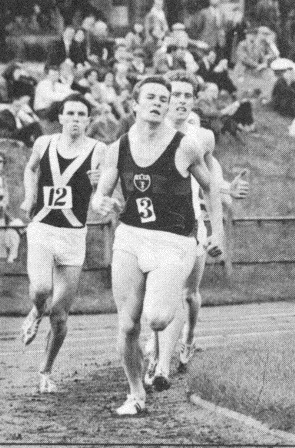 Mike Maclean (12) tracking Graeme Grant (3) off the bend.
Of the four runners who dominated the 880 yards from the early 1960s into the 1970's, Mike Maclean (4/5/1096) was the most successful – three SAAA senior titles plus silver and bronze, AAA's medallist, three Scottish records, topped the national rankings in three consecutive years and Commonwealth Games semi-finalist in 1970.   A record to be proud of.   He was also the only one of the four to have won the SAAA Junior half-mile – he did this in 1965 in a time of 1:57.7.
He had obviously been running for a while before that season but we will start with that summer of 1965.    Mike Maclean began by winning the handicap 880 yards in the Glasgow Championships on a windswept Scotstoun track on 22nd May in a time of 1:51.8 from a mark of 26 yards.   This set him up nicely for the West District Championships the following Saturday at Dam Park in Ayr where he finished second – one place behind Graeme Grant of Dumbarton who recorded 1:54.3.   There were Scottish Athletic League triangular matches almost every other week and since Bellahouston Harriers was in the same league as clubs such as Edinburgh Southern Harriers and Victoria Park (the strongest clubs respectively in the east and the west at the time) he was getting a number of quality races under his belt.   Greenock Glenpark Harriers had a number of very good 880 yards runners following in the footsteps of former SAAA champion Dick Hodelet, and Tom Dobbin was one of those.   Powerfully built he was a genuine talent but in the SAAA championships he finished second to the taller, more elegant Mike Maclean who won the Junior championship in 1:57.7.   Graeme Grant won the senior title from Hodelet by a mere half second in 1:54.9.   Grant and Hodelet were already active on the Highland Games circuit but Maclean seldom appeared there but he was of course getting more League fixtures at a good club level  with Bellahouston than they were.    An example of this was the Land o'Burns trophy meeting at Ayr on 14th August where Maclean had a sparkling write-up for his performance in the medley relay: "One Scottish record was broken, the mile medley (880 x 220 x 220 x 440), by Bellahouston.   MJ Maclean gave Bellahouston a wonderful lead of 10 yards after the opening leg, timed at 1 min 56 sec, which H and W Robertson succeeded in holding.   The last leg, by H Baillie, was timed by unofficial watches as 48.5 sec, with ofcourse a running start.  Even so Baillie, aged 18, showed great potential over a distance he has tried seriously only three or four times.   The club's winning time was 3 min 28.9 sec, 1.1 sec better than the previous best by Ayr Seaforth."
Maclean did take in the Bute Highland Games at Rothesay seven days later where he won the Junior 880 yards off scratch in 1:57.   Bellahouston also won the SAAA Junior Medley relay at Cowal on 28th August.   Bellahouston won three relay titles at Cowal (Junior 4 x 110, Senior 4 x 110 and Junior Medley) and then won the SAAA title the following week, 4th September, at Shotts where the Glasgow Herald reporter covered the race well:
"Glasgow University, holders of the Scottish medley relay title, even with BW Scobie, WM Campbell, J McGeogh and AB Kennedy, found Bellahouston Harriers more than a match for them.   MJ Maclean, a junior, obviously instructed to have as big a lead as possible over the 880 yards first leg, never let up and Scobie found it impossible to get any nearer to him than 20 yards.   Thereafter the race was as good as won for H Robertson, W Robertson and H Baillie made the most of this advantage and won by 25 yards."   The winning time was 3 min 34 sec.
Although a speed based half miler who seemed to prefer running 440 and 880 to doing the 880/mile double, Maclean like all endurance runners of the time took part in the cross-country relays and on 9th October led off the Bellahouston Harriers four man team which won the race – the other runners were Jim Irvine, Brian Goodwin and J Wood.   He even ran in the Edinburgh to Glasgow eight man relay on the eighth stage in 1965 in the sixth fastest time of the day, only two seconds slower than the much more experienced Clark Wallace of Shettleston.
The first time that Maclean featured in the results columns in 1966 was when he finished second to Dick Hodelet in the West District 880 yards on 28th May at Westerlands.     The winning time was 1:52.2.
There was a whole host of races on 13th June and the one that Maclean raced in was the Inter-Counties Championship 880 yards which he won in 1:53.8, while rival Hodelet won the 440 yards in 49.4 sec.   That was the weekend that the team for the Commonwealth Games in Jamaica was announced and only one half miler was selected: Graeme Grant and the general feeling was that, although Grant merited his place, Hodelet had been badly done by.    He was to show during the rest of the season that this judgment was correct.   Maybe Grant also had a point to prove and he did so in the SAAA Championships at Meadowbank on 25th June when he won fairly comfortably with Hodelet second and Maclean right on his shoulder in third.   Times?   Grant 1:50.3, Hodelet 1:50.7, and 1:51.2.   Hodelet and Maclean left for Dublin and an invitation 440 yards immediately afterwards and the race took place on the Monday evening when they finished second (Hodelet) and third (Maclean)   First and second off the last bend they were both passed by Noel Carroll who won in 48.5 sec.  Both Scots set personal bests for the distance of 49.0 and 49.2 respectively.   On 2nd July both men represented Scotland against Wales and the Midland Counties at Birmingham.   The race was won by Craig Douglas who was running as a guest in 1:49.9, Maclean was second in 1:50.2 and Hodelet who had a disaster of a run could only finish down the field in 1:56.8.   This was to be Maclean's best time of the summer and place him third in Scotland.
The Scottish 4 x 110 yards and 4 x 440 yards relay championships were held on 20th August at the Edinburgh Highland Games.   Maclean was in the Bellahouston team which won the latter race fairly easily in 3:22.9, the other runners being HJ Carmichael, W Robertson and H Baillie.   Cowal Highland Games was always a highlight of the season where the runners competed in front of big crowds on a fairly good 440 yards cinder track – fairly good compared with the short bumpy grass that were normally a feature of the Highland Games circuits.   Maclean went this year for the invitation 440 yards in which he finished third behind team mate Hugh Baillie and Victoria Park's Bob Laurie.   The winning time was 48.7 sec.   First Saturday in September was always Shotts Highland Games (440 yards hard track, down hill back straight and uphill finishing straight) and Maclean was by now a frequent participant in these meetings.   The medley relay championship of Scotland and, of the first leg, The 'Glasgow Herald' said:
"The 880 yards with G Grant (Dumbarton), A Stewart (Edinburgh AC), AT Weatherhead (Octavians) and MJ Maclean (Bellahouston) was indeed a classic field of performers.   Grant, the favourite to lead the field was well and truly beaten by Maclean."     Bellahouston again won the race with J Williams, HJ Carmichael and W Robertson completing the line-up.   The same quartet won the medley relay at Dunblane the following week to finish the season.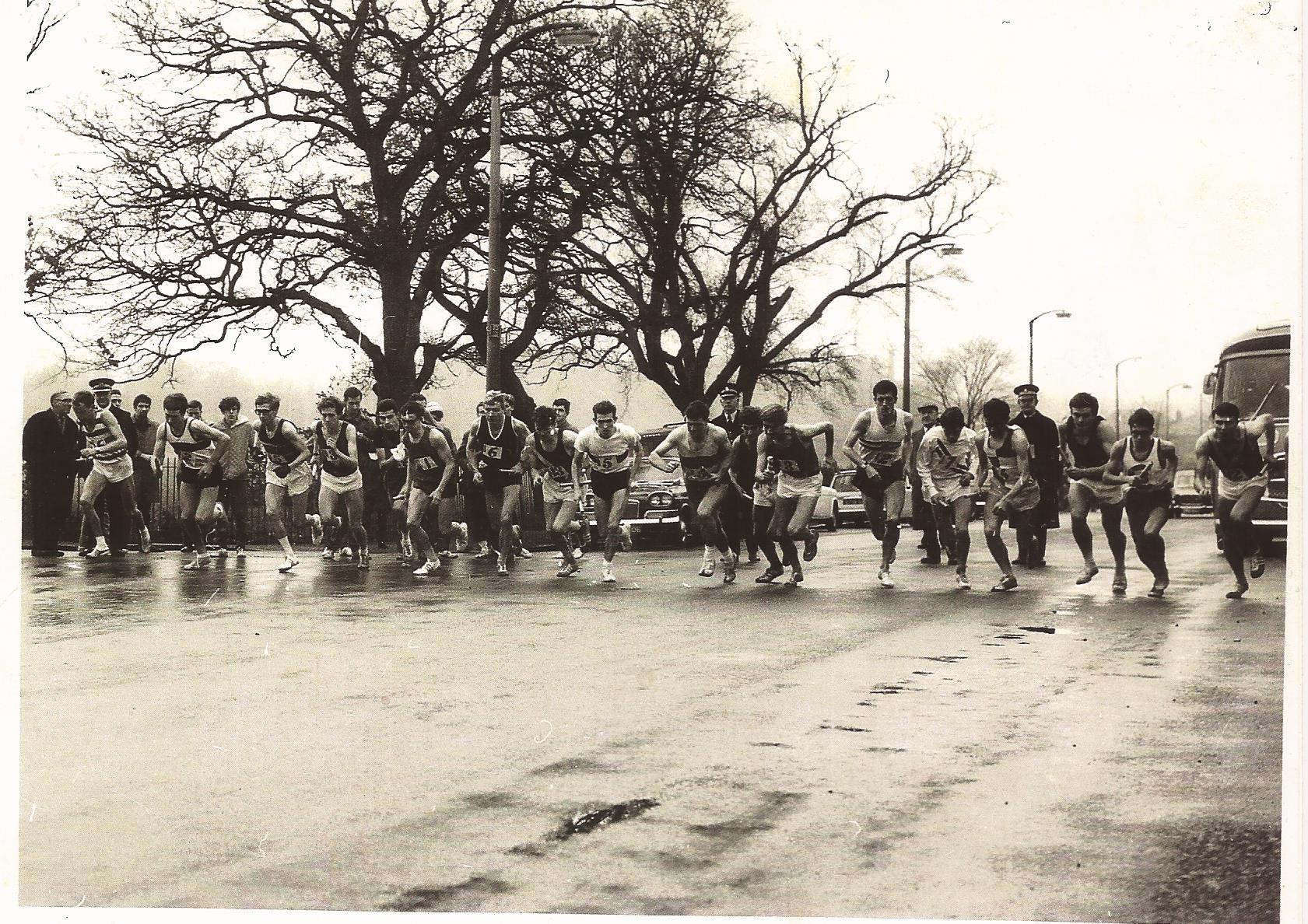 Edinburgh to Glasgow Relay start, 1966.   Maclean on extreme right, Grant third from the right.
More relays but this time of the road and cross-country variety and Maclean did his bit for his club, supporting teams on all surfaces.   This year his Edinburgh to Glasgow leg was the opening stage out to Maybury Cross and he was twelfth on the stage.   An interesting feature of this stage that year is that three of Scotland's very best half milers were out on it for their clubs – Middleton of Springburn was eighth in 28:01, Grant was 10th in 28:13 and Maclean was 12th in 28:26.   It was a typical winter with solid work being done but with no spectacular results achieved.
Came summer 1967 and on 29th April Maclean started the season with a victory.   For several years there had been races at Hampden before big matches and at half time, but the were usually of one mile or even two miles but this year they introduced a half mile and Maclean won in 1:54.3 from  Hodelet who was three yards back.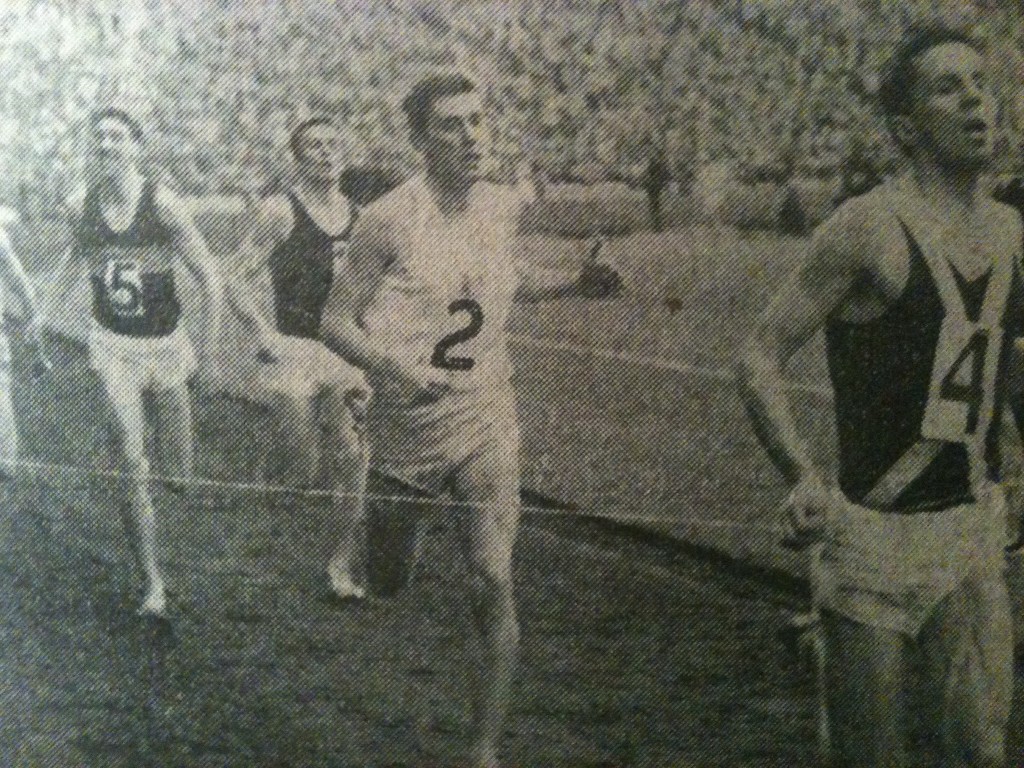 Half Mile at Hampden: Maclean wins (4) from Hodelet (2) with Barrow (5) and Grant also in shot
Back at Scotstoun on 20th May, and back on relay duty, Maclean ran the 'glory leg' for Bellahouston.    Read on …
"Odds on favourites in the 4 x 440 relay, Bellahouston Harriers, had to wait until the last leg before they lowered the soaring temperature of their supporters when MJ Maclean took an unchallenged lead early in the lap.   But in the first leg HJ Baillie, not yet back to peak fitness, had looked sluggish in the home straight, as A Stewart (Edinburgh AC) took the bit between his teeth in an inside lane and matched Baillie, the national 440 yards record holder, right to the change-over point.   J Convery and H Munro maintained this cheeky challenge for the Edinburgh club, before Maclean reminded them of their station in life and left F Steell to take a gallant place behind him at the tape, minutely ahead of Edinburgh Southern."     In the West District Championships at Westerlands on 27th May, Maclean won the half mile in 1:55.1 from Hodelet and Colin Martin of Dumbarton, and the n raced the 440 yards an hour later finishing second, five yards behind Ross Billson's  49.2.
His biggest victory of the season so far came on 3rd June in the Birmingham Games.   "Another 1-2 for Scotland came in the 880 yards.   AD Middleton did the donkey work for more than a lap and then W McKim (Midlands) shot into the lead halfway down the back straight desperately trying to relive his four minute mile days of three seasons ago.   His onslaught flattered to deceive; MJ Maclean elegantly repulsed him  coming into the home straight and a painful effort by the Englishman to withstand Middleton's late thrust for his second place was beaten aside."   Maclean 1:52.3, Middleton 1:52.8 and McKim 1:53.5.   On 10th June in the Home Countries International at Grangemouth, Maclean ran 48.8 for the 440 as part of the 4 x 440 relay team and in doing so almost caught Olympian John Sherwood on the third stage.
At Bellahouston Harriers, the relay successes kept coming and the inter-club triangulars also proceeded through the summer and then the SAAA Championships were held at Grangemouth on 24th June.   After his season so far, Maclean was the clear favourite for the SAAA title over 880 yards and it looked very much as though he was the winner as he came into the home straight in front of Grant with Middleton third.   But Middleton came through, passed Grant and swept past Maclean for second place.   Maclean's 1:50.6 was an excellent time but Middleton's 1:50.2 was better.    Both men travelled to the AAA's championships in London the following weekend (15th July) and in the 880 yards championship final, Neither man was disgraced and Middleton finished fifth in 1:48.6 behind Boulter (1:47.3 – UK National record and equalled European record), Noel Carroll (1:47.6), K Colburn (USA 1:48), … Middleton was fifth and Maclean ninth with, unfortunately, no time taken.
Back at home, Bellahouston were not doing as well in the relays with the Victoria Park team (usually Barrow, Hepburn, Wood and Laurie) winning almost all of them, but at the end of August they, along with ESH, were the only unbeaten club in the track league top division.   The SAAA Medley Relay was decided as usual at Shotts with Maclean second on the first stage behind Barrow of Victoria Park which club kept the lead until the final change-over.   With Baillie expected be only a matter of feet behind Victoria Park's Laurie, a great race was in prospect until Baillie was sent clattering to the ground after a collision with an opponent at the vital moment when the baton was passed.   It wasn't their year for relays but the 'Glasgow Herald' correspondent commented on the track as follows: "The blame really rests with an association which can award the holding of a national event to a meeting whose track has no lane markings and is approximately 17 feet wide instead of at least 24."   Elsewhere in the article he refers to 'the loose surface'.    At that time even the best runners ran in such conditions which varied from bumpy grass (lots of places), short tracks (2+ laps to the half mile, often only 300 yards (and at at least one sports meeting, the track had to fit inside the goalposts), unrolled cinders, specific track knowledge was often required (eg at one meeting there was a hold about a third of the way round the top bend right on the inside of the inside lane, tracks with the first bed down hill and the second uphill and the straights parallel to one another but at different heights above sea level.   BUT – the times were good and the runners all learned how to take care of themselves in big fields on tight bends.   Victoria Park also won the relay at the last meeting of the season, held at Dunblane Gathering which was held in a natural amphitheatre or bowl with grassy banks all round the short, tight, grass track for the spectators to sit and watch the meeting.
It was more of the same in winter 1967/68 for Maclean and he again was part of the Bellahouston team that won the Renfrewshire championship on 14th October.   On 28th October at East Kilbride, he was second fastest runner for the club when they finished ninth team of the 36 complete teams.  He missed the Edinburgh to Glasgow however and started to get ready for summer 1968 which he started early, as in 1967, with a victory in the half-mile at Hampden before the Cup Final.   This year he won in 1:52.6 from Craig Douglas (1:53.3) and Dick Hodelet (1:53.9).    Not bad for early season and round a football pitch.   His first significant victory of the year however cam when he won the West District 880 yards on 27th May when he defeated John Cherry (Springburn) in 1:56.5 to Cherry's 1:58.8 on a very windy afternoon.   On 8th June at Grangemouth in the British Isles Cup, Maclean was out in the half-mile where his 1:51.9 was 0.8 behind England's John Davies but was good enough to take the scalp of John Whetton, third in 1:52.3.   The season was hotting up and on 15th June in the inter-area match between Scotland and Midland Counties at Leicester, he was again second .   Winner this time was Dave Cropper, the 'Head Waiter', in 1:51.7 with Maclean on 1:51.8.   The times tell you a lot about the Scot's finishing kick -Cropper's was ferocious and he was often content to sit back, let the first 700 or 750 yards roll by and then accelerate dramatically past the opposition: that Maclean was only 0.1 down would indicate that competitively he was not over-awed by the Englishman nor decisively and hopelessly beaten.
The Scottish Championships were held at Grangemouth on 22nd June and this time Maclean won his gold medal.   First in 1:51.6 from two experienced campaigners in Dick Hodelet (1:52.1) and Craig Douglas (1:52.6) it was to be the first of three for the Bellahouston Harrier.
His 1:49.9 run at Grangemouth at the start of June was to remain his best for that year placing him at the top of the rankings, with the next best being Hodelet's 1:51.4 and Hugh Barrow's 1:51.8 third best in the country.    He had also shown that neither travelling nor big names had the power to 'throw' him as Whetton and Cropper found out.   The SATS yearbook commented that 'Mike Maclean was clearly out on his own.'
*
1969 would be arguably Maclean's best with ten of Scotland's best times over 88oy/800m to his credit, including the top six times which were all his.   Keddie in his centenary history of the SAAA suggests that 1970 might be his best year, but there is a debate to be had about that.   Winter had come in October and on 2nd November in the Midland District relays he was part of a Bellahouston team (with Goodwin, Adair and Yates) which finished third.   Not just a member, but the fastest man in the team.    The team was third in the West District Championship proper and Maclean was their first finisher when he crossed the finishing line in 14th place in a time of 33:50 with Brian Goodwin next in 33:53 and then Jack Adair sixteenth in 34:00.    No Edinburgh to Glasgow that year though. And summer that year started on
22nd March when he ran indoors at the track at RAF Cosford.   There he ran a very good 1:51.11 when finishing third. Then back home on 26th April at Hampden Park Maclean won the pre-match 880 yards in 1:54.1 from J Convery (ESH) and AJ Wood of Victoria Park.   On the third Saturday in May, 17th, it was back to Dam Park for the Land o'Burns Trophy meeting.   Strange as it may seem, Mike's main opposition came not from Middleton, Hodelet, Douglas or Billson, but from a runner better known for 5000m running.   Ian McCafferty had been running a lot of Mile races and quite a few 800m races as preparation for the longer distances internationally and doing it very successfully with a sub4 minute mile to his credit.   However at Ayr, he had to give best to Maclean – "Another national champion to win was Mike Maclean and although he beat off a fighting challenge from McCafferty in the closing stages of the 800m fairly easily we had for a few seconds the distinct possibility of the little Law runner creating the biggest surprise of the day."   Maclean's time was 1:54.4, McCafferty 1:55.   In the absence of Maclean in the West Districts on the last Saturday in the month, McCafferty won the championship in 1:53 and that same weekend, Maclean was selected to run in the representative match at Leicester on 14th June.   In that match, against the Midland Counties, he won in 1:51.6 from P Miller who ran 1:52.8 – a fairly comfortable win.   On 21st June when SAAA took on Atalanta at Grangemouth, Maclean won the 400m in 49.1 while Craig Douglas won the 800m in 1:54.1.
Defending his title in the SAAA Championships on 28th June at Grangemouth, Maclean successfully defended his title when he won from Graeme Grant in 1:51.5 – Grant's time was 1:53.2 and Billson in third was 1:54.2.   On the strength of that win he was picked for the Scottish team to compete against England, Wales and Ireland for the Cambrian Trophy.
Maclean was on a wonderful plateau that was important in pre-Commonwealth Games year.   The first major Games to ever be held in Scotland, and Maclean was heading into it  with a wonderful record.  Just look at this:
Time       Position     Venue                       Date     Rank
1:49.9     5th              Grangemouth          7 Jan      1
1:50.0     6th              White City               2 Aug      2
1:50,3     R                  Scotstoun                24 May   3
1:50.4     1st                White City               26 May   4
1:50.7     4th               Wolverhampton      19 Jul     5
1:50.7     1st                Dam Park                  10 Aug   6           ie the top six times in Scotland with only 0.8 sec between first and sixth.   And more …
1:51.1      3rd               Cosford                      22 Mar  8
1:51.2      1st                White City                1 Aug      9=
1:51.5      1st                Grangemouth          28 Jun   13
1:51.6      1st                Leicester                  14 Jun     14       ie   10 times out of the top 14 in the country over 800m.
He was also ranked in the 1500m as ninth individual with 3:52.1 done at Meadowbank on 13th July and at 400m with a time of 49.0, run at Grangemouth on 7th September.   Number 12 in the UK over 800m was good too.   A quite remarkable season.   The SATS year book commented: "Once again Mike Maclean was in a class of his own in the two lap event, his superiority being amply demonstrated by his eleven performances in the top marks of the year.   He was unbeaten in 'home' events against fellow Scots and he confidently retained his national title; but with a season's best of just under 0.1 sec under 1 min 50 sec his expected breakthrough into the upper GB rankings did not materialise.   1970 however, could well be Mike's big year!"
Having had such success in 1969 and with the Commonwealth Games coming over the horizon at an ever increasing pace, Did Maclean continue to run cross-country?   Of course he did: when something has been as successful as the winter training and racing had been over the previous years why change it when it matters?   He was out in the County championships and ran the second stage on which he ran a time that would have seen him in the first team for any other club other than the winning Shettleston team where he would have been only one second slower than their fourth man.   For the second year he missed the E-G and all the longer cross-country events.   At the start of the summer, he didn't win the 800m race at Hampden – this went to Englishman Colin Campbell of Polytechnic Harriers – and it's not clear whether he actually competed.   In any case Maclean's season really started at the West District Championships where he won the 800m in 1:55.5 from McCafferty (1:56.0) – the slow time was apparently accounted for by the fact that the track had required the cutting of  new lane because of the change from 440 yards to 400 metres.   I have to agree with the reporter who suggested that in Commonwealth Games year with qualifying times being required, they event should have been moved to Grangemouth.
The first ever combined men's and women's championships took place at Meadowbank Stadium on6th June – earlier than usual because of the need to pick the teams.   Maclean won the 800m from Ross Billson and Craig Douglas with the times being 1:50.2, 1:50.6 and 1:51.   On 13th June at the White City in the British Games Maclean had a very good run – but did not win.   The report read:  "The 800m was a near classic and certainly the fastest ever run in this country.   Colin Campbell (Polytechnic) won in 1 min 47.2 sec but coming home strongly in fourth place was Mike Maclean.   One day soon he will shatter every half-miler in Britain but he has a terrible knack of being boxed in in about sixth place with 200m to go in a top class race.   This happened on Saturday but after he had extricated himself round the last bend he flew up the home straight, drawing the leaders  nearer with every elegant stride.   The task was obviously insuperable but he went through the finish in 1 min 47.7, only three yards behind Campbell and became the fastest Scot since Jim Campbell's 1:47.5 in France 13 years ago."
The Games 800m had four heats, it was held on  23 July, and Maclean was second in the second heat which was won by Saisi of Kenya in 1:49.5 with Maclean on 1:50.0, Fisher (Australia) 1:5o.1 and Davies of England on 1:50.2.   Fastest qualifier was Doubell of Australia 1:49.4.   Unfortunately when it came to the next round, Maclean could do no better than fifth in the first semi- final, albeit in an excellent  1:49.9  being just shut out in a closely fought race.   In the final, Fisher was fourth and Davies fifth.   Maclean also ran in the 4 x 400m relay final with Wood, Walker and Taylor and Scotland finished sixth in 3:09.0.
The season was not finished however and on 8th August at the AAA's Championships he was a mere tenth of a second behind winner Andy Carter with Pete Browne second: times?   1:49.6, 1:49.7 1:49.7!    A day was dedicated to the SAAA Relay championships at Grangemouth on 15th August and Maclean ran a great leg for his club in the 4 x 400m.   A week thereafter it was the Edinburgh Highland Games and there were quite a few athletes from the Games still around to add to the usual talent to be seen there.   In the 800m, Byron Dyce of Jamaica was the winner in 1:49.2 with Maclean second in 1:49.6 ahead of John Kirkbride (AAA) 1:51.2.   When Bellahouston won the 1200m relay at Shotts on 5th September, Maclean was not present but Bellahouston's newest middle distance runner was starting to show what he could do when Frank Clement won the 800m.   He had been running well for some time and was well known as a talent to athletics people, but he was only just starting to become known to the wider populace.   The following week at what was usually regarded as the end of the summer season, Dunblane Gathering, the headline read "Maclean makes it easy for the rest" and went on to say that his running on the first stage of this relay gave his colleagues such a lead that they easily won from Garscube Harriers.   His season was now officially ended.
How good had it been?   Season's bests of 50.9 for 400m and 1:47.7 for 800m were considerably good.   He had taken 2.2 seconds from his best run of the previous year taken part in several very close, very tight finishes and made the semi finals of the Commonwealth Games.   As in 1969, I can't find any indication that he was beaten by any Scotsman over his specialist distance at any track on any surface.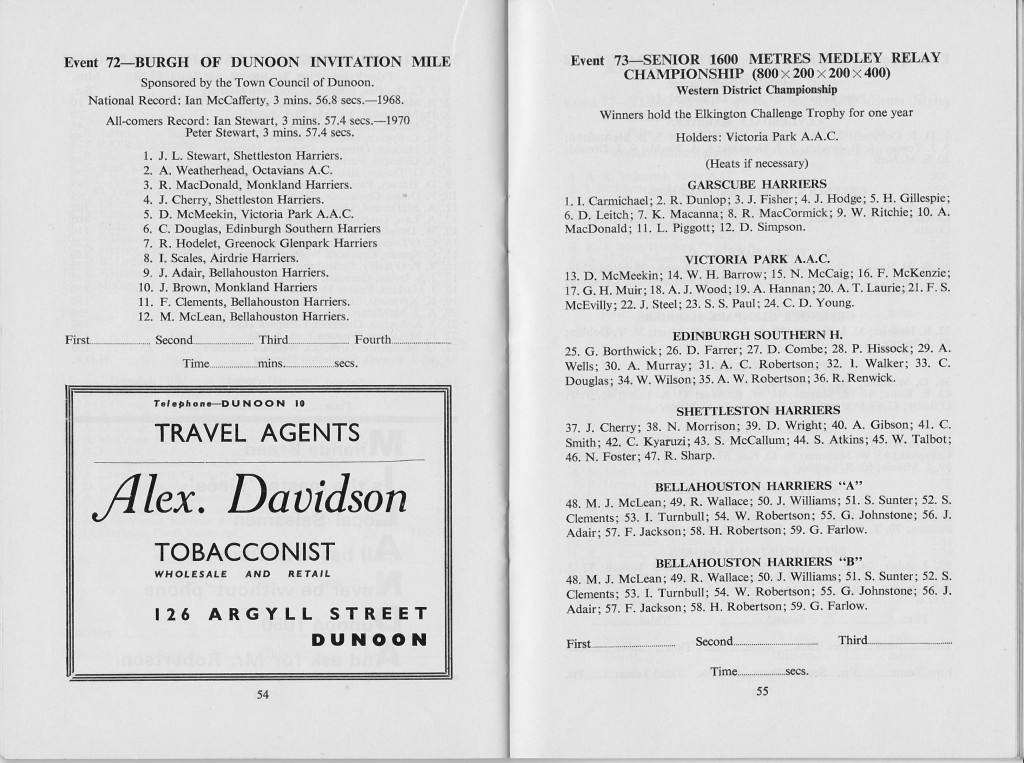 Extract from the Cowal programme of 1971: Note the quality of the field in the invitation mile as well as in the Relay
Nevertheless, however good the summer had been he was out in the relays for the club, taking the fourth stage of the Midland Relays in November 1970, and later the same month he picked up two places on the seventh stage of the E-G in fifth fastest time on the leg.   By the end of  1971 there were no championship medals – not at District, Scottish or British levels and times ranked him 10th in Scotland behind Grant, Douglas, Billson, Cherry, McMeekin, Morrison, Wands and Scales with young Frank Clement (still a Junior) only half a second behind him.    What do we make of this?  Well, the SATS year book accounted for it when it said,   "Maclean was a shadow of his former self due to injury, he recovered sufficiently with a fine late season performance in the National League that gained him a place in the top 10 performers list."
The first of these late season times was on 21st August at West London where he ran 1:52.2 in winning a league match.   The second was on 14th September at  Bellahouston where he was timed at 1:52.4 in winning over a domestic field at home.
And that was the final appearance of Maclean in any ranking list anywhere.   Possibly it was even the end of an era since Graeme Grant's last race before emigrating to South Africa was also in August 1971.   Hodelet was moving in the direction of 1500m rather than 800m and the young ones coming up behind very quickly were Frank Clemet and David McMeekin.    Maclean raced throughout 1972 but by then his days of national championships and records had gone.   His influence lived on however – in a reply to a questionnaire several years ago, Olympian Frank Clement said that training with and receiving encouragement from Mike was of great benefit.
Below is an extract from the Cowal Highland Games programme for 1972 in which his name appears.   Note too the quality of athlete in the other races such as the mile handicap:   International runners such as Lawrie Spence, Dick Hodelet and Cammy Spence all entered with the third Spence brother Jim up on the 150 yards mark!