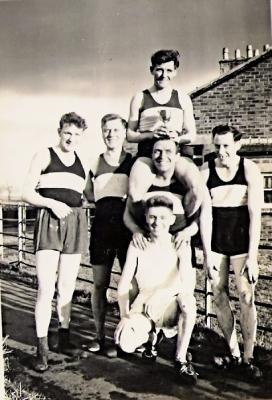 Where it started: at Beith, Tommy kneeling in front with trophy
Tommy Cochrane from Beith Harriers was a top class runner over the country where he won Scottish international honours and on the track. After his career as a top level athlete, he became a very good coach, official and administrator. As a coach I met him several times at the British Endurance weekends organised by Norman Poole which were held in Manchester, Stoke, Stafford and other points in the North of England – a fair hike from Bournemouth. Whatever role he filled in a club, he was a great club servant as well as a successful one.
The Cochrane talent was not only seen in Britain – he served his two years National Service mainly in Germany and he raced well there in the company of several GB, Scottish and English international athletes. If we have a look at some basic statistics for his career we see that
(a) His best track times domestically were as listed below (figures taken from the SATS ranking lists); it should be noted however that many of his best times were run 'furth of Scotland':
1963, 3 Miles , 14.37.8, 25
1964, 2 Miles, 9.16.01, 9
1964, 3 Miles, 14.32.8, 17
1966, 3 Miles, 14.22.8, 22
1966, 3000m S/ch, 9.31.2, 8
Note however that he also ran on the Continent and in England and these statistics were probably not available to the compilers – no internet in those days.
(b) Over the country he ran for Scotland and for the British Army. Tommy won the South West District senior cross-country championships seven times (five of them consecutively). This last was a record for the title which had been won by many Scottish internationalists including the Stevenson brothers from Wellpark Harriers, Ian Harris from Beith, Jim McLatchie of Ayr Seaforth, Bill Stoddart of Wellpark Harriers and Lawrie Spence, Glenpark Harriers. In view of this outstanding record, he was given the championship trophy to keep in perpetuity when the District merged with the Midland District in 1976.
Tom completed the questionnaire about his career for us and it provides an insight into his career and personality.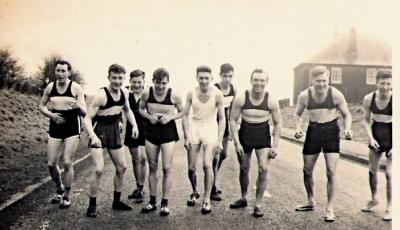 Tommy is in white in the centre of the line up at Beith
Name: Thomas [Tom] Cochrane.
Club: Beith Harriers & Bournemouth Athletic Club. Life Member of both.
D.O.B: 9th. May 1938.
Occupation: From age of 15 yrs through to retiring at 65 yrs Electrician, Work Study Engineer, Dept. Manager, Management Consultant, Company Director, UK Technical Manager for a German Company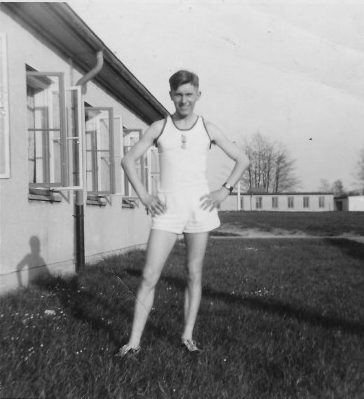 In 1961 at 2TAF HQ, Rheindahlen Germany
How did you get into the sport initially? By chance – in October 1953. My friend Ian Kerr and I had been asked by the Kilbirnie Church of Scotland Youth Fellowship to purchase a record player for the fellowship. This involved a 20 mile journey by Western bus to Glasgow. Once we had completed our purchase and arriving home my friend Ian asked what I was doing for the rest of the day as he was going to Beith Harriers in the afternoon and would I like to come along. This was the start of my running for 67 yrs with a break of 2 yrs due to illness.
Personal Bests. [NB: Tommy adds, "All questionable due to necessity of moving south and not being able to take all of his records. To which I would add that there are some things serious runners never forget!]
Track/ Road
800m – 2m 01s ? 10mls – 51m42s?
1500m – 4m 01s ?
3000m – 8m 35s ?
3000m S/c. – 9m 06s ?
5,000m – 14m 55s ?
Since starting running again [but not serious] at over 40 yrs.
40 yrs 10k. 35m 53s
50 yrs 10k. 35m 12s
60 yrs 5k. 20m 42s; 5m. 34m 28s; 10k. 39m 46s; 10m. 72m 16s; 20m 2h 42m;
70 yrs 800m 3m 52s; 5k 24m 23s; 10k. 54m 03s; HM 2h11.14m
80 yrs. Park 5k 25m 38s [I was fastest in the UK for a short time before dropping back to 4th. later the same year.]
Has any individual or group had a marked effect on either your attitude to the sport or your performance?
Firstly, my girl friend Morag, now my wife [of almost 60 years], who has supported and encouraged me since we first met at the age of 19 yrs and who still does today.
Secondly, the old members of Beith Harriers – George Morrison, Jock Calder, Jack Millar, Matt Dunbar, Alex Neilson and George Murdoch – who talked about their past performances, the competitions they took part in, and the many friends they had made along the way.
Then, one senior club member Kenny Phillips who contributed to my running greatly just by being there every Tuesday Thursday and Saturday for training, travelling to races and giving encouragement.
Others such as Harry Maxwell, Hugh Walker and George Lightbody also had a finger in the pie.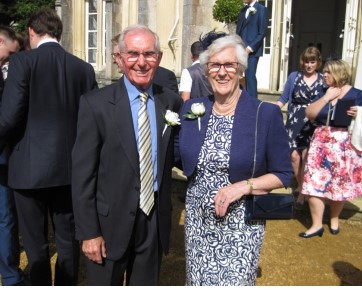 Most recent photograph of Morag and myself at our grandaughter's wedding PIC
What exactly did you get out of the sport? A discipline which has enabled me to get the best out of the time available in any one day. Respect for others, their possessions and property as you were representing your family, club or country. Misbehaving in any form in the 50's and 60's was frowned upon as Athletics at that time was referred to as the Cinderella sport. Making lots of friends some that are no longer with us and many that I still keep in touch with.
Can you describe your general attitude to the sport? My attitude to the sport has changed over the years as the management of it has changed. Those early days in Scotland 1950's to 1980's there were honourable people who did wonders with a very meagre budget Men such as George Dallas, Duncan McSwein, Alex Neilson, Bill Armour, John McClurg and many others at that time, who organised and ran the sport in Scotland annually on a shoestring compared to what one elite athlete gets in support from UKA annually. My standard answer to this is that we used to have an amateur sport run by professionals now we have a professional sport run by amateurs. Maybe this is a bit unkind but it does make you think as the depth [not the performance] in any one distance event has diminished.
What do you consider your best performances? Winning the Ayrshire County and The South West District Cross Country Championships six times. Finishing second. to Ian McCafferty in the British YMCA CC Championships at Paisley. Finishing sixth. in the Scottish CC Championships at Hamilton Park Race Course, getting into the Scottish Team on two occasions. Finishing fourth in the British Forces Combined Services [Army Navy & RAF] Champs. at Aldershot.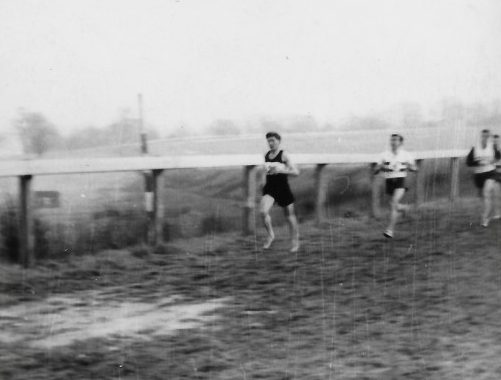 Going on to finish 6th. in Scottish CC Champs at Hamilton Race
Course.
Worst performances? Stepping up from a youth to a junior without really knowing that I should have doubled my training quantity. This ignorance resulted in me taking part in the Senior 6 mile South West District Cross Country Championship when I finished last but one. Needless to say you learn by your mistakes. The same year Andy Forbes, a great friend who was in his mid 40's at the time, came up alongside me at the Beith New Years Day Race and said come on son when I was nearly dying on my feet and ready to give up.
What goals did you have that remain unachieved? Running the Glasgow Half Marathon and the London Marathon. Taking part in the Ayrshire Cross Country Championships one more time just to say farewell to Cross Country but in Scotland.
What has running brought you that you would not have wanted to miss? Firstly my wife as we were introduced to each other at Beith Harriers by Kenny Phillip's sister Agnes and husband George. All the friendships that were made, a healthy lifestyle over many years and the experience gained from running before, during and after my National Service in Germany. My 37 years middle distance coaching at Bournemouth Athletic Club where I was able to coach athletes to represent England, and Great Britain but also to have a lifestyle influence on the many young MD athletes who passed through the group over the years. In addition [well past my sell by date] being approached by Bournemouth AC committee at 72 Year. to come out of retirement and become President. As president I could see a number of areas that required attention, Coaching Secy. Junior Development Co-ordinator and Middle Distance Coaching. The Junior Development Group [Young athletes 8 – 14yrs] co-ordinator gave me a lot of satisfaction recruiting and organising the coaching education of assistants and coaches [all volunteers and a great bunch of people] to meet EA coaching requirements and the growing number of young athletes. Being awarded the England Athletics Regional Award for Services to Athletics in 2014, pictured below.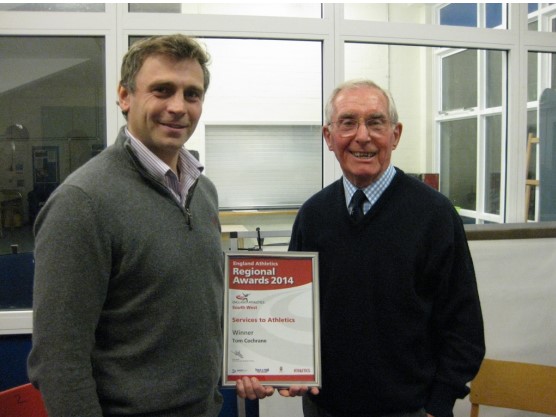 Prior to Covid we had 120 young athletes and 16 coaches attending the Development Group on a Wednesday throughout the year.
Can you give some detail of your training? In the 1960's when I was in my 20's I would do the following.
Summer
Monday. 12 x 400 yds with 200yds recovery
Tuesday 16 x 200 yds with full recovery.
Wednesday 6 Miles steady run on road or grass [ grass preferred]
Thursday 4 x 800yds with 400 yds recovery.[ If racing Saturday do Fridays 400 yds session]
Friday 8 x 400 yds with 200 yds recovery [ Rest if racing Saturday]
Saturday 8 mls over country. If not racing on Saturday
Sunday Rest or go for a 3 – 6 ml. Walk in the hills or on the road.
Winter.
Monday 5 mls hill run at lunchtime.
3mls easy run home from work in the evening.
Tuesday 3 mls easy run in morning. 2 x 2 mls or 1×3 mls threshold run on road with 1 ml jog recovery.
Wednesday 10/11 mls long run 5m40s pace
Thursday 5 mls hill run at lunchtime. 3 mls easy run home from work in the evening.
Friday 3 mls easy run in morning. 4 x 1 ml threshold run on road with half mile jog recovery.
If racing Saturday, do Friday session on Thursday.
Saturday 7/10 ml easy run over country or in a wooded area.
Sunday Rest Go for a 3 – 6 ml. Walk in the hills or on the road.
Note: – All the above changed to metric when I was posted to Germany in 1960 to do my National Service and joining the German athletic club Bayer. The changes included doing track sessions during the winter and doing a variety of distances from 100 -1200m in training during summer for the track distances of 800m to 5000m.
From the mid to late 60's the weekly mileage increased from 70 to 110 in winter and 40-50 during summer track just to stay in the top 12 in Scotland.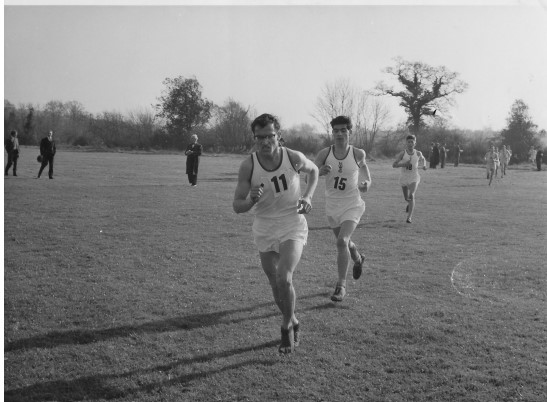 Picture above the Army Championships at Aldershot 1961 Ben Grubb
leading, Ernie Pomfret 2nd. both GB Internatioals and myself 3rd. at the
halfway stage
Those are Tom's replies to the questionnaire and there is lots to pore over in it. He mentioned Ernie Pomfret as one of his team mates in the Army – Pomfret was an Olympian, having run in the steeplechase in the 1964 Summer Olympics, and then two years later he raced in the 1966 Empire and Commonwealth Games in Jamaica. Ben Grubb was also a British international athlete. There is a bit more about them on the next page. Note too Tom's account of the training he was doing when he was running at his very best: they are still worth close attention and pondering over.
Now read about Tom Cochrane – the runner. Then read about Tom as a veteran athlete and as an administrator and coach