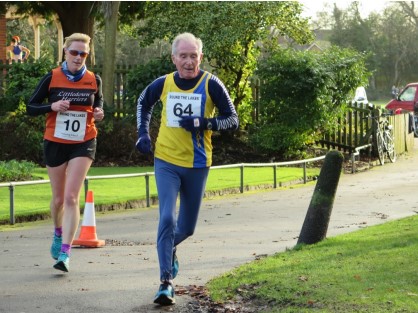 2018 Round the Lakes 10K, Poole, Dorset
"Proving he has what it takes, at 79 years of age, Tom Cochrane completed the race in a solid time of 54:03 to take 4th place in the M70 category and 212th place overall."
'Once a runner, always a runner' might not be true for us all, but it is certainly true for Tommy Cochrane. Look at the picture above – he's on the inside of the bend and look at the running action – it's not somebody just making his way round as a means of getting some exercise. Of course he appears in the club race reports such as this one from Boscomb Pier 5K, in December, 2014, "1st 75-79 was Tom Cochrane in 24.38. Yes, Tom really is over 75 years of age, hard to believe! "
On an earlier page he listed his best times at age 40+, 50+, 60+, 70+ and even 80+. If we look at his performances as noted on the power of ten website, there is a note of his recent and fairly recent best times. These include
| | | |
| --- | --- | --- |
| Distance | Time | Year |
| 800m | 3:52.9 | 2017 |
| 5K | 20:42 | 2004 |
| Parkrun | 24:44 | 2014 |
| 5 Miles | 34:28 | 2005 |
| 10K | 42:45 | 2005 |
| 10 Miles | 72:16 | 2004 |
| Half Marathon | 2:11:14 | 2014 |
| 20 Miles | 2:42:01 | 2004 |
His entry on the RunBritain website shows a series of 21 events between 2014 (when he was 74) and 2018 (when he was 78). Races are mainly 5K in distance but include 10K and half marathon. If we are looking at rankings, then he was ranked in Britain (not just in the club, or County, or Region, or England – in Britain) at number 4 for his parkrun as a Vet 80 in 2018, at number 8 as a Vet 75 in 2017 over 800m and again at 8 as a Vet75 over 5K in 2014.
Many of his age would find the half marathon distance a difficult walk but it's just a way of life for Tom.
Coach Cochrane
Tommy was for 37 years a middle distance coach at Bournemouth Athletic Club where he was able to coach athletes to represent England, and Great Britain and also had a lifestyle influence on the many young Middle Distance athletes who passed through the group over the years. He says, "In addition [well past my sell by date] being approached by Bournemouth AC committee at 72 Yrs. to come out of retirement and become President. As president I could see a number of areas that required attention, Coaching Secretary. Junior Development Co-ordinator and Middle Distant Coaching. The Junior Development Group [Young athletes 8 – 14yrs] co-ordinator gave me a lot of satisfaction recruiting and organising the coaching education of assistants and coaches [all volunteers and a great bunch of people] to meet EA coaching requirements and the growing number of young athletes."
Prior to Covid we had 120 young athletes and 16 coaches attending the Development Group on a Wednesday throughout the year. For the work that he was doing over this period he was awarded the England Athletics Regional Award for Services to Athletics in 2014, This is pictured below.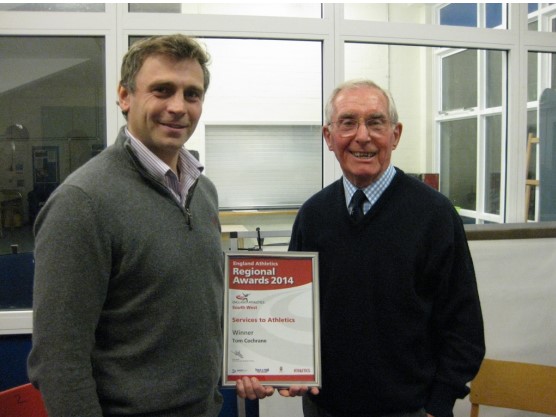 The coaching did not come out of the blue – coaches don't just appear, no matter how good a runner they are, they have to learn the trade.
Tommy took his Assistant Club Coach qualification when he was just 20 under John Anderson who was the Scottish National Coach at that time. The coaching structure at the time was in three stages – Assistant Club Coach, then Club Coach and finally Senior Coach. One of the sessions with John was at the Dirrans Sports in Kilwinning. He didn't return to coaching for some years after his National Service due to some more serious concerns like getting married, developing his career, etc. He progressed his Coach Education under Frank Dick at Inverclyde in Largs which went from Friday night to Sunday evening on two or three weekends in the year. He moved south to Bournemouth in August 1984 due to work and joined Bournemouth Athletic Club [BAC] in August. He didn't start coaching at Bournemouth until almost Christmas 1984 as he had to wait until his coaching qualification [Level 3] was transferred from Scotland to England Athletics. And that's how it started. He started out as a coach when he was 20 years old and the picture below was taken of his development group on his 80th birthday.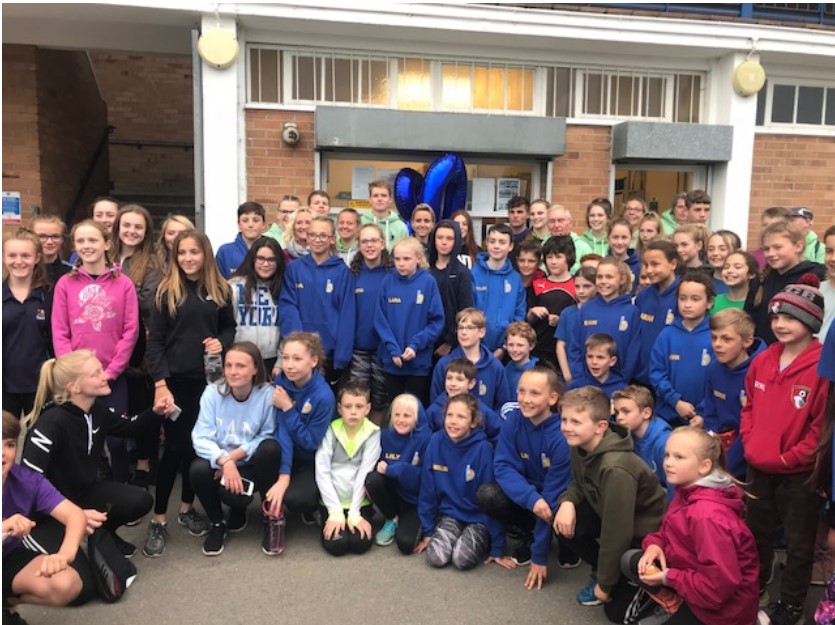 They say that if you want a job doing, ask a busy man, they also say that a good club member 'does what his club needs him to do'. Whichever of these you believe, or even if you believe both, Tommy's your man. Runner and coach, he is also a qualified official. When asked about that – he didn't offer the information to start with – he said, "Yes, I am a level 2 UKA track official but only started doing in my 70's due the club being short of officials for League, County and District Championships." A track judge does not get the position unless he is experienced and reliable – and he only started doing it in his 70's.
We're still not finished. Many in athletics don't seem to recognise the difference between officials and administrators. They are two different sorts of person.
*The officials are the people at the long jump pit, on the high jump fan, at the hammer cage, beside the track in all weathers making the event run on the day and dealing with sometimes anxious and stroppy senior athletes or Under 13's who have forgotten some item of equipment;
*the administrators are the backroom people who get the permits, organise training nights, sort out the running of the meeting, invite the officials, decide the programme of the meeting and so on.
Tommy has also done his work on the club committee. He tells us that he has been a Bournemouth AC Committee member on a number of occasions over the 37 years, only stepping down when he thought the committee needed new or younger people with fresh ideas on it. He has in fact held the very top post of club president. On the club website he is currently noted as Coaches Representative. The photograph and extract below are from the Bournemouth Echo.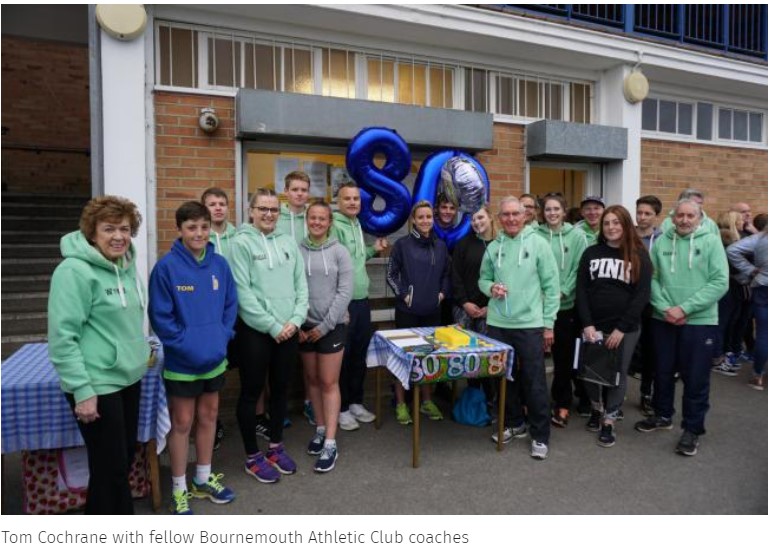 "A DEDICATED volunteer who gives up three nights a week to help run an athletics club was given an 80th birthday surprise on Wednesday. Tom Cochrane, who is originally from Scotland, started working with Bournemouth Athletic Club 34 years ago, shortly after moving down to the area for his work. For three days a week ever since, he has helped run the club's children's sessions, becoming a valuable member of the entirely voluntary coaching team. At Wednesday's session, his close friends and family joined more than 100 youngsters in wishing him a happy birthday and thanking him for his "invaluable" efforts."
The whole article can be read on the paper's website. In addition to all of the above, Tom is also a member of South West Vets AC. A runner, an official, a coach, an administrator – and a wonderful example and role model to any athlete of any age.