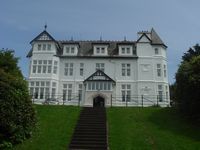 The picture above is of Inverclyde at Largs – that is all that we ever called it and it was used by Scottish Athletics for all sorts of courses and gatherings. Its history is interesting and I noticed an article in the 'Glasgow Herald' of 2nd July, 1958, about it. It reads:
"Inverclyde, the national recreation centre which has been established at Largs under the George VI Foundation, is already in use although its official opening ceremony is not until Monday when the Queen will visit it. Formerly a hotel and before that a private residence, the house stands at the foot of the hills on rising ground that overlooks the Firth of Clyde with its islands and peninsulas.
There are pleasant lounges, a dining room, and a room, previously a small ball room, which has been converted into a lecture room. When I peeped into it the chairs were filled by rows of older boys listening to a lecture on sprinting. The Warden, John Blaine, showed me a timetable for the schoolboys athletics course, a four day course costing £5. From 4:30 on Thursday their time was laid out for them until six o'clock on the Monday. Three meals and a nightcap of cocoa and biscuits were sandwiched between lectures on such subjects as relay racing and the problems of rotation in space and practical work appropriate to the lectures. In the evenings there were discussions and films of championships and Olympic Games. The bedrooms used by students are single and for twos and threes. Efforts are made to let friends share rooms. There is accommodation for about seventy.
Down to the basement we went to see the kitchen quarters where cooks were making soup in a great cauldron, real soup made with stock, carrots, turnips and onions; soup for champions. The basement as well as holding the kitchen and suchlike has also showers for students. The men's showers are austere, the women's prettily tinted in leaf-green with curtains in a darker shade. A feature is that the students can gain access to the showers by a door from outside and save them coming in the main entrance and going downstairs.
We crossed to the Sports Hall which has been built near the house. It is the largest of its kind in Scotland, heated electrically, and has a beautiful Canadian maple wood floor. We went up to the balcony where we watched the same schoolboys being put through their paces by the National Athletics Coach for Scotland, Tony Chapman. As I watched them pounding round and round the hall I thought it was as well the cooks fully understood the art of making good soup.
"Is the coach resident?" I asked John Blaine. "No, he comes for the courses. These boys come from schools all over the place, from Inverness to Dumfries." "Do schoolgirls ever come?" "Yes, I have a booking for August for schoolgirls."
School courses are in a minority. Most students are men and women. There is a great variety of courses and sports coaching holidays, including athletics, lawn tennis, archery, golf, pony trekking, badminton, sailing, fencing, basketball, judo, bowling, women's hockey, and one called "Family Sports Holiday" for parents and children of 14 years and older. Some coaches are resident and some come for particular courses.
Now for the frictionless table. It is an invention of Tony Chapman's which he uses in demonstrating throwing. John Blaine sat down on a seat like a piano stool with his feet on another below him. In his hands he held two balls the size of bowls and he laid his hands on his lap. Then he kicked off energetically and spun round and round while I grew dizzy watching him. As the contraption slowed down he shot out his arms, his hands holding the balls. This gave an impetus and off he went spinning round again. his must be where the frictionless part comes in. Anyway it was a relief to me when he slowed down again and became one man instead of twenty.
Inverclyde is a great place and I hope it will produce many Olympic champions, although that is not its object. Its object as the brochure states is to encourage people to take part in games and sportsand all forms of physical recreation."
And that is where the article ends. Written by Elizabeth Orr Boyd it was not as you can see a sports feature but it describes the house and location perfectly as well as pointing out the range of activities undertaken in 1958. When we first visited it, it fulfilled many functions for athletics.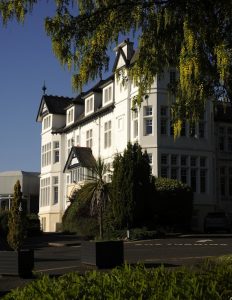 Like many another, my first sight of Inverclyde was as a budding coach. With fees paid to the SAAA by the club, I travelled down on the Friday evening to Larges – enjoying the journey but with a little anxiety about who else would be there from other clubs, who the staff would be and what would be required. After winding my way up through the housing estate from the main road until I reached the main gate, there was the drive up between the sports fields to the main building. It was very impressive with broad stairs leading up to the main entrance – I had never seen so much as a photograph of the place before that. Floors carpeted, very well furnished, photographs of sportsmen and women of all disciplines and doors opening right and left with the corridor round te back to some of the accommodation but stairs leading up to the original bedrooms.
Those coming to such an establishment felt that they were worth something: the course was not in another secondary school, Sports hall or such as was the norm. It was solid, comfortable, dignified and all that you would want to give those attending, whether athletes or coaches a sense of being of value and being valued. The sense of space, the range of facilities available and staff on the premises were appropriate and almost luxurious.
On coaching courses those attending would meet in the big lecture theatre downstairs with the banked seats and perfect acoustics to be given the schedule for the duration of their stay, questions would be taken and the week or week-end off to a perfect start. What was available?
There were rooms for each group and as an example, the Brisbane Lounge was at the front of the building with big bay windows, comfortable seating, carpeting, ornamental ceiling as well as the potential for video presentation in addition to flipchart and OHP (state of the art at the time). When not used as a lecture room it was a comfortable lounge area.
A quiet area? Progressive relaxation and visual imagery needed such and there were several quiet, almost totally soundproof areas that could be used.
Were access to an outdoor area required, well, there were plenty of playing fields. One national coach insisted on every Assistant Club Coach trying every discipline on the calendar. Ian Cosgrove from Kilbarchan, a very good sprints coach indeed, refused to do the sprint hurdles and when asked why by the aforesaid national coach, said that his pb for the high jump was 3'0″ and each hurdle was 3′ 6″! There was enough grass for several coaches to take their squads out and train well away from the others.
You needed a Gym? There was one of those, there was also a Games Hall complete with spectator gallery which could be divided up to accommodate more than one group.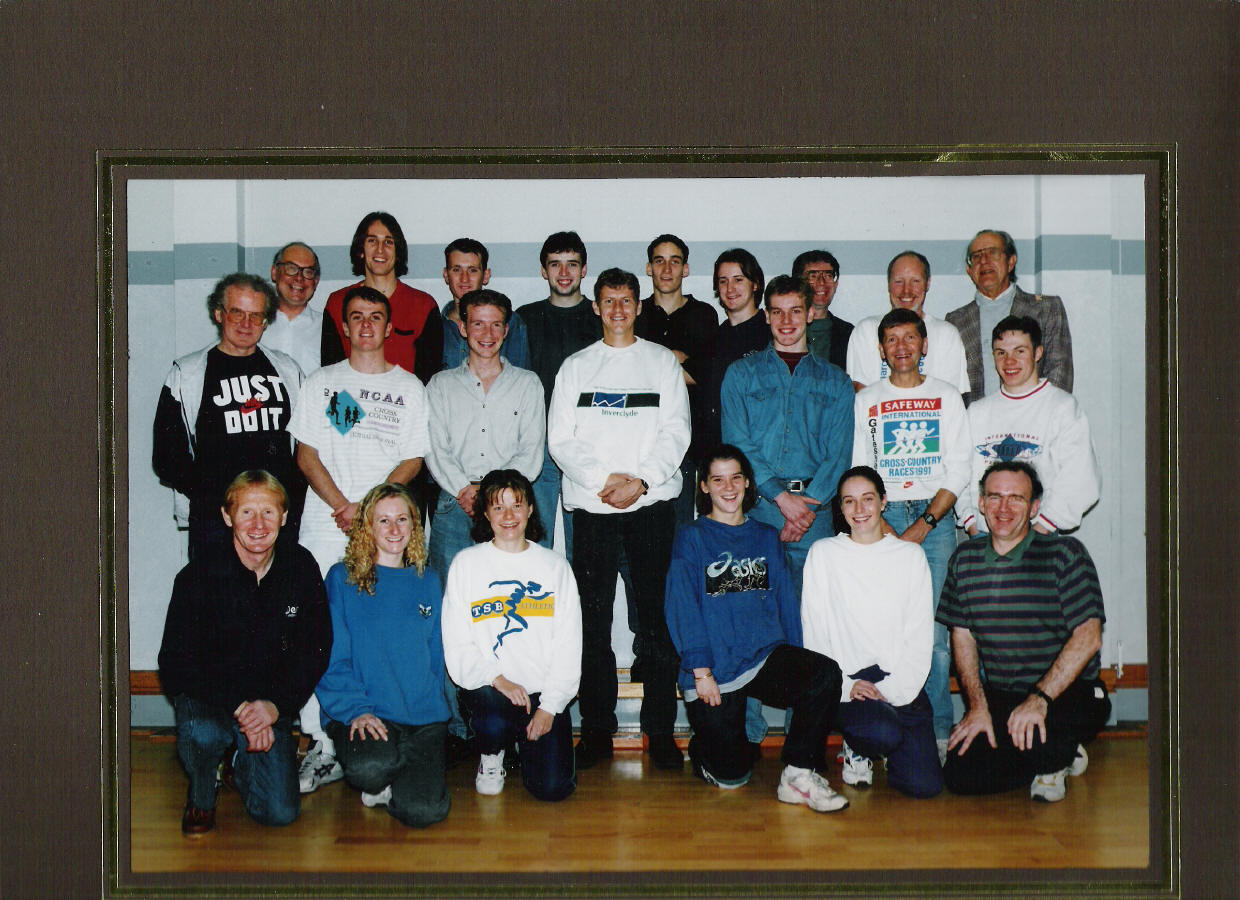 Steve Cram with a group of Under 23's at Inverclyde, 1995
Athletes include Grant Graham, Allan Adams, John McFadyen, Ewan Calvert, Phil Mowbrey, Mark Govan, Andy Young, Susan Hendry, Julie McDevitt, Gillian Fowler and coaches include Alex Naylor, Duncan McNeill, Bill Parker, Kenny McVey, Bill Smith, Mike Johnston and John Keddie
In return of course the attendees had to behave like responsible adults. One of the options for relaxation after the day's darg was to go down into Largs to one of several pubs or restaurants. The Anchor was the one favoured by staff on coaching courses. The building was locked up at night at midnight. Residents had to be in by midnight. Several didn't quite make it and had to spend the night in their cars in the car park.
Inverclyde was also used as a meeting place such as the times when a visitor came to talk to or instruct a small group of Scots athletes – eg Steve Cram came up in the mid 90's to talk to a group of Under 23 athletes from all over Scotland. The intention was to make the session inspirational as well as educational and Steve came up on the Friday and had dinner with Brian McAusland (Group Coach for endurance events), Grant Graham (GB Indoor 1500m champion) and John Keddie (the administrator from Scottish athletics). On the Saturday, Steve was interviewed by Hugh Barrow, BMC member number one, he then took some questions from the assembled athletes and coaches before going for an hour's run before lunch. He then spoke about his own career and passed on some thoughts on training and racing. There were more questions from those attending – many more than in the morning because the initial feeling of awe had passed! After a wee presentation by Susan Hendry on behalf of the athletes, we all went on our way. The Centre was ideal for such a venture because of the nature of the place, the fact that there were no rubber-neckers peering in windows or watching what was going on and the accommodation was first class.
Games teams often met up as part of the pre-Games programme for training, plebty of room for indoor and outdoor training plus weight rooms, gyms, etc and the privacy was a key element of this.