Katie Skorupska was a very good endurance athlete who excelled on the track and over the country. Running at a time when the country had many very good women runners – Sheila Fairweather, Hayley Haining, Susan Partridge, Vikki McPherson – she won Scottish and British honours on the track as well as over the country. Yet very little is known of her – possibly because her career was relatively short but it should be looked at closely. How good was she?
It is appropriate to start with Doug Gillon's article from the Herald, Scotland, of 24th June 1996.
What Katie did proved she has guts and talent
Teenage debutante follows in footsteps of the famous
Ulster has a reputation as a breakthrough venue for future Scottish athletics stars, but rarely has the advent of a new talent been heralded more dramatically or courageously than that of 17-year-old Fifer Katie Skorupska. Her victory in the 5000 metres – on her senior debut and on her first attempt at the distance – was an inspiration and brought a eulogy from team manager John Anderson who has coached a succession of world-class athletes. "Katie is an outstanding prospect. We are looking at someone possibly better than – well, I hesitate to hang labels – well, than, some very famous Scottish athletes. She has guts, a racing brain, and a coolness and maturity beyond her years."
It was in Antrim 11 years ago that Tom McKean and Yvonne Murray won their first UK 800m and 3000m titles on the same weekend. Behind Murray, bronze went to a hitherto unknown Dundonian, Liz Lynch – later Liz McColgan – and Brian Whittle sounded his arrival as a 400m force, by leaping from obscurity to third in the all-time Scottish rankings.
St Leonard's schoolgirl Skorupska, a late replacement for Sue Ridley, continued this Irish tradition, a Lowry figure from the Murray/McColgan mould. She threw down the gauntlet, leading for more than half of the race, but when Welsh woman Angharad Mair, double her age, surged past and quickly established a 12-metre lead with four laps left, it seemed all over. However Skorupska refused to be dropped, clawing her way back, inch by inch, foot by foot. Still three metres adrift at the bell, she summoned her last reserves, drew level, then drove herself clear to win by 10 metres, in a state of near-collapse. It was one of the bravest runs I have ever witnessed.
"I heard John Anderson shouting at me and thought I'd better do something," said Skorupska, whose time, 16:41.9, puts her in the UK senior top 20, and was beaten among Scots only by Murray, McColgan, and Hailey Haining last year.
Two years ago, Skorupska took third at the Scottish schools track championships in the under-15 1500m, but subsequently fell I'll. "I started running again less than a year ago," she said. She won the 3000m at the Scottish schools championships last weekend in the fastest time since Murray set the championship record 14 years ago. That was the furthest she had ever run on the track, though she also won the national school cross-country title this year.
"She is a very special young lady," said Anderson. `"I believe over the next few years Scottish women's middle distance is going to be very exciting to watch."
A very interesting report but before we look at her athletics career, just note her best times at each of a wide range of distances.
| | | | |
| --- | --- | --- | --- |
| Event | Time | Venue | Date |
| 800m | 2:13.9 | Cambridge | 28th June, 2000 |
| 1500m | 4:25.7 | Glasgow | 21st August, 1999 |
| Two Miles | 10:06.16 | Loughborough | 23 May, 1999 |
| 3000m | 9:24.26 | Bedford | 29th August, 1998 |
| 5000m | 15:55.64 | Manchester | 9th June, 1999 |
| 10,000m | 34:40. | Bath | 4th May, 1998 |
Katie Skorupska was as indicated above a very good young runner indeed. Born on 3rd November 1978, she was a pupil at St Leonard's School in St Andrews and it is here that we first read of her athletics talent. On 8th June, 1994 in the Scottish Schools Championship, she was third in the 1500m event in 5:02.0 to be 14th ranked in Scotland for her age group. But, as Doug says above, she became ill and it was late 1995 before she appears in the results column again. On Nov 13 1995, after just turning 17 she anchored St Leonards over-15 team to second in the Scottish schools cross-country championships. Less than two months later, on December 11th, she was first intermediate at the Lita Allan open races in Kirkcaldy where she won by 35 seconds.
On 27th January 1996 she was selected to run in the Celtic International in the U23/U20 age group and finished seventh. Less than two months later she faced some of the toughest opposition within the British Isles when she was in the Scottish squad at the BAF Cross-Country race at Ashington, Kent on 3rd March. She finished seventh to be third Scot behind Sheila Fairweather (second) and Susan Partridge (tenth) with Susan Scott the fourth runner in twenty first place. In between these two, Katie took time to race in the indoor 1500m in Kelvin Hall, Glasgow, where she was second in 4:44.52. Into March and on the 9th she won the Scottish Schools Championship at Irvine. On 16th March there was a victory by 71 seconds in the TSB U20 international at Talgarth in Wales.
On the track the following summer she was highly ranked in Scotland with placings at 1500m, 3000m where she had three of the top 20 times in Scotland, and 5000m. after making her debut there in June. Doug describes the race and attendant comments in the extract at the top of the page. Her racing that summer included an 800m early on at Dundee where she recorded 2:19.8 in the Pitreavie Young Athletes Trophy meeting but her shortest distance thereafter was at 1500 where her best outdoor time of 4:50.7 was at Pitreavie on 28th August. Ranked as Scottish number 6 over the season with a time of 9:43.90 run at Bedford on 28th July. Her other best performances over the distance were 9:46.6 when finishing third in the GB International against France, Italy and Spain at Nembro in Italy just one week later. Prior to these two races her season's best had been when winning the Scottish Schools 3000, at Ayr in June where she ran 9:50.7. This had set her up for her very best race of the year, the 5000m a week later against Northern Ireland, Turkey, Wales and the BLE President's Select. Starting the winter season well, Katie made her 10K debut in the Great Caledonian 10K Run where she was ninth and first Junior home in 36:19. Still a pupil at St Leonards, School, she anchored the Over 15 team to victory in the cross-country relays on 9th November. She was selected in early December 1996, for the GB team for Euro cross-country championships but as the clipping below shows, withdrew because of interview at Oxford University.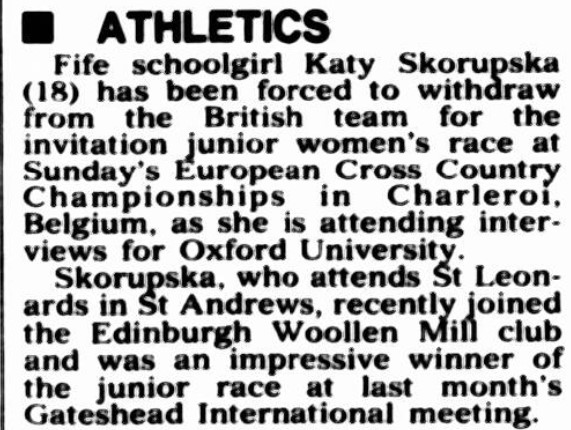 In 1997 Katie had another good season. In the Scottish National Cross-Country Championships in Perth on 15th February she finished fifth and first U20 in a good field over a good fast running course and on 3rd March she won the Under 20 title at the British Athletics Federation Championship in Luton. This led to selection for the British team for the World Cross-Country championships in Turin. The local newspaper, the Courier hand a long interview printed. The following extract gives a wee flavour of the piece.
"She might have finished even higher yesterday but for the British team's bad luck in the draw – starting well to the right of the start line which curved sharply to the left after 199 metres. Skorupska was at the rear of the field as it reached the bottleneck but did not panic and gradually moved through the field. After the first lap she was 45th but by the start of the last she'd moved up to 27th. "I was surprised to be passing people on the hill because I don't usually like hills," she said. "It must be all the maths classes on the top storey." added Skorupska who frequently visits the sixth floor at St Leonard's for mathematics which she hopes to study at Oxford in October."
She had finished 22nd, nineteen places higher than the next GB finisher, on a course largely made of turf laid on roads in the middle of the city. She was a bit disappointed not to be first European to finish, that was Sonja Stolic of Yugoslavia in 19th.
The really big one in summer, 1997 was the 5000m at the European Junior Championships held in Ljubljana between 24th and 27th July. where she ran a very good time of 16:48.6 to finish fifth; the winner that day was Katalin Szentgyorgy who who went on to be European senior cross-country champion in 2000.. Shortly before that, on 13th July, she had run 1500m in 4:36.36 . There was only the one 5000m recorded for her that year but her times for 3000m were 3rd, 8th and 15th by Scottish women. On 1st June there was a trip to Haifa, Israel, as part of a Scottish select taking part in connection with an international being held there, and in that event she was first in 9:50.00. On 6th July, at Bedford, she won the UK U20 title from Jilly Ingham (9:47.74) in 9:36.91 – her quickest of the year and a personal best by 7 seconds . The time ranked her third in Scotland and 28th in UK. And she was also the winner at Meadowbank on 31st August in a time of 9:56.71.
By winter 1997, Katie was at Oxford University and in early December 1997, comfortably won the Varsity cross-country match. Later that month, Doug reported as follows: "Scotland's leading young endurance runner, Katie Skorupska, touted as a potential successor to Liz McColgan and Yvonne Murray, was withdrawn on medical advice just hours before the start of the European cross-country championships yesterday at Oeiras, near Lisbon." Without her the GB team won bronze. The official British medical team thought she was anorectic – an opinion contradicted by Katie and her coach. However on December 26th 1997 She withdrew from the Celtic nations' match, planned a break from the sport, and went on a ski-ing holiday.
Back in action in summer 1998, Katie was ranked twentieth in GB and third in Scotland at 3000m behind Vikki McPherson and Sheila Fairweather when finishing third at Bedford on 29th August in 9:24.26 and tenth and twelfth over 5000m with times of 16:42.87, run in Prague on 8th June, and 16:46.08, posted when winning at Meadowbank on 18th July. There was also a track 10,000m in which she finished second to Fairweather in 34:40 at Bath on 4th May. The Achilles Club report for 1998 said that the 10,000m time had placed her 12th in Britain and her 16:42.87 in Prague was 24th ranked. A valued member of the team, she was the unfortunate victim of circumstance in the Varsity cross-country match in 1998. The report referred to above said:

In summer 1999 she had some very good runs indeed and the Scottish Statisticians Annual Yearbook commented that "Katie Skorupska backed up her improved times at 3000m and 5000m with a massive improvement over 1500m 4:25.70." This was done at Scotstoun at the end of a season in which she lopped a massive 46.26 from her 5000m best. She was ranked fortieth in the UK and sixth U23 with Scotland's Susan Scott first. Her 3000 metres times included a best of 9:25.2 at Loughborough on 23rd May in the match between Scotland, England, GB Students, GB Juniors and Loughborough University. This was an intermediate time in a two miles race where she was sixth in 10:06.16 with Paula Radcliff winning in 9:32.07. That year she was ranked 14th in Britain for 3000m and top at two miles for the U23 age group. The other two high ranked performances were 9:34.44 at Bedford on 4th July and 9:34.60, again at Bedford, on 14th August. These were the 3rd, 5th and 6th fastest times in the Scottish rankings for the year.
May 15 1999 she won the 5000m in the Varsity match but that was only her third best of the year. The wonderful 15:55.64 was run at Manchester on 9th June and was over 19 seconds faster than her next best time of 16:16.77 when finishing second at Bedford on 2nd May. There was a 16:36.1 when she won at Cambridge on 23rd May and the race referred to earlier on 15th May had a time of 16:37.1. Unfortunately what might have been her season's high spot – the European Under 23 championships in Gothenburg at the end of July – was not to be as she dropped out for what seems to be the only time ever. Katie did not often run on the road but she raced at Balmoral and turned in a time of 27:16 which was 17th fastest in Britain.
Her running at Oxford continued to impress and she was awarded the Susan Dennier Cup which is awarded annually for the best performances in the Oxford v Cambridge Sports (Ladies Match).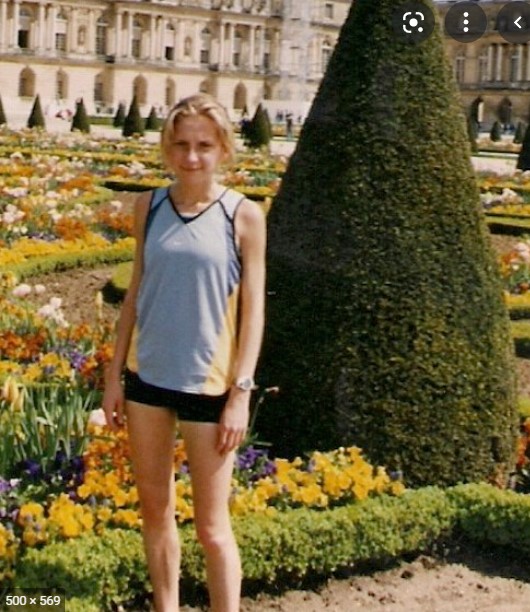 At Vanves Club Run 92
Katie raced indoors in 2000 mainly at 3000m. Cardiff was the venue for the BUSA championships – and she ran 9:26.31 on 12th March, and 9:57.4 also on 13th March. The faster time was set when winning the first Heat of the championships. There were also two ranked races were in France – On 19th April there was a 5000m at Levallois Peret in 16:50.6 and on 16th May at Malakoff there was a 3000m in 9:34.6. There was also an 800m in 2:13.9 in September in Tokyo, and a 5000m in 17:06.9 – both in a match between Oxford and Cambridge against the Americans from Brown and Dartmouth Universities on 28th June. The French races are explained by the fact that her degree studies at Oxford required her to spend some time in France. While there she ran with the local club, Vanves Club Run 92 who were sorry to leave her. The comments on their web site tell a lovely story. A rough translation reads as follows:
"Katie has worn the colours of VRC 92 in 2000 and 2001, champion of the Hautes de Seine cross-country long course for her first race, she still has the record for the Malakoff 10K race of 34:07. Club 5000m champion Katie has twice won the international cross-country at Louviers, as well as the 15km of the Voisins le Brettoneux in 54:12 in front of a Kenyan athlete. Katie has run on our courses at Touquet and has left us an unforgettable memory, it is a pity that she has to return to London to complete her studies at Oxford."
We only have two more results for Katie: in 2001 there was a 10K road race in 34:35 and in 2002 she won for Oxford at Oxford over 5000m in 17:30.1. Her all time personal top 10, according to World Athletics are noted below. For someone not really well known in Scotland, she was a remarkable athlete by any standards.
| | | | | |
| --- | --- | --- | --- | --- |
| EVENT | DATE | COMPETITION | PLACE | TIME |
| 5000m | 9th June 1999 | Manchester | 3rd | 15:55.64 |
| 3000m | 12th March 2000 | Cardiff British University CC | 1st | 9:26.3h |
| TWO MILES | 23 May 1999 | Loughborough | 6th 10:06.16 | |
| 3000m | 29th August 1998 | Bedford | 3rd | 9:24.27 |
| 5000m | 2nd May 1999 | Bedford British Unis Champs | 2nd | 16:16.77 |
| 10,000m | 4th May 1998 | Bath | 2nd | 34:40.00 |
| 3000m | 4th July 1999 | Bedford U23 British Champs | 2nd | 9:34.44 |
| 5000m | 8th June 1998 | Rosicki, Prague | 9th | 16:42.87 |
| 5000m | 18 July 1998 | SWAAA | 1st | 16:46.08 |
| 5000m | 25th July 1997 | Ljubljana Euro Junior Ch. | 5th | 16:48.06 |