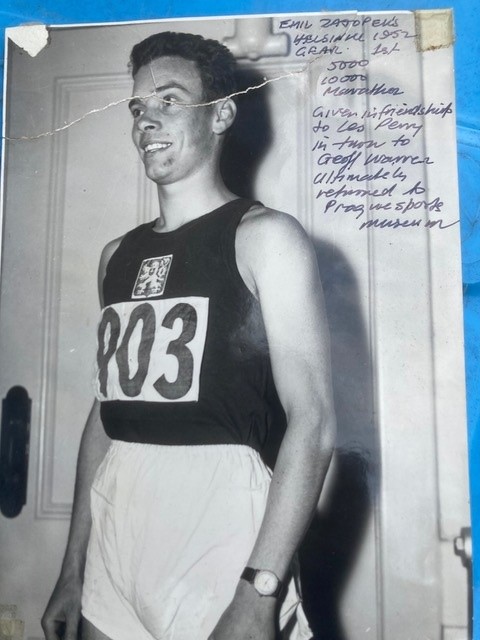 .
Emil Zatopek & Les Perry.
I feel we are all by now well aware of Zatopek's incredible gesture in gifting to Ron Clarke one of his Olympic Gold Medals (1966).
Certainly a not so well known story is Zatopek's gifting of his competition uniform (singlet & shorts) to one of Australia's all-time greats – Les Perry – in 1952, at the Helsinki Olympics
Les Perry meets Emil Zátopek
The long and middle distance of the world runners were in awe of Emil Zátopek and wanted to try and meet him. Emil was the 1948 gold Medal winner of the 10,000 metres and Silver medal winner in the 5,000 metres, plus many other world and European records. After a few days training in Helsinki and after a good deal of more chatter and sharing of ideas on how meet their hero between Les, Percy Cerutty and John Landy, Les decided to find Zatopek. The Russians and other Eastern Bloc countries had their own Olympic village, at Otaniemi, across the other side of Helsinki from the main village in Kapyla. The concerns were that the Russians and others were protected in their camp and it would be impossible to get in, or out. After lots of talk, Les decided to head off to Otaniemi and find Emil. Of he went, a decent training run across Helsinki to the Eastern Bloc camp where he found no problems getting in and headed to the training track where he found Emil. Les introduced himself to Emil who straight away said, "Les, come and training with me." So he did. Les met others in the Czech team, including Emil's wife Dana, After training, Les made his way back to Kapyla Village to tell the others of his day with Emil. The others joined Les the following day, heading to train again with Zatopek at the Otaniemi camp. Emil took a real shine to Les.
Later in the week, Les again visited Emil and after training, presented Emil with a badge from the Williamstown Amateur Athletic Club in Melbourne. No more was said and Les returned to camp.
Later, after the 5000 metres
After the help from Zatopek in progressing to the final of the 5,000, Les Perry, dubbed the 'Ironman, ran 60.2 second faster than ever before in placing 6th in the final, just 100 metres behind the winner, Emil Zatopek. The whole team praised Les for his courage and a wonderful personal best in the final.
Soon after the race, Les and Emil were talking and Emil promised Les his red singlet with the famous number, 903 and his running shorts to take back to Australia. Emil said, "You must wait till I run in the marathon – I'll need them for that." The friendship developed between Emil and Les was very strong.
And after the marathon…
The next day, Les Perry went to visit his friend Zatopek at the Eastern Bloc village. After a warm welcome and congratulations, Emil presented Les with his original, and clean, running shorts and the famous red singlet that he wore in winning his three gold medals. Emil also gave Les a book by Gunder Hagg, the famous Swedish miler which the world record holder had presented personally to Zatopek.
"I would like the Australian running coach, Percy Cerutty, to have this book," said Zatopek. "He is my good friend."
Perry said it would be a proud moment for him when he lands back in Australia with the Zatopek running gear. Les said he was going to give the singlet and shorts to Geoff Warren, a promising Melbourne three and six mile runner as an inspiration to Geoff to try and emulate the feats of the great Zatopek.
(Geoff Warren fulfilled his potential – representing Australia at the 1954 Empire Games over 3 & 6 Miles)