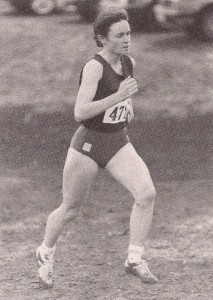 Winning the Scottish Cross-Country Championship, 1992
Having been involved in athletics, particularly endurance running, since 1957 I have found that others involved in the sport are almost universally friendly, genuine and helpful.   I had watched Vikki in training and racing for several years and admired her abilities when I invited her to help organise the women's events in the major BMC Grand Prix meeting at Scotstoun at the turn of the century.   She was happy to come to the committee meetings when she could, gave valuable advice and was a real asset to a male dominated committee.   One of the most genuine and approachable international athletes that you could come across, she has suffered from a surprising lack of recognition domestically.   It may be the price of being a talented runner at the same time as Liz McColgan and Yvonne Murray in Scotland, and Paula Radford and Liz Yelling in Britain.   Of her talent, there is no doubt and Colin Youngson has written this profile of her athletics career.
Vikki McPherson (born 1st of June 1971) achieved a great deal in her running career during the 1990s.   She was a Scottish and British Universities champion, a Scottish title winner, and ran internationally for both Scotland and Great Britain, on track as well as cross country.   In addition she won medals in World Universities competitions and in the World Cross Country Championship.   Between 1989 and 1993 Vikki studied accountancy, and enjoyed playing a full part in the athletic and social life of her club, Glasgow University Hares & Hounds. She was a natural choice to be Treasurer and, of course, won a Blue. Previously, she had been a member of Troon Tortoises; and went on to compete for City of Glasgow AC.
Fellow Harey Alastair Douglas writes "Vikki trained very hard under the guidance of Bill Parker.   She was both organised and disciplined in her approach to training and was also happy to advise and encourage other runners.   She was extremely friendly and popular within the sport."   This is obvious if the history of GUH&H is consulted. It makes clear not only that Vikki improved constantly as an athlete, but also that she competed in all the usual student races, including the Isle of Man Easter Running Festival, and was a lively, mischievous young woman who loved a party.   There is frequent reference to the singing of certain student songs and the writing of satirical performance poetry.   Vikki's team-mates in a very successful outfit included Hayley Haining, Joanna Cliffe, Suzie Donaldson, Jan Roxburgh, Katrina Paton and Michelle Jeffrey.
Vikki's potential was immediately obvious.   As a 'fresher' she was fourth in the West District Junior CC, third in Scottish Universities, 18th in BUSF and 6th in the Scottish Senior National.   In addition, while in front on the first stage of the famous Hyde Park Relays, she led the entire field off course!   The next season brought a real challenge for Vikki, with the arrival at GU of the immensely talented (but somewhat injury-prone) Hayley Haining, who had been second in the 1990 National CC. Hayley proceeded to finish a little way in front of Vikki in several races but their rivalry led to improved performances for both.   Vikki (still only 19) was victorious in the West District Senior CC.   At an International 3000m road race, held in Turkey on 5th December 1990. Hayley was second and Vikki fourth.   In early 1991, Vikki McPherson won the Scottish Universities CC title in Bellahouston Park, and GUH&H won the team.   At  BUSF in Sunderland, Vikki was a close second.  Then at Beach Park, Irvine, when the Scottish Women's Cross Country Championships were held, Hayley Haining won, Vikki finished third and GUH&H won the national team title.   Over the Easter vacation, according to the GU history  "Vikki, Joanna and Michelle escaped death on a number of occasions, while running along the West Highland Way in three days.   The wild animals they encountered were fortunately held at bay by an essential item of Vikki's equipment – her hairdryer!"
In November 1991, at the Safeway International CC Meeting at the infamous Riverside Bowl in Gateshead, Vikki finished sixth in a 5000m race.   Then in December, Vikki McPherson managed to defeat Hayley Haining in the Lita Allen Race in Kirkcaldy, by the narrow margin of four seconds.   Then in February 1992 at Keele University, Vikki McPherson had a tremendous run to win the British Universities CC title.   She followed that with an outstanding third place in the UK Championship and World CC Trial, held in Basingstoke.   After that, at Callender Park, Falkirk, Vikki became Scottish Women's CC Champion.  Writing in The Herald, Doug Gillon noted "The twenty-year-old Glasgow student Vikki McPherson confirmed to a Scottish crowd yesterday that she has graduated from tortoise to hare.   The former Troon Tortoise has blossomed under the coaching of Bill Parker since moving to Glasgow to study accountancy." 
At the 1992 World Cross Country Championships in Boston, USA, Vikki McPherson had a fine run for GB in freezing conditions over a snow-covered course and finished 62nd.   Then in the World Students CC Championships in Dijon, France, Vikki captained the British Women's team to victory and secured an individual silver medal.   (In 1994 she was also part of the winning team in this event when it took place in Limerick.)   In May, Vikki won the Strathclyde Women's Kelvin 10k race in 33.05, 38 seconds in front of fellow International athlete Sandra Branney.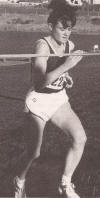 During her final year at Glasgow University, Vikki appeared less frequently for the students.   However in December she won a Women's Inter-District CC race in Irvine; and went on to represent Scotland in an International CC Race in Durham, along with Hayley Haining and Joanna Cliffe (the West District and Scottish Universities CC winner).   This may well have been the contest that Alastair Douglas referred to when he wrote "one year in the televised Durham International Cross Country, the Hares & Hounds beat Kenya in the team race!"    In 1993, Vikki McPherson retained her Scottish CC title at Callender Park, Falkirk, and after being third once again in the UKChampionship trial race, once again gained selection for the British team competing in the World Cross Country Championships in Amorebieta, Spain, where she improved her finishing position to 38th.
That summer, Vikki McPherson ran an excellent race when she finished fourth in the 1993 World Student Games 10,000m at Buffalo, USA, recording a lifetime best of 32.32.42 (which at the time was second only to Liz McColgan in the all-time Scottish ranking list).   In addition she ran the 10,000m for Great Britain in the IAAF World Athletics Championships in Stuttgart.
After leaving university, Vikki continued her successful athletics career, although she began to suffer from injury.   She was fifth in the World CC trials and represented GB once more. Running for Scotland in the 1994 Commonwealth Games in Victoria, Canada, Yvonne Murray won the 10,000m, with Vikki finishing fifth in 33.02.74.
In 1995, Vikki McPherson regained her Scottish Women's Cross Country title in February; and in May won the Women's Home Countries International 10,000m road race in Kelvingrove Park.
After several injuries, Vikki started to make a comeback by running for Britain in a 3000m at Gateshead in September 1997.    The following year – 1998 – was very successful. In the UK Championships and World CC Trial, she won the silver medal, sharing the winning time with Liz Talbot (Yelling). Then in the World Championships in Marrakesh, Paula Radcliffe, Hayley Haining, Vikki McPherson and Liz Yelling won team bronze.   Vikki improved her 3000m best to 9.21.2 and ran a very good 10,000m (32.38.42) in Lisbon in April 1998.   Then she set a 5000m PB of 15.56.04. She became Scotland's Commonwealth Games Team Captain and when the 10,000m took place in the steamy heat of Kuala Lumpur, Malaysia, Vikki finished a meritorious fourth.
Alastair Douglas concludes "Vikki was also outstanding on the roads. She won the Women's 10k in Glasgow, finished third (and first Scot) in the Great Scottish Run, and sixth in the Great North Run Half Marathon, in the fast time of 71 minutes.   One of the disappointments of her career was missing out on an Olympic place. (Barcelona came just too soon for her and she was injured for Atlanta).   I think she would have eventually moved up to the marathon where, I have no doubt, she would have run for GB in more major events and would have run significantly under 2.30.   However injuries took their toll and she was never able to make that transition.   Nevertheless she had an outstanding career, although it was fairly short, and maybe did not get the recognition she deserved by being at her best around the era of Yvonne Murray and Liz McColgan."
Since retiring from distance running, Vikki McPherson has made sport her profession, working with UK Sport, UK Athletics and becoming GB Badminton Performance Director