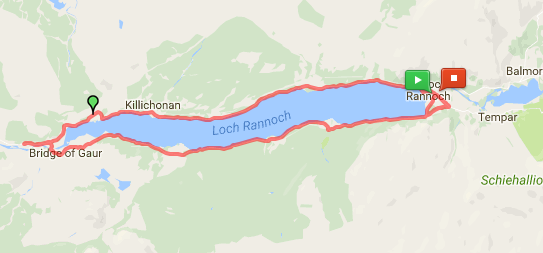 The Loch Rannoch Marathon was run round one of the most beautiful lochs in the country and the trail could not have been more simple – a lap of the loch. But as for the trail, there are some who said afterwards that they couldn't find the downhill bits. It was nevertheless one of the more popular races on the marathon calendar – as testified by the fact that it a was a long-running long run! It's not far from Pitlochry and the triangular shape of Schiehallion dominates the skyline: it was used in the nineteenth century to estimate the weight of the world. End to end with Loch Tummel, it is prime tourist territory. The story of the races was tracked down by Colin Youngson and it is the latest in his series on the Scottish marathons.
The first Race Director of the Loch Rannoch Marathon was Andrew 'Bill' Hillier.
In 'Bill's Bio' he wrote: "In 1977, I headed up to Scotland, and spent nine happy years teaching at Rannoch School, in the picturesque Highlands. Had neglected my fitness but, in the early 80s, became caught up in the running craze. Completed 8 marathons, including London, and became the first race director of the Loch Rannoch Marathon. In 1986 I migrated to Western Australia and have retired there."
One Loch Rannoch Marathon runner commented: "If you like your marathons to be scenic, then this is the one for you. With a loop at either end, you basically just run round the loch. If you want your marathon to be flat, then this is not the one for you. I heard the route called 'undulating' but that is a fairly mild description, I would suggest. In fact, there is an elevation gain of 631 feet!"
Loch Rannoch Marathon 26/6/1982
Sam Graves (Fife AC) 2.28.07
Davie Wyper (Bellahouston H) 2.30.02
Martin Craven (ESH – first Veteran) third
Leslie Watson (London Olympiades AC), the Glasgow-born physiotherapist, finished first Woman in the fast time of 2.51.04.
Loch Rannoch Marathon 16/6/1983
George Reynolds (Aberdeen AAC) won in 2.24.09
Lynda Bain (Aberdeen AAC) was First Woman in a course record of 2.48.04. Leslie Watson finished second in 3.01.00.
(Lynda ran an International marathon for Great Britain and broke the Scottish Women's record with 2.33.38 in the 1985 London Marathon.)
Don Ritchie wrote: "In the Loch Rannoch marathon, on the 16th of June, I was quite pleased to finish 5th of the 435 runners who completed the course. The antibiotics course that I had begun on Monday, prescribed to clear my bronchitis, did not seem to have any adverse effect. I went with the leaders and I felt quite comfortable as we ran out into a headwind. Our group of eight reduced to four on a steep hill at the top of the loch. Soon after this I began to struggle when George Reynolds increased the pace. I dropped back and Ian Graves caught me. I felt very weak but continued as best as I could. Later, Dave Wyper caught me, but I managed to recover and pull away again. George Reynolds ran very well to win his 'Local' marathon in 2-24-09 ahead of Rod Stone, 2-25-23, Don Macgregor, 2-26-51 and Ian Graves, 2-27-18. My finishing time was 2-28-something."
(George Reynolds, originally from Kinloch Rannoch, where the Loch Rannoch Marathon started and finished, was for some time based at RAF Kinloss, near Forres in Moray. His career highlights included being part of the record-breaking Aberdeen AAC team in the 1982 John o'Groats to Land's End ten-man relay and winning the 1984 Scottish Marathon Championship when running for Scotland in the Home Countries International match.)
Loch Rannoch Marathon 23/6/1984
Davie Wyper (Bellahouston H) 2.26.52, such a consistent marathon man, won the most picturesque Scottish marathon in almost perfect conditions.
S Harper (Clackmannan RR) 2.27.24
Sam Graves (Fife AC) 2.28.13
613 ran
Loch Rannoch Marathon 22/6/1985
Former Olympic Marathon runner, Donald Macgregor (Fife AC) finished first a new course record of 2.25.00, winning a week's time-share holiday. Elgin schoolteacher Ian Moncur (Forres Harriers) recorded 2.28.52, and former winner Sam Graves (Fife AC) 2.30.52.
Ann Bates (Central Region AC), first woman in last year's Edinburgh Marathon, won in 3.3.15, just 15 seconds in front of Carolyn Morrat (Fife AC).
Loch Rannoch Marathon 1986 29/6
Terry Mitchell (Fife) 2.30.35
Martin Coyne (Falkirk) 2.32.13
Shel Cowles (Oxford AC) 2.33.28
Veteran: Davie Wyper (Bellahouston) 2.38.11
First Woman: M. Greave (Angus) 3.24.05
(Terry Mitchell was a prominent Scottish International athlete on cross-country and road; he also ran for GB in foreign marathons. In 1988, Shel Cowles showed excellence by winning M40 British Veteran Championship titles on track (10,000 metres) and road (Half Marathon).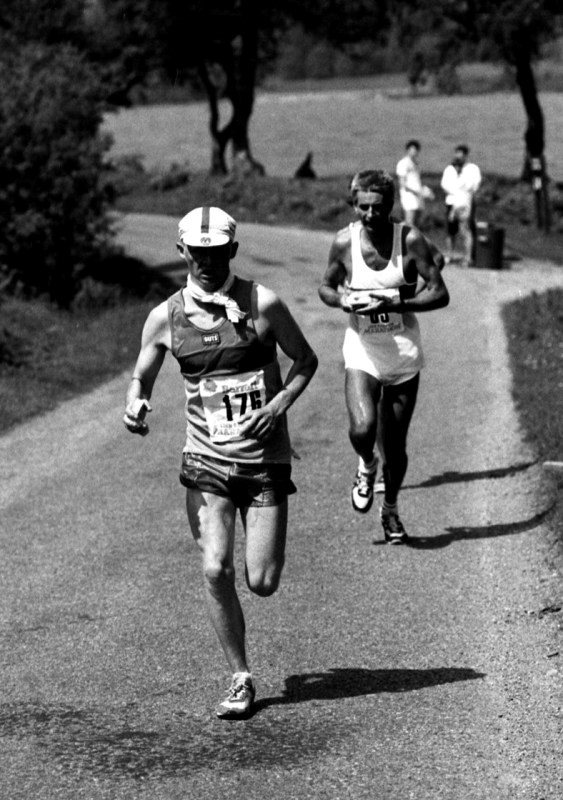 Terry Mitchell leading Shel Cowles (and Martin Coyne) in the 1986 Loch Rannoch Marathon
Loch Rannoch Marathon 28/6/1987
Martin Coyne (FVH) 2.29.13
Mike McHale (Pitreavie) 2.35.08
Mike Ryan (Dundee HH) 2.35.23
First Woman: Margaret Oliver (Aberdeen AAC) 3.10.53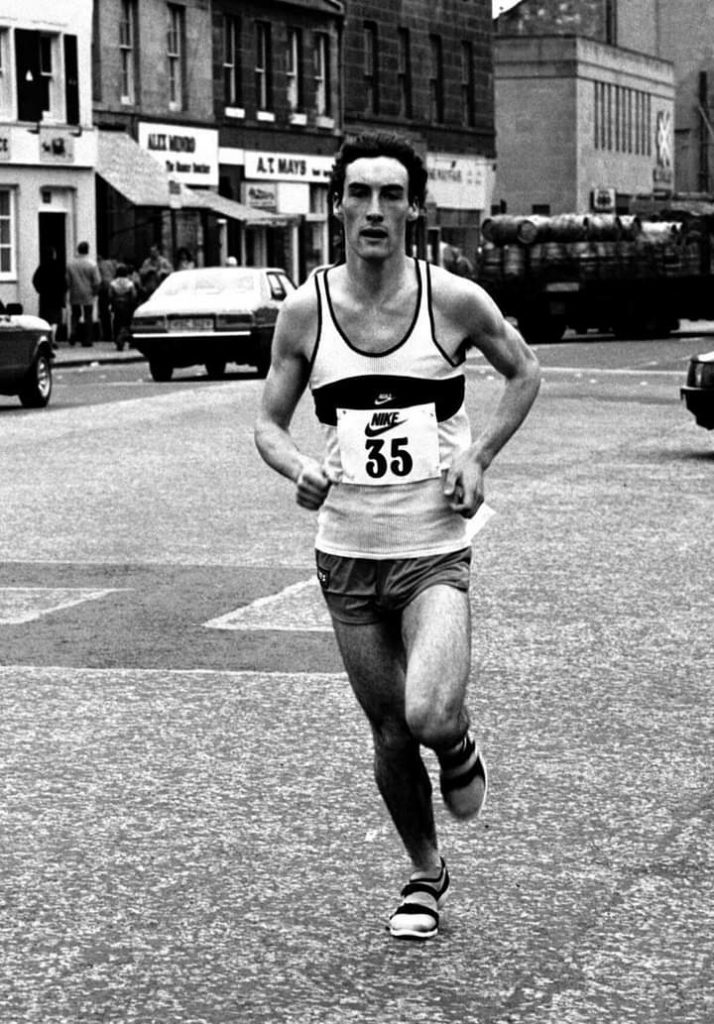 Martin Coyne wins 1985 Edinburgh to North Berwick Road Race; Photo by Graham McIndoe.
Loch Rannoch Marathon 12/6/1988
Rod Stone (H.E.L.P.) 2.34.10
Rod Bell (DHH) 2.35.54
Mike McHale (Pitreavie) 2.40.19
First Woman: F Gray (Belgrave) 3.02.23
(Rod Stone, based in Scotland, was a Northern Ireland Marathon International Athlete. Rod Bell ran International Marathons for Scotland.)
Loch Rannoch Marathon 25/6/1989
S McCallum (Central Region) 2.37.04
Mike McHale (Pitreavie) 2.39.57
Ray Hubbard (Glasgow) 2.43.02)
First Woman: Sue Rodgers (Dundee RR)
Loch Rannoch Marathon 10/6/90
Ray Hubbard (SHC) 2.30.21
J Baird (H.E.L.P.) 2.34.21
A Cunningham (H.E.L.P.) 2.37.46
First Woman: Morag Taggart (Pitreavie) 3.14.17
Loch Rannoch Marathon 23/6/91
Allan Adams (Dumbarton: M45 Veteran) 2.31.37
Ray Hubbard (Ayr) 2.34.31
B Halliday 2.35.29
First Woman: H Stewart (Lisburn NI) 3.23.37
Allan Adams remembered: "I won the Kirkudbright Half Marathon in 68 minutes or so about two weeks before Loch Rannoch, knew I was fit and promptly entered the marathon. Ray Hubbard hung on to me for most of the race – in fact I did not get away from him until I 'dug in' at 21 miles. The closing stages are very undulating (a real rollercoaster) and energy-sapping but I was pleased to record a good time on a testing course."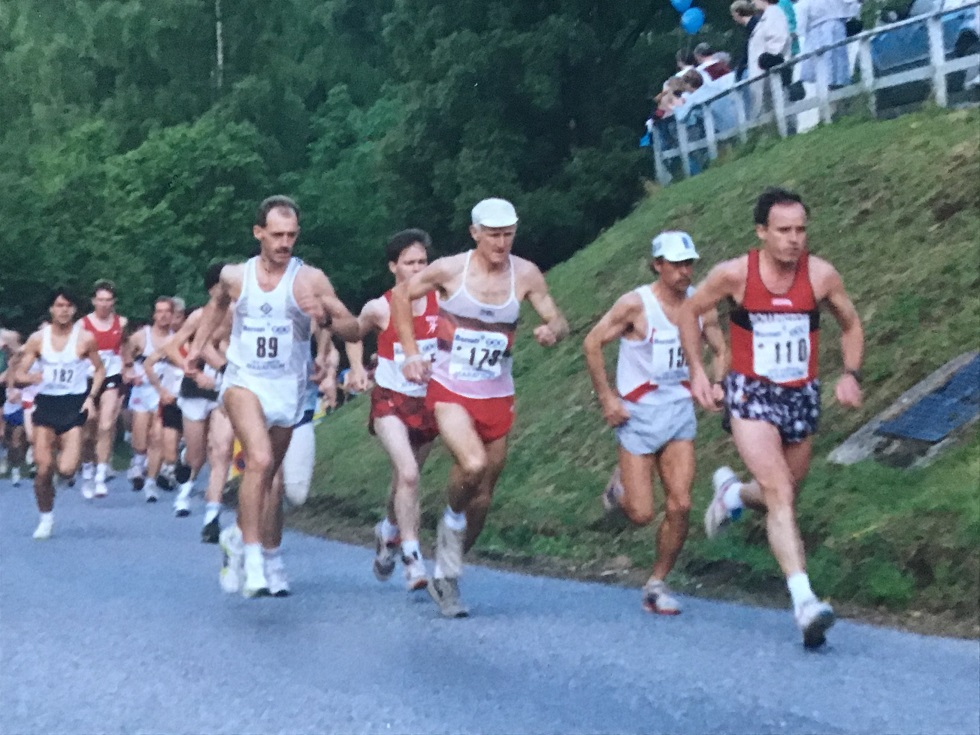 Just after the start in 1991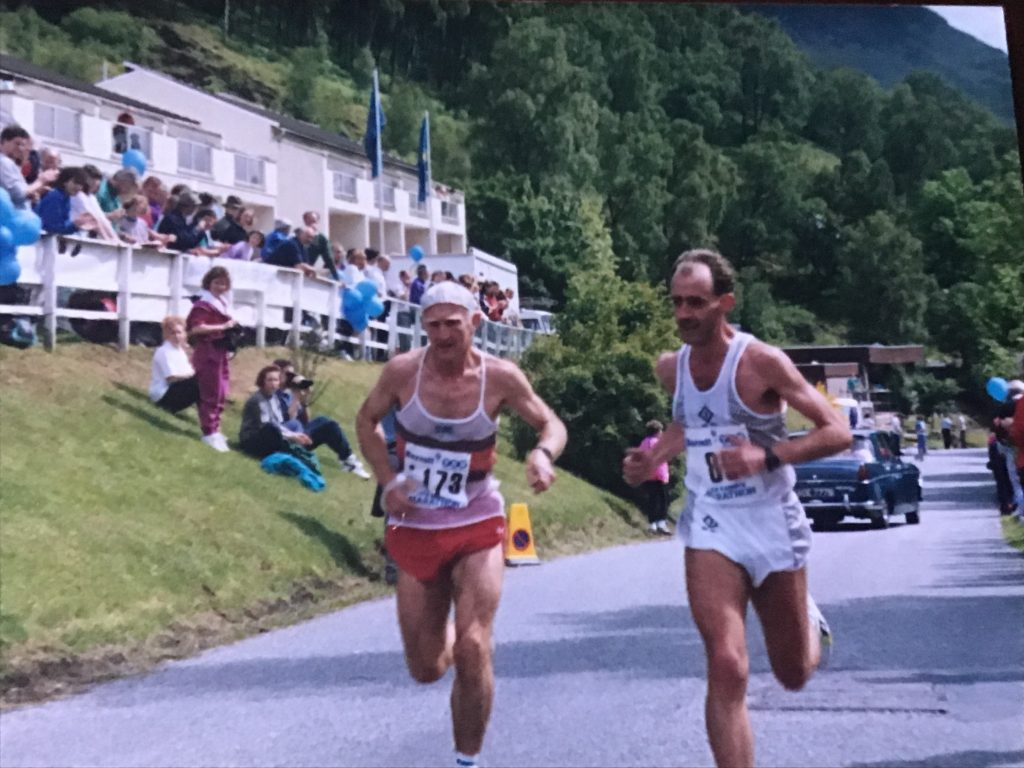 Allan and Ray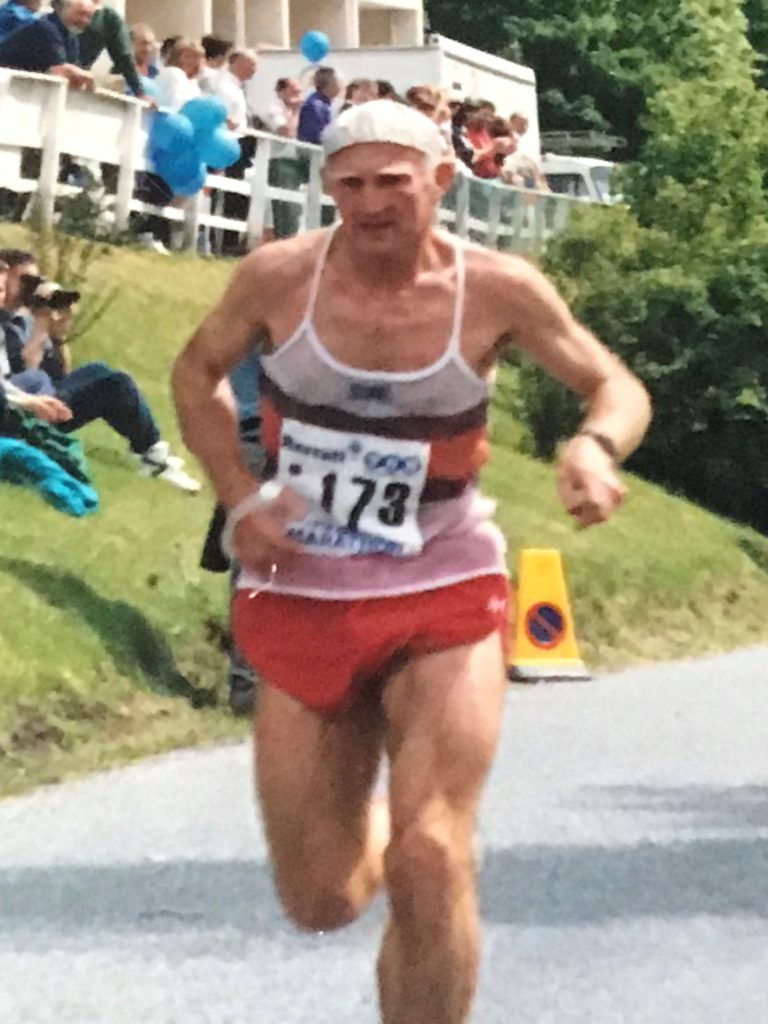 Allan heads towards the finish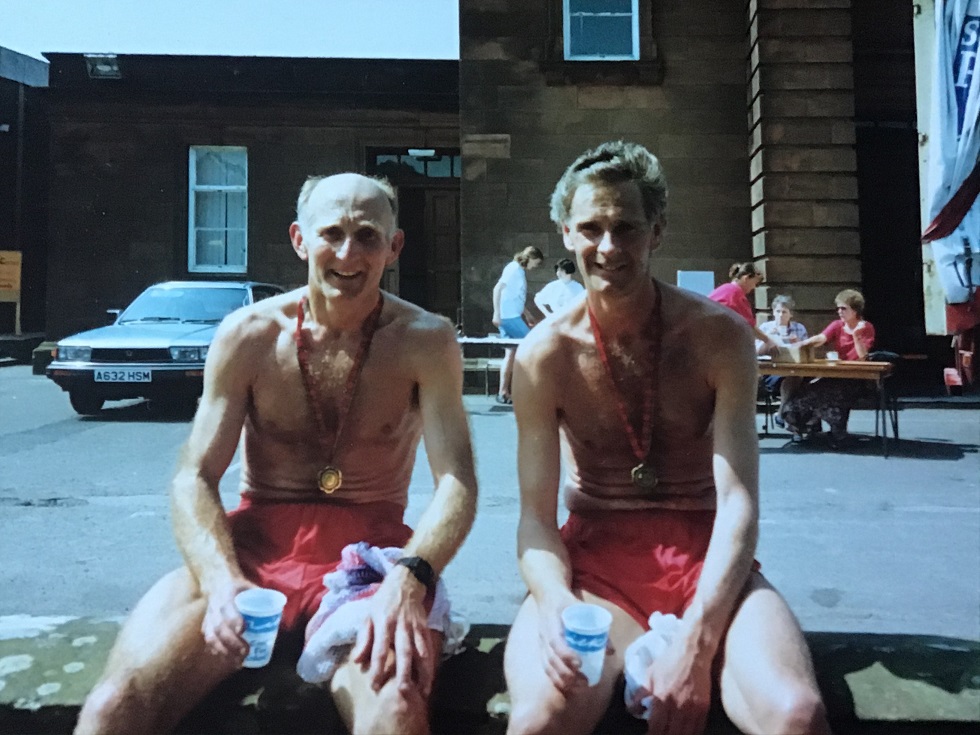 Allan Adams and friend relax afterwards
Loch Rannoch Marathon 21/6/92
Peter Fox (DHH) 2.31.55
G Lightwood (EAC) 2.32.54
M Greally (Pitreavie) 2.37.50
(Peter Fox was a Scottish cross-country International athlete.)
First Woman: Trudi Thomson (Pitreavie) 3.15.10
H Stewart (Lisburn NI) 3. 22.23
E Walls (St Albans – Veteran) 3.31.22
(Trudi Thomson was a legendary Scottish and British ultra-marathon International runner.)
Loch Rannoch Marathon 20/6/93
Jim Douglas (Carnegie) 2.37.09
Brian Howie (ESH – Veteran) 2.40.28
A Duncan (S Liv) 2.41.29
First Woman: Trudi Thomson (Pitreavie) 3.05.44
Linda Trahan (Garioch) 3.20.05
Carol Cadger (Perth – W35) 3.20.58
(Carol Cadger was a Scottish ultra-marathon International runner.)
Loch Rannoch hosted the 1994 Scottish Marathon Championship on the 19th of June. With the familiar shape of Schiehallion providing a dramatic backdrop to a course which involved two loops around the loch, the scenery was impressive. A warm June day with a strong westerly wind made sure life would be tough for the 154 finishers. Fraser Clyne (Metro Aberdeen RC) turned up hoping to emulate Joe McGhee by winning the title three years in a row but the presence in the field of Terry Mitchell (Fife AC), also seeking a third championship win, ensured this would not be easily achieved.
Mitchell set the early pace along with Peterhead AAC's Alan Reid while Clyne was happy to tag alongside. The refreshment stations caused the leaders some concern as the cups were filled with suspiciously discoloured water. Speculation centred upon whether this was the natural peaty colour of the local tap water or, of more concern, had the cups been filled directly from the nearby loch?
Whatever, Reid dropped out shortly before the ten-mile mark – but not because of anything he had consumed. A calf injury flared up, leaving the North District man no option but to pull out. Mitchell and Clyne continued onwards through the halfway point together. Suddenly, however, Clyne opened a 100m lead on an uphill stretch at the head of the loch. Any thoughts the Aberdeen man might have entertained that the race was won were quickly dispelled, as Mitchell came storming back a mile or so later. The rejuvenated Fifer brushed quickly past the defending champion and began to pull away. By 19 miles Terry enjoyed a lead of over 200m and Fraser looked beaten. The race, however, still had another dramatic turn to take. Clyne rallied once again as the course twisted through the grounds of Rannoch School. 'I sensed that Terry was no longer going away from me and that I might still have a chance,' Clyne said afterwards.
Between 20 and 23 miles, Clyne hunted down his rival and with two miles remaining the two men were again locked together in an exciting dogfight. 'As soon as I caught Terry, I got a terrible attack of stomach cramp and thought I'd blown it,' Clyne recalled. 'I gained some comfort, however, by looking at Terry and realising he was suffering more than me.' Fraser Clyne summoned up one final effort (finishing time 2.23.08) which gained him an eventual hard-earned winning margin of 38 seconds. It was a course record and the result meant that he had emulated Joe McGhee's record of three wins in a row. Terry Mitchell recorded 2.23.46. Spectators had to wait over 14 minutes until the bronze medallist came into view when Jim Douglas of FMC Carnegie Harriers edged home in 2.38.16, 11 seconds clear of 48 year-old Pitreavie man Archie Duncan.
Janis Gjelseth of Shettleston Ladies took the 1994 Scottish Women's Marathon title in 2.58.37 with Jan Thomson of FMC Carnegie Harriers second in 3.07.34 and Diane Harvey of Tipton third in 3.18.29.
Loch Rannoch Marathon 18/6/1995
Simon Lund (Wigan Phoenix) 2.30.First Woman: Eleanor Robinson 2.55.
(Eleanor Robinson was a legendary English ultra-distance runner, twice winner of the I.A.U. 100km title. During a very long career, she held nearly 40 world records in a range of events from 30 miles to the 6 Day Race and won six world titles.)
Simon Lund, a fine young English ultra-distance runner who won the 36-miles Two Bridges Race in 1994 and 1996, wrote: "I had finished first in a 100km race four weeks before and continued training more than 100 miles per week, targeting the classic Enschede Marathon in Holland. Then I lost my passport as well as the cost of flights and hotel. Changing the race target, I phoned Trudi Thomson and asked if asked if, for the night before the Loch Rannoch Marathon, I could have a spare bed in her Dunfermline home. Eleanor and her husband Nigel drove me from there to Kinloch Rannoch.
I struggled to hang on to the lead group throughout the race (halfway in 1.16) but used 'ultra-tenacity' to catch the leaders finally in the 23rd mile. A short patch through the grounds of the school there provided a good opportunity to surge and get away, hiding the damage round a few tight bends. Customary collapse at the finish. Sorry that I cannot recall who was second or third, although I do remember being warned before the start that the favourite was a new M40 who had recently run 4.09 for 1500m.
Drinks afterwards with Pitreavie AC sparring partners from the Two Bridges, including Ken/Archie Duncan and Peter Baxter. Then the race presentation by two teachers at the school, who had been housemates five years previously down in Cheshire! Then Eleanor's homemade food on the journey back to Dunfermline, followed by more beers with Iain, Trudi's husband, and my first viewing of 'Pulp Fiction'. Incredible serendipity, coincidences and circumstances that just make you believe in fate!? Definitely one of many outstanding memories of running. Every dog has his day!"
This was the last Loch Rannoch Marathon until a new version started in 2015.