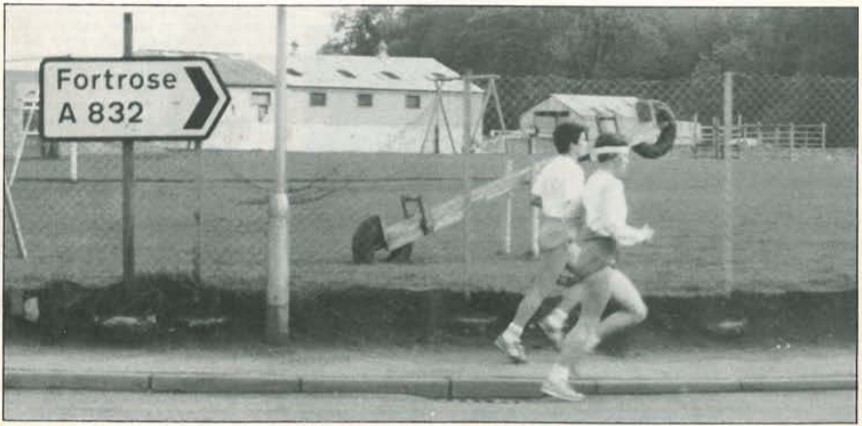 Fraser Clyne, the top-class British International marathon runner and sports journalist and historian, wrote: "The Black Isle Marathon (the first one in the Highlands) took place in November 1980, starting at Culbokie and finishing at Fortrose Academy. It was organised by Stashu Geurtsen, a visiting sports psychologist from Sonoma University, California. David Blanchard (Black Isle AC) was also involved from the start. Eleven runners, including one woman, Linda Lamb, competed. The event grew in popularity with a peak of 142 taking part in 1985.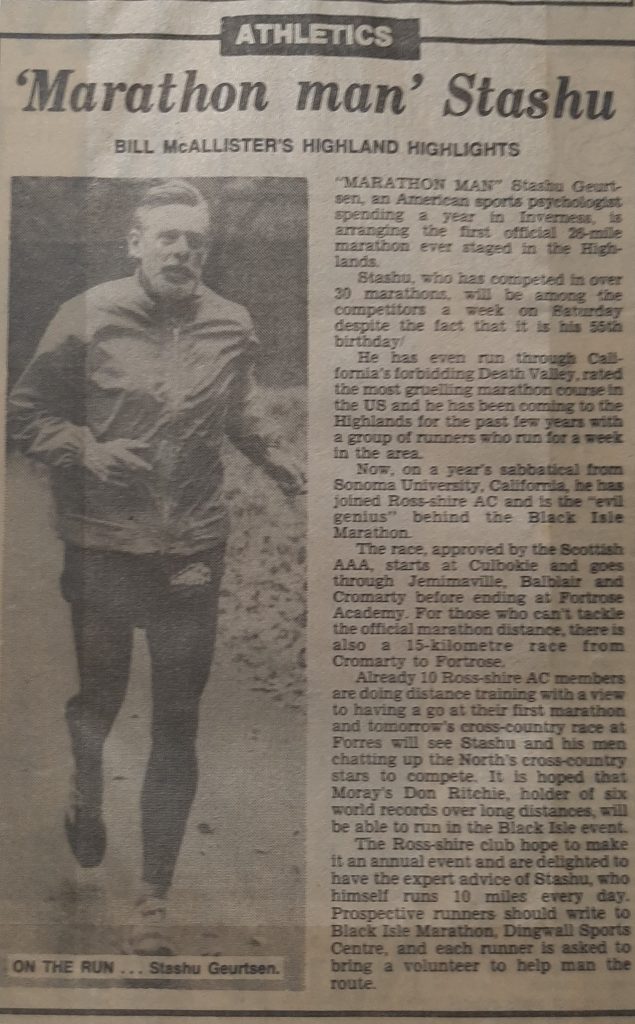 Half marathon and 10K races were added in 1986 and it became the Black Isle Festival of Running. David Watt of the Ross-shire Journal took over the organisational reins, then Black Isle AC did a magnificent job of managing it, with Ray Cameron in charge.
The 10K was popular because it was mainly downhill, propelling most runners to personal best times – and may have been short as well.
I ran the Black Isle Marathon just once, in 1991 when I used it as a training run prior to competing in the California International marathon three weeks later. I finished in 2.27.18, 10 minutes ahead of Mike McHale.
List of winners attached."
MARATHON How many ran
| | | | | | | |
| --- | --- | --- | --- | --- | --- | --- |
| 1980 | George Harper (Aberdeen University) | 02:45:48 | 1980 | Linda Lamb (Inverness) | 03:28:39 | 11 |
| 1981 | David Geddes (Garscube) | 02:29:58 | 1981 | Lynda Stott (Aberdeen AAC) | 03:10:13 | |
| 1982 | Don Ritchie (Forres) | 02:24:28 | 1982 | C. Wallach | | |
| 1983 | Don Ritchie (Forres) | 02:26:07 | 1983 | Sheila Cluley (Kirriemuir AC) | 03:22:05 | 117 |
| 1984 | Sam Graves (Fife) | 02:28:48 | 1984 | Pam Volwerk | 03:39:10 | 115 |
| 1985 | Willie Miller (Caithness) | 02:33:16 | 1985 | Faye Brown/Christine Pamphilon | 03:53:23 | 142 |
| 1986 | Donald Ritchie (Forres) | 02:28:38 | 1986 | Muriel Muir (Dundee RR) | 03:10:45 | 102 |
| 1987 | Rod Bell (Dundee HH) | 02:35:18 | 1987 | Margaret Robertson (Dundee RR) | 03:08:48 | |
| 1988 | Mike Ryan (Dundee HH) | 02:34:30 | 1988 | Val Fyall (Dundee RR) | 03:13:25 | |
| 1989 | Charlie McIntyre (Fraserburgh) | 02:34:13 | 1989 | Gill Hanlon (Dundee RR) | 03:18:09 | |
| 1990 | John Duffy (Shettleston) | 02:31:16 | 1990 | R Banks | 03:24:03 | 91 |
| 1991 | Fraser Clyne (Metro) | 02:27:18 | 1991 | Trudi Thomson (Pitreavie) | 03:12:39 | |
| 1992 | Andy Stirling (Bo'ness) | 02:36:15 | 1992 | Ginny Pollard (Fleet Feet) | 03:05:24 | |
| 1993 | David Lancaster (Rowantree AC) | 02:30:41 | 1993 | Trudi Thomson (Pitreavie) | 02:53:09 | |
| | | | | | | |
[Lynda Bain (nee Stott), Trudi Thomson, Don Ritchie, Sam Graves, Rod Bell, Charlie McIntyre, John Duffy, Fraser Clyne and Andy Stirling all ran international marathons or ultra-marathons for Scotland. Ginny Pollard represented GB at Triathlon.]
HALF MARATHON
| | | | | | | |
| --- | --- | --- | --- | --- | --- | --- |
| 1986 | Willie Miller (Caithness) | 1:11:16 | | 1986 | Kathleen Greene (Dundee RR) | 1:38:07 |
| 1987 | Willie Miller (Caithness) | 1:11:26 | | 1987 | Liz McLardy | 1:28:43 |
| 1988 | Gerry Fairley (Kilbarchan) | 1:10:14 | | 1988 | Muriel Muir (Dundee RR) | 1:21:21 |
| 1989 | Gerry Fairley (Kilbarchan) | 1:12:09 | | 1989 | S Clarke | 1:37:46 |
| 1990 | Neil Craig (Caledon Park) | 1:12:06 | | 1990 | Marie Duthie (Fraserburgh) | 1:16:34 |
| 1991 | Stan Mackenzie (Inverness) | 1:11:57 | | 1991 | Jane Robertson (Ayr) | 1:26:47 |
| 1992 | Steve Ogg (Carnegie) | 1:12:50 | | 1992 | Margaret Robertson (Dundee RR) | 1:26:25 |
| 1993 | Steve Ogg (Carnegie) | 1:11:29 | | 1993 | Lynda Bain (Garioch) | 1:23:01 |
| | | | | | | |
10 KM
| | | | | | | |
| --- | --- | --- | --- | --- | --- | --- |
| 1986 | Ross Arbuckle (Keith) | 30:04:00 | 1986 | Sheila Campbell (Inverness) | 37:57:00 | |
| 1987 | Chris Hall (Aberdeen AAC) | 29:20:00 | 1987 | Julie Wilson (Inverness) | 35:50:00 | |
| 1988 | Chris Hall (Aberdeen AAC) | 28:49:00 | 1988 | Ginny Pollard (Fleet Feet) | 33:39:00 | |
| 1989 | Chris Hall (Aberdeen AAC) | 30:19:00 | 1989 | Janet Swanson (Caithness) | 35:24:00 | |
| 1990 | Ian Matheson (TVH) | 29:06:00 | 1990 | Julie Wilson (Inverness) | 35:24:00 | |
| 1991 | Ross Arbuckle (Keith) | 29:56:00 | 1991 | Julie Wilson (Inverness) | 37:40:00 | |
| 1992 | Ross Arbuckle (Keith) | 31:30:00 | 1992 | Shireen Barbour (Birchfield) | 35:55:00 | |
| 1993 | Steven Weir (Pitreavie) | 30:22:00 | 1993 | Debbie Kilner (Aberdeen AAC) | 34:54:00 | |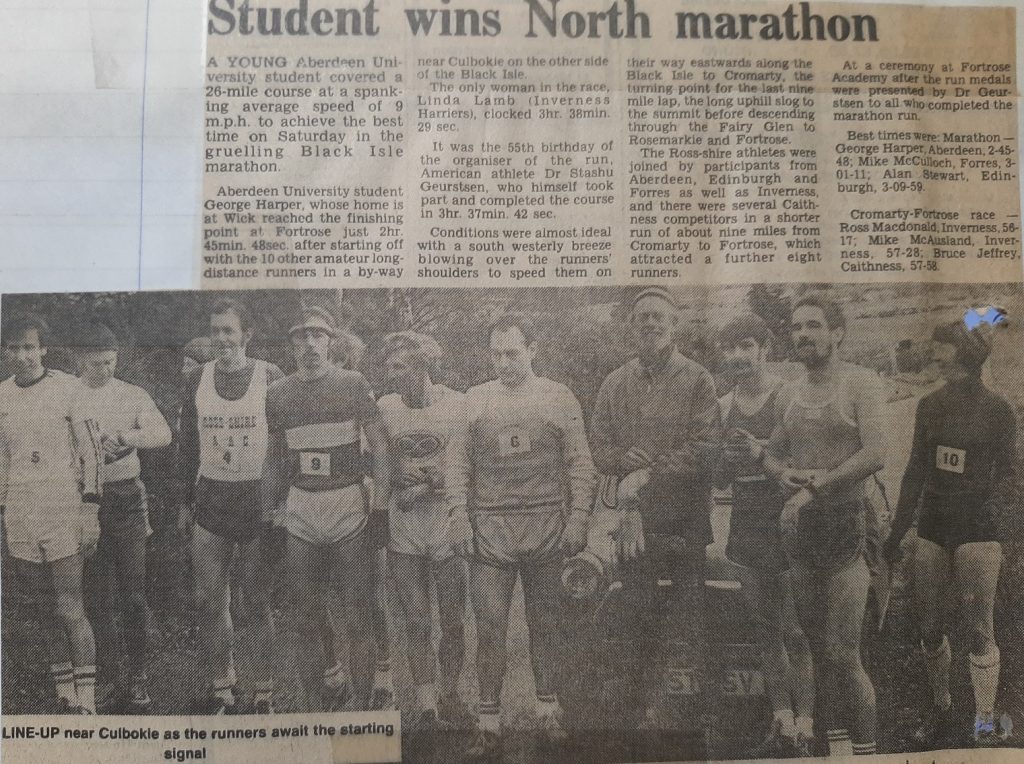 On the far right, Linda Lamb looks over at the other (all male) competitors.
Linda Lamb recalls: "I used to run hill races like Fyrish, Ben Lomond and Ben Nevis – really enjoyed the downhills! Then I ran in the North Cross-Country League for Inverness Harriers. There was no Senior Women's race, so we competed against the 16-year-old girls. Stashu and his friends encouraged some of us who jogged on Saturdays to train for longer races – and that was why I took part in the first Black Isle Marathon in 1980.
The long uphill after Cromarty (at about 17 miles) seemed very hard but, despite feeling tired, I enjoyed heading down towards the finish at Fortrose. There I was, trying to jog, when Stashu actually walked past me and finished less than a minute in front! During the next few years, I finished the Caithness Marathon from Thurso three times – and won a prize for finishing first Woman there on one occasion."
Anne Mitchell (Innis's wife) remembers helping at the first Black Isle Marathon in 1980. Providing water was still a bit novel and they quickly ran out of plastic cups so retrieved discarded ones for reuse – which was noticed by at least one of the competitors!
Donald Ritchie, the truly legendary, World Record-breaking ultra-marathon runner, took part in the Black Isle Marathon several times. Here are some excerpts from his excellent autobiography 'The Stubborn Scotsman'.
"In the Black Isle Marathon on 24th of October 1981, I finished 2nd in 2-33-38, which was pleasing as I had a head cold. Dave Geddes won in 2-29-58, with Innis Mitchell 3rd in 2-43-18. My right hamstring problem recurred the following week, which restricted me to 38 miles."
Lynda Bain recalled: "Long time ago! It was my second marathon, just after the Aberdeen one and my first year of running. I hadn't intended to do it but had enjoyed Aberdeen so much that I thought I would squeeze one more in before winter. It was small and friendly. Howard Lovell kindly gave me a lift up to it and we drove round the course when we arrived the night before. I seem to remember one large hill at the far end of the course!"
Innis Mitchell recalled: "Anne tried the 1981 marathon that I was in and kept going to about 20 miles. Just a bit further than Ian Spence who was my PE teacher at Aberdeen Academy. You may remember him Prop forward for Gordonians and picked for "Possibles" (the second team in the trial game they used to have to choose the Scottish National Rugby team). Despite being a big man, he had completed a marathon earlier that year – Aberdeen?
My own run was disappointing. Ran with Donald for first 12 miles or so. Developed a strained calf muscle from running on the camber of the narrow roads and limped the second half which is the hard part. I should have dropped out – was injured for weeks after. I remember promising myself that as soon as I was passed and lost my 3rd place I would stop – but no one caught me!
The Black Isle was organized/inspired by a small group of American runners who visited the area annually for a time. They were very nice people but of that era – rather evangelical about running. My sister Linda (Lamb) knew them better than me." (Innis Mitchell, an Aberdonian, was Scottish Schoolboys over-17 Cross-Country Champion in 1966 and gained full blues at both Glasgow and Strathclyde Universities.)
Don Ritchie: "In the Black Isle marathon, on the 23rd of October 1982, in good weather, I set the pace from early in the race and had Craig Ross for company. I led until Cromarty, but on the long hill out of Cromarty I let Craig lead for about four miles while I gathered myself for an effort to win. At about 21 miles I increased my pace and got away from Craig. I felt quite tired over the last one and a half miles. My time of 2-24-28 was a new course record by exactly 5 minutes, and 30 seconds and I had run 7-10 faster than last year. During the race I had only one glucose drink at 10 miles. Craig Ross finished in 2-25-18 ahead of Ian Graves, 2-27-44. Alastair Wood was 5th in 2-36-07."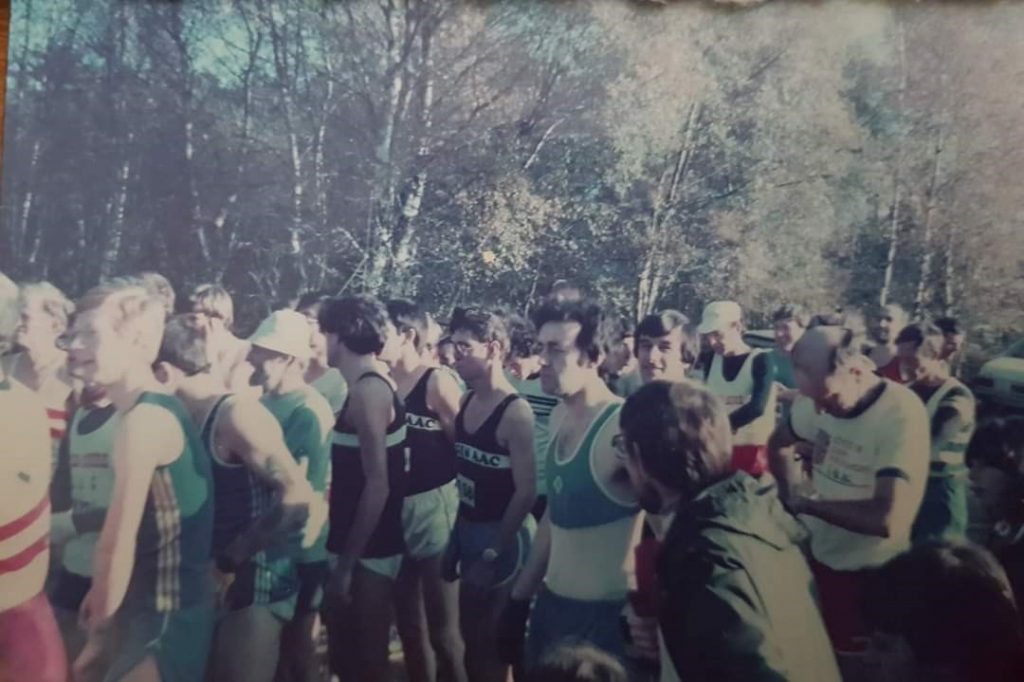 Mick Francis (wearing spectacles) in the centre. Alastair Wood (white vest, red stripes) extreme left.
Mick Francis wrote: "Start of the 1982 Black Isle Marathon. I was just 24 years old. I ran a PB that day: 2 hours 40 minutes 34 seconds. Must have been the short shorts that helped. My friend, mentor and training partner Don Ritchie smashed it that day with 2.24. Then from memory we partied all night, drinking Don's home brew. Happy days!"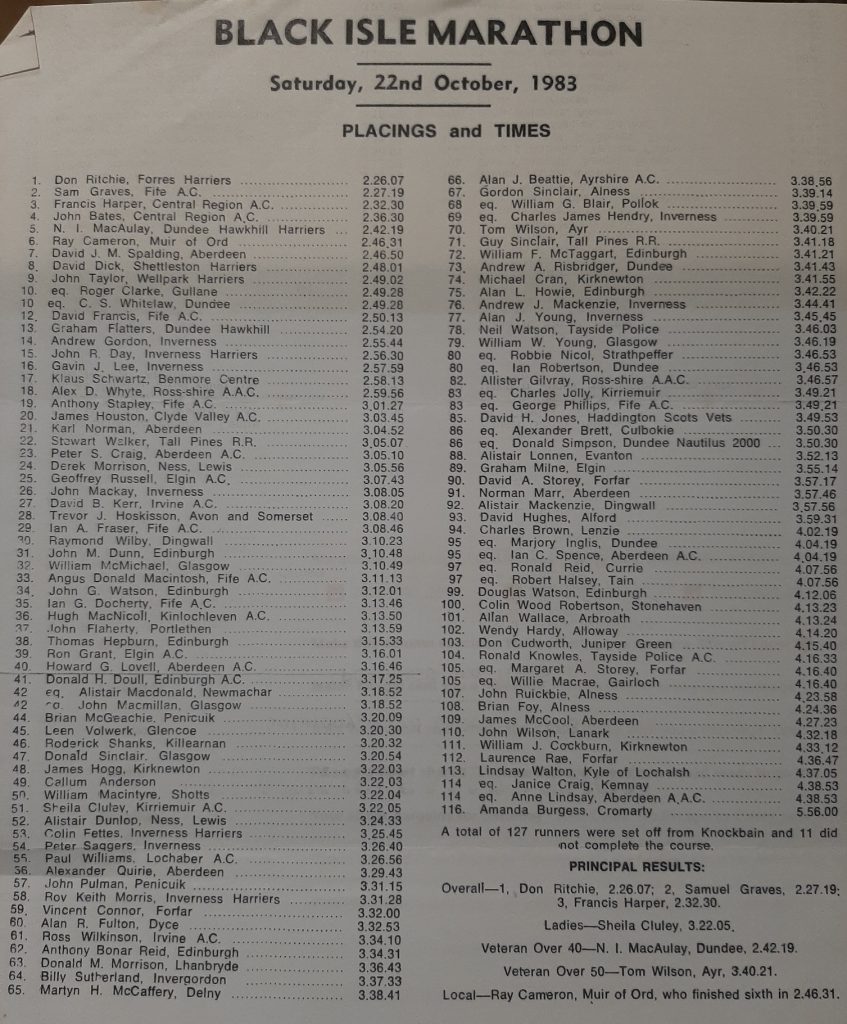 Don Ritchie: "In the 4th edition of the Black Isle marathon on the 22nd of October 1983, only Ian (or Sam) Graves came with me and we passed 5 miles in 26-54, 10 miles in 53-46 and halfway in 1-10-16. At about a mile before Cromarty I established a lead of 50 metres, but on the steep hill out of Cromarty I slowed and Ian closed on me. I let him pass and ran behind him, up the long hill to the top of the ridge, to recover. We passed 20 miles in 1-52-09 and I got away from Ian after that and I was pleased to win in 2-26-07. Ian finished in 2-27-19, with Frank Harper next in 2-32-30."
Don Ritchie: "On Saturday the 1st of November 1986, although I had a head cold, I decided to run in the Black Isle Marathon. I picked up Jim McDowell in Elgin and drove to Fortrose where, after registering and changing, we boarded the buses to take us to the start in Culbokie. There were 116 starters on this cold morning with a north wind blowing. We were sent on our way by a phone call from a lady in Wick, via Moray Firth Radio transmission.
The initial pace was comfortable and quite adequate as two runners from Cumbernauld AC set the pace, which tended to fluctuate quite a lot. One of the Cumbernauld runners, John Duffy, increased the pace a little and pulled away and Charlie Noble chased after him, but both slowed and dropped back. I started to set the pace at about 4 miles, kept it steady and had John Duffy for company. He asked me if I had run in the Glasgow marathon, and on hearing that I had, he informed me that he had also run there and finished with 2-29-00. He seemed quite strong and at about 9 miles I began to feel a little tired and my chest was hurting a little. I thought that he would probably win this race, but I was going to hang on for as long as I could. We passed half way in 1-12-48, which was quite satisfactory and I appeared to be running more comfortably by then. My confidence increased and as we approached Cromarty, John made a short stop to tie a loose shoelace. He caught up soon afterwards and we ran through Cromarty together and also up the long hill after Cromarty. With about 7 miles remaining I increased the pace and gradually pulled away from him as the course levelled off and then the gradual downhill began. I checked my mile time between six miles and five miles to go and was pleased to see 5-24. I maintained this pace most of the way to the finish. I was very pleased to win this marathon again and my time of 2-28-38 was satisfactory in view of my cold. John Duffy was 2nd with 2-32-58 and Mick Francis 3rd in 2-33-41."
Brian Grassom of Sri Chinmoy A C was running and it was good to see him again, but unfortunately he was unable to finish. Being a member of the Scottish Marathon Club, he had brought with him the 'J. F. Walker Memorial Trophy', which had been awarded to me this year, for my lengthy contribution to the sport of marathon and ultra-running in Scotland. This was presented at the beginning of the awards ceremony. The whole day went very well and was a credit to Ray Cameron and his team of helpers."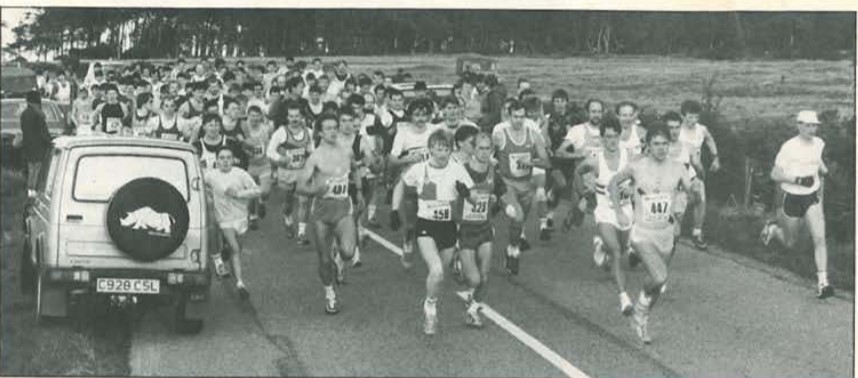 BLACK ISLE 1986. Article by David Carter in the December edition of Scotland's Runner.
"Three sets of runners at three different points on the Black Isle peninsula waited chittering as a keen wind nipped in from the sea. It was the morning after Hallowe'en Close by, Moray Firth Radio's usual Saturday request programme blazed away, volume full up, The runners chafed. and chafed doubly as the disc jockey chuntered on Then came sudden concentration and the forward lean, as runners tensed for the start. A simultaneous countdown came from three sets of speakers, a starting gun fired in the studio in Inverness and the 1986 Scot JCB Black Isle People's Marathon, Half Marathon and 10k Road Race – even the title makes you breathless – was underway.
Just 30.04 minutes later, Ross Arbuckle of Keith and District AC was crossing the finishing line at Fortrose to win the 10k event, having eased himself away in the final stages from a hard competitive group of runners. Only 22 seconds separated Arbuckle at the finish from Graham Milne of Peterhead, who finished fifth.
Meanwhile the leading half marathoners had turned at Cromarty, pulled up the steep climb out of the village, and were on the highest point of the course. Willie Miller of Caithness AC and Danny Bow of Nairn and District leading the way.
There were two leaders also in the marathon – veteran Don Ritchie of Forres Harriers and 22-year-old John Duffy of Cumbernauld – who now faced a long stretch as they skirted the southern side of the Cromarty Firth before turning for home, at Cromarty itself, 17 miles completed.
Miller was to pull away from Bow and finish over two minutes ahead in I.11.18 but the marathon Itself was providing the real duel of the day Only at about 20 miles did Ritchie finally get away from Duffy to come home, in his distinctive cantering style, in 2.28.38, with Duffy following, four minutes behind.
Words do not spill from the lips of Don Ritchie as copiously as they do from those of his fellow world record holder Sebastian Coe But he dld have a comment to make on young Duffy. Two words: "Tough guy", he said. as he trotted away after the finish It was praise indeed and Duffy, 33rd In the Glasgow Marathon in 2 29, should be pleased.
The organiser. Ray Cameron of· Black Isle AAC, was also pleased when I phoned him on the Monday after the race He was pleased with the performance of his team's youngsters. whom he had accompanied to Aberdeen for the Hydrasun meet on Sunday.
That's typical of the Black Isle Club. With 200 members, 120 of them youngsters, they were awarded £1000 by Minolta, no strings attached. The money is going into coaching the kids with a weekend's training in Ireland the highlight.
Ray a 32 -year-old worker with the Forestry Commission, won't be organising the Black Isle Three-in-One next year. Having organised five events this year he is stepping down, but fully expects the event to be double in size in 1987 And with 150 doing the 10k, another 150 doing the half, and 100 doing the full marathon this year, that'll be some achievement.
Ray hopes instead to concentrate on his own running, as well as coaching. With a marathon personal best of 2.33. he's hoping to go under 2.30 in London 1987.
Runners don't have much time to enjoy scenery or wildlife – like the swans on the Cromarty Firth that day – or the history and architecture of London. Runners don't even think much during a race as they concentrate everything on their performance. But Ray must allow himself the satisfaction, at the London Marathon, of thinking "You've organised a good race here, Brasher man. but I remember one day in November I organised three … on the same day … and at the same time."
[Ray Cameron was a real live wire and a very good coach. He was one of the men behind the sponsorship of Black Isle AAC by Northern Office Territories as well as by Minolta – the club name became NOT Minolta Black Isle AAC.]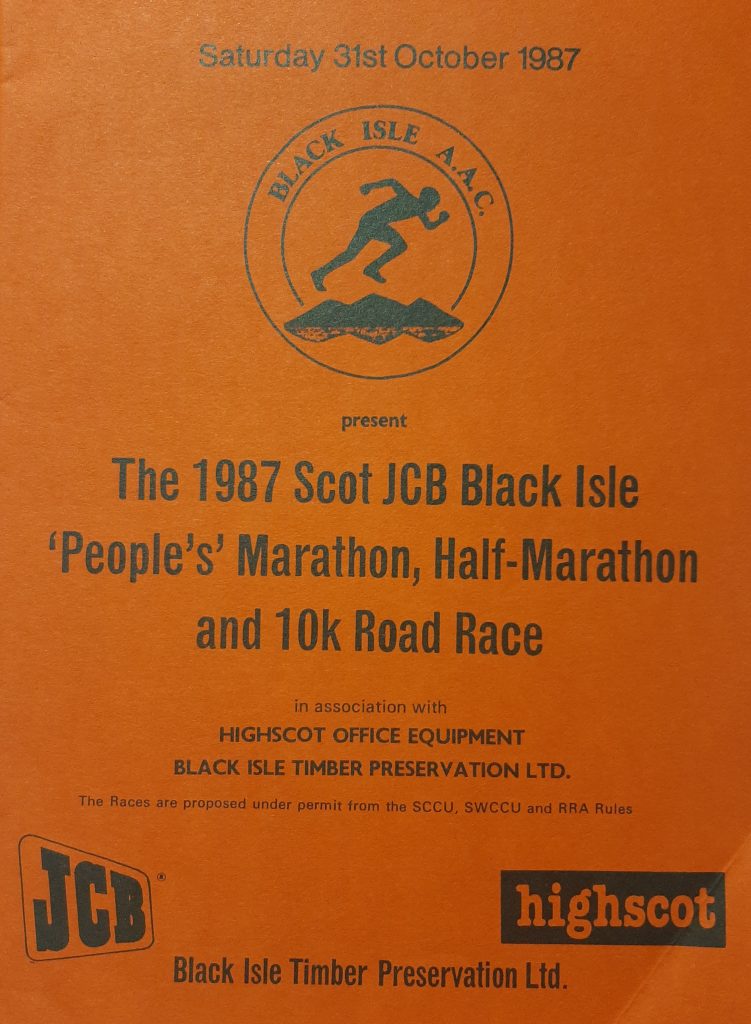 Don Ritchie: "Two easy weeks (after completing an Italian ultramarathon 254 km in length!) I decided to run in the Black Isle Marathon on the 31st of October 1987. Although I got excited in the normal way for this race, as soon as we got underway I was conscious of feeling it difficult to run even at the modest pace of the leaders. Charlie Noble increased the speed and a Shettleston runner and then Mick Francis followed him. This left a group of 6 of us and one of the group commented that I must have had a 'long one' last week, to which I replied 'two weeks ago' but did not elaborate.
I was determined to do my best and tried to run a bit faster. On any uphill gradient I found the group surging past me and had to make more effort to keep in touch as the group pulled back Mick and John Duffy of Shettleston. On a long straight I managed to increase my tempo and reduced the group to Charlie McIntyre, John Duffy and me, with Charlie Noble about 40 yards ahead. Approaching 9 miles, Duffy made a move and said later that he got fed up waiting for someone to pick up the pace. I was soon struggling and passed 10 miles with Charlie McIntyre in 57 minutes and tried to shelter behind Charlie as the course turned into the wind, but he slowed to a walk and beckoned me to lead. I thought that I might as well try to keep the pace respectable as Charlie Noble and Duffy were pulling away.
Approaching Jemimaville, two runners caught us and McIntyre fell behind as I tried to go with them. They pulled away easily and I observed that one was from Dundee Hawkhill Harriers (DHH) but did not recognize the other vest. As we neared Cromarty, I could still see Duffy, the DHH man and his companion and Charlie Noble about 40 metres ahead of me. On the hill out of Cromarty I gradually pulled Charlie back and then had a rest behind him, before pushing on again with 7 miles remaining.
I had pain in my left quads, but it was not too bad – my problem was lack of strength. Obviously, I had not recovered from the race in Sardinia, as I had struggled with training in the two weeks since then. The remaining miles passed quite quickly and the one-mile to go marker was soon reached before I finished 4th and 1st Vet in 2-42-31, which was my slowest marathon for many years, but I was pleased just to have finished. Rod Bell (DHH) won in 2-35-18, from John Duffy (Shettleston) 2-36-07, with David Murray (Falkirk) 3rd in 2-36-28." Shettleston Harriers won the team prize.
The Aberdeen Press and Journal reported: "First Woman and leading Veteran was Margaret Robertson of Dundee Road Runners, in a course record time of 3.08.48 while, for the host club Minolta Black Isle AC, Elizabeth Wilby took 35 minutes off her best with to finish second in 3.26.55.
The organisers were disappointed at the total entry for the three races and fun run, which was less than 500 – well below their 700 target. "I am particularly disappointed at the poor turnout of local runners," said the club secretary Ray Cameron, "This was a well-sponsored, well-organised event and I had expected that far more people from the local area would have come out and run."
Willie Miller of Caithness AAC comfortably retained his half-marathon title in 1.11.26, well clear of Callum Martin of Inverness Harriers (1.13.45). Liz McLardy won the women's race for Black Isle in a course record of 1.28.43, from Linda Glasgow of Giffnock (1.30.50) and Kath Butler of Aberdeen (1.31.45).
Edward Gillespie of Carnethy was top male veteran (1.18.43), while Chris Pamphilon of Dingwall was top female veteran (1.41.55). Inverness Harriers won the men's team award while Moray Road Runners won the women's.
In the 10K, Chris Hall of Aberdeen took the honours in a course record of 29.20 from Bruce Chinnick of Forres Harriers (29.37) and Colin Youngson, Aberdeen, who also took the veteran's prize in 30.02. Aberdeen AAC, with three runners in the top four, were clear winners of the team contest.
Inverness Harrier Julie Wilson won he women's race in 35.50 (course record), well clear of Mandy Boyd of Forres Harriers (37.14) and Commonwealth Games hurdler Moira McBeath from Thurso (40.10). Kath Willox of Inverness was first veteran and Forres Harriers took the team award."
(To illustrate Fraser Clyne's introductory comment about the Black Isle 10km race being popular since it was downhill – and possibly short distance as well, in third place but well behind Chris Hall (one of Aberdeen AAC's two Welsh International fliers – the other being Simon Axon) was Colin Youngson, four days after his 40th Birthday. He finished in 30.02 – which was confirmed later to be the fastest 10 km time of 1987 by any British Veteran runner. Youngson protests that, despite all that downhill, this was actually a decent run, since he was battling a headwind that day!)
Don Ritchie: "Two weeks later on the 29th of October 1988 in the Black Isle Marathon. I was very keyed up and started quickly, but not as fast as Charlie Noble, who shot off into a good lead. After some time, I was joined by someone I did not recognize. He was running strongly and ominously chatty.
Izzy, George, Claire and Anna were driving round the course supporting me. After Izzy gave me a drink, I threw the empty bottle for Claire to catch! This worked well and I consumed planned drinks of 200ml of 'Dioralite' at 7, 10, 13, 16, 19 and 22 miles.
We caught Charlie at about 8 miles and then ran as a group of three until about 11 miles, when he faded. The two of us passed the halfway point in 1-13-26 but, going into Cromarty, I began to feel the strain of the pace and by the waterfront I was struggling, but positioned myself behind him as we left Cromarty and headed up the initially steep climb. My strength had gone and I lumbered up the hill as my companion pulled away. I steadily lost ground to him and by the top of the hill I was down to third place, having been caught and passed by a small chap from Fife AC, who I later found out was Tom McCredie. I tried to increase my stride length when I reached the level ground, but seemed to be making no impression on the two ahead. Yet gradually I began to close, and then caught McCredie soon after Rosemarkie and the leader was not far ahead by then. However, there was not enough distance left in which to catch him so I had to settle for second place. My knee had not bothered me, thankfully, but a lack of training background showed in my weakness on the hills. The Forres Harriers team won the team race with 2nd, 5th and 16th. I learned that the winner was Mike Ryan of Dundee Hawkhill Harriers (DHH), who finished in 2-34-30, ahead of me in 2-34-56 and Tom McCredie (Fife AC) 2-45-10. I had no ill effect from my knee, except increased discomfort and an ache for a few hours after the race."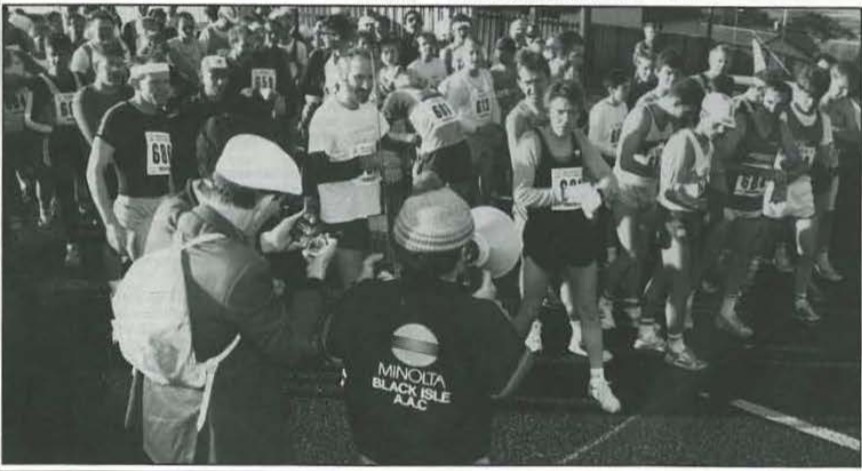 From Scotland's Runner, January 1990
"The tenth Black Isle Marathon was won by Charlie McIntyre of Fraserburgh Running club in the time of 2.34.13, thirty seconds ahead of John MacKay of Hunter's Bog Trotters, writes Ray Cameron. Third was Andy Stirling of Falkirk Victoria Harriers in 2.36.27.
The Marathon, the flagship of the Black Isle Festival of Running on November 4th 1989, attracted over 90 runners from throughout Scotland and two runners from London, with Harry Martin of Blackheath Harriers making the long journey north to complete his 130th marathon.
The race for the top women's prize was also very close with Gillian Hanlon of Dundee Road Runners, second in last year's race, going one better this time to record a time of 3.18.09 to beat her clubmate Toni Respinger (3.18.56) narrowly.
The men's team prize went to Shettleston Harriers with Dundee Road Runners taking the women's team trophy."
Don Ritchie: "On Saturday the 3rd of November 1990, early in the morning, Izzy and I drove to Grandma Tait's in Inverness, where we had a cup of tea and watched 'Trans World Sports' for the feature on me, which pleased both Izzy and myself. Following this we drove to Fortrose on the Black Isle for the Festival of Running. Izzy was to run in the 10Km, her first race for some years. She was using this run to raise funds for Leukaemia research.
I ran in the marathon, making a cautious start, as my legs were still painful (from running for Great Britain in the IAU 100Km World Cup, Duluth, USA on 27 October 1990). Mick Francis was to give me my drinks along the route and I had prepared drinks for: 7, 12, 17 and 21 miles. The initial pace was fine, but John Duffy of Shettleston Harriers began to pick up the pace and opened up a 50 metres gap. Mitchell McCredie then began to pull away, while I hesitated. At about 5 miles I began to chase McCredie and I caught him after some time. This effort, however, weakened me and soon I began to struggle and lose contact with him. I then maintained a comfortable steady pace and at around 15 miles I could just see McCredie in the distance. By 20 miles I was closing in on him and approaching 23 miles he was slowing dramatically and actually stopped to spend a penny. He was reduced to a walk soon after this and he retired once I passed him. He was having trouble with his calf muscle again. I finished a distant second, but I was pleased to feel so much better than the previous Saturday. Izzy completed the 10Km without difficulty and was keen to participate in more and longer races. John Duffy won in 2-31-16 and I finished in 2-37-55."
Don Ritchie: "On Saturday the 2nd of November, 1991 (a week after winning the British 24-hour Track Championship) Izzy and I travelled to Fortrose for the Black Isle 'Festival of Running' half marathon and marathon respectively. Izzy completed the half marathon in 2-28-53, which was probably a superior performance to her Lochaber run, because of the more demanding course at the Black Isle.
Not surprisingly, I felt tired in the marathon, and the chasing group, trailing Fraser Clyne, dropped me after about three miles. Then I regained contact and gradually this group broke up, but on the hill out of Cromarty I could not keep up and began drifting further behind. Mick Francis caught me and I was able to get some help running into the wind as he pushed on. I took over near the top of the climb and was surprised to see John Duffy in trouble, so we caught and passed him. I then set off in pursuit of the two runners ahead and gradually caught one, but the other was safe. My legs were rather tired and I was pleased to reach the finish. I was quite satisfied with my 4th place in 2-45-45. Forres Harriers were 2nd team.
Fraser Clyne won in 2-27-18, which meant that my course record of 2-24-28 in 1982, survived. Mick McHale was 2nd in 2-37-21, with R Milton 3rd in 2-45-07."
Don Ritchie: "On Saturday the 31st of October 1992, 2 weeks after the 'Spanish adventure' Barcelona to Madrid stage race, rather optimistically, I decided to run in the Black Isle marathon. The initial pace was modest so I decided to tag onto the leaders, Andy Stirling and two Carnegie lads. By 5 miles Andy and I were clear, but then he increased his effort and moved away, and my left leg problem at the top of the quads began to play up, so I eased back and let him go. After Cromarty on the long hill there was an increasingly strong headwind blowing. I managed to cope with this and with about 4 miles remaining I was able to increase my pace again. I was pleased with this run. Andy Stirling (Bo'ness) won in 2-36-15 and I finished 2nd in 2-42-08, with Jim Douglas (Carnegie) 3rd in 2-45-58."

1993: The Last Black Isle Marathon