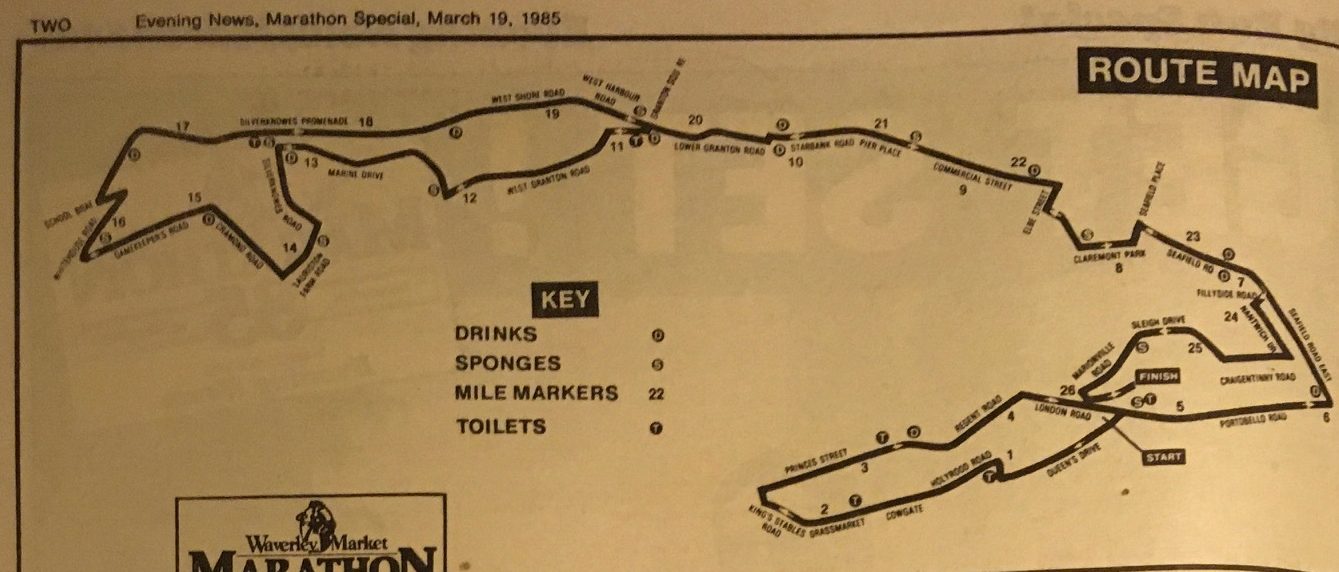 There had been marathons held in and around Edinburgh before the 1980's with some having been run in connection with the Edinburgh Highland Games, the SAAA Marathon Championship had been held from Meadowbank, and before that from Falkirk to Edinburgh, but the races held during the years of the 'marathon boom' in the 1980's were different and not just because of the size of the fields. Colin Youngson has compiled this list of the races held at that time.
1982
5/09/1982 EDINBURGH Marathon ENG 7 SCO 23 NED 25 1 Dave Ellis (ENG/Birchfield) 2:21:09, Bill Cain (ENG/Saltwell) 2.21.20, 3 Lindsay Robertson 2:21:43, 8 Sandy Keith 2:30:39, 12 Craig Ross 2:34:00. This included an International Match, with Lindsay Robertson, Sandy Keith and Craig Ross representing Scotland.
[As well as (like Craig Ross) running International Marathons for Scotland, Sandy Keith and Lindsay Robertson ran several for Great Britain.]
1983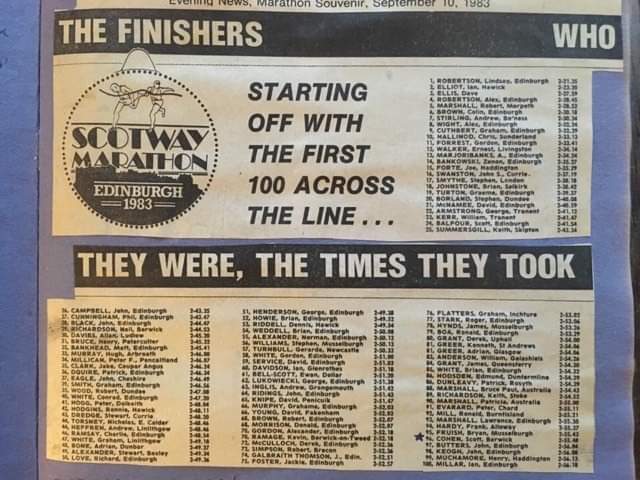 1983 results
In 1983 there were three very good marathons for Lindsay Robertson of Edinburgh AC: in Barcelona, London and Edinburgh where he won in 2:21:36.
Lindsay Robertson, a Scottish and GB International Marathoner, wrote: "In 1982 I ran my first marathon in June in the AAA at Gateshead. Edinburgh, in September was my second marathon. I had already sent in an application form for the race when I was selected for a three-man Scottish Team for it, consisting of Sandy Keith, Craig Ross and myself.
One funny thing I recall was that there was a Dutch team in 1982. A day or two before the race we were driven over the course. The Dutch were in the car behind and signalled to us to stop. This was on Lauriston Farm Road, I think, which is a big hill. They emerged from their car looking unhappy and one said they would have big problems. They had been told that the Edinburgh Marathon was on a flat course!
I was 3rd in 1982 and first in 1983 and 1984. I didn't run it in '85 because of the European Cup Marathon (running for a GB team) and not in 1986 because of the Commonwealth Games Marathon (selected for Scotland but sadly, due to injury, could not start). I think 1986 was the last time the Edinburgh Marathon was run before being 'resurrected' in its current format.
Someone told me that in 1985, as the leading pack went past somewhere, someone shouted 'Come on Lindsay, you'll win!' Someone else called out 'It'll be a bloody miracle if he does. He isn't running this year!''
Left to right: Ian Elliot, Alec Robertson, Lindsay Robertson, with Dave Ellis hidden behind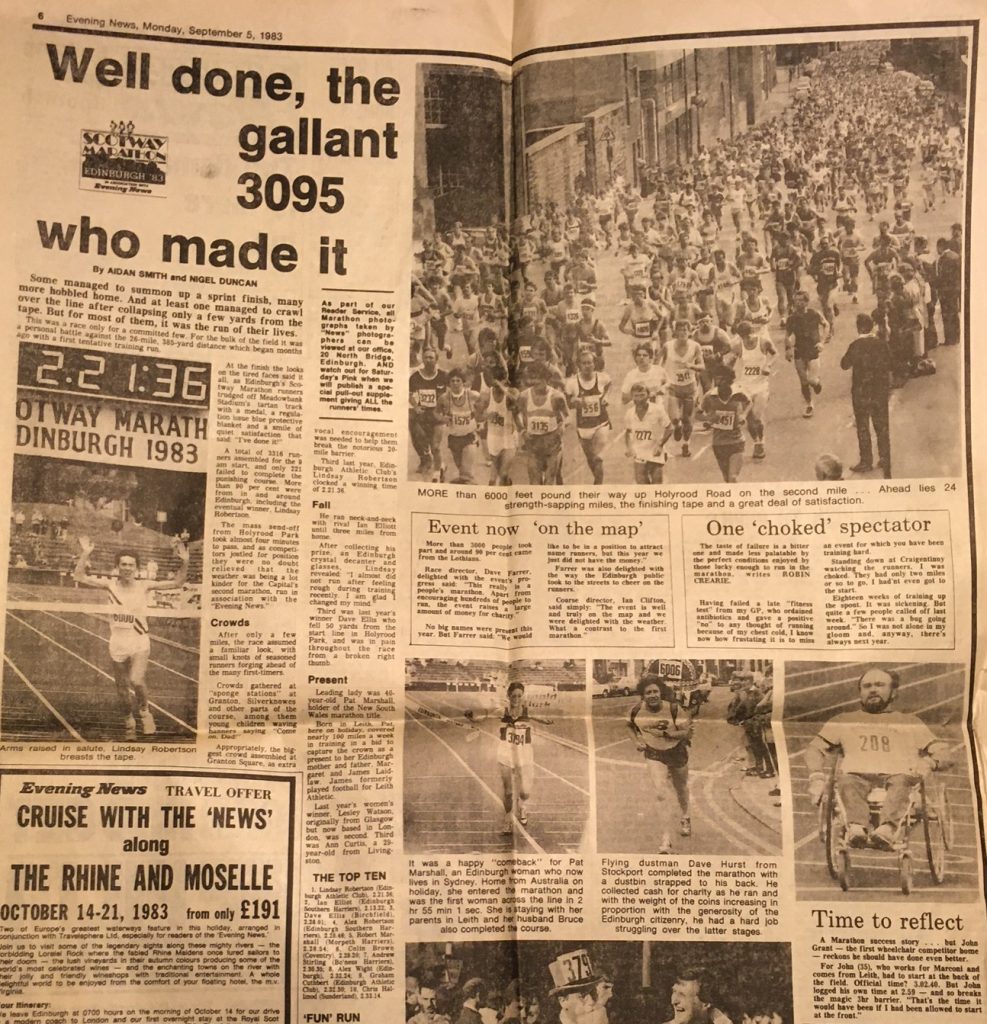 1984 was a good year for Lindsay Robertson, the hard-training, clean-living runner from Edinburgh Athletic Club. He started the year by finishing an excellent 6th in the hilly and very competitive International Barcelona Marathon. His time was 2.16.15. A winning performance in the Edinburgh Waverley Market Marathon reduced his personal best to 2.15.55, with Evan Cameron, a 1983 Scottish International cross-country runner, in second place breaking the 2.20 barrier in 2.19.34.
"September 2nd. EDINBURGH MARATHON. Lindsay Robertson, Edinburgh Athletic Club, the defending champion and home favourite set a course record and a personal best in winning this year's Edinburgh Marathon in a time of 2:15:55 (his winning time last year was 2:21:35. A field of 3,597 runners lined up outside Meadowbank Stadium at 8:30 am on Sunday morning, with light rain making the conditions perfect for the runners. As the race got underway, a group of four runners were immediately to the fore. The group contained Lindsay Robertson (EAC), Evan Cameron (Edinburgh SH), Alec Robertson (ESH) and the winner of the first Edinburgh Marathon in 1982, Dave Ellis of Birchfield Harriers. By the time they had run two miles, this group was 100 yards clear of the next runner with the rest of the field starting to settle into their pace. As the runners reached Princes Street they were being caught by Brian Emmerson of Teviotdale Harriers. However, soon after catching the group he was again dropped and they continued to push on. Lindsay Robertson at this point was doing most of the front running and it was good to see the Scotland squad in a 1,2 and 3 position with Dave Ellis still with the group but not looking very comfortable. By halfway, Lindsay Robertson and Evan Cameron had broken away from Alec Robertson and Ellis. It looked certain that one of these two would be the winner as they sped through 16 miles with most of the field quite far behind. Robertson, still doing most of the front running, started to pull away from Cameron as they ran along Cramond sea front and by 19 miles he had opened a gap on Cameron. Looking stronger all the time, Robertson pulled further away from Cameron and entered Meadowbank Stadium to a huge roar from the crowd as he sprinted down the finishing straight like a 1500m runner and clocked 2:15:55. There was a wait of over three and a half minutes for Cameron whose time (2:19:34) was still inside the course record. Bill Venus of Exeter Harriers pulled through strongly to take third place. Lindsay Robertson, on winning, is now faced with a dilemma: whether to take advantage of his first place prize, a full expenses paid trip to the New York Marathon, when he is earmarked to compete for Britain in an international event in Czechoslovakia around the same date."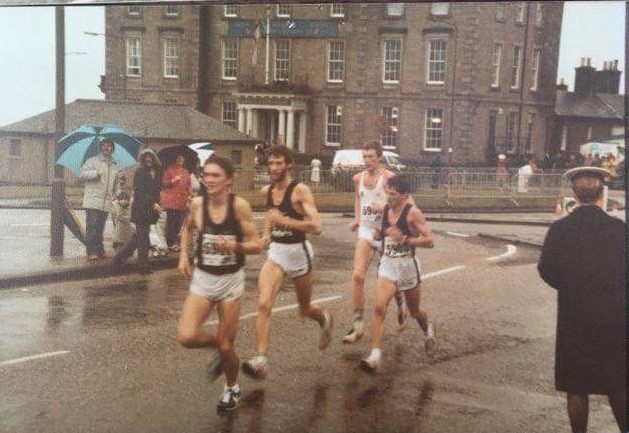 1984: Lindsay Robertson leads from his Scotland team-mates Evan Cameron and Alec Robertson. Dave Ellis of England follows.
Alec Robertson remembers: "I ran the Edinburgh Marathon in 1983, 1984 and 1985. It was a well-organised event. In 1983 I finished fourth in 2.28.45; 1984 16th in 2.31, having suffered a stitch; and in 1985 11th in 2.28.10.
In 1984 I was part of the Scottish team (with Lindsay and Evan) and we received complete International kit: vest, shorts, tracksuit and even shoes!" Unfortunately, England did not send a complete team, so Scotland won unopposed."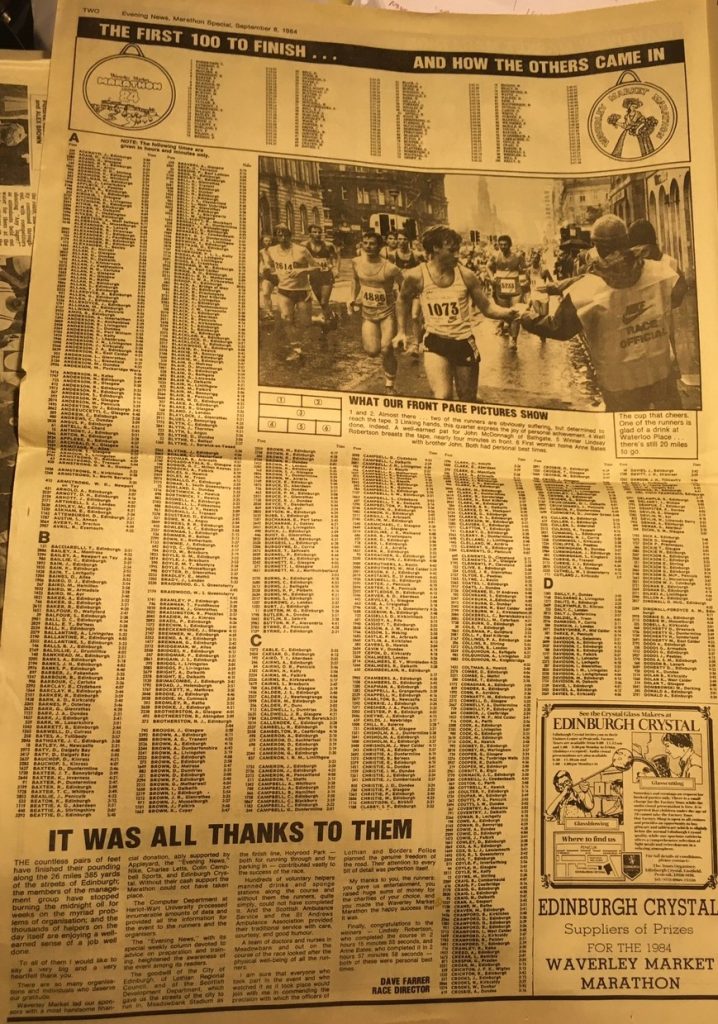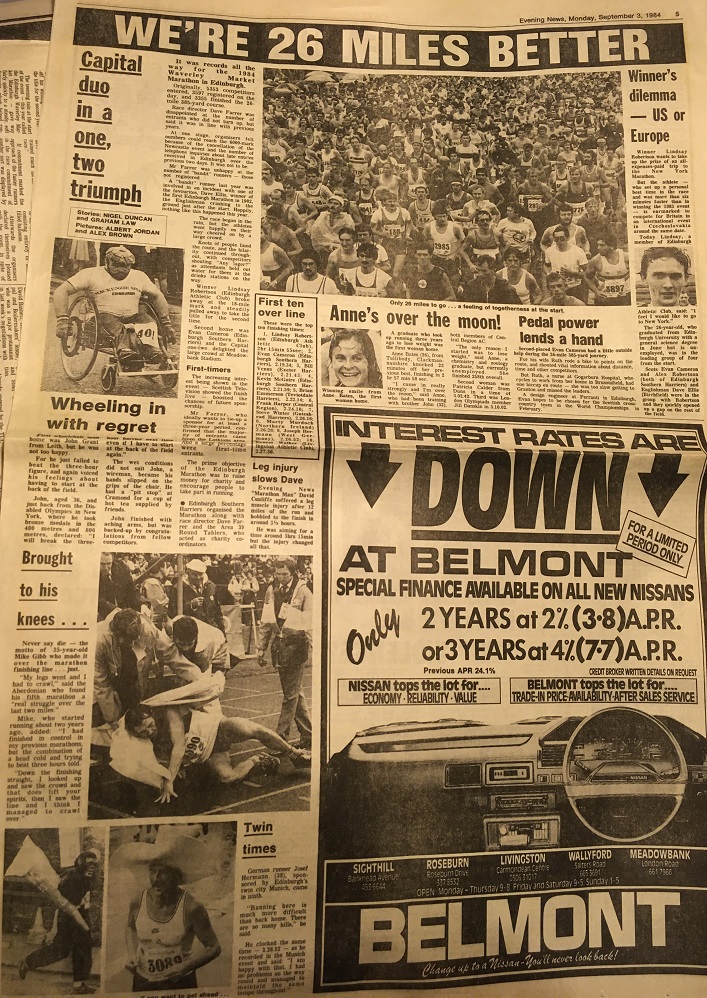 1985 1/09/1985 EDINBURGH Marathon SCO 3 WAL 8 IRL 11 ENG 14 1 Mike Carroll (SCO) 2:18:47 2 Scott McDonald 2:22:01, 10 Murray McNaught 2:27:54. Once more, this included an International Match, with Mike Carroll, Scott McDonald and Murray McNaught running for Scotland. Third finisher was Mick McGeoch (Wales) 2.22.58; fourth Tommy Hughes (Ireland) 2.24.24; fifth Steve Brown (Wales) 2.25.10; sixth Ian Bloomfield (England) 2.25.16.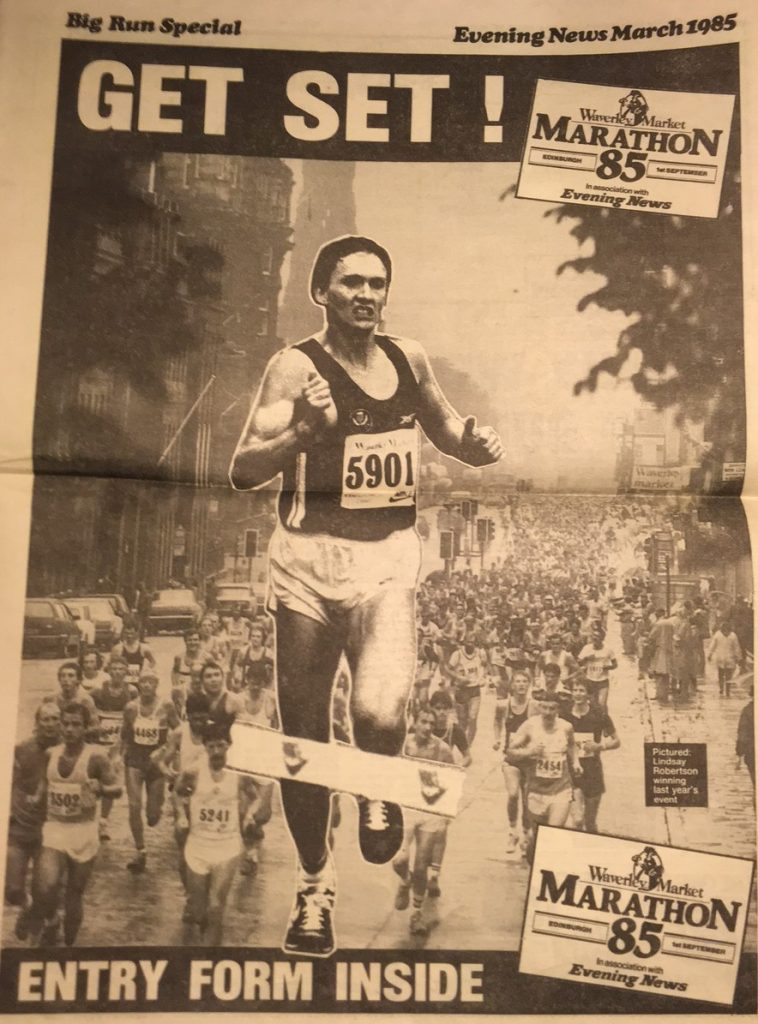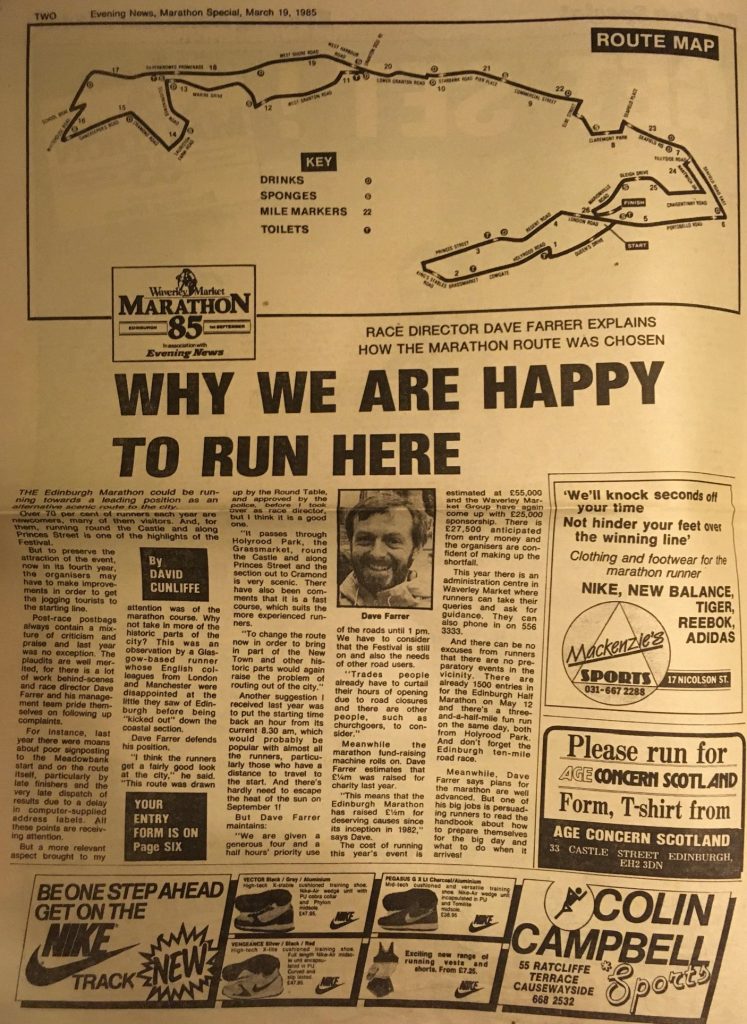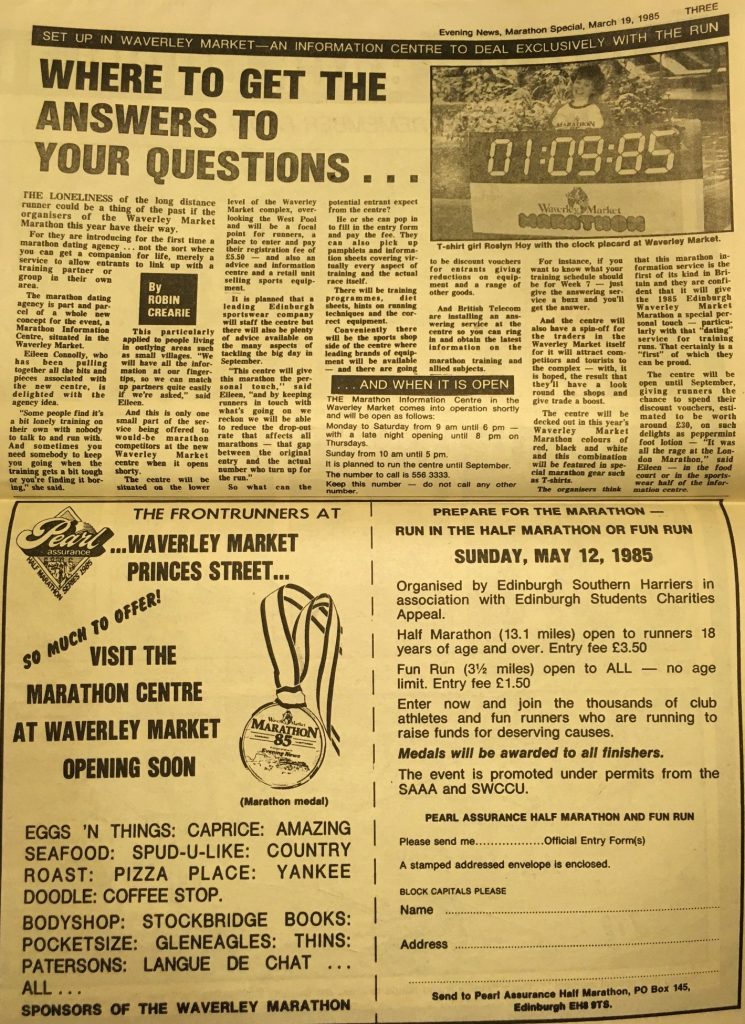 The 'Glasgow Herald' of 2nd September, 1985 had this report in the 'Results in Brief' section: "Only 2000 runners finished the Edinburgh Waverley Market Marathon out of a total of 3300 entries. The winner was Mike Carroll, a 27-year-old production engineer from Annan and District AC, in 2:18:41. In 61st place overall was the man who the Commonwealth Games gold over the same classic distance in Edinburgh in 1970, Ron Hill, who recorded 2:48:15. The first woman home was Heather McDuff of Edinburgh AC."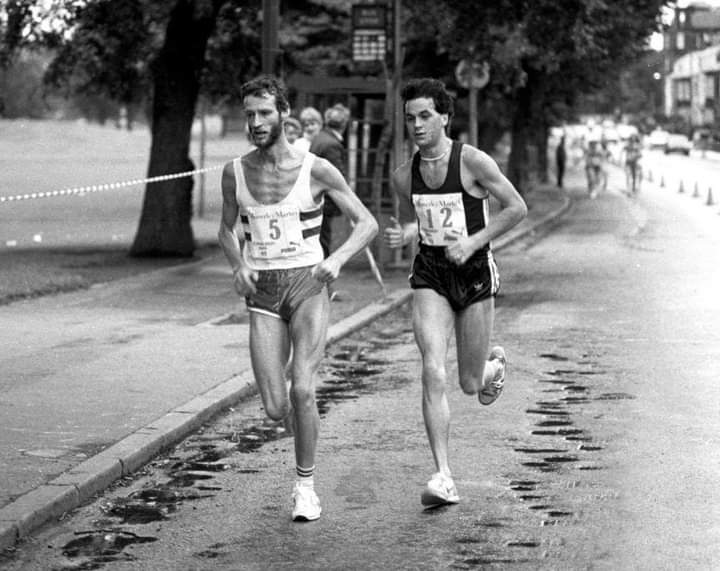 Left to right: Evan Cameron of Edinburgh Southern Harriers and Mike Carroll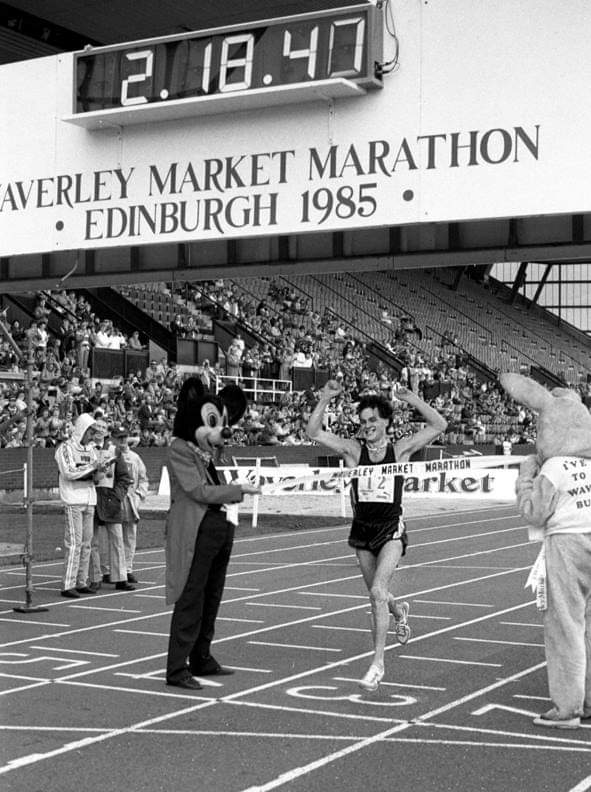 Victory for Mike Carroll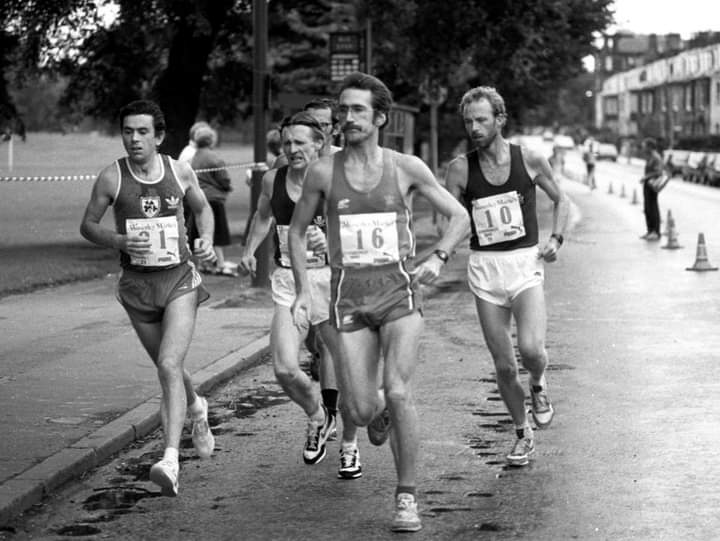 Left to right: Tommy Hughes (Ireland), Murray McNaught (Scotland), Steve Brown (Wales), Mick McGeoch (Wales, number 16), Scott McDonald (Scotland, number 10). Scott McDonald went on to finish second and ensure a Scottish team victory in the International contest. In 2020 Tommy Hughes from Northern Ireland became M60 Marathon World Record holder, adding to his previous M55 World Record. Thanks to Graham MacIndoe for the race photos.
1986 The 1986 SAAA Marathon was part of the Edinburgh Marathon which followed a tortuous route from outside Meadowbank, up to the Royal Mile, down Lothian Road, right along Princes Street and back to the start. Then it continued to Seafield, Cramond and back to Seafield before climbing up to the start/finish.
This race was to be the battle of the veterans – Donald Macgregor, the favourite, and Brian Carty of Shettleston Harriers. The latter, a steadily improving, strong-looking man, had finished second in the Scottish Veterans Cross-country Championships, although he much preferred road racing. Brian remembered that he was wary of going too fast, too soon, on a hilly course, so he stayed with the second pack some distance behind the group of six leaders. As far as he could see, Don Macgregor was playing 'cat and mouse' with them. Eventually Donald went off into a clear lead, until Brian came through and caught him at Cramond (17 miles).
Carty's coach, Hugh Mitchell, had advised him, 'When you catch someone up, talk to them – it shows that you're fresh.' So Brian asked how Donald was feeling, and shortly afterwards began to draw away. He finished very strongly indeed, while Donald faded. Although he felt good all the way, he was a lone figure, especially through Seafield, because of the lack of spectators. Only at the finish was there applause, as Brian Carty won the Edinburgh Marathon and the Scottish Marathon Championship in 2.23.42, a personal best, with Donald second in 2.27.30 and Robert Marshall, who much, much later became a British Masters M65 Cross-Country Champion, third in 2.27.59.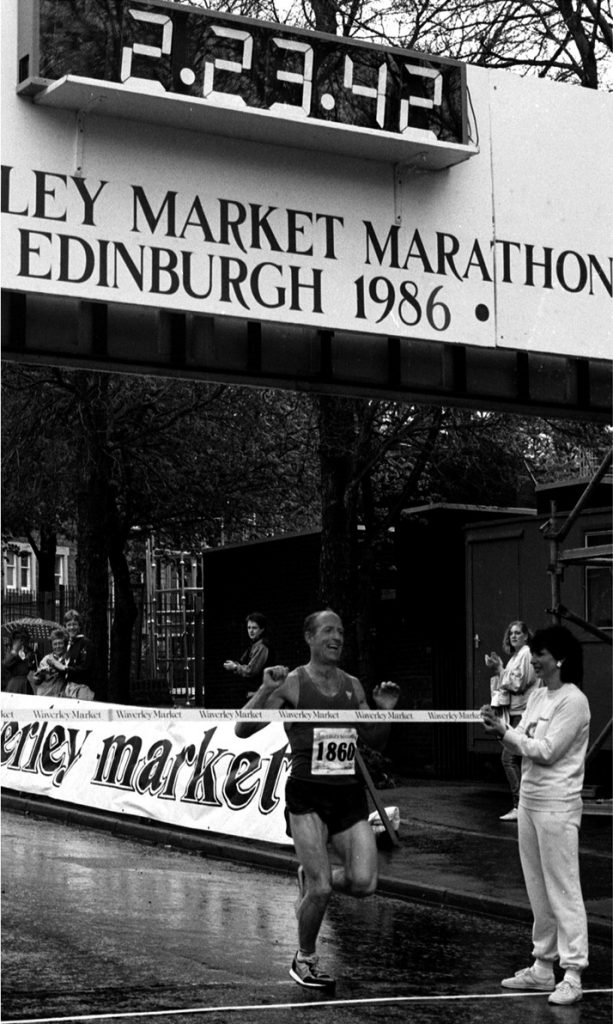 Brian Carty becomes 1986 Scottish Marathon Champion. He later represented Scotland in an International Marathon
Brian's training was not unlike Hugh Mitchell's twenty years previously. Overcoming initial reluctance, he gradually built up to a very strenuous regime indeed. On weekdays he might run thrice: twelve or fourteen miles to work at British Leyland; four miles fartlek at lunchtime; and another ten to twelve miles home. He remembered many hard sessions in the Bathgate hills. In total he might run 120 or even 150 miles per week. So his 1986 triumph was hard-earned indeed.
Donald Macgregor had less happy memories of the event! He wrote that he was quite fit, having done 2.22.05 in London, followed by six weeks of moderate mileage. Since he had done 'the diet' for London, it didn't work properly for this race because the gap between the two events was too brief. Donald lamented that the Edinburgh Marathon was "the least convincing city marathon because the Edinburghers didn't really give a damn, whereas in Dundee, Glasgow and to some extent Aberdeen you got a lot of interested spectators. Edinburgh is always associated in my mind with a picture of a woman wheeling a pram past us – in the opposite direction, I hasten to add – and seeking to ignore our unpleasant existence."
"However, the organisers offered to put up our family in the George Hotel. That was great, but for some reason I sweated a lot and couldn't sleep. At last the fulfilment (not for the first time) of Jim Alder's nightmare: 'Due for a bad un.' The course started through the centre of Edinburgh for once before heading out west – I recall passing through the dreaded Granton area again – and finished climactically in a side-street next to Meadowbank, to make sure not too many of the genteel folk would see us. The 'bad un' started after 11 very boring miles of cruising along in the lead wondering how long it was going to be before someone came up to my shoulder. Then I began to feel weak at the knees. Brian Carty appeared, and ran away from me for a popular and well-deserved win, but one he told me he had not expected. I crawled in (2.27.30), and unfortunately my father and stepmother had come in person to see me run for the one and only time. I looked like an escapee from some 15th Century Durer woodcut (one of the victims of the Four Horsemen of the Apocalypse) as I was led away to the shelter of the stadium shower room. I am unlikely to be doing another SAAA Marathon unless paid heavily to take part."
The two Donalds: Macgregor (1965-1986) and Ritchie (1967-1988), hold the record for years between first and last medal in the event – 21 years, no less.