One of the lesser known tracks in Glasgow was called Stanalane. There are many buildings, churches and houses known as 'standalane' because of their lonely position and it is possible that Stanalane Road in Thornliebank was named after one of those. Thornliebank is part of Greater Glasgow, 6 miles (10 km) south of Glasgow city centre, and just outside the city's administrative boundaries and is now part of the East Renfrewshire local authority. It was set in woods; quite scenic but it is now gone to make way for a new road into a new housing estate.
The track was home to the venerable West of Scotland Harriers – at one point contesting the position of Scotland's number one club with a host of champions and championships to its name and many of its athletes represented Scotland internationally.
Hamish Telfer who was a member of West of Scotland Harriers describes the venue thus:
"Stanalane was a simple green hut with two 'back to back' changing areas each with a single shower. The single shower was 'powered' by a temperamental boiler which kept conking out OR chucking out ice cold water. Donnie the Parkie had to keep the thing going long enough for us to get a modicum of water over ourselves. We did this by trying to cram 3 of us into a single shower cubicle at one go. I remember myself, Norrie Dallas and Cammie McNeish all in there together with Davy Wyper trying to get in too. He was successfully repelled! Only one of the changing areas was ever used (the left hand one in the picture).
Saturday afternoons in the winter had all sorts of runners there at times. Emmet Farrell was a relative regular as it was local, as was Gordon Porteous. I remember Donnie the Parkie liberating a large roller so that Ian Walker, Cammie and myself could roll the track flat when it was a foot deep in snow so we could do reps. The track itself was some weird distance; something like 327 and half yards right round (it wasn't that but it was a weird distance). It was also on a run from there out towards Barrhead that a farmer shot at us on our way back as we crossed a field. Johnny Todd got us back very rapidly.
As with many clubs, it was about sixpence for a cup of tea and a biscuit and I made tablet (quite a skill for a 15/16 year old) which I sold for club funds."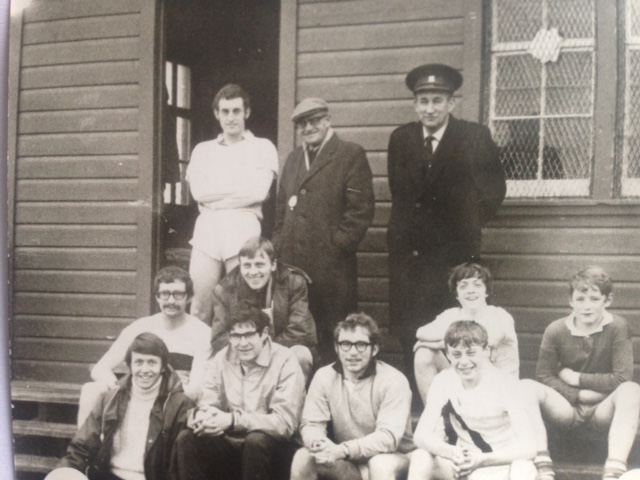 Front row seated: Hamish Telfer, with a leg in plaster just poking up; Davy Wyper, Dougie Marr and Stuart Mc?
Second Row: George Cutler, Ian Walker then two youngsters, one of whom on the extreme right was possibly Dougie Marr's younger brother;
Standing are Norrie Dallas, then Donald McFarlane and finally 'Donnie' the park keeper (The Parkie).
About the personnel in the photograph, taken in the early 1960's.
*
Hamish Telfer
was a good club standard runner who went on to become a very successful coach with athletes from club level to British international standard. Away from the sport, he was an academic with a serious long standing interest in the beginnings and development of the Scottish harrier cubs.
* Davy Wyper, David was a good runner with the West of Scotland Harriers who was very successful over the marathon (pb 2:24:35 in 1972 when finishing second in the SAAA Marathon Championship) and ultra marathon distances. He was also secretary of the Scottish Marathon Club.
Davy went on to become a high powered Prof in medical physics.
* Ian Walker ran for Scotland over 440/400. Ranked nationally in all events from 100 yards to 440 yards, he had best times of 9.9 (100), 22.1 (220), 49.3 (440) and 47.9 (400). He also won two silver and two bronze medals in the SAAA Championships between 1968 and 1973. Ian is now a folk singer doing the village circuit with his wife Mo.
* Hamish Telfer tells us about Donald: Donald McFarlane (Mr McFarlane as he was always known) was an interesting man. None of us really know what his background was other than he ran for Plebian in his day. He was unkempt and smoked a pipe almost non stop. He suddenly appeared one night a number of years earlier (1967?) at the Toryglen track where we used to train in the summer. Our then 'Trainer' Johnny Todd seemed to know him and tolerated him and Donald 'helped' by holding a stopwatch on occasions. His timing was always suspect! Coming to the club was however, the only real thing in his life. He was always very cagey about his past and where he stayed but Norrie recalls that he had digs with a some old dear in Govanhill and indeed there was only occasion that Norrie can remember when he saw the inside of Donald's digs and his memory of his single room is of it stacked with athletics material.. Donald died in very poor circumstances in Poor Lodgings at 100 Duke Street in March 1978 from a senile/dementia related illness. His occupation was noted as a retired Warehouse Despatch Worker and it was in fact his old employer who paid for his funeral

After the war, West of Scotland Harriers trained at the venue as did Bellahouston Harriers, the above is from the 'Scots Athlete' of August 1946. Now note the following result from the Glasgow Herald of 29 November, 1958, 12 years later: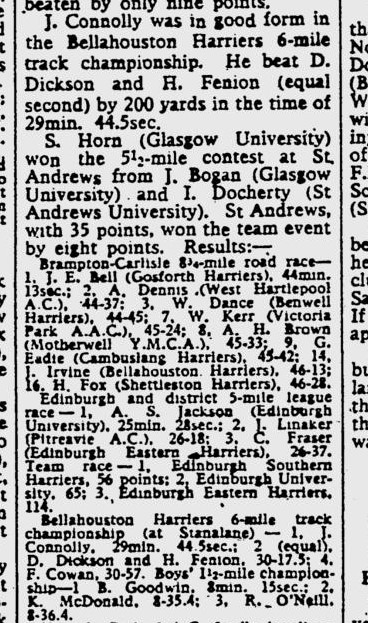 Bellahouston Harriers, see the result of their race above, only trained there for a few years and Jimmy Irvine, 14th in the Brampton to Carlisle result in the clipping above, had this to say about the track:
"It was a very poor cinder track D shaped ,it was reputed to be 8 yards over the 440 distance with a slight up hill on the back straight , no one ever measured it to verify this . It was never used for any championship races , our club used it for a few years before we moved to Nethercraigs . We ran a few races there but I personally felt the times should not be recognized as the track was doubtful . In later years we had a wee pack of veterans used to meet up on Saturday for a longish run including Andy Forbes, Bobby Calderwood and others. It had a wooden shed with one shower on each end ,the Parky would come and open it up for us and charged us – I think it was a Shilling. It was pretty primitive but serviced its purpose ."
Two things confirmed there then. One was the importance of the Parkie – or is it Parky? – and the other is the odd shape of the track. In the 1960's, v
arious other runners trained there – international middle distance runners Duncan Middleton (Springburn H) and Hugh Barrow (Victoria Park) both did sessions there from time to time although it was far from their regular training venues. One of the runners spoken to said the track was "
kind of an odd shape".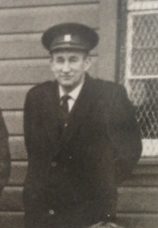 Hamish Telfer again: "It could have been over distance rather than under but it certainly was nowhere near 440. WSH met in the winter at Stanalane throughout the 60s but migrated to the new track at Toryglen for the track season. We ran mid week from Calder St Baths in the '60s.
I certainly remember Andy Forbes running with us from Stanalane and others (I remember Andy's plastered Brylcreem hair that stayed intact in all weathers and conditions). Primitive was certainly the word. I can certainly say that by 1962 (my first winter season) there was no 'big County occasion' at Stanalane any more. I think the immediate post war periods of late 40s and the 50s decade was the end. The black cinder track was in very poor repair by the time I was hoofing up and down it. Weeds and all sorts!"
Not many know of the Stanalane track: a poor track of doubtful distance and irregular shape but one that was used by some of the country's best athletes and coaches – and the source of many fond memories.