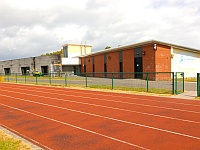 Glasgow has always been fortunate in the number of running tracks and athletics facilities available to the population. The really big ones that held National and other championships plus top class international meetings were of course Hampden, Ibrox and Celtic parks. The track at Helenvale in the east end of the city saw some top class action, while in the West the two top tracks were Westerlands and Scotstoun which both held Scottish Universities and Scottish Schools championships as well as good invitation international events. Then there were the tracks that were used for club training, maybe open graded meetings – Knightswood, Barrachnie, Toryglen and Nethercraigs. That is not a completely comprehensive list but gives a fair demonstration of how seriously the local authority took the sport and provision for it.
Nethercraigs track, located at 355 Corkerhill Road in the south of the city, was a track with a good reputation, decent changing facilities and handy for bus and train travel. When I first went there in the late 1950's/early 1960's it was used for such meetings as the Ladies Inter District Meetings as well as for inter-clubs organised by Bellahouston Harriers. At the start of the twenty first century it was described on Tim Grose's Running Track Directory as follows:
"Cinder, 400m/440y, 7 lanes, 7 lane straight
This red blaes track is in the locality of Corkerhill and was at one time the home track of Bellahouston Harriers. It was considered to be a fast track and staged Inter County and County Championships in the 1960s and 70s. It was well provided with field events facilities, changing rooms and a weights training area but now most of the field-event facilities have been removed. There is a sand pit for the jumps, but the runways are made out of tarmac as opposed to grass or redgra. The HJ area also consists of tarmac. As of Sep 2001 there were faint lane markings but overgrown grass has made the first lane pretty useless. The infield is a rugby/football pitch."
The 'redgra' description is an English one: it was a red blaes track (ie made of small red stones (blaes) packed tight together to make a firm and absorbent surface). The comment about the runways being made of tar is interesting because that was the pattern on other tracks – a tar approach for long, triple jumps as well as pole vault. It meant that national track & field matches could be held there.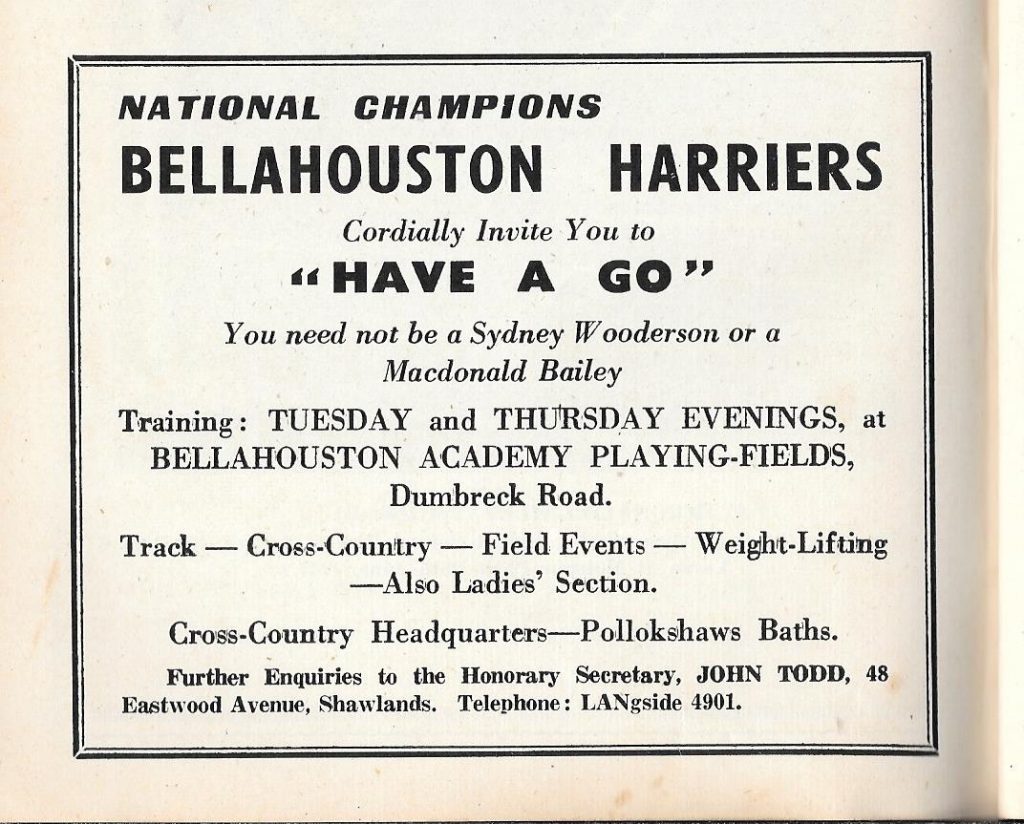 As can be seen from the advert in the 'Scots Athlete' from September 1947, Bellahouston Harriers started off training at the Academy playing fields, but it was not long after that that they moved their HQ. For many years the home of Bellahouston Harriers was Nethercraigs: it became the venue for many an inter-club match with many of the top Scottish athletes taking part in league matches: the club was one of the very best in the country and hosted such as Victoria Park, Shettleston and Edinburgh Southern. Jim Irvine tells us that "at the start, the track was very good ,and at the beginning there was not any out building just wooden huts were we stripped in no showers . Once the dressing rooms had been added it was very good and I enjoyed training on a very firm track,"
For inter club fixtures, 1960 was a fairly typical year and although not all matches were reported in the local Press, the following all appeared in the 'Glasgow Herald'.
Wednesday, 27th April, 1960: "Bellahouston Harriers beat Shettleston Harriers by 117 points to 82 last night in an inter-club contest at Corkerhill. R Sykes (Bellahouston) won three events, the shot putt (41′ 9″), discus (126′ 4 1/2″) and the long jump (19′ 7") and he was equal first in the pole vault. Other winners:
100 yards: D Robinson (S) 10.7 sec; 220 yards: A McGaw (B) 22.9 sec; 440 yards: R Cairney (B) 51.6 sec; 880 yards: B Forrest (B) 2 min 9.3 sec; Mile: B Dickson (B) 4 min 32.3 sec; Three Miles: J Connolly (B) 14 min 21.8 sec; Six Miles: J Irvine (B) 31 min 7.1 sec; 120 yards hurdles: G Brown (B) 16.6 sec; 440 yards hurdles: Brown, 60.6.
High Jump: R Santini (S) 5′ 5″; hop, step and jump: T McNab (B) 43′ 11 1/2″; Javelin: D Fraser (S) 149′ 8″; pole vault: F McDonald and Sykes 9′; Hammer: T McNab (B) 79′ 1 1/2″; 4 x 100 yards relay: Bellahouston (S Watson, R Sykes, S Wineberg, S McGaw) 45.4 sec; 4 x 440 yards: Bellahouston (W Robertson, J Currie, A Forrest, R Cairney) 3 min 35.1 sec."
*
Wednesday, 3rd May: "Bellahouston Harriers beat Jordanhill Training College by 108 points to 84 last night at Corkerhill. G Brown (Bellahouston) won the 120 yards hurdles and 440 yards hurdles in 17.3 sec and 60 sec respectively. Another notable performance was achieved by J Connolly (Bellahouston) who won the three miles in 14 min 13.5 sec, 2 sec outside his own personal best for the distance."
*
Wednesday, 11th May: "Bellahouston Harriers beat Victoria Park by 82 1/2 points to 78 1/2 points in an inter-club contest last night at Nethercraigs. G Brown (Bellahouston) won both hurdles events, the 120 yards in 12.1 seconds and 440 yards in 57.4 seconds, and RC Sykes (Bellahouston) won the shot putt with 39′ 11″and the discus with 112′ 10″. In the high jump, C Fairbrother (Victoria Park) cleared 6'6″ but failed at three attempts at 6'8″.
*
Monday, August 22nd: "Bellahouston Harriers beat Springburn Harriers by 58 points to 32 in their inter-club contest at Nethercraigs."
Scottish records were also set at Nethercraigs. On 22nd April 1967 Lawrie Bryce hurled the hammer to a new Scottish native record of 194′ 4 1/2″ in a Strathclyde v Edinburgh and Dundee Universities.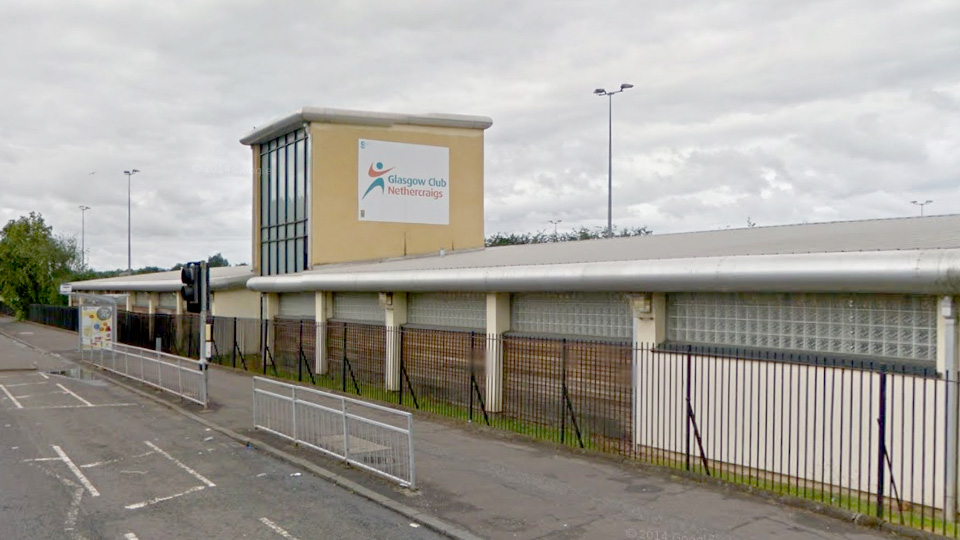 Fixtures were held all summer but as time went on and other more up-to-date tracks were laid and opened, training and fixtures gradually switched to these venues. There was an additional problem for Nethercraigs. A quote from a descriptive brochure:
Nethercraigs Playing Fields used to serve local schools needs for outdoor sports. In recent years, the site had become under-utilised as demand from both schools and the community had reduced. Some of the pitches had become derelict. This project seeks to upgrade and safeguard its continued function as a valued amenity space in the south west of Glasgow, providing opportunities for childrens' play and outdoor sports in a safe environment.
Under-utilised because, with the Commonwealth Games coming to Scotland in 1970, an all weather track was laid at Bellahouston Park: the track was fine but it was open to all the elements with no shelter at all other than the Sports Centre which was just too far away to provide any cover to those training on the track. Nevertheless it was used a lot since it was the only such track on the west of Scotland: the east had Meadowbank and Grangemouth but this was the only one in the area. Consequently most athlete who had formerly used Nethercraigs, went to Bellahouston Park.
That was the main reason for the track being unused but the situation was further complicated by the 'unsafe' aspect mentioned above. it is referred to in this extract from an exchange on a Glasgow community forum:
"QUOTE (Jim @ 25th Jul 2013, 02:27pm)
Cat, I have to agree with you about Pollok Park. You really do feel as if you are in the country. When I was young, the Bellahouston Harriers would use the changing facilities as Nether Craigs on Corkerhill Road then run through the local housing scheme, passed Haggs Castle Golf Club and into the Estate, where mosty of the training sessions were done.
It was at an early age, while looking at the police dog training centre, that I worked out that if ever you run away from the police DON'T jump through tunnels, up wooden planks or jump through fire hoops – they are trained for that!
Jim – I remeber it well. I lived in Corkerhill so Pollok park was our play ground and although the golf course was private there was a public right of way. Sadly that is no more as the M77 cut right through it. The people of Corkerhill made many protests but sadly failed. One of the main organisors and community activist was my best friends dad Walter Morrison. The pavillion at Nethercraigs has been named The Walter Morrison pavillion as this was another site he fought to save. (He won that one)
I remember also going to see the Police dogs training (they still do) also the police recreation association is still there. The pond was my favourite place not as big as some but very pretty I think the pond had been part of the private estate. Hence why we called it Pollok estate and the road up through the woods and over the golf course was called the private road.
The highlighting is mine. As part of the drive to get transport moving through Glasgow from one side to the other, the M77 was created and sliced right through the south side of Glasgow. There were many protests by the local population – augmented by many protesters from across the city, and indeed across the country, at the fragmentation of this community. But it happened and made the journey to Nethercraigs more difficult for many and also a bit less safe.
However, the sports complex was still there and had to be used. From a Glasgow City Council document:
Nethercraigs lies adjacent to the Corkerhill residential area and is largely occupied by the Nethercraigs Sports Complex, which was formerly the home ground to Glasgow Gaelic football side, Tir Conaill Harps and was later used by the Glasgow Caledonain GAA as their home ground and training pitch.
The sports complex, built at a cost of £3.7 million, was opened in 2005 by Sir Alex Ferguson. It has a 3G astro pitch for 11-a-side football or three 7-a-side pitches, a separate 5-a-side pitch, two hockey pitches, gym, dance studio, running track, grass rugby pitch, three grass 11-a-side football pitches and a skate park. There are also areas for various athletic sports such as shot put and high jump. The 11-a-side, 5-a-side, hockey and rugby pitches are floodlit, as is the running track.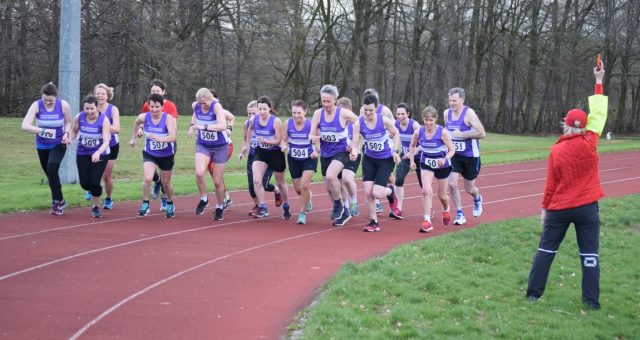 Frank Clement who was employed by the Glasgow City Council at the time commented:
"the refurbishment referred to above was carried out in the early 2000's and the grounds reopened by Sir Alex Ferguson (who had south side of Glasgow credentials, coming as he did, from Govan) in 2005. As far as I am aware the funding was secured locally and I think that Tommy Sheridan, a local politician who had just stepped down from the Scottish Parliament, was heavily involved together with other movers and shakers in the area. Improved football facilities was the main driver but the red blaes track was also refurbished and re-laid with synthetic material". Like you I wasn't able to find much information on the track's early existence but it was certainly the base for Bellahouston Harriers when I joined around 1969/70. Alec Naylor and his big squad used to commandeer the track on Sundays so we used to play football on the pitches as a warm up (Graham Grant and Dick Hodelet used to join us sometimes) till Alec had finished and then we attempted a track session afterwards.
"Red Bull published a list of ten tracks throughout the UK that were worth a visit and Nethercraigs was one of them. Their comments read:
This 400m outdoor track may be difficult to brave in the depths of a Scottish winter (or summer, for that matter) but make the journey to the track at the Leisure Centre and you'll be rewarded with one of the most relaxed tracks in the country.
Open seven days a week (from 2pm on Tuesdays and Friday, and 9am every other day), access is on a pay-as-you-go basis, meaning there's no upfront commitment, other than the one you made to your fitness.
The club also boasts a fitness studio, 5, 7 and 11 a-side synthetic football pitches as well as grass rugby and football facilities – ideal if you want to put your new sprinting power into practice. "
Bellahouston Harriers moved on from Nethercraigs but the venue and track are still being used by athletes – the Bellahouston Road Runners train from there all winter every year and the annual Jimmy Irvine 10K Road Race starts there. The Harriers who trained there all have good memories of the venue that are still vivid today.
You will note however that in the picture above the track now has an all weather surface and is down to four lanes.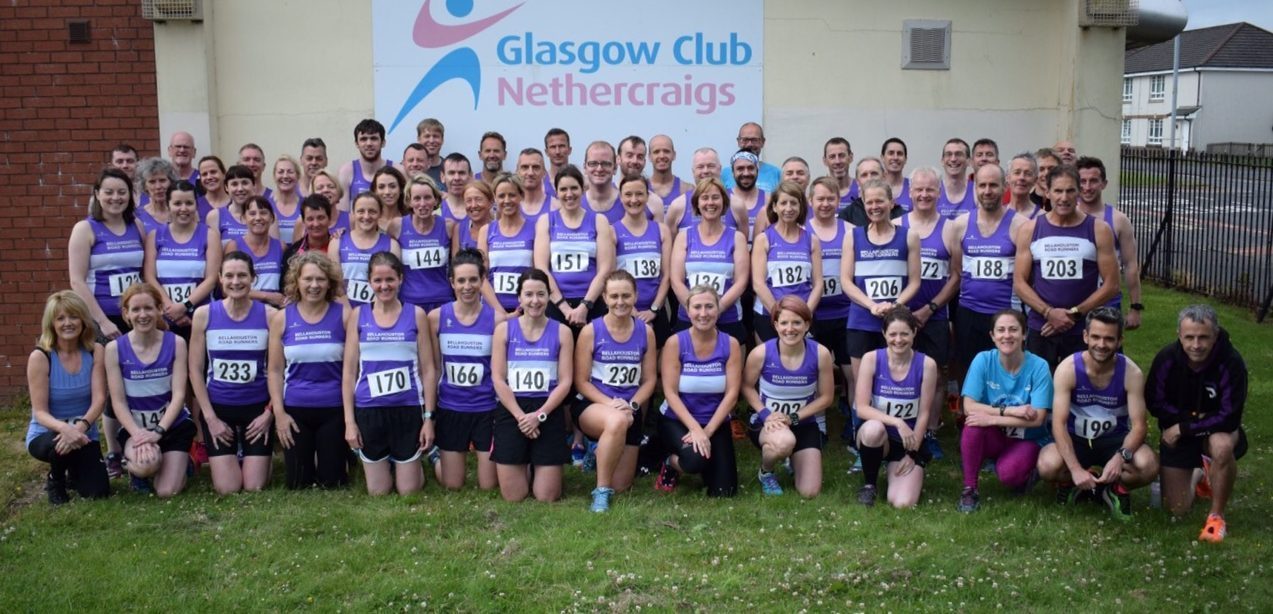 Bellahouston Road Runners
As a young coach back in the early 1960's I attended several weekend coaching sessions there to hear more experienced and better qualified coaches from all over the UK dispensing their information. It is again being used for that purpose. On one Sunday we saw for the first time a fibre glass bendy vaulting pole – at that point all Scottish vaulters used an alumium one. Now note this contemporary notice from the scottishathletics website in spring 2019:
Looking to give the steeplechase a go but not willing to jump in feet first?
The Glasgow Athletics Association is really pleased to announce it's first steeplechase development session will take place at Nethercraigs in Glasgow on Saturday 13 April.
This session aims to remove some of the myths about the event and encourage more athletes to give the steeplechase a go.
It is good to know that the venue still has a place in Scottish athletics in the twenty first century. It is however used by other sports including rugby. Glasgow Hawks moved there when they were evicted from Lochinch by Queens Park FC in 2021 and it is now used as a training venue and home for their second XV. Read about it at https://www.glasgowhawks.com/news/nethercraigs-2722679.html It is a good venue and, I am told, the staff are both friendly and co-operative.